Street Tacos with Slow Cooker Carnitas
A new take on an authentic classic – let the slow cooker do the work for you! Try street tacos with slow cooker carnitas for your next taco-night spread.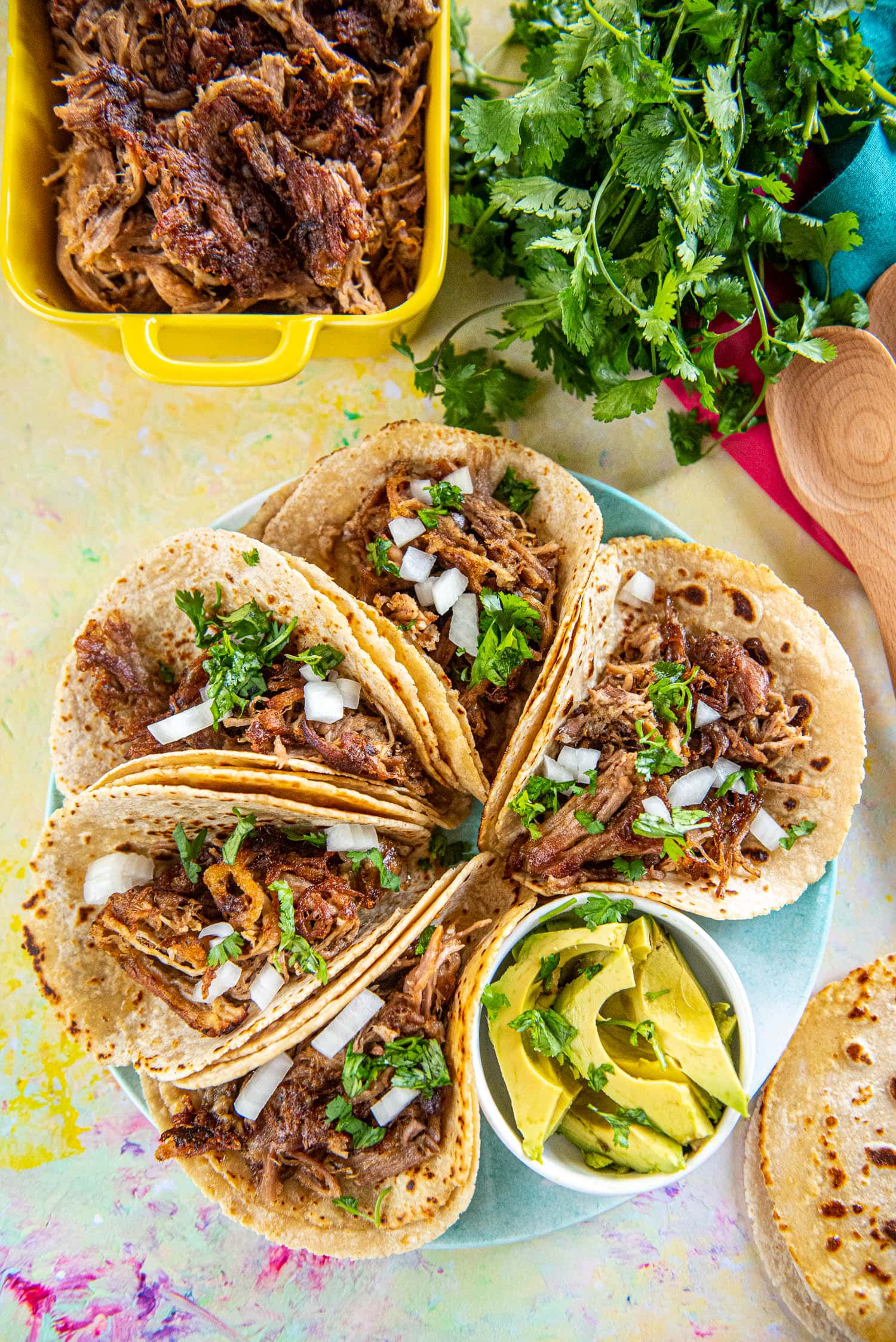 What Is A Street Taco?
A street taco is a traditional food originating from the many taco variations in Mexico. It developed over time as an "on-the-go" portable meal that was prevalent amongst street vendors and working classes.
The street taco is called such due to its "street" food presence – quick, local fare of past generations through now. It differs from many of the traditional Tex-Mex tacos in Mexican cuisine because of its simplified ingredients and signature "double-tortillas." Some suggest the second tortilla should be used for extra meat, while others claim the second tortilla is the extra support for a taco eaten on-the-go.
What Meat Is Traditionally Used In A Street Taco?
Common Tex-Mex tacos contain shredded chicken or ground beef, while a street taco generally contains one of the following meat varieties: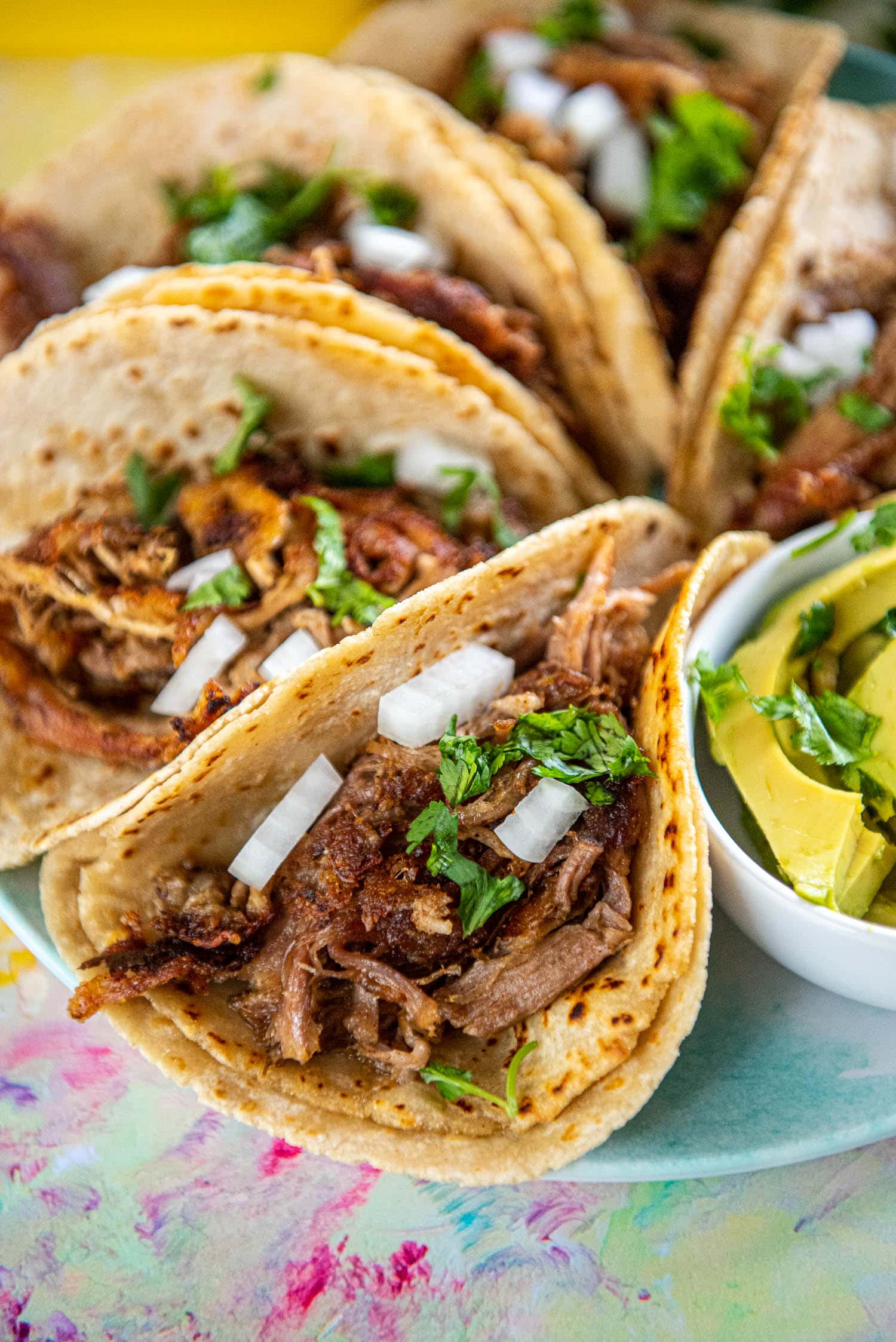 Carnitas – braised (roasted and stewed in a sealed container – i.e. the slow cooker) pork butt or shoulder served shredded or pulled
Barbacoa – braised and marinated shredded beef (very similar to carnitas)
Carne asada – a lean, beef steak cut of meat, marinated, grilled, and sliced very thin
Al Pastor – marinated pork shoulder, cooked on a vertical spit (rotisserie or shawarma-style) and shaved off in slices
These meat variations are most often recognized with pork or beef ingredients, however, lamb is also used in similar cooking styles.
What Toppings Typically Go On Street Tacos?
Traditional street tacos contain pretty simplified ingredients which allow the individual flavors to really shine! Many popular recipes will stick to the essential toppings of finely diced onion and cilantro on top of the meat and 2 tortillas.
Depending on preference and styles, add additional flavors that will enhance the key player – the juicy, tender meat.
Salsa – verde, roja, habanero hot sauce – you pick! Any variation of smooth, spicy sauce will work for street tacos
Lime – estimate at least one wedge per serving to drizzle over the meat for the signature citrusy flavor
Avocado – creamy, fresh avocado slices are visually pleasing and a delicious contrast to the spice of slow cooker carnitas
Cheese – most street tacos exclude cheese (more familiar to the crunchy Tex-Mex tacos) – try different varieties that complement the spice of the meat such as a sprinkle of feta or cotija cheese
Corn – try Mexican street corn for a perfect roasted pairing with a small portion of kernels in the tacos
Diced Tomatoes – these could be pico-de-gallo style or even sliced grape tomatoes
Best Tortillas To Use
Street tacos developed over time through street vendor sales and transport through travel and to work settings. They were (and are) an economical and easy meal – meant to be easily carried in one hand and eaten. As such, the tortillas are key!
It is most common to use corn tortillas for street tacos and generally, the smaller size, the better. Typically the best street taco tortillas are between 5-7 inches in diameter and can be found in both flour and corn varieties at the grocery store. Larger tortillas will leave you with a lot of "bread" vs. meat in your tacos.
Seasoned taco chefs know that keeping the tortillas warm until serving is a common concern! Fortunately, several options exist to make your tortillas as delicious as the slow cooker carnitas.
Oven – Set your oven to the lowest temperature and lay the tortillas across a sheet pan. Heat for up to 10 minutes (check warmth to the touch in intervals of a few minutes) until the tortillas feel pliable and warm. Turn off the heat and keep the oven closed until ready to serve, or remove from the oven and cover with a clean towel.
Stove – Heat the tortillas in a large skillet by laying a few at a time in the pan and flipping with tongs after 20-30 seconds on each side. Lay on a plate or clean towel and cover to keep warm until serving.
Microwave – Place a dampened paper towel on a microwave-safe plate and microwave a few tortillas at a time for approximately 15-30 seconds. Remove and cover until serving.
How to Make Street Tacos with Slow Cooker Carnitas
Try this simple line-up of ingredients to prep tender and flavorful pork carnitas.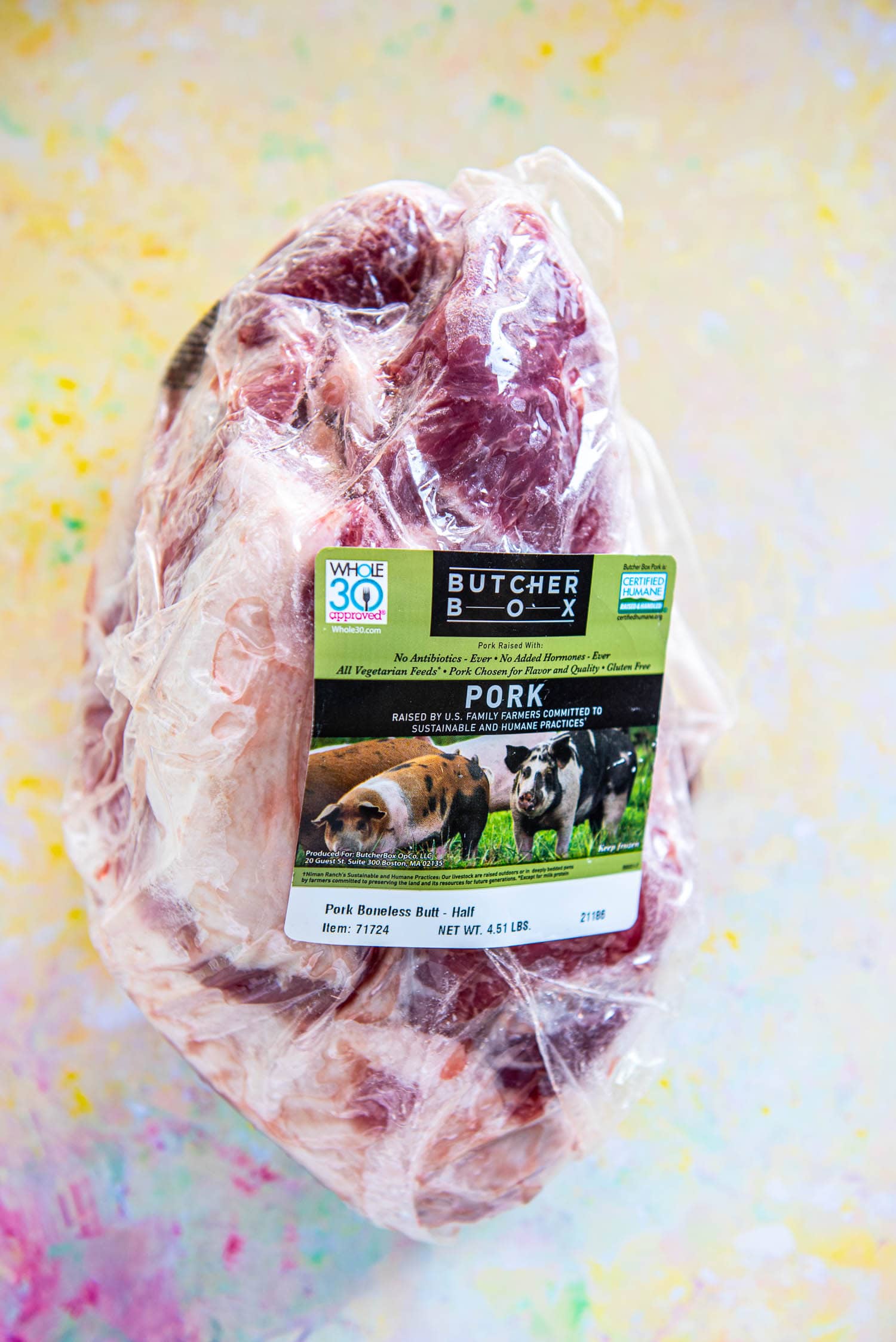 To begin, place boneless pork shoulder in the slow cooker and rub with taco seasoning, pressing in firmly as needed. This ensures spices stick to get those seasoned ends after shredding. With standard store-bought taco seasoning, add up to 2 packets for enough flavor.
Next, finely dice the onion and jalapeño and add to the slow cooker while reserving a little onion for topping the tacos when serving.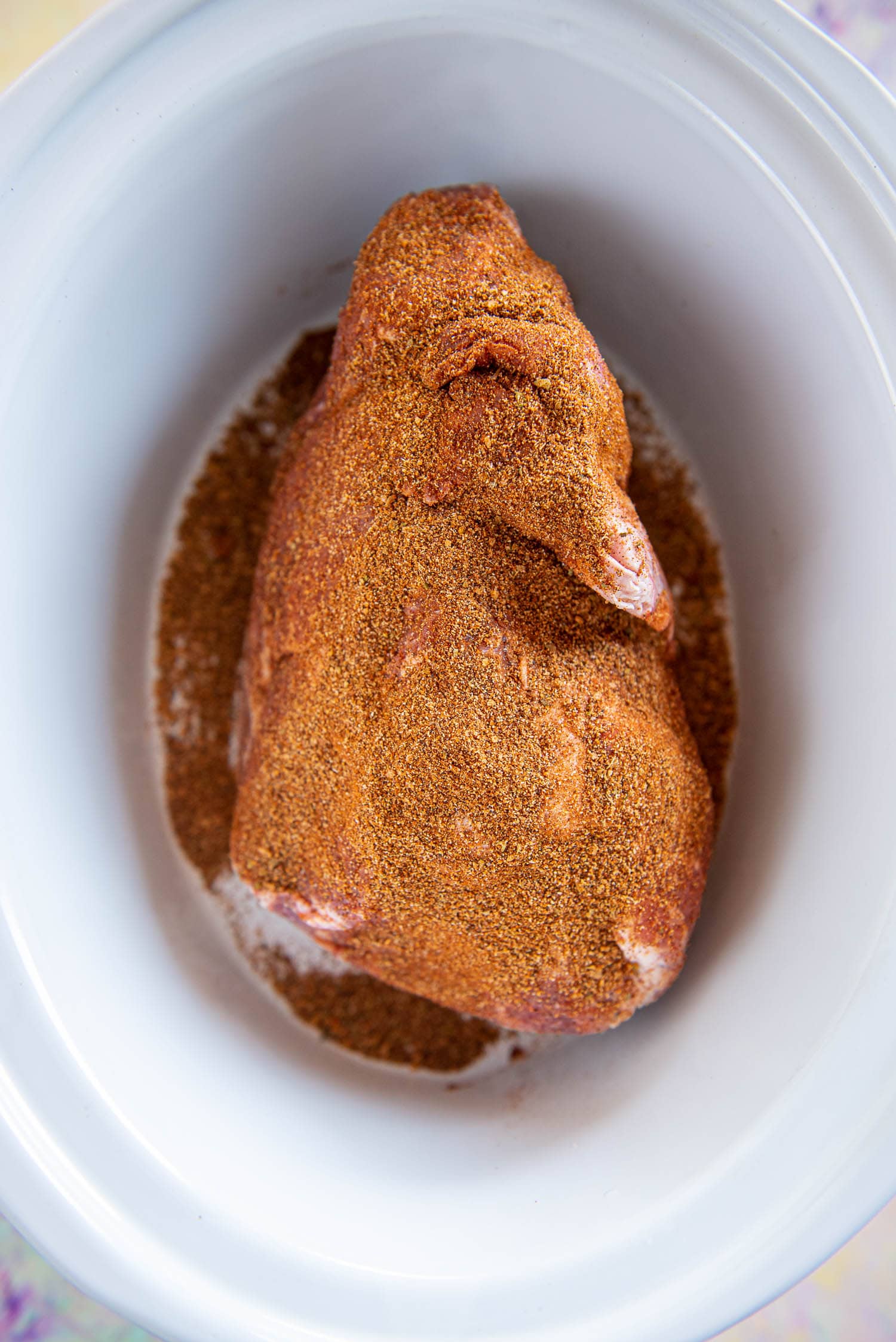 Add fire-roasted tomatoes to the slow cooker. (Tomatoes add some acidity, so you can choose to leave these out based on preference.)
Then, carefully pour the beer and orange juice into the bottom of the dish without washing off the spices. Here, if you'd like to keep the recipe gluten-free, you can sub for a gluten-free beer variety or the same liquid amount of chicken broth.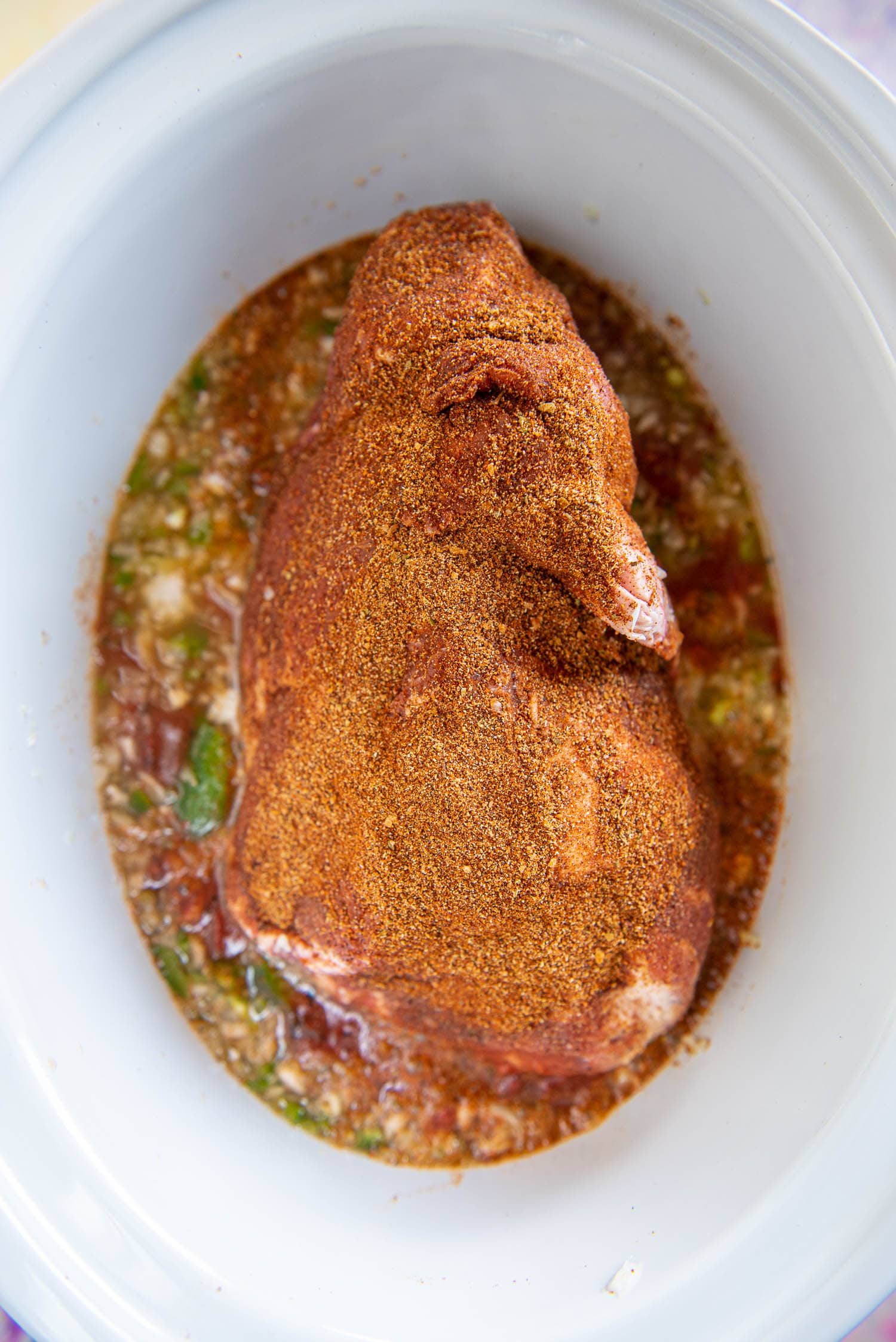 Cover and cook on high for 4-5 hours or low for 8-10 hours until the pork reaches an internal temperature of 205 degrees Fahrenheit. Remove pork from the slow cooker and shred with forks in a large bowl. (Tip: Many people like to use their mixer to shred pork, but I prefer the bigger chunks from hand-shredding with two forks. I think it keeps the meat juicier.)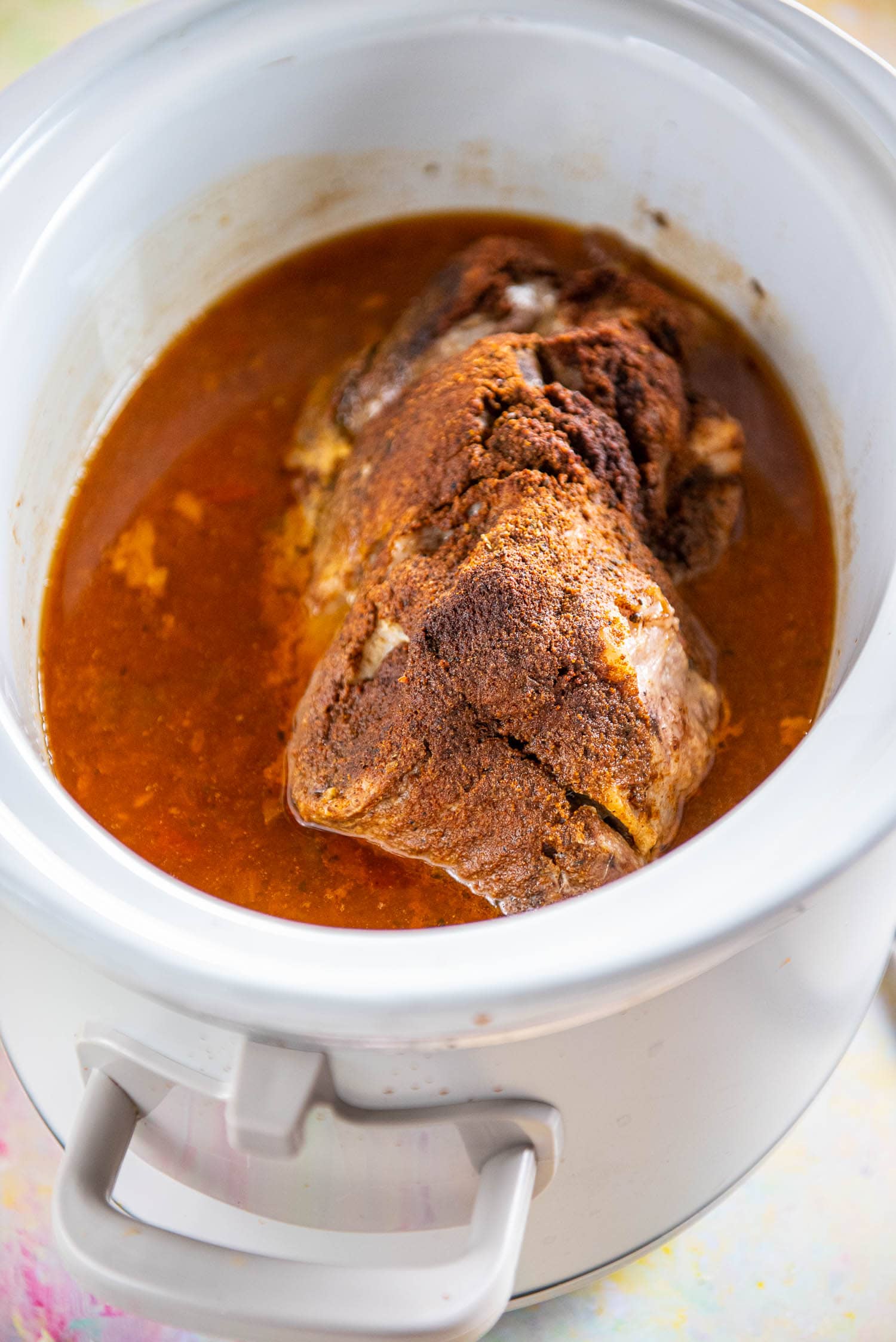 Heat corn tortillas and layer 2 for each taco. Add ¼ cup of the meat to each stack of tortillas and top with fresh onion, cilantro, and avocado or as desired. Enjoy!
What Can Be Served With Street Tacos?
Options abound for your next Taco Tuesday (or Wednesday, or Thursday, or…anytime for tacos)! Fresh vegetable ingredients are a perfect pairing to the tacos – such as Tomato Corn Salsa served in a cup on the side or even Instant Pot Corn on the Cob.
Set up a pot of Slow Cooker Pinto Beans to simmer alongside your pork carnitas. Or, add beans ON your street tacos with Slow Cooker Refried Black Beans with Roasted Garlic.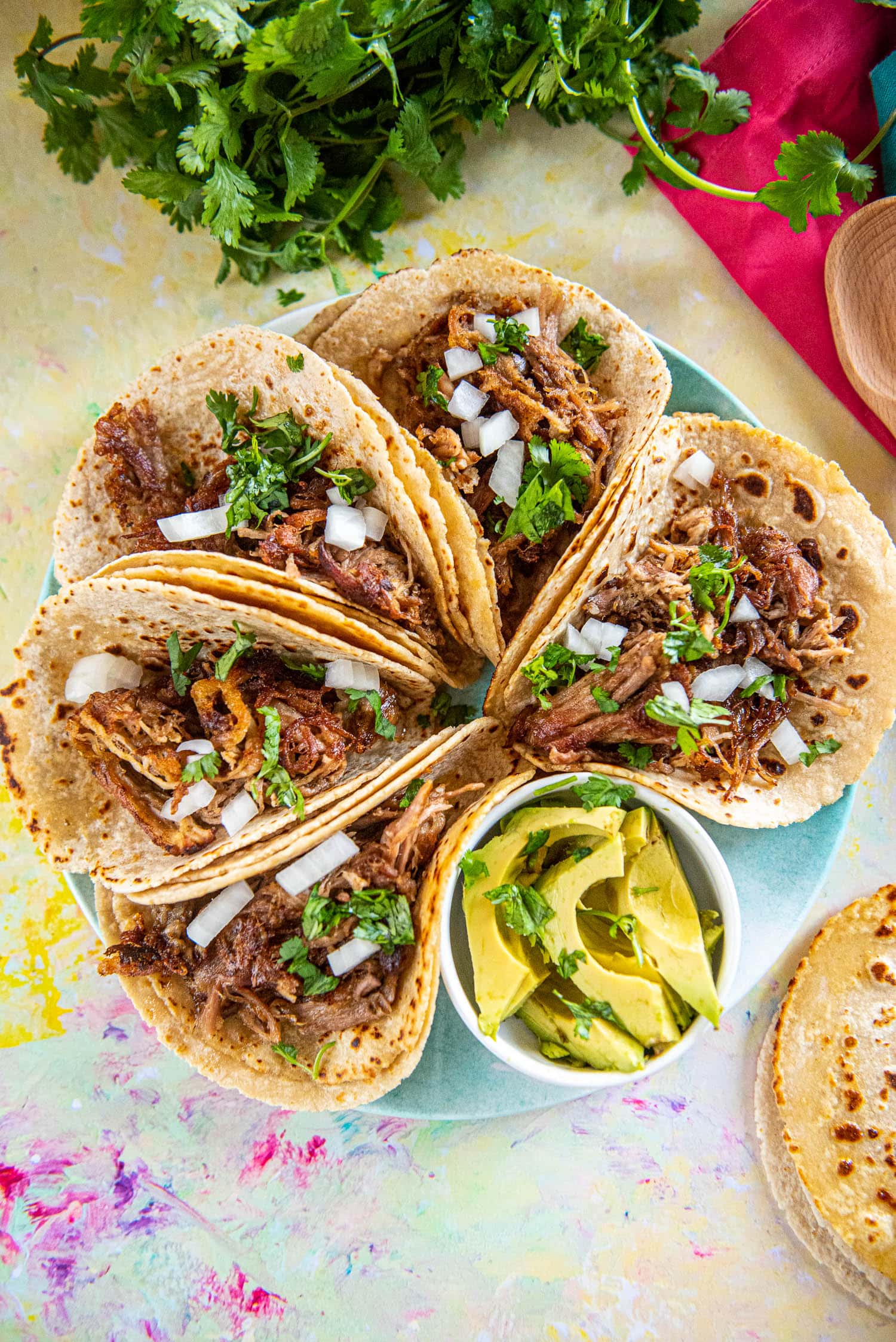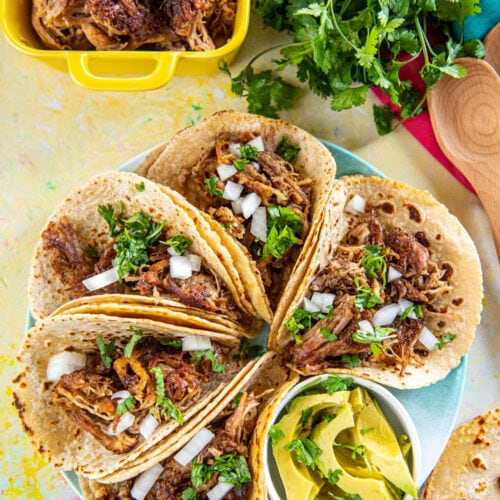 Street Tacos With Slow Cooker Carnitas
A new take on an authentic classic – let the slow cooker do the work for you! Try street tacos with slow cooker carnitas for your next taco-night spread.
Equipment
Slow Cooker

meat thermometer
Ingredients
4

pound

boneless pork shoulder roast

12

oz

can beer

(a light-tasting variety)

1

cup

orange juice

1

sweet onion

2-3

jalapeños, seeds removed and finely diced

½

cup

fire-roasted crushed tomatoes

16

corn tortillas

1

avocado

¼

cup

chopped fresh cilantro
Instructions
Place pork shoulder in slow cooker and rub with taco seasoning, pressing in as needed to ensure spices stick

Finely dice the onion and jalapeño and add to slow cooker (reserve a little for topping the tacos)

Add tomatoes to slow cooker

Carefully pour beer and orange juice in the bottom without washing off spices

Cover and cook on high for 4-5 hours or low for 8-10 until pork reaches an internal temperature of 205 degrees F

Remove pork to a large bowl and shred with forks

Heat corn tortillas and use 2 for each taco

Add ¼ cup of the meat and top with fresh onion, cilantro, and avocado as desired
Notes
Storage Options For Leftovers:
Fridge – store in an airtight container for up to 3 days
Freezer – portion into individual servings or in a freezer-safe gallon bag and freeze for up to 3 months.
Meat Variations – Street tacos are not limited to just carnitas! If you like a little extra lime, try Slow Cooker Chili Lime Pork Roast and finely slice or chop for your tacos. Also, experiment with different meats such as barbacoa beef in the slow cooker or carne asada on the stove or grill.
Other ways to use the leftover meat – Leftover slow cooker carnitas make fantastic leftovers! Try serving over nachos, in a quesadilla, or assembled in a casserole dish for oven pork enchiladas.
How to add more spice (or less) –

You can always add

additional heat

to your pork carnitas, either in the slow cooker with a little extra taco seasoning and/or cayenne pepper, or through added hot sauce or salsas as a topping. Leave jalapeño out from the slow cooker to reduce the spice.
Nutrition
Serving:
1
g
Calories:
474
kcal
Carbohydrates:
66
g
Protein:
22
g
Fat:
16
g
Saturated Fat:
3
g
Polyunsaturated Fat:
3
g
Monounsaturated Fat:
8
g
Cholesterol:
46
mg
Sodium:
151
mg
Potassium:
989
mg
Fiber:
11
g
Sugar:
12
g
Vitamin A:
337
IU
Vitamin C:
44
mg
Calcium:
134
mg
Iron:
3
mg
Important nutritional disclaimer
More Slow Cooker Mexican Meals