Once you've made these easy slow cooker pinto beans, you'll want to leave the canned version on the shelf! Try this inexpensive and satisfying recipe that's sure to become a menu staple.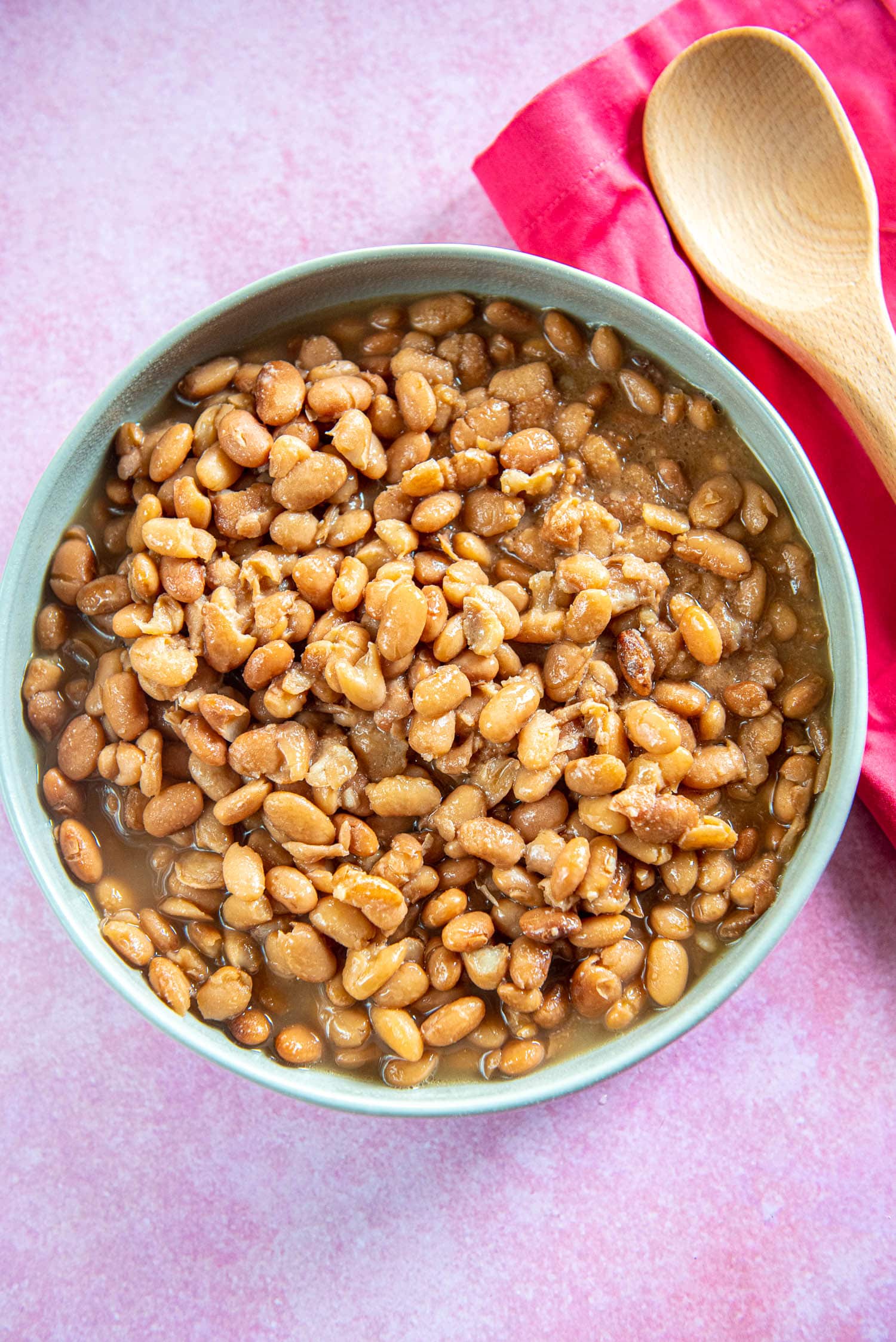 What are pinto beans?
Pinto beans originated in Northern Mexico and the southwest United States and have loooooong been used as a leading source of protein, nutrients, and fiber (we're talking thousands of years ago!). These beans are recognized by their "painted" brown appearance and can be found at almost any grocery store in dry or canned form. Look for them in dishes ranging from Tex-Mex to good ole' Southern comfort food!
Pinto beans are also a key ingredient in so many family-favorites such as chilis, hearty soups and stews, and served refried for burritos, tostadas, or nachos. This one ingredient can produce some of the most fulfilling recipes. Cooking them in the slow cooker is also generally a foolproof method for yummy results!
With this recipe, you'll find that your options for using this basic ingredient are limitless! Cook up a batch to serve hot with a meal like Slow Cooker Pork Enchilada Bowls, and then save some portions to freeze for your next family dinner.
This recipe is also super budget-friendly! One pound of dried beans will make the equivalent of four 15 oz cans of beans. The best part about slow cooker pinto beans vs. canned is that you can control the seasonings and additives. Make them bland or savory depending on tastes, dietary goals, or recipe needs.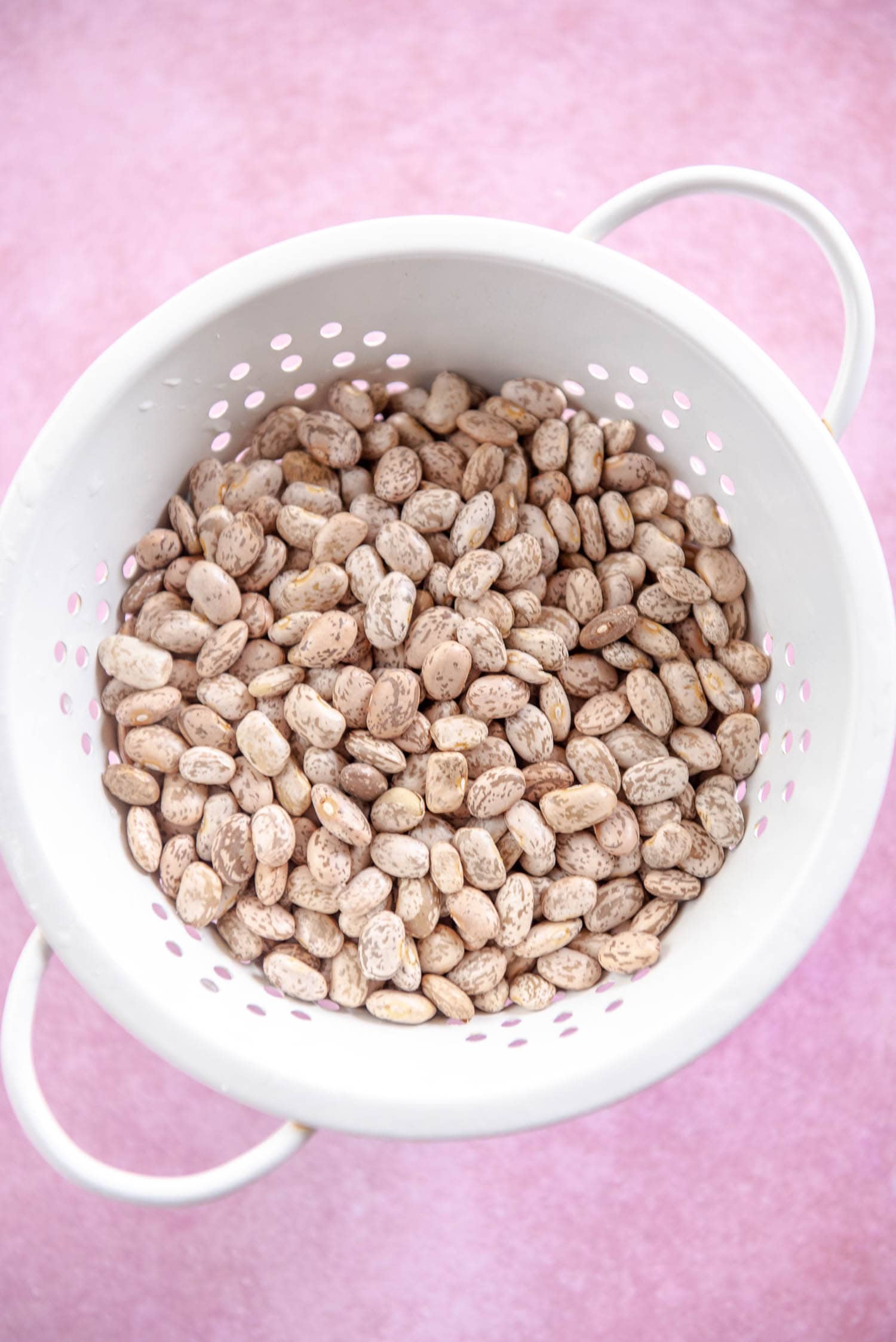 Do beans have to be soaked before being cooked in a slow cooker?
It is not mandatory to soak the beans before cooking in the slow cooker, however, soaking will reduce your total cooking hours and provide a more even texture.
There are also added health benefits to pre-soaking the beans! When you pre-soak, indigestible compounds are removed from the beans and this can reduce inflammatory reactions that often occur with legumes.
If you prefer not to pre-soak, adjust for a few extra hours on the cooking time rather than soaking in advance. For this recipe, the total cook time includes the soaking time, which will allow a better estimate of when the beans will be ready to eat.
How To Cook The Best Pinto Beans In A Slow Cooker
Gather up your simple ingredients: dried pinto beans, cumin, garlic powder, onion powder, and salt. All of these can be readily available in your pantry!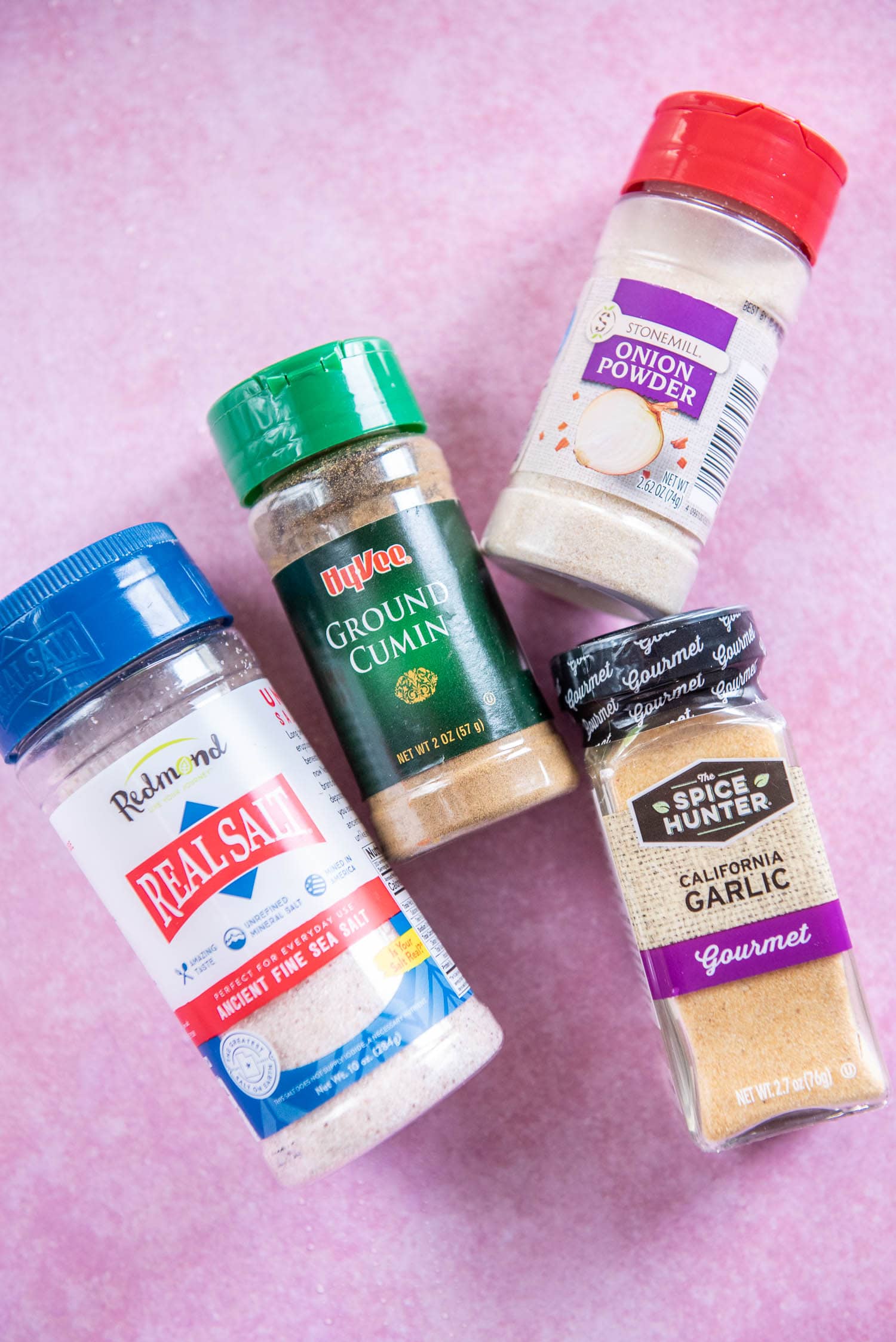 To pre-soak, add the pinto beans directly to the slow cooker. Cover the beans with water – enough to leave at least one-inch above the top of the beans.
Cover the slow cooker, but do not turn it on. You will let the beans soak for 8-12 hours (or overnight). Be sure to keep the soaking time to under 12 hours as the beans can begin to get overly soft and could potentially introduce bacterial growth.
Once the beans have soaked, drain the excess "soaking" water and add fresh water (still about an inch above the beans).
Stir in the seasonings.
Cover the slow cooker and cook on low for 8-10 hours until the beans reach desired tenderness. They should be soft to the touch.
Drain any excess water and taste! Add additional seasonings if you desire.
Serve!
Since this recipe makes a hearty amount, you can expect some leftovers. Allow the beans to cool completely before portioning and adding to containers or bags for storage. These will freeze and reheat wonderfully!
How long does it take to cook pinto beans in the slow cooker?
Pre-soaked pinto beans should take approximately 8 hours to cook on high in the slow cooker. It does take a bit of planning ahead to start on time, but once you've done that, a delicious savory dish awaits you at the end of the day!
Be sure to add a little margin for some extra cooking time if you prefer the beans to be softer. Cooking on low will extend the cooking time by several hours and could potentially dry out the beans.
Can I make pinto beans in my Instant Pot?
You can also make this tasty dish in your Instant Pot! If you don't have 8-10 hours of cooking time and still want to create a dinner-worthy pot of seasoned beans, try the Instant Pot to cut the cooking time and keep the flavor.
Follow these modified steps for a time-saving shortcut:
Pick over the beans to remove any debris if necessary; rinse and drain.
Add to the Instant Pot along with all the remaining ingredients.
Cover completely with water – about 1 inch over the top of the beans.
Be sure to properly position your steam release valve to seal. Cook on high pressure for 45 minutes.
Allow natural pressure release (this can take an additional 5 minutes or so).
Drain and serve, or go ahead and let the beans cool to then portion into baggies for freezing.
FAQs for Cooking Pinto Beans
Dried beans can sometimes vary in texture and length of cooking time needed for different batches and varieties. Here are a few questions you may have while cooking:
Why are my pinto beans still firm after the recommended cooking time? One factor that can change the cooking time is the age of the beans. While they generally have a lengthy shelf life in dried form, they do begin to lose their moisture over time. Older beans = less moisture meaning they might require a little extra soaking or cooking time.
Why does the soaking water need to be replaced with fresh water? When you soak the beans, you are not only adding moisture, but also removing excess dirt, debris, and a carbohydrate called raffinose. Raffinose is essentially a type of sugar and by eliminating some of it through soaking, the beans will become easier to digest. So, yes, replace that soaking water and your tummy will thank you!
Can you overcook pinto beans in the slow cooker? This would take an exceptional amount of time, but yes, beans can overcook. They will either become overly mushy, or the liquid will cook off and the beans can become dry and burn in the slow cooker. Stick to the recommended cooking time and then continue to check every 30 minutes to an hour for extended time.
Best Meals To Serve With Pinto Beans
This recipe is a fantastic base for serving fresh in so many different ways, or for storing in the freezer prepped and ready to go for many more meals.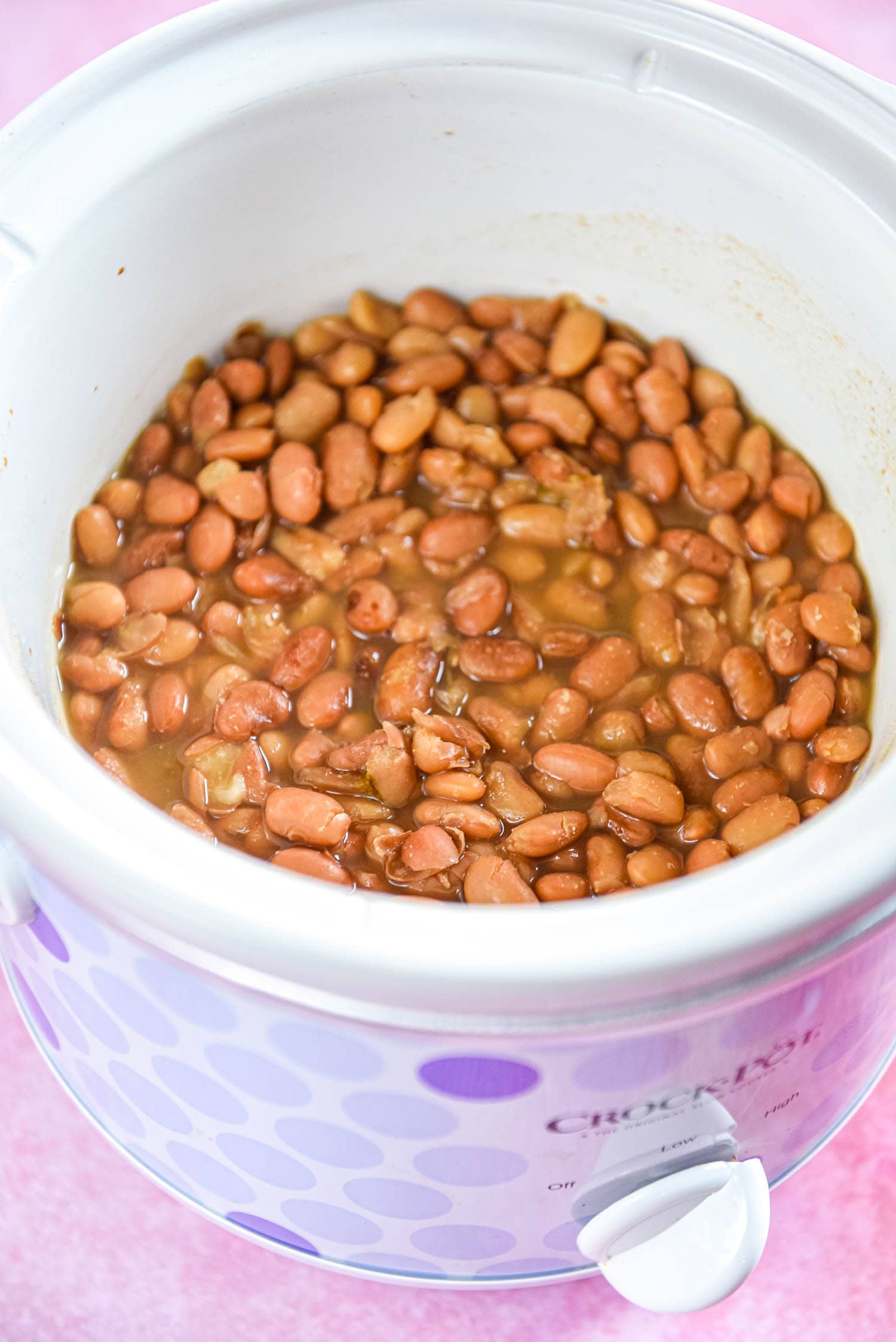 When I think of Southern comfort food, I can envision a pot of beans, collards, and a pan of fresh cornbread. Serve these up with a mix of favorite sides potluck-style! Turn these into a main dish by serving with ham or a few slices of crumbled bacon stirred into the warm slow cooker.
Or another option…
For Tex-Mex cuisine, serve a cup of beans as a side to cilantro-lime rice and grilled meats, or with Slow Cooker Spinach and Mushroom Enchiladas. If you love the texture of refried beans, simply mash the pinto beans and reheat with some oil in a skillet and serve with fresh tortillas. Experiment with additional seasonings or garnishes such as chopped pico de gallo, cilantro, and a bit of feta or cotija cheese.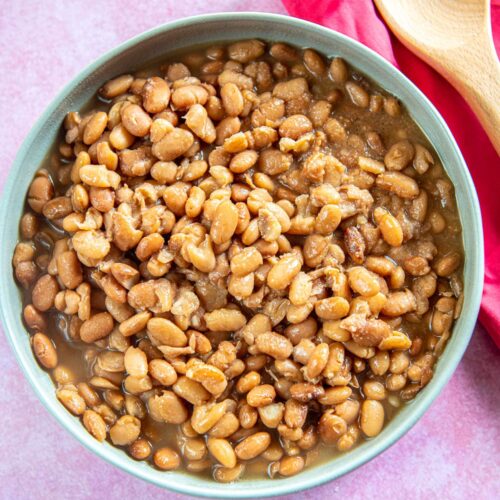 Slow Cooker Pinto Beans
Once you've made these easy slow cooker pinto beans, you'll want to leave the canned version on the shelf! Try this inexpensive and satisfying recipe that's sure to become a menu staple.
Ingredients
1

pound

dried pinto beans

1

teaspoon

cumin

1

teaspoon

garlic powder

1

teaspoon

onion powder

1

teaspoon

salt
Instructions
Add pinto beans to slow cooker and cover with water to at least and inch above top of beans. Cover but do not turn on slow cooker. Let soak for 8-12 hours

Drain water and add new water plus seasonings

Cover and cook on low for 8-10 hours until beans reach desired tenderness

Drain well and add additional seasonings to taste if desired

Allow to cool completely before portioning and adding to containers or bags for storage
Notes
Substitutions or Additions –

Even though this recipe uses pinto beans,

the process works for any kind of beans.

Try black beans and Great Northern white beans for additional nutritional benefits. A

dd diced jalapeño for some extra heat and adjust seasonings as desired.
Best Way To Store Leftovers

– Store in the fridge for up to 3 days and in the freezer for up to 2 months. When freezing, portion 1 2/3 cups of cooked beans into containers to equal 1 15 oz can of beans.

Best Way To Reheat Leftovers

– Pour into a saucepan on the stove and heat over medium. If frozen, place in the refrigerator to thaw up to 24 hours before reheating or allow thawing time at room temperature.

To thicken the beans, you can drain some of the water, and slightly mash the beans in the slow cooker. You could also whisk up a couple of tablespoons of cornstarch and water and mix until you reach the desired thickness.
Nutrition
Calories:
133
kcal
Carbohydrates:
24
g
Protein:
8
g
Sodium:
198
mg
Potassium:
532
mg
Fiber:
5
g
Vitamin C:
2.4
mg
Calcium:
44
mg
Iron:
2
mg
Important nutritional disclaimer
More Slow Cooker Meals To Enjoy