This tasty, simple side dish can't get much easier – slow cooker green beans are the perfect addition to your main meals year-round!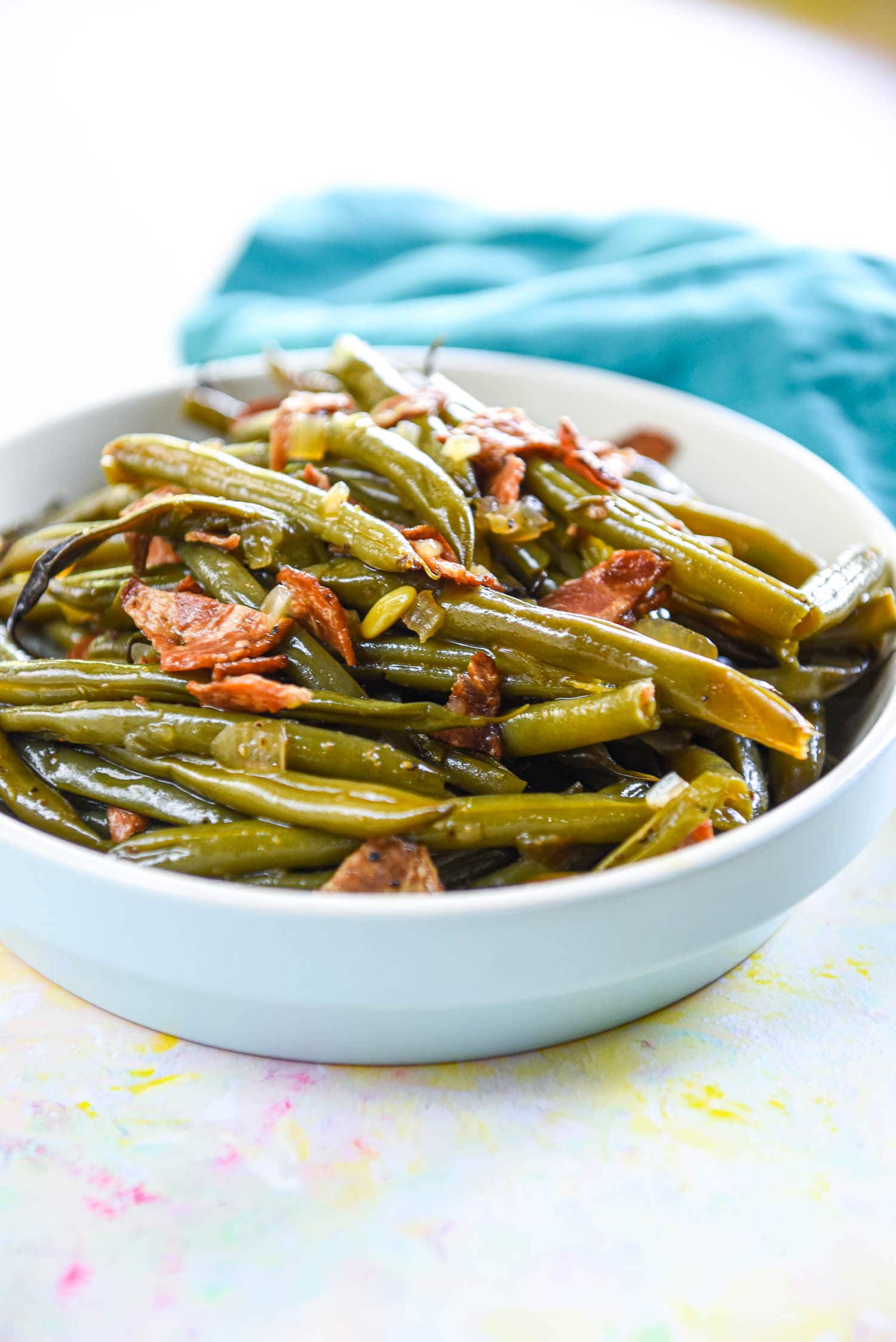 If a vegetable could be likened to baking, I would say that green beans are all-purpose! One, they are available in some form nearly every season, and two, they are a versatile complement to almost any supper table.
When I think of fresh green beans, I can almost hear that perfect "snap" or crunch before they are cooked. While they can be served cold with salads, you'll also find them baked in casseroles, sauteed in stir-fries, or my personal favorite, infused with flavor in the slow cooker!
Whether you need a simplified holiday side dish, or an easy vegetable for a weeknight lasagna, slow cooker green beans are sure to please.
Slow Cooker Green Bean Ingredients
Green Beans – Depending on your locally-available choices, you might try out different variations of green beans for your slow cooker dish. Romano or flat beans, French or Haricots Verts, string beans or snap beans… For this recipe, a green bean by any other name would still be – a green bean? Any variety will work here!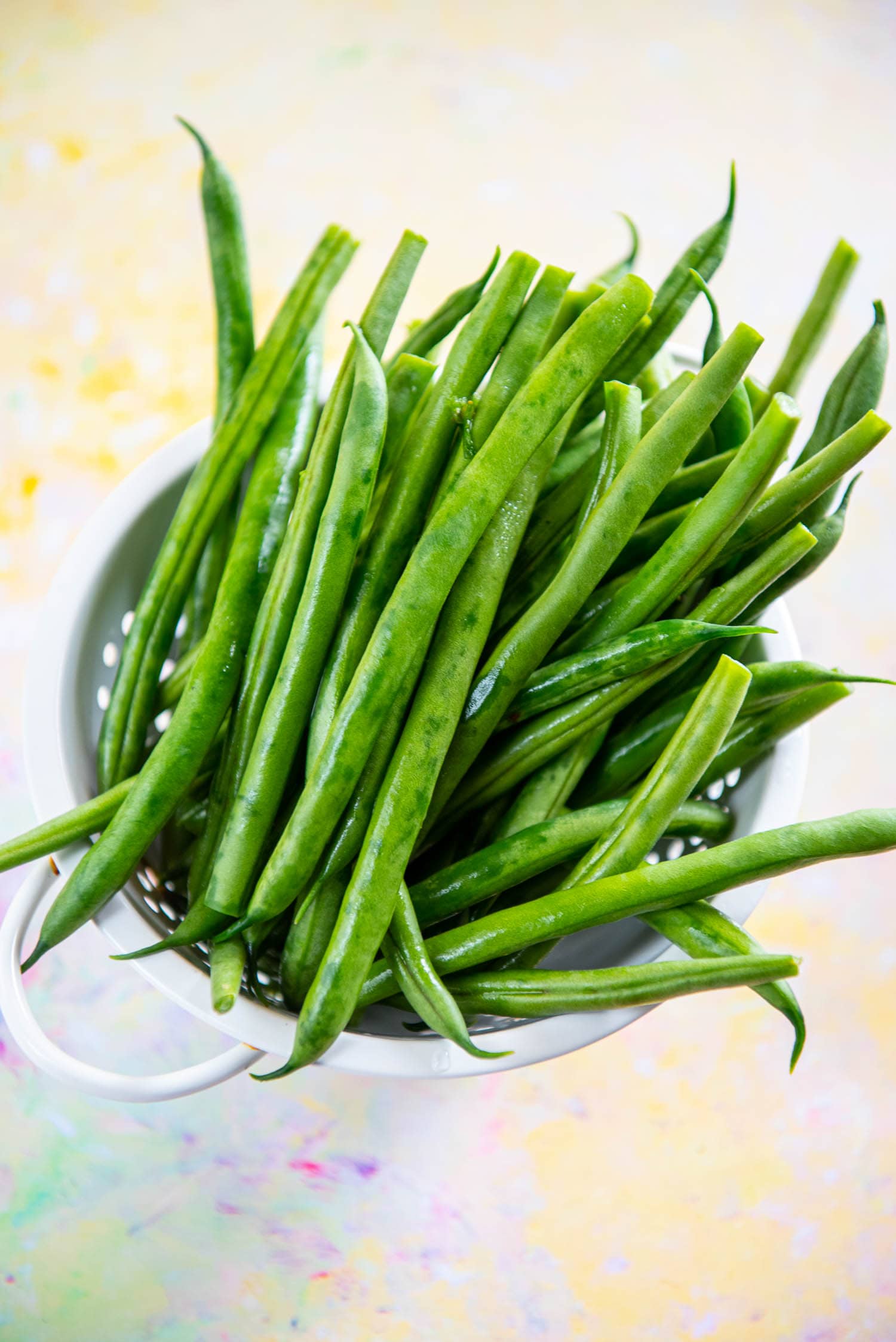 Bacon – Or should we say – the real crowd-pleaser! Bacon could make almost any vegetable dish scrumptious, but green beans are the perfect vegetable to soak up the deliciousness of this addition. Pre-cook your slices (and some extra for snacking) and store in the fridge ahead of time for simple prep.
Onion – A little bit elevates the flavor a long way!
Butter – Because, really – what are green beans if not served with butter? Technically, you could also substitute the same amount of extra virgin olive oil, but if calories are no concern – savor the butter!
Seasoning – A bit of salt and lemon pepper seasoning will add a slightly acidic taste that elevates the vegetable dish.
Chicken Broth – Chicken broth adds to the savory heartiness of the slow-cooker flavor and will infuse the beans as they cook. To make this side as a vegetarian option, you could substitute with a vegetable broth or water (and, of course, leave the bacon out).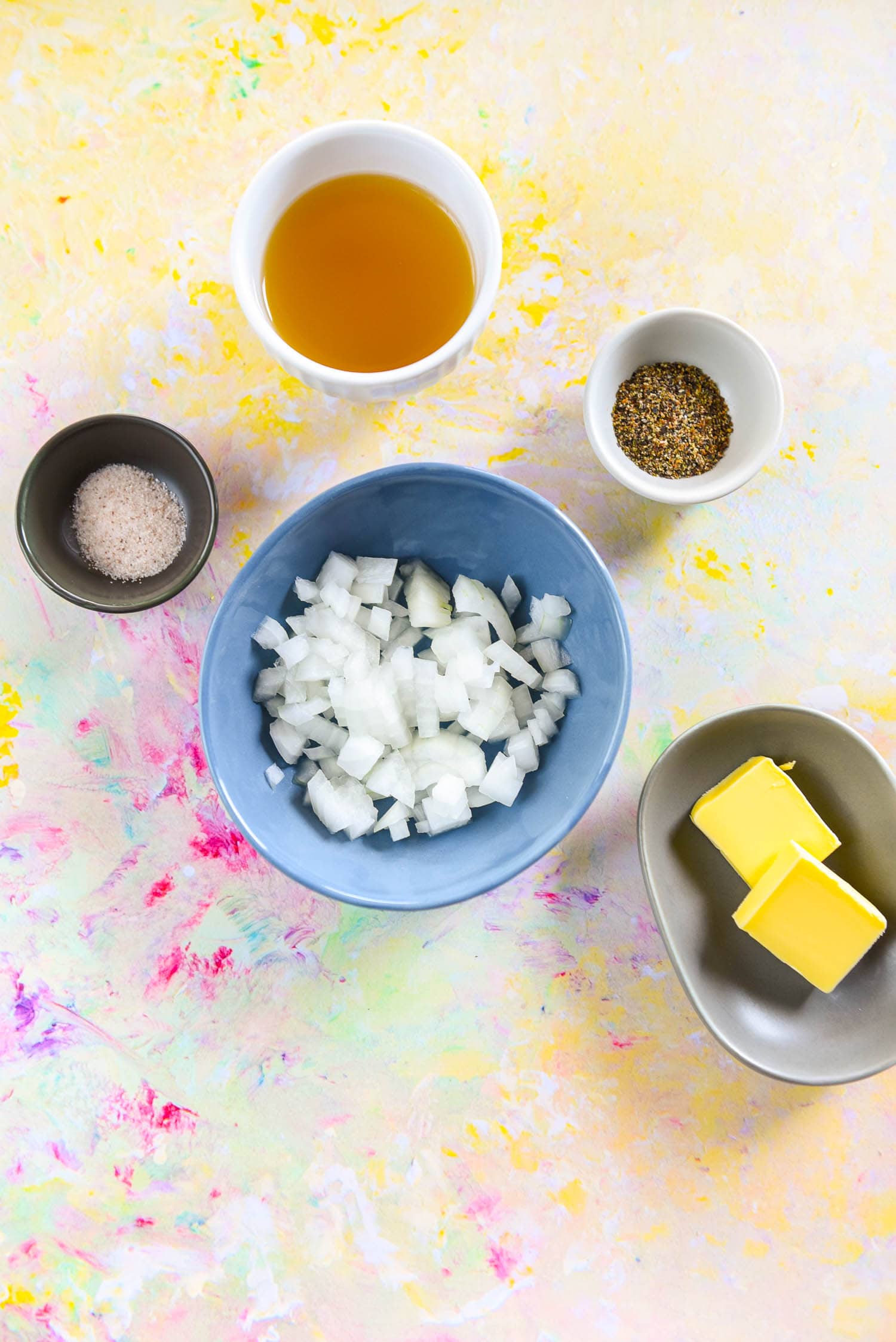 How To Cook Green Beans In The Slow Cooker
To prep your slow cooker green beans, wash and drain with a colander. Sort through and remove any blemished or browned beans.
Next, trim off the ends. (Tip: a pair of kitchen scissors comes in handy for this step, or simply group the beans with a cutting board and knife in a single slice).
You may have heard the phrase "snap the beans" before cooking. This simply means removing the end for flavor purposes and allowing them to be evenly cooked through. Technically, all parts of the bean (except the stem attaching it to the vine) are edible.
Next, chop your pre-cooked slices of bacon into small, bite-sized pieces. Finely dice the onion for even cooking.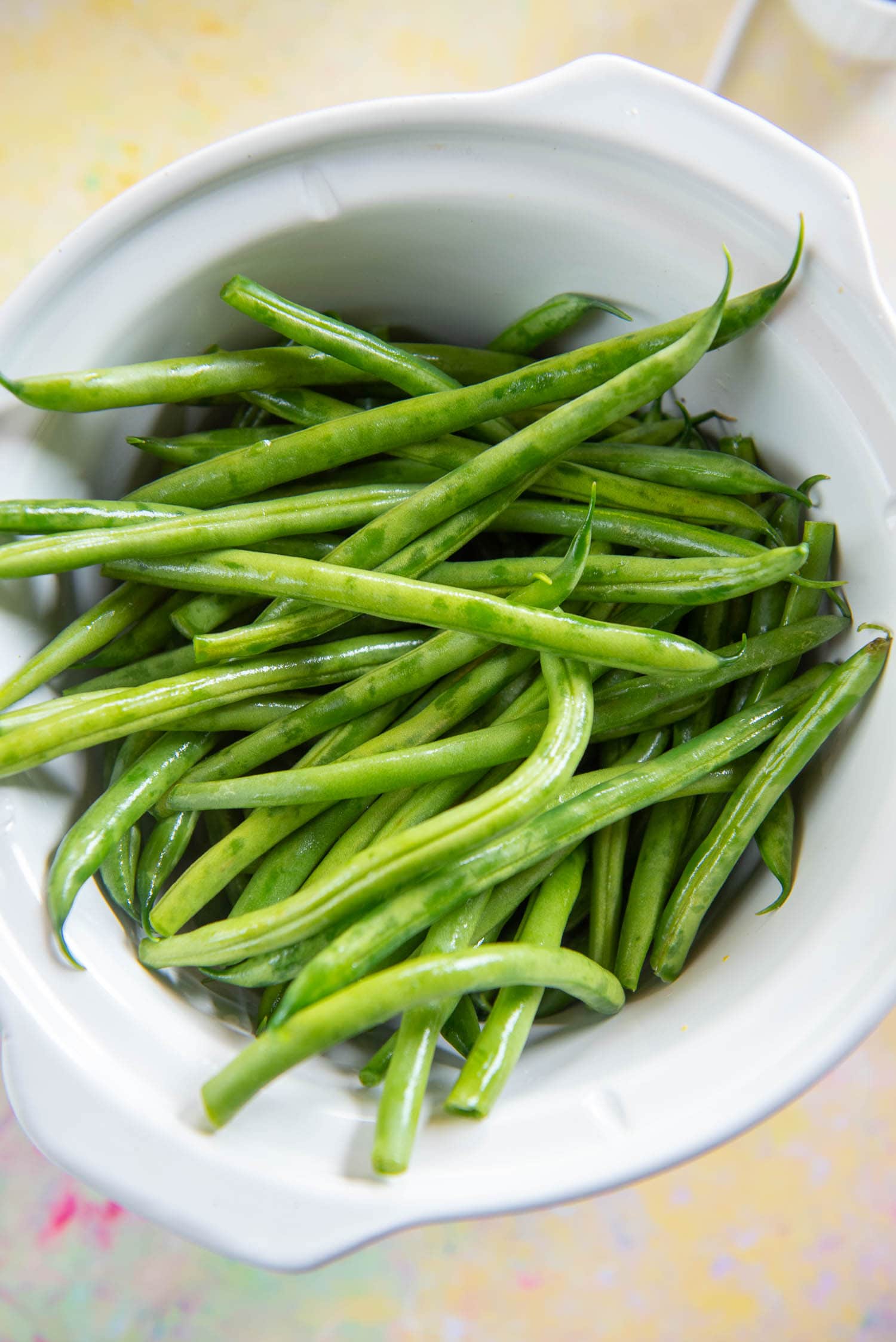 Arrange the green beans in an even layer across the slow cooker dish and sprinkle the bacon across the beans.
Toss in the butter, salt and lemon pepper seasoning, and pour the chicken broth into the mix. (You may prefer to add additional seasonings such as a bit of crushed red pepper or garlic powder.)
Slow Cooker Green Beans FAQ's
What are the best green beans to use in the slow cooker?
Since the slow cooker already makes this an easy process, fresh green beans are the optimal choice for flavor, freshness, and texture. However, you can also plan ahead by utilizing frozen green beans which will still contain practically the same nutritional value.
Canned is always an option, but probably the least desirable one (in my opinion) for this vegetable variation. When substituting any canned vegetable, check labels for additives such as seasonings, salt, and other juices. These can definitely change the taste of your recipe as well as length of cooking time.
Whether you substitute fresh, frozen, or canned, you may need to adjust the volume of green beans in the recipe. According to FoodHero.org in their "Green Bean Basics" publication, "4 cups of green beans is about 1½ pounds fresh or 16 ounces frozen or 2 cans (15 ounces each) drained."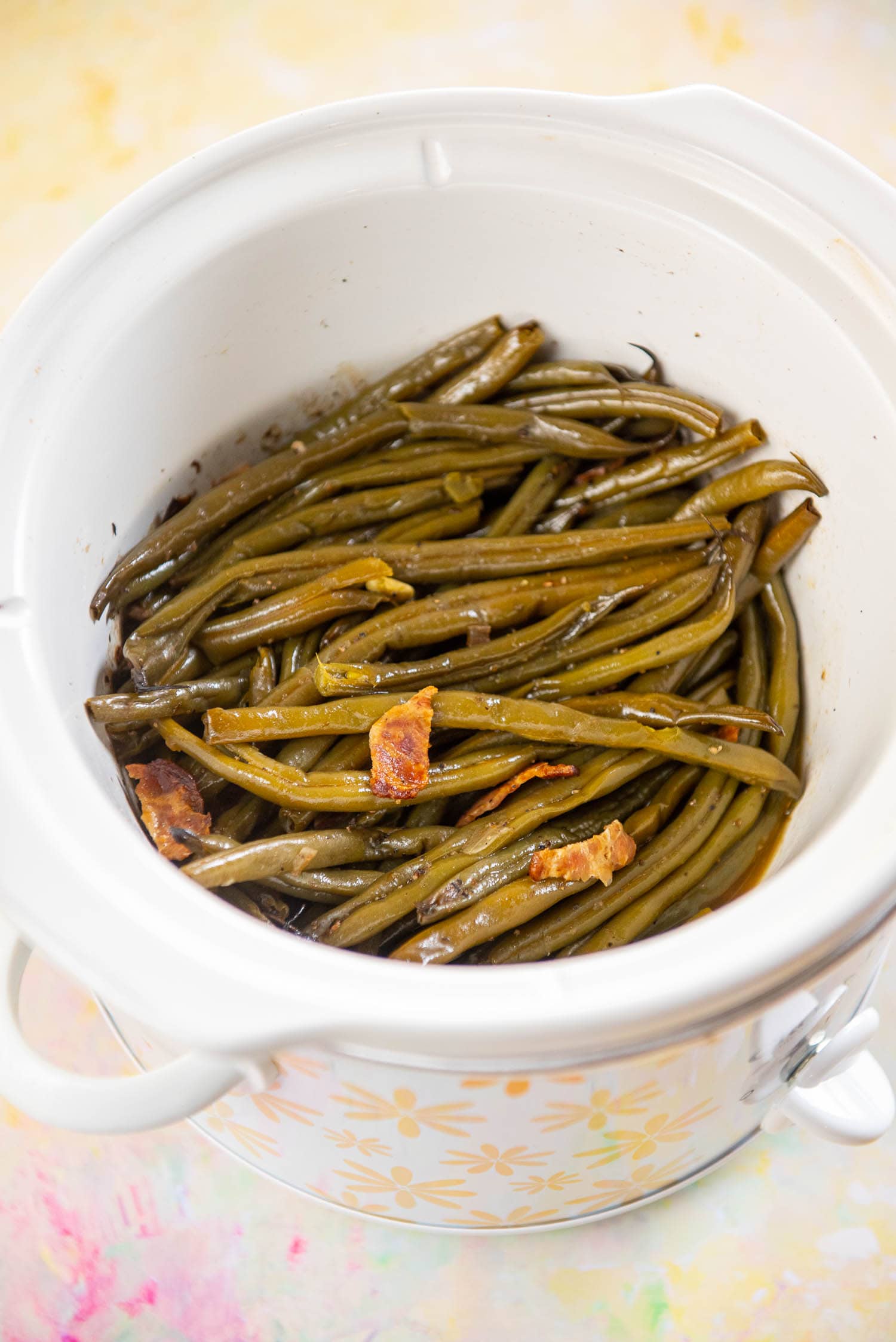 How do you prep fresh green beans?
Fresh green beans are similar to almost any other garden vegetable when it comes to prep – wash and chop!
Don't be deterred by cooking fresh green beans because of the added steps of snapping or trimming the ends. That is about as laborious as it gets and can simply be solved by slicing the ends off in batches across a cutting board!
How long do you cook fresh green beans?
Slow cooker green beans are a relatively quick dish from start to finish. You can cook on high for 1-2 hours or low for 2-4 hours, making sure to stir at the cooking midpoint. If you cook on low, monitor the green beans for overcooking toward the end to prevent them from turning mushy.
Is it possible to overcook fresh green beans?
Which leads us to… yes, it is possible to overcook green beans as they begin to lose texture and the pieces fall apart. While slow cooker green beans will naturally lose the bright color due to cooking time, you don't want them turning entirely olive-green.
What are the best ways to add flavor to green beans?
The best way to add flavor to green beans are… added ingredients! Green beans by themselves do not carry a naturally strong flavor, so this makes them an excellent crunchy base to serve in a variety of food profiles. Try adding fats such as butter, ghee, or oils, seasonings such as garlic salt and pepper mixes, aromatic herbs, or even a splash of lemon juice in the final hour of the cooking time.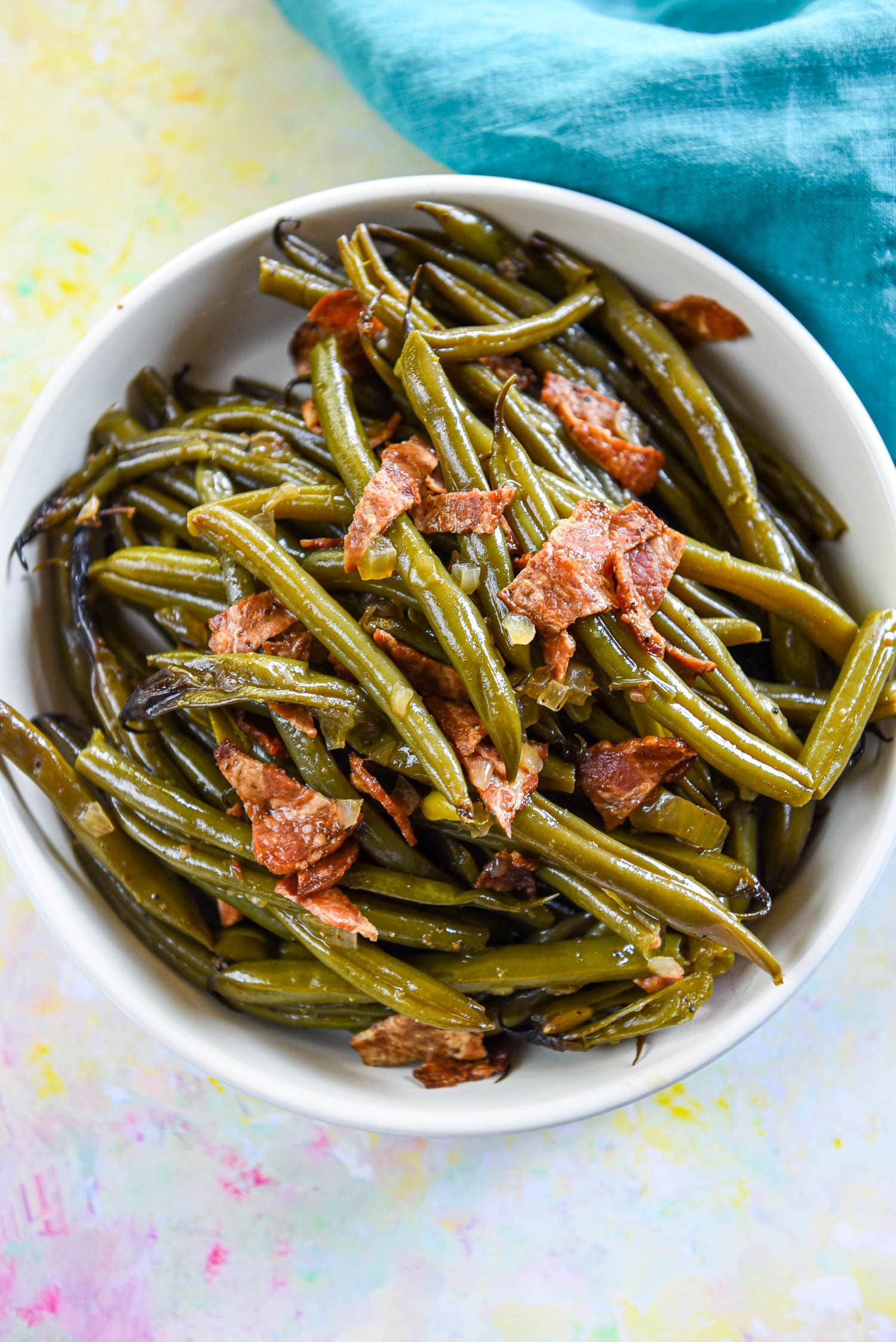 Best Meals To Go With Green Beans
These slow cooker green beans are tasty enough to eat on their own, but you may prefer to offer them as a potluck option or vegetable course in your dinner rotation.
Popular pairings to serve alongside could be Slow Cooker Pork Chops with Creamy Herb Sauce or Slow Cooker Herb Crusted Pork Roast. (Bonus – both can also be made in the slow cooker!)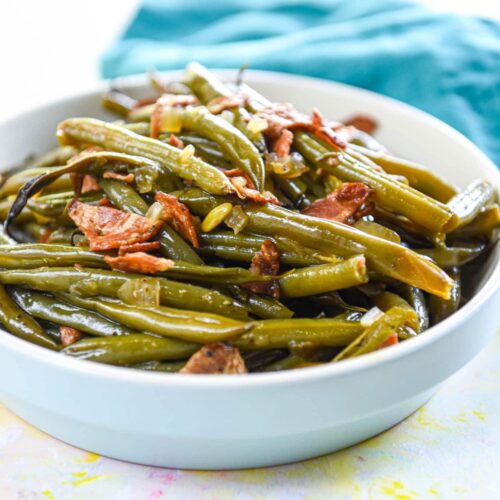 Slow Cooker Green Beans
This tasty, simple side dish can't get much easier – slow cooker green beans are the perfect addition to your main meals year-round!
Equipment
Slow Cooker

Cutting board and knife
Ingredients
1

pound

fresh green beans

4

slices

pre-cooked bacon

¼

cup

diced yellow onion

about ½ small onion

1

tablespoon

butter

1

teaspoon

lemon pepper seasoning

½

teaspoon

salt

¼

cup

chicken broth
Instructions
Wash green beans and trim off ends

Cut bacon into small bite sized pieces

Finely dice onion

Add green beans to slow cooker and add other ingredients on top

Cover and cook on high for 1-2 hours or low for 2-4 hours, stirring once about half way through cooking time
Notes
To make this vegetarian recipe, swap chicken broth for vegetable broth or water.
Substitute olive oil for butter for a reduced-calorie option.
To save a step, look for pre-washed and trimmed green beans at the grocery store!
Nutrition
Calories:
271
kcal
Carbohydrates:
37
g
Protein:
10
g
Fat:
13
g
Saturated Fat:
8
g
Polyunsaturated Fat:
1
g
Monounsaturated Fat:
3
g
Trans Fat:
0.5
g
Cholesterol:
30
mg
Sodium:
1300
mg
Potassium:
1096
mg
Fiber:
13
g
Sugar:
17
g
Vitamin A:
3491
IU
Vitamin C:
58
mg
Calcium:
192
mg
Iron:
5
mg
Important nutritional disclaimer
More Slow Cooker Side Dishes To Check Out