Slow Cooker Barbacoa Burritos
Slow Cooker Barbacoa Burritos are the easy alternative to take-out. A perfect summer family meal all wrapped up!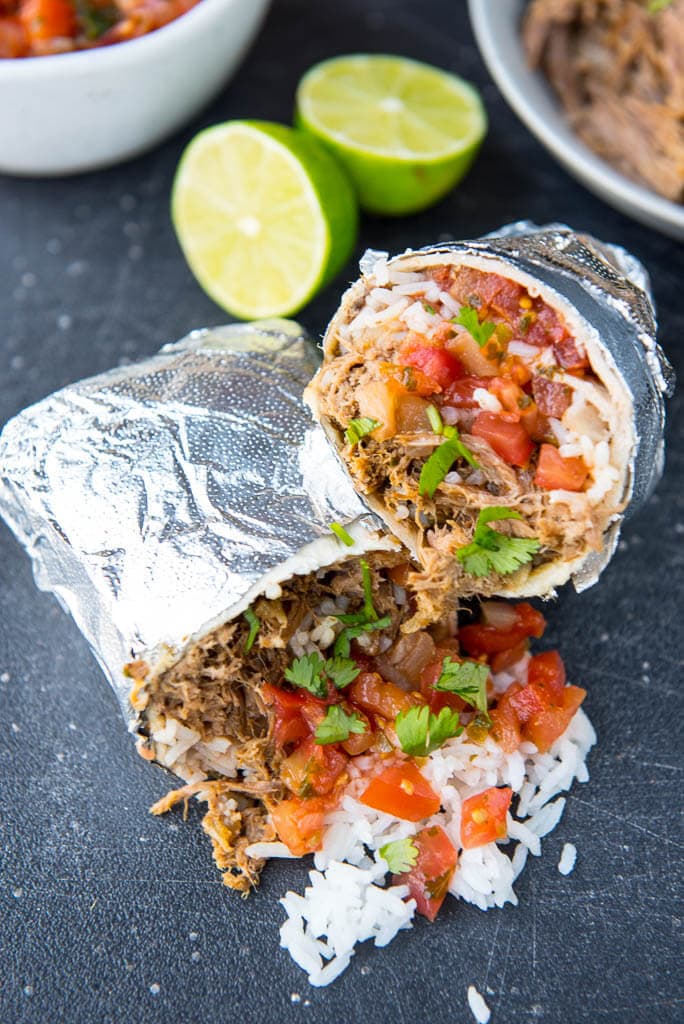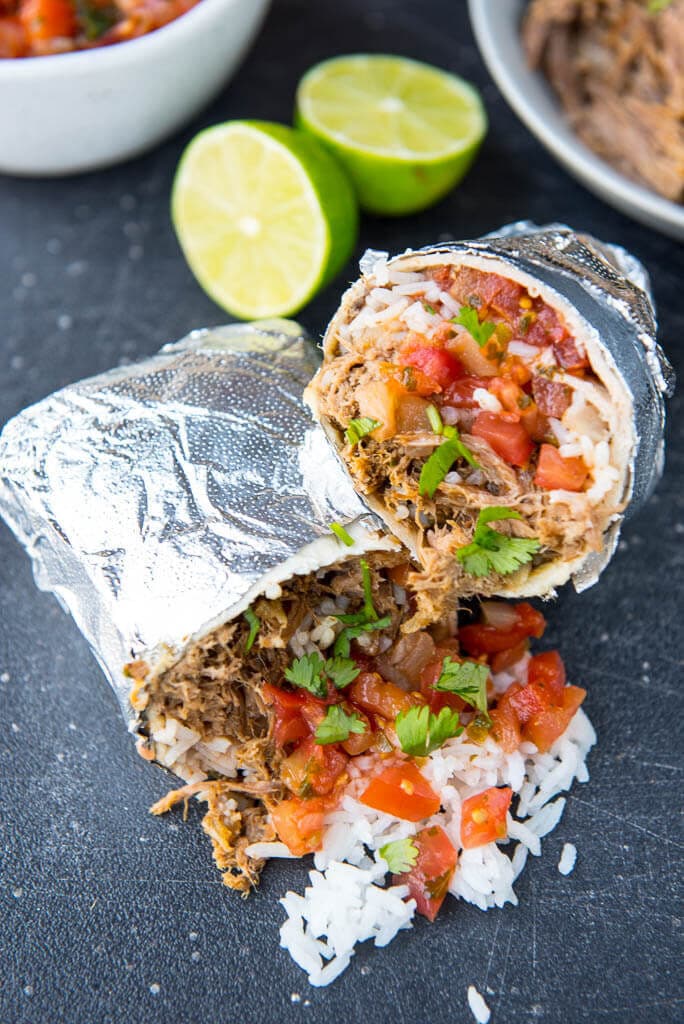 What is barbacoa?
Barbacoa is a traditional Mexican dish made from the head of a cow. You may be thinking, "Whoa! We're making WHAT?" Have no fear! We're going to adjust the recipe and use a beef roast instead. (Whew!)
The term "barbacoa" is used to describe meat that has been baked or cooked by steaming (slow cooking). Barbacoa can be made from beef, sheep, or goat. As mentioned earlier, this recipe uses a beef roast to make this tender juicy meat dish that we'll turn into burritos.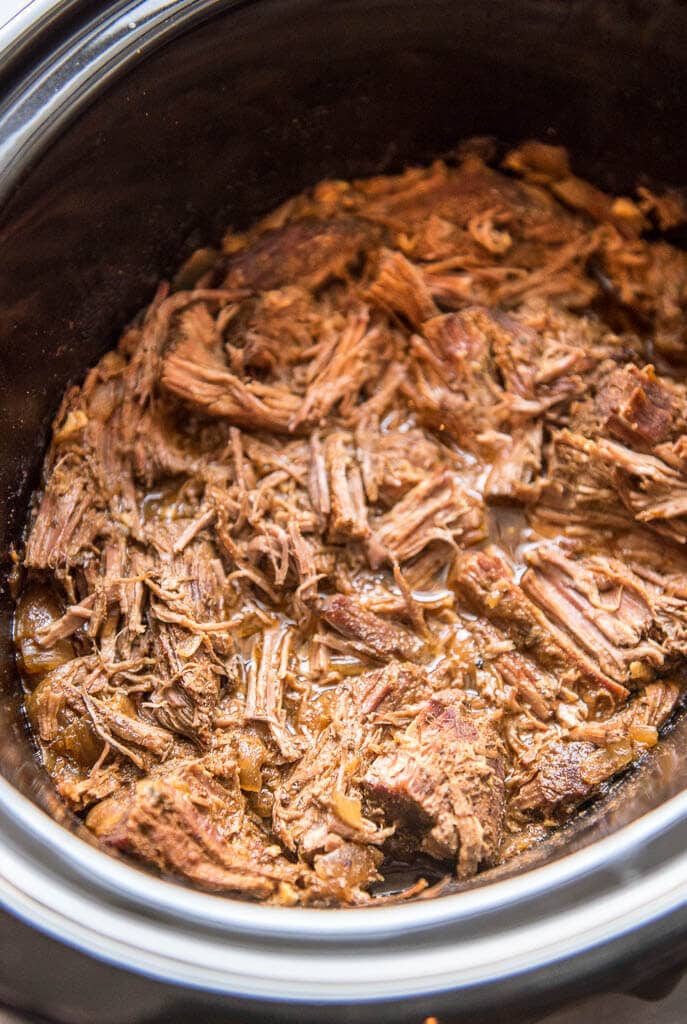 Ingredients
What kind of beef roast should I use to make Barbacoa Burritos? When you're making Barbacoa Burritos, you want beef that has a lot of flavor. A beef chuck roast is the perfect cut of meat for that! Chuck roast contains a lot of connective tissue that melts when slow cooked. The meat self-bastes which is why it comes out so tender.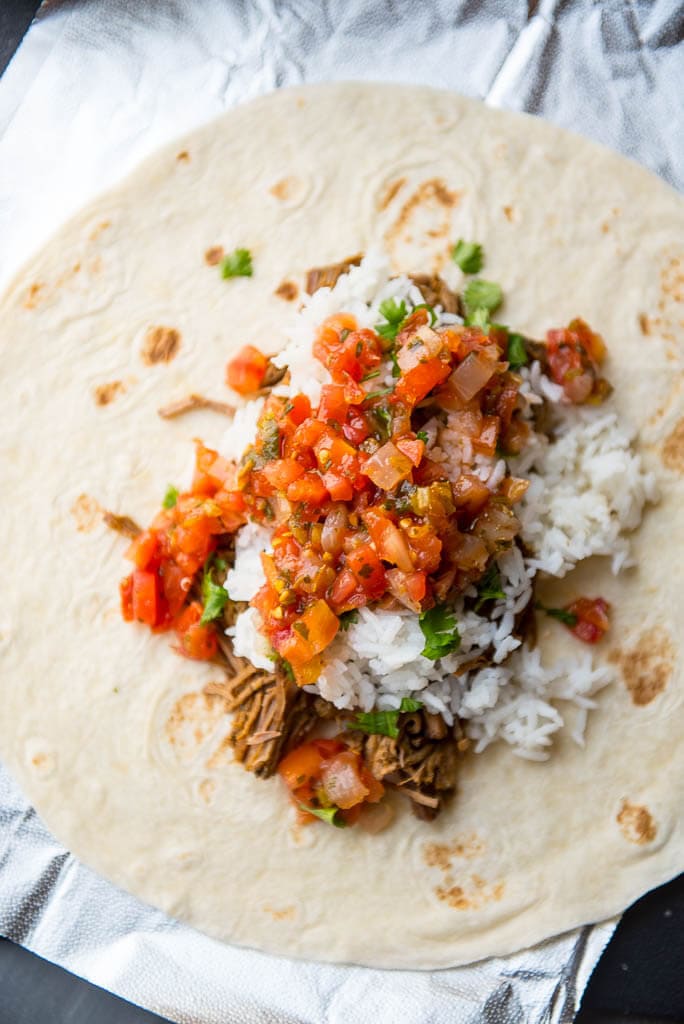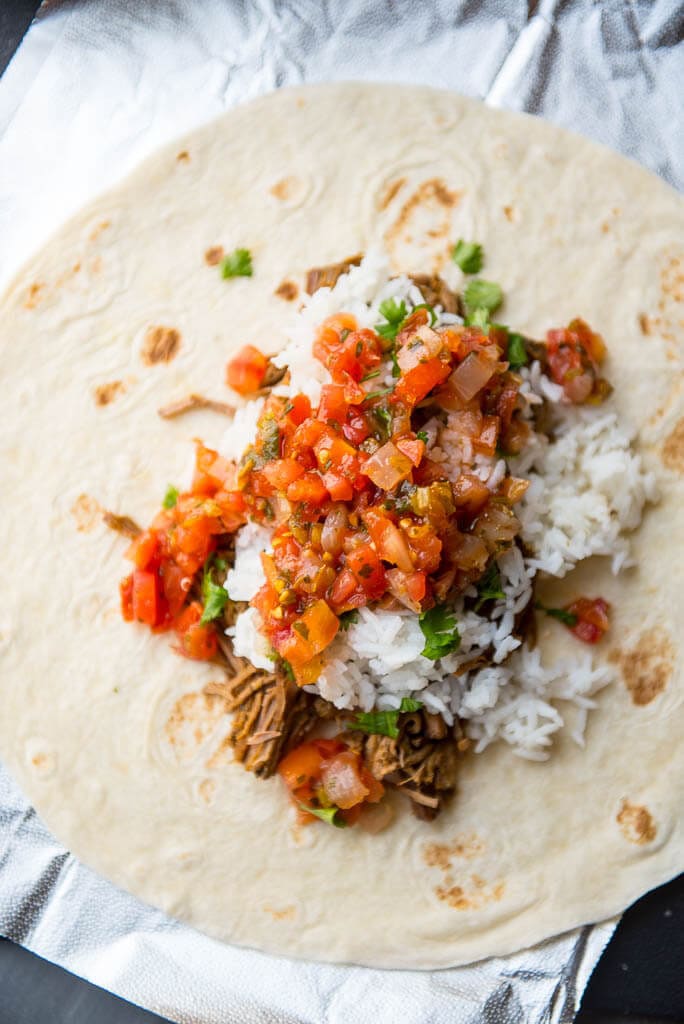 Preparation
Do I need to cut up the meat before cooking? You don't have to. But, cutting the chuck roast into 6-8 pieces will help it to cook faster, and help with that self-basting.
Do I have to cook the meat on Low? You should if you want your Barbacoa Burritos to be juicy and tender. Cooking beef chuck roast too fast at higher temperatures can result in tough, tasteless meat.
Are Barbacoa Burritos good for meal prep? Absolutely! YES! The vegetables, seasonings, and liquids can be pre-measured and added to the meat ahead of time. Store it all in an airtight bag/container in the fridge for up to 2 days or in the freezer for up to 3 months. When you're ready to turn on the slow cooker, simply add the contents of the bag/container. When the meat is finished cooking, you can shred it for use later. Store leftovers (if you have any!) in airtight containers for up to 3 days in the fridge or up to 3 months in the freezer.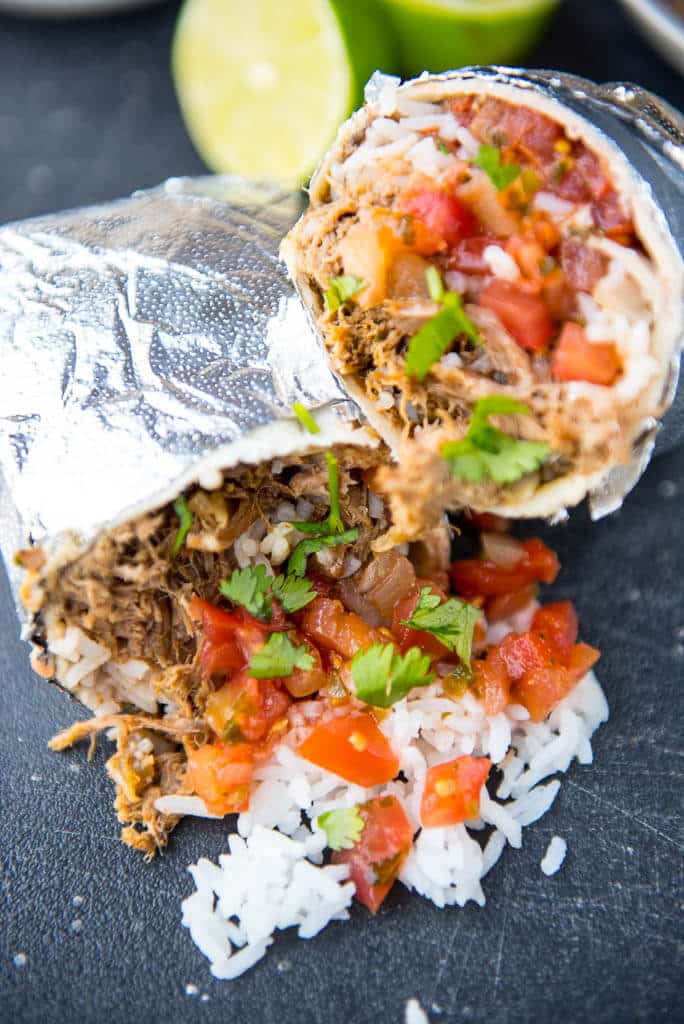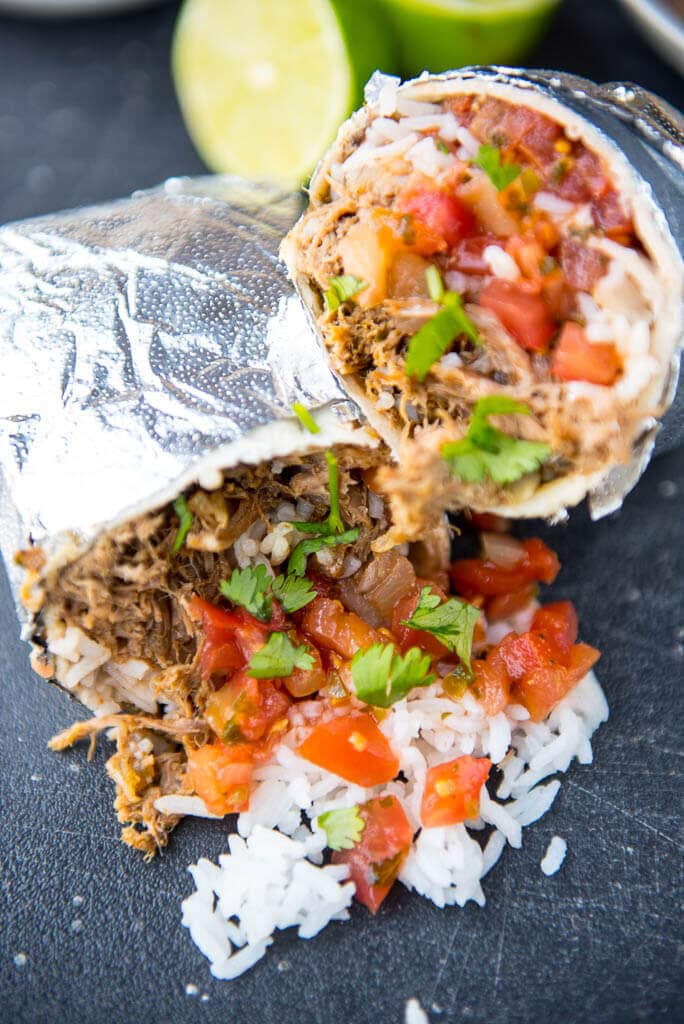 Serving Suggestion
How do I serve Barbacoa Burritos? Easily! All you need to do is make up a batch of rice to be added to the tortillas. Offer some garnishes like fresh pico de gallo, cheese, and sour cream so everyone can make a burrito to their liking.
How can I quickly make rice? Rice can easily be made in an Instant Pot and it turns out perfect everytime. Try my recipes for brown rice, basmati rice, and jasmine rice.
Related Recipes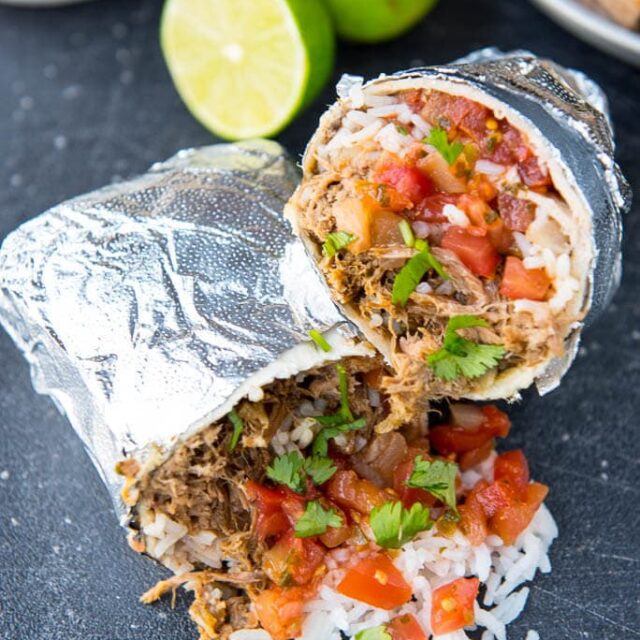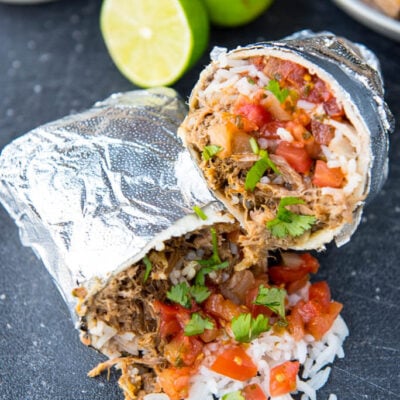 Slow Cooker Barbacoa Burritos
Slow Cooker Barbacoa Burritos are the easy alternative to take-out. A perfect summer family meal all wrapped up!
Ingredients
2

pound

round beef roast

1/2

white onion, chopped

4

garlic cloves, chopped

juice from one lime

2

teaspoons

cumin

1

teaspoon

oregano

1

teaspoon

chipotle chili powder

1

teaspoon

salt

1/2

cup

beef broth

2

cups

white rice

1

cup

prepared pico de gallo

.5

cup

sour cream

8

burrito sized flour tortillas
Instructions
Add beef to slow cooker along with onion, garlic, lime juice and spices then top with broth

Cover and cook on low for 8-10 hours until meat shreds easily with fork. If it doesn't shred, it need to cook longer

Cook rice according to package directions (Optional, add some fresh chopped cilantro and lime juice to the cooked rice for more flavor)

Serve on tortillas topped with rice, beef, and pico. Roll up tightly to serve
Notes
The beef can be made up ahead of time with the onion, garlic, lime juice and spices and then stored in a plastic zippered bag in the fridge for up to two days or freezer for up to 3 months.
Nutrition
Calories:
520
kcal
Carbohydrates:
58
g
Protein:
37
g
Fat:
14
g
Saturated Fat:
5
g
Cholesterol:
95
mg
Sodium:
817
mg
Potassium:
416
mg
Fiber:
1
g
Sugar:
4
g
Vitamin A:
410
IU
Vitamin C:
2.7
mg
Calcium:
82
mg
Iron:
4.7
mg
Important nutritional disclaimer