If you need an economical and tasty meal to share, serve slow cooker cowboy beans for a generous meal that is perfect year-round!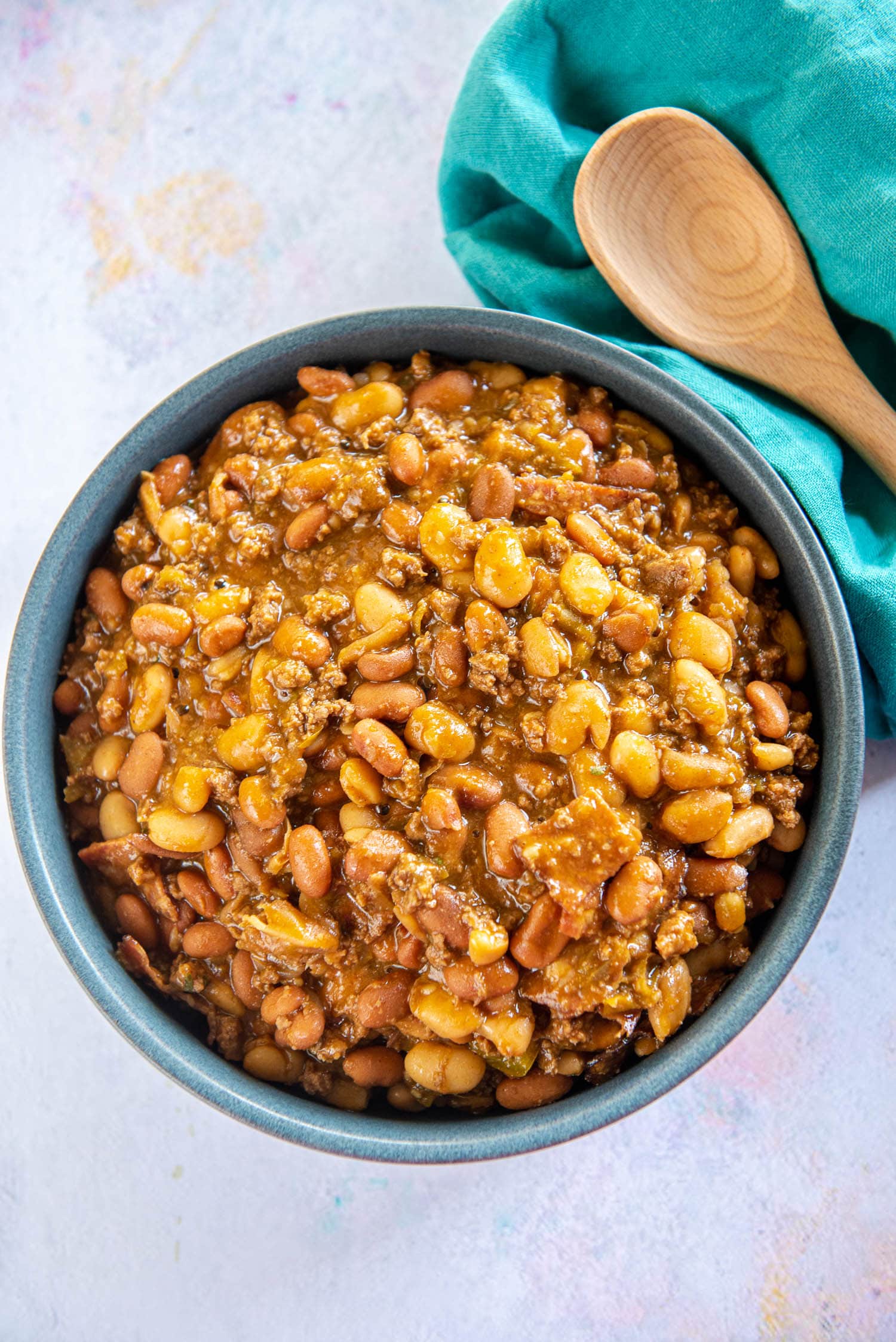 Cowboy beans are an ode to their original simplified roots in the American Southwest. In centuries past, cowboys would gather around a campfire after a long day of cattle driving and cook a variety of dried beans. Now with a few added flavorful ingredients, this hearty, deliciously-filling slow cooker dish continues to please a crowd!
What Are Cowboy Beans Made Of?
Think: similar to classic pinto beans – but elevated. Cowboy beans go beyond your typical baked or chili beans from a can, and include beef, bacon, peppers and onions, and added sweetening to create the rich flavor.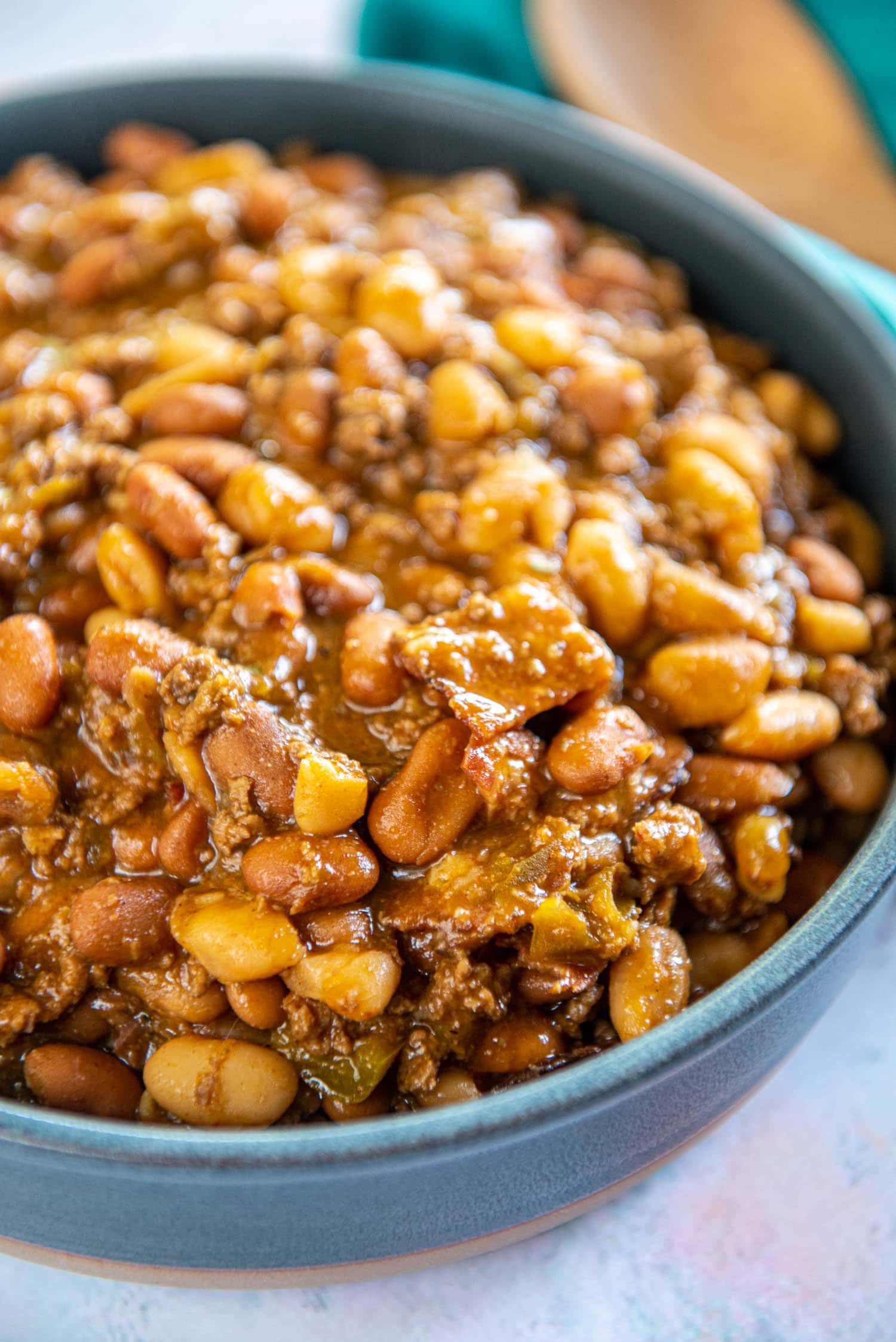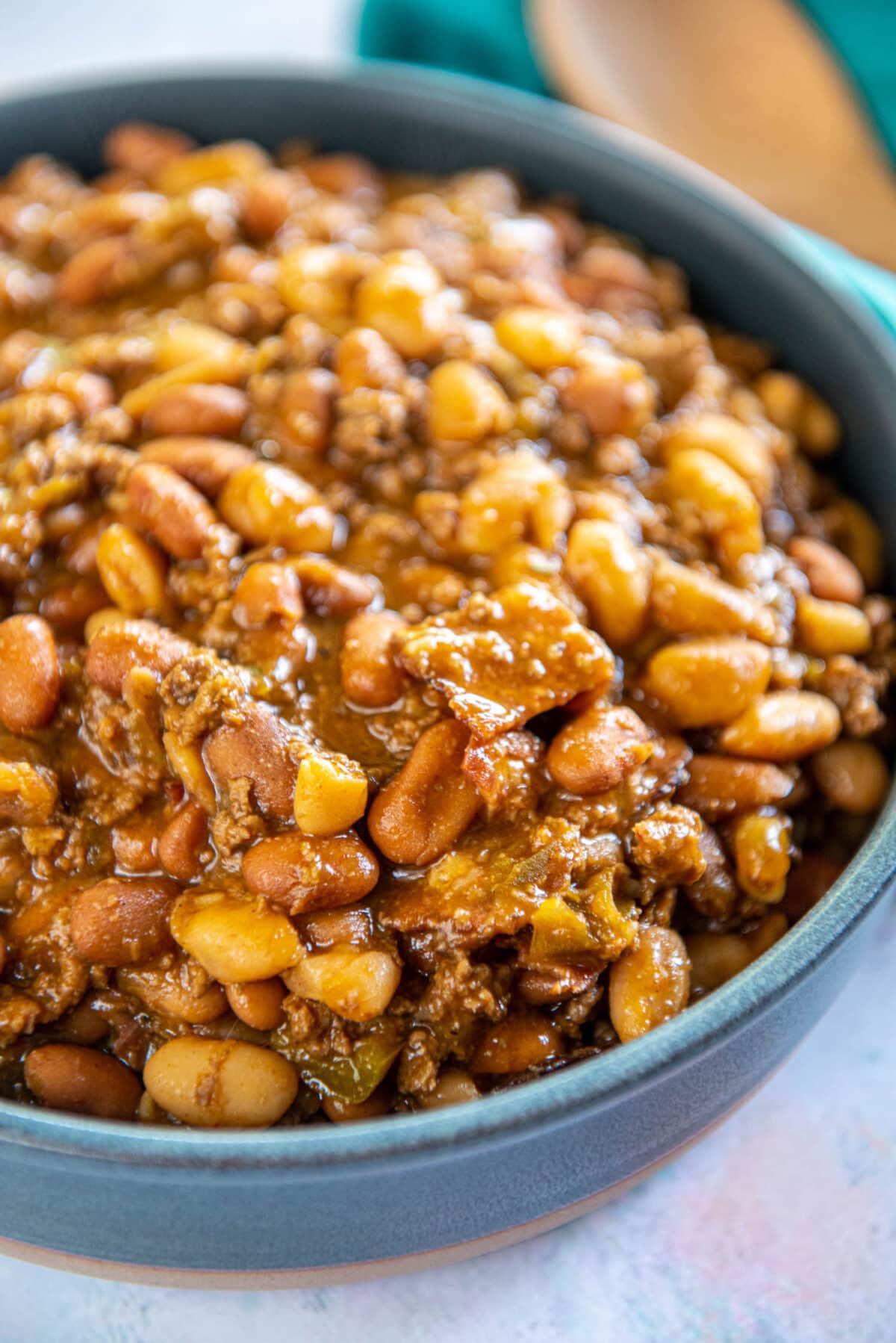 Ground Beef – Similar to chili, ground beef creates an ultra-filling combo! (You could also substitute ground turkey for leaner meat and flavor).
Bacon – Bacon brings the home-cooked savory flavor to this recipe. You will NOT want to skip this step! You can, however, sub turkey bacon if preferred.
Vegetables – Finely diced onion and green bell pepper – or any color bell pepper – provide texture and variation. Combining these two ingredients is usually a great opportunity to sneak in vegetables to most soups and stew-like recipes. If you like a little added spice, toss in a bit of chopped jalapeno alongside these veggies.
Canned beans – You can make your beans from scratch, but for simplicity's sake, use canned pinto and Great Northern beans for a nice visual mix. Any combination of canned beans could be a great swap (black beans, cannellini beans, kidney beans, etc.)
BBQ sauce, ketchup, and maple syrup – A rich meld of saucy flavors brings the sweet to the slow cooker!
Here's where you can add a bit of variation based on your preferences. I used a sugar-free BBQ sauce and sugar-free ketchup to keep added sugars low, as well as maple syrup as a natural sweetener. You might like to add spicier or more tangy BBQ sauce varieties.
Seasonings – The combination of chili powder and instant coffee powder is a smoky, earthy spice blend bringing the entire dish together.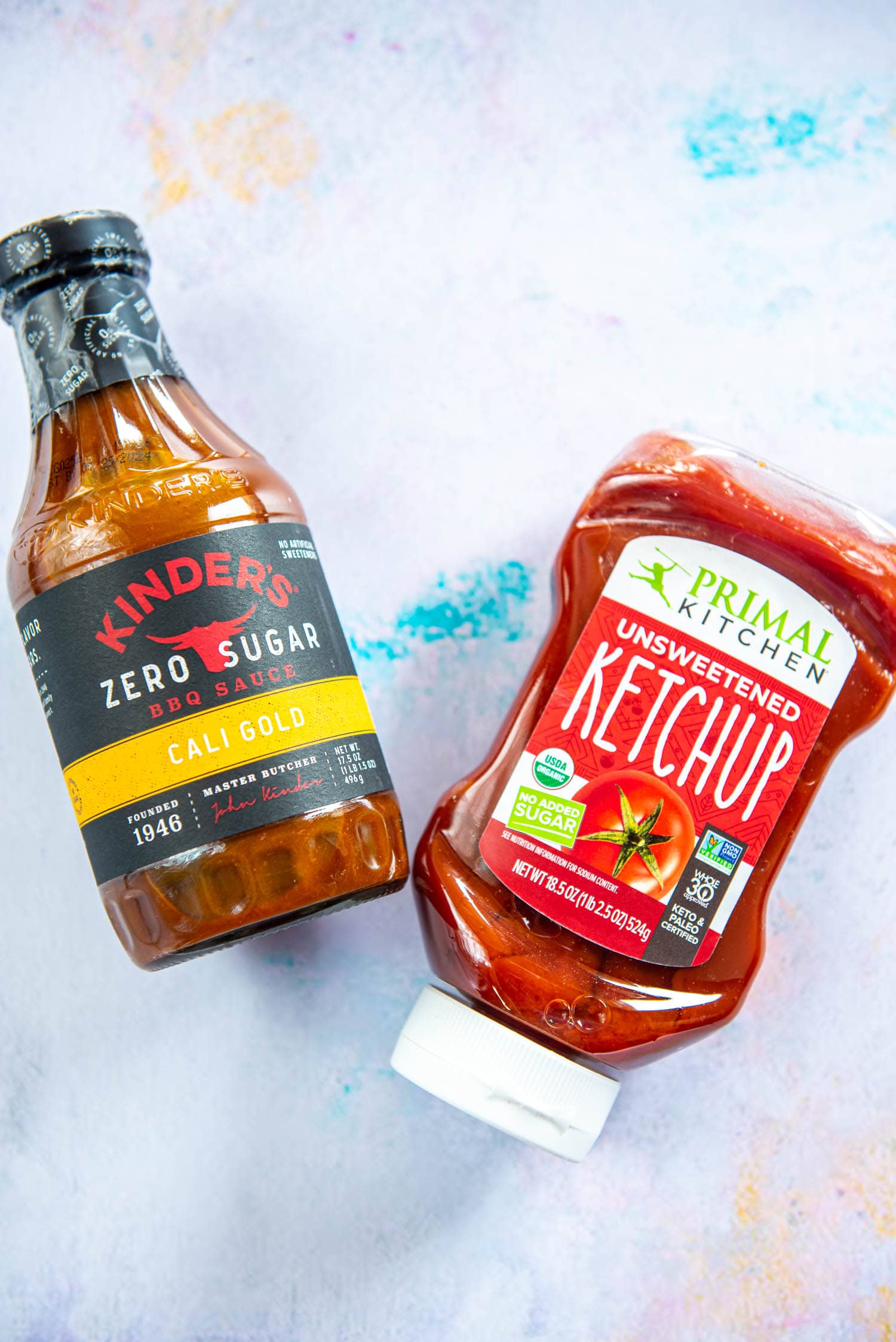 What Is The Difference Between Cowboy Beans And Chili?
Cowboy beans and chili have similar ingredients, but the sweet and savory flavor is the key difference here. Oh, and the bacon! Chili will generally also include a larger quantity of ground meat and a tomato base.
Cowboy beans lean toward the BBQ-flavored profiles and include a variety of beans in the mix.
How To Make Cowboy Beans In The Slow Cooker
Begin by browning the ground beef in a skillet until it is fully cooked. You can drain off some of the grease, then add it to the slow cooker. (Tip: save a step by using a multi-cooker to brown the meat in the same appliance!)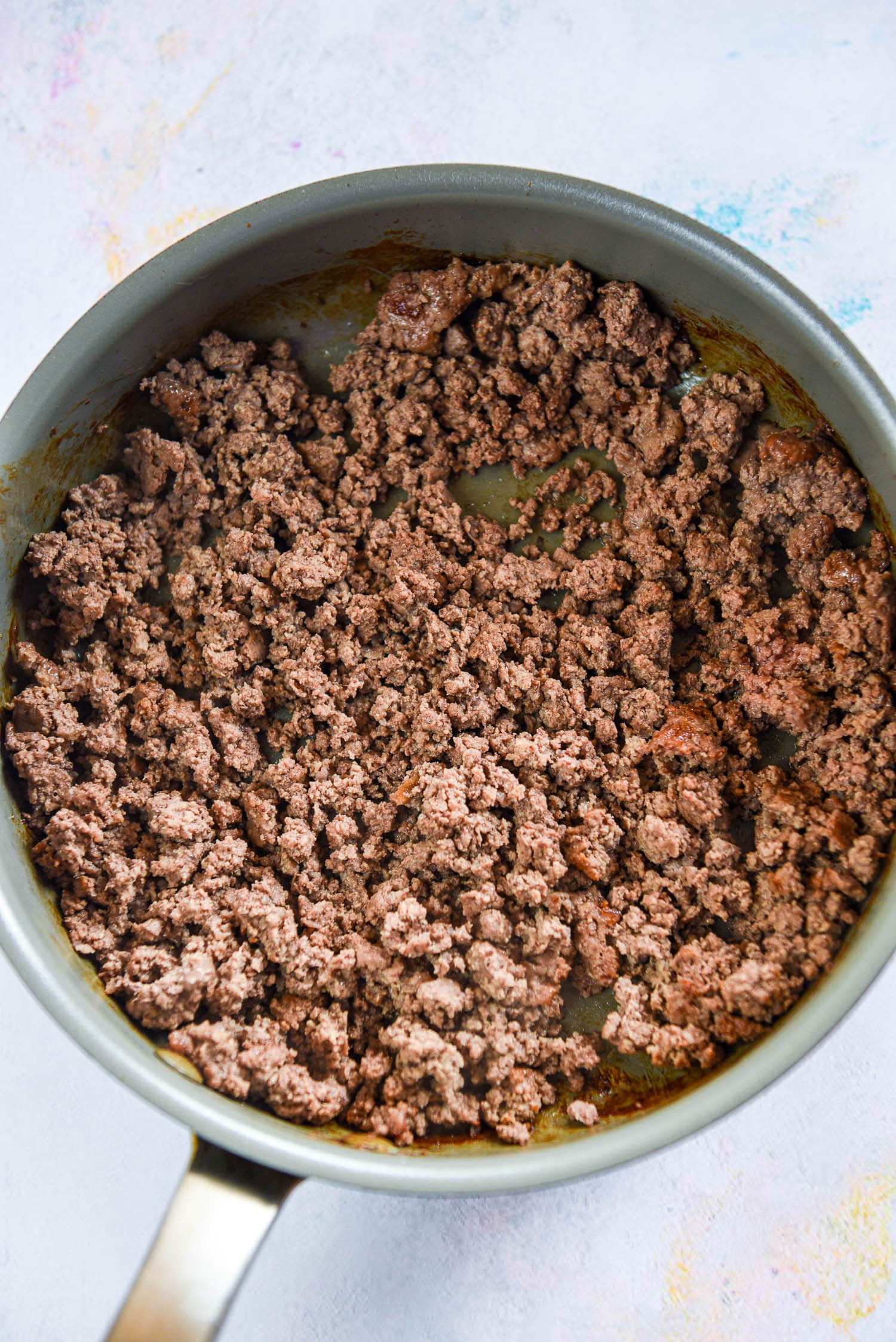 Chop up the pre-cooked bacon into bite-sized pieces and add to the ground beef in the slow cooker.
Next, finely dice the pepper and onion (you could also use a mini-chopper tool) and add to the slow cooker.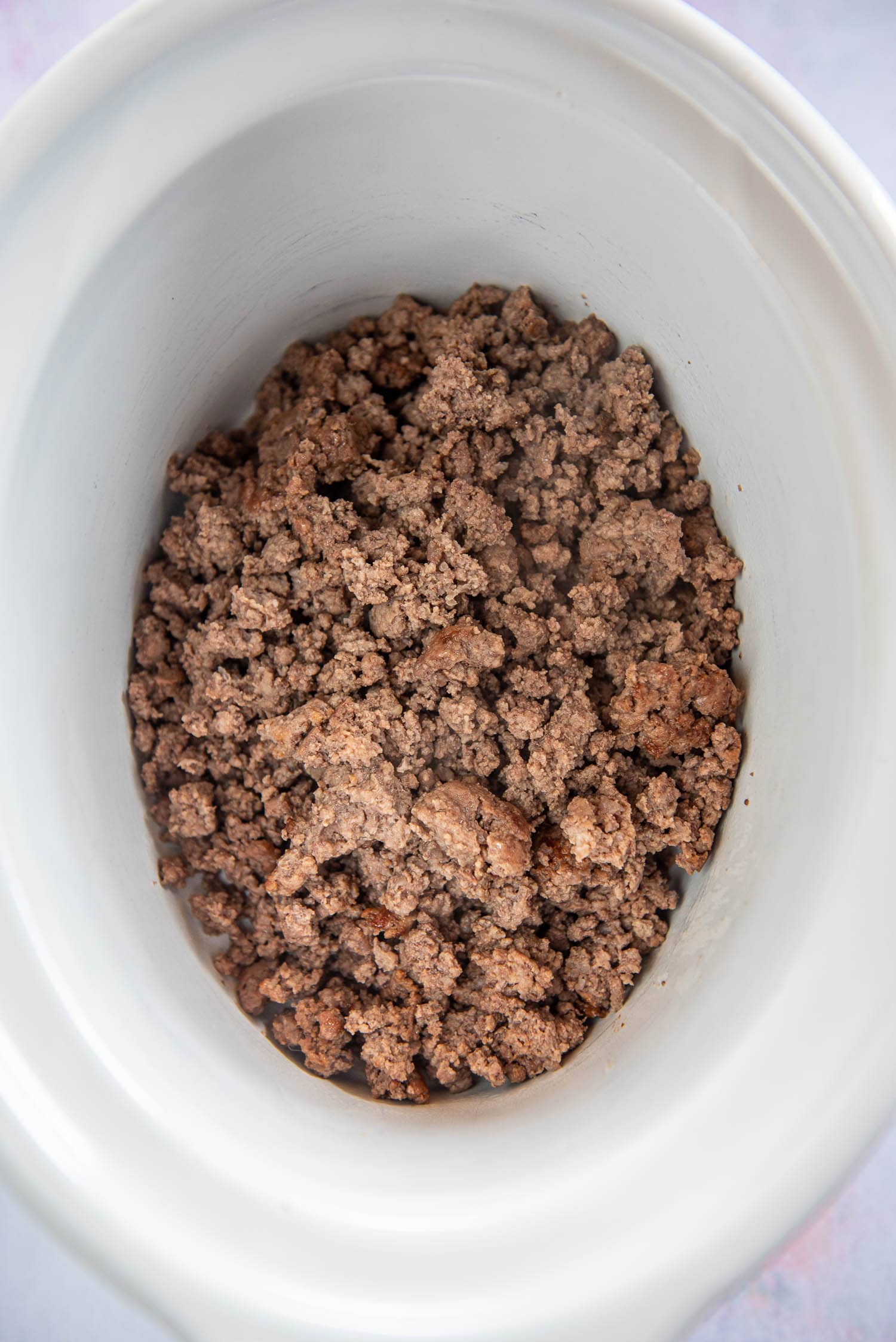 Rinse and drain the canned beans. Finally, add the remaining ingredients and stir all together. Cover and cook on high for 1-2 hours or low for 2-4 hours until hot and bubbly (and amazing!).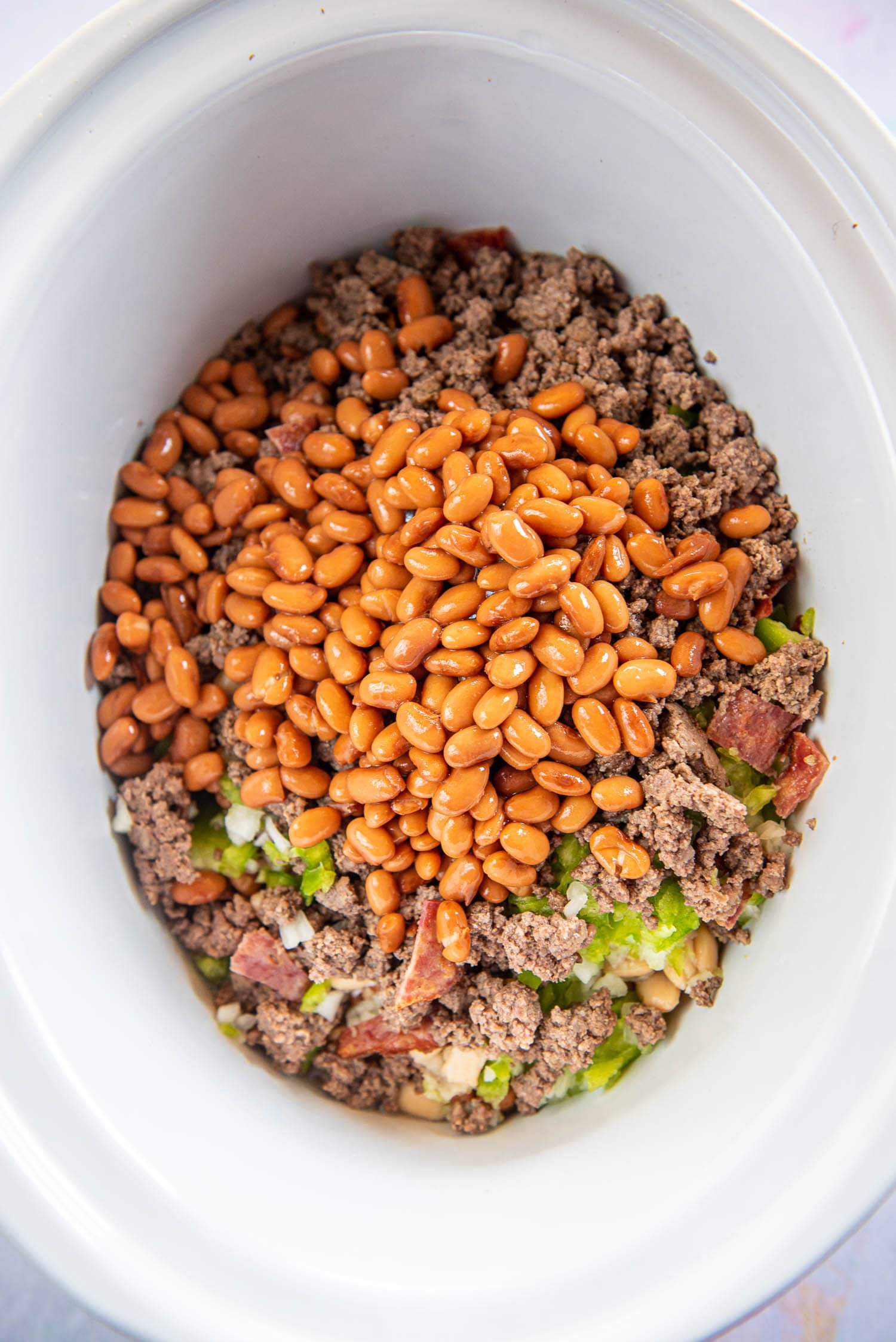 What To Serve With Cowboy Beans
Cowboy beans would make the perfect fall or winter dish to serve at a tailgate or potluck gathering. Try pairing it with cornbread made in a cast-iron pan or served alongside tortilla chips and Slow Cooker Spicy Queso. While grilling outside, serve simmering Cowboy beans as a side with hot dogs or a ladled topping over Slow Cooker Baked Potatoes. Such a flexible fan-favorite meal has no limits to how it can be served!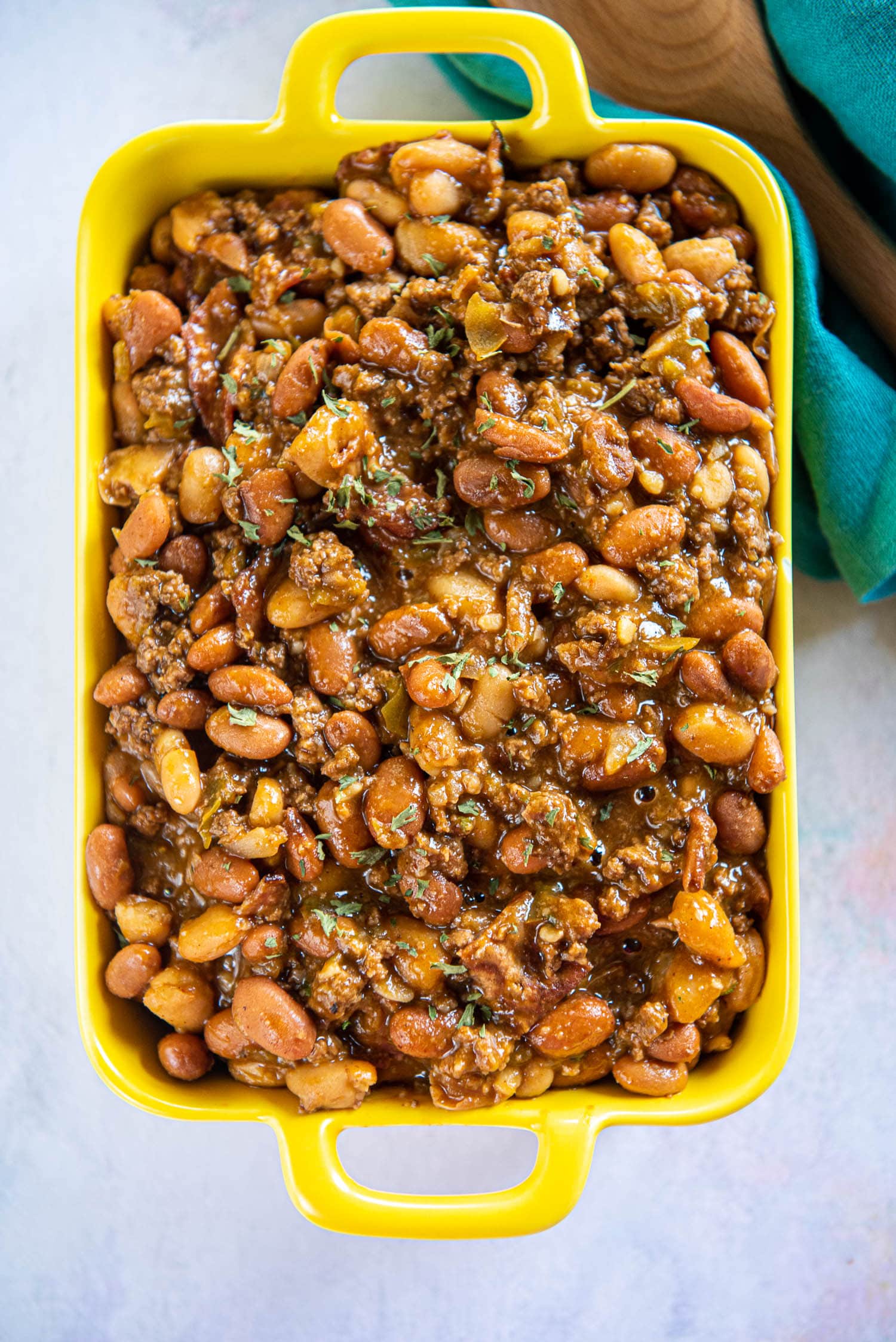 Best Ways to Store Leftover Cowboy Beans
This recipe is perfect for leftovers! Remove from the slow cooker, allow to cool, and store in the fridge for up to 3 days. To freeze, cool the beans and portion them into individual freezer servings or store in a gallon-size freezer bag for up to 3 months. Simply thaw in the fridge for up to 24 hours before you are ready to eat!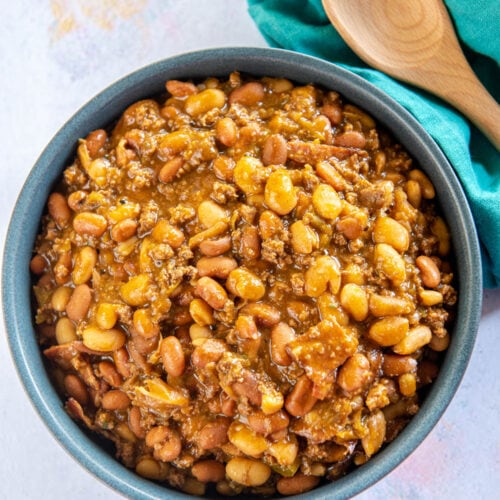 Slow Cooker Cowboy Beans
If you need an economical and tasty meal to share, serve slow cooker cowboy beans for a generous meal that is perfect year-round!
Equipment
Slow cooker (or multi-cooker)

Skillet
Ingredients
1

pound

ground beef

6

slices

of precooked bacon

1

sweet onion

1

green bell pepper

2 15

oz

cans pinto beans

drained

2 15

oz

Great Northern beans

drained

½

cup

BBQ sauce

1/4

cup

ketchup

¼

cup

maple syrup

1

tablespoon

chili powder

2

teaspoons

instant coffee powder
Instructions
Brown ground beef in skillet until fully cooked then add to slow cooker

Chop bacon and add to beef in slow cooker

Finely dice pepper and onion and add to slow cooker

Rinse and drain canned beans

Add remaining ingredients, stir, cover, and cook on high for 1-2 hours or low for 2-4 hours until hot and bubbly
Notes
How many people will this serve? This should be plenty for about 12 people – especially if served with additional sides! The serving size will be approximately ½ cup.
Can this recipe be made in the oven? Yes, this can also be made in the oven! Brown meat and sauté peppers and onions, then mix all ingredients in a deep oven-safe casserole dish or Dutch oven. Bake at 350 degrees for around 45 minutes until cooked through and bubbly.
Can I use dried beans? You can certainly cook your dried beans from scratch – just be sure to factor in additional soaking and cooking time. Prep your dried beans according to your preferred recipe, then drain the cooking liquid and add the correct portion to the slow cooker cowboy beans.
How can I thicken the cowboy beans? If your BBQ sauce is thin, use ½ cup, if thick use ¾ cup or begin with a smaller portion and add as needed to prevent the beans from getting too watery. After cooking, make a slurry of 1 tablespoon cornstarch, tapioca flour, or all-purpose flour with equal water until smooth and stir into the bean mixture.
Recipe variations –

Beans – Any combination of canned beans will work for this recipe. You can also add additional spice, jalapeno, or a bit of hot sauce to give it an extra kick!
Sauces and Sweetness –

For added sweetener, you can always add a bit of brown sugar if desired, or look for a honey-BBQ sauce or flavored ketchup.

Tip: Sauces with higher sugar content can cause the mixture to burn more easily while cooking.

Meat – T

ry ground turkey or ground pork sausage as a swap to ground beef.
Important nutritional disclaimer
More Slow Cooker Bean Recipes