Homemade Ranch Seasoning Recipe
OK, Ranch lovers – this one's for you! If you're the type that likes a side of ranch with everything, you will love having a blend of ranch seasoning ready to go in your pantry for dressing, dips, and any recipes with this flavoring. Bonus: this blend can be made dairy-free!
Why opt for homemade ranch seasoning?
I know, it's so easy to just pick up a packet or two of premade ranch seasoning at the grocery store. But, hear me out!
Many premade packets will also include additives such as sugars, maltodextrin, and MSG to provide that extra saltiness. In addition, a small packet can sometimes be pricey compared to the total recipe cost. Making your own batch saves you time AND money in the long run!
Mixing up your own blend at home is just as simple and can easily be doubled or tripled for convenience! You can also customize the ingredients that you prefer to stand out (for example, some people LOVE a little extra dried dill). In only a few minutes you can have a flavorful batch to store, ready for any ranch-themed recipe with only the good stuff!
What ingredients are in ranch seasoning?
Homemade ranch seasoning can be made from a combination of ingredients probably already in your pantry! If not, any of these are readily available at local grocery stores. For a dairy-free mix, you'll need:
dried parsley
onion powder
garlic powder
dried dill
dried chives
salt and pepper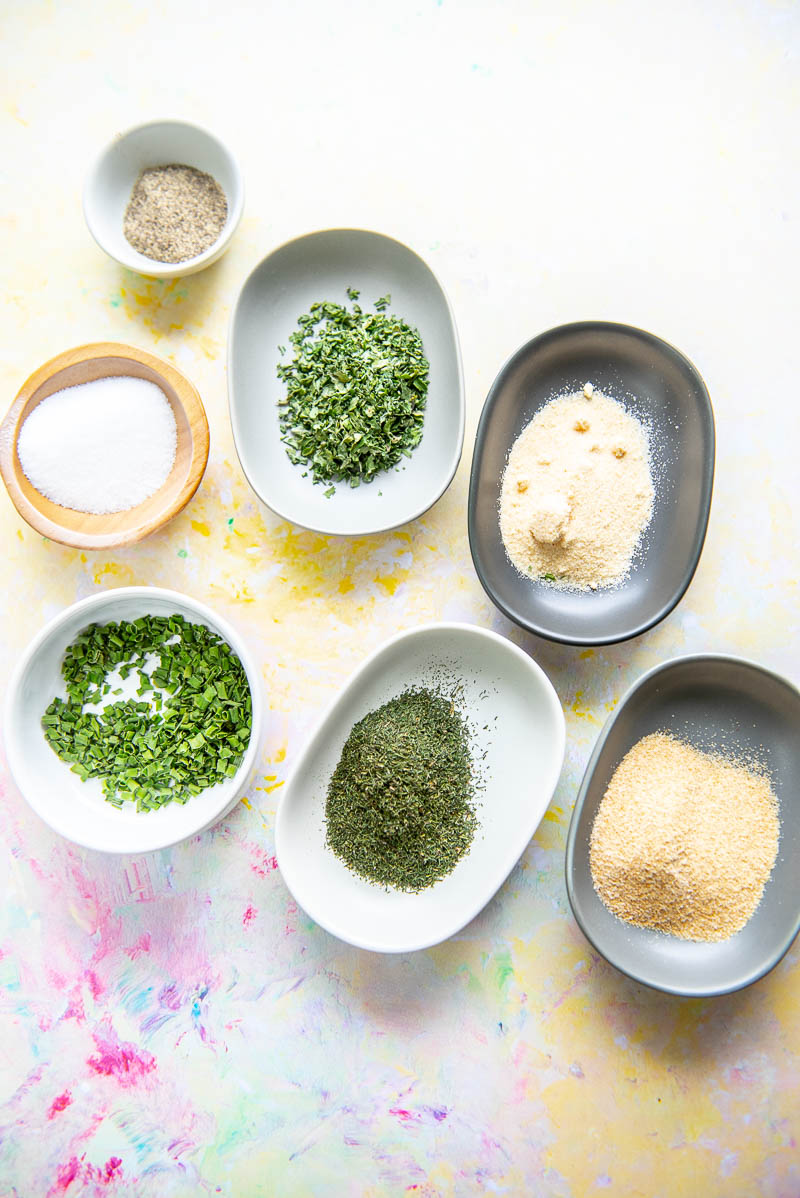 Most ranch seasoning mixes and packets will also contain dried milk or buttermilk powder already mixed into the herbs. This mix certainly doesn't lack in flavor, but if you prefer to use your seasoning mix for a creamy dressing or other such recipes, you can include ¼ cup dried buttermilk powder.
This dairy-free ranch seasoning recipe will make about 6 tablespoons for one batch. For your planning purposes, premade packets from the store are typically 1 oz, which equals 2 tablespoons. With this single batch, you've got enough to sub for 3 packets.
Tips For Making The Best Homemade Ranch Seasoning
As far as instructions go, just portion out the spices, mix, and store! Be sure to shake the container before using to recombine spices that may settle over time.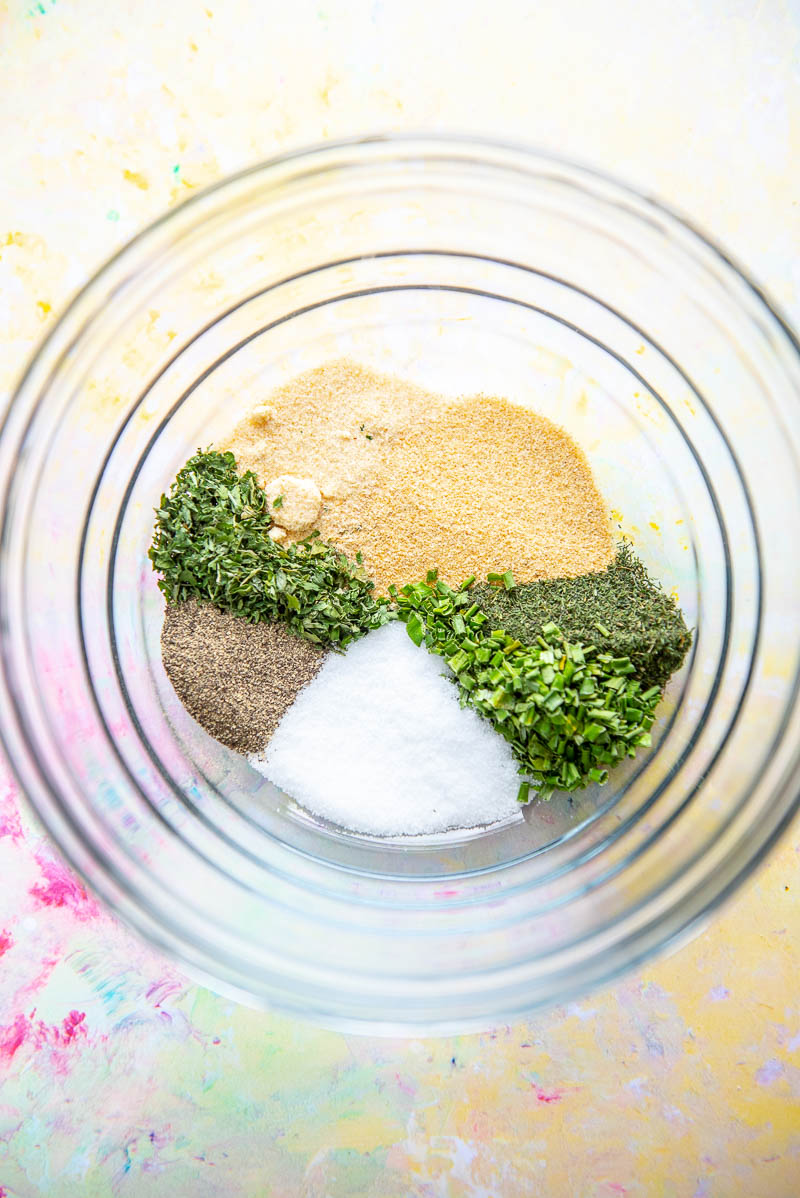 This seasoning blend is so tasty and simple – here are a few extra tips for making the most of your mix!
Tip: Make sure that all bowls, measuring utensils, and storage containers are completely dry to prevent the seasonings from "clumping."
Tip: Store in an airtight container in a cool, dry place and the seasoning will last up to a few months.
Tip: Create an added label on a clear container for easy recognition and mix date. (Be sure to notate if the mix is dairy-free or includes buttermilk) Check out my favorite containers for storing homemade seasonings.
Tip: I like to keep a batch without the buttermilk and use it for a great dairy-free option or just a general seasoning blend. You can even use this version to make a dairy-free ranch dressing.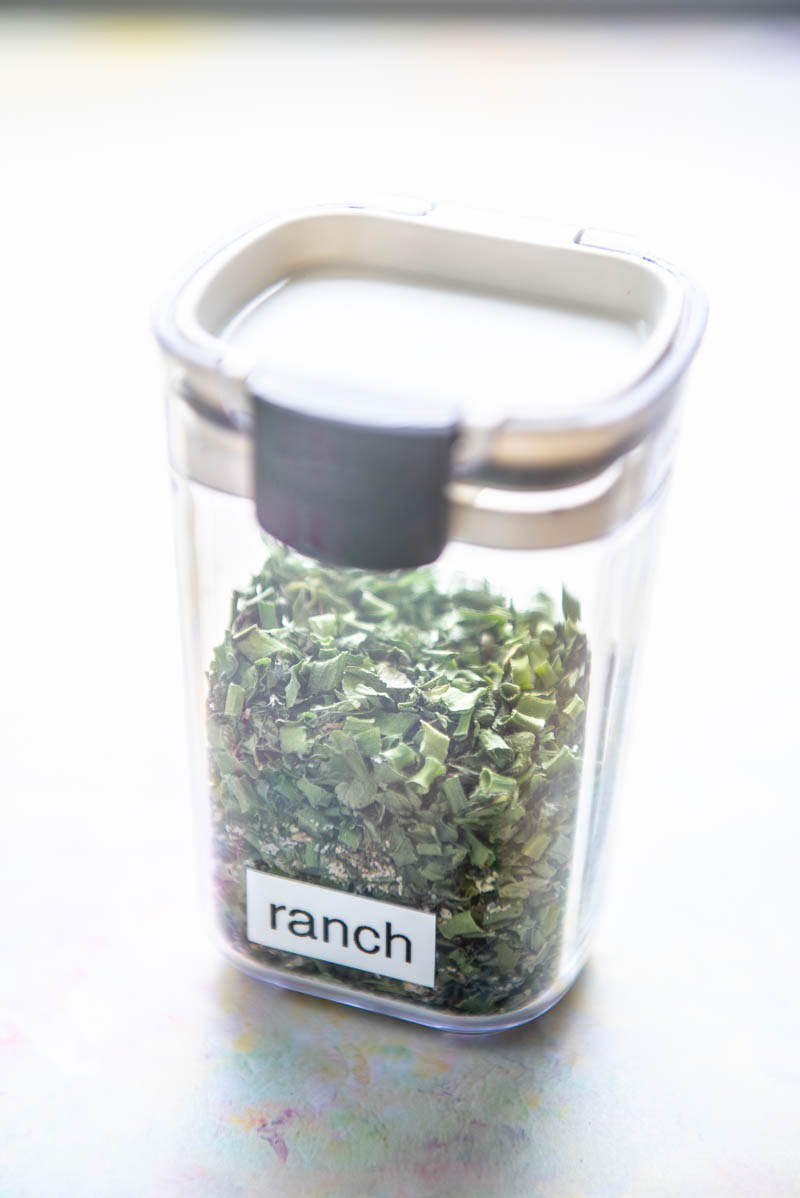 Slow Cooker Recipes That Use Ranch Seasoning Mix
When I think of ranch seasoning in home cooking and slow cooker recipes, comfort food comes to mind! Some of the BEST slow cooker recipes use this tangy, flavorful blend to bring the staple ingredients together.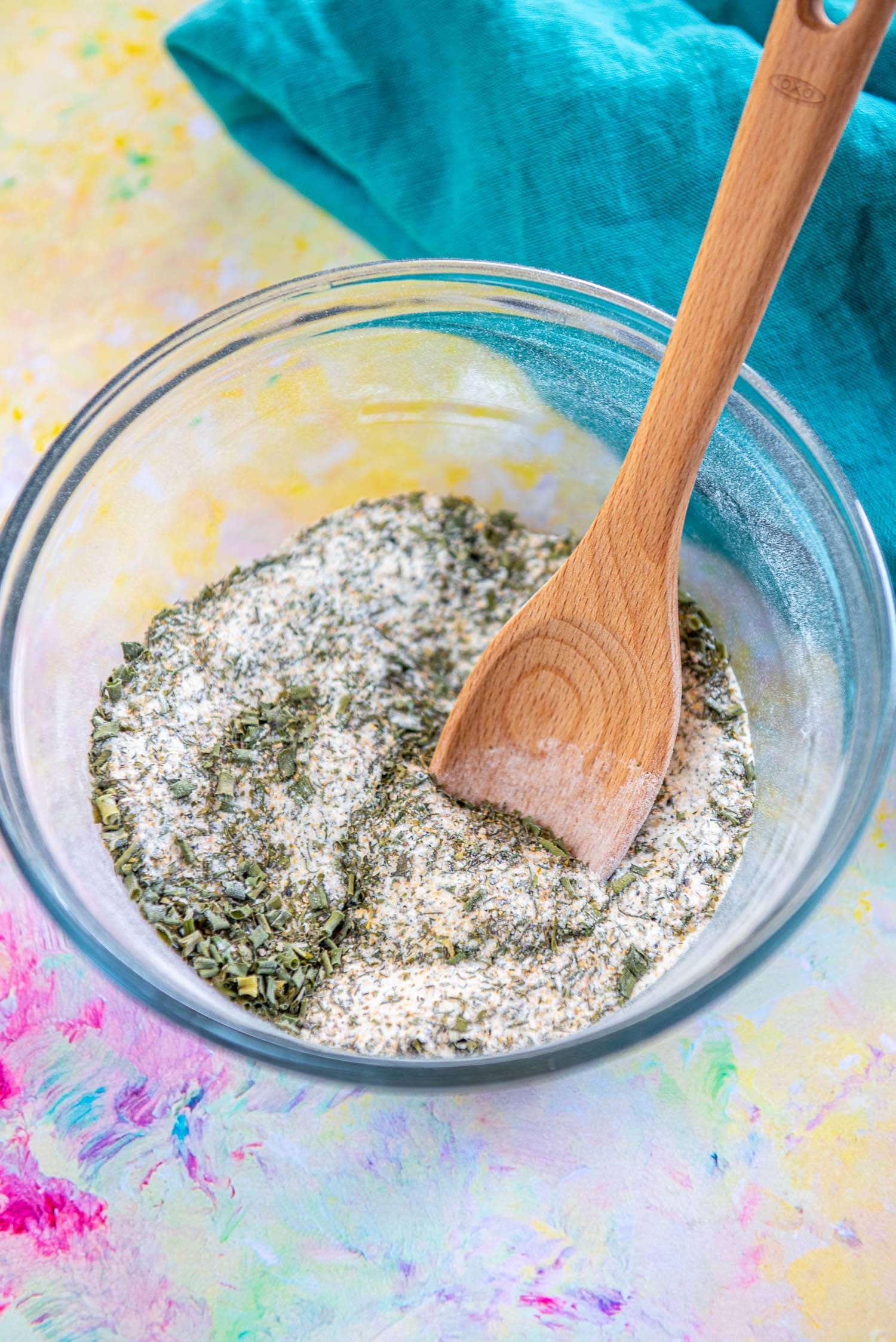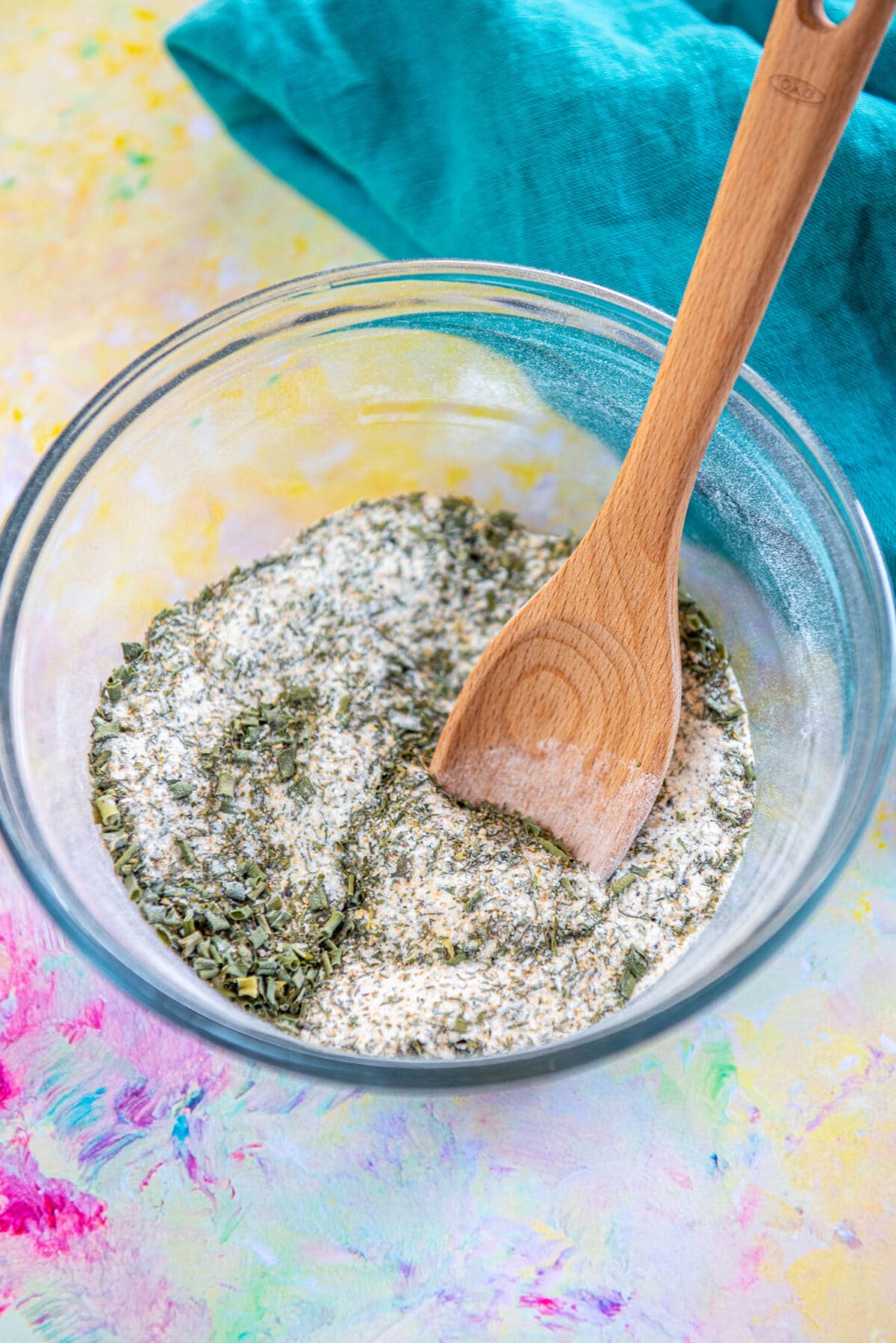 Try using your seasoning blend in a warm, cheesy casserole like my Slow Cooker Buffalo Chicken Tater Tot Casserole. Ranch seasoning also provides a little zing in Buffalo Chicken Chili. Or, if you just need a little extra pizazz for a simple, but delicious side dish, try using this seasoning in Slow Cooker Ranch Potatoes.
How else can you use ranch seasoning?
Ranch seasoning is such a versatile blend and can be used in many of your home-cooking favorites!
Ranch Dressing
Of course, you can use the seasoning mix to make a classic, creamy ranch dressing.
Simply measure out your seasoning – use 1 tablespoon of seasoning mix for a dairy-free variety, and 2 tablespoons of mix if it includes the dried buttermilk powder.
Combine seasoning with mayonnaise and lemon juice and a tablespoon of water at a time to reach your desired consistency. (Note: I prefer avocado oil mayo in my ranch dressing as a healthier option, but any version of mayo will work.)
Shake or whisk to combine. I prefer to leave the original texture of the seasonings, but if you are making this for kids you could blend with a mini food processor to break down any larger dried seasoning and make the mix much smoother.
This dressing recipe makes approximately ¾ cup. Store your dressing in an airtight container or jar in the refrigerator and it will last up to 3-4 days.
Keep in mind – ranch dressing isn't just for salads! You can drizzle it on pizza, in sandwiches or wraps, over baked potatoes, or as a side for quesadillas.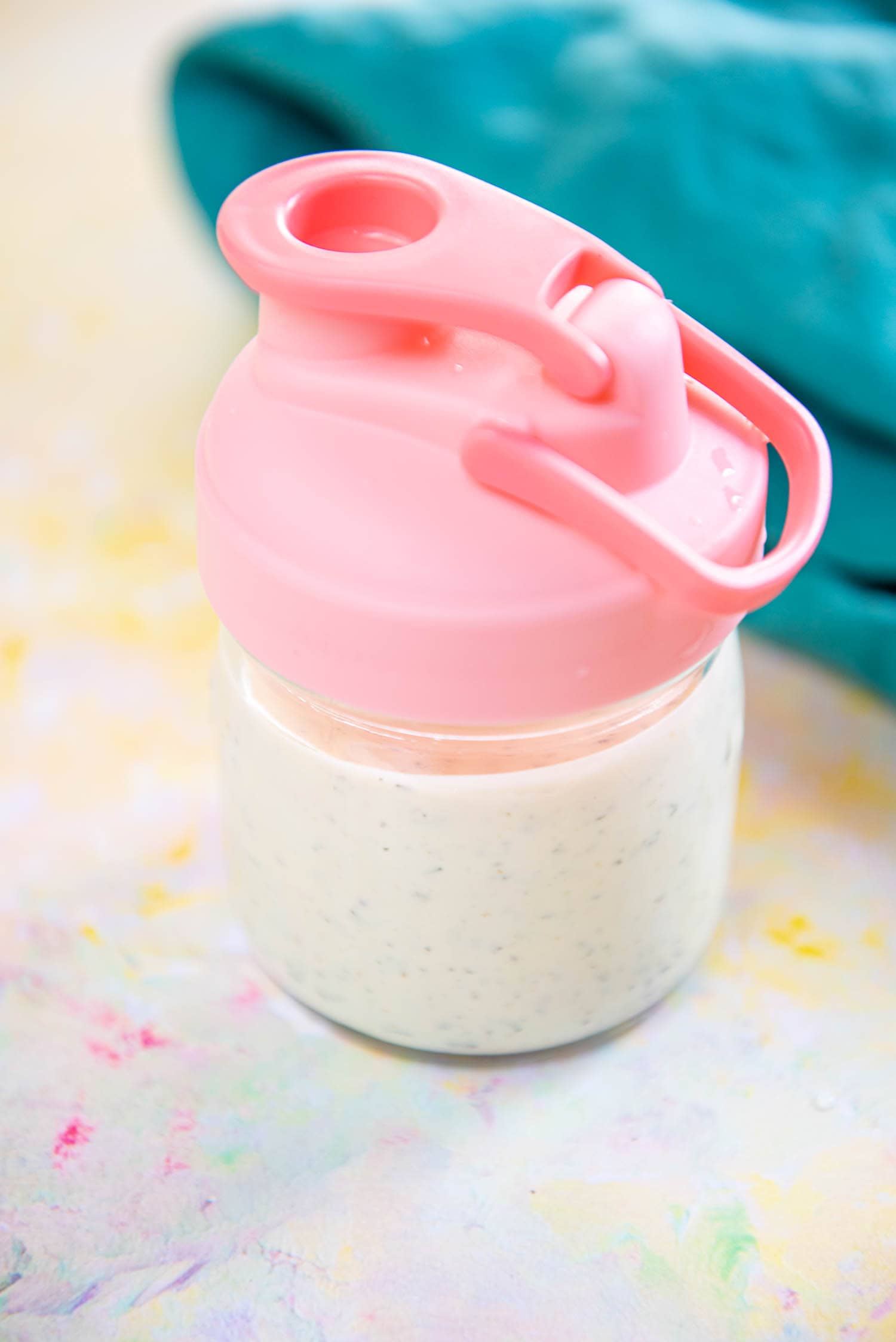 Ranch Dip
Additionally, use your ranch seasoning mix to make ranch dip. Just add 1 tablespoon of seasoning mix to 8 oz of sour cream for a dip that can be used for veggies, tortilla or pita chips, chicken nuggets, or oven-baked french fries. If you prefer a lower-calorie, higher-protein option, you can also use plain Greek yogurt in place of sour cream.
Baking and Side Dishes
Have you considered using ranch seasoning in baking? Try a dinner roll or biscuit with some ranch seasoning mixed with melted butter and drizzled over the top. Mix some ranch seasoning into a batter mix for fried foods such as chicken, fish, or vegetables.
Take your standard mashed potatoes to the next level with a little ranch seasoning blended in with the butter. This would be a great place to use the added buttermilk or dried milk powder in the seasoning mix.
Snacks
And of course, think of the many ranch-flavored convenience snacks that you find in the grocery store (often with lots of other less-than-healthy ingredients). Try your hand at your own party snack mix with cereals, pretzels, nuts, or popcorn to add a little extra snacking flavor! Another option is to mix some seasoning with melted butter (yes, another use for butter) and stir or brush over plain or cheese crackers.
Store your ranch-flavored snacks in an airtight container and snack away!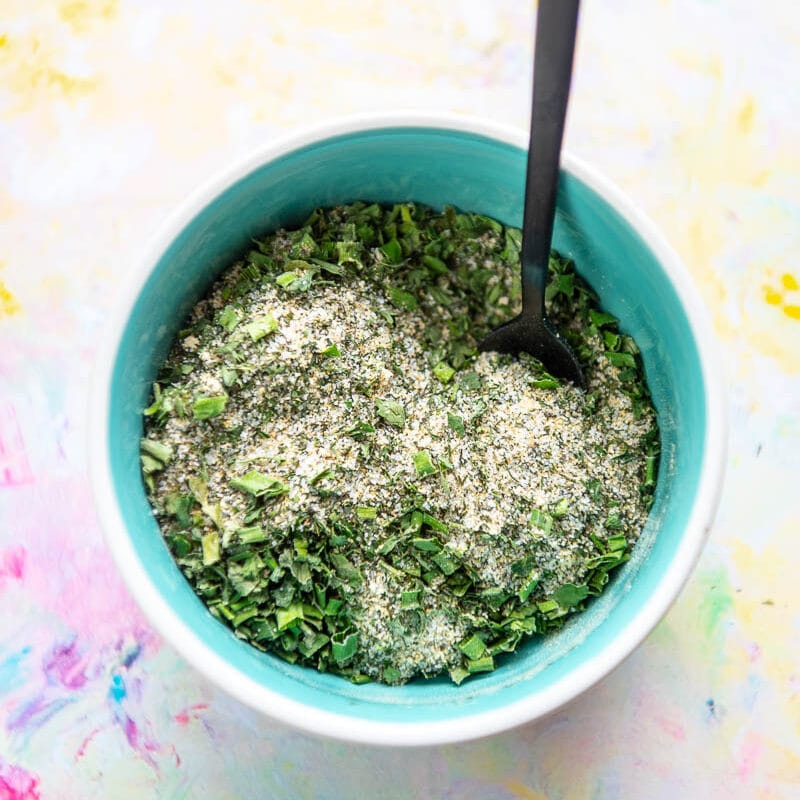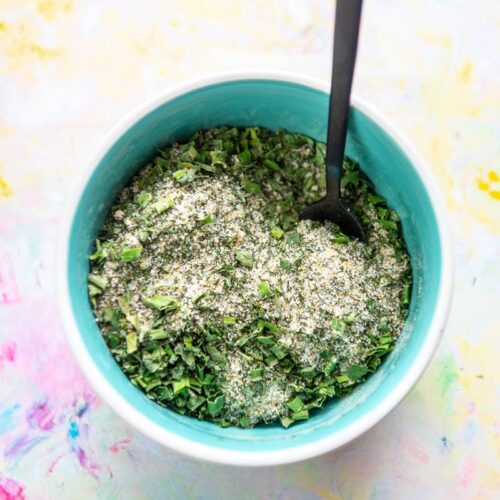 Homemade Ranch Seasoning Recipe
OK, Ranch lovers – this one's for you! If you're the type that likes a side of ranch with everything, you will love having a blend of ranch seasoning ready to go in your pantry for dressing, dips, and any recipes with this flavoring. Bonus: this blend can be made dairy-free!
Ingredients
Homemade Ranch Seasoning
1

tablespoon

dried parsley

1

tablespoon

onion powder

1

tablespoon

garlic powder

1

tablespoon

dried dill

1

tablespoon

dried chives

1

tablespoon

salt

1

teaspoon

pepper

1/4

cup

dried buttermilk powder

optional dairy addition for a creamy version
Homemade Ranch Dressing
1/2

cup

mayonnaise

*I prefer avocado oil mayo for the healthiest option

2

teaspoons

lemon juice

2

tablespoons

dried ranch seasoning mix

1 tablespoon if using the dairy-free version

1

tablespoon

water

Add water by tablespoons until you achieve desired consistency
Instructions
Homemade Ranch Seasoning Instructions
Whisk the spices together in a bowl until combined

Store in a dry airtight container

Shake before using to recombine spices that may settle
Homemade Ranch Dressing Instructions
Whisk together all ingredients in a bowl or jar

Continue to add water by the tablespoon until you achieve desired consistency

Adjust seasoning to taste
Notes
How much of this seasoning mix would replace a packet of store-bought ranch seasoning mix? Most spice packets are 1 oz portions which equal 2 tablespoons. Portion out 2 tablespoons of mix to replace a packet in your recipes!
How long does the seasoning blend last? Best way to store it? The mix will last a few months if stored dried and in an airtight container.
How long would the dip/dressing last? Best way to store it? Store your dressing or dip in an airtight container in the refrigerator for up to 3-4 days.
Any there any other variations of ranch seasoning? Try out some new takes on ranch seasoning by adding some chili powder or cumin for a Tex-Mex taste, or even some lemon pepper for a more citrusy flavor.
Nutrition Facts: Nutrition facts are for seasoning blend only (with buttermilk powder).
Nutrition
Calories:
12
kcal
Carbohydrates:
3
g
Protein:
1
g
Fat:
0.1
g
Saturated Fat:
0.02
g
Polyunsaturated Fat:
0.02
g
Monounsaturated Fat:
0.01
g
Sodium:
1167
mg
Potassium:
59
mg
Fiber:
1
g
Sugar:
0.1
g
Vitamin A:
60
IU
Vitamin C:
1
mg
Calcium:
21
mg
Iron:
0.5
mg
Important nutritional disclaimer
More Homemade Seasoning Blends To Make