Slow Cooker Ranch Potatoes
The next time you need an effortless side to complement a favorite entrée, try irresistible slow cooker ranch potatoes. Simplify your dinner prep and maximize the flavor of a simple combination that the whole family is sure to love.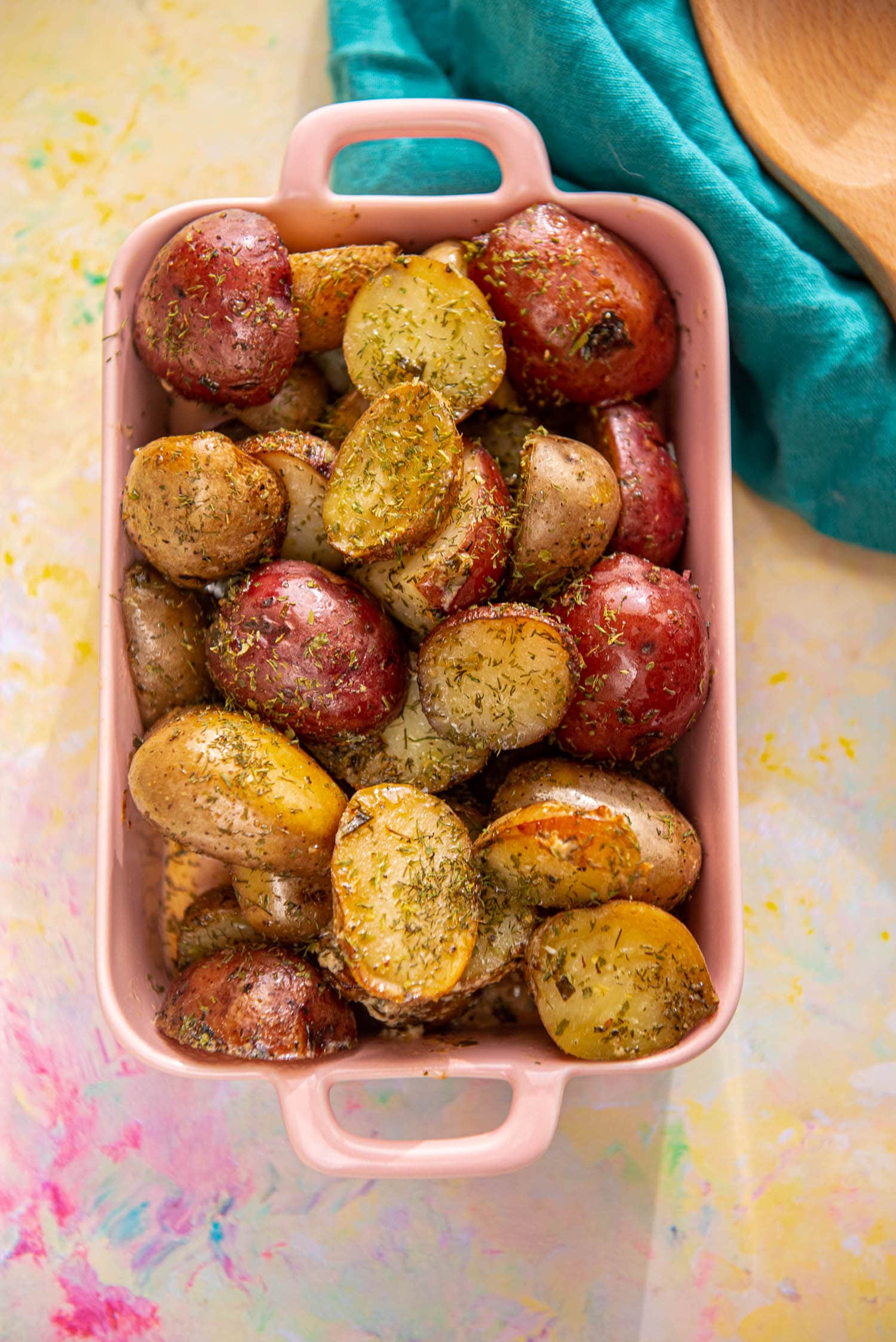 When you're preparing a family meal with several elements, it can be a relief to outsource a dish or two to the slow cooker. Ranch potatoes are so easy and will become a fan favorite with the added flavor of homemade ranch seasoning. (Bonus – one pot makes for easy cleanup!)
Ingredients Needed For Ranch Potatoes
Who knew such a savory side could be made with just 3 ingredients? Skip the oven or grill for these toasty and delicious herbed potatoes. Opt for the simplest ingredients – probably already in your pantry – to throw together slow cooker ranch potatoes.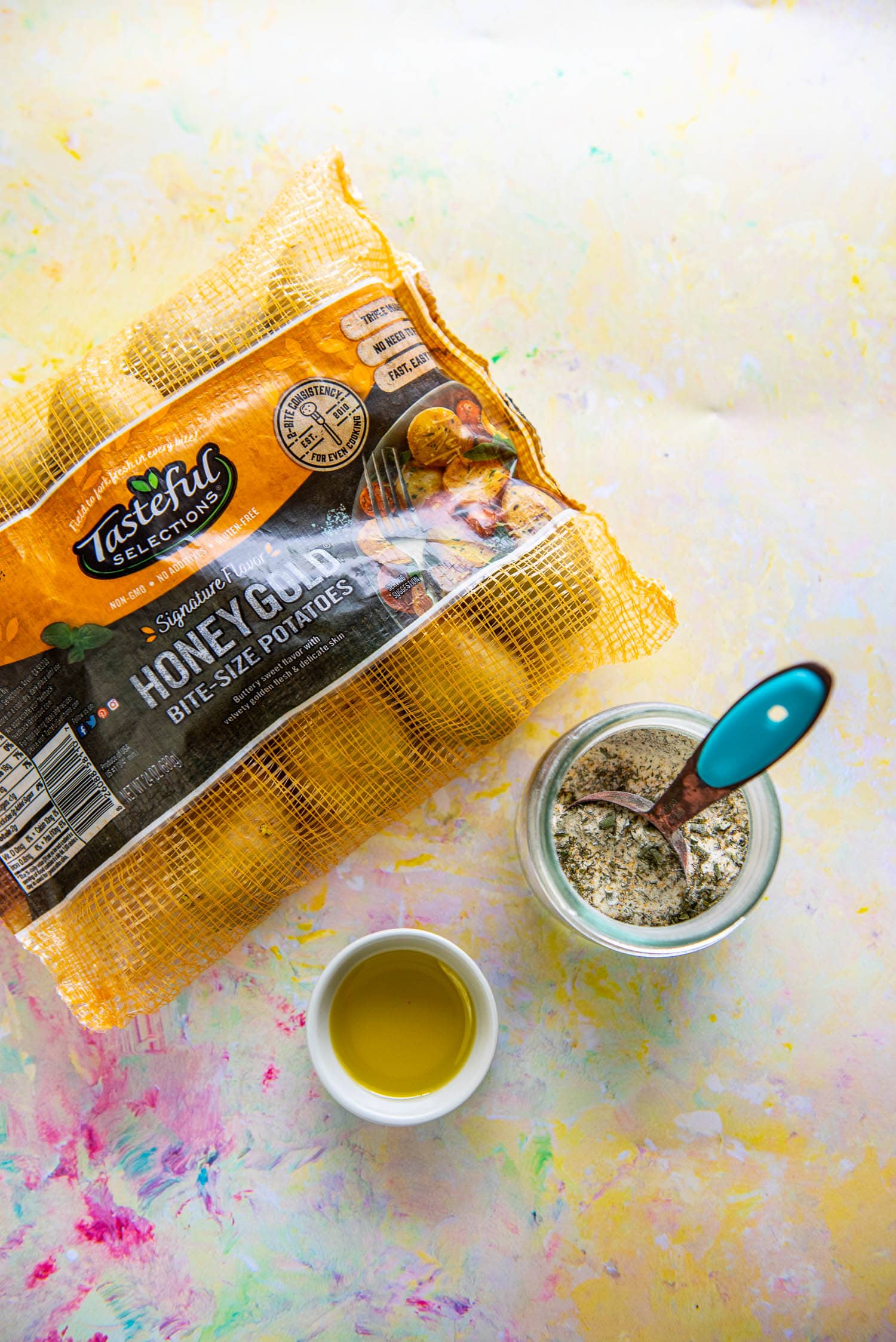 You'll need:
Potatoes – Choose a gold or red variety for the firmness and extra taste and texture of the potato skins. (Save russet potatoes for another recipe!)
Olive oil – A light olive oil is preferred. You'll need just enough to toss and coat the potatoes to crisp the outer edges and skins.
Homemade ranch seasoning blend – I always recommend making a batch of homemade seasoning blend in advance and keeping it on hand for recipes just like this! If you already have a seasoning blend premixed, measure out the recipe portion from your storage jar. If you prefer a store-bought variety in a pinch, opt for this healthy version with only 5 ingredients.
How To Make Ranch Potatoes In The Slow Cooker
If your family is like mine, the kitchen can be a busy place around dinnertime! Save some time in the evening hustle and prep a side ahead of your meal with these super-easy steps.
To begin, wash your potatoes by soaking in water or lightly scrubbing with a soft-bristle vegetable brush. Cut up the potatoes into bite-sized pieces – or in halves if the potatoes are already on the smaller side. I leave the skin ON to ensure a roasted taste and texture.
Next, drizzle the olive oil over the potatoes in a large bowl and toss with the homemade ranch seasoning. Be sure all potatoes are coated with some of the oil and spices.
Optional: To assist with easy cleanup after cooking, spray the sides of the slow cooker with a non-stick cooking spray. Or, you can lightly spread a bit of olive oil across the sides and bottom of the dish.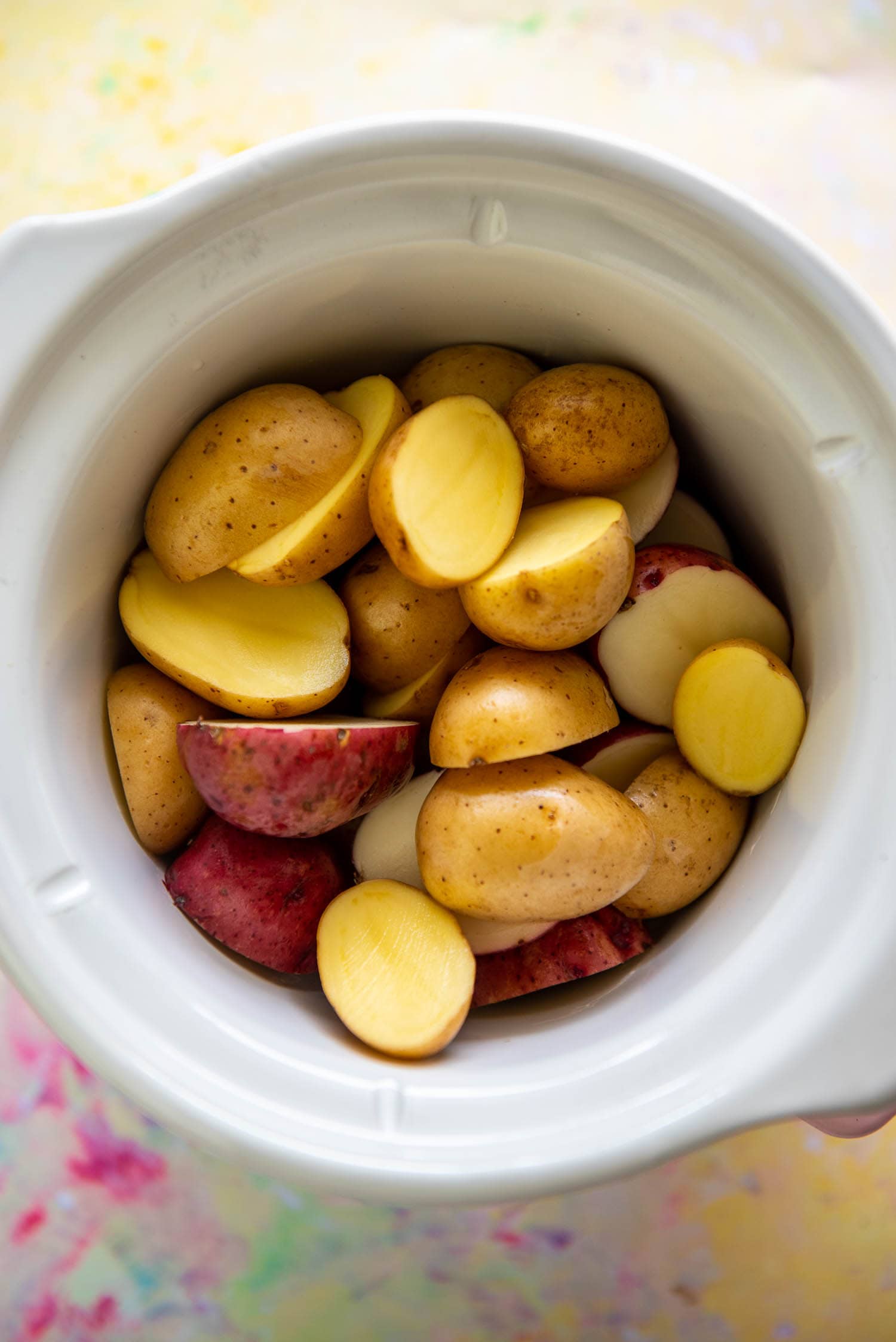 Cook on high for 2-3 hours or low for 4-6 hours or until potatoes are tender or easily pierced through with a fork.
Ranch Potato Leftovers
Another great thing about these ranch potatoes is that you can easily adjust the recipe amount and make enough for leftovers. I made mine in a mini slow cooker this time, but any larger size will do as you increase your recipe.
To save your leftovers, seal them in an airtight container and store them in the fridge for up to 3 days. Storing in the freezer is an option, however, the texture may change once defrosted (as it does with most frozen potato ingredients).
The best way to maintain a crispy texture when reheating is to warm up in either an air fryer or in a skillet with another dollop of olive oil.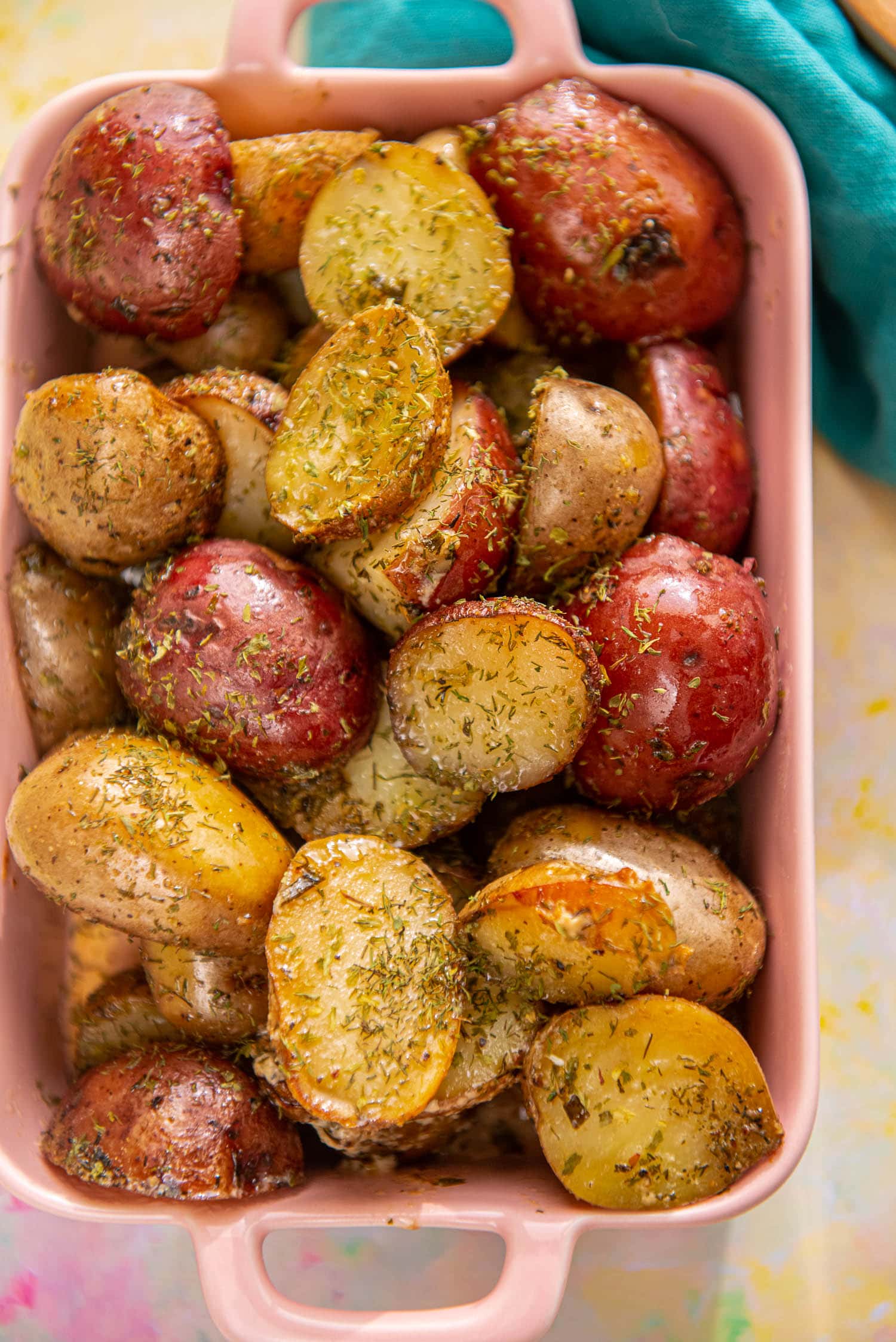 More Slow Cooker Side Dishes
An easy, delightful vegetable side such as this complements just about any protein-based entrée and pairs with a variety of sides. Serve alongside a classic like Slow Cooker Green Beans or with a brightly colored corn side dish like Slow Cooker Cheesy Corn Casserole or Slow Cooker Cream Cheese Corn.
Ranch potatoes would also be a delicious option served as a hearty brunch side. Imagine your morning free from standing over the stove with Slow Cooker Easy Breakfast Casserole or Slow Cooker Breakfast Enchiladas and a side of ranch potatoes.
Ranch Potato Recipe Variations
A basic ingredient list for slow cooker ranch potatoes can be jazzed up in so many different ways according to your taste buds! Pick any of the following tips to alter the flavor profile and bring in tasty additions.
Spice – A cajun seasoning or blackened seasoning blend would be great for a spicier potato version. An all-purpose Greek seasoning would complement Mediterranean dishes. Create an Italian twist by seasoning with Italian herbs and parmesan.
Toppings – Optional toppings based on your dietary needs could include shredded cheese and crumbled cooked bacon toward the end of cooking time. Diced green onions or a side of salsa can add a little extra twist.
Oil – If you prefer to use a different oil, you can substitute avocado oil or even melted butter. Keep in mind that butter may burn more around the edges of the slow cooker since it is capable of burning faster than olive oil.
*Tip – Use medium starch potatoes like red or Yukon gold. Russet potatoes are generally too starchy for the slow cooker. The starch causes them to be too fluffy and not able to maintain a firm texture.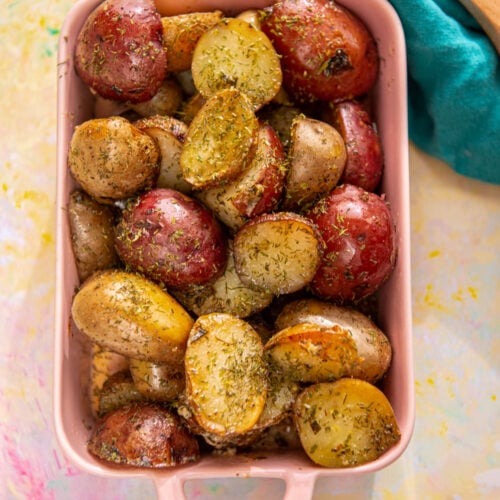 Slow Cooker Ranch Potatoes
The next time you need an effortless side to complement a favorite entrée, try irresistible slow cooker ranch potatoes. Simplify your dinner prep and maximize the flavor of a simple ingredient combination that the whole family is sure to love.
Instructions
Wash and cut potatoes into bite-sized pieces (I leave the skin on)

Toss in bowl with olive oil and seasoning

Distribute evenly across the slow cooker

Cover and cook on high for 2-3 hours or low for 4-6 or until potatoes are tender
Notes
Include the potato skin or not? I prefer to leave the skin on so that the potatoes hold together while slow cooking.
Can this recipe be made in the oven? Yes, this recipe is also oven-ready! Roast at 425 ℉ for about 30 minutes. Use a foil-lined sheet pan for easy cleanup.
Can this recipe be made in an instant pot or an air fryer? The air fryer will also work for crispy ranch potatoes – set to 400 ℉ for about 15 minutes until tender. I would not recommend this recipe for the instant pot as it can easily turn mushy.
Tip: To prevent oxidation, you'll want to chop up your potatoes right before placing them in the slow cooker. Or, if you do need to prep a few hours ahead, submerge the chopped potatoes in a large bowl of cold water – completely covered. This will help to prevent the gray color that appears with oxygen exposure.
Nutrition
Calories:
93
kcal
Carbohydrates:
15
g
Protein:
2
g
Fat:
2
g
Sodium:
198
mg
Potassium:
468
mg
Fiber:
2
g
Vitamin C:
13
mg
Calcium:
34
mg
Iron:
3.7
mg
Important nutritional disclaimer
Slow Cooker Potato Recipes