Slow Cooker Sweet Caramel French Toast Casserole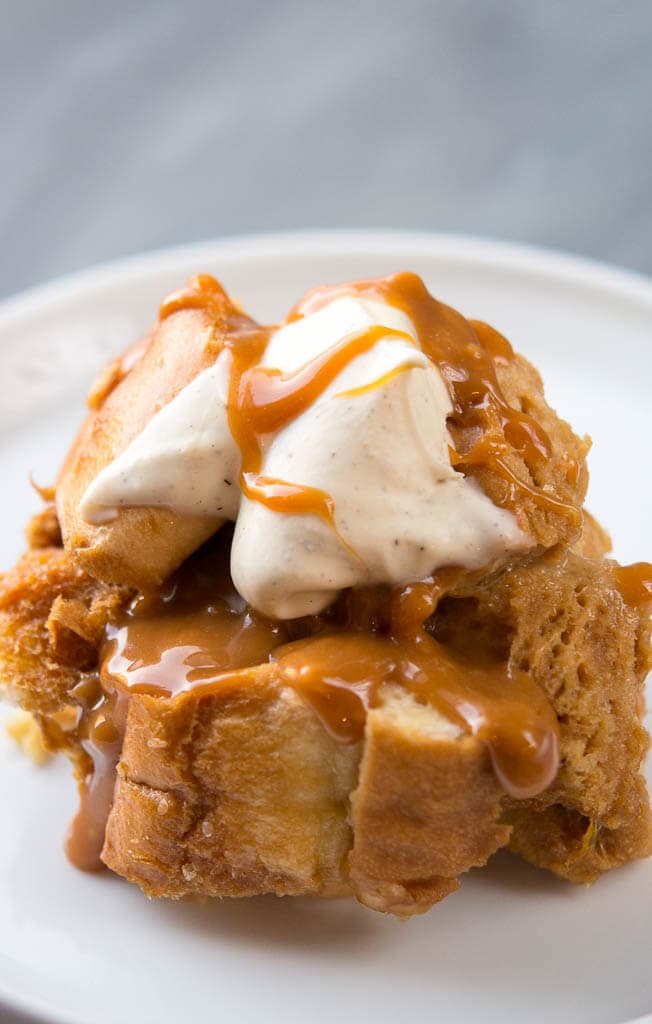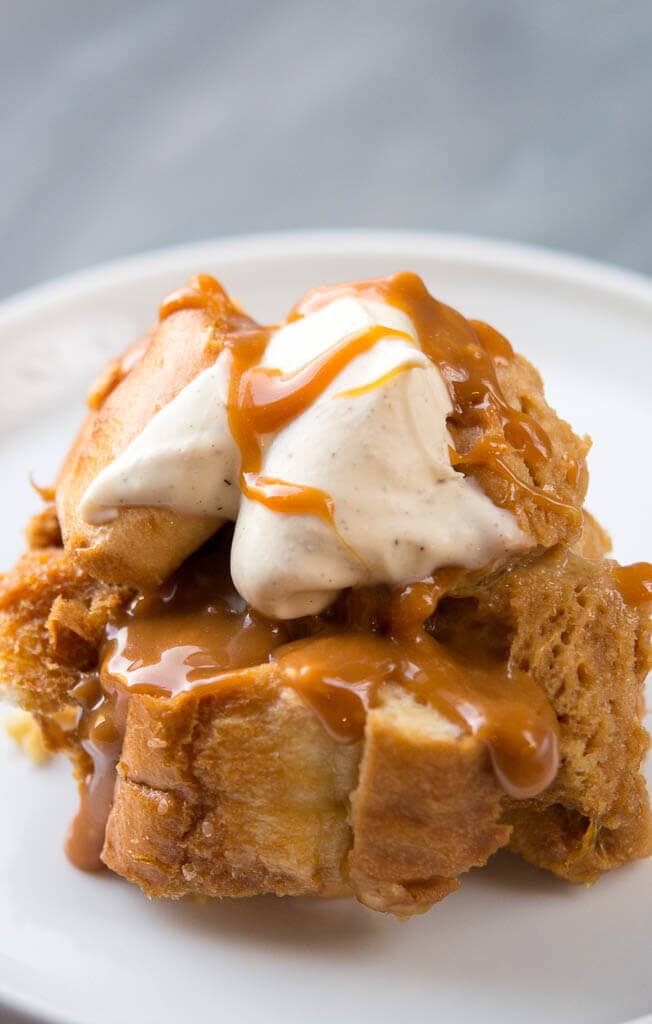 Hello on this wonderful eve of Christmas Eve day! What are your plans for the weekend? Will you stay home and have a quiet holiday or hit the road and visit family? Or maybe you have a houseful of guests? No matter your plans, I hope everyone has a peaceful holiday and plenty of time to forget about the hustle of everyday life. And, plenty of time to eat some delicious food! In case you are still on the hunt for a breakfast casserole to feed your friends or family, I've got good news! After many failed attempts, I think I've finally perfected my Slow Cooker French Toast Casserole. And I must say, it's a winner!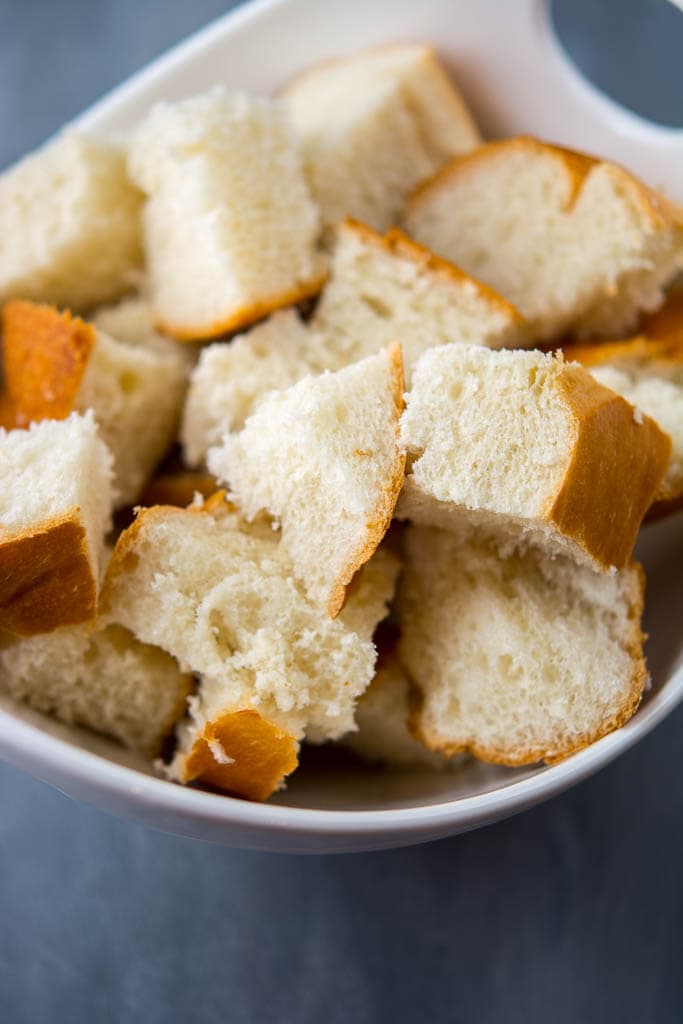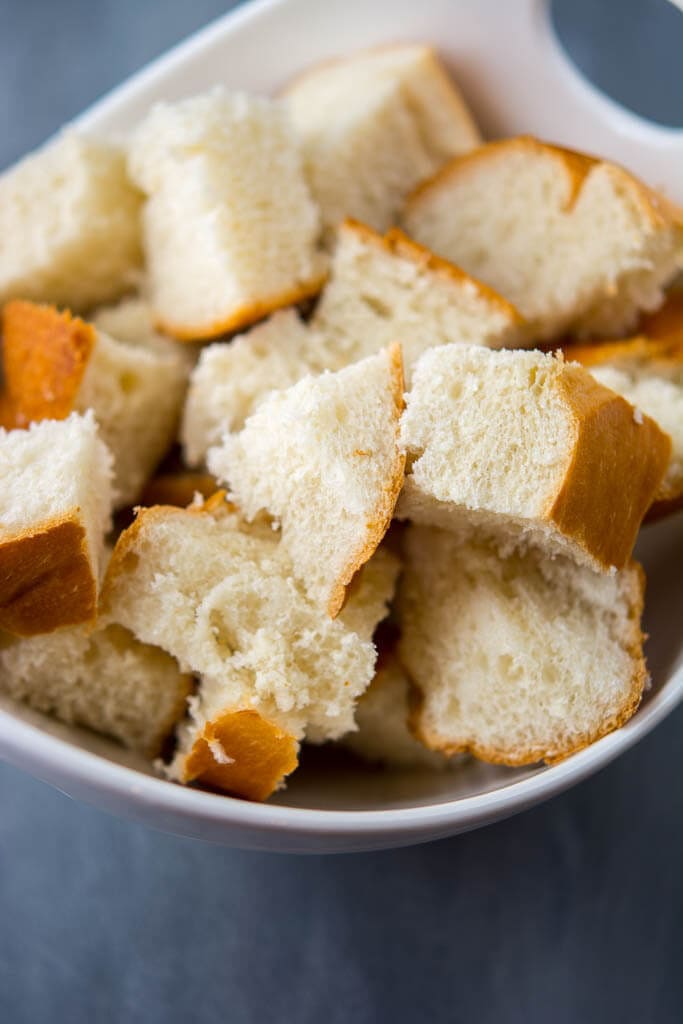 The key is to start with a nice thick loaf of french bread. I've had my casserole turn out soggy before, so just keep in mind you need to start with a lot of bread.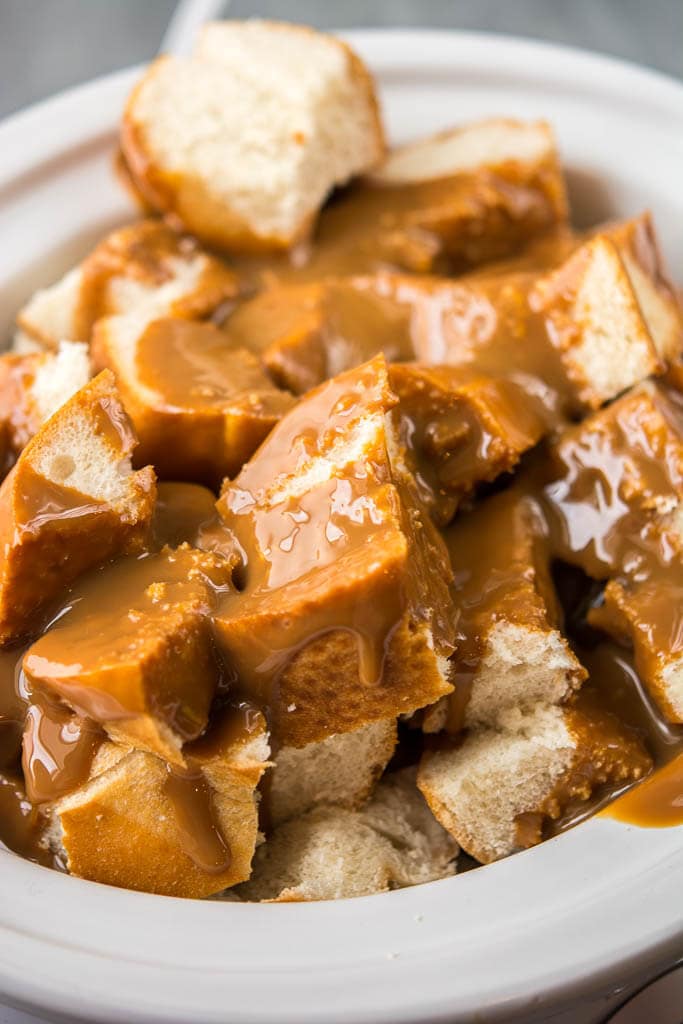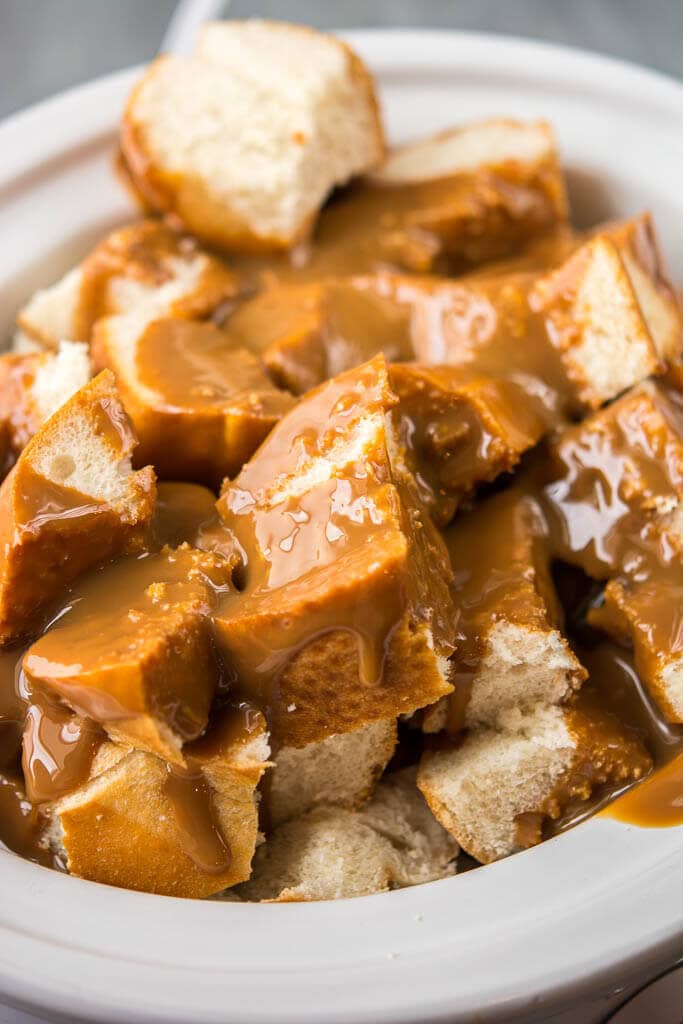 I reduced the eggs by just a bit and instead added a can of sweetened condensed milk. I was lucky enough to find caramel flavor, but you can use regular as well. I used my mini casserole slow cooker and just really pressed all the bread down into it. You could also use a larger slow cooker, it will just have a little more room in the top so keep in mind the extra airflow may end up letting it cook a little faster than mine did.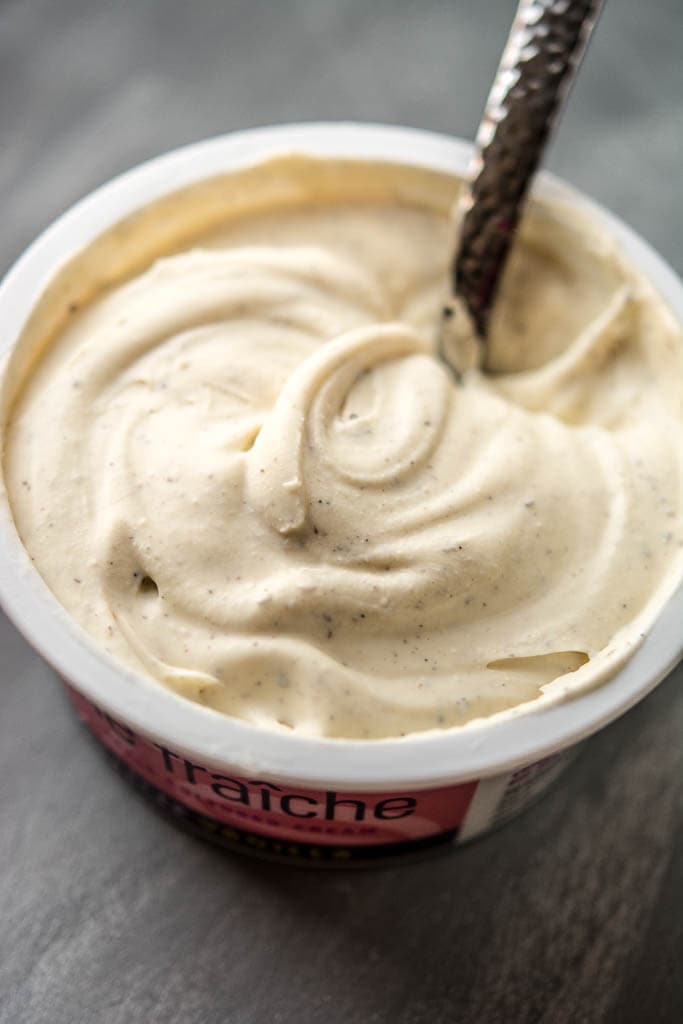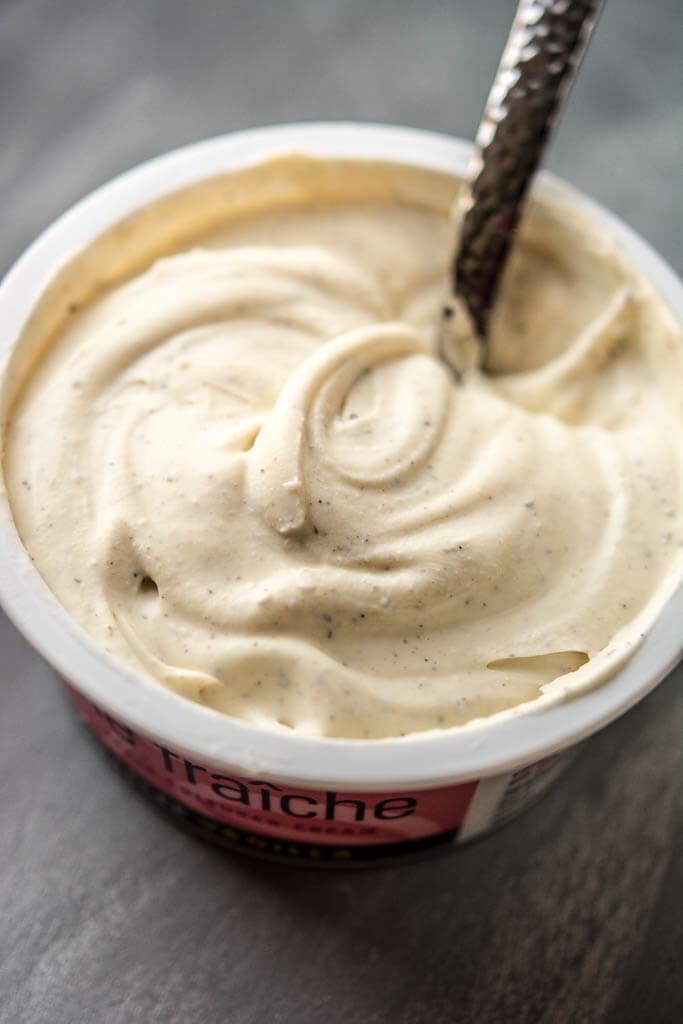 And then of course we get to the toppings. I mean, let's be honest. That's really the main reason for eating french toast anyway right? That's why when you go out to a brunch place, they may have several options. It's not about the bread. It's about the toppings. I found some vanilla flavored crème fraîche as one option to tone down a bit of the sweetness but it's really a personal preference. Our friends Amanda and Mark were here and helped us try this out, and opinions on whether or not to add it varied. Also, intense conversation as to the actual pronunciation of the words "crème fraîche" ensued, but I assured them it doesn't matter since I get to write it and you all wouldn't know I couldn't really say it 😉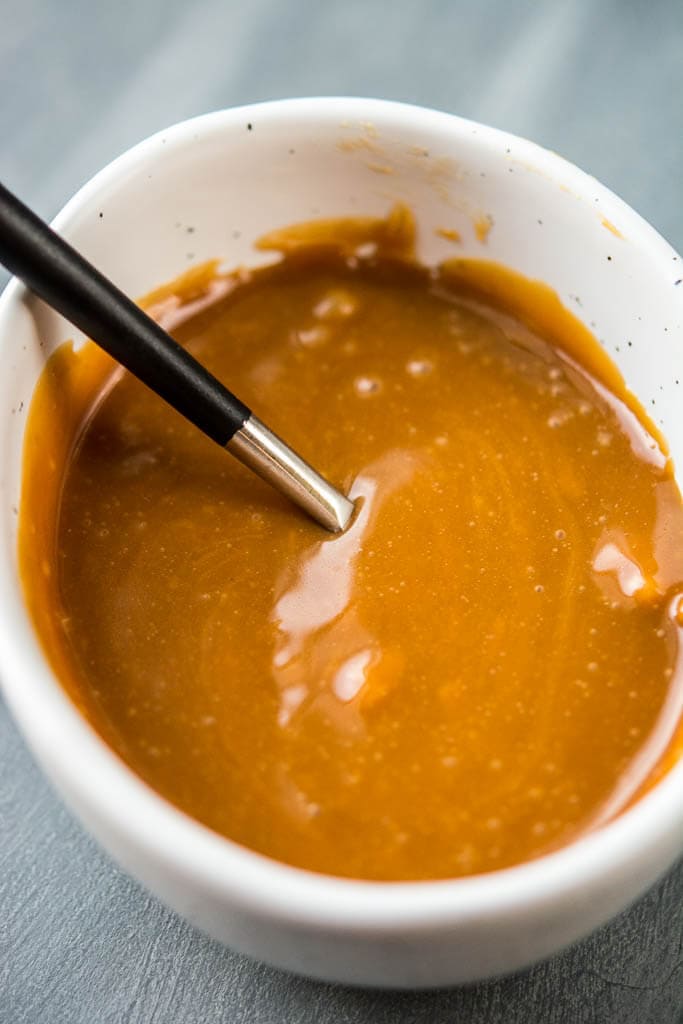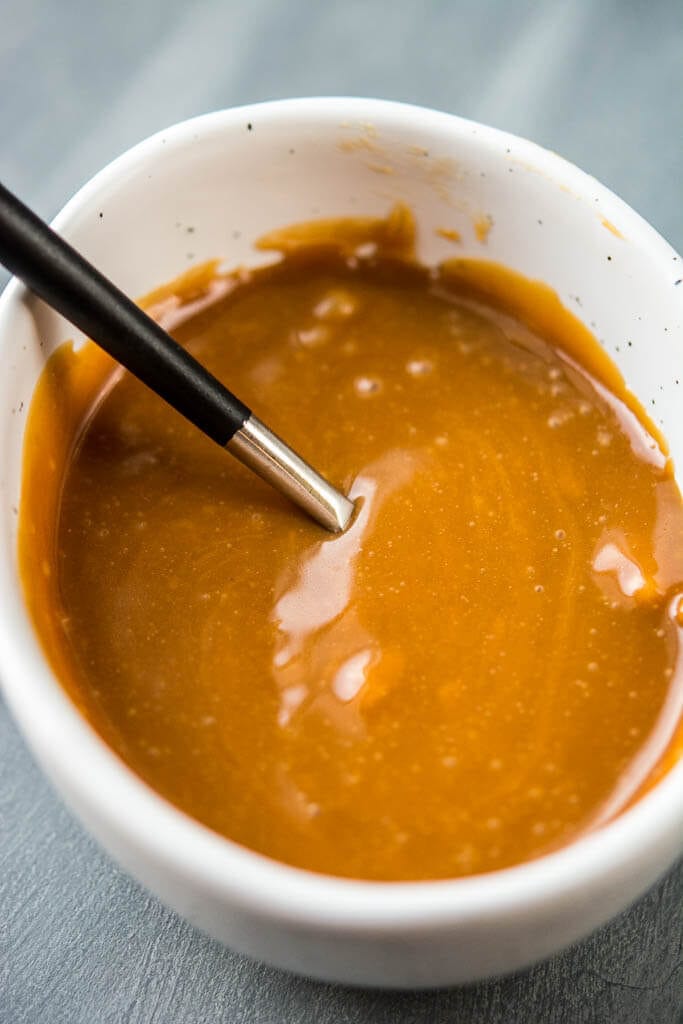 Now that we've established the optional crème fraîche let's establish the non-optional caramel! A couple of options here, one being to melt some caramel bits with a little cream in the microwave, the other is to use my easy homemade salted caramel recipe.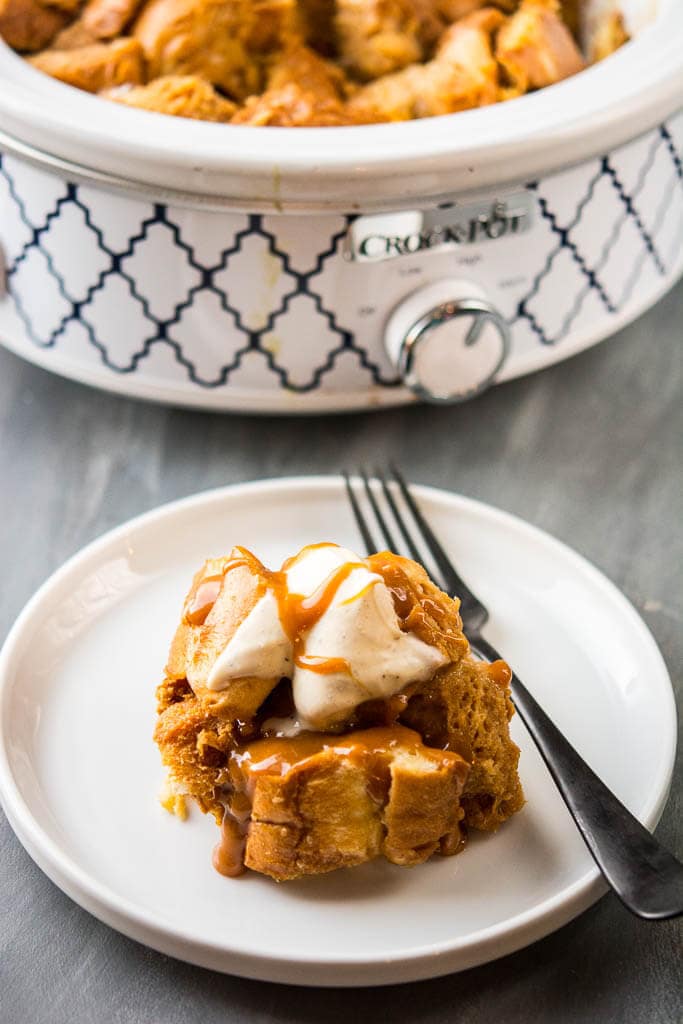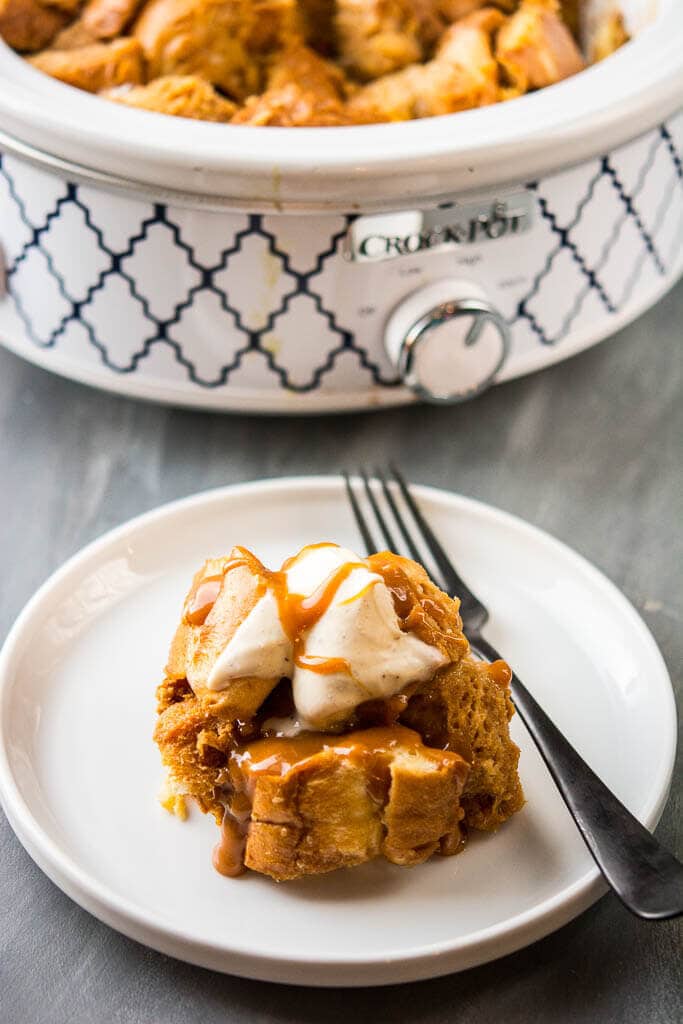 And holiday brunch is served.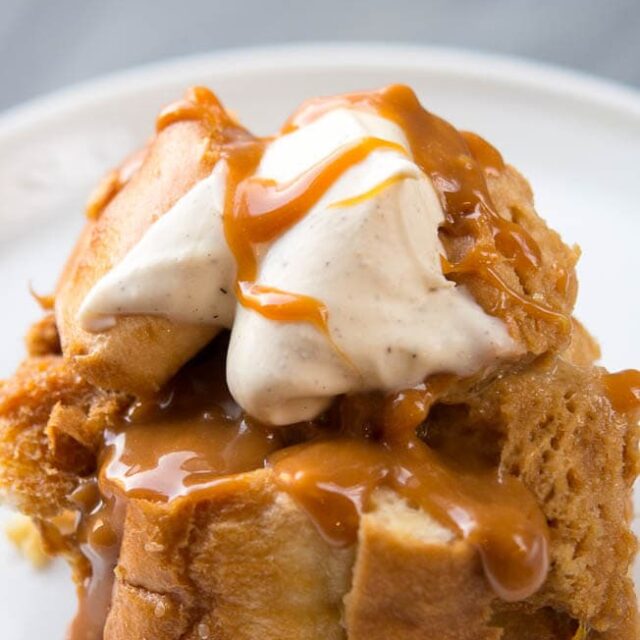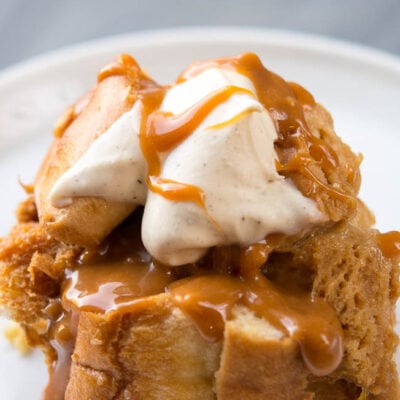 Slow Cooker Sweet Caramel French Toast Casserole
Ingredients
12-14

oz

loaf french bread

14

oz

can sweetened condensed milk (caramel flavor if you can find it)

4

eggs

1

cup

milk

1/4

teaspoon

salt

1

cup

Kraft Caramel Bits (or see notes)

2

tablespoons

heavy cream

8

oz

crème fraîche (optional)
Instructions
Cut bread into 2-3 inch cubes

Spray slow cooker with non-stick spray

Press bread down into bottom of slow cooker and compress as much as you can

Pour condensed milk evenly over bread

Whisk together eggs, milk and salt and pour evenly over bread

Cover and cook on high for 2 to 2 1/2 hours

Melt caramels and cream in microwave using 30 second intervals and stirring between until smooth

Slice and serve french toast casserole topped with crème fraîche and melted caramel or as desired
Notes
Instead of using packaged caramels, you can make my easy homemade version.
I used my mini-casserole slow cooker for this recipe and it was the perfect size. You can also use a regular slow cooker and press the bread into the bottom, just note that cooking time may decrease slightly due to the additional air flow in the slow cooker.
Important nutritional disclaimer
Need more brunch ideas?
Slow Cooker Easy Breakfast Casserole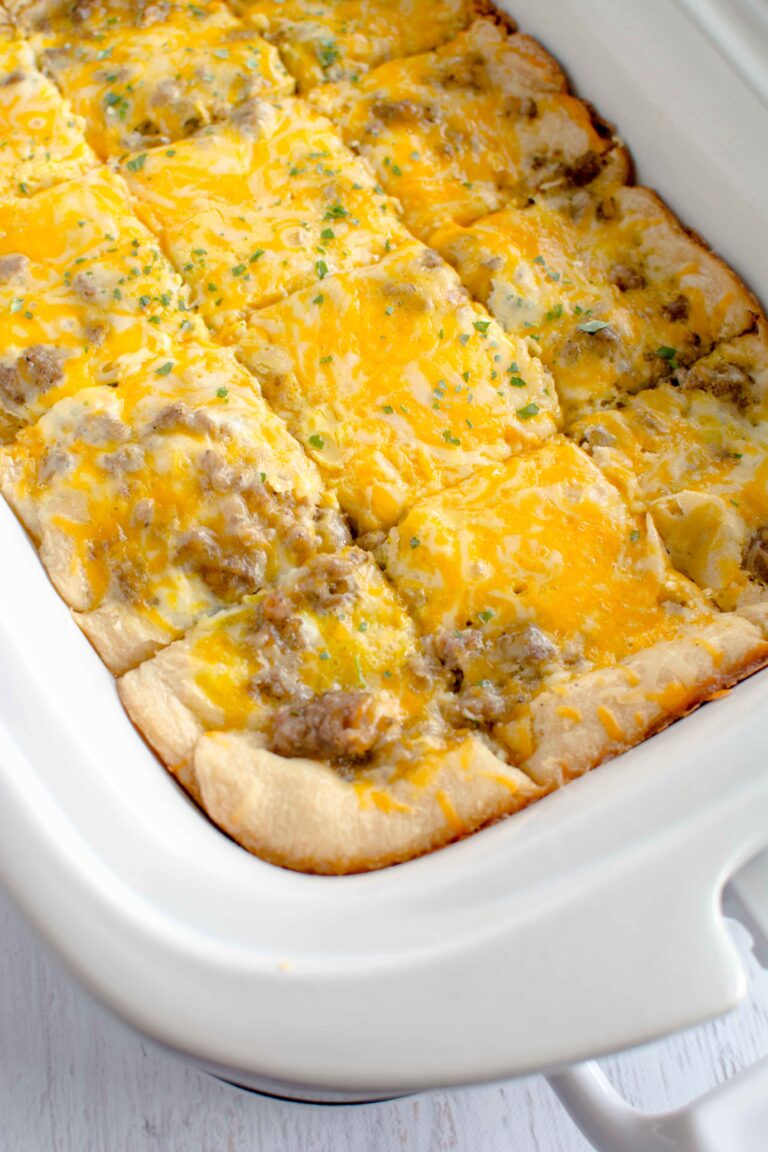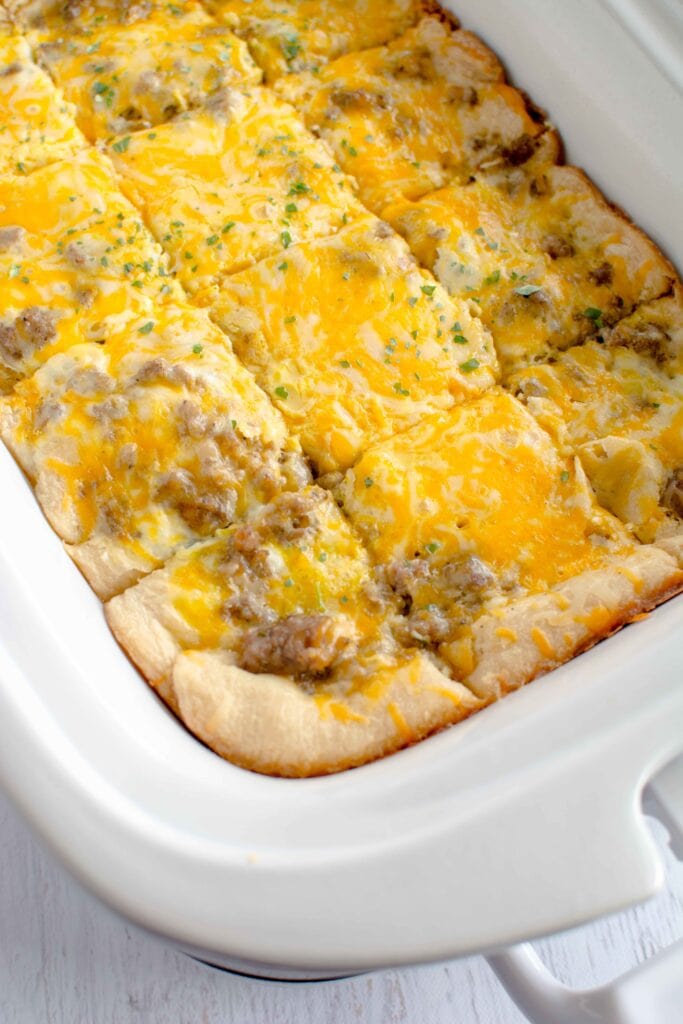 Slow Cooker Breakfast Tater Tot Casserole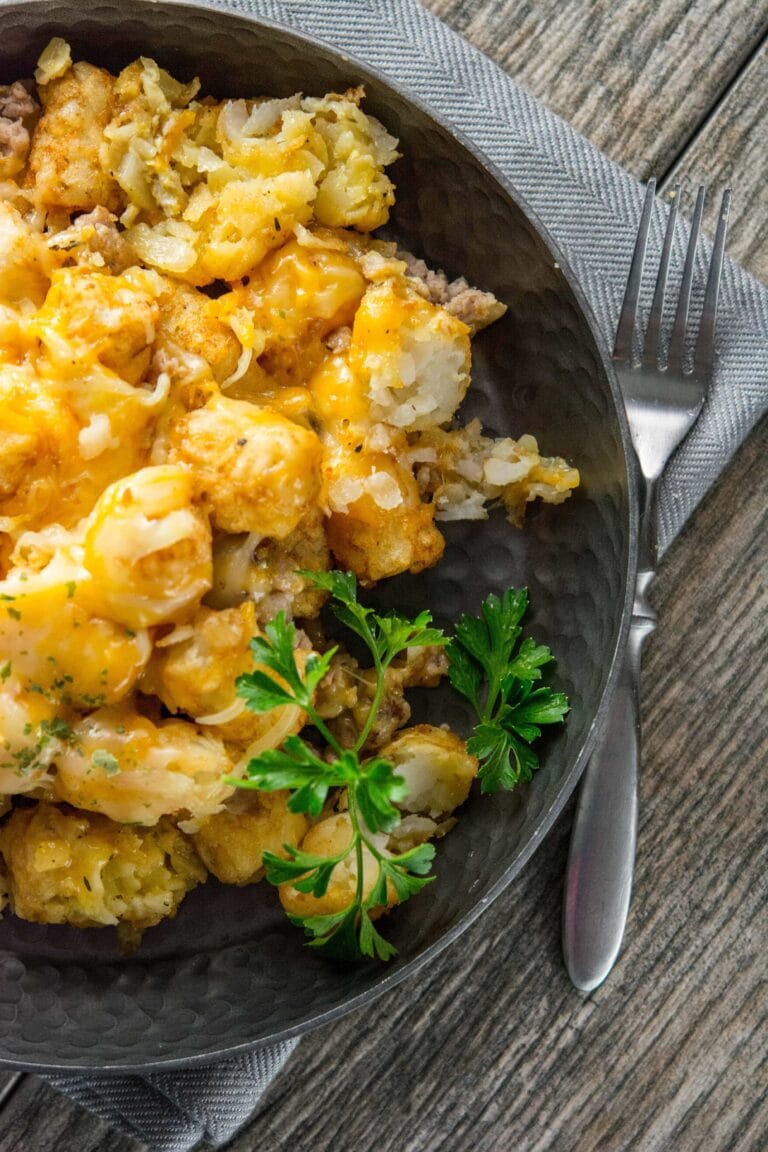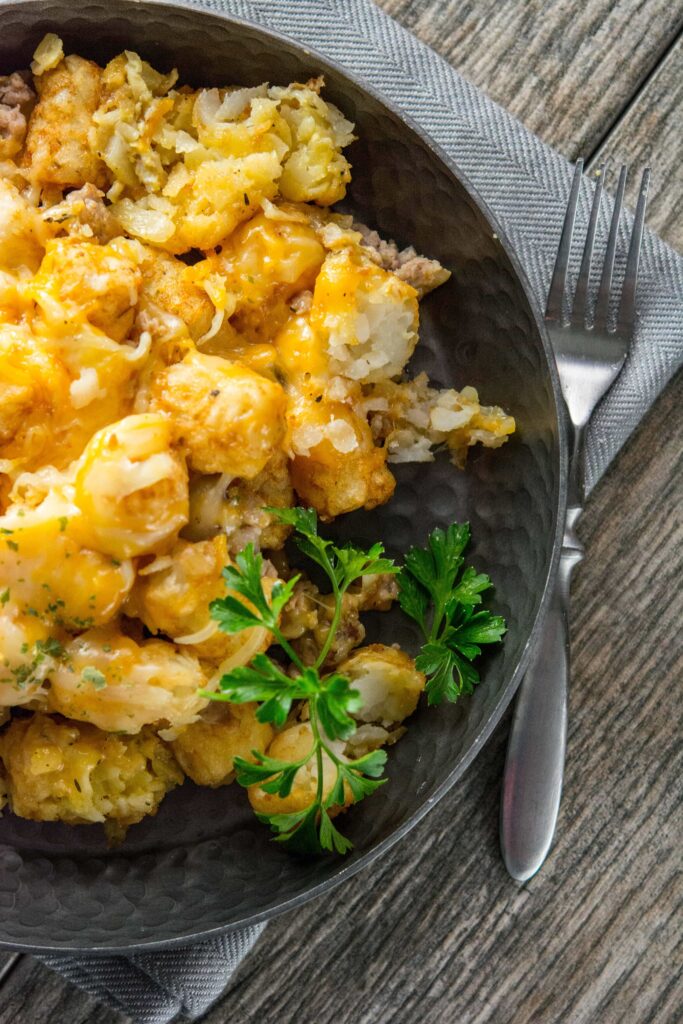 Slow Cooker Breakfast Enchiladas