Slow Cooker Pumpkin Cinnamon Rolls
It's easier than you think to make homemade cinnamon rolls. These Slow Cooker Pumpkin Cinnamon Rolls are delicious warm and fresh right out of the slow cooker!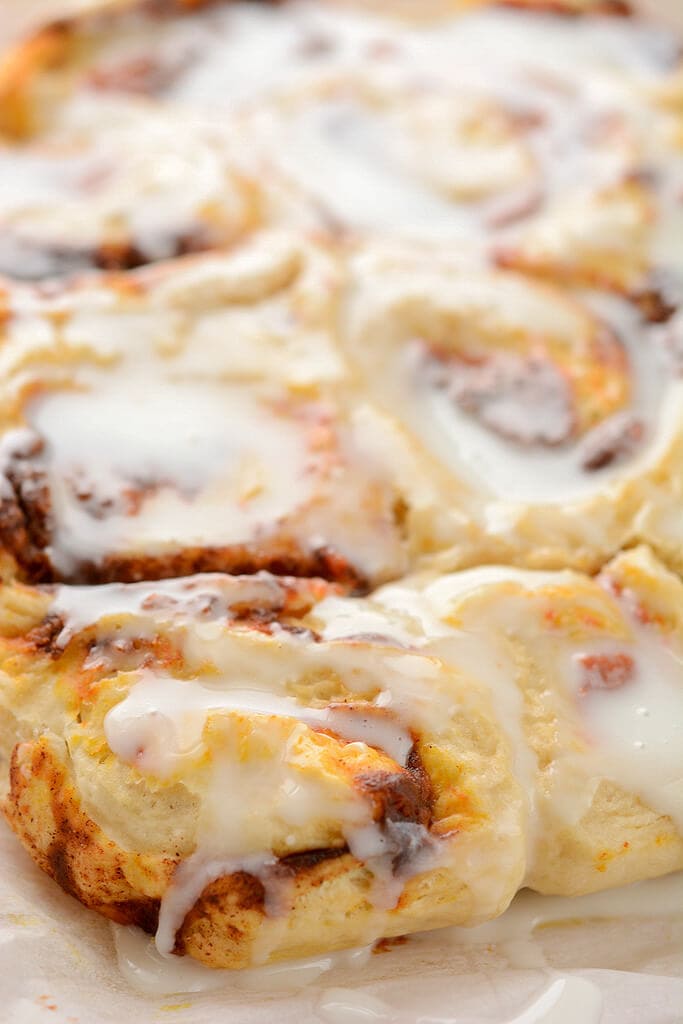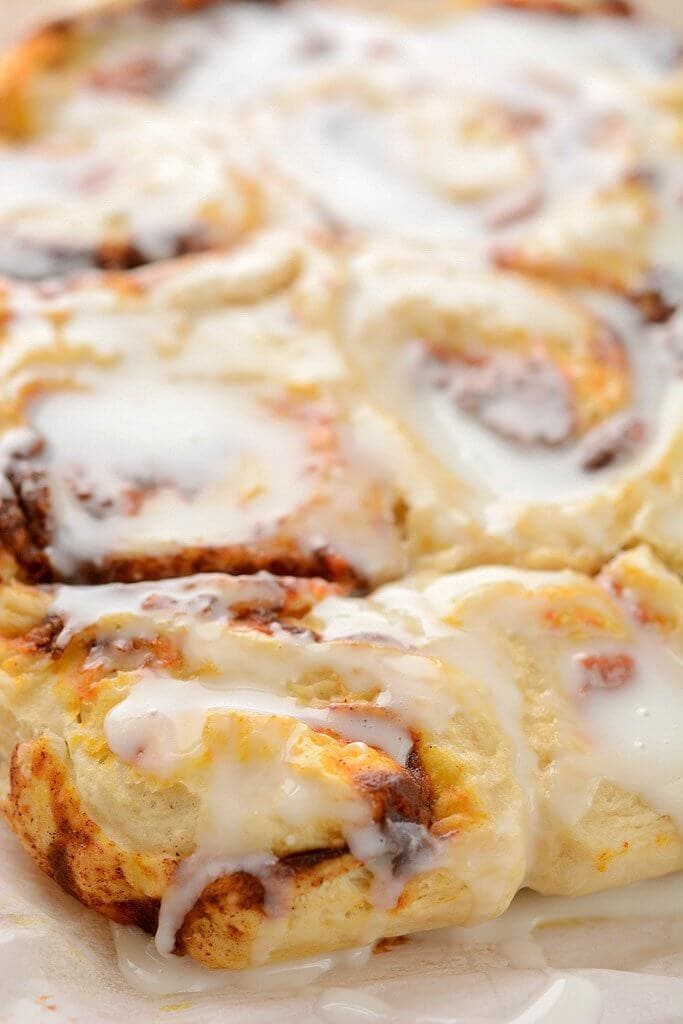 I realize that not everyone buys into the whole baking in the slow cooker way of creating pastries, cakes and other desserts. And if you are totally against it, I get it. It can seem a little pointless to spend two hours "baking" in the slow cooker when you can have it done in 20 minutes in the oven. And, at times, I would agree. But there are times when making these recipes in the slow cooker can totally help you out, and if you fall into that category, I've got the best recipe for you today!!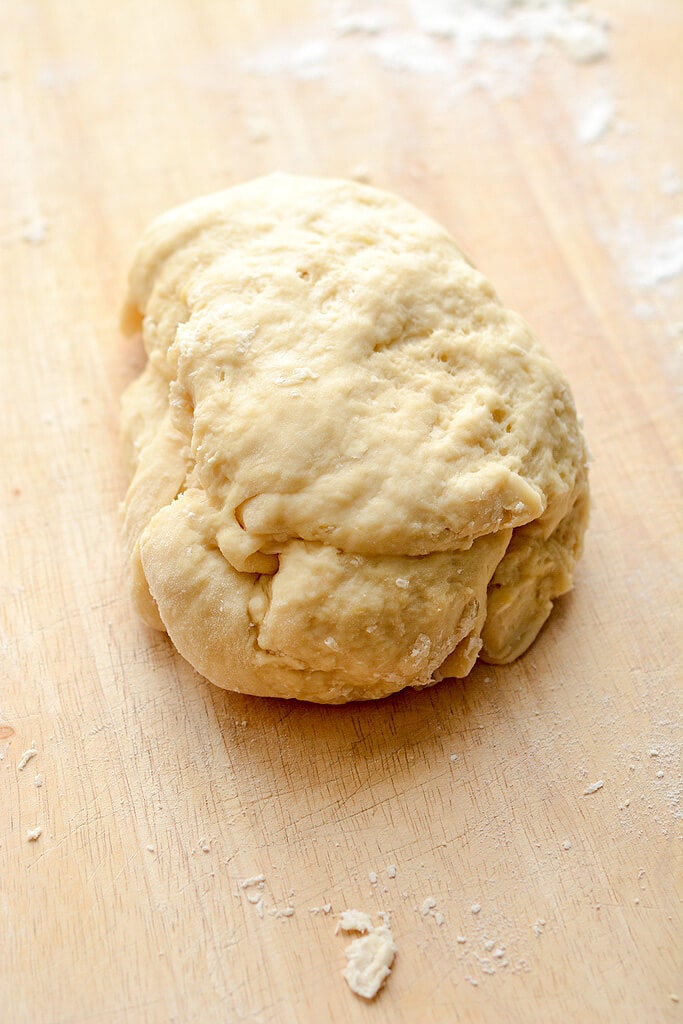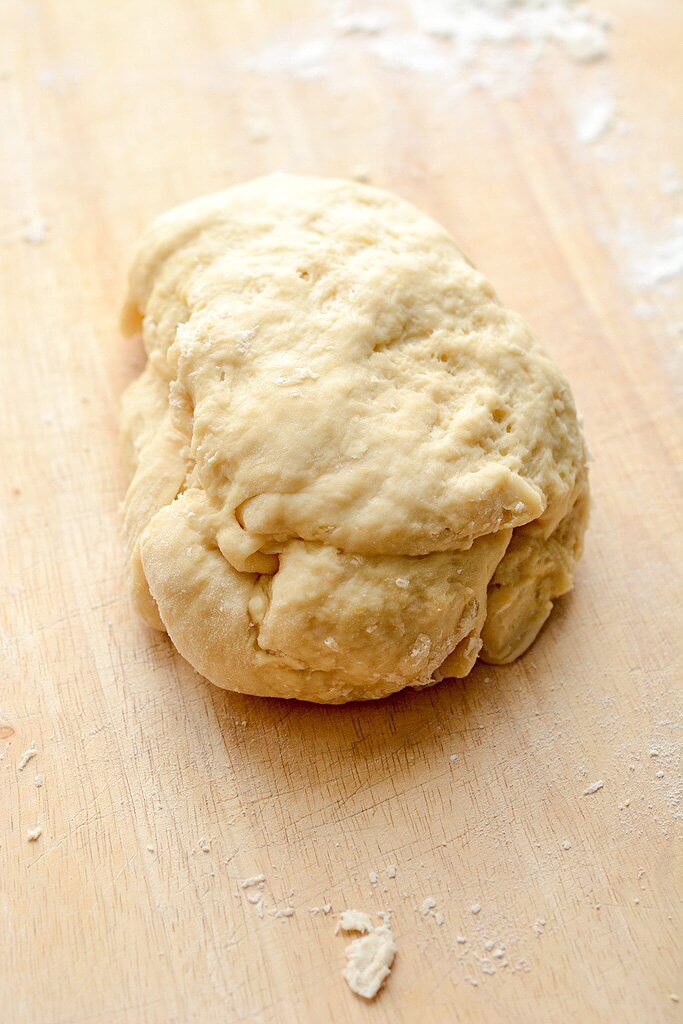 Not only was this my first time to try out making cinnamon rolls in a slow cooker, but these were my first ever batch of totally homemade cinnamon rolls! I'm not much of a baker (too many rules to follow!) so even though it's something I've always wanted to try, I've always been a little to intimidated. But you know what? These were actually pretty darned easy!!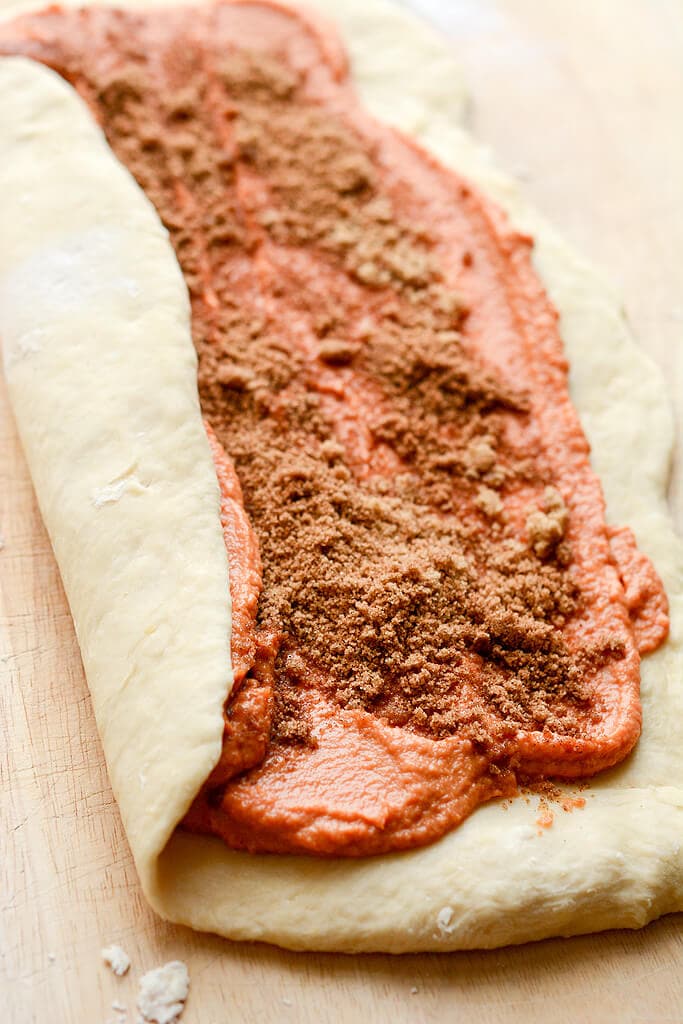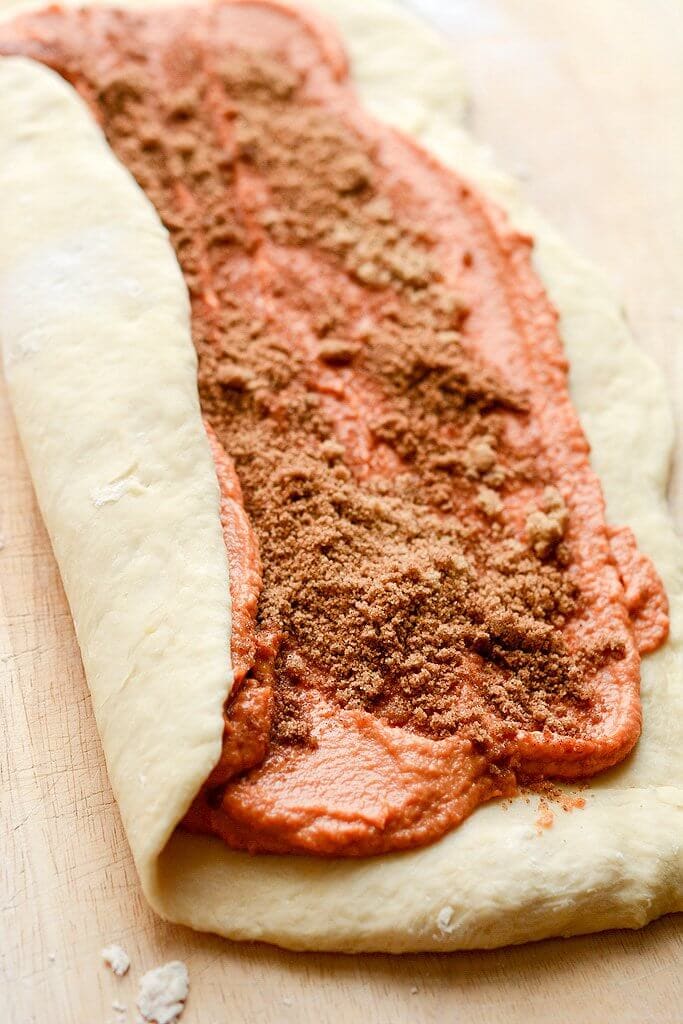 Of course, being "that" time of year where the most controversial topic on social media seems to be pumpkin spice, it seemed only right to make my cinnamon rolls pumpkin! With a little brown sugar crumble, of course.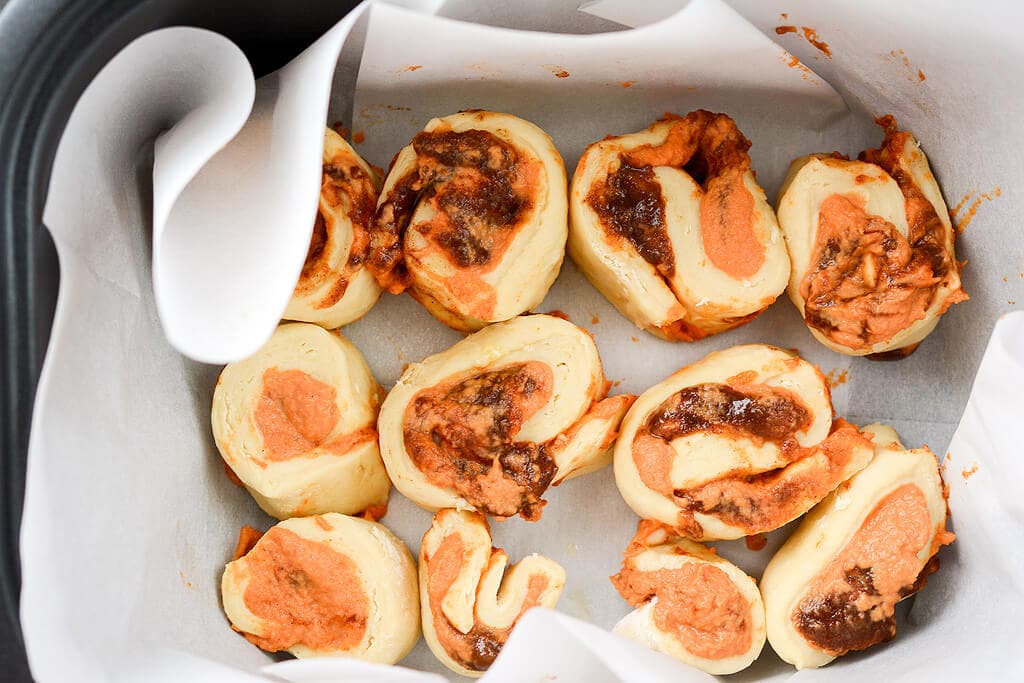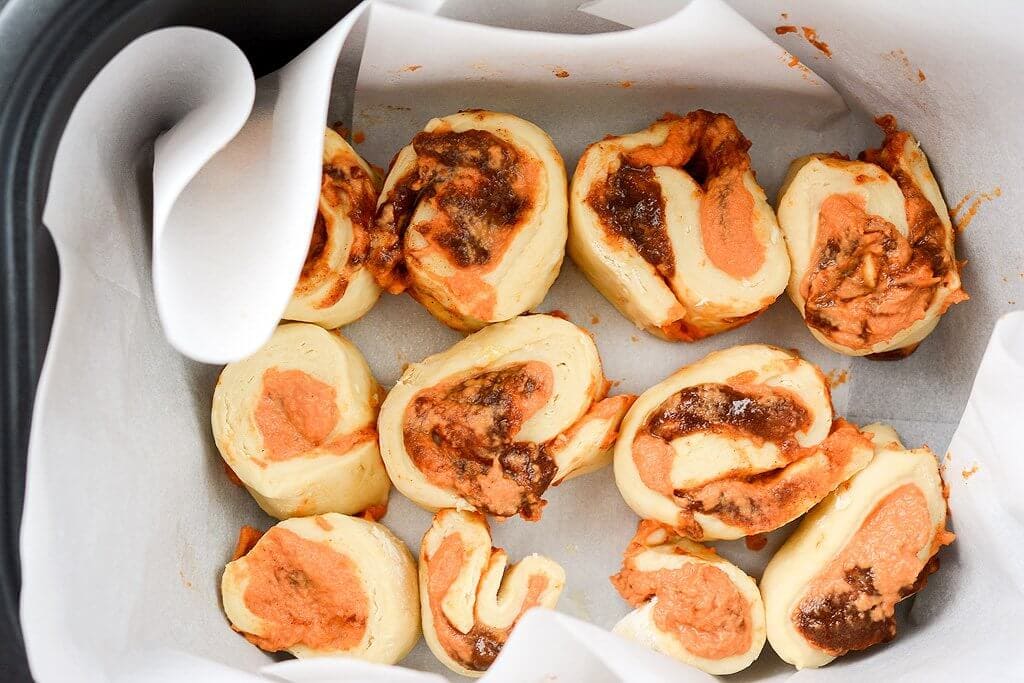 I may have added a little too much pumpkin filling (is that possible?!) so these got a tad messy, but so totally worth it. Just line your slow cooker with a little parchment and clean up is practically non-existant.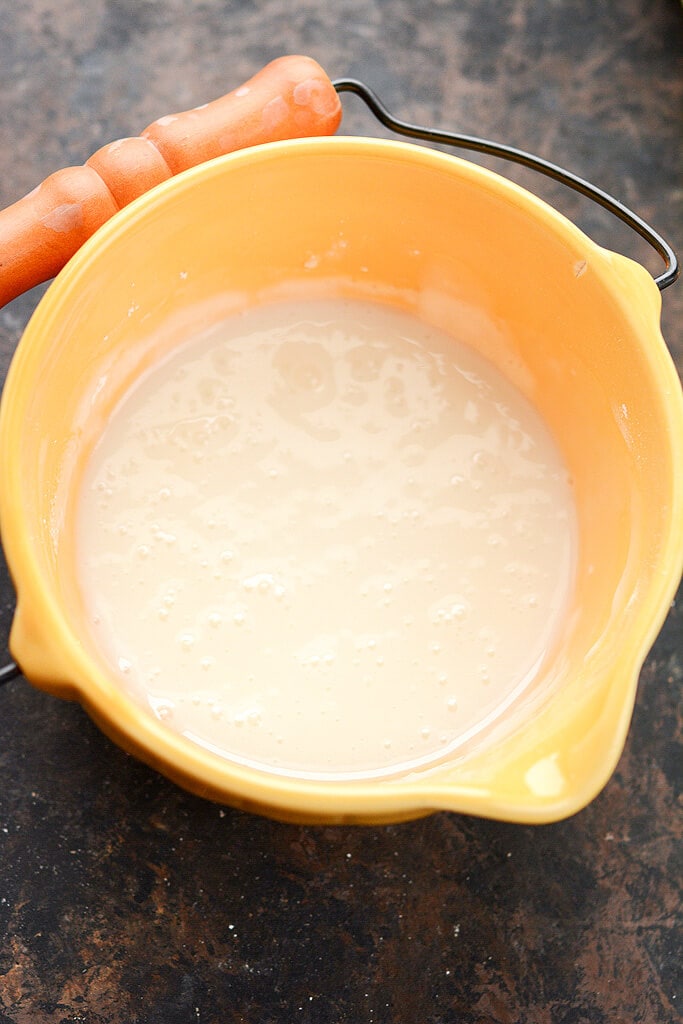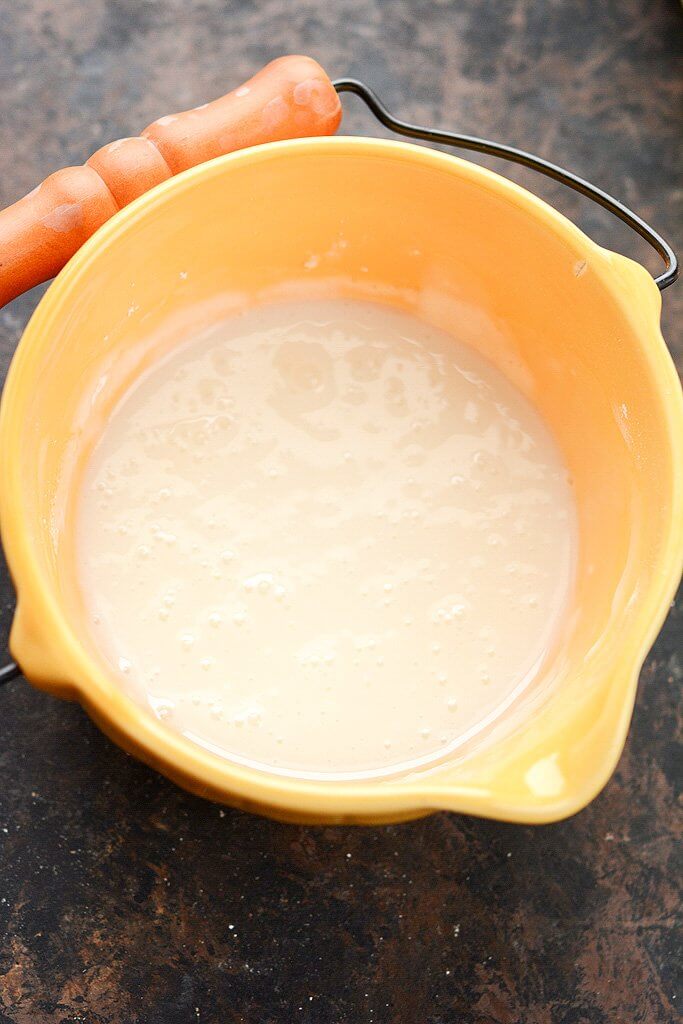 Whisk up a basic powdered sugar glaze (or add a few spices if you wish) and you have such an amazing treat! So, what's so great about making these in the slow cooker, then? Well, for one, you could make up the dough and have them ready to go the day before. Then, when you have company, you can just put these in and fill up the whole house with the smell of fresh baked rolls. And no need to fuss or worry. Just set the timer on your slow cooker and sit and enjoy some coffee and these will take care of themselves! Or, throw them in with the kids after school and head back outside to enjoy the fresh fall air. No need to babysit the oven to have an amazing treat. Not to mention, I always burn myself using the oven (seriously, I know) so using the slow cooker is just so much safer (or maybe that's just me, ha!).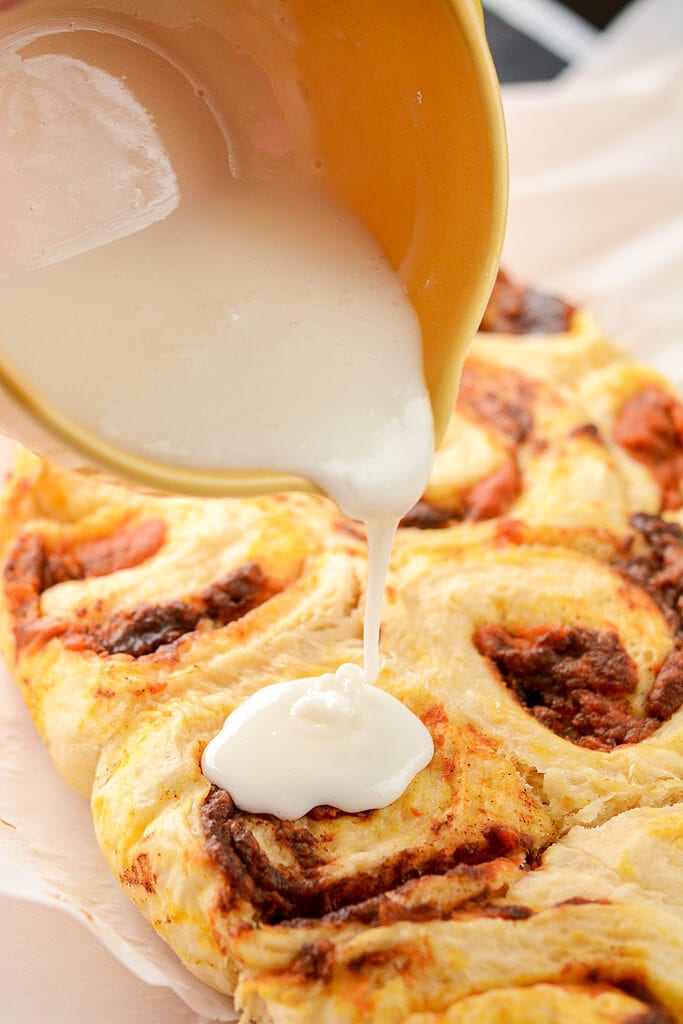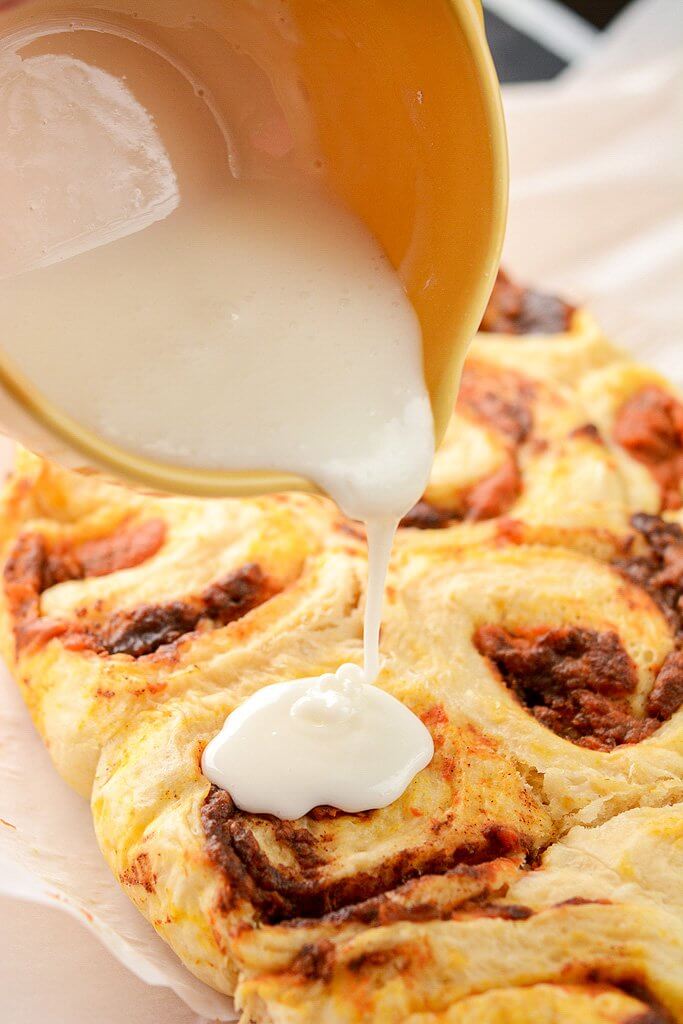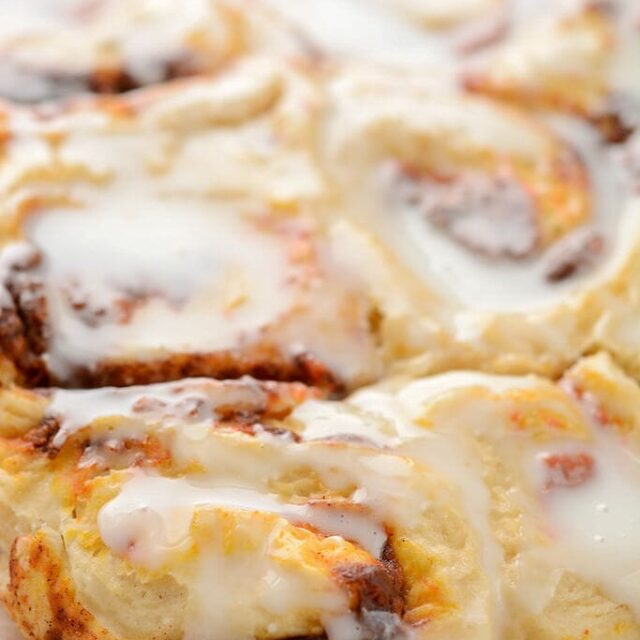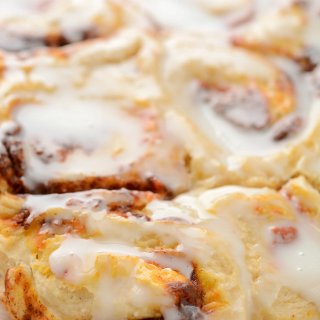 Slow Cooker Pumpkin Cinnamon Rolls
It's easier than you think to make homemade cinnamon rolls. These Slow Cooker Pumpkin Cinnamon Rolls are delicious warm and fresh right out of the slow cooker!
Ingredients
Dough:
3/4

cup

milk

1

packet instant yeast

3

tablespoons

sugar

1/2

teaspoon

salt

3

tablespoons

unsalted butter

(melted and slightly cooled)

1

large

egg

2 3/4

cups

flour
For filling:
1/2

cup

canned pumpkin

(not pie filling)

3

tablespoons

sweetened condensed milk

1/4

cup

brown sugar

1

teaspoon

cinnamon
For glaze:
1

cup

powdered sugar

2

tablespoons

milk

(plus more if needed)
Instructions
Heat milk in microwave for 30-60 seconds until it's about 95 degrees

Stir in yeast and set aside for about 10 minutes until it dissolves and turns foamy

Add to stand mixer with dough hook and beat in sugar, salt, butter and egg until dissolved

Slowly add in flour while continuing to mix on low speed until dough becomes stretchy and elastic

Remove dough to floured cutting board and kneed for a couple of minutes and then let rest for about 10-15 minutes

Roll out about the size of a sheet of paper

Mix together pumpkin and condensed milk

Spread over center of rolled out dough

Sprinkle with brown sugar and cinnamon

Roll up into a long tube

Use a sharp knife to cut into sections (10-12 pieces)

Place in slow cooker lined with parchment (I also sprayed parchment with nonstick spray)

Cover and cook on high for about 2 hours or until fully cooked through and lightly browned on top

Whisk together powdered sugar and milk (adding more milk if necessary to create a smooth pourable glaze)

Drizzle or spread over warm rolls

Store leftovers tightly covered in fridge

If you don't have a stand mixer you can also use a hand mixer or mix by hand
Notes
I used my 6-quart multi-cooker for this recipe on the high slow cook setting. This one also has a bake setting you could use.
Nutrition
Calories:
232
kcal
Carbohydrates:
43
g
Protein:
4
g
Fat:
4
g
Saturated Fat:
2
g
Cholesterol:
26
mg
Sodium:
120
mg
Potassium:
106
mg
Fiber:
1
g
Sugar:
21
g
Vitamin A:
1725
IU
Vitamin C:
0.6
mg
Calcium:
51
mg
Iron:
1.6
mg
Important nutritional disclaimer
Recipe adapted from Sally's Baking Addiction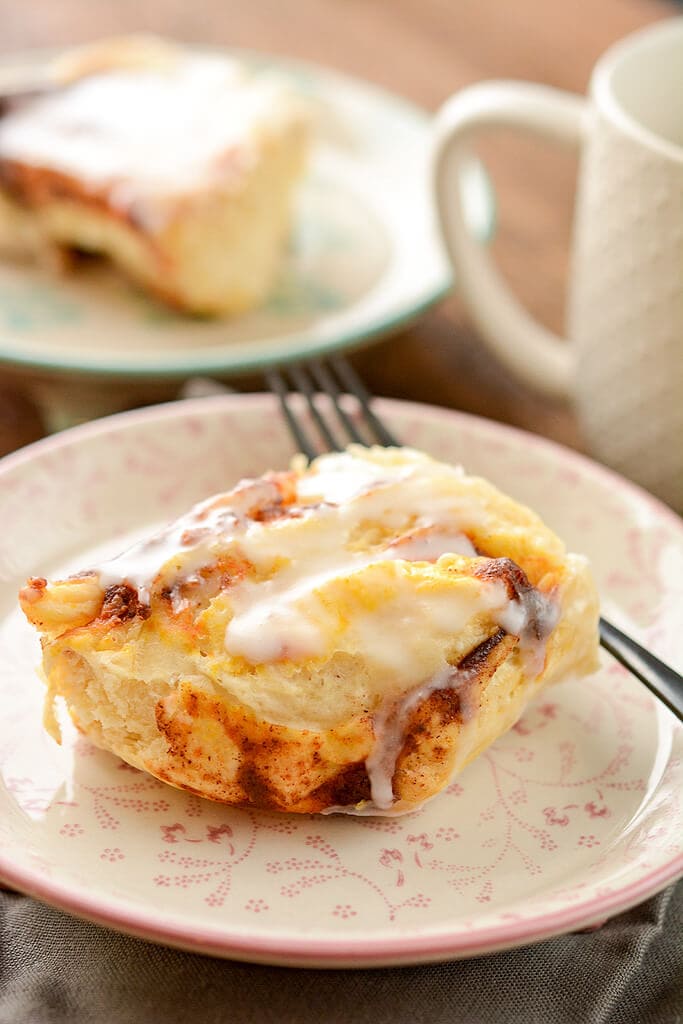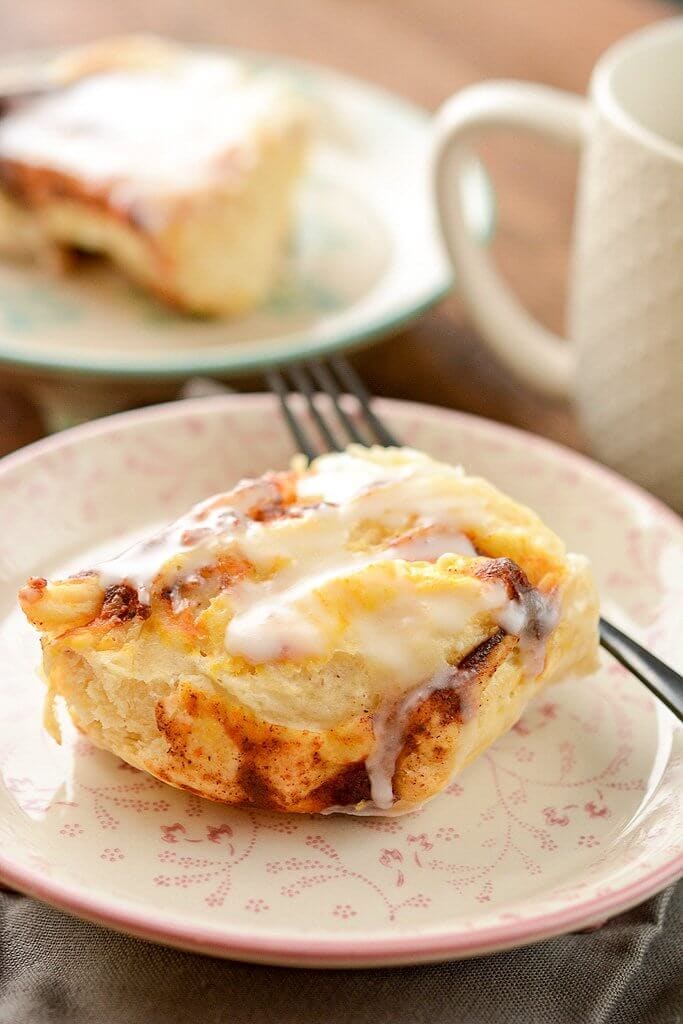 Equipment used in this recipe:
Slow Cooker Gourmet is a participant in the Amazon Services LLC Associates Program, an affiliate advertising program designed to provide a means for sites to earn advertising fees by advertising and linking to amazon.com. If you purchase a product through this link I will earn a small commission. As always, I only recommend products I use and love!
Want more delicious fall slow cooker treats?
Slow Cooker Browned Butter Pumpkin Cheesecake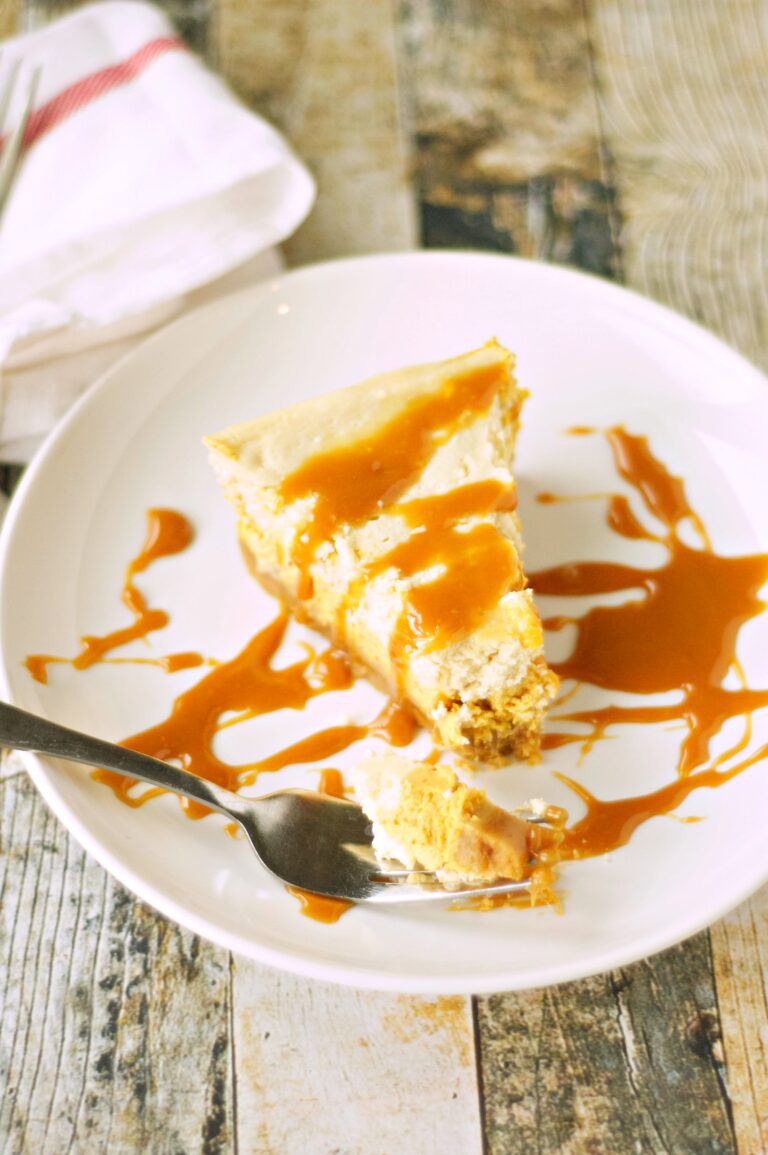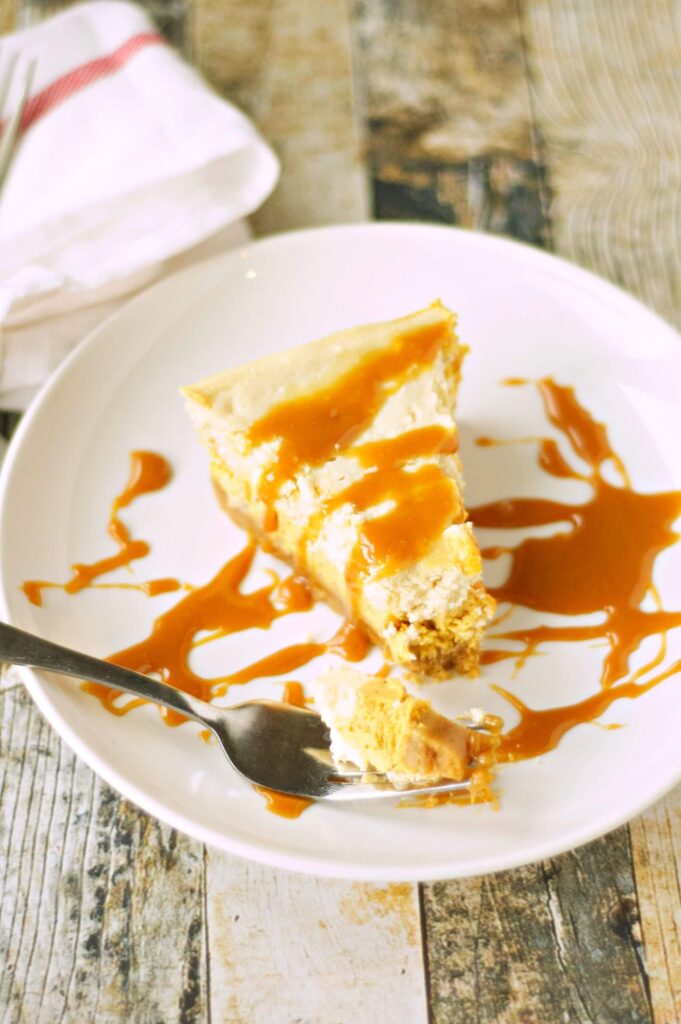 Slow Cooker Caramel Apple Cheesecake Bites