If you love the traditional comfort food of Slow Cooker Chicken and Noodles but want to make it even a little more rich and hearty try Slow Cooker Beef and Noodles!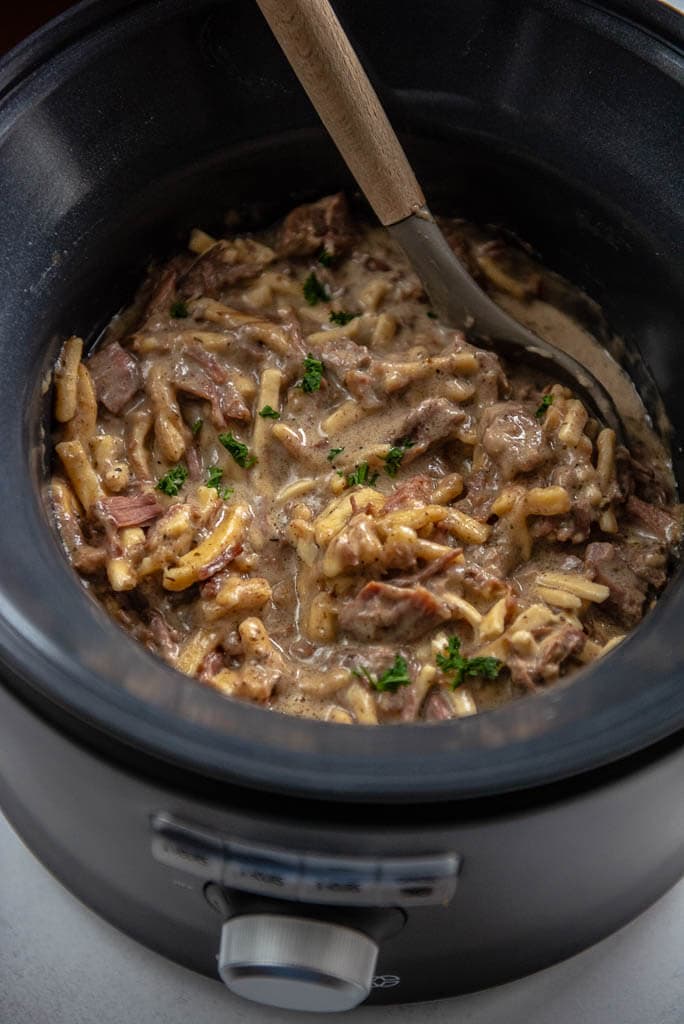 We have had this meal numerous times in the last couple of months, and I will tell you my family can't get enough. I mean, what's not to love?
While chicken and noodles is delicious, the meal takes it up a notch with rich and flavorful beef that creates a sauce for the noodles that is out of this world. I'm pretty sure we could eat this every week and never tire of it.
The even better thing is how easy it is to make! If you though meals like this Slow Cooker Beef and Noodles was only for the weekend, think again! You could easily make this even on your busiest days because it takes only 15 minutes of hands on time to prepare!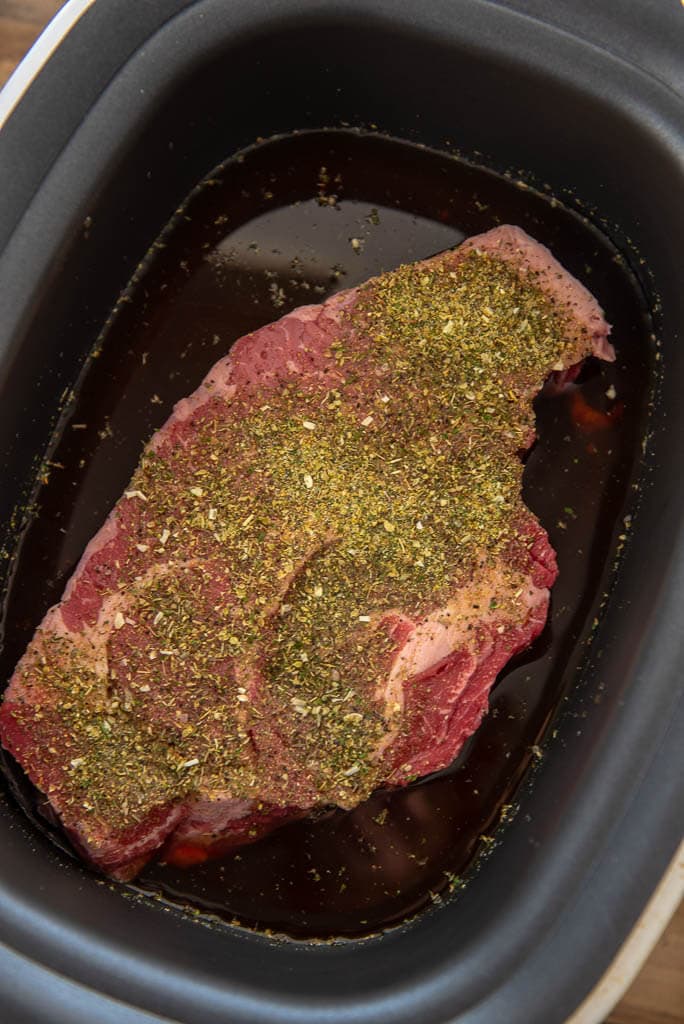 What kind of meat should you use for beef and noodles?
I like to use a chuck roast for this recipe. It has just a bit of fat, enough to give the dish some flavor, without leaving you with a greasy mess or lots of trimming to do. You can simply season up the roast and since it's cooking all day, it will become completely fall apart tender.
Other options would be:
round eye roast
top round
rump roast
They key is to look for a roast with less marbling and I prefer no bone although that is optional.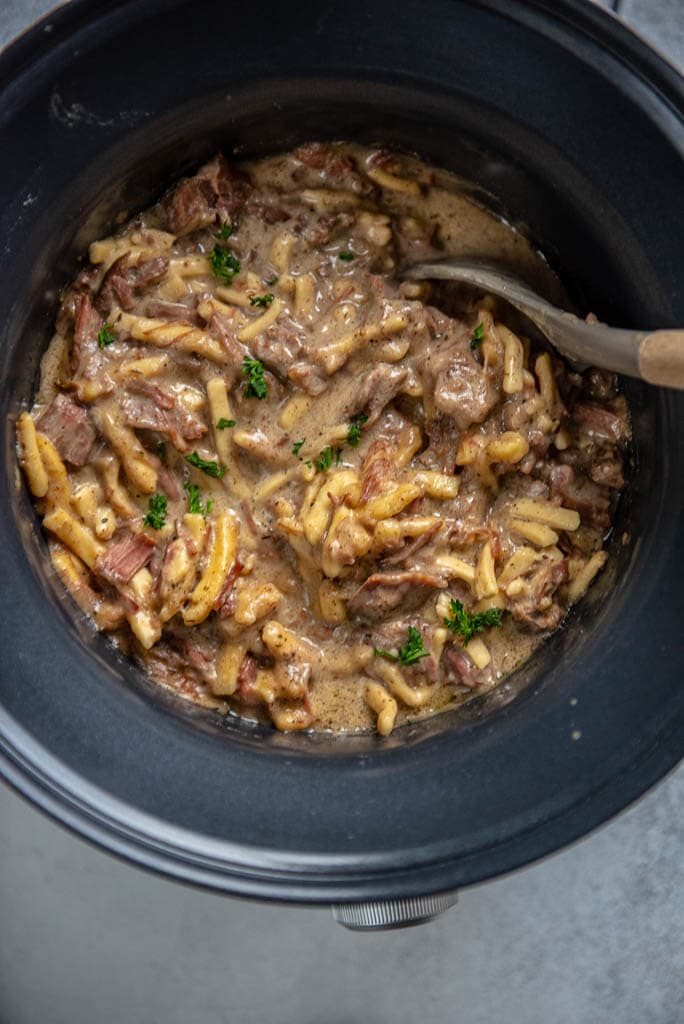 How do you make beef and noodles in a slow cooker?
It's basically a simple two step process:
Add the beef with seasonings and broth and let cook all day until it is fork tender, then shred
Add the noodles to the liquid in the pot along with some cream and cornstarch to create a thick sauce that will come together in about 30-40 minutes
It's a great one pot, no mess, no fuss meal that your family will love for sure!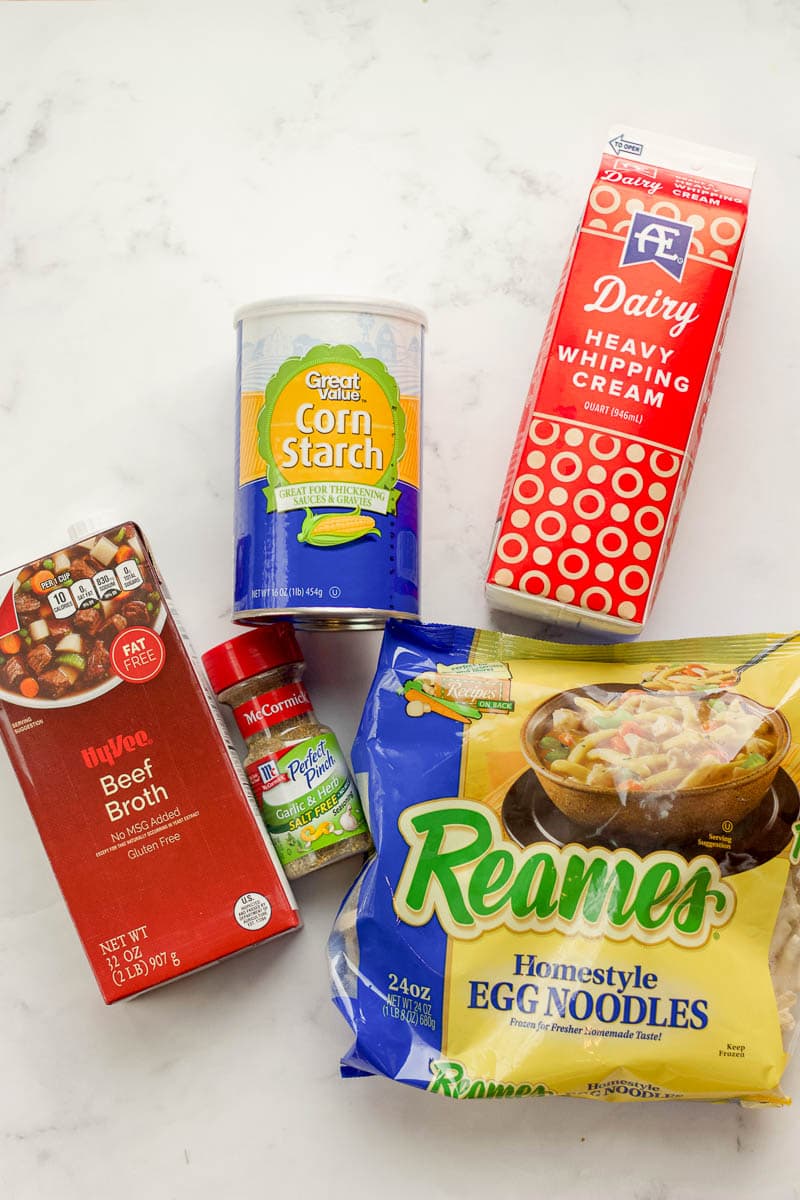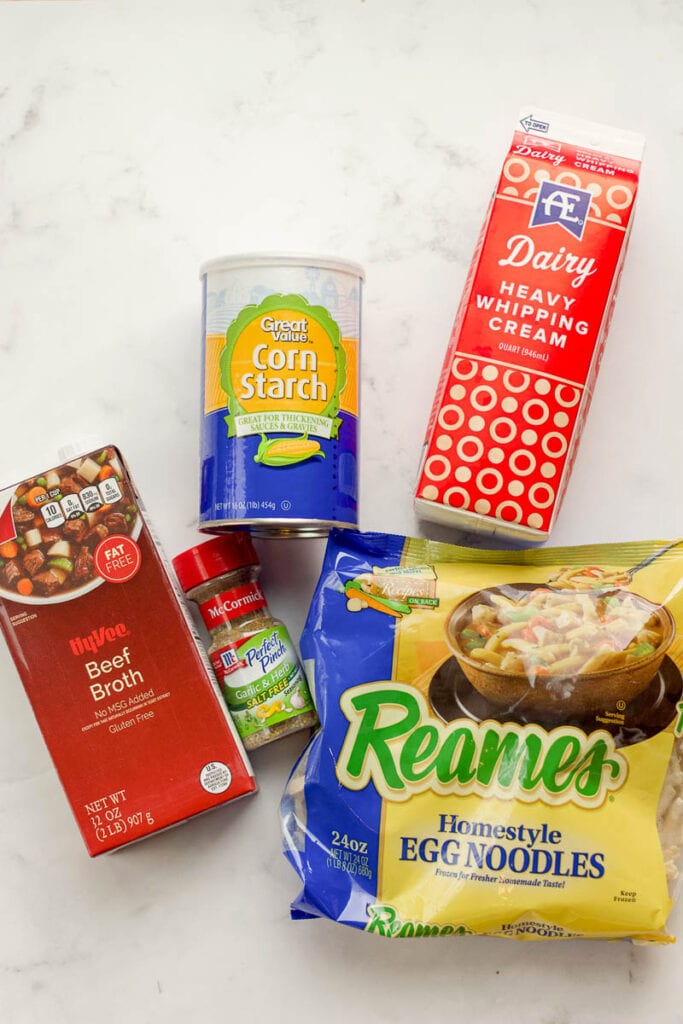 I get a lot of questions about the noodles, I use the frozen egg noodles (usually Reames brand) that you can find in the freezer case at most any grocery store.
Can this be a Freezer Meal?
Yes! Simply season the beef and place in a freezer bag. It will keep for up to 3 months in the freezer.
Thaw before cooking as directed! You will simply need to add the beef broth at cooking time.
Can I Make this in the Instant Pot?
Yes!
Add the beef, seasoning and broth to the Instant Pot and cook on high pressure for 75 minutes
Allow the pressure to release naturally then stir in the cornstarch mixture and cream and allow to thicken
Cook the noodles separately and add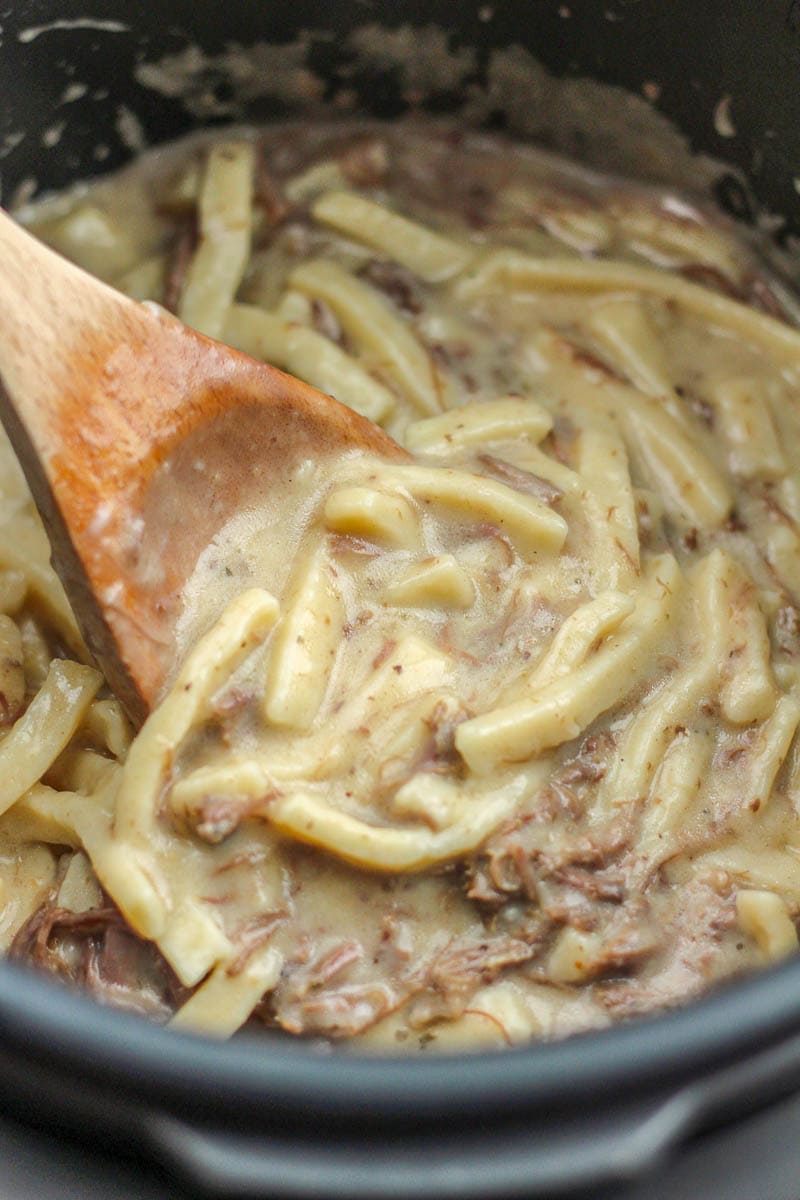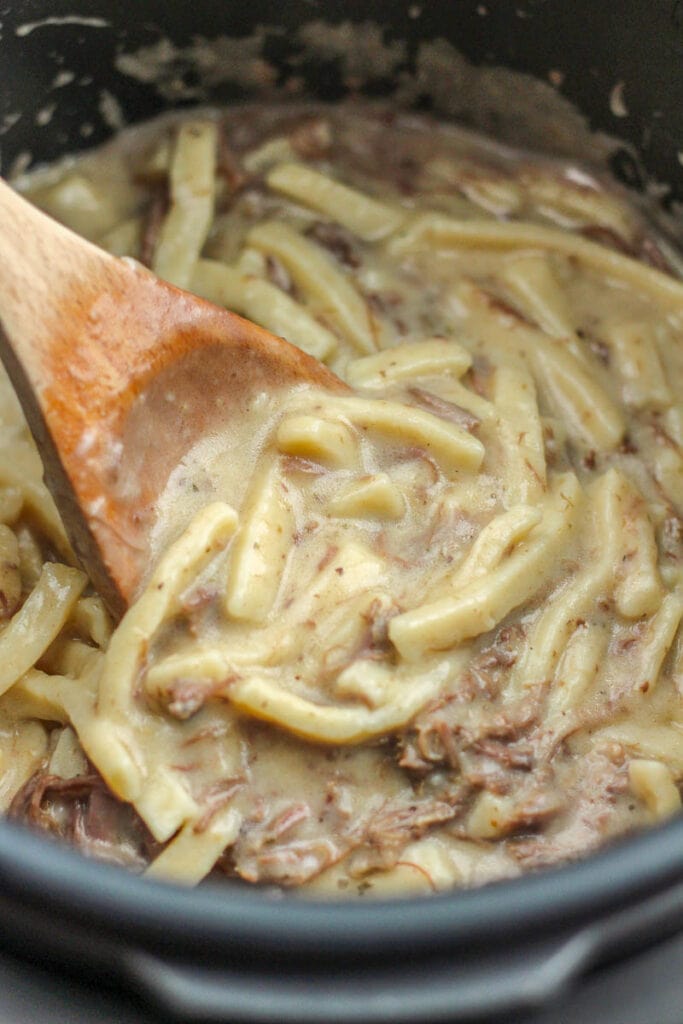 How to store leftovers:
Store in individual servings in air-tight containers in fridge for up to 3 days for easy reheating in microwave
Leftovers can be frozen for up to 3 months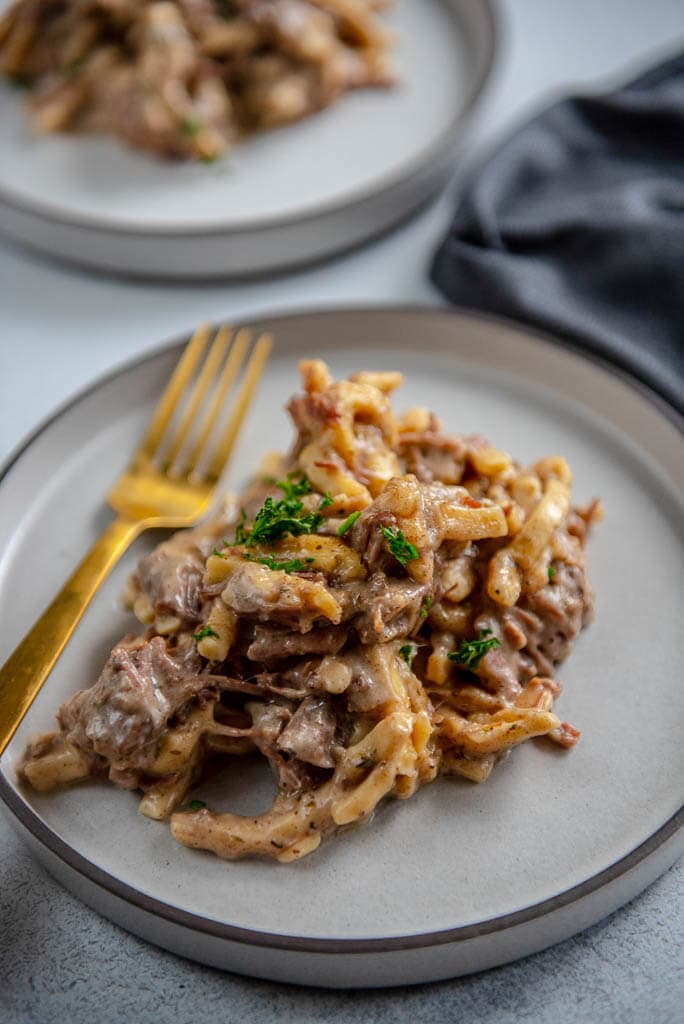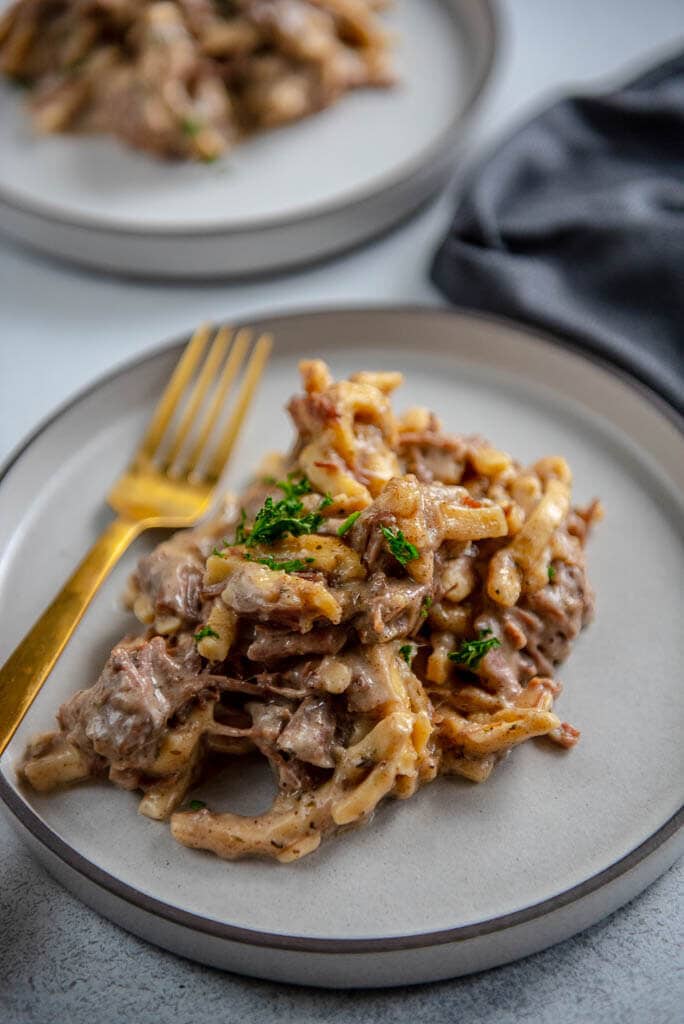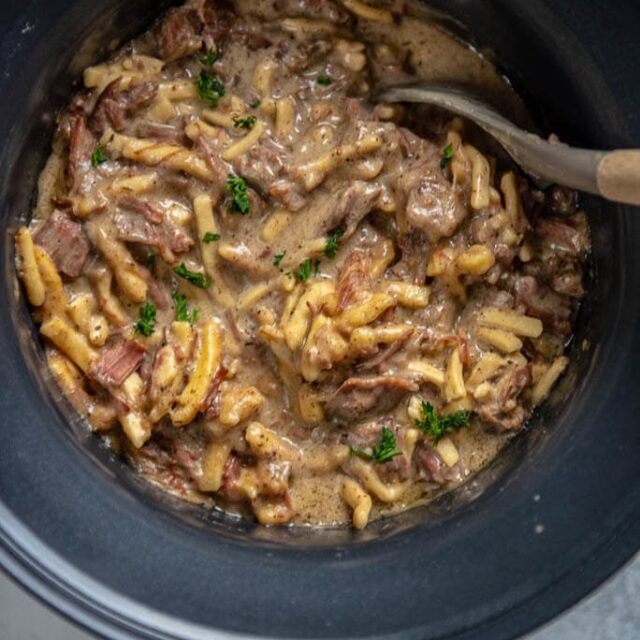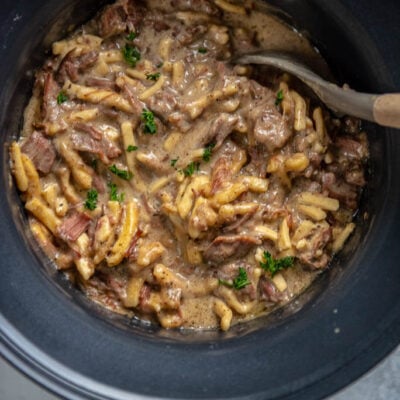 Slow Cooker Beef and Noodles
If you love the traditional comfort food of Slow Cooker Chicken and Noodles but want to make it even a little more rich and hearty try Slow Cooker Beef and Noodles!
Ingredients
2

pound

chuck roast

1

tablespoon

herb and garlic seasoning

2

cups

beef broth

¼

cup

cornstarch

whisked with equal amount of water

16

oz

reames noodles

½

cup

heavy cream
Instructions
Season roast and place in slow cooker

Add broth and cover and cook on low for at least 8 hours or until roast is fall apart fork tender

Shred beef and add cornstarch slurry, noodles and cream to slow cooker

Turn to high heat and cover and allow to cook for another 30-40 minutes, stirring a few times, until noodles are cooked and sauce is thick.
Notes
I don't recommend cooking this recipe on high heat except for the final portion to cook the noodles.
If noodles are not done or sauce is too thick, additional broth can be added, ½ cup at a time.
To make in Instant Pot:
Add the beef, seasoning and broth to the Instant Pot and cook on high pressure for 75 minutes
Allow the pressure to release naturally then stir in the cornstarch mixture and cream and allow to thicken
Cook the noodles separately and add
Nutrition
Calories:
358
kcal
Carbohydrates:
19
g
Protein:
25
g
Fat:
19
g
Saturated Fat:
9
g
Cholesterol:
115
mg
Sodium:
324
mg
Potassium:
464
mg
Fiber:
1
g
Vitamin A:
275
IU
Calcium:
69
mg
Iron:
3.5
mg
Important nutritional disclaimer