Easy Homemade BBQ Rub Recipe
Elevate your home-cooked meats with an easy homemade BBQ rub recipe with sweet and savory flavors! This classic BBQ flavor takes pork, chicken, or beef to another level of delicious taste and texture!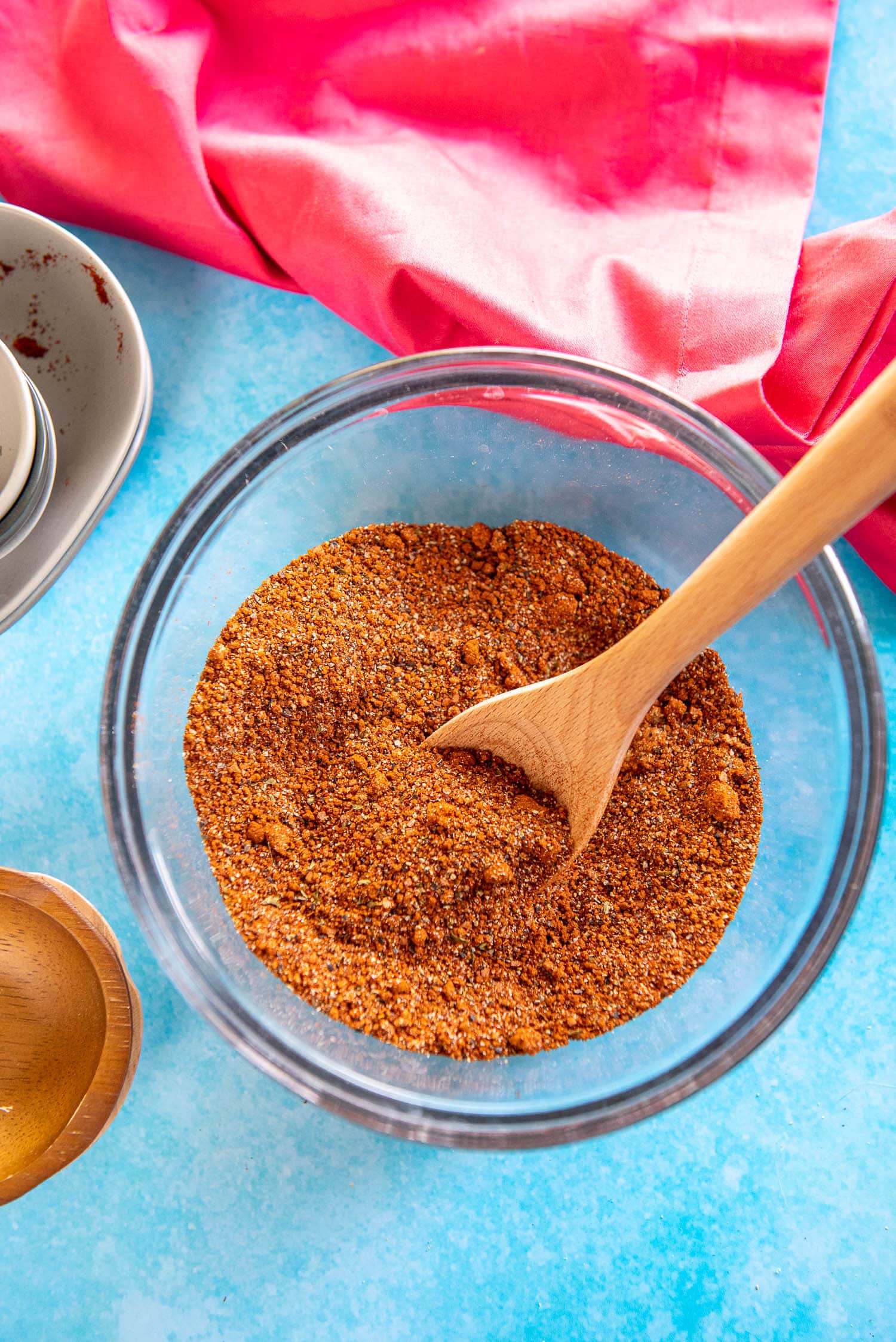 With this simple mix, you can enhance your grilling, smoking, or slow cooking with a layer of generous seasoning rubbed deep into your favorite meats or vegetables.
What is BBQ rub typically made of?
Many spice combinations are made of very similar ingredients, and a BBQ rub recipe is no different. You'll find that the variants are often the amount of a particular spice or the emphasis on a savory or sweet flavor. A BBQ rub is usually developed around a key ingredient: brown sugar.
Brown sugar is the ''carrier" of the rest of the spices – paprika, chili and garlic powders, salt and pepper, aromatics… to name a few! BBQ rubs use a generous amount of sugar (or sometimes salt) to coat the outside of the meat or vegetables. Due to the sugar content in the BBQ rub, the ingredients are usually best cooked "low and slow" to prevent burning and ensure that caramelized outer coating.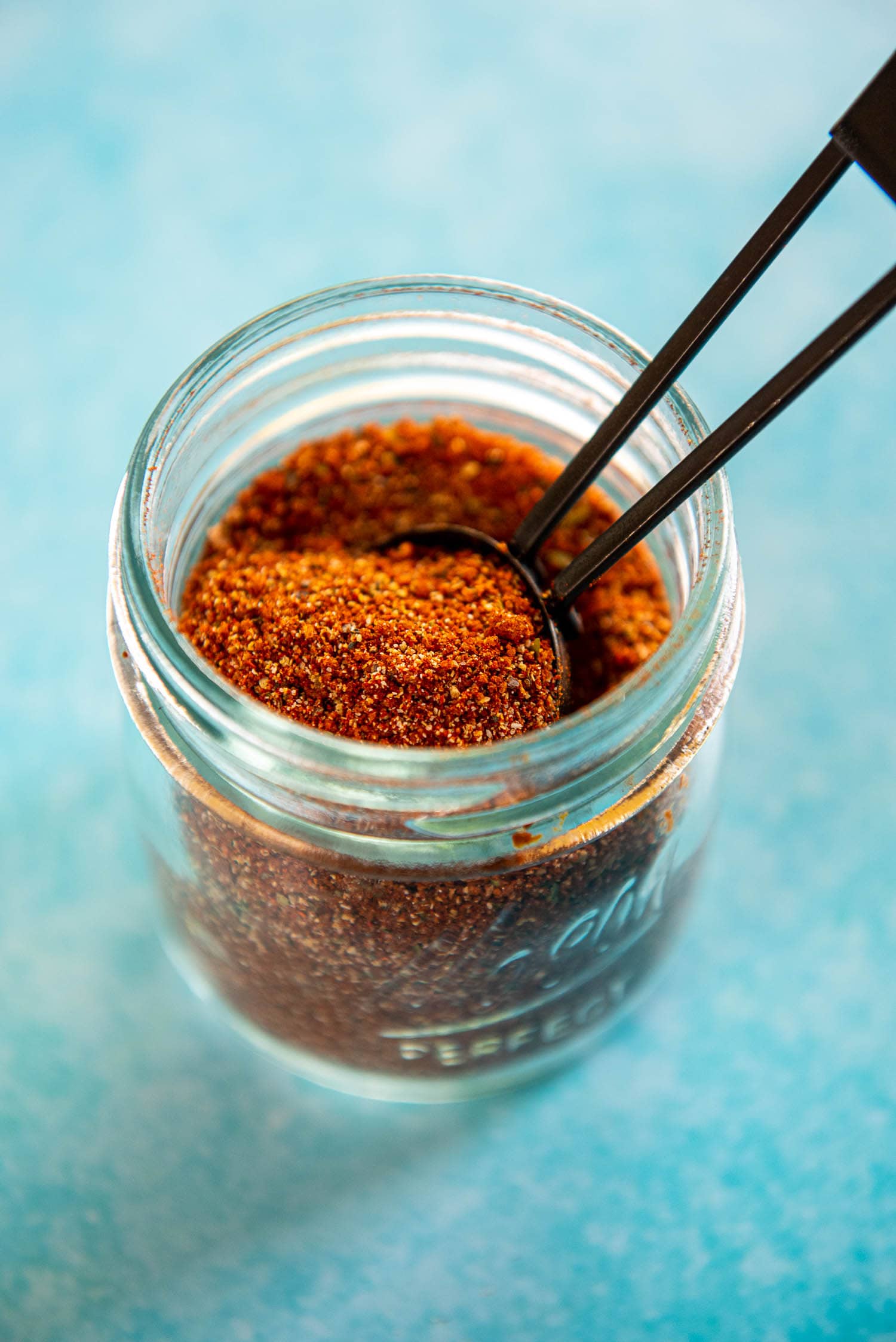 Why make a homemade BBQ rub?
Like most home-cooked recipes, making your own homemade BBQ rub can be cost-effective and healthier than store-bought! When you mix up your seasonings in your own kitchen, you can ensure that none of the added preservatives or excess sodium ends up in your batch.
Many spices and seasoning from the store use also added ingredients to keep the mixtures from caking or appearing visually unappealing. A fresh batch made at home keeps the flavors strong and allows you to customize them to your liking!
What's the difference between a BBQ seasoning and a BBQ rub?
It can be easy to confuse BBQ seasoning with a BBQ rub. With similar ingredients, you might think they are interchangeable!
However, a seasoning is intended to be used at any point in the cooking process – before, during, or after. A rub, on the other hand, is intended to ONLY be used on the outer surface of meat or vegetables prior to cooking. The generous amount of sugar or salt will pack or "rub" the spices onto the outside of the meat creating a seal of flavor.
A rub is often going to include much higher portions of ingredients than a seasoning blend (for example, the amount of brown sugar). The goal here is that by using a higher quantity of salt or sugar, you will have plenty to pack onto the outside of the meat prior to cooking.
A rub is also meant to have more texture. While you might run a spice blend through a food processor, in this case, leave the rub with different-sized spice granules intact. This varied consistency helps the rub to stick to the meat and create a layer of compacted spices.
BBQ Rub Ingredients
Head to your spice cabinet to mix up this sweet and simple homemade BBQ rub recipe!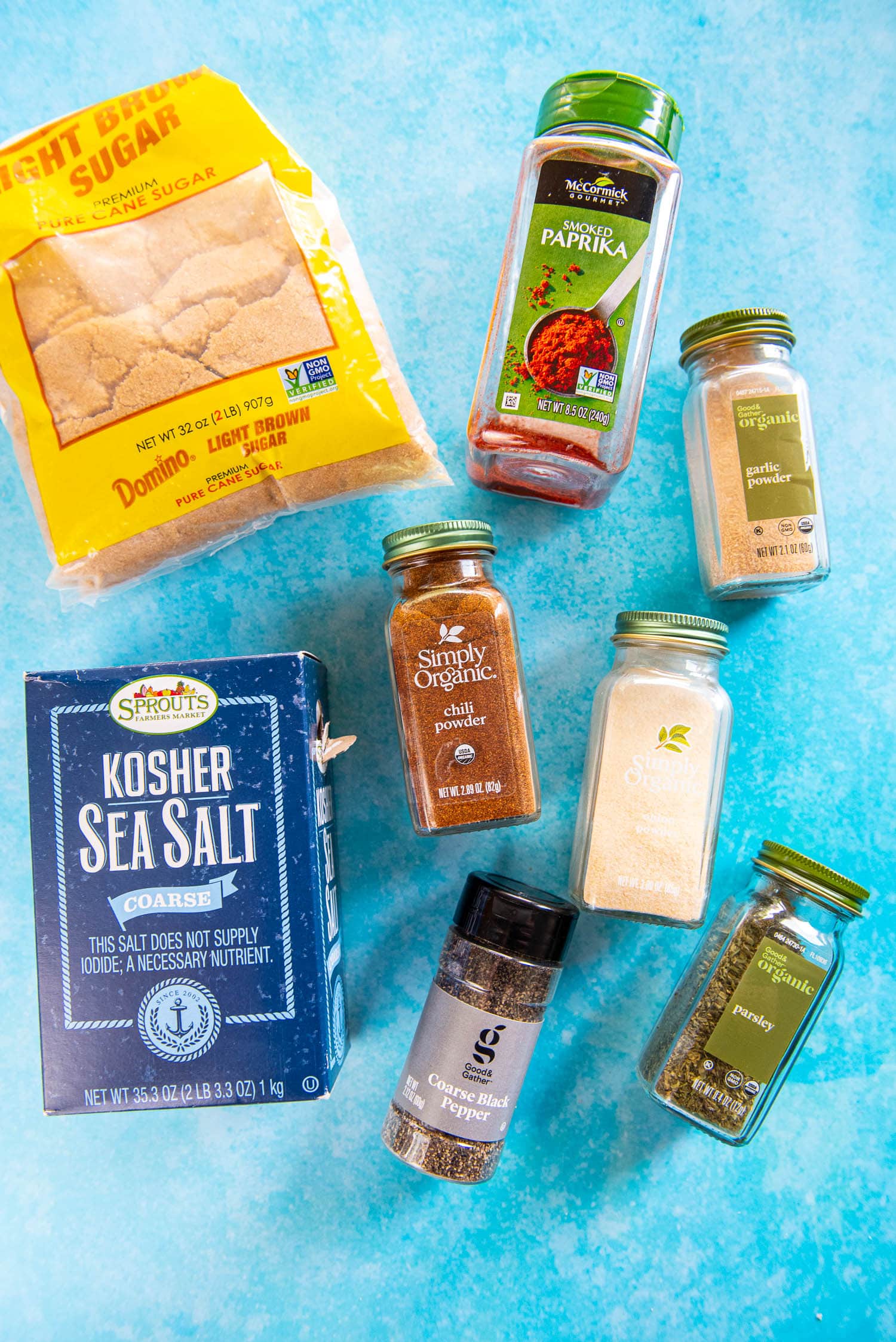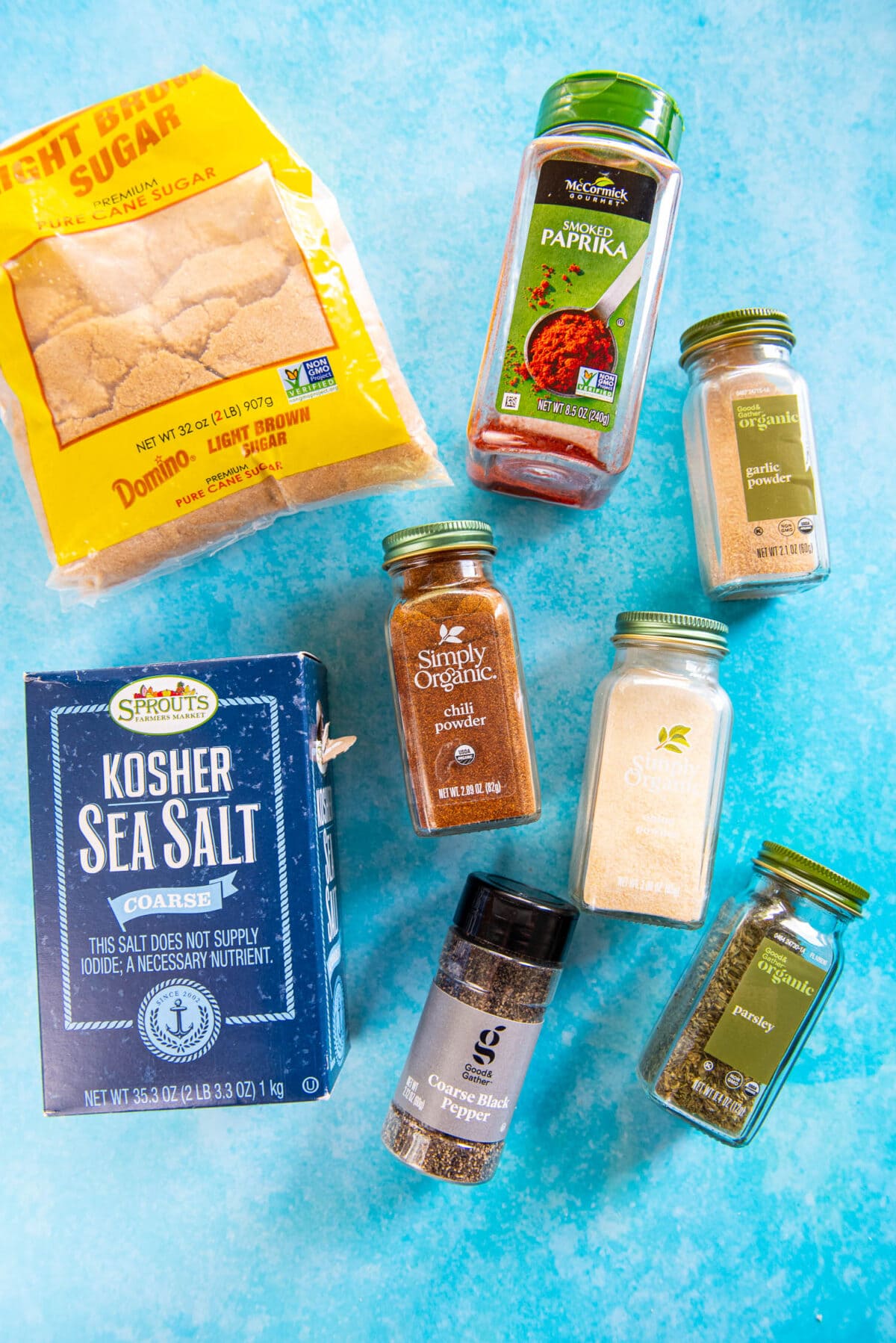 You'll need:
Brown sugar – The added molasses in brown sugar helps the texture and sweetness of a dry rub recipe.
Smoked paprika – Be sure to look for a "smoked" paprika versus just a regular paprika. You'll be able to taste the difference!
The "powder" spices – chili, garlic, and onion powders
Kosher salt – Adding a little crunchiness and texture!
Coarse black pepper – The flavor of the cracked peppercorns will enhance the outside crust created by the dry rub.
Dried parsley – This is an addition more for looks than for flavor! While optional, it does provide a nice touch and taste to your recipe.
How To Make Homemade BBQ Rub
The steps here are easy – measure out your ingredients and mix to combine! You might like to store it in a jar or other airtight container to be able to shake it up prior to use.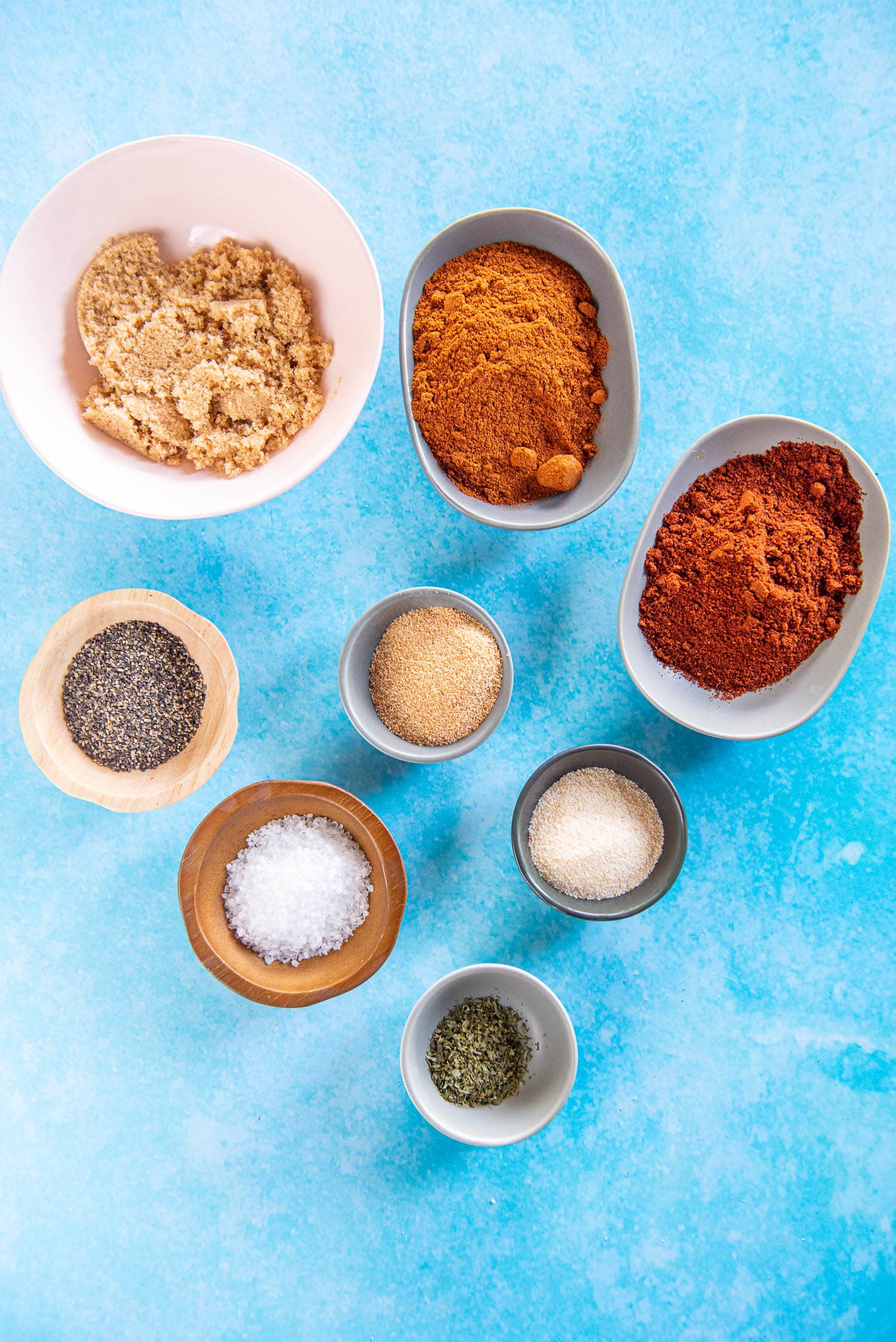 As long as you're measuring and mixing, make a double or triple batch! The general rule for the ratio of rub to meat is 1 tablespoon of rub for each pound of meat.
Tip: This easy homemade BBQ rub recipe would make a great gift for a friend or neighbor in a decorative sealed and labeled bag or container!
BBQ Rub Variations
With an easy homemade recipe like this, you can make simple swaps for flavor variation. Here are a few ideas for different tasty profiles:
To make it spicier, add ⅛ – ¼ teaspoon of cayenne pepper.
To make it smokier, swap regular chili powder for ancho chili powder.
To make it less smoky and more sweet, use sweet paprika instead of smoked.
Slow Cooker BBQ Recipes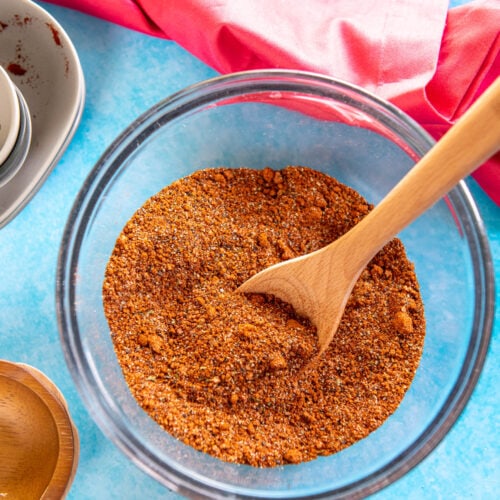 Easy Homemade BBQ Rub Recipe
Elevate your home-cooked meats with an easy homemade BBQ rub recipe with sweet and savory flavors! This classic BBQ flavor takes pork, chicken, or beef to another level of delicious taste and texture!
Ingredients
¼

cup

brown sugar

3

tablespoons

smoked paprika

2

tablespoons

chili powder

1

tablespoon

garlic powder

1

tablespoon

onion powder

1

tablespoon

kosher salt

1

tablespoon

coarse black pepper

1

teaspoon

dried parsley

optional – just for color
Instructions
Measure spices, mix, and store in an airtight container.
Notes
Like most spices, store the rub mix in a cool, dry location in a sealed container or zipper bag.

If sealed tightly, this rub should be safe to store and use for up to 6 months.

Use this rub on any meat used for grilling, smoking, or slow cooking!
Nutrition
Calories:
36
kcal
Carbohydrates:
8
g
Protein:
1
g
Fat:
1
g
Saturated Fat:
0.1
g
Polyunsaturated Fat:
0.3
g
Monounsaturated Fat:
0.1
g
Sodium:
728
mg
Potassium:
103
mg
Fiber:
1
g
Sugar:
6
g
Vitamin A:
1509
IU
Vitamin C:
0.2
mg
Calcium:
19
mg
Iron:
1
mg
Important nutritional disclaimer
More Homemade Spice Recipes