Easy Sloppy Joe Recipe In The Slow Cooker
For an easy and family-friendly dinner, skip the canned sauce and make these delicious homemade Slow Cooker Sloppy Joes!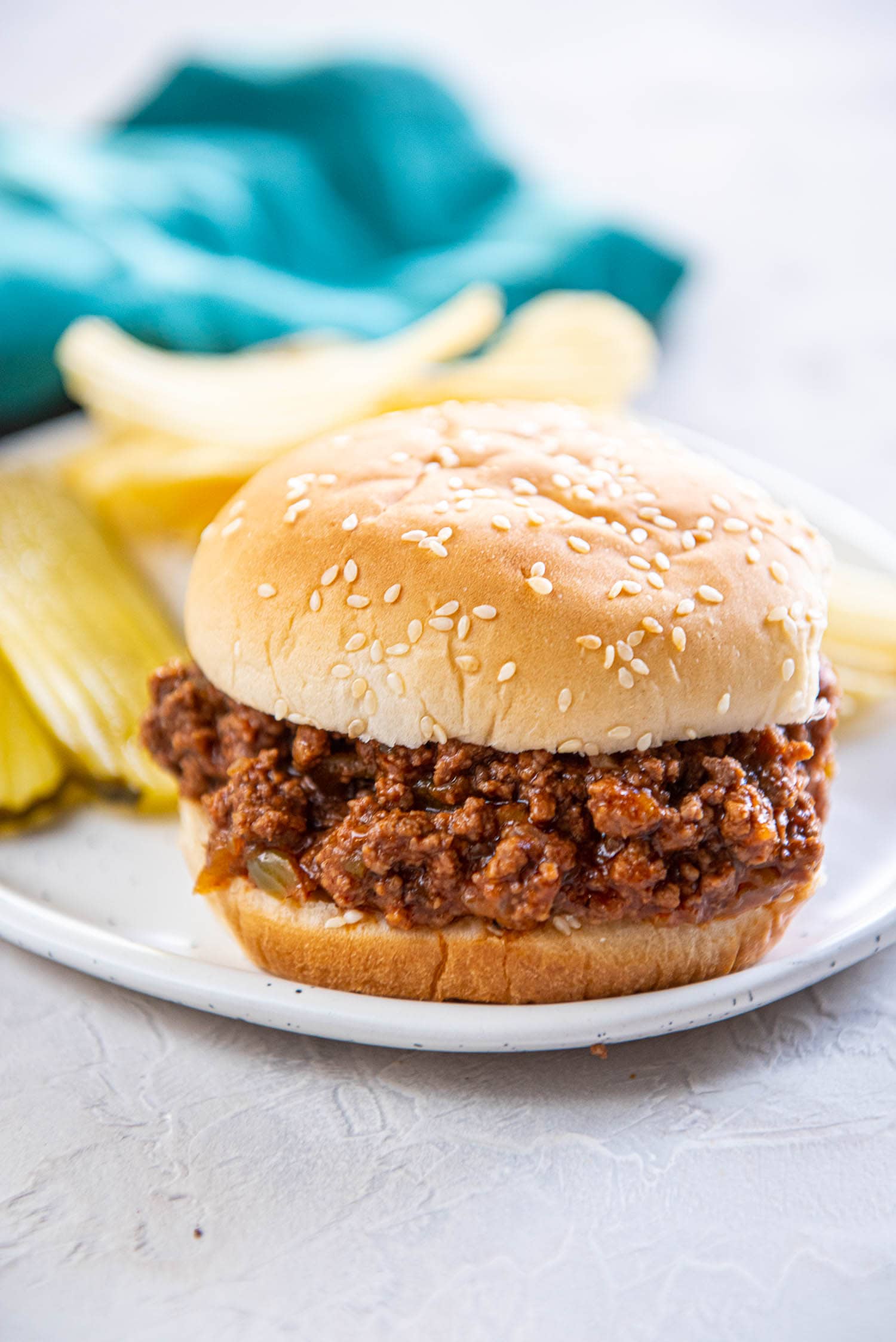 What is a sloppy joe?
Sloppy joes are traditionally recognized as a type of ground or chopped meat sandwich.
Different interpretations of the dish can vary from Cuba to Canada. The most commonly recognized recipe is a hearty mixture of ground beef, a tomato base, and a slightly sweet sauce with a variety of seasonings or added chopped vegetables. And of course, this satisfying sauce is served up on a traditional hamburger bun!
A bit of history…
Sloppy joes became a household meal during the 1930s and 40s – around the same time that families were stretching ingredients with dwindling budgets. Later on, companies began to produce canned sauces as the sandwich became a staple at the American dinner table. However, there is some debate about where the actual sandwich came to be.
On one hand, this classic family-style recipe is said to have originated from the kitchen of a Cuban bar-owner, nicknamed "Sloppy Joe" for his, um, less than meticulous dining environment. Supposedly, Ernest Hemingway frequented this Havana establishment and convinced a Key West bar owner to adopt the name for his restaurant and also introduce the sandwich to the island locale. From there, the popularity spread!
Another popular sloppy-joe-sandwich-theory attributes the popularity to a cook, "Joe," in Sioux City, Iowa who became known for his use of this version of beef in his Midwestern sandwiches.
Sioux City or Havana – this timeless recipe remains a hit!
Easy Sloppy Joe Recipe Ingredients
Because this recipe requires minimal ingredients, it would be an easy dish to add to your weeknight routine or have it prepped in the slow cooker for a busy weekend.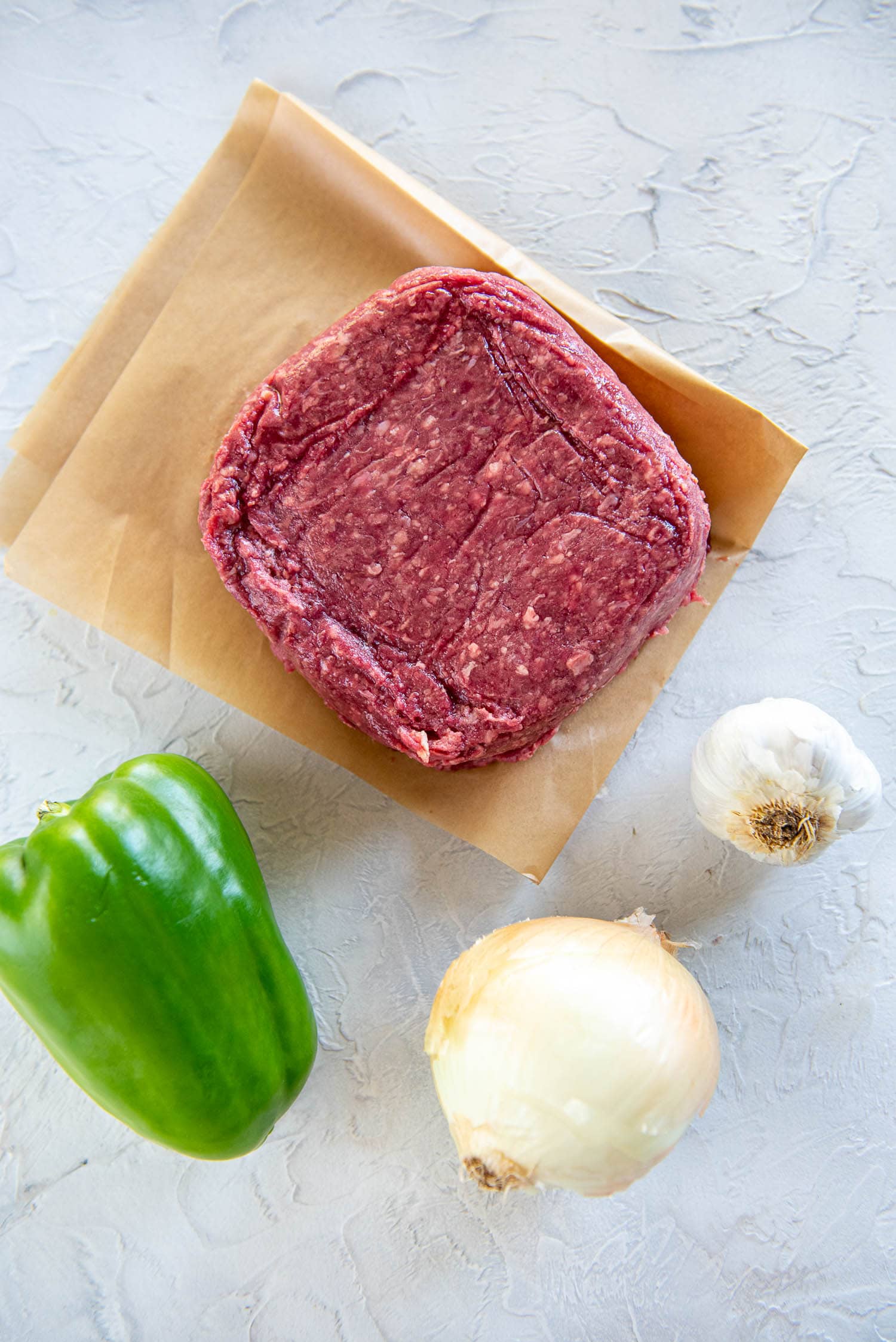 Ground beef
The key element in this type of sandwich – hearty and satisfying! Feel free to also substitute ground turkey if you prefer.
The Veggies
A few basics such as green bell pepper, onion, and garlic cloves give flavor, variance, and texture to the mix!
You could leave the veggies out if preferred, but I find this is a great way to sneak in some extra nutrition without complaint from my kids!
Sauces and Seasonings
Here is where the traditional sloppy joe sandwich becomes even easier to make. Instead of rounding up a variety of sweeteners and other additives to make the sauce, you can simplify the process by using your favorite BBQ sauce! Add classic ketchup, plain tomato sauce, and an herb and garlic seasoning blend to round out the flavorful blend.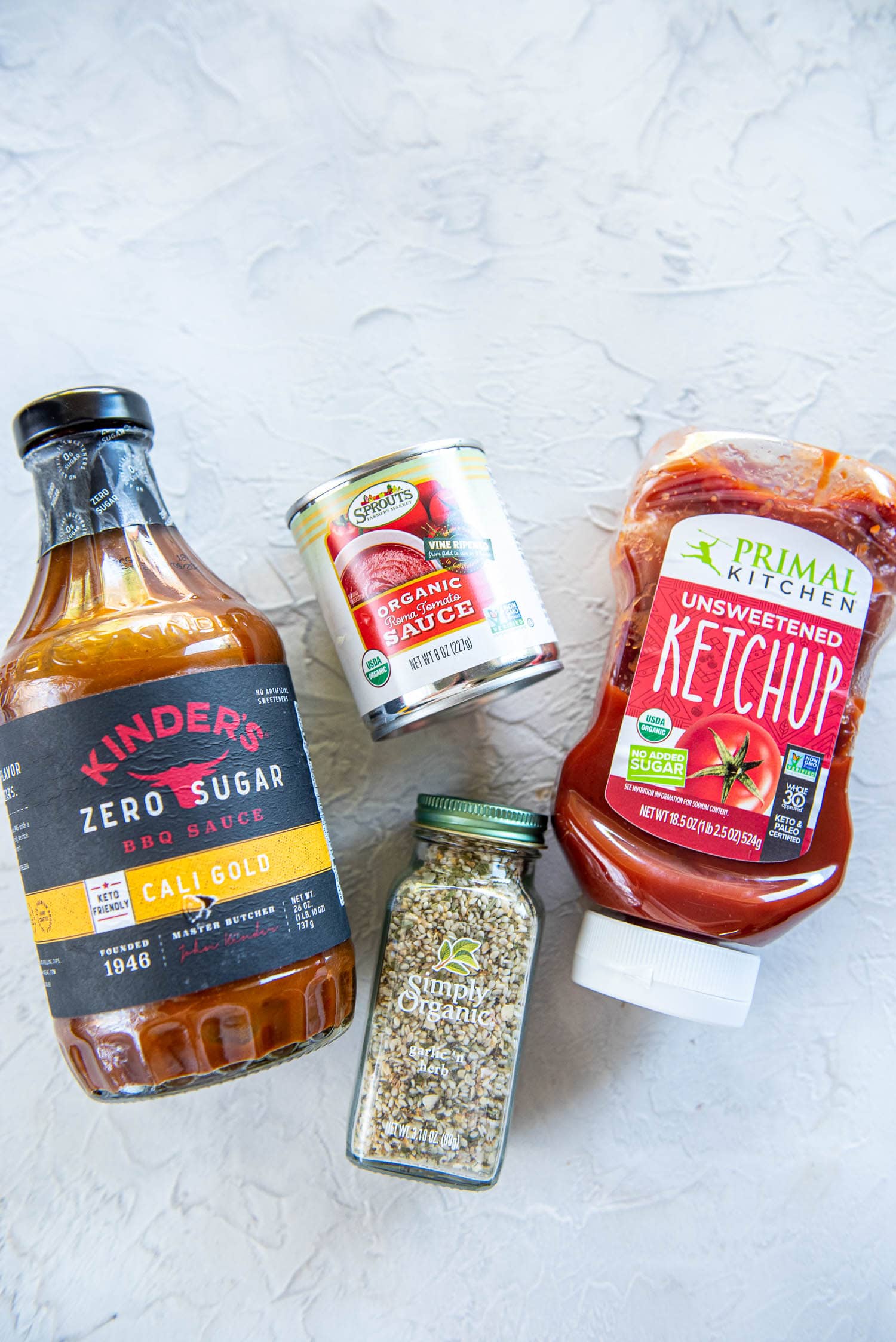 Tips:
Use ketchup and BBQ sauce without added sugar if you'd like to reduce the overall sweetness and sugar content.
Any all-purpose-seasoning will work in place of an herb and garlic blend.
How To Make Sloppy Joes In The Slow Cooker
Start your sweet and savory meal by browning your ground beef in a skillet or in a multi-cooker (save a dish!). Unless your meat is extremely lean (think 90% leanness or higher), you will need to drain a bit of the grease.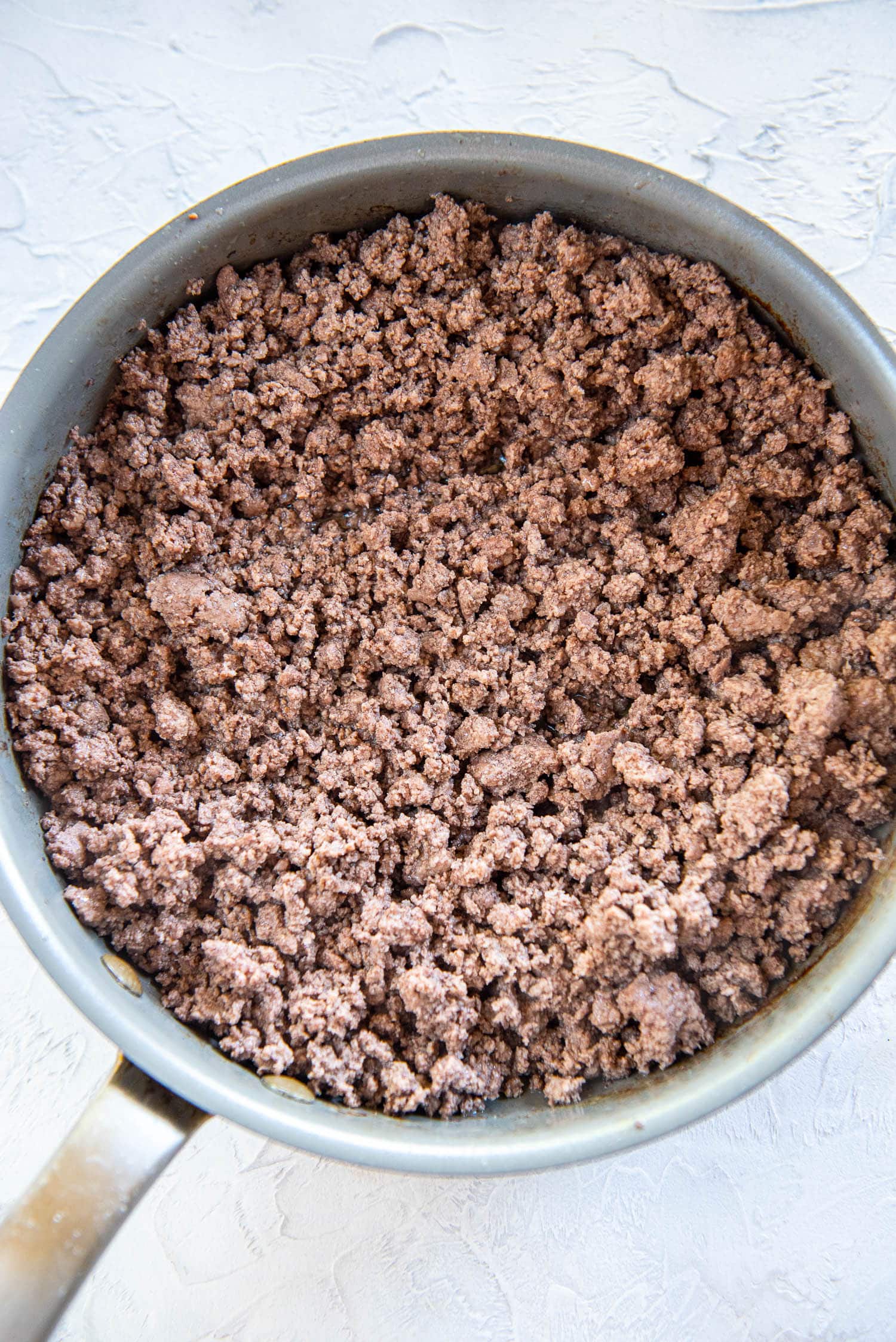 Next, finely chop pepper, onion and garlic. I recommend using a mini-chopper or similar food processor to get a fine and even dice on your veggies for a cohesive texture. You might even sneak in more vegetables if you like, such as cauliflower, brussels sprouts, or finely chopped carrot (choose vegetables with a lower water content).
Add the veggies to the browned beef and sauté for an additional 3-4 minutes or until softened.
Whisk together the remaining ingredients – tomato sauce, ketchup, BBQ sauce, and seasoning – and mix into the ground beef and vegetables in the slow cooker. Cover and cook on high for 2-3 hours or low for 4-6 hours.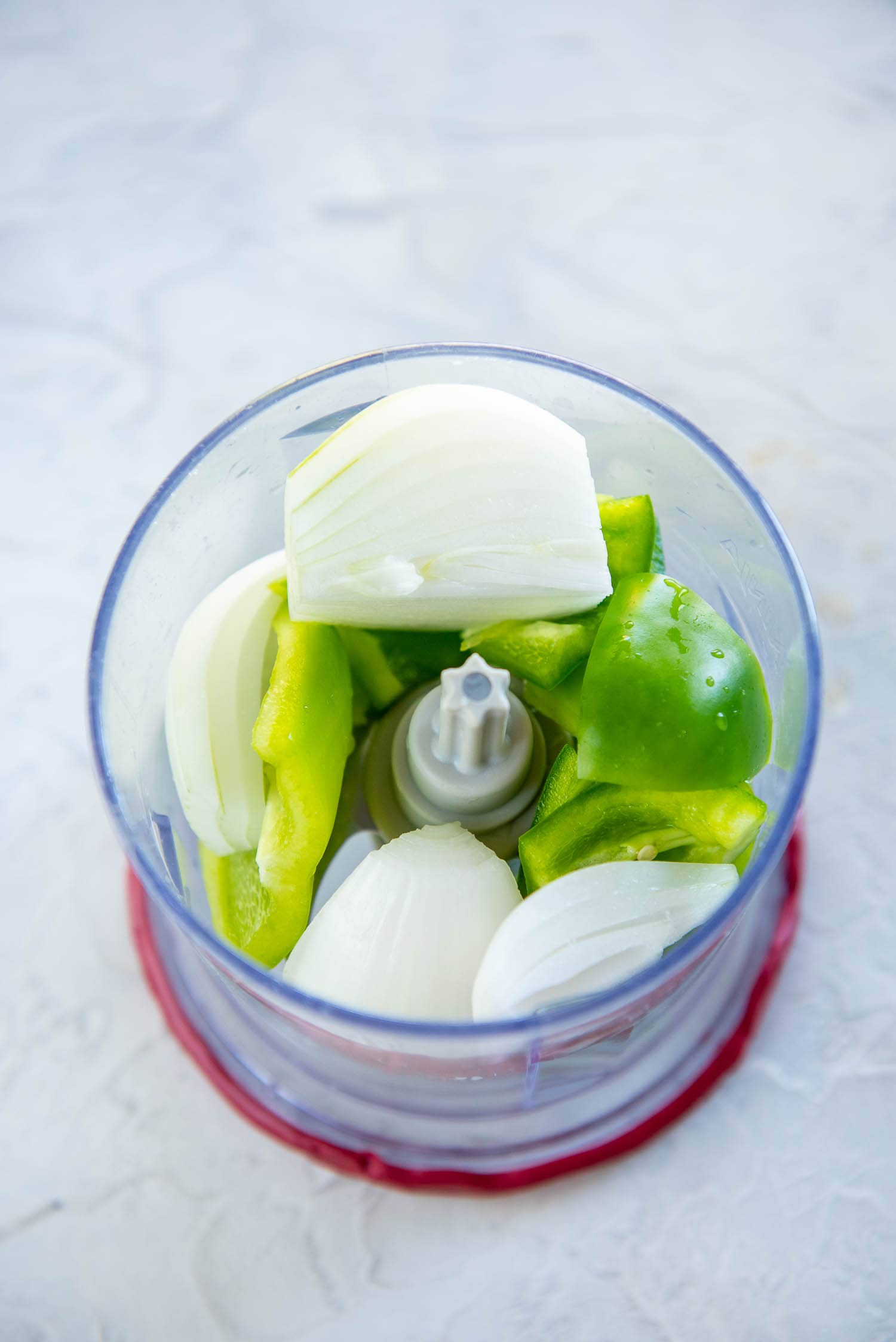 What can I make to go with sloppy joes?
This recipe is so versatile and can be served in a variety of mealtime settings. From a cold-weather weeknight dinner with a salad and slow cooker mashed potatoes to a backyard plate with classic summer sides such as coleslaw, potato chips, and pickles – you can't go wrong!
If you want to stick to the classic plating, the bun will be your most essential element. Traditional hamburger buns from the grocery store or homemade will round out this gratifying meal. (Look for gluten-free buns for an easy dietary swap!)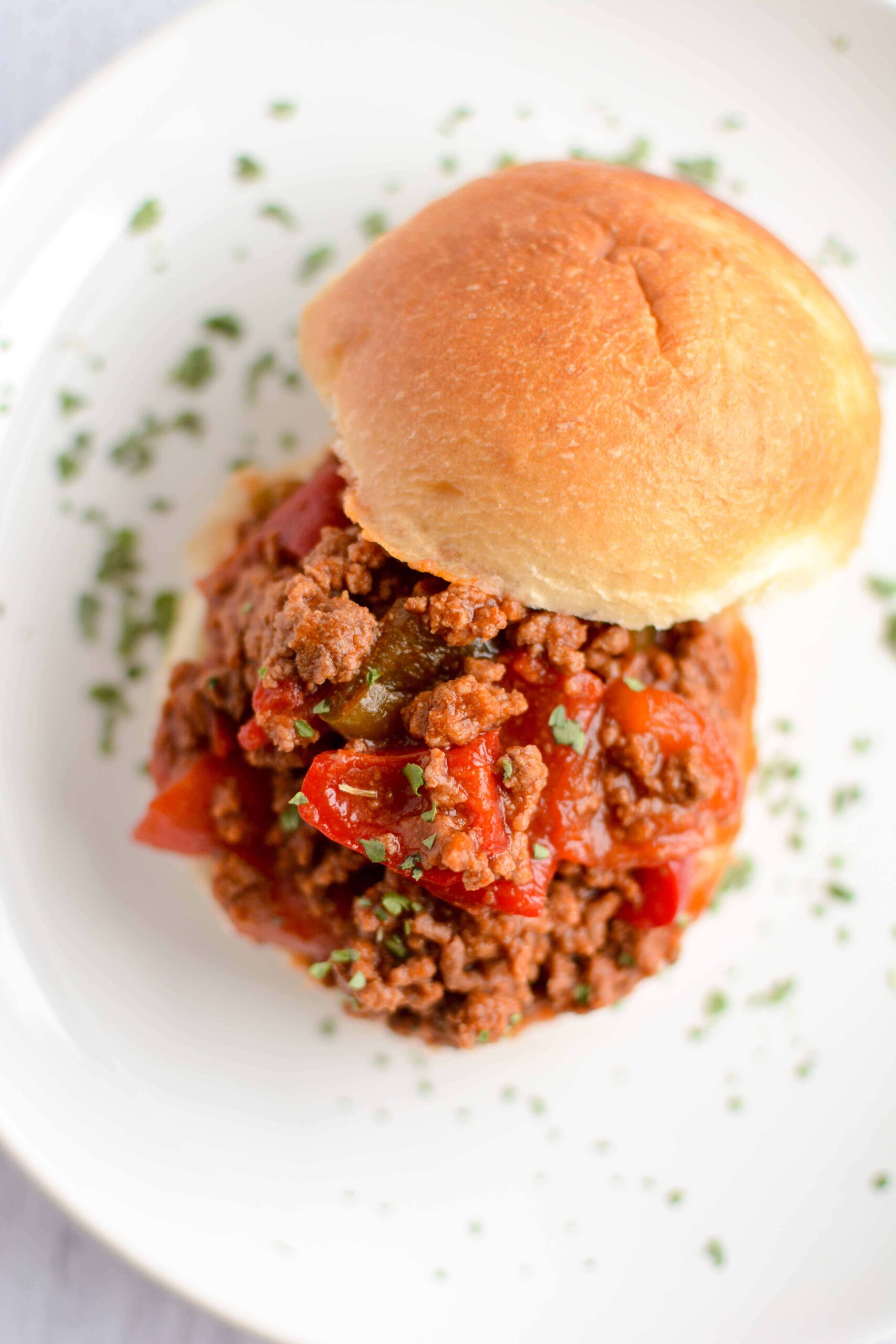 Best Way To Store Leftover Sloppy Joes
Save these easy-to-store leftovers!
Let the meat sauce cool completely then store in airtight containers in the fridge for up to 3 days, or in the freezer for up to 3 months. When you're ready to serve again, warm up on the stove and serve with fresh hamburger buns.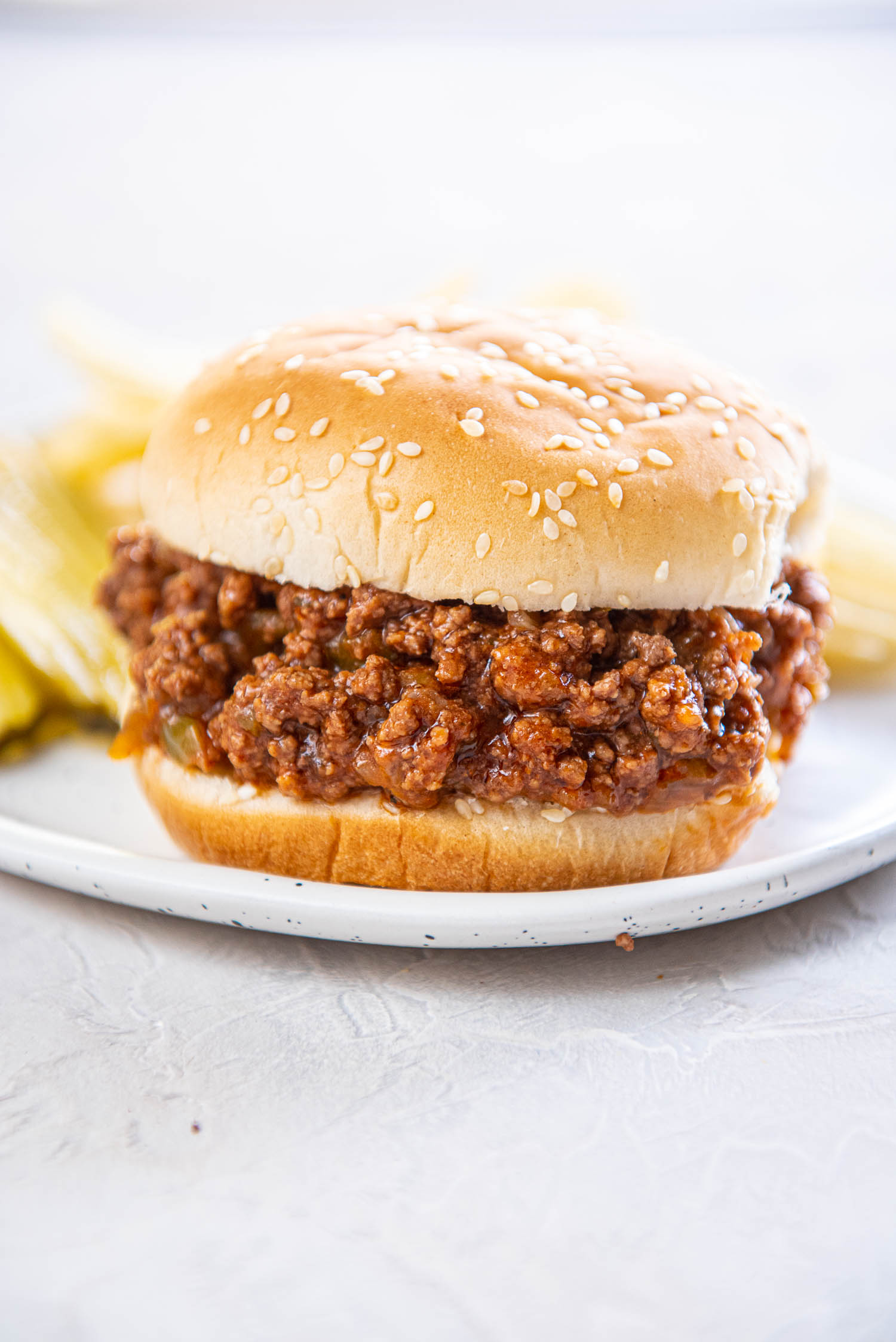 Sloppy Joe FAQ's
What is sloppy joe sauce made of? Sloppy joe sauce is made from a tomato base and a combination of spices and some sweetener. It will resemble pasta-meat-sauce consistency.
What's the difference between a sloppy joe and a sloppy jane? You might find a few different answers on what actually classifies a sloppy jane based on region (again), but generally a "jane" will use ground turkey or chicken, or modify a sloppy joe recipe to a reduced-calorie variation.
Do you drain the meat for sloppy joes? This can vary depending on the lean percentage of your ground beef choice. Unless the beef is already very lean, drain off excess grease.
What thickens sloppy joes? If your mixture contains too much liquid or is not thick enough to ladle on a sandwich bun, whisk a small amount of cornstarch or flour into the meat sauce until you reach desired consistency.
Sloppy Joe Tips
Additions – Elevate the flavor of your sandwich by incorporating different flavors of BBQ sauce or even a spicy ketchup. Finely chopped vegetables and lentils could also be added for health and heartiness!
Buns – Any traditional hamburger or brioche bun will work. Try toasting the buns in the oven or on a skillet right before serving for a little crunch.
Serving Suggestions – A sloppy joe is a pretty simple sandwich, delicious as is, but also easy to modify to everyone's liking. Try adding chopped lettuce, pickles or slaw, or even shredded or sliced cheese.
Other Ways to Serve – Other creative ways to serve easy sloppy joe meat sauce could be with a hot dog bun, over mashed or baked potatoes, or with French fries on the side.
Prep Ahead – Brown the ground beef and let cool completely. Add all ingredients to a freezer bag and store in the fridge for up to 3 days or the freezer for up to 3 months. Easy!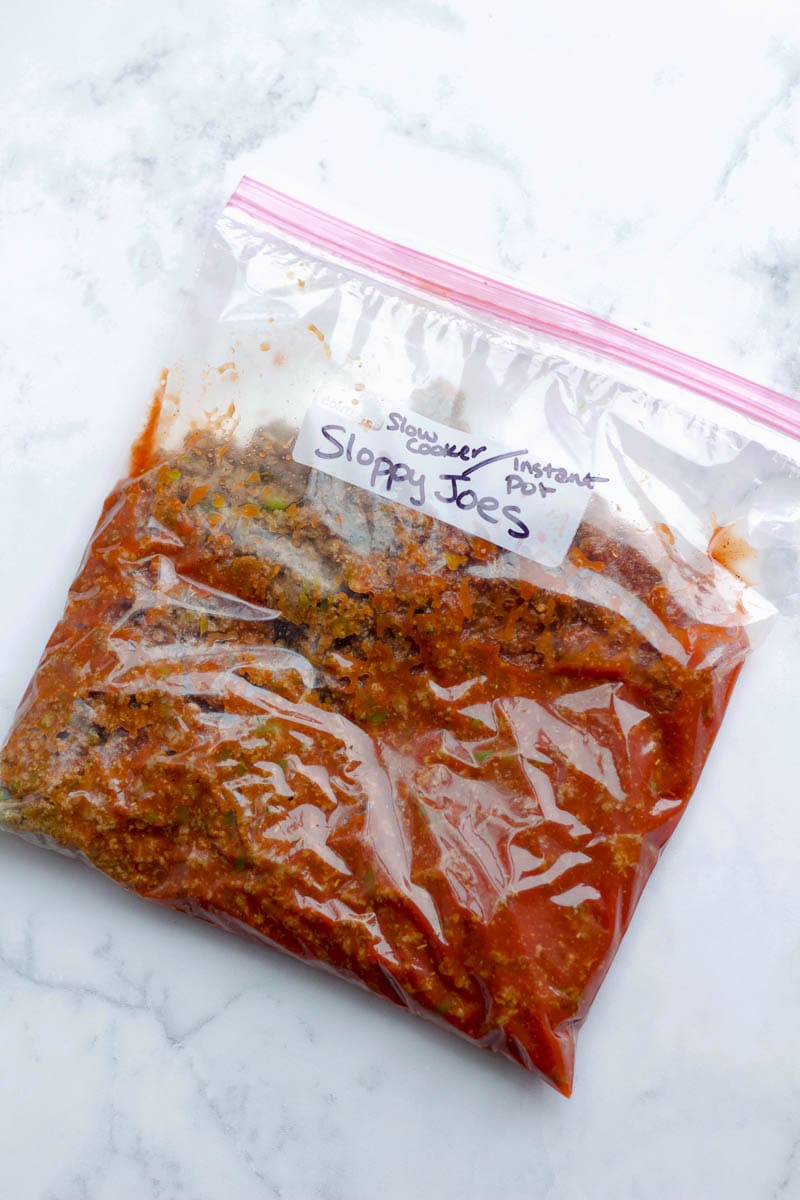 More Quick and Easy Cooker Meals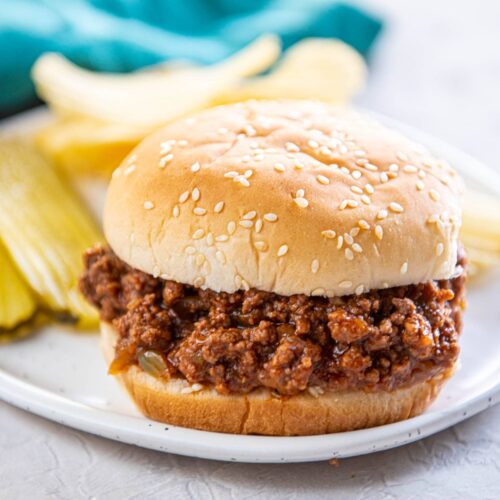 Easy Sloppy Joe Recipe In The Slow Cooker
For an easy and family-friendly dinner skip the canned sauce and make these delicious homemade Slow Cooker Sloppy Joes!
Equipment
Skillet for browning the meat (or multi-cooker)

Slow Cooker
Instructions
Brown ground beef in skillet or multi-cooker

Finely chop (see notes) pepper, onion and garlic and add to beef

Sauté for an additional 3-4 minutes or until softened

Whisk together remaining ingredients and mix with ground beef in slow cooker

Cover and cook on high for 2-3 hours or low for 4-6
Notes
Leftovers: Let cool completely, store in air tight containers in fridge up to 3 days/freezer for up to 3 months.
Prep ahead:

Brown hamburger, let cool, add all ingredients to freezer bag. Store in fridge up to 3 days/freezer up to 3 months. Thaw fully in fridge overnight before cooking in slow cooker.
Nutrition
Calories:
265
kcal
Carbohydrates:
15
g
Protein:
23
g
Fat:
11
g
Saturated Fat:
4
g
Cholesterol:
73
mg
Sodium:
544
mg
Potassium:
605
mg
Fiber:
1
g
Sugar:
11
g
Vitamin A:
325
IU
Vitamin C:
15.4
mg
Calcium:
60
mg
Iron:
3.7
mg
Important nutritional disclaimer
More Quick and Easy Cooker Meals