The question isn't should you make carnitas in your slow cooker, it's when will you make carnitas in your slow cooker?! These carnitas are super easy to throw together and cook all day for amazing flavor!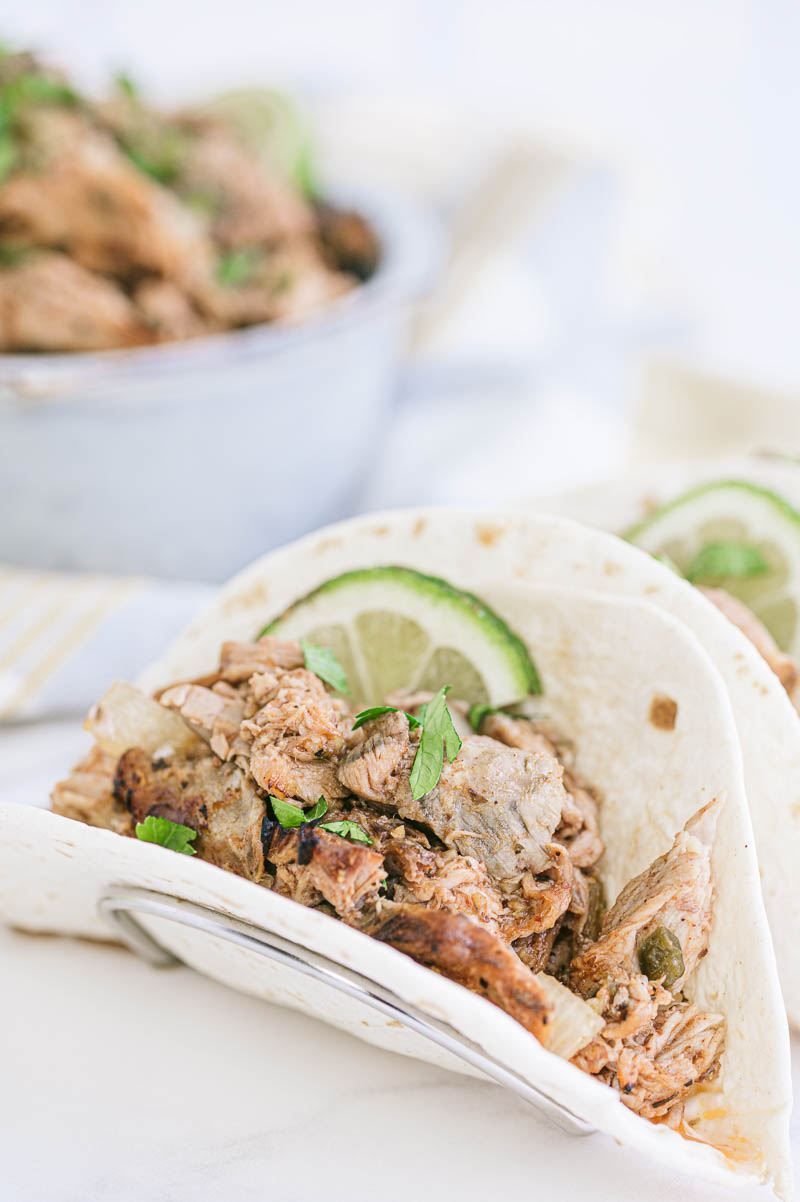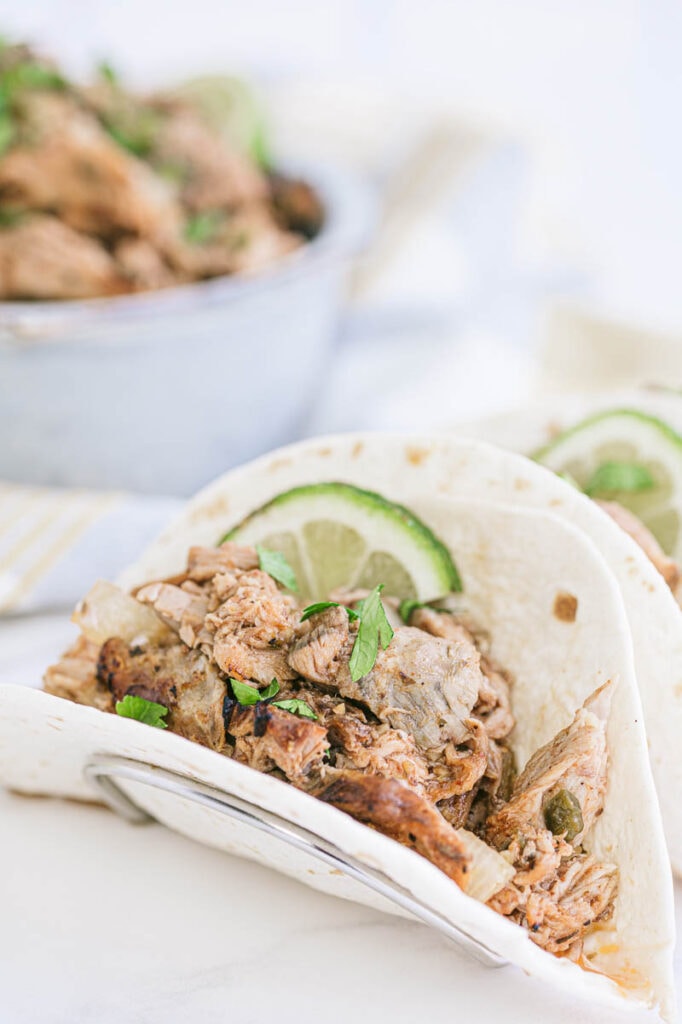 Why should you make carnitas?
Carnitas is shredded pork that is used to to fill tacos, burritos, and various other Mexican-inspired dishes. Carnitas is made from pork, but differs from "pulled pork" in that it's seasoned with Mexican spices such as peppers and oregano.
Slow Cooker Carnitas is the perfect meal for busy weeknights when you're juggling all of those schedules. Prep time is less than 15 minutes and most of the ingredients can be found in your pantry.
Carnitas is a versatile meat that can be made ahead of time and frozen–just defrost a batch when you're craving some homemade Mexican fare!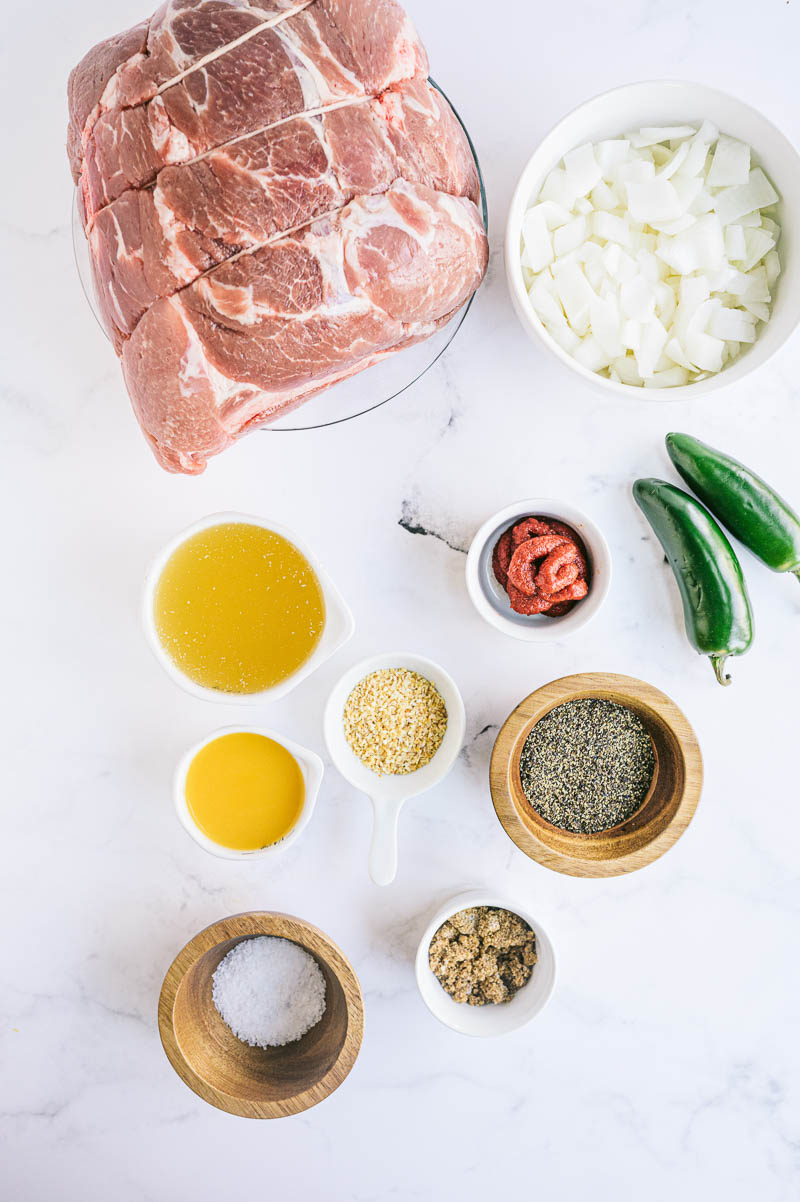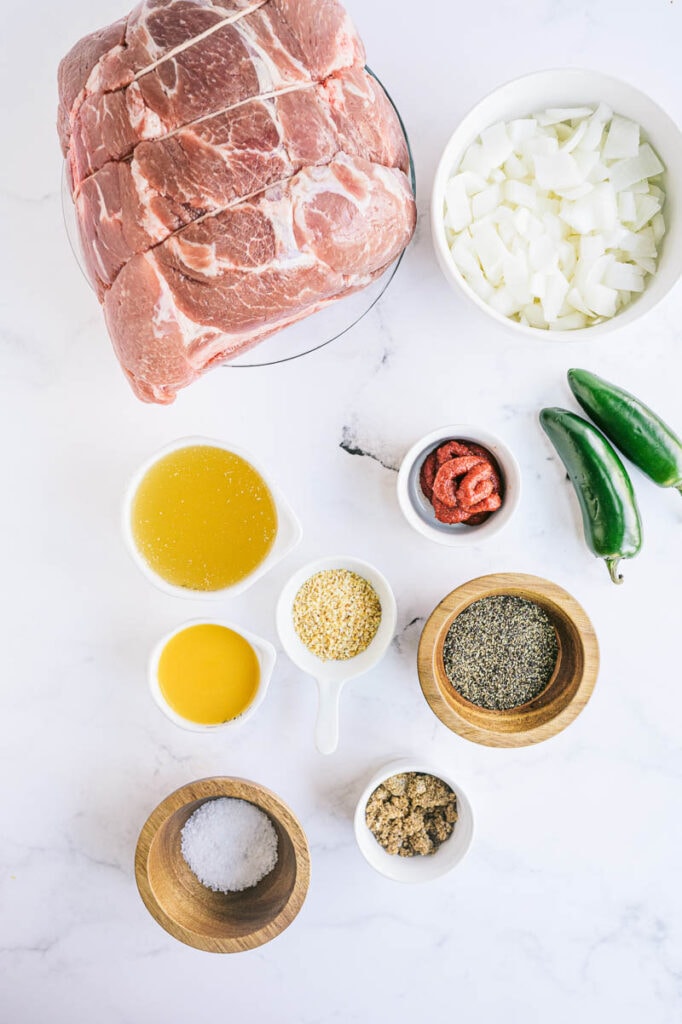 Ingredients you'll need to make Carnitas:
What cut of meat makes the best carnitas? While pork shoulder and pork butt roasts are traditionally used to make carnitas, I've also had success making them with pork sirloin. The reason pork shoulder and butt roasts are used most often is because the higher fat content help the meat retain it's flavor.
Do I need to add liquid to my roast? Yes! We used chicken broth, lime juice, and orange juice. The juices and broth help break down the meat, tenderizing it. It also gives the meat more flavor.
Other ingredients needed: When making carnitas, it is very important to use fresh onions and peppers. (Fresh veggies=more flavorful meat!) Make sure you remove the ribs and seeds from your jalapenos–you don't want your carnitas to be too spicy! As with all of my recipes, I recommend using the highest quality spices you can get your hands on.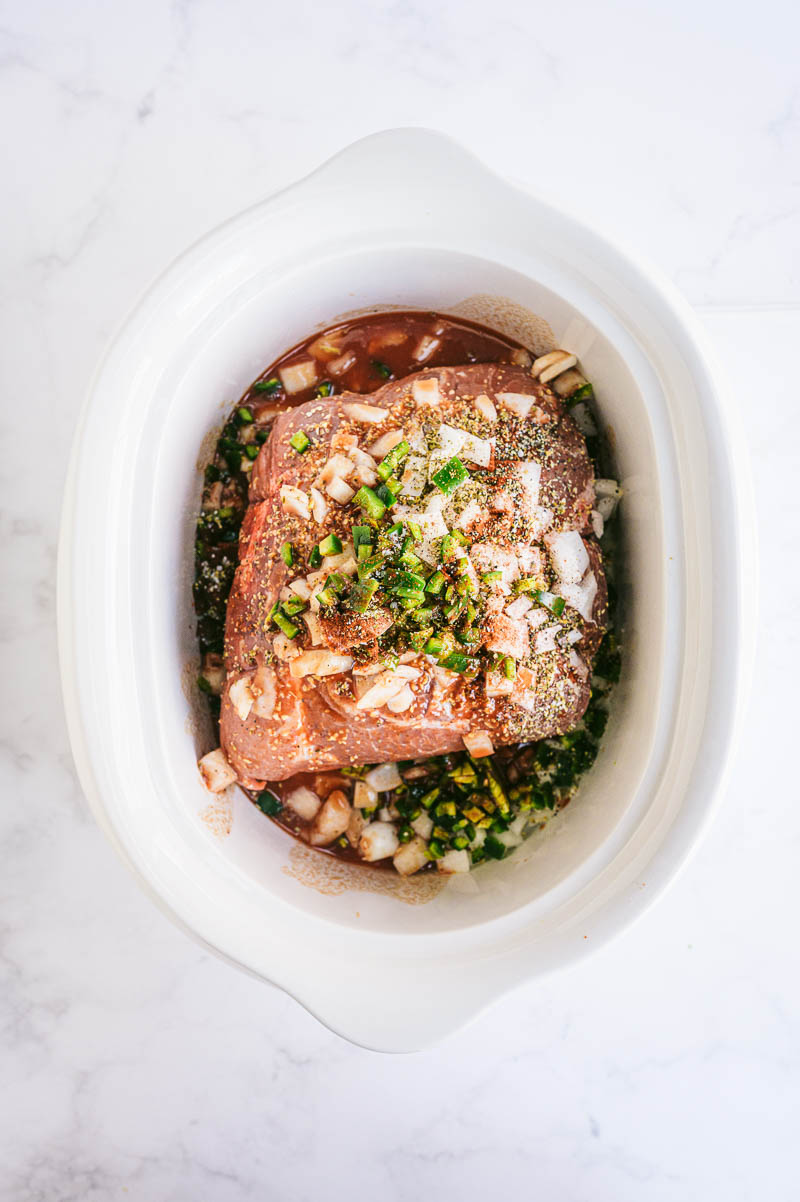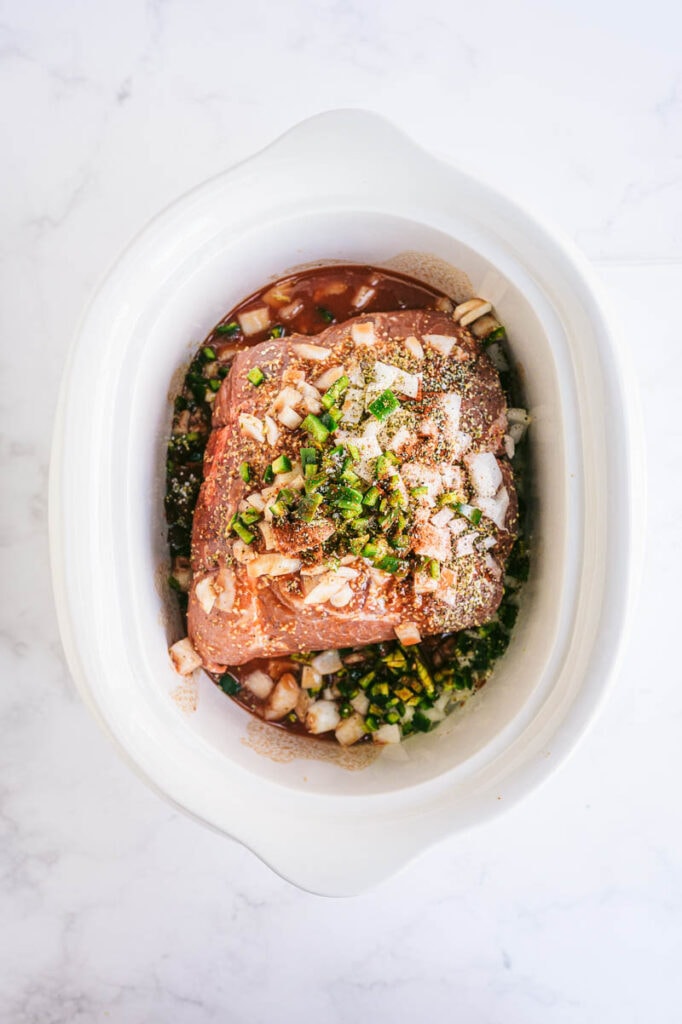 How to prepare carnitas in a slow cooker…
Carnitas are really easy to make in a slow cooker! Just place the roast and veggies in the slow cooker, sprinkle in the seasonings, pour the liquid mixture over the roast, then cook on Low while you go about your day (7-9 hours).
Internal cooked temperature is important! In order for the meat to be easy to shred, it needs to reach an internal temperature of 201 degrees F. If your meat is tough, it likely has not been cooked long enough.
**For extra crispy carnitas, place them on a baking sheet and broil for 5-10 minutes**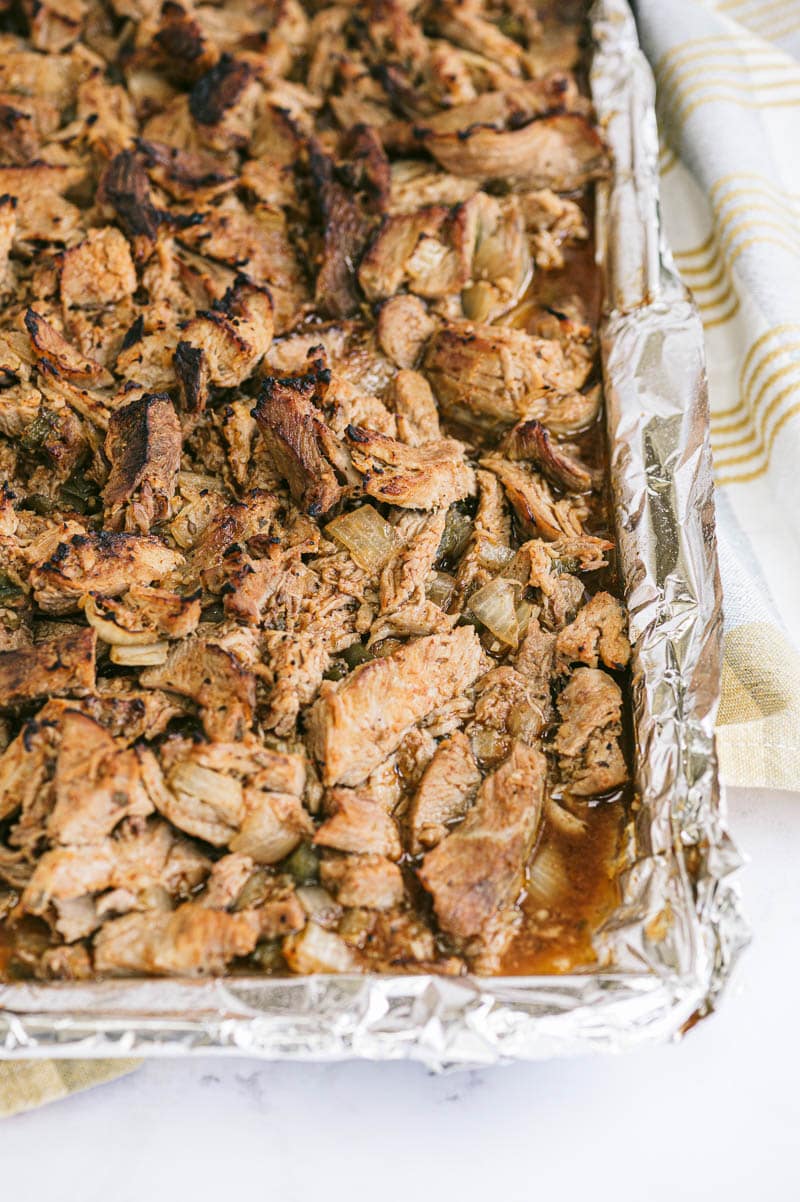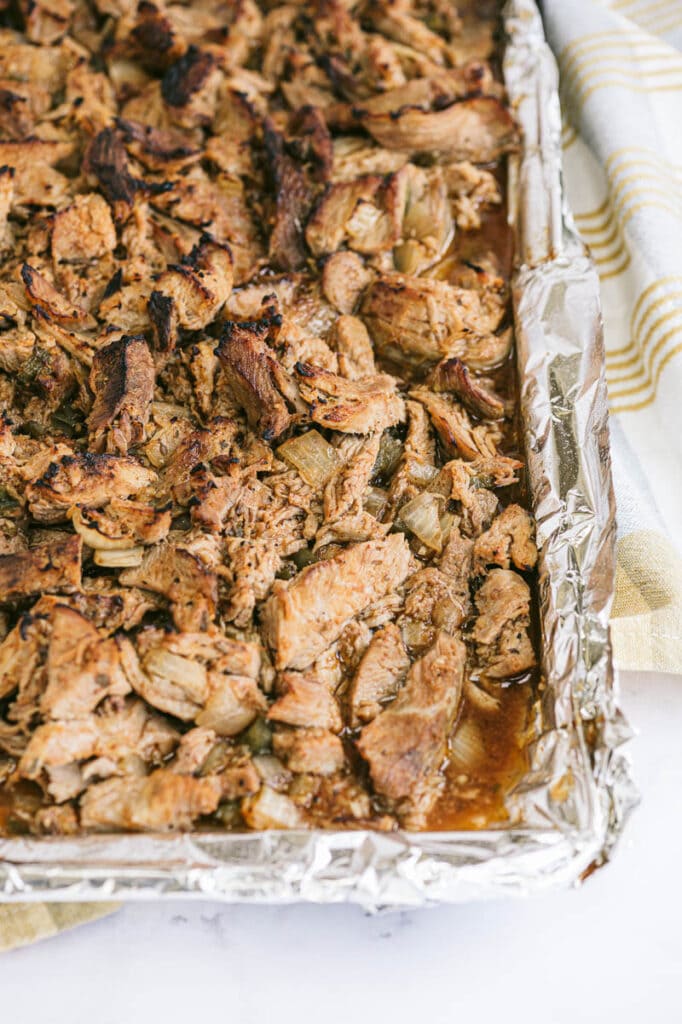 Pro Tips
Does the size of my slow cooker matter? Yes! To cook this size of roast, you need a 5-quart or larger slow cooker. If your slow cooker is too small, your meat will burn on the edges.
Can I prep carnitas ahead of time? Absolutely! Prepping carnitas ahead of time is a real time saver! You have two options for meal prep: You can place all of the raw ingredients in a freezer bag, label it, and freeze to cook later. OR you can cook it ahead of time, shred, and freeze the leftovers to be used in your favorite Mexican dish.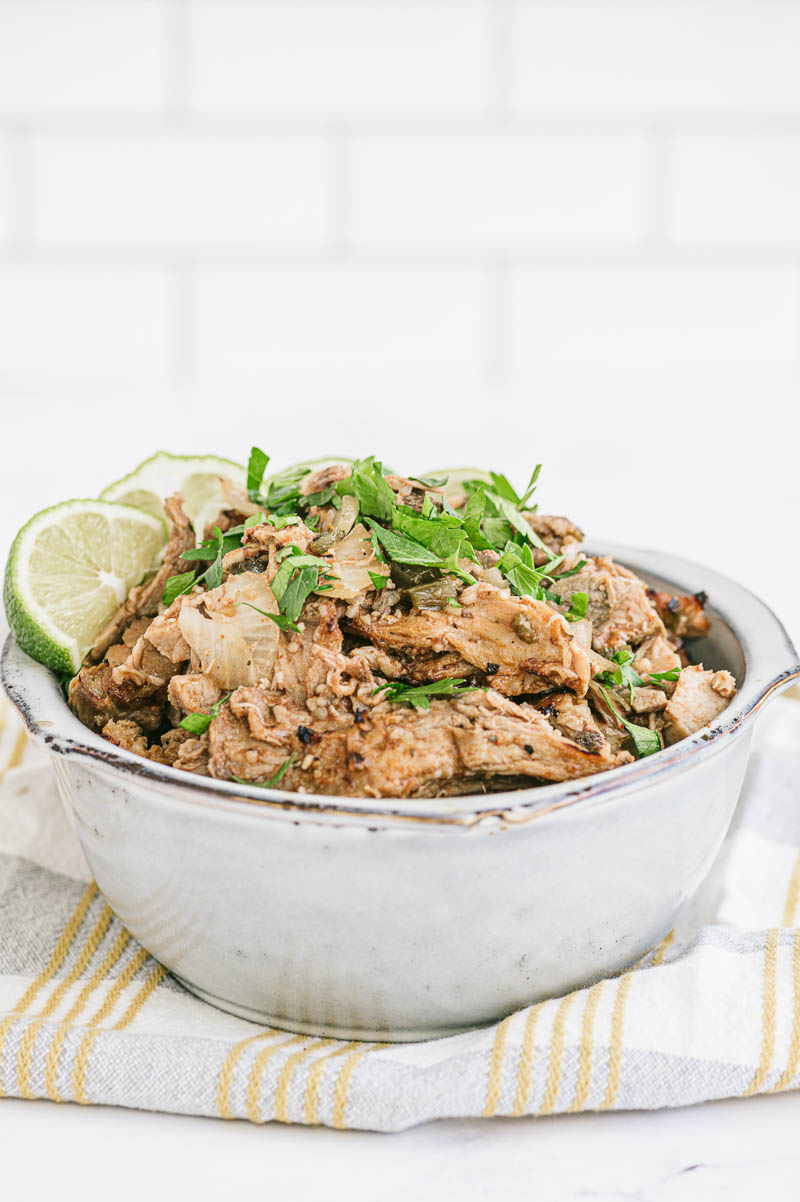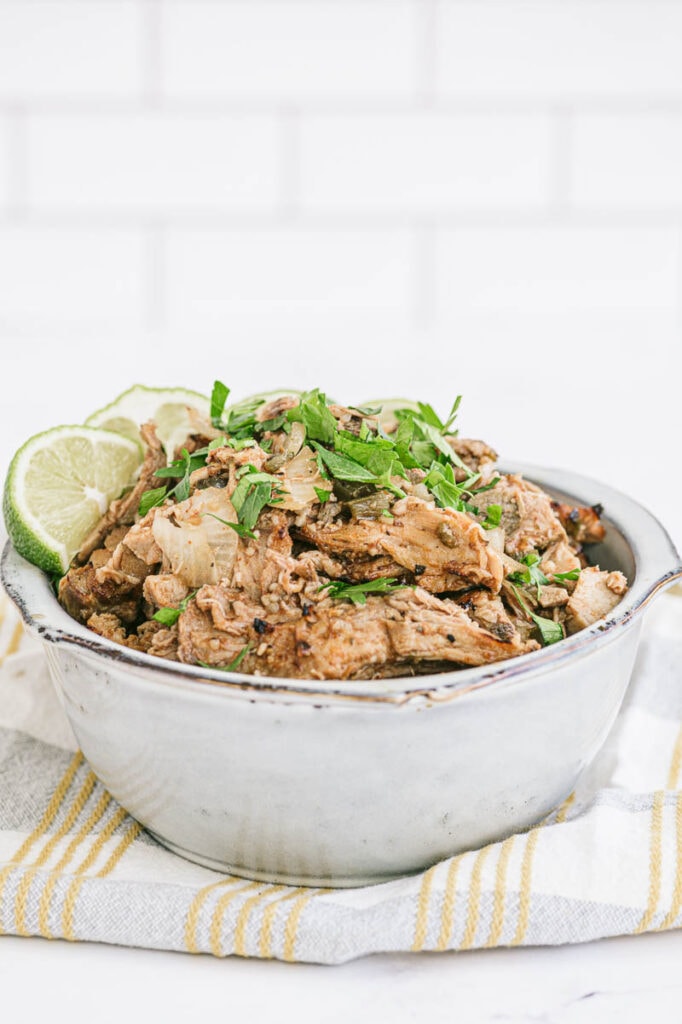 Serving Suggestions
Use in your favorite recipe for tacos, burritos, salads, or bowls.
Garnish your carnitas with fresh cilantro, fresh chopped onions, cheese, sour cream, and/or a lime wedge.
Sides: Corn Salsa, Fresh Mango Salsa, Grilled Pineapple Salsa, Meal Prep Burrito Bowls, Pork Enchilada Bowls
Leftovers keep well in the fridge for up to 3 days or the freezer for up to 3 months!
Related Recipes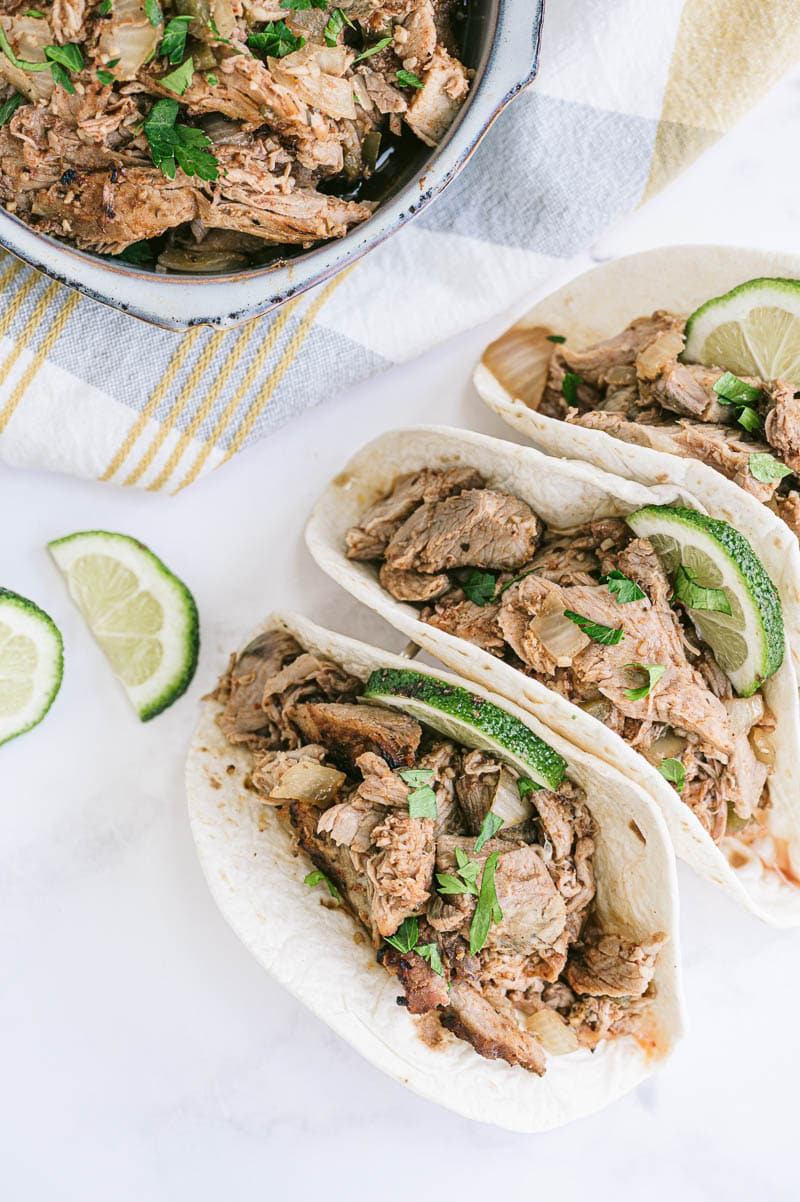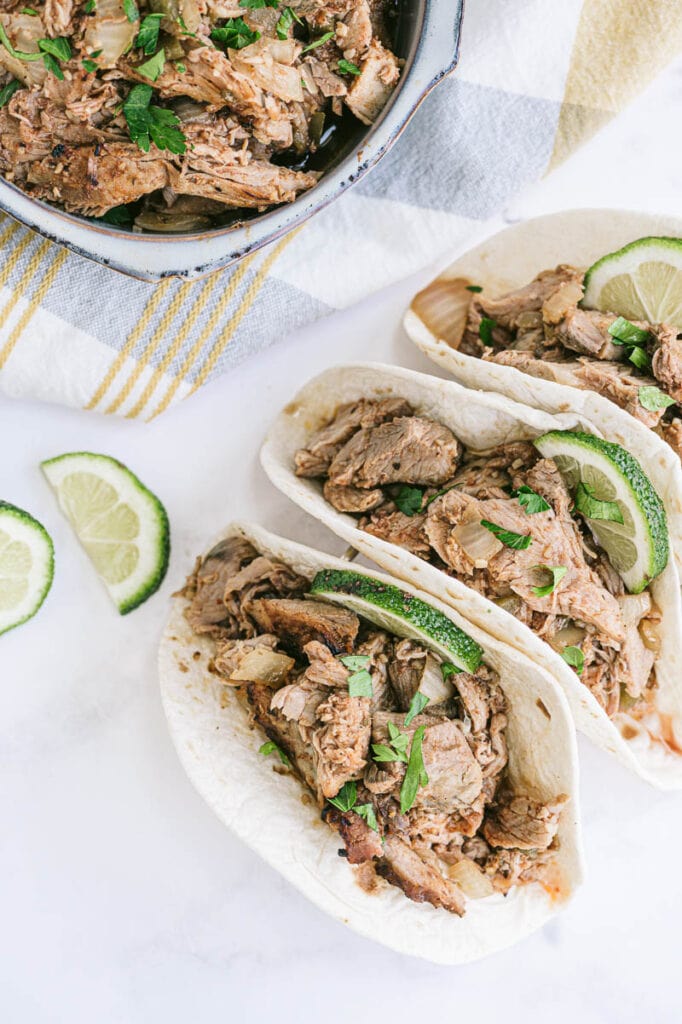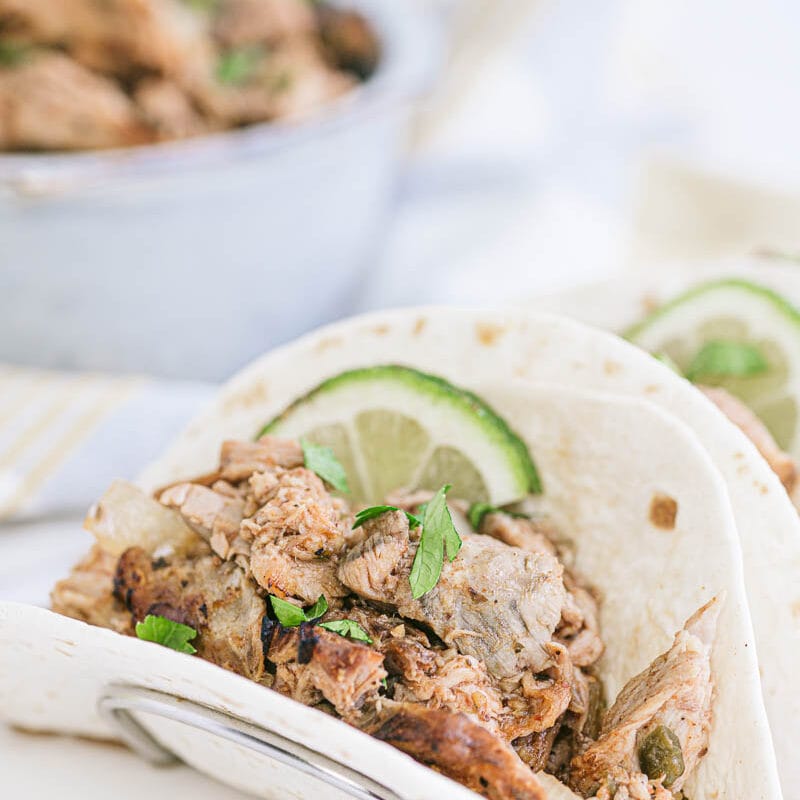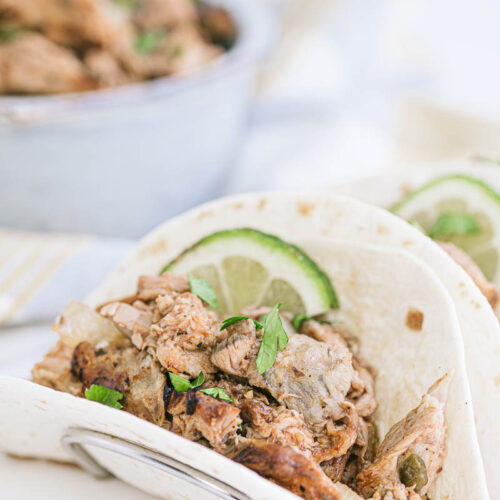 Slow Cooker Crispy Garlic Citrus Carnitas
The question isn't should you make carnitas in your slow cooker, it's when will you make carnitas in your slow cooker?! These carnitas are super easy to throw together and cook all day for amazing flavor!
Ingredients
4

pound

pork shoulder

2

jalapeno peppers

diced (ribs and seeds removed)

1

sweet onion

diced

2

tablespoons

jarred minced garlic

1

teaspoon

oregano

1

teaspoon

chili powder

1/2

teaspoon

salt

1/8

teaspoon

pepper

1/2

cup

chicken broth

1/4

cup

orange juice

1

tablespoon

lime juice

2

tablespoons

tomato paste

1

tablespoon

brown sugar
Instructions
Place roast, jalapeno, onion and garlic in slow cooker

Sprinkle with seasonings

Stir together broth, orange juice, lime juice, tomato paste and brown sugar

Cover and cook on low for 7-9 hours until pork reaches internal temp of at least 201 degrees F

Remove from slow cooker and shed then return to crock to soak up sauce

Place on foil lined cookie sheet under broiler until ends get crispy (5-10 minutes) or serve as is
Notes
A pork shoulder/butt roast is generally used for this type of recipe. I've also used a pork sirloin roast and still had great results!
Nutrition info is calculated for pork only and totals will vary based on how you choose to serve it.
To shred easily pork should reach an internal cooked temperature between 201 and 205 degrees F.
Recipe can be assembled ahead and stored in fridge for up to 3 days or freezer for up to 3 months. Thaw before cooking.
Leftovers should be stored in an airtight container in fridge for up to 3 days or freezer up to 3 months.
Nutrition
Calories:
119
kcal
Carbohydrates:
4
g
Protein:
14
g
Fat:
5
g
Saturated Fat:
2
g
Cholesterol:
46
mg
Sodium:
147
mg
Potassium:
306
mg
Fiber:
1
g
Sugar:
2
g
Vitamin A:
98
IU
Vitamin C:
7
mg
Calcium:
18
mg
Iron:
1
mg
Important nutritional disclaimer