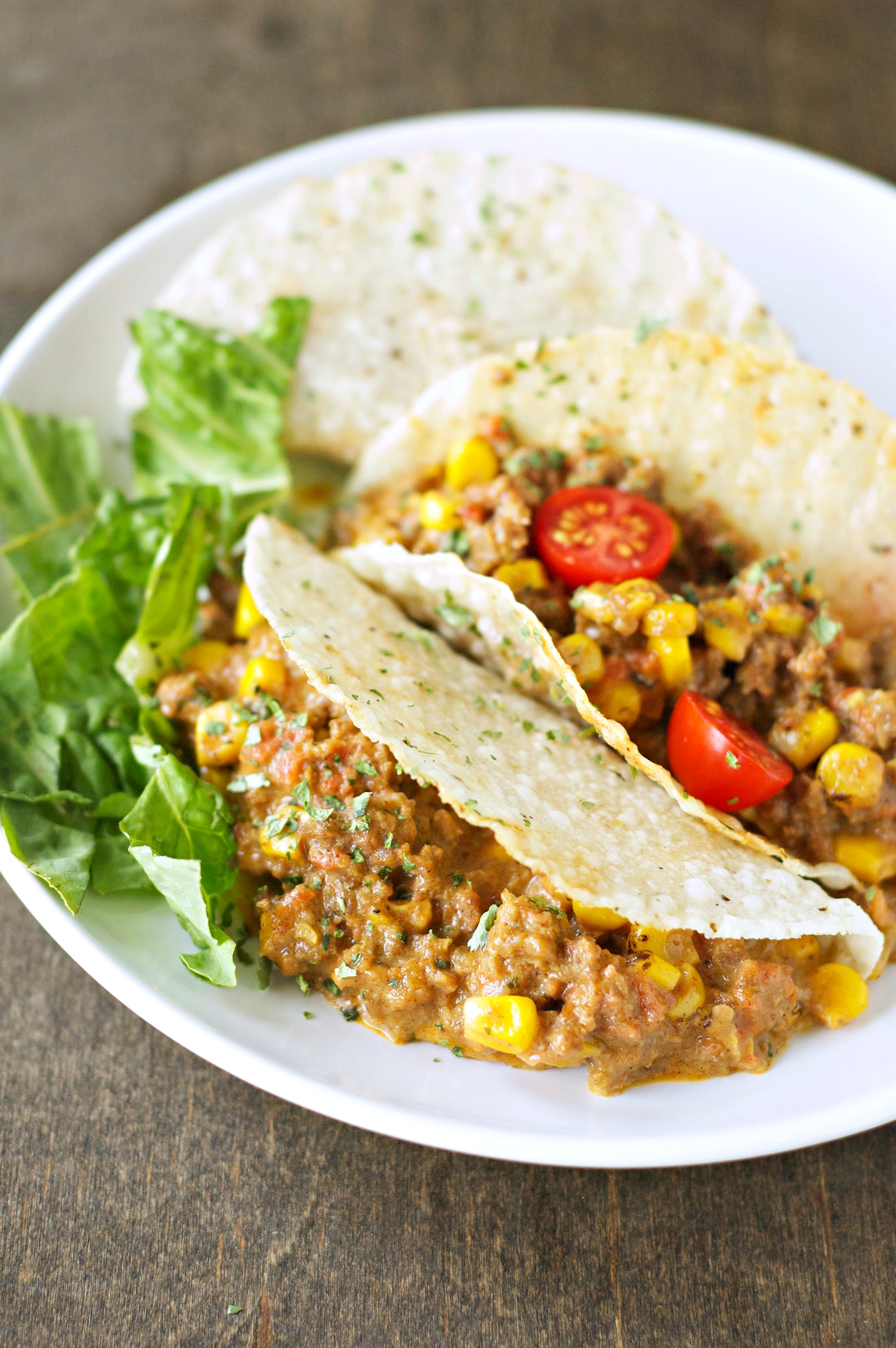 We are not talking dump in a can of cream of something soup, a block of Velveeta cheese or even a package of taco seasoning here. NOT that there is anything wrong with that (I use that stuff too) but I want to show you how easy it is to make a delicious meal from scratch! A lot of people like to avoid eating too much processed food. I am one of them. That isn't to say I never do but I always like to make as much as I can myself to avoid those weird hidden ingredients. Everything in moderation and this is fast, simple and delicious way to add a little extra homemade to your meal!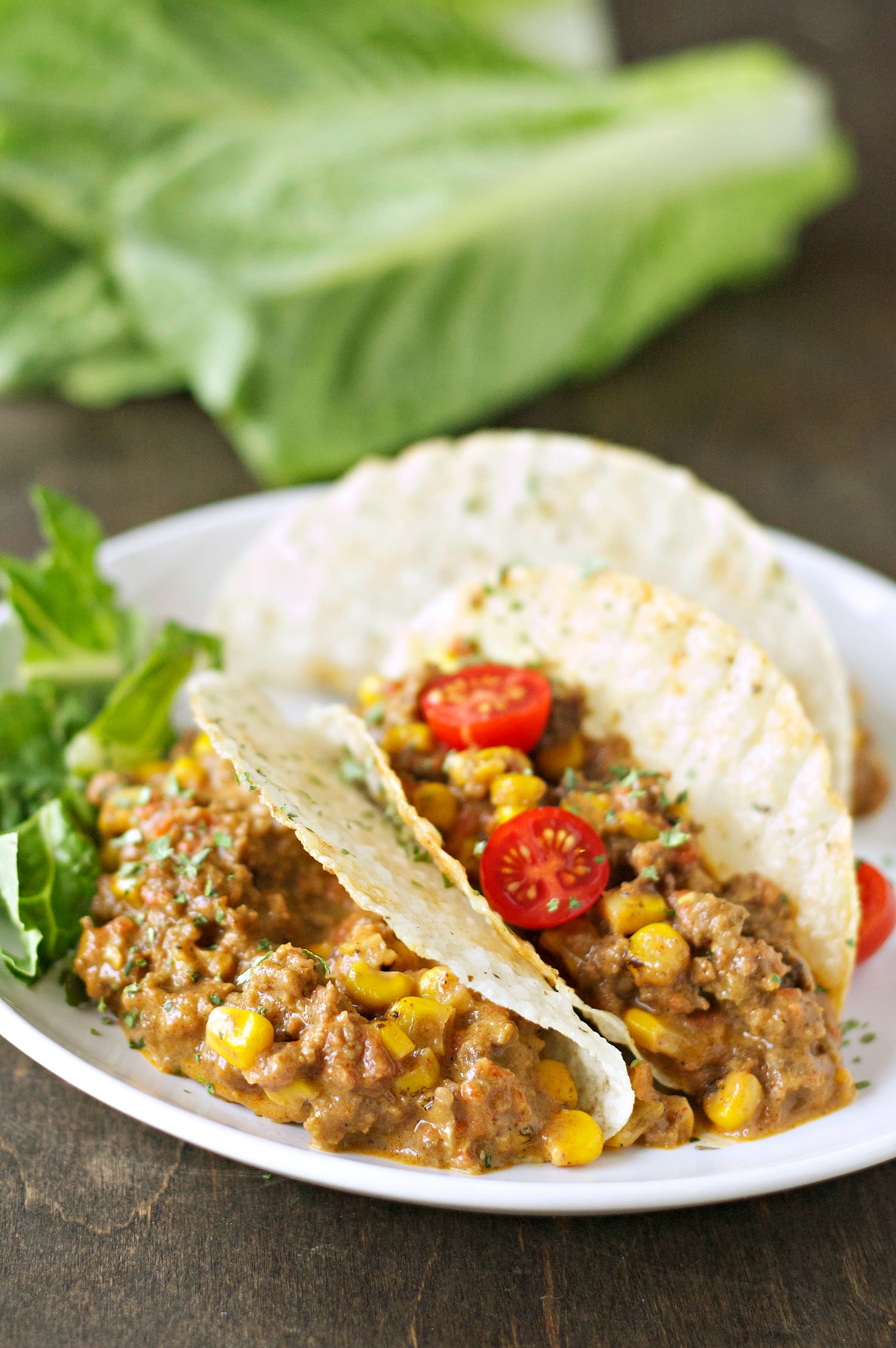 Let's talk about the taco seasoning first. The list of ingredients looks a little long but if you do much cooking there's a good chance you have most of these spices. I timed it and it took me less than 5 minutes to make this seasoning and that included the time it took to help my three year old with some iPad emergency. The recipe will give you enough to equal about 2 packets of taco seasoning mix you buy from the store and the taste is so much better. I used half for this recipe and put the other half in an air-tight container to use later.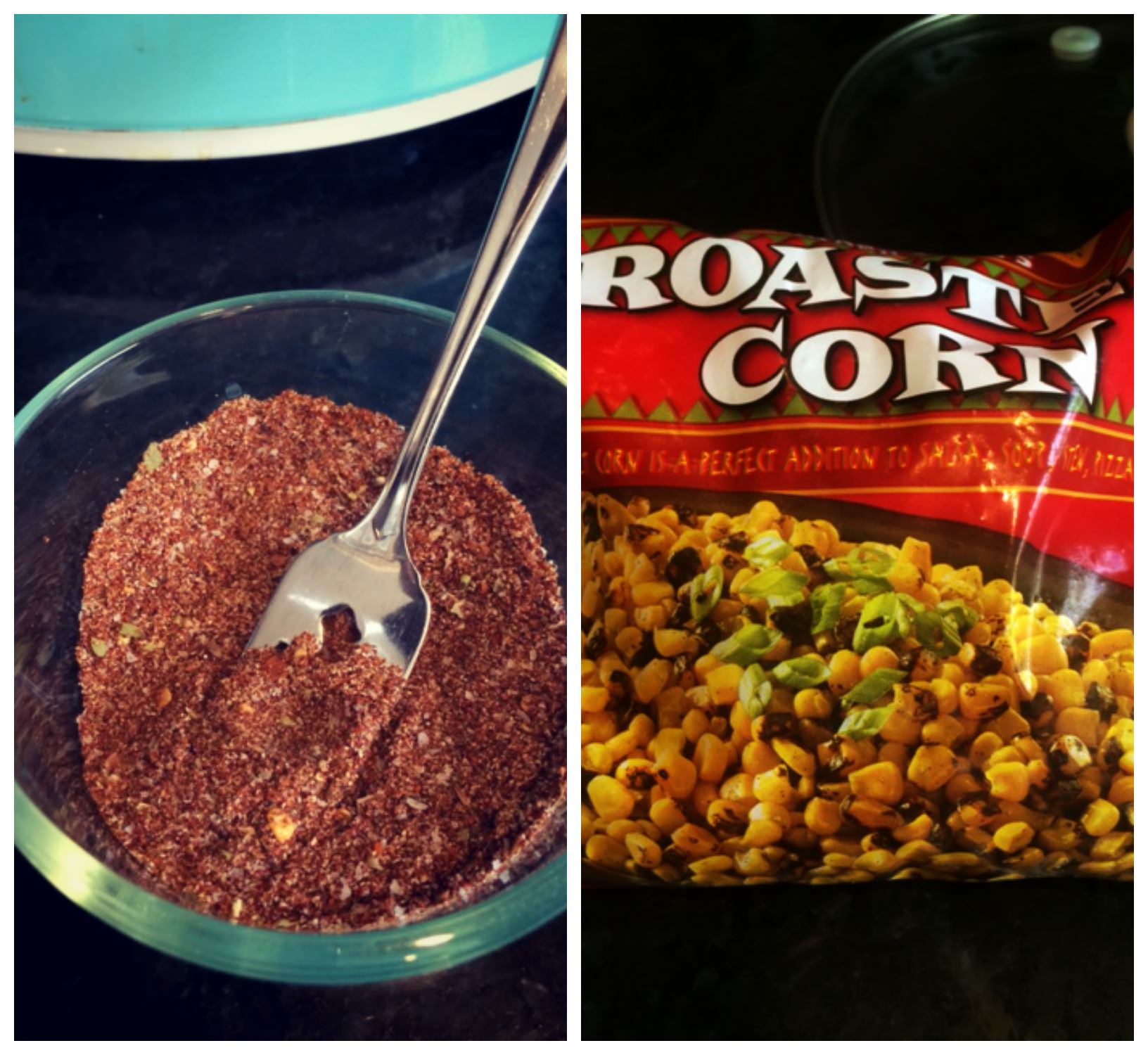 Getting this going in the slow cooker in the morning takes no time at all. Especially if you mix up your seasoning before but even if you don't like I said this only took me about 5 minutes. You will put your ground beef right into the crock...no need to cook first!! Add some frozen corn, some diced tomatoes and a little seasoning and water. That's it!! You are out the door and on your way! This will cook up for you all day and dinner will be almost done when you get back home.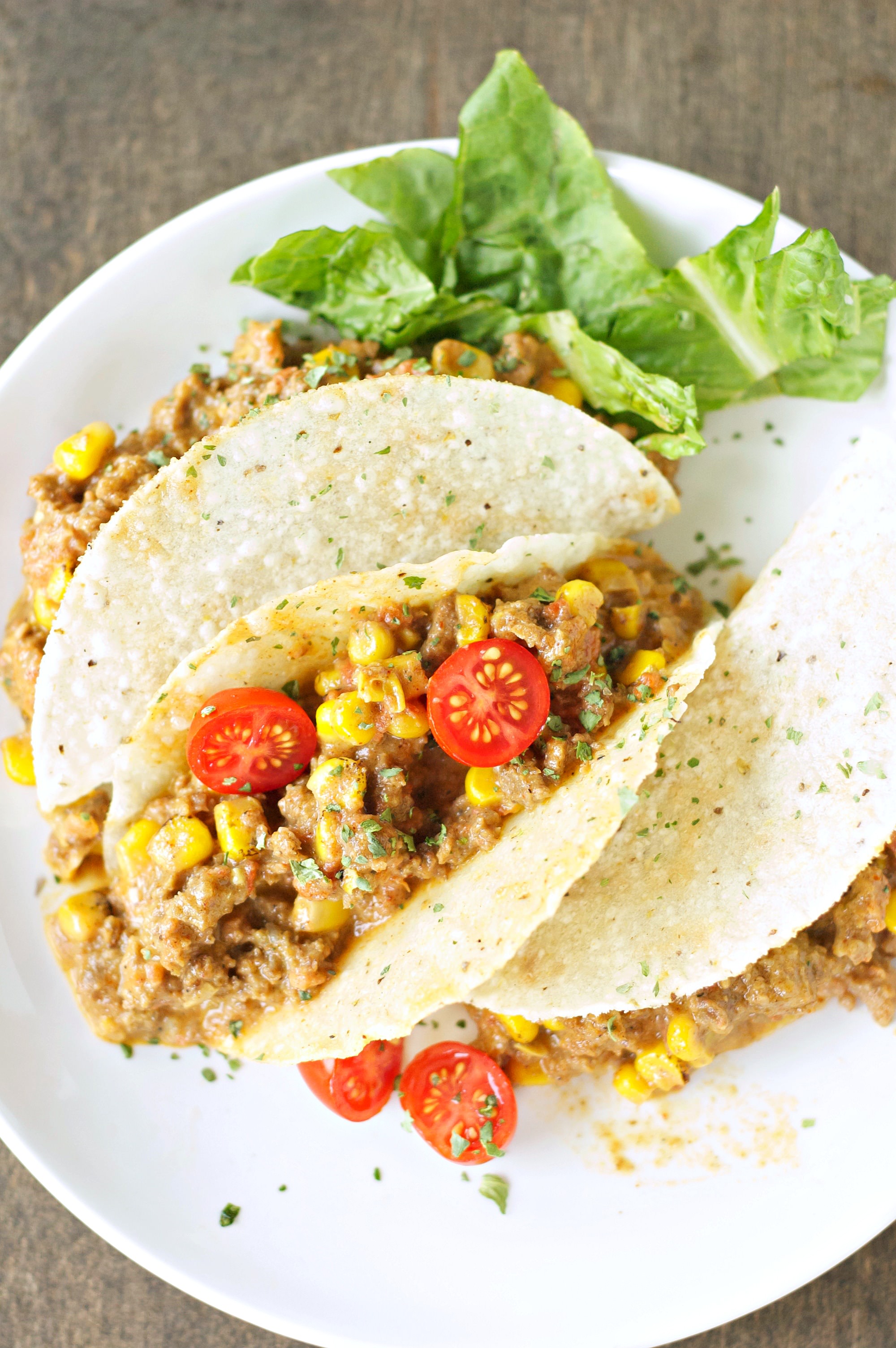 When you get back home and you are almost ready to eat it will be time to make your cheese sauce. Does that sound like too much work? I thought it would be at first but it only took around 10 minutes or so. It's a matter of shredding up a little cheese and heating up a few things on the stove. Can I just suggested that you should shred your own block of cheese?! Much better taste and none of that icky anti-caking stuff! I almost always shred my own cheese with my box grater. An arm workout and dinner prep all in one 😉 You will save a lot of money that way too.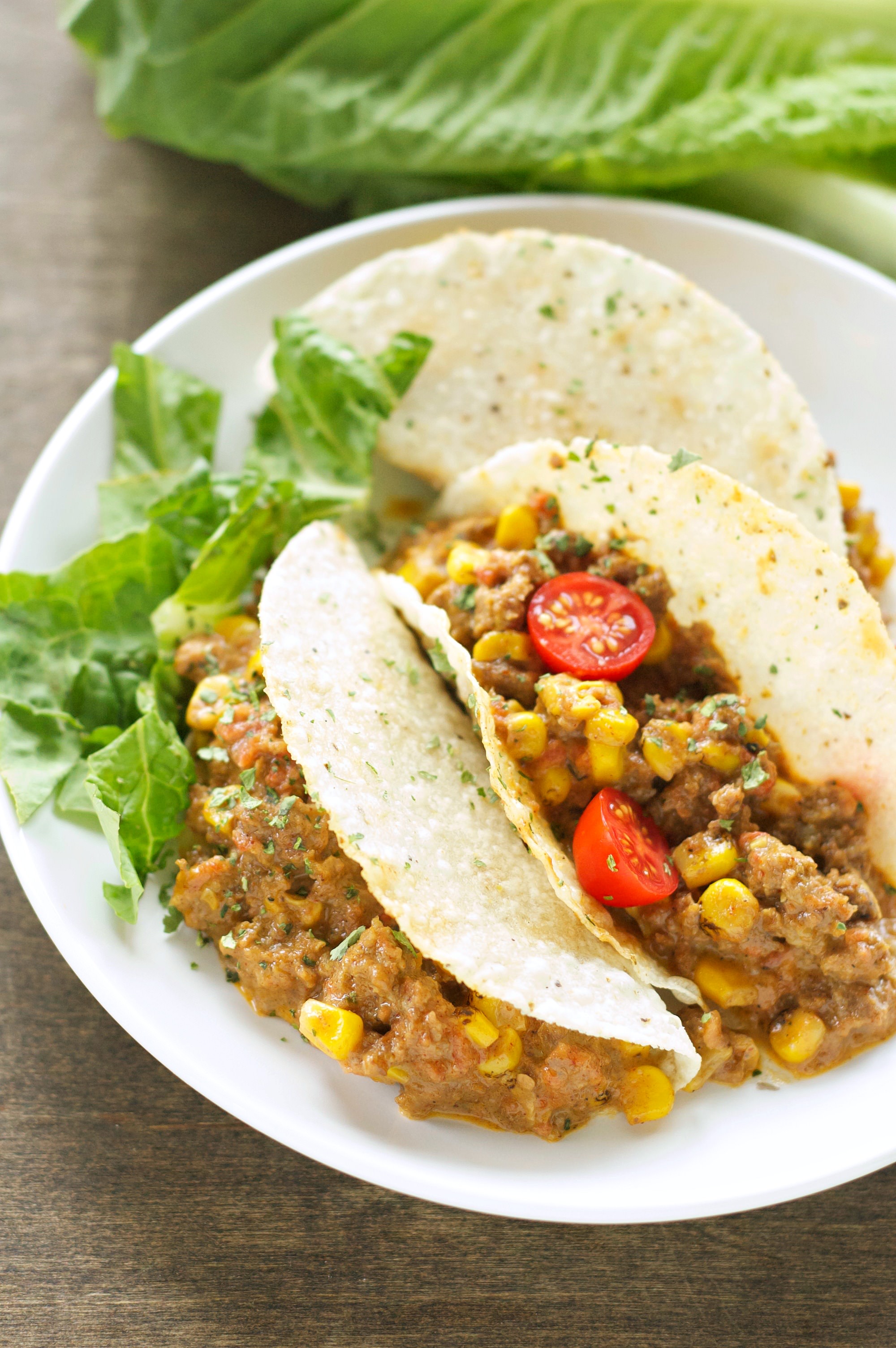 To make the cheese sauce you will melt your butter then whisk in the flour and let it all cook for about 2 minutes. Then you will slowly add in the milk while you are still whisking (don't stop whisking..you don't want lumps! Hey, and it's yet another arm workout!). Let that all cook for about 4-5 minutes while you keep an eye on it and stir it with a spoon until it's all nice and thick and will coat the spoon. Take it off the heat, stir in the cheese and keep stirring until it's all melted smooth, just about 1 more minutes. That's it! That easy!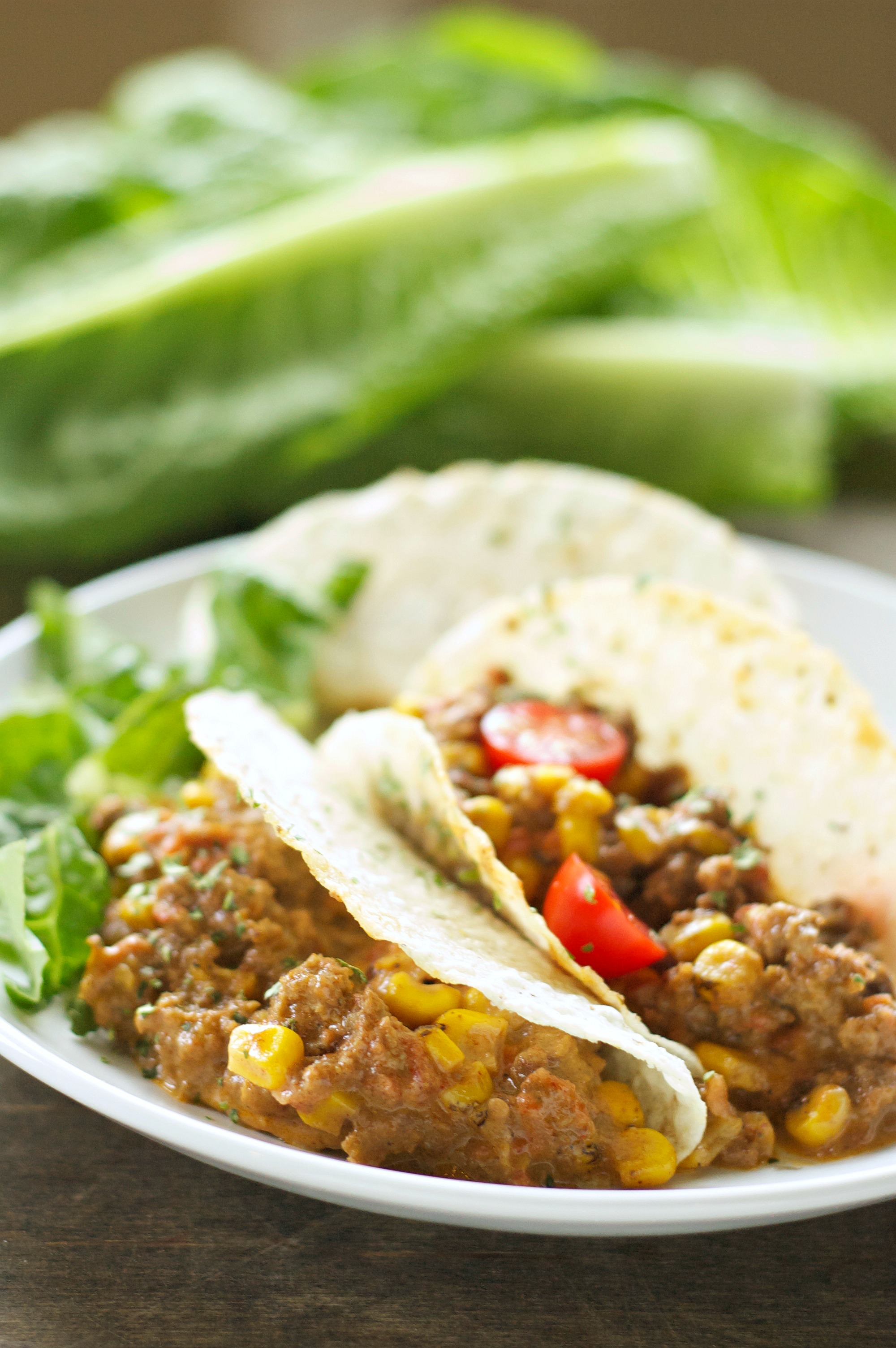 Serve these up with your favorite shells and maybe a little lettuce and tomato. With the corn, tomato and cheese sauce they don't need much of anything else! A good, wholesome meal the whole family will love 😉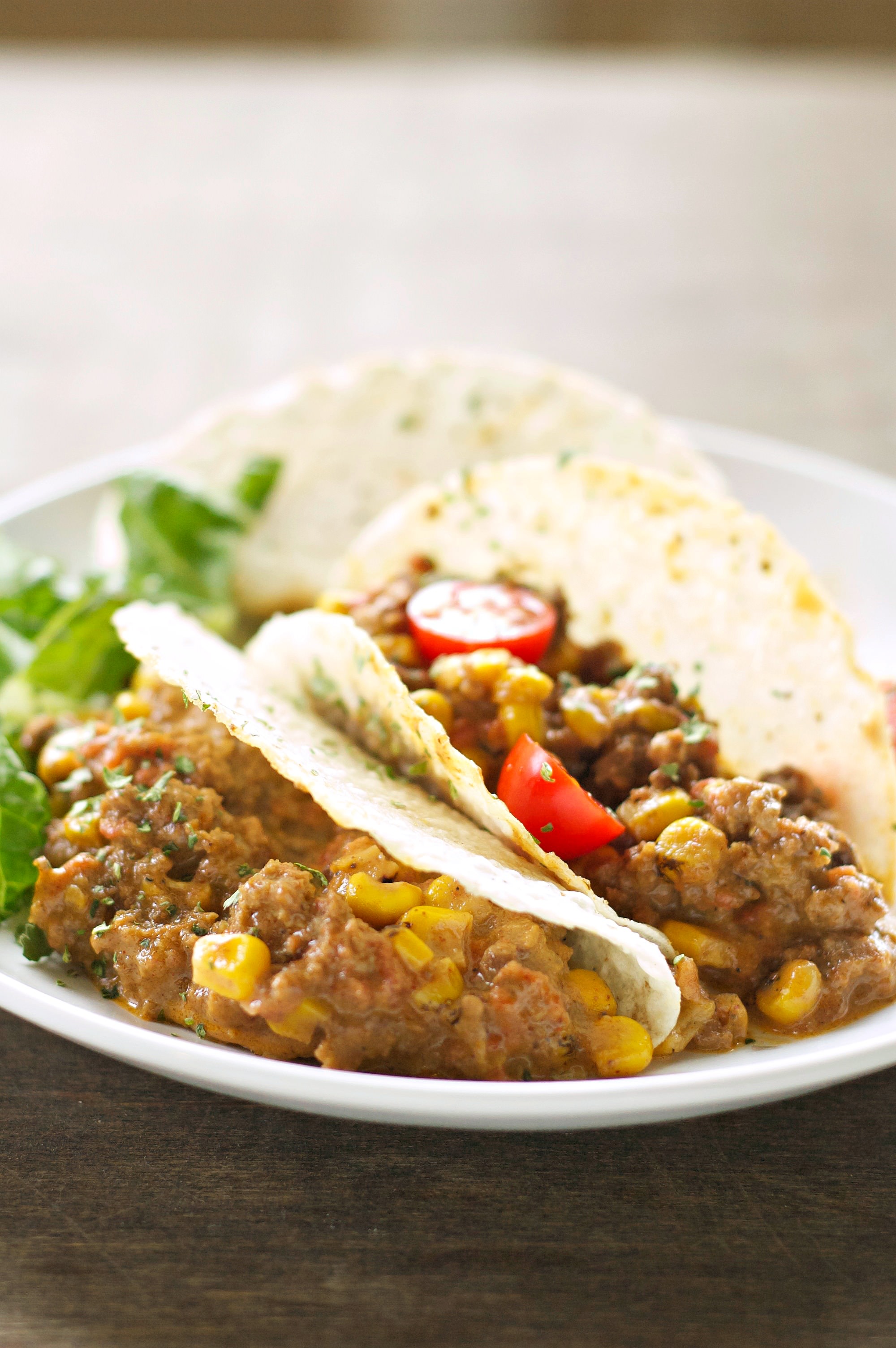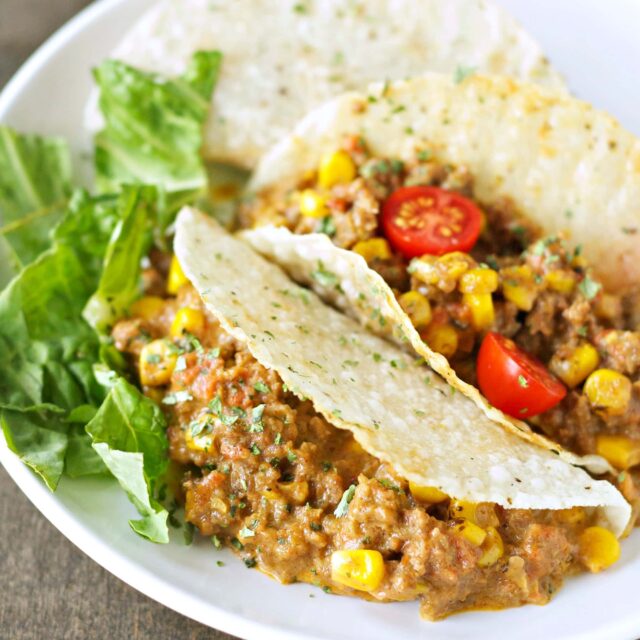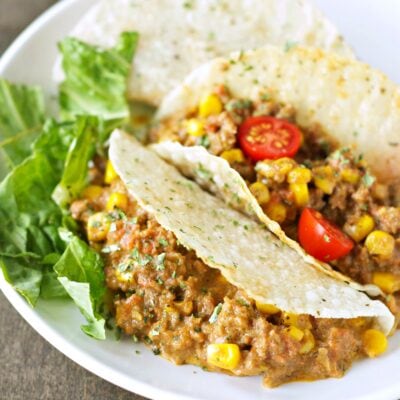 Slow Cooker Cheesy Beef Tacos
These Slow Cooker Cheesy Beef Tacos will be ready for a great dinnertime meal any day of the week!
Ingredients
1

pound

ground beef

extra lean

1

can diced tomatoes

1

cup

frozen corn kernels

regular or roasted

2

tablespoons

water

For the seasoning:

1

tablespoon

chili powder

1

teaspoon

garlic powder

1

teaspoon

onion powder

1

teaspoon

cumin

1

teaspoon

kosher salt

½

teaspoon

ground black pepper

½

teaspoon

oregano

½

teaspoon

paprika

⅛

teaspoon

red pepper flakes

For cheese sauce

adapted from Iowa Girl Eats:

2

tablespoons

butter

2

tablespoons

flour

1

cup

milk

1 ½

cups

shredded cheese

I used cheddar and colby. Shred yourself from a block for best results
Instructions
Drain tomatoes well. Add to crock along with beef (yes, uncooked!) and corn. Use a spatula to break up the beef.

In a small bowl mix together all the the seasoning mix spices. Add two tablespoons of the mixture to the taco meat and save the rest in an airtight container to use later

Add water and stir to coat the meat mixture with the seasoning

Cover and cook on low for 5-7 hours or high for 2-3 hours until meat is fully cooked

Right before meal time you will want to shred your cheese for your sauce

Melt the butter over medium high heat and then whisk in the flour. Keep whisking for about 1-2 minutes to let it cook up just a little

Slowly add in the milk while continuing to whisk to avoid any lumps

Keep stirring with a spoon and let it cook and additional 4-5 minutes until it thickens up and will coat the spoon

Remove from heat and stir in cheese until fully melted.

Add about ¾ of a cup of the cheese sauce to your meat and stir everything to combine. Use extra cheese for drizzle, for chips, or save in airtight container in fridge for up to 2 days

Serve with your favorite shells and lettuce and tomato as desired
Nutrition
Calories:
473
kcal
Carbohydrates:
18
g
Protein:
36
g
Fat:
28
g
Saturated Fat:
14
g
Cholesterol:
126
mg
Sodium:
1035
mg
Potassium:
656
mg
Fiber:
2
g
Sugar:
3
g
Vitamin A:
1255
IU
Vitamin C:
3
mg
Calcium:
312
mg
Iron:
4
mg
Important nutritional disclaimer
Cheese sauce adapted from Iowa Girl Eats.
Need some dessert to go with dinner tonight? How about Slow Cooker Bread Pudding with Salted Caramel Sauce?: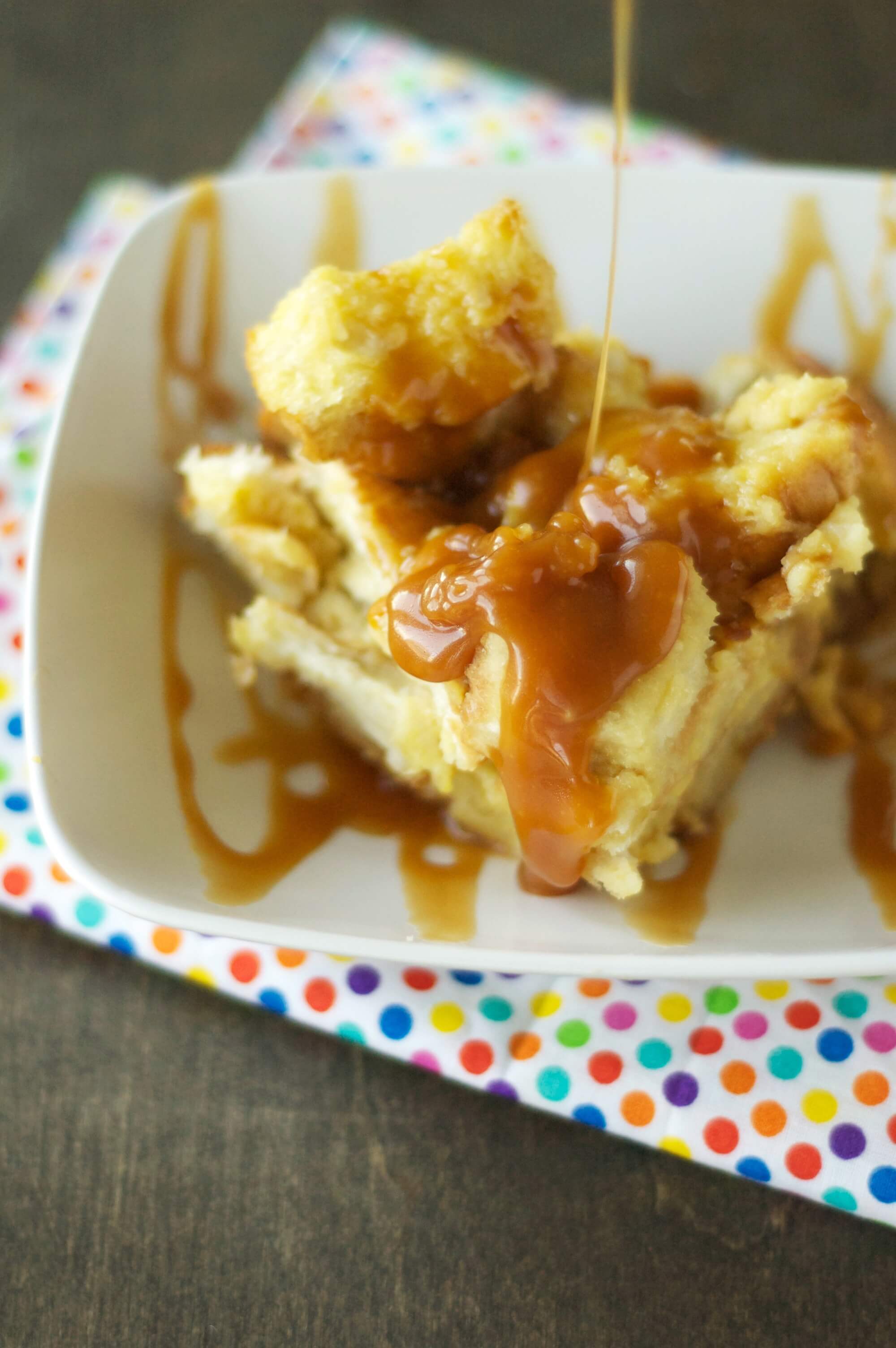 Or delicious Slow Cooker Lemon Cookie Bars: