Homemade Curry Seasoning Recipe
Homemade spice blends will change the game in your home-chef ventures! Make this quick and easy curry seasoning and keep it on hand for delicious, hearty meals that require very little prep time. This seasoning blend is rich in flavor and will elevate even the simplest meat and veggie dishes.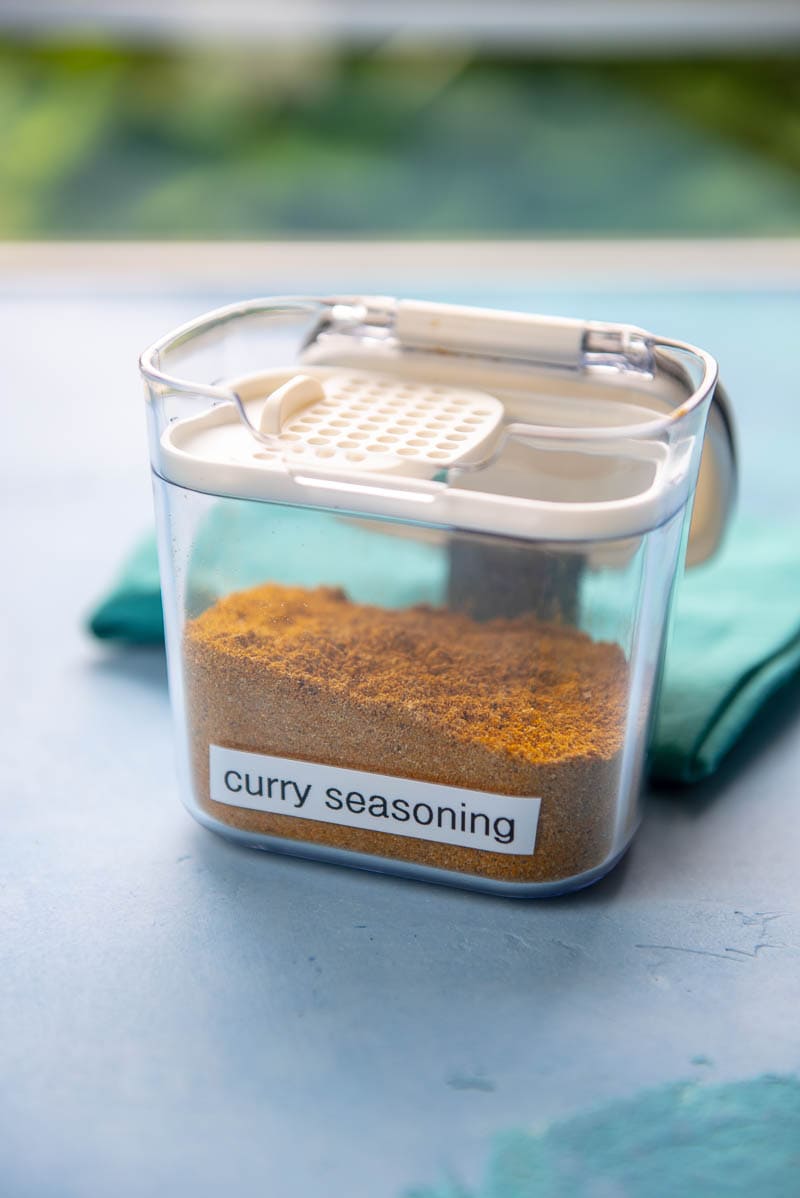 Curry is a label that is used to describe a variety of components – spices, sauces, or complete dishes. It is a common misconception that curry is a single spice, but it is actually the combination of multiple spices in a multilayered combination of flavors. When compiled together in a simmering meat or vegetable dish, ingredients meld and a rich taste develops.
Curry seasoning is as complex as the number of spices brought together in one container!
What is curry seasoning?
Curry seasoning, or curry powder, is a blend of different spices used most traditionally in Indian and Thai cooking. There are many different interpretations of this commonly used blend, and depending on what brand you make, what restaurant you go to, or which recipe you make, they will all be a bit different.
The one thing you can count on with curry seasoning is the distinct flavor. It has elements of both savory and sweet, and it can even be a bit spicy depending on the exact blend of ingredients.
Used to season meats, veggies, and more, curry seasoning is perfectly suited for slow cooking. This extended cooking time deepens and develops the rich flavors even more.
Is curry seasoning Indian?
Curry is often associated with traditional Indian dishes, but the spice mixture actually may have British origins. To replicate the many varied and complex spices used in Indian cooking, the spice blends were supposedly developed to take the flavors back to European homes.
Dishes utilizing curry seasoning or curry powder range in regional styles from Jamaica to Malaysia. Essentially, the curry blend (a finely ground mixture of signature spices) is a base for dishes that are often slow-cooked to fully saturate meats, vegetables, and rich sauces together.
Why I Love Homemade Curry Seasoning
I've said this time and time again about homemade seasoning blends, but there are so many benefits to mixing up your spices from scratch at home! Curry seasoning, specifically, is unique in its own way – here's why I love it!
Comprehensive flavor – This blend of curry seasoning can be utilized in a wide range of curry-inspired dishes. Simply add or adjust ingredients to meet regional styles or needs for a specific dish.
Quality – Seasoning blends mixed at home have a bold flavor due to freshness and the absence of preservatives or other "filler" ingredients. You can also control your ingredients by sourcing any level of quality (i.e. organic, fresh-ground, etc.)
Customization – I love the opportunity to customize spice blends to my family's liking. Once you've tried this recipe, you could adjust it to make it spicier, smokier, sweeter, etc. depending on your preference.
Ingredients Needed
Any number of ground spices can be used to make curry seasonings based on regional preferences or cooking methods.
This curry seasoning recipe should be simple and easy to make based on spices that you can easily find at the supermarket. You may be surprised to find these already in your pantry or spice cabinet!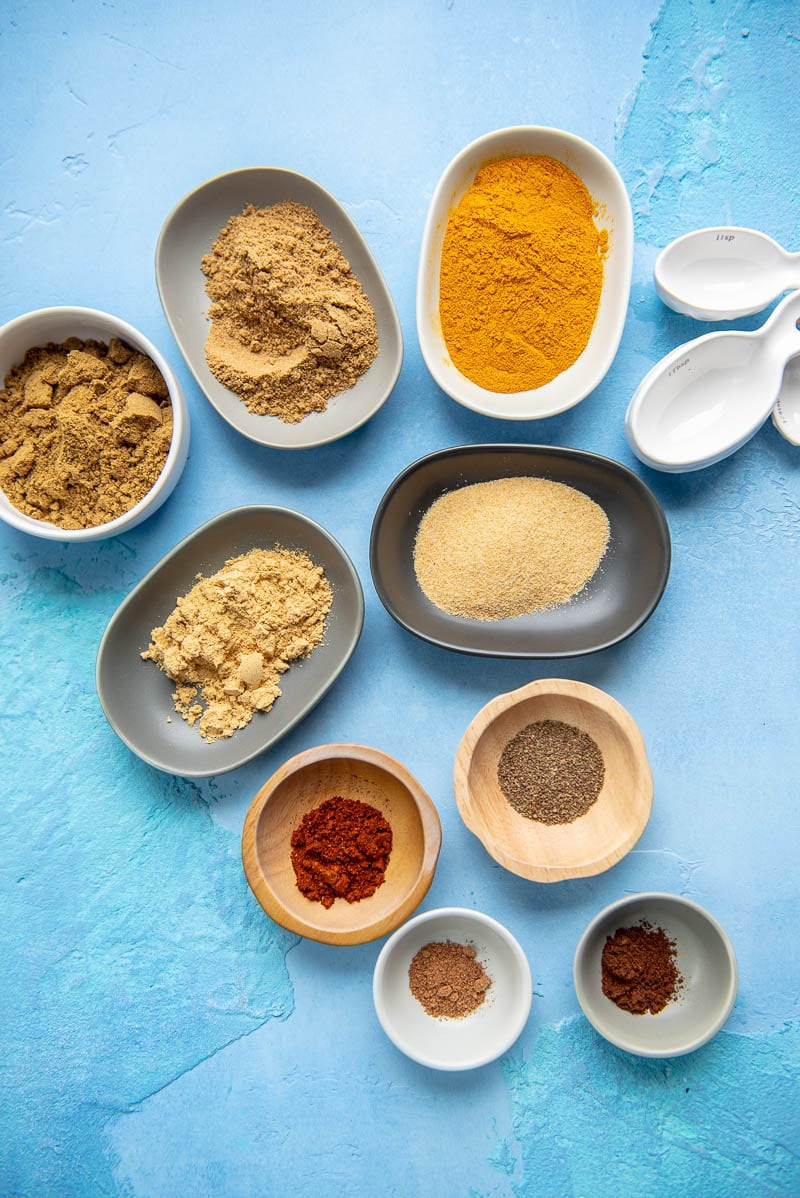 Here's what you'll need to have on hand:
cumin
coriander
turmeric
ginger
garlic powder
chili powder
celery seed
nutmeg
clove
This particular blend creates a rich, smoky flavor that pairs deliciously with meats and hearty dishes.
How To Make Homemade Curry Seasoning
Have I mentioned easy? Really, there are just a couple of steps!
First, It's important to ensure all bowls, utensils, and storage containers are clean and completely dry. You don't want added moisture which can cause spices to clump together.
Measure out your ingredients into a bowl. Mix spices together and store them in an airtight container. The spice blend will keep as long as the individual spices are good.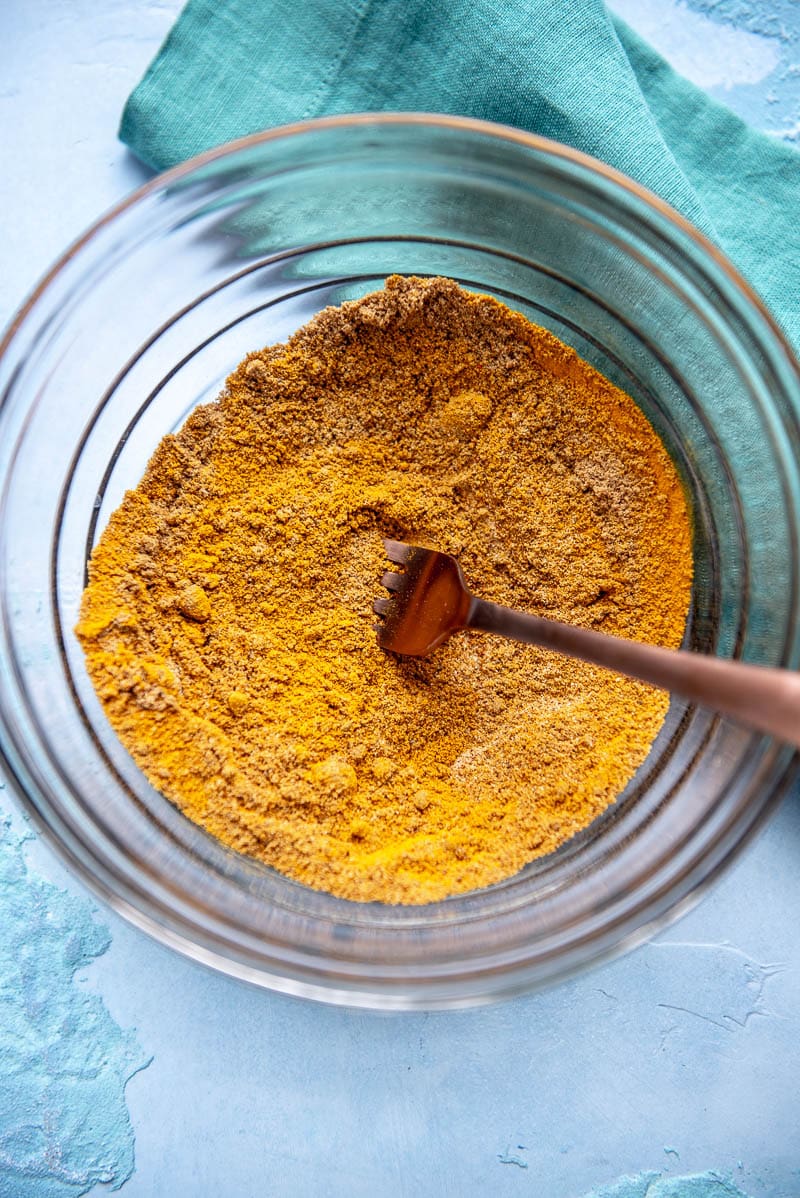 Tip: Keep spices stored away from areas of moisture and heat in your kitchen – such as over the stove or near another warm appliance.
Best Ways To Use Curry Seasoning
Curry powder is used in a variety of dishes to flavor soups, meats, veggies, and sauces. Many curry dishes are served over rice or with another carb to absorb the spices.
Try a traditional soup like Slow Cooker Split Pea Curry, or a vegetarian dish such as Slow Cooker Sweet Potato Curry. To season meats and serve with a thick, gravy-like sauce, try Slow Cooker Beef Curry or Slow Cooker Coconut Chicken Curry.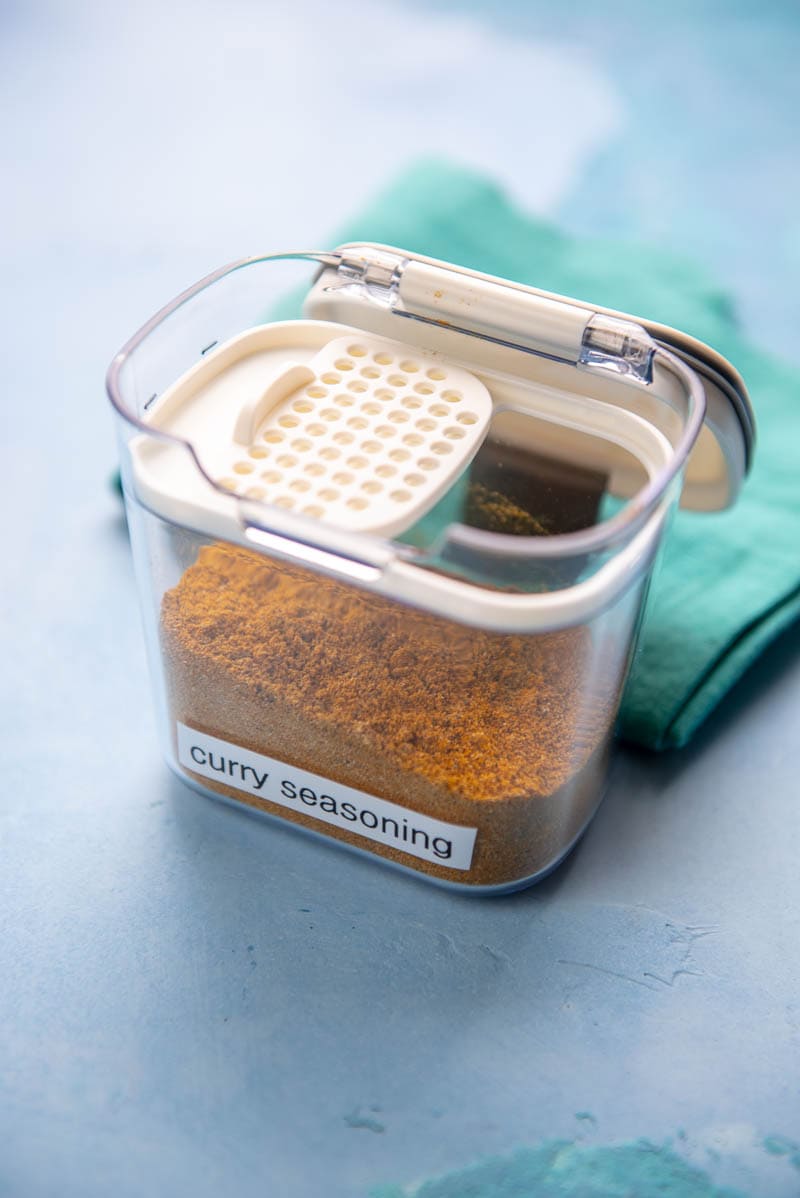 Get as creative as you want and try it with other foods like grilled or oven-roasted vegetables or meats!
Recipe Variations
If you want to make a "curry" with your seasoning, you'll probably be asked what kind! Curry seasoning (that is used to make curry dishes) varies across regions and is known by several traditional combinations.
Some of the most common uses of curry seasoning are in dishes like tikka masala (tomato and chicken), korma (braised meat in a dairy base), and palak paneer (a spinach-cheese mixture). Some curries popular in Thai cooking are simply known as green, red, or yellow curry and utilize many herbs and vegetables. Other regional variations may pull in ingredients such as nut butters, ghee, and yogurt.
To alter your spice mixture for different curry adaptations, try adding spices such as ground red pepper, smoked paprika, or cinnamon for different flavor profiles.
Homemade Spice Storage
Anytime you make a homemade spice blend, be sure to store it in an airtight container such as a jar or one that has a lid with a rubber seal. Keep the spice blend in a cool location. Also, keep your spices dry by measuring out portions rather than shaking the container over a hot dish (steam!).
Spices that are stored properly and kept uncontaminated by other ingredients can last up to 1-2 years without expiring. In general, spices will begin to lose their potency and flavor as they are exposed to air over time.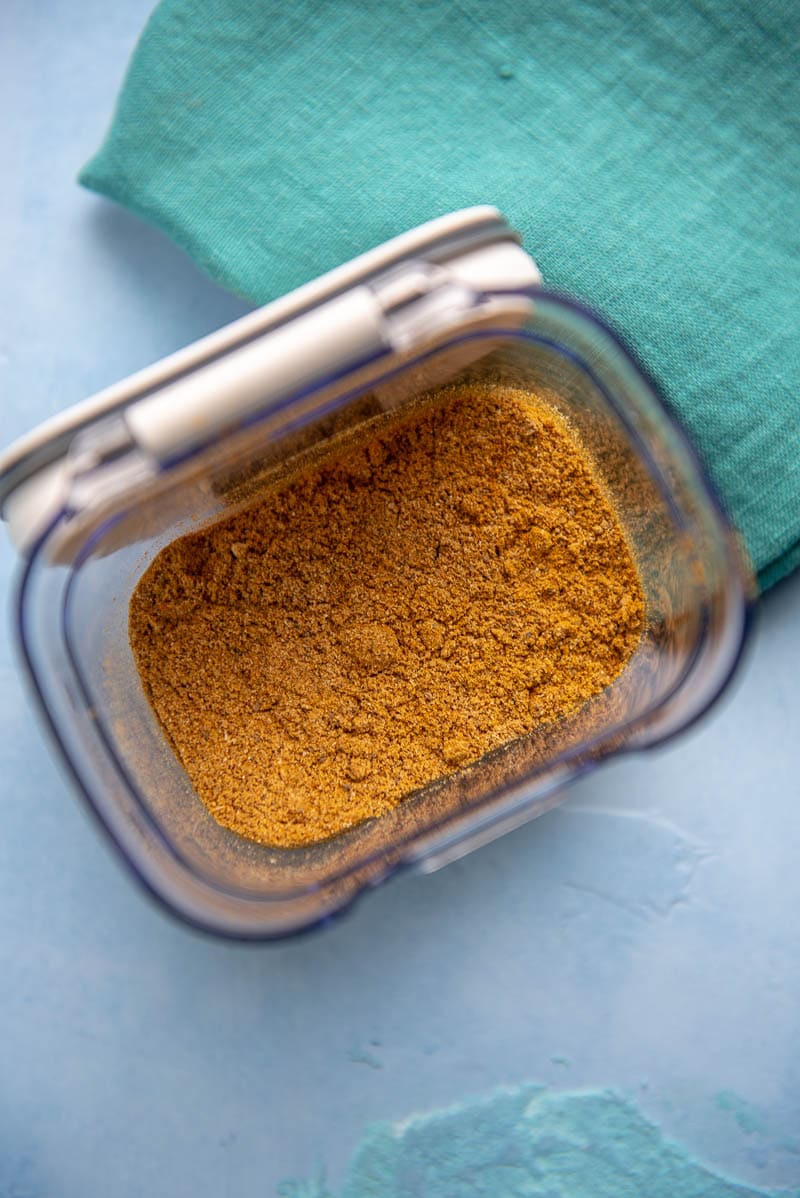 Curry Seasoning FAQs
What are common curry spices? Most curry dishes utilize spices such as turmeric, cumin, coriander, ginger, nutmeg, and red pepper.
What is the main flavor in curry? Turmeric brings the signature yellow color in many curries, but cumin also brings a strong flavor!
What is Indian curry seasoning? Garam masala is another spice blend that is often used in Indian-inspired curries and is typically sweeter and does not contain turmeric.
Is garam masala the same as curry seasoning? No, these are two different spice blends, however, both are used in "curry" dishes!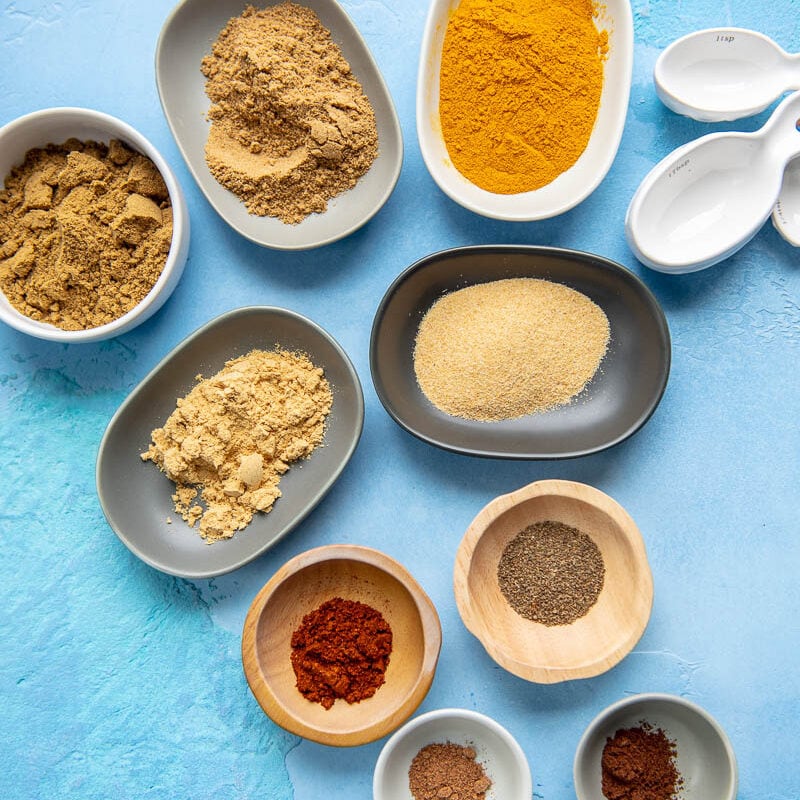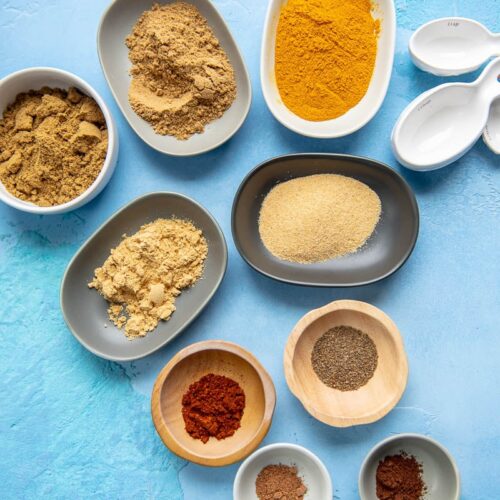 Homemade Curry Seasoning Recipe
Homemade spice blends will change the game in your home-chef ventures! Make this quick and easy curry seasoning and keep it on hand for delicious, hearty meals that require very little prep time. This seasoning blend is rich in flavor and will elevate even the simplest meat and veggie dishes.
Equipment
measuring spoons

airtight container
Instructions
Measure and mix all ingredients

Store in an airtight container
Notes
Store in a completely dry container.
Seasoning blend will keep as long as the expiration of individual spices.
Use 1 tablespoon of seasoning per pound of meat and adjust to taste.
Nutrition
Calories:
20
kcal
Carbohydrates:
3
g
Protein:
1
g
Fat:
1
g
Saturated Fat:
0.1
g
Polyunsaturated Fat:
0.1
g
Monounsaturated Fat:
0.5
g
Sodium:
8
mg
Potassium:
100
mg
Fiber:
1
g
Sugar:
0.1
g
Vitamin A:
82
IU
Vitamin C:
1
mg
Calcium:
32
mg
Iron:
2
mg
Important nutritional disclaimer
More Homemade Seasoning Recipes