Chickpea Curry in the Slow Cooker
If you've never tried chickpeas for your main meal, now is the time! Chickpea Curry in the Slow Cooker is the perfect plant-based recipe for a hearty vegetarian option that is suitable for many dietary preferences. Try this superfood in homemade curry for an easy, hearty lunch or dinner bowl!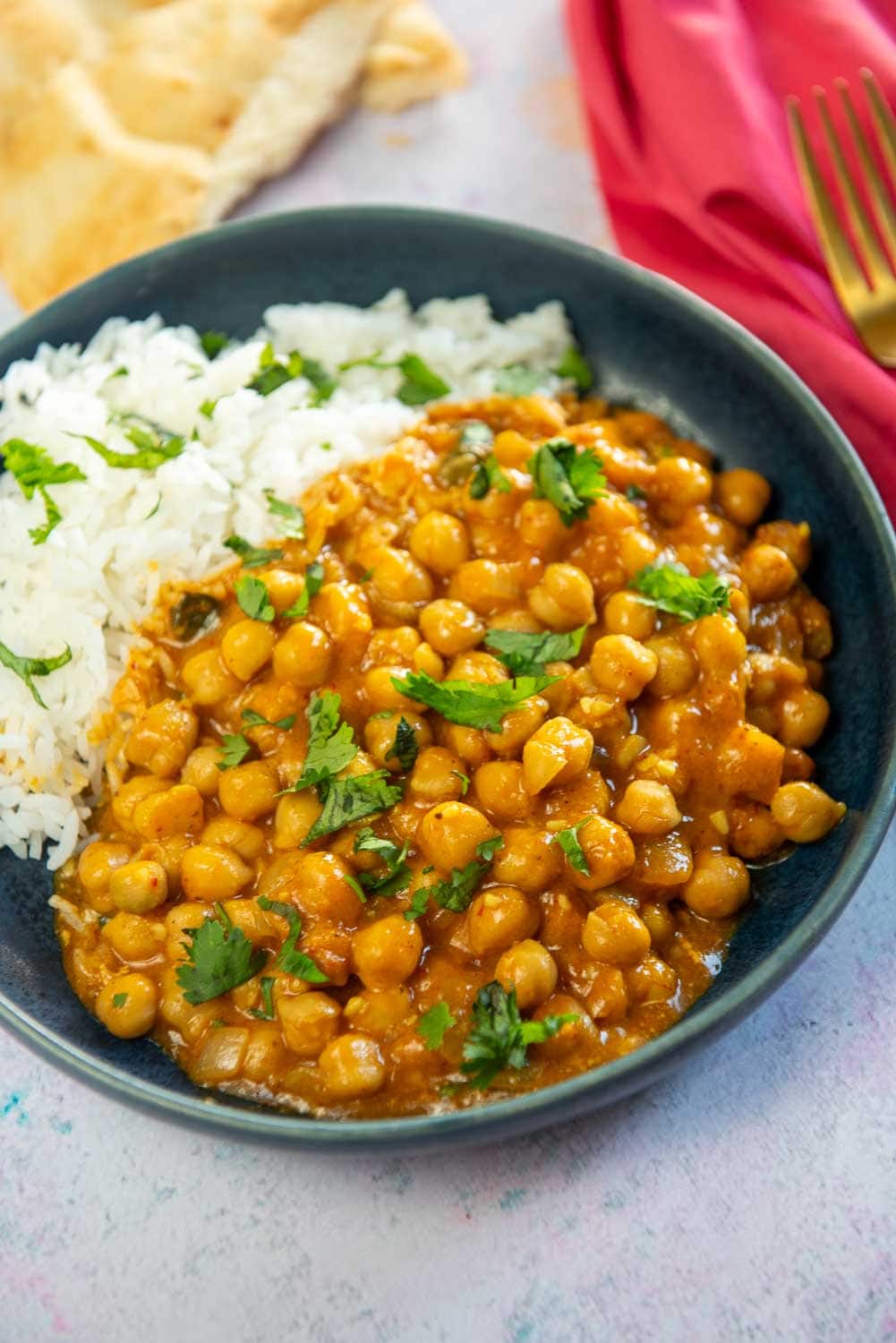 What Is Curry?
Curry is a general term for a dish containing meat or vegetables that is simmered in a sauce with a distinctive blend of seasonings. You can find curry powder or curry seasoning in stores, but they are a blend of ingredients.
Curry seasoning is premixed (check out our homemade blend here) and replicates the common flavors used in traditional Indian cooking. While there is no one specific spice in "curry," the distinct flavors often come from cardamom, turmeric (bringing the signature orange color), ginger, and coriander.
Curries are thought to have originated from India. Still, the variations of spice blends and ingredients vary all the way from the most southern parts of Asia to the British Isles to the Caribbean. Depending on regional preferences, some curries use a tomato base in the sauce and others use a type of yogurt or cheese.
All About Chickpeas
Many people know and love chickpeas blended in hummus or tossed in salads, but they can also be a fantastic main meal option. Chickpeas – also called garbanzo beans – are high in fiber and protein and provide a moderate amount of calories per serving. Chickpeas are also a very nutrient-dense food containing a high amount of folate, manganese, and iron.
Another shout-out for chickpeas! They are super affordable in both dry and canned versions. You can substitute chickpeas in many recipes to make a vegetarian option.
Also, did you know even the liquid from chickpeas can be a valuable recipe substitute? Aquafaba is the liquid from cooked chickpeas that is filled with starch and is often used in vegan and vegetarian recipes as a thickener or binding ingredient. Chickpeas might just be one of the most versatile, multi-purpose foods you can find!
What makes this Chickpea Curry a standout recipe?
So many things stand out about this simple slow cooker dish. If you've never tried curry or a vegetarian dish like this one, let me convince you to try it! A few reasons:
It is economical. A fantastic recipe for making a large quantity for either a family dinner or to prep for lunches throughout the week. With standard ingredients found at a local grocery store, this meal will be well under $1 per serving. This recipe makes about 6 servings and could easily be doubled with a larger slow cooker.
It is accommodating. If you ever need a recipe to meet multiple dietary needs or preferences, this would be the perfect one. Chickpea curry checks all the boxes for vegetarian, dairy-free, gluten-free, and low-carb meal options.
It is easy! Just dice an onion and toss all the ingredients together. The best kind of simple recipe!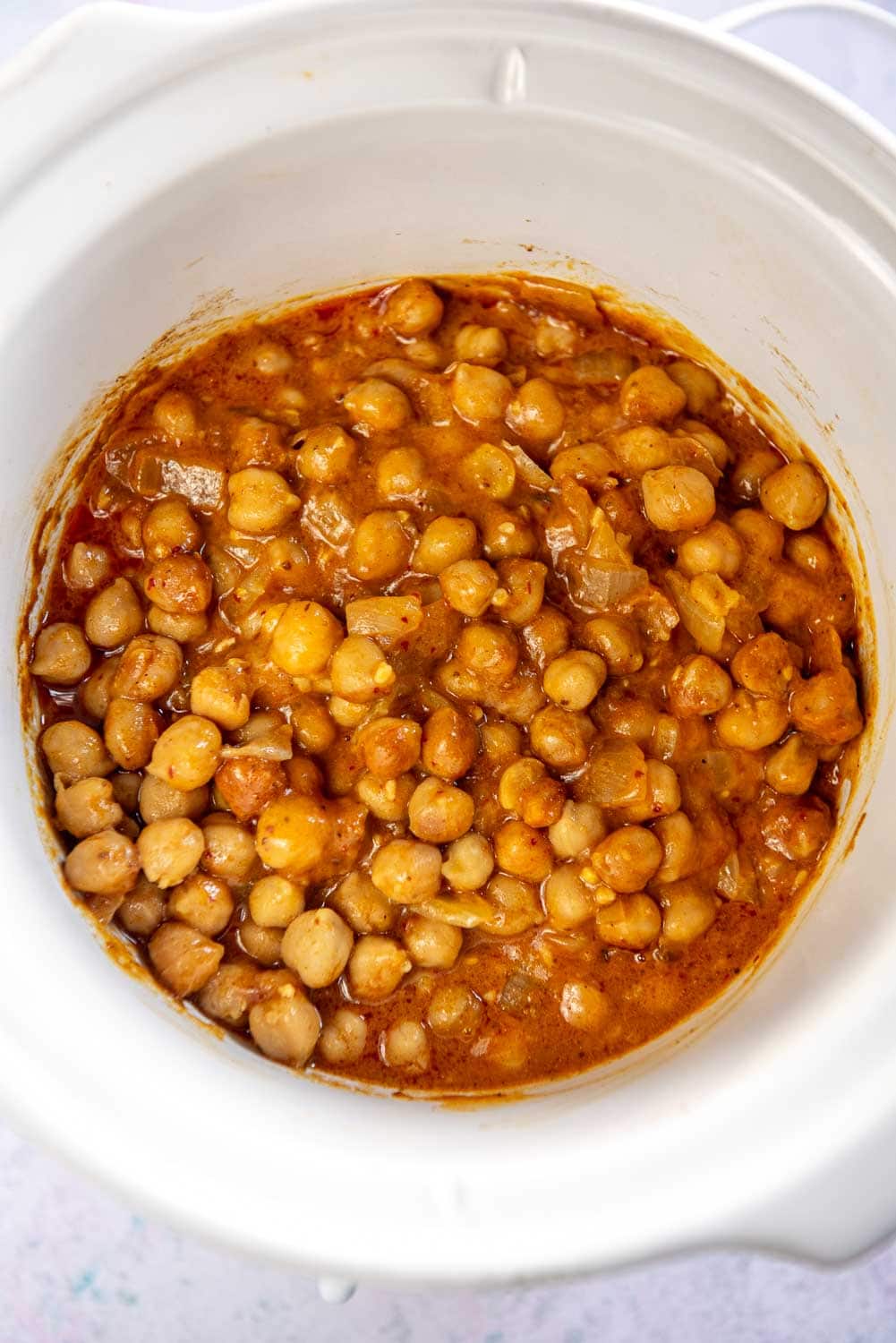 Ingredients Needed
Every ingredient on this list has an extended shelf-life making this the perfect recipe for when you are low on groceries or just need to throw something together. These ingredients would be great to keep on hand for occasions when you are serving others with food allergies or preferences and want to serve a flavorful, hearty meal.
Here are your basics:
Chickpeas (also known as garbanzo beans): You can buy chickpeas in two forms – dried or canned. Dried chickpeas are great to buy in bulk, but you do need to factor in several hours of soaking time. So, for this recipe, I recommend buying canned and making sure to drain and rinse prior to placing them in the slow cooker.
Yellow onion: Yellow onion is slightly sweet which lends itself well to the overall rich flavor of this curry.
Garlic: For simplicity's sake, use jarred minced garlic. One of the signature flavors of most curries!
Homemade curry seasoning: This all-purpose curry flavoring is perfect for any number of sauces and hearty curry dishes. Keep an extra batch on hand in your spice cabinet!
Salt: Adding to the overall seasoning mix!
Red curry paste: This is one of those ingredients that is conveniently available to purchase ready-made from the store. Red curry paste typically includes an added flavor of red chili peppers and lemongrass.
Tomato paste: Tomato paste helps thicken the sauce and adds an overall richness to the flavor.
Canned coconut milk: Canned coconut milk is also a great ingredient to keep in your kitchen because it stores well and provides such a rich, flavorful element that can be used in numerous ways. This is key to the creamy essence of the sauce and ties the whole dish together.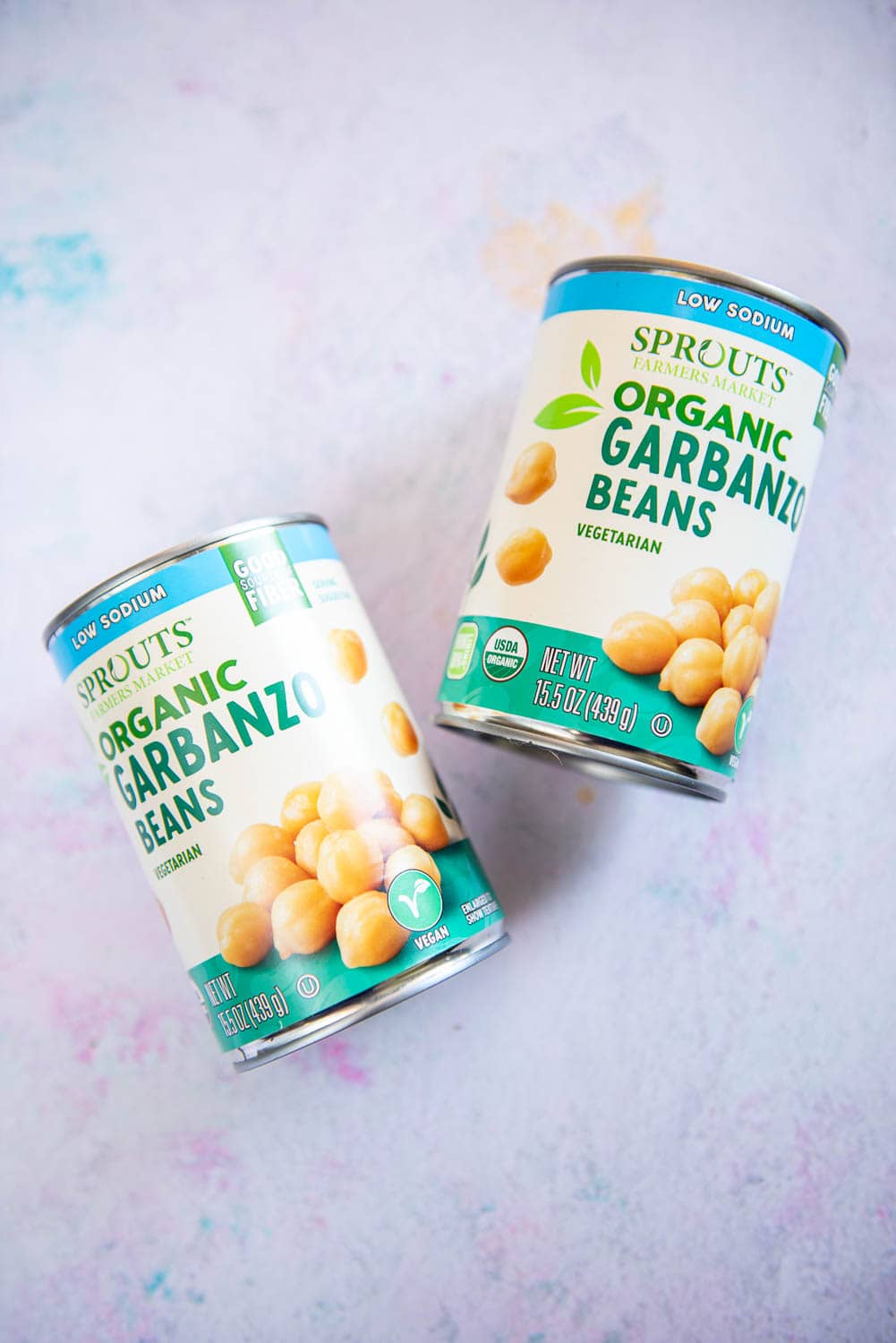 How To Make Chickpea Curry In The Slow Cooker
This is a combine, stir, and go recipe! Minimal prep is needed and it can cook relatively quickly on high or simmer for hours on low.
To begin, dice the yellow onion. Place all ingredients in the slow cooker and stir well to combine.
Cover the slow cooker and cook on high for 2-3 hours or low for 6-8 hours.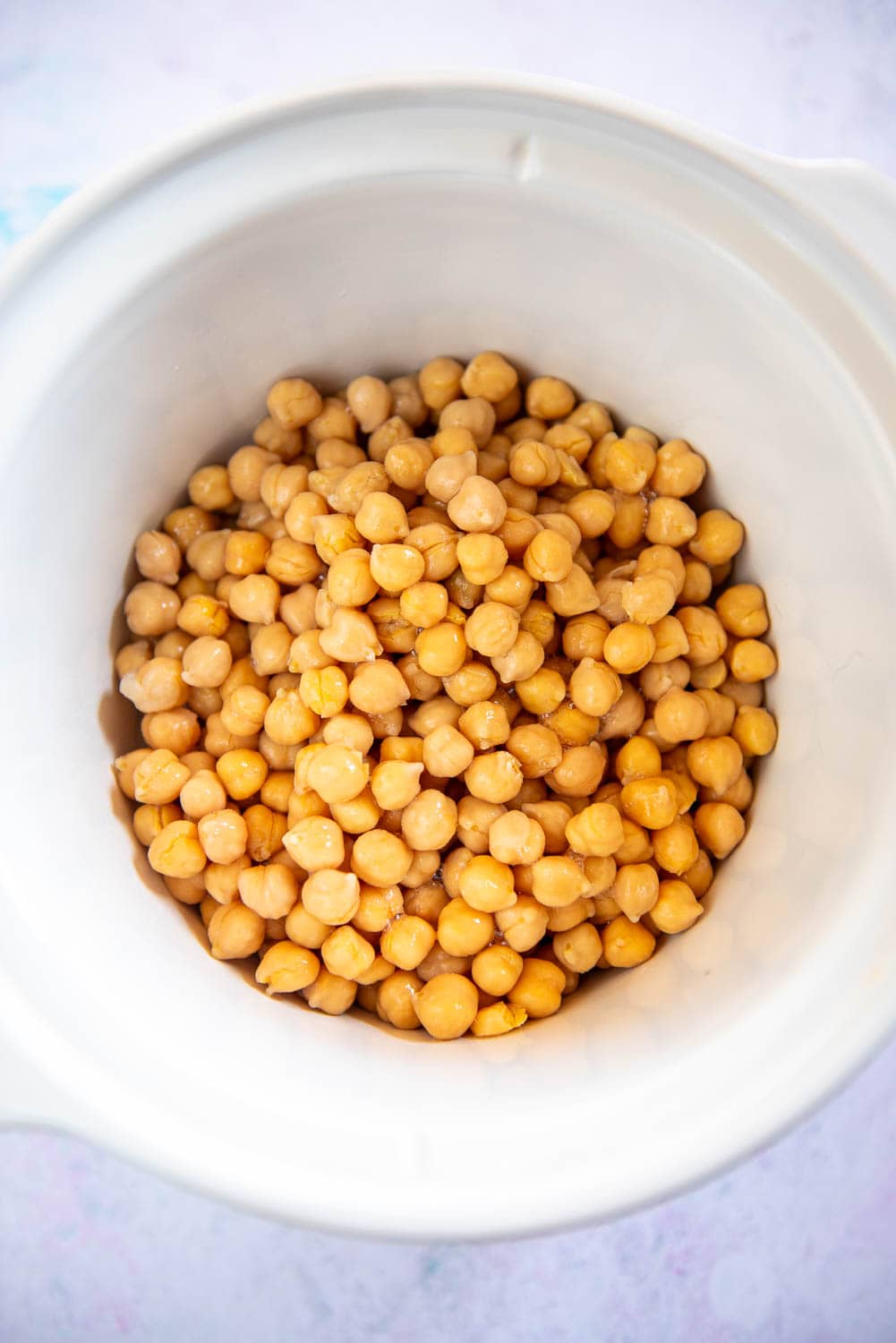 Stir well again before serving to blend all the ingredients.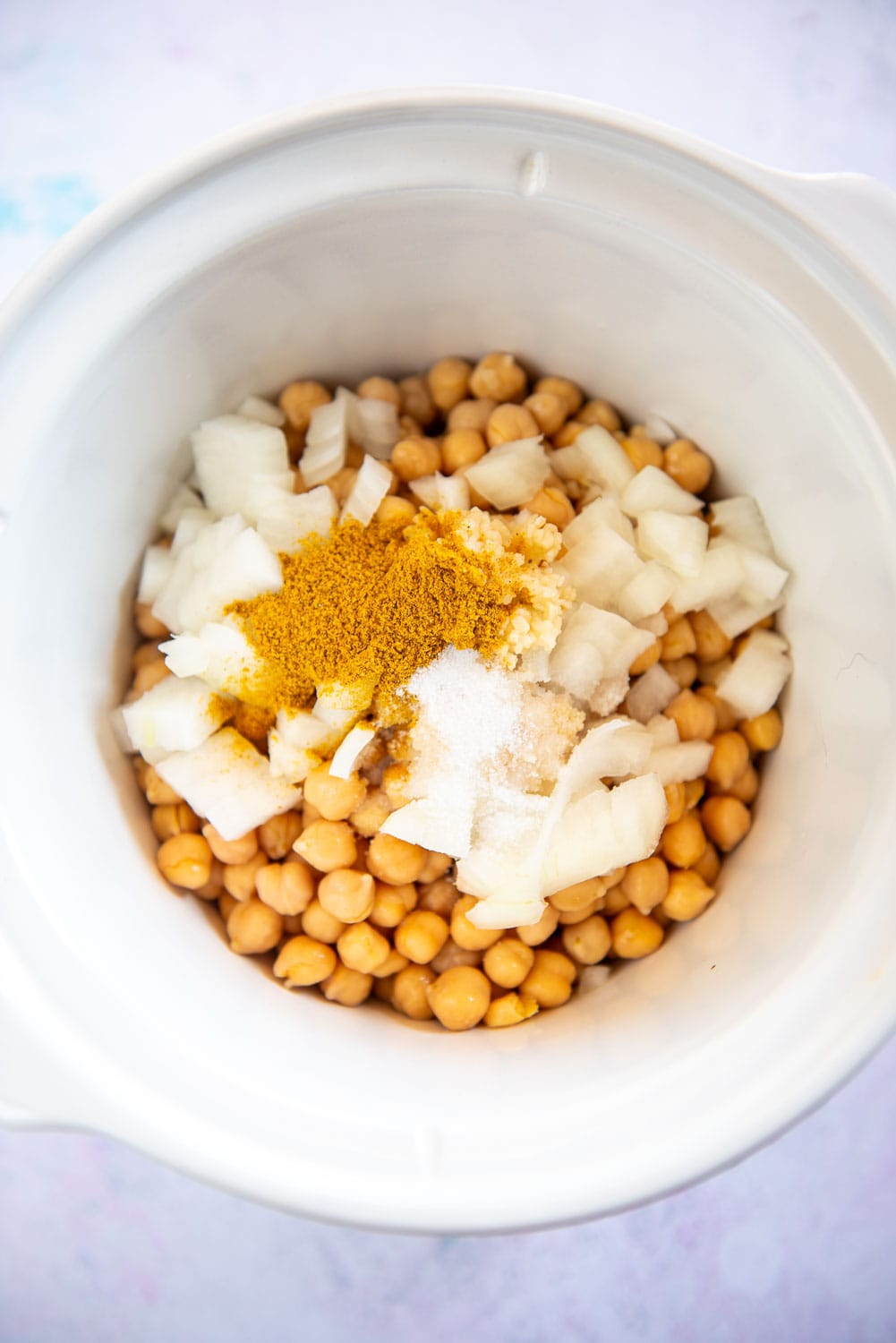 Serve a heaping scoop over steamed rice or with your desired sides.
Note: Slow cookers are usually very forgiving with ranges of cooking time, however, do keep an eye on this recipe to ensure that the curry does not burn. If you have a programmable slow cooker, this is easy to monitor with the cooking timer.
Recipe Substitutions
One of the great benefits of curries is that you can add a little of this and a little of that and put all kinds of your own variations on the mix!
If you'd like to spice up the chickpea curry, add a small amount of cayenne pepper. You can bring in lots of additional veggies for texture and flavor, and to bulk up the recipe! Try finely chopped carrots, multicolored peppers, cubed sweet potato, or greens like spinach or finely chopped kale.
Coconut milk will be the best milk option because of its aromatic quality, nutty flavor, and creamy consistency. If you use another non-dairy milk alternative, ensure that it is unflavored and unsweetened. You will likely need to thicken the sauce as well to achieve the intended consistency.
Dried chickpeas can be used in the slow cooker, but they would need to be soaked overnight. For ease, you can use the canned variety and know they will hold up well in the slow cooker!
How To Best Serve Chickpea Curry
Many curries are traditionally served over rice which is an economical and efficient option for soaking up the deeply flacvorful sauces. A fluffy long-grain white rice such as jasmine or basmati is the perfect complement to a thick curry.
Chickpea curry works well with other options for lower-carb servings. Try a big scoop of curry over Slow Cooker Sweet Potatoes sliced in half. The sweetness of the potato would be great to balance the acidity in the tomato base.
Other options to try are oven-roasted potatoes or a riced veggie like cauliflower or broccoli. If you want another low-prep side, try Instant Pot Quinoa for a hearty and healthy base! Pair with a tangy fresh fruit salad on the side!
Tip: Save some of your leftovers to freeze in single-serve portions in the freezer. This makes a fabulous low-prep lunch when you just want to heat up one serving on the stove.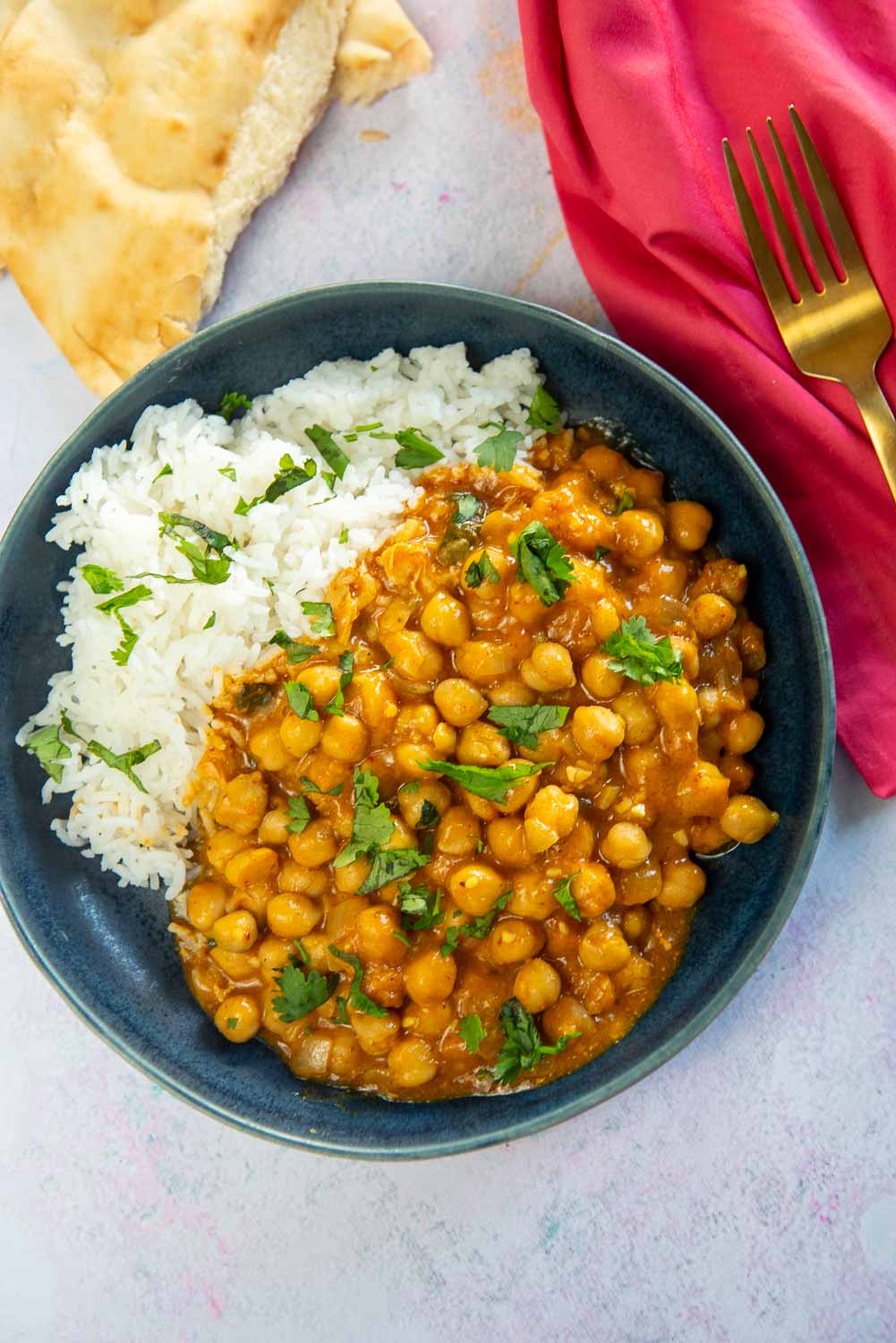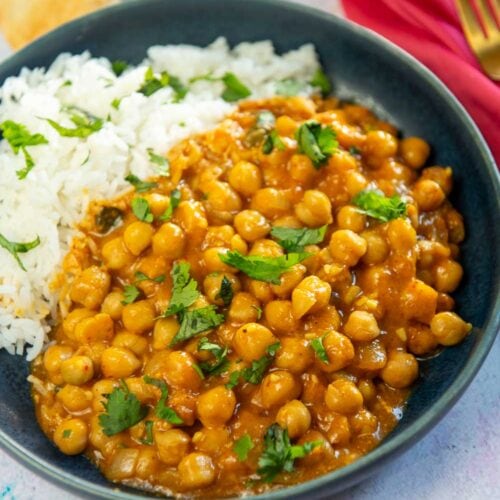 Chickpea Curry in the Slow Cooker
If you've never tried chickpeas for your main meal, now is the time! Chickpea Curry in the Slow Cooker is the perfect plant-based recipe for a hearty vegetarian option that is suitable for many dietary preferences. Try this superfood in homemade curry for an easy, hearty lunch or dinner bowl!
Ingredients
30

oz

canned garbanzo beans

2 15 oz cans, drained and rinsed

½

cup

yellow onion

diced

2

teaspoons

jarred minced garlic

1

tablespoon

homemade curry seasoning

1

teaspoon

salt

2

tablespoons

red curry paste

2

tablespoons

tomato paste

1

cup

canned coconut milk
Instructions
Dice yellow onion

Add all ingredients to slow cooker and stir to combine

Cover and cook on high for 2-3 hours or low for 6-8 hours

Stir before serving and serve over steamed rice or as desired
Notes
Store in the fridge for up to 3 days and in the freezer for up to 3 months.
Warm up in a saucepan on the stove until simmering or in short increments in the microwave. If reheating from frozen, allow defrosting time in the fridge.
Nutrition
Calories:
237
kcal
Carbohydrates:
25
g
Protein:
9
g
Fat:
13
g
Saturated Fat:
9
g
Polyunsaturated Fat:
1
g
Monounsaturated Fat:
1
g
Sodium:
831
mg
Potassium:
402
mg
Fiber:
8
g
Sugar:
3
g
Vitamin A:
900
IU
Vitamin C:
4
mg
Calcium:
75
mg
Iron:
3
mg
Important nutritional disclaimer
More Slow Cooker Curry Recipes