Slow Cooker Shepherd's Pie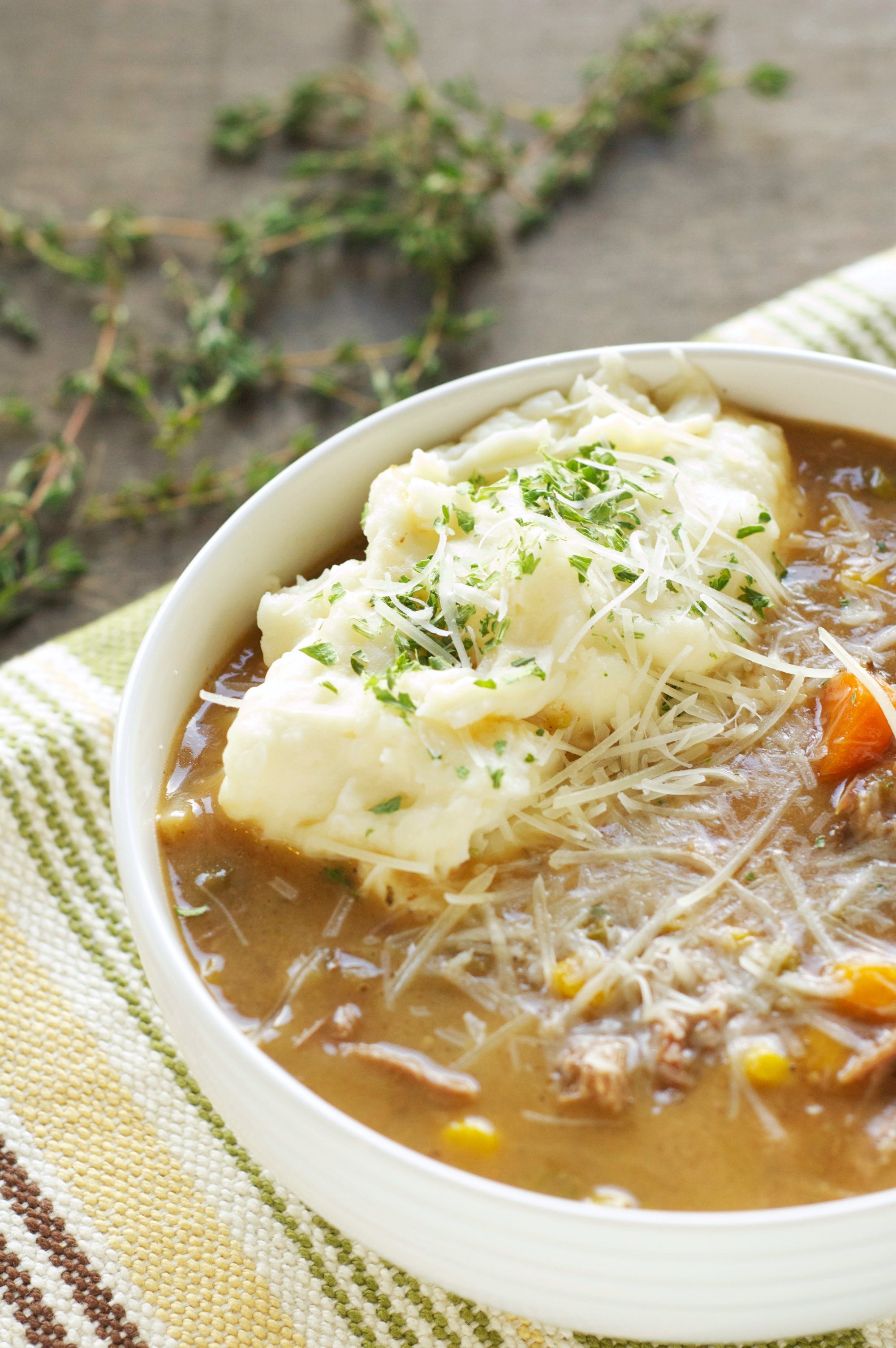 I have to admit that it's been ages since I've been to eat at the Cheesecake Factory. Whenever we used to go I almost always ordered the Shepherd's Pie. Maybe it sounds like an odd choice but I always thought it was amazing. Perhaps not quite as amazing as the White Chocolate Raspberry Cheesecake…but, really? Like anything could compare to that!! I've even tried making Shepherd's Pie from time to time but this time I think I finally got it right!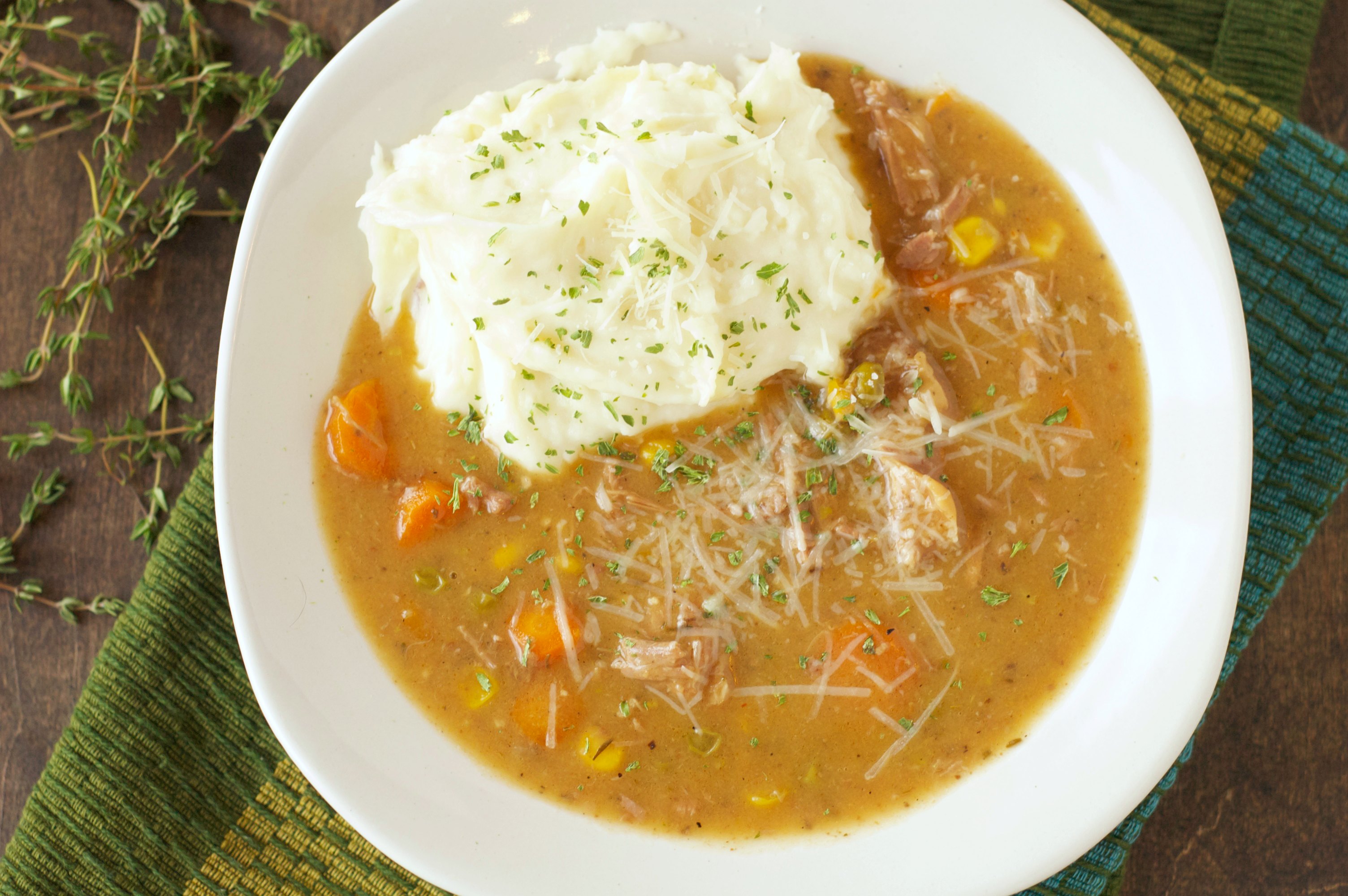 Okay so this is not exactly a traditional Shepherd's Pie but if it's good you will overlook that, right? And I promise it's good. And easy to make! Everything goes right in the crock to cook all day long and then you have an amazing meal when you get home at the end of a long day!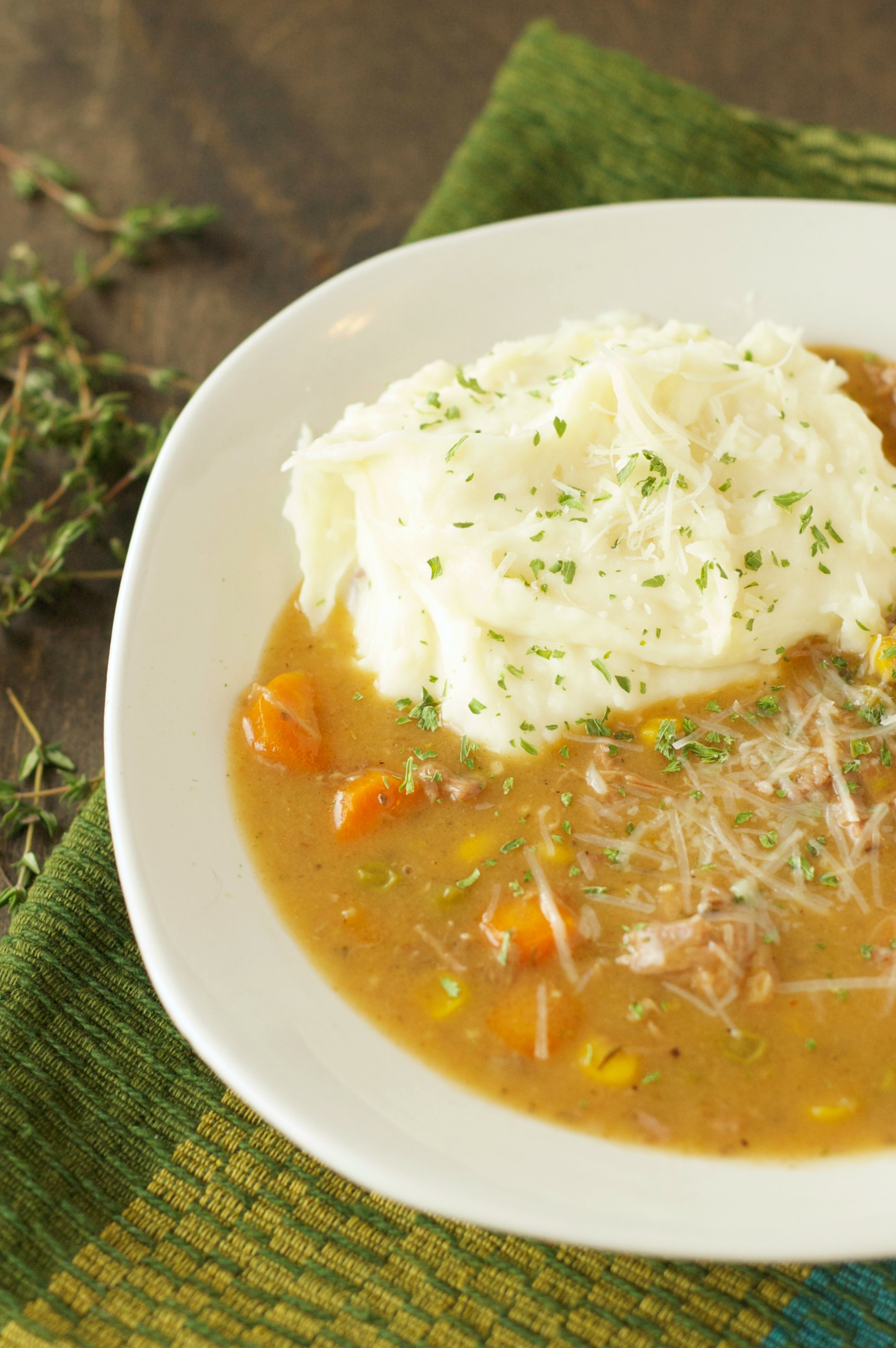 Instead of ground beef I used a bottom round roast. It's generally an inexpensive cut of meat and doesn't have much fat. Since you will be cooking it all day long it will turn out very tender and full of flavor. I was able to easily shred it with a fork.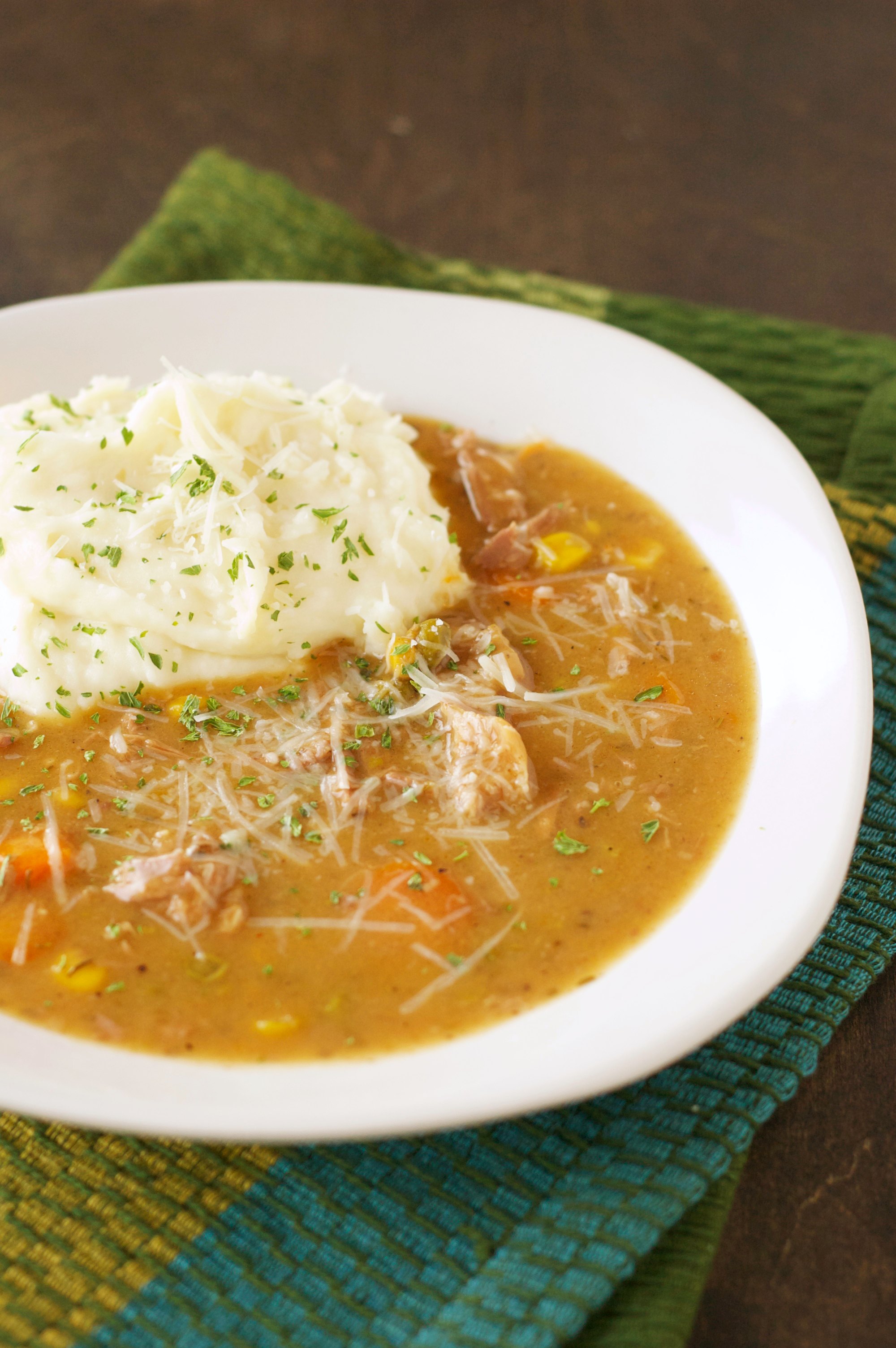 Whether you want to stick to the traditional veggies or mix it up is totally up to you. I used carrots, peas, and corn but this is your dinner so use what you have and what you like!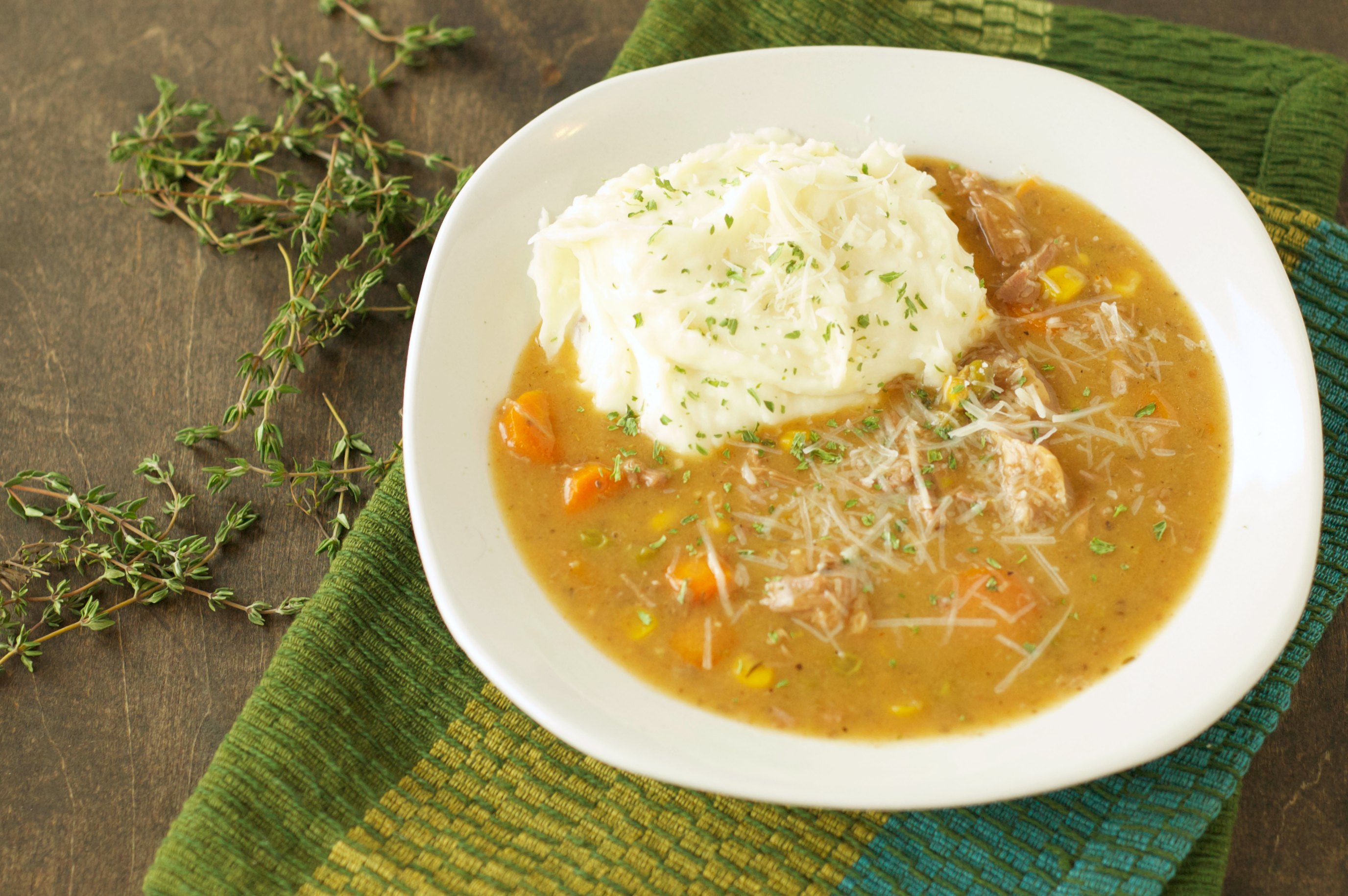 The result is what I would describe as a very rich, thick and hearty stew. I made it into "Shepherd's Pie" by topping each bowl with a scoop of the most amazing Slow Cooker Creamy Garlic Mashed Potatoes and a little Parmesan Cheese. This is a dinner I will make often!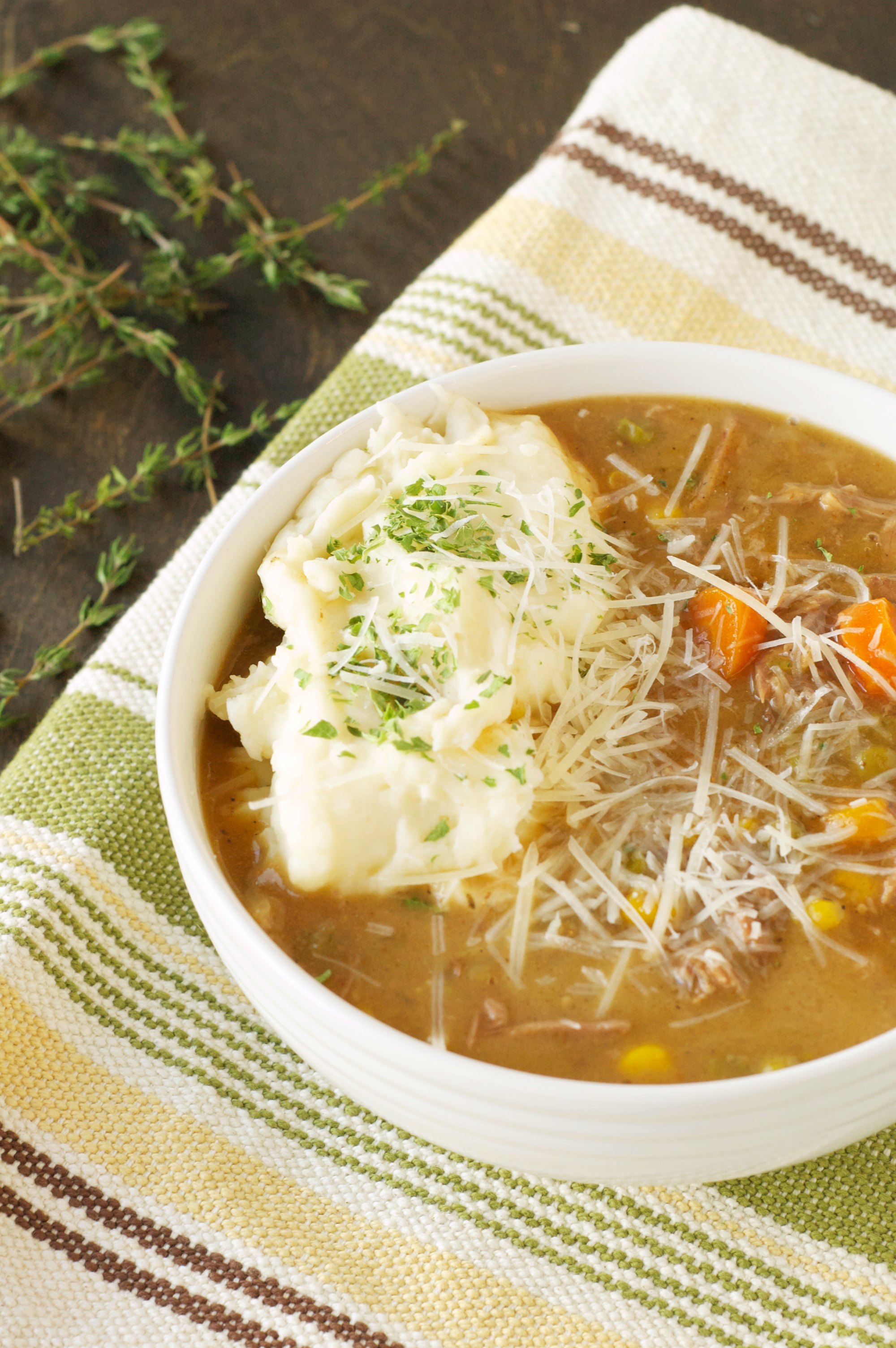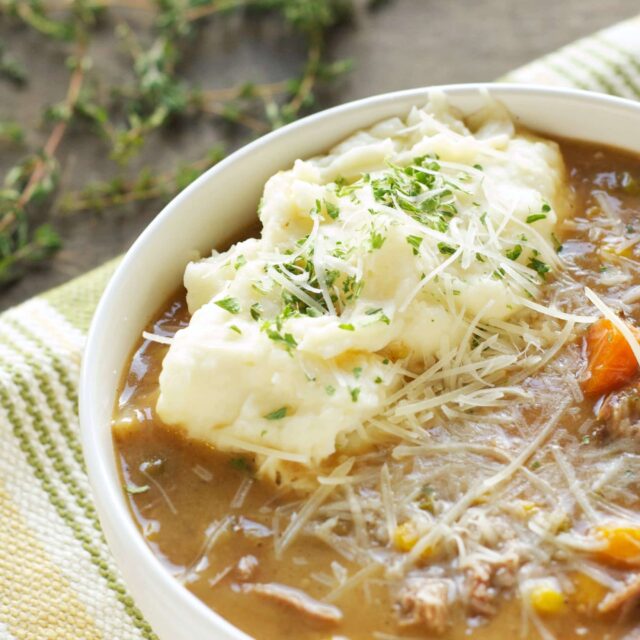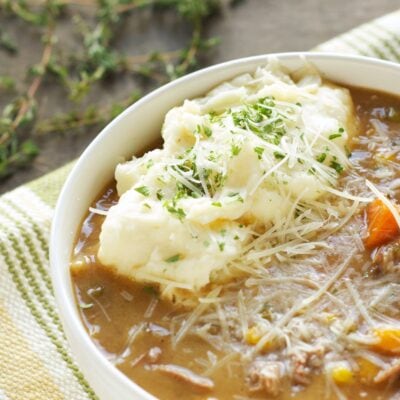 Slow Cooker Shepherd's Pie
This Slow Cooker Shepherd's Pie is a classic dish filled with vegetables, round roast and topped with mashed potatoes. Comfort food at it's best!
Ingredients
2

pounds

bottom round roast

3

cups

beef broth

1

tablespoon

tomato paste

1

tablespoon

Worcestershire sauce

1/2

small yellow onion

sliced

2-3

carrots

peeled and sliced

3/4

cup

frozen peas

1/2

cup

frozen corn

1

teaspoon

dried crushed rosemary

1

teaspoon

dried thyme

2

cloves

minced garlic

1

teaspoon

Kosher salt

1/4

teaspoon

pepper

1/4

cup

heavy cream

for later

2

tablespoons

corn starch + 2 tablespoons water

for later - to create a slurry

1/2

cup

Parmesan cheese
Instructions
Place the roast in the crock

In bowl or mixing cup whisk together the broth, tomato paste and Worcestershire

Place the onion, vegetables, garlic and seasonings in the crock

Pour the beef broth mixture over everything and cover

Cook on low for 6-8 hours

Gently shred beef with fork (as much or as little as you like depending on the size of beef chunks you would like)

Whisk together cornstarch and water to form a slurry

Add the slurry and cream to the crock and stir everything together to combine

Serve with a scoop of mashed potatoes and a sprinkle of fresh Parmesan cheese
Nutrition
Calories:
617
kcal
Carbohydrates:
19
g
Protein:
71
g
Fat:
26
g
Saturated Fat:
11
g
Cholesterol:
205
mg
Sodium:
1636
mg
Potassium:
942
mg
Fiber:
3
g
Sugar:
4
g
Vitamin A:
5680
IU
Vitamin C:
17.1
mg
Calcium:
214
mg
Iron:
7.1
mg
Important nutritional disclaimer