Easy Slow Cooker Round Steak Recipe
For a dinner meal that feels fancy, but requires minimal effort in the kitchen, try this Easy Slow Cooker Round Steak Recipe that is full of savory flavor and tender meat.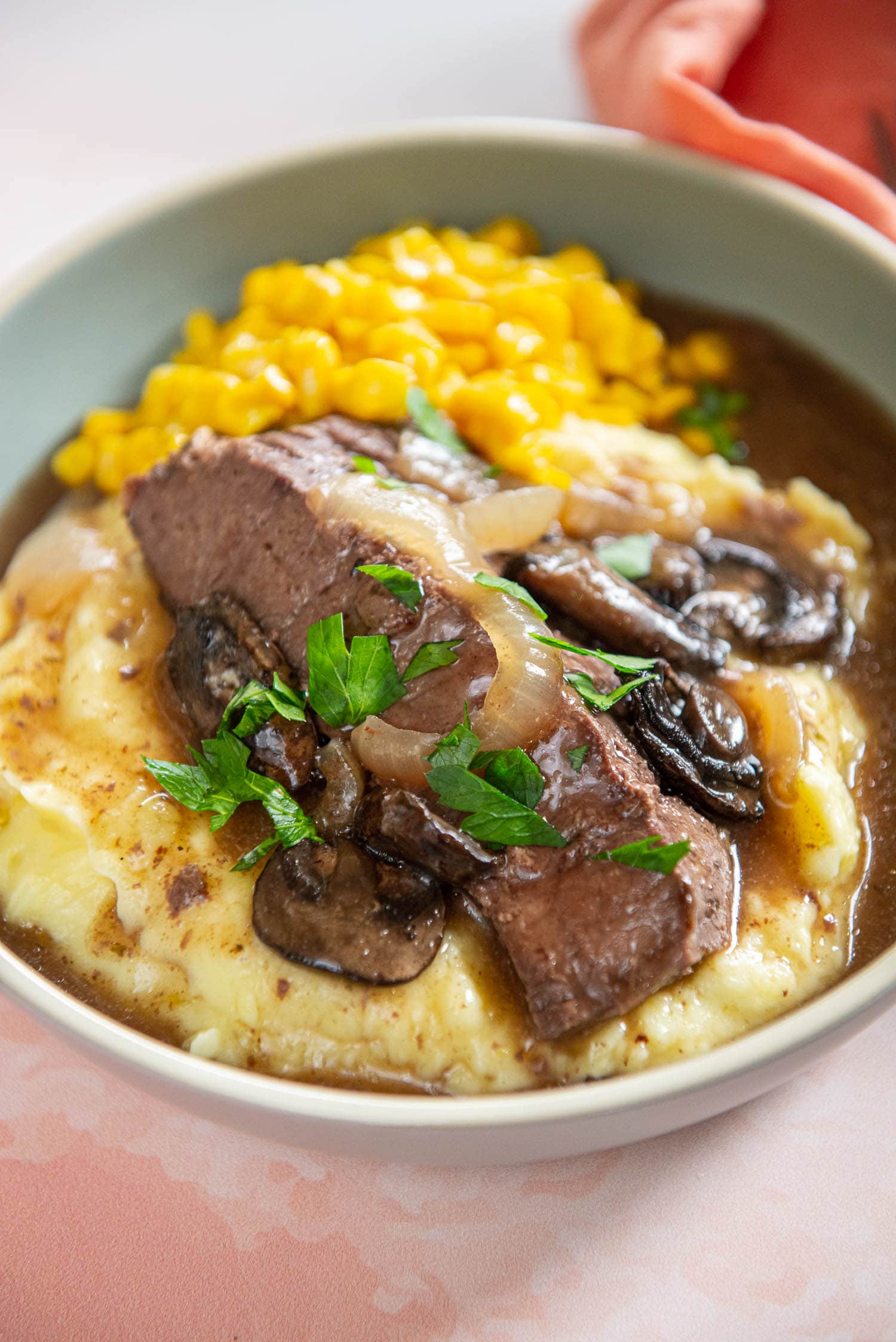 Lean cuts of meat like round steak have minimal marbling (fat), which means they can be easy to overcook and quickly turn into a tough and chewy meal. Thankfully, the slow cooker can be a lifesaver when you want to try economical and simple cuts of meat, like round steak, with a guarantee to make them juicy and tender.
Easy slow cooker round steak will be sure to impress and can be plated with numerous sides to soak up the extra gravy!
Ingredients Needed
The combination of seasonings, broth, and cream makes the most delicious creamy gravy. You won't want to skimp on any of this list! You'll need:
Meat – You can choose a top-round steak or a bottom-round steak. These cuts will come from the back side of the cow and are lean and tough textures. Slow cooking breaks down tough meat fibers and makes tender meat.
Vegetables – Slice or buy pre-sliced mushrooms – white button or cremini varieties would be great. Also, add sweet onion, sliced into thin strips.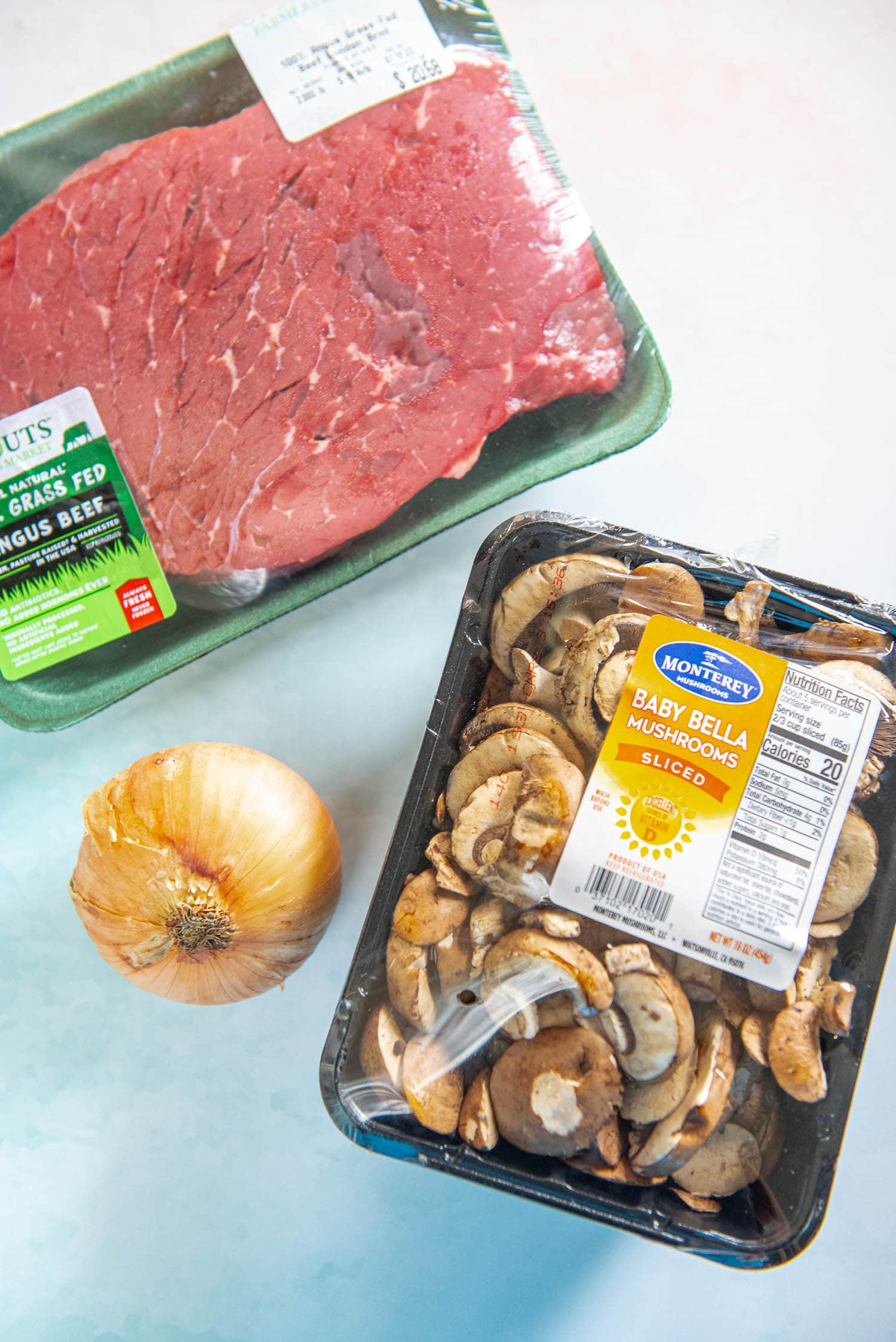 Seasonings – A concoction of seasonings is key to the flavorful gravy that results at the end! Include garlic and onion powder, Easy Homemade Italian Dressing Mix or Italian seasoning, and salt and pepper.
Gravy – Use beef bone broth – this can be found in a premade paste to mix with water or in liquid form. Also include Worcestershire sauce, and heavy whipping cream to add an overall richness to the gravy. Lastly, you'll need a little bit of tapioca flour mixed with water to make a slurry that thickens the sauce.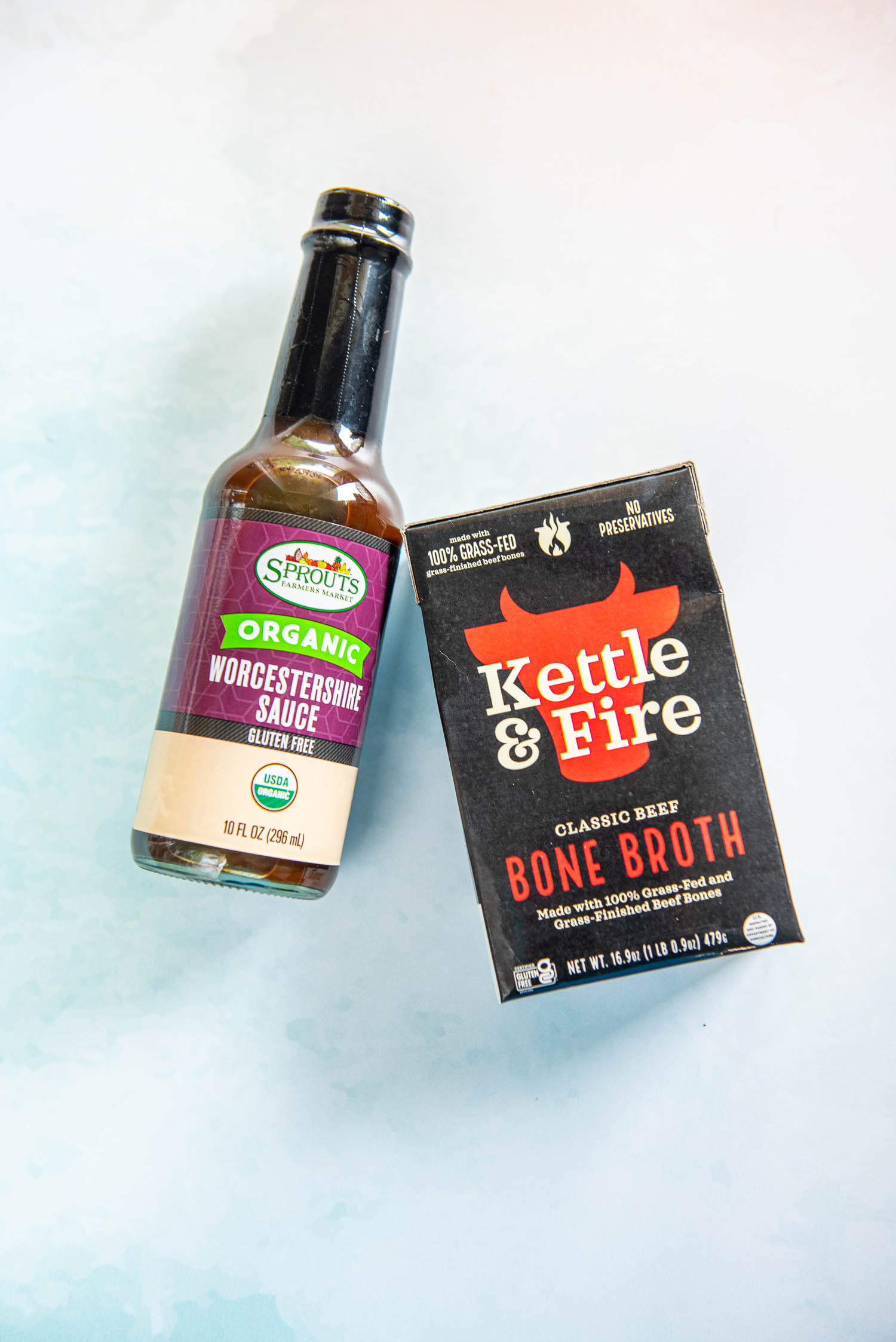 How To Make Slow Cooker Round Steak
Begin by adding the round steak to the bottom of the slow cooker and spread the sliced mushrooms and sliced onion across the top.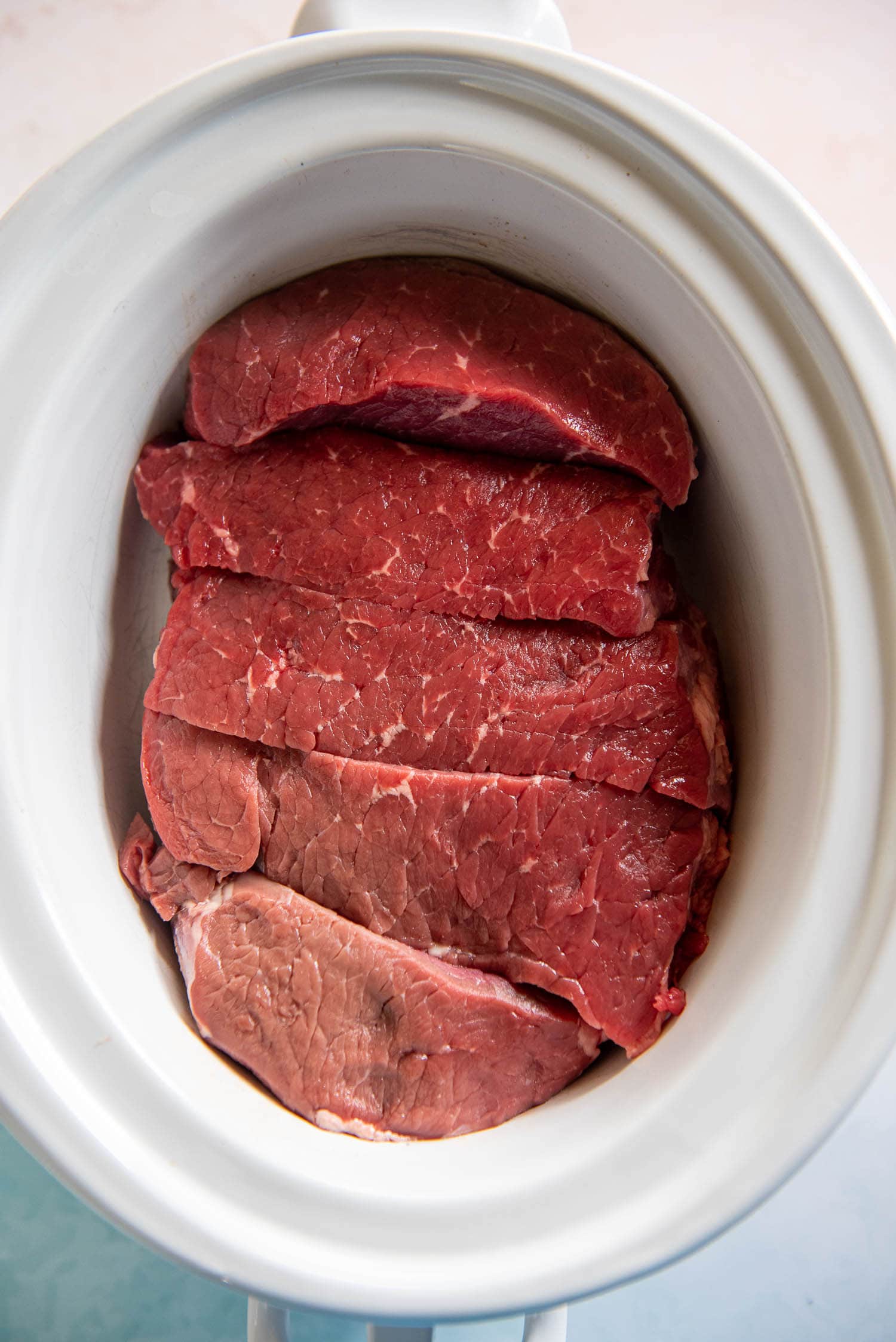 Next, add all of the seasonings (garlic and onion powder, Italian seasoning mix, and salt and pepper), along with the beef broth and Worcestershire sauce.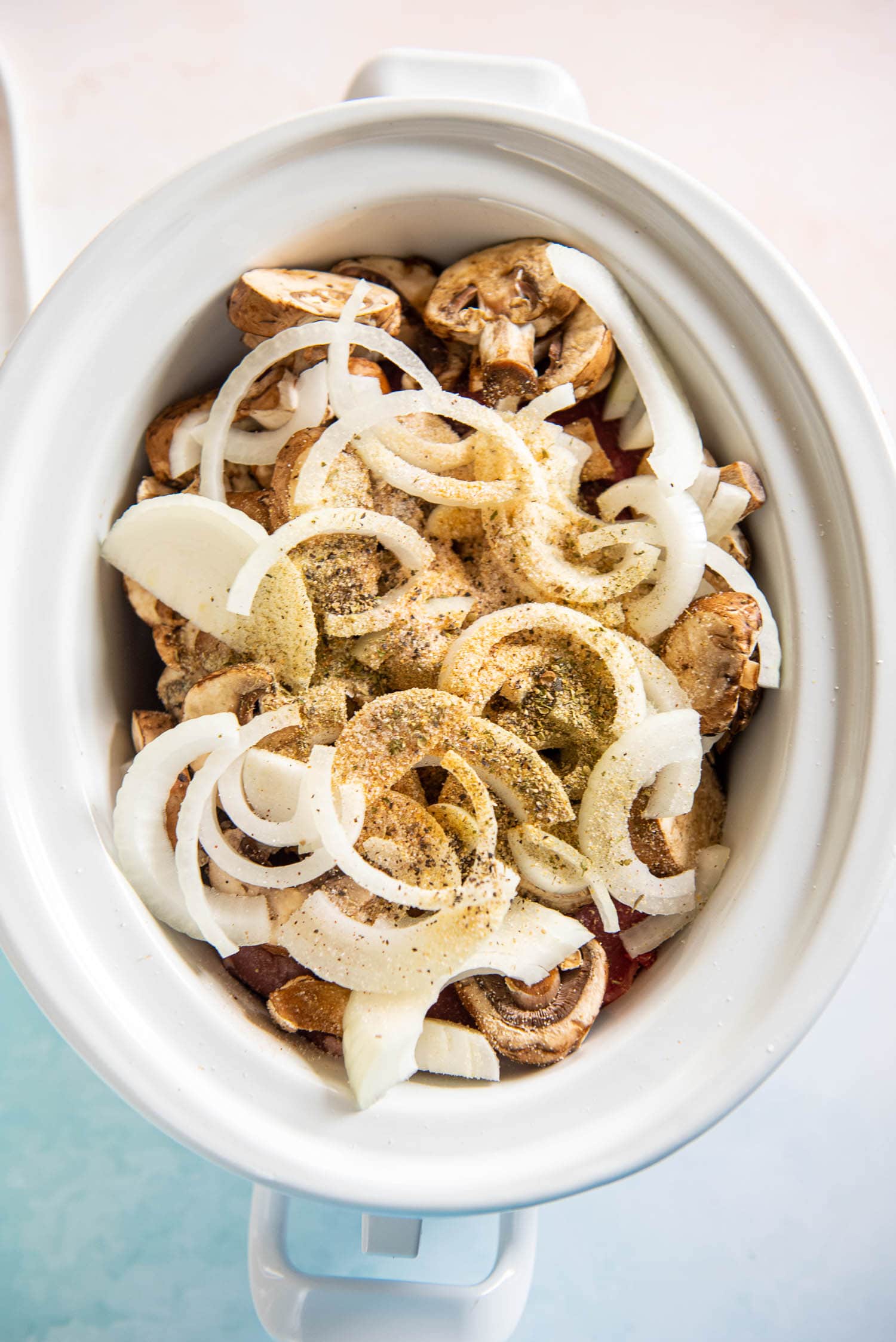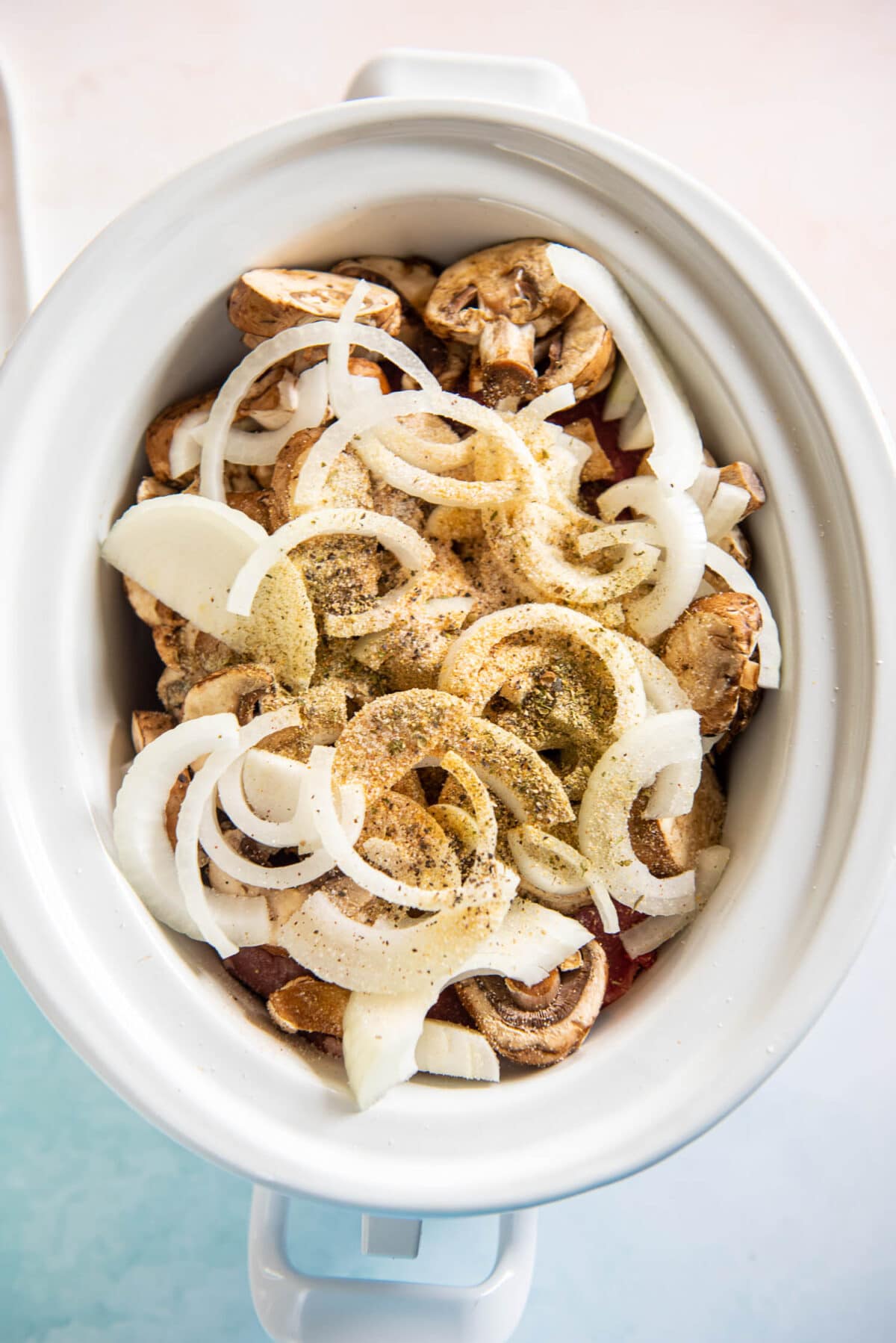 Cover the slow cooker and cook on high for 3-4 hours or low for 6-8 hours.
Near the end of the cooking time, create the slurry by mixing the tapioca flour with water. Stir in the slurry and heavy whipping cream to the slow cooker and let it heat for 15 minutes until it thickens for a delicious gravy.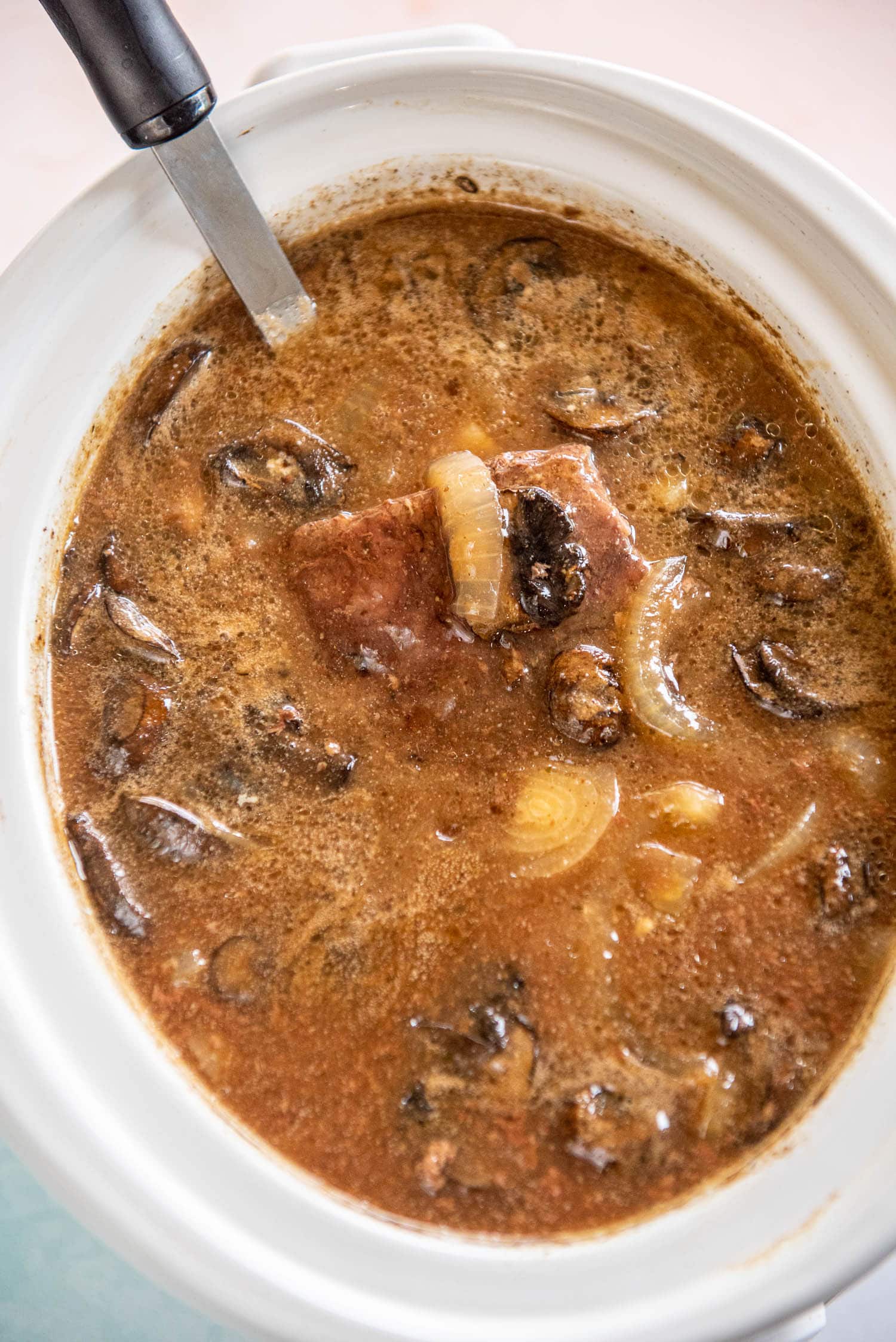 To plate, slice or pull apart the beef steak, and serve with spoonfuls of gravy and mushrooms over the top.
Best Sides To Serve With Slow Cooker Round Steak
One of my obvious choices for any beef with gravy is to serve some fluffy mashed potatoes to help savor every bit of the round steak gravy. Slow Cooker Creamy Garlic Mashed Potatoes will do just that! Wide egg noodles are an excellent side to serve plated up with a ladle of gravy and mushrooms.
Crunchy, buttery corn is a great contrasting side to serve on the same plate. Other vegetables to complement the flavor of round steak and mushrooms are crisp green beans or a bit of sweetness in Slow Cooker Carrots with Herbed Honey Butter Sauce. Combine your veggies all-in-one with Slow Cooker Roasted Fall Vegetables.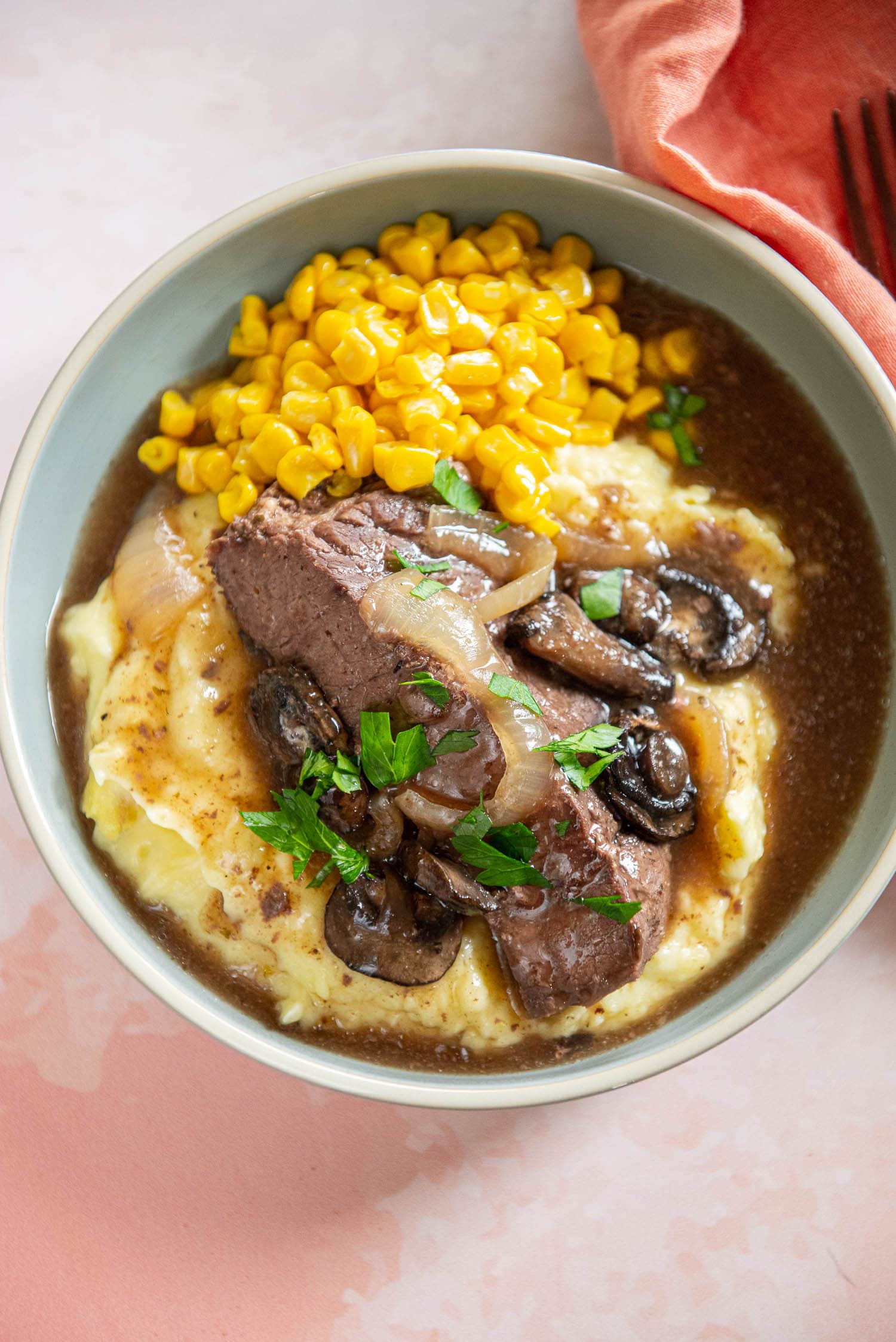 Round Steak FAQs
Which kind of round steak works best for this recipe? You can choose either a top round cut (more tender) or a bottom round cut for this recipe. A round steak is one of the leanest cuts of beef as it comes from the hind and back legs of a cow. This is typically a large cut of meat and is very uniform in texture and fat distribution which means you won't see a lot of white( or fat) across the muscle.
What are round steaks good for? Round steaks are great for making a large quantity of beef because it is usually very affordable per pound. These steaks can be used in recipes that use small or thin cuts of meat such as stews, fajitas, or stir-fries. Usually round steaks are marinated, braised, or served with a delicious sauce.
What is the best way to cook round steak so it is tender? Choose a cooking method that is "low and slow" – whether braising, roasting, or slow cooking. Also, leaner meats need liquids during the cooking process to keep them from drying out over an extended cooking time.
Do you cook round steak fast or slow? Cooking on low is the preferred way to cook leaner cuts of meat to allow plenty of time to tenderize.
Recipe Substitutions and Additions
For low and slow cooking, swap similar types of beef such as sirloin or a chuck roast. These cuts of meat are also located in larger muscle groups so they tend to be lean and will cook in similar timeframes.
You could also easily add in more veggies to complete your meal!
Make this recipe pot-roast style by also including carrots and potato quarters in the slow cooker. To ensure all ingredients cook evenly, be sure that the slow cooker does not become too crowded. A good general rule is to not fill the slow cooker over about ¾ full.
If you do not have tapioca flour, you can swap the same amount of cornstarch. To make this recipe dairy-free, look for a lactose-free heavy whipping cream.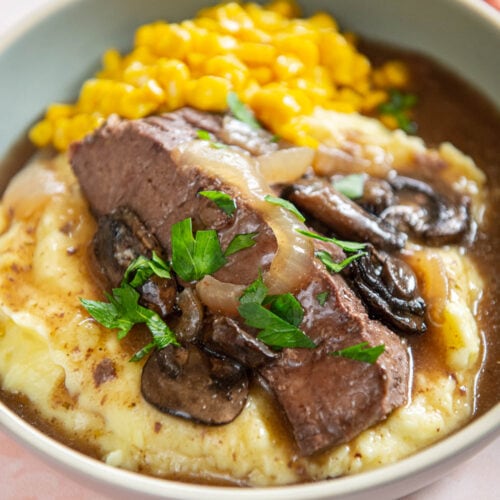 Easy Slow Cooker Round Steak Recipe
For a dinner meal that feels fancy, but requires minimal effort in the kitchen, try this Easy Slow Cooker Round Steak Recipe that is full of savory flavor and tender meat.
Ingredients
2 ½

pounds

top or bottom round steak

8

oz

mushrooms

sliced

1

sweet onion

sliced

1

teaspoon

garlic powder

1

teaspoon

onion powder

½

teaspoon

salt

¼

teaspoon

pepper

1

cup

beef bone broth

1

tablespoon

Worcestershire sauce

3

tablespoons

tapioca flour

mixed with water to make a slurry

2

tablespoons

heavy whipping cream
Instructions
Add steak to slow cooker and top with sliced mushrooms and onions

Add seasonings, broth, and Worcestershire sauce

Cover and cook on high for 3-4 hours or low for 6-8

Stir in tapioca flour slurry and cream, and let heat for about 15 minutes until thickened

Slice or pull apart beef and serve with gravy and mushrooms
Notes
Store in an airtight container in the fridge along with vegetables and gravy for up to 3 days. You can freeze portions of the steak (by itself) if tightly sealed or closed to prevent any crystallization. I do not recommend freezing the gravy and vegetables due to textural changes.
Reheat individual portions by warming in a skillet on the stove or microwave for very short increments as it will heat quickly.
If you choose sirloin or chuck roast, cut the meat into smaller sections to fit evenly across the bottom of the slow cooker.
Nutrition
Calories:
50
kcal
Carbohydrates:
8
g
Protein:
2
g
Fat:
1
g
Saturated Fat:
1
g
Polyunsaturated Fat:
0.1
g
Monounsaturated Fat:
0.3
g
Cholesterol:
4
mg
Sodium:
190
mg
Potassium:
168
mg
Fiber:
1
g
Sugar:
3
g
Vitamin A:
58
IU
Vitamin C:
3
mg
Calcium:
15
mg
Iron:
0.4
mg
Important nutritional disclaimer
More Slow Cooker Steak Recipes