Slow Cooker Italian Chicken
You would never guess that this gourmet-style, flavorful dish is effortlessly made in the slow cooker! With just 5 simple ingredients, bold and classic slow cooker Italian chicken is ready to serve with any of your favorite sides.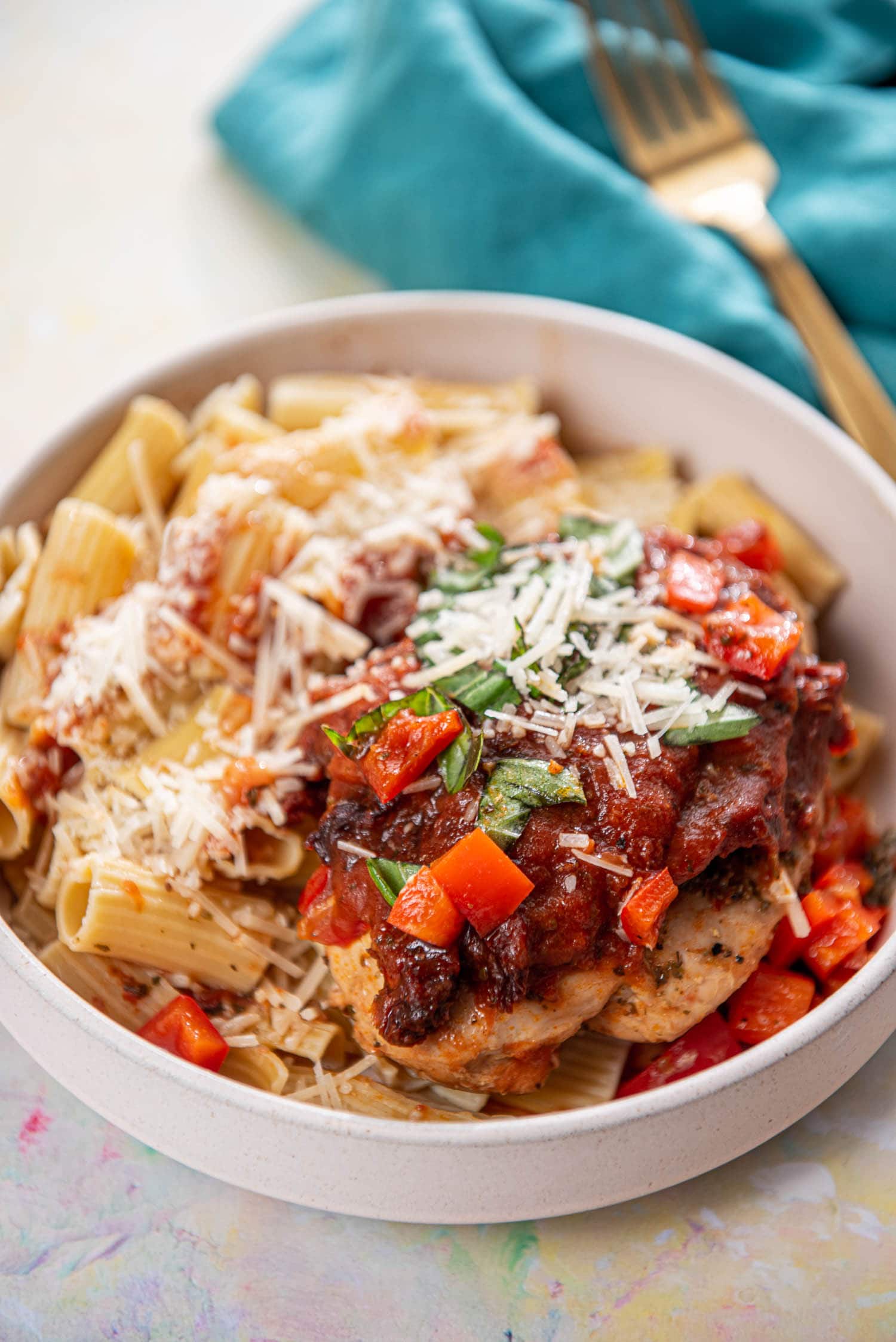 What is Italian Chicken?
Italian chicken is a zesty dish with tender chicken breast cooked in a rich tomato sauce ready to serve over pasta, vegetables, or other sides. Most home chefs generally pair pasta sauce with meatballs or ground beef, but Italian chicken is sure to become a new staple in a slow cooker repertoire.
By using the slow cooker, you can easily incorporate the classic herbal blends of Italian seasoning and tomato sauce with juicy, seasoned chicken. The sun-dried tomatoes and diced red peppers bring additional depth to this simple recipe.
Prep this recipe for a weeknight dinner or even a meal to serve for company. It's just that easy and guaranteed to be delicious!
Ingredients Needed For Italian Chicken
Get ready for a super-simple, super-flavorful entrée with just 5 ingredients!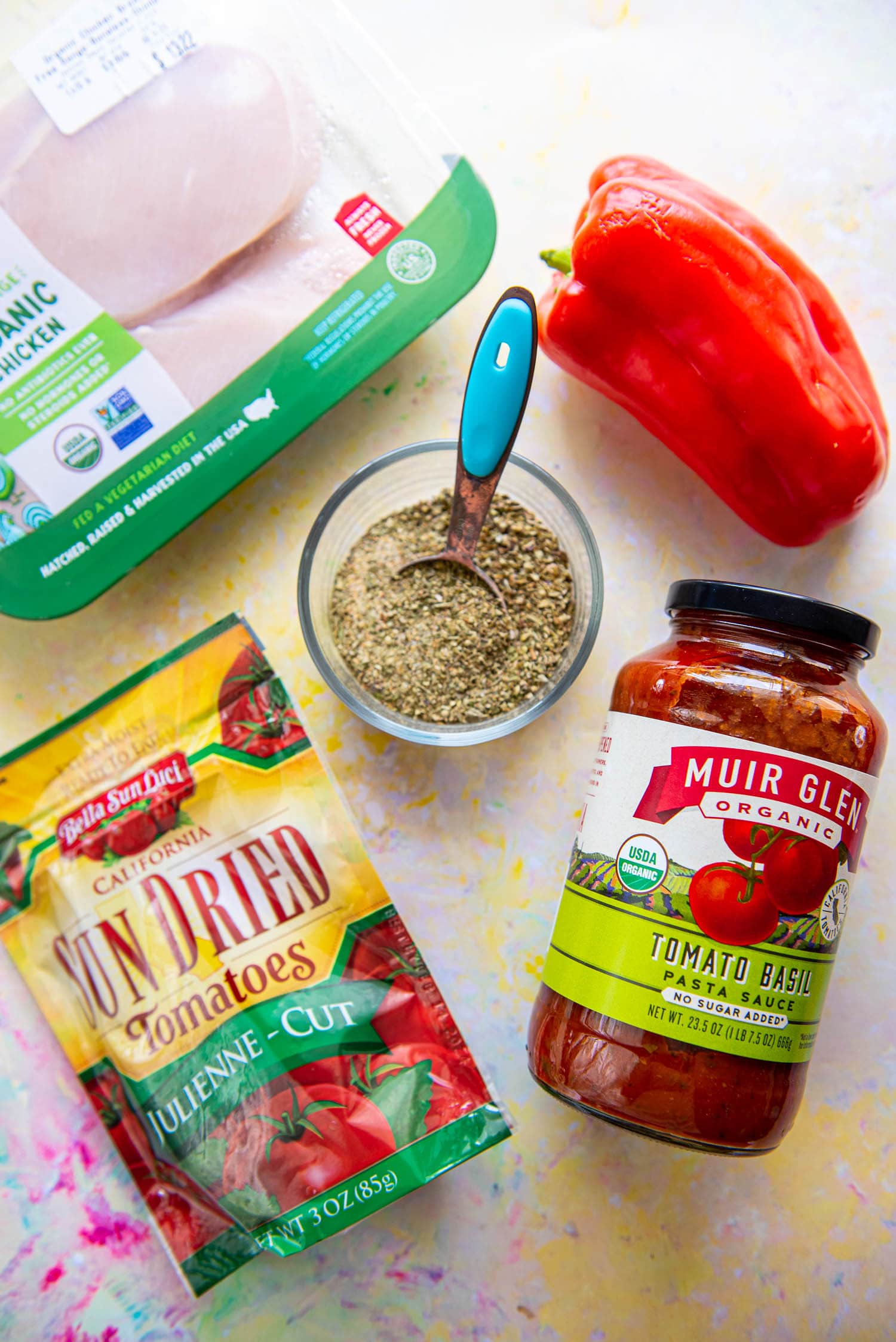 Chicken – Boneless skinless chicken breasts make the best cut and texture to serve in this dish. Boneless skinless chicken thighs will work too!
Homemade Italian seasoning – Use this homemade blend or any other store-bought variety (here is a great organic option). Adjust amount for extra flavor.
Sun-dried tomatoes – You can use sun-dried tomatoes in oil or regular packaged sun-dried tomatoes.
Red bell pepper – Remove the seeds and dice into small pieces. If you prefer, jarred roasted red pepper is a good substitute for fresh bell pepper.
Pasta sauce – This can be any pre-made brand. I prefer using a tomato basil sauce with no sugar added. You could also swap for a plain marinara or any pasta sauce you have on hand.
*Optional – To add a little spice to the dish, sprinkle a few crushed red pepper flakes over the top.
How To Make Slow Cooker Italian Chicken
The steps to make flavorful slow cooker Italian chicken could NOT be any easier!
To begin, start by laying each piece of chicken in the dish and sprinkle generously with homemade Italian seasoning. Next, evenly layer the diced tomatoes and red bell pepper over the chicken breasts.
Carefully layer spoonfuls of tomato basil pasta sauce over each piece of chicken. *Be sure to keep ingredients balanced across each piece of chicken to allow all flavors to blend together.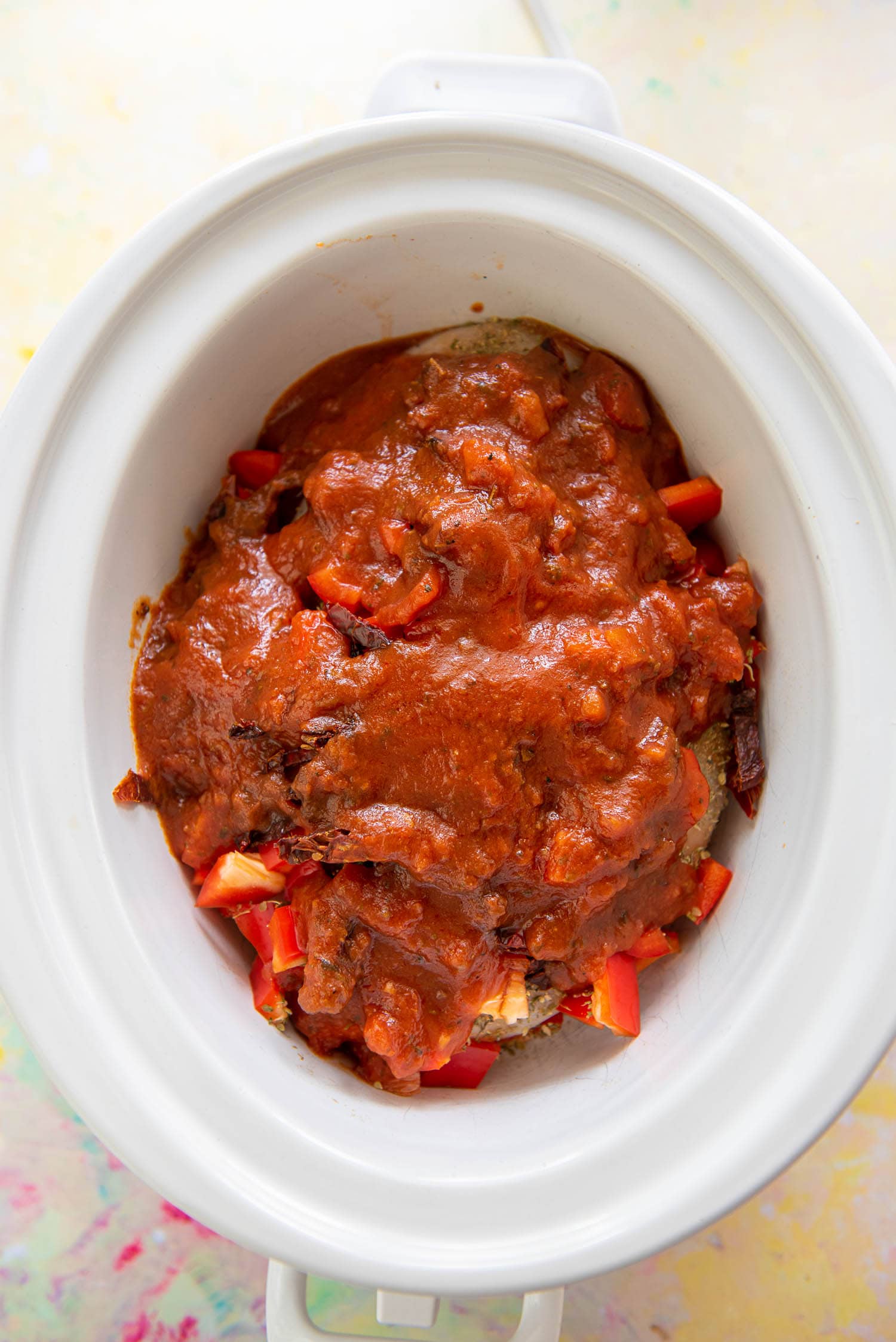 Place the lid on the slow cooker and cook on low for 6-8 hours or on high for 3-4 hours.
As an optional delicious step, top with parmesan or goat cheese near the end. Leave the slow cooker lid on for 15 minutes so the cheese will melt before serving.
Plate each chicken breast with your chosen sides and serve hot!
Recipe Tips & Tricks
Slow cooker Italian chicken is one of the most simple recipes you can throw together for a satisfying dinner. Here are a few additional tips for ease and variety!
I used two large boneless skinless chicken breasts and cut each one in half to make 4 servings. You could also use 4 smaller chicken breasts.
I recommend using a high-quality no sugar added tomato basil sauce for best results
I used sun-dried tomatoes from a package however jarred sun-dried tomatoes in oil should work just as well.
Similarly, fresh red bell pepper substitutes well with a jarred roasted red bell pepper option.
To keep the sauce from burning while cooking for several hours, be sure to wipe any excess from the edges of the slow cooker.
I like to serve this over Banza pasta (this brand has many gluten-free options), but you can use any pasta, rice, or veggie you love!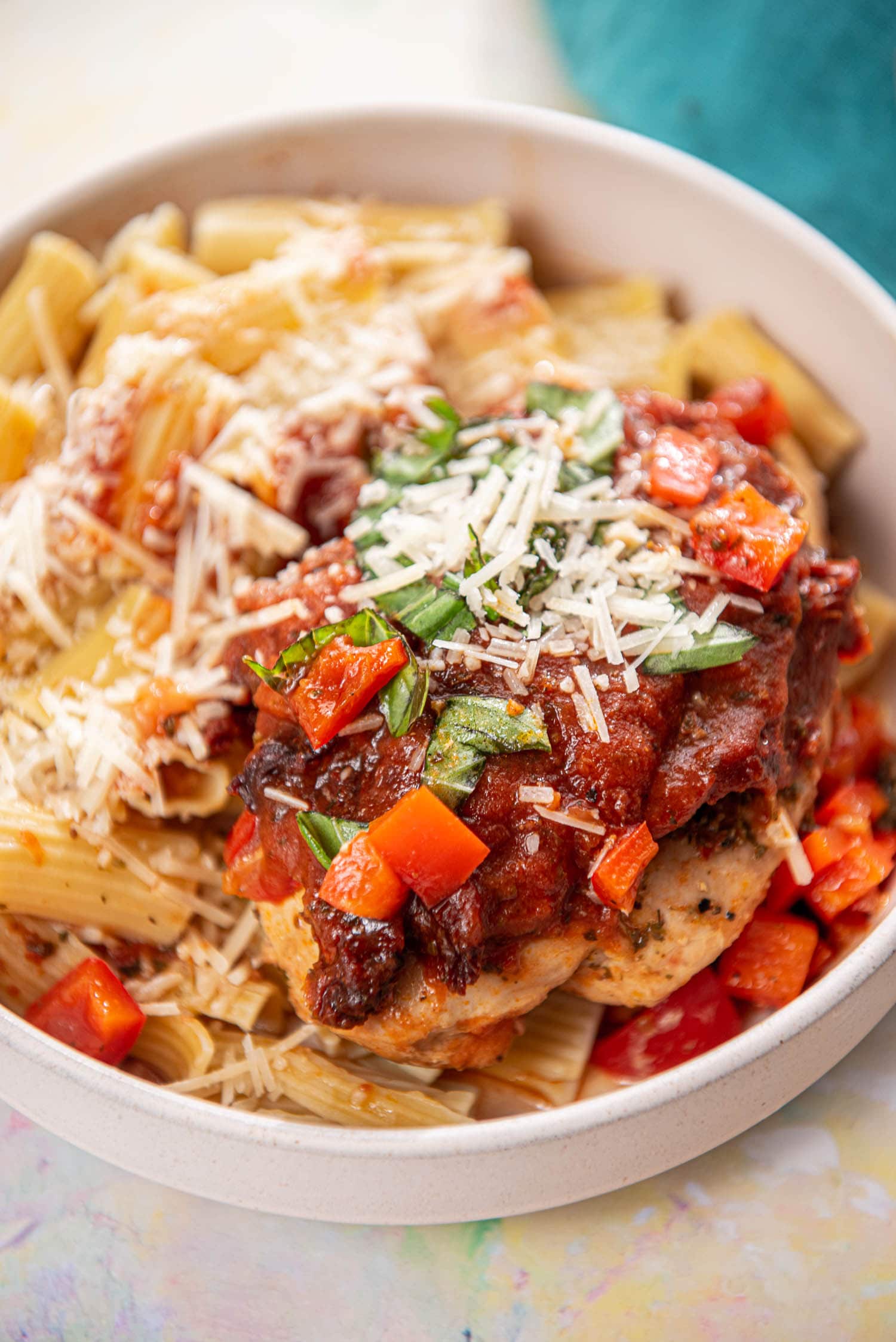 What To Serve With Italian Chicken
Italian Chicken in the slow cooker is a classic flavor that can be served with a variety of sides. For carb-lovers, choose a favorite pasta such as spaghetti or penne and place each chicken breast over a bed of pasta with additional sauce spooned on top.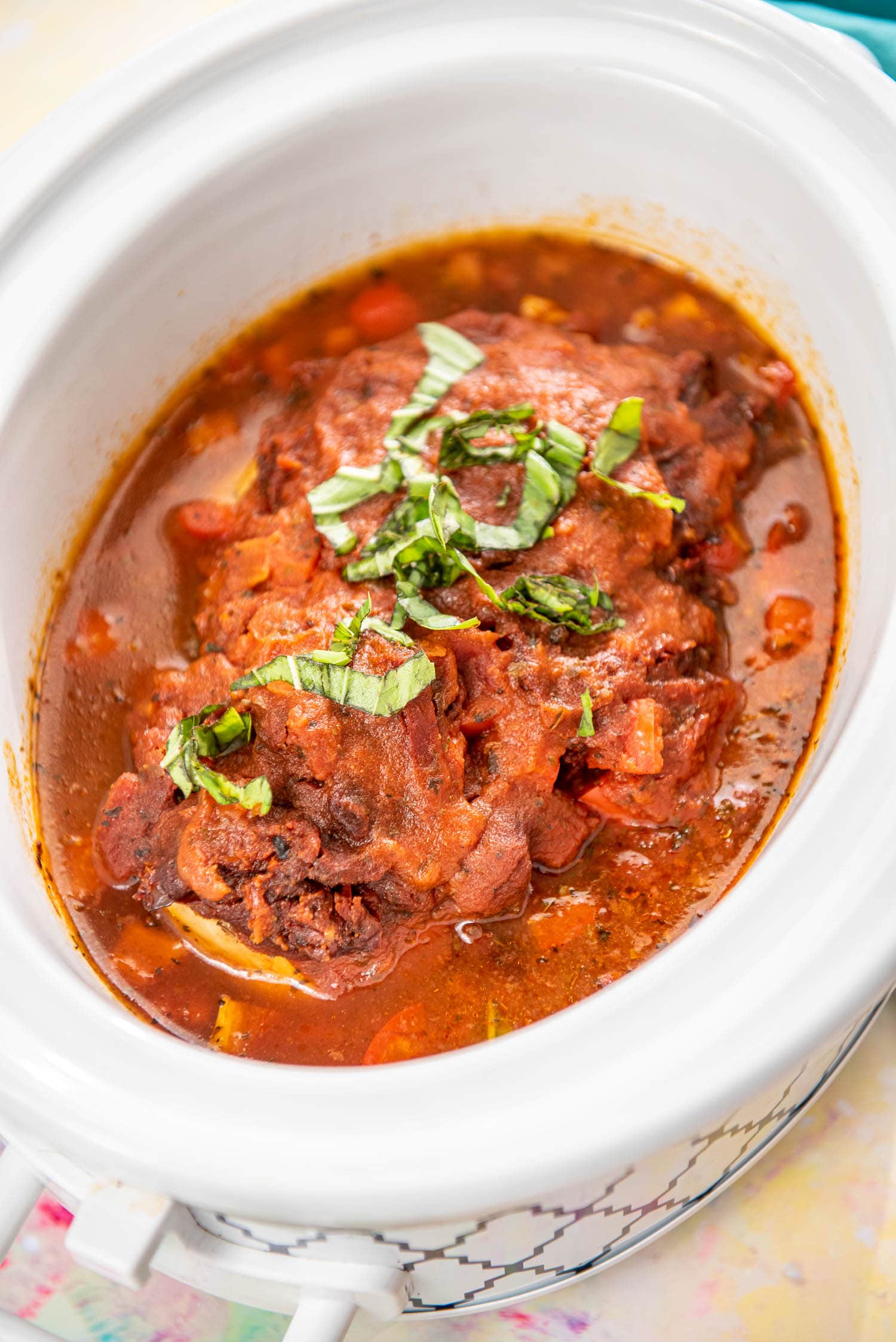 Some other tasty carbs to serve alongside are Slow Cooker Gratin Potatoes, Slow Cooker Creamy Garlic Mashed Potatoes, or a long-grain rice with butter.
Alternatively, carb-conscious veggie sides that complete this dish are Slow Cooker Simple Whipped Cauliflower and Slow Cooker Butternut Squash Linguine. Both make excellent pairings for Italian dishes!
Complete your Italian-themed courses with an antipasto tray, a tossed green salad, a side of broccolini, or toasted bruschetta served with olive oil. Buon appetito!
More Slow Cooker Italian Recipes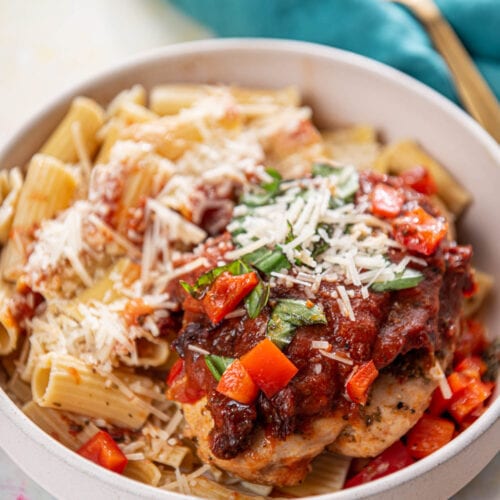 Slow Cooker Italian Chicken
You would never guess that this gourmet-style, flavorful dish is effortlessly made in the slow cooker! With just 5 simple ingredients, bold and classic slow cooker Italian chicken is ready to serve with any of your favorite sides.
Ingredients
1 ½

pounds

boneless skinless chicken breasts

2

teaspoons

homemade Italian seasoning

1/4

cup

diced sun-dried tomatoes

1

red bell pepper

seeds removed and diced

1

cup

tomato basil pasta sauce
Instructions
Add chicken to slow cooker and sprinkle with seasoning

Top with diced tomatoes and peppers

Carefully spoon sauce over each piece of chicken

Cover and cook on low for 6-8 hours or high for 3-4

Optional: Top with parmesan or goat cheese if desired and leave cover on for 15 minutes for cheese to melt before serving
Notes
How to store leftovers for fridge and freezer – Let leftovers cool completely, then refrigerate for up to 3 days. Store in airtight container in the freezer for up to 3 months without cheese toppings or additional sides such as pasta.
Additional ingredients for added flavor? Elevate this dish even further wiith fresh-grated parmesan or shredded Italian cheese and a garnish of fresh parsley. If you prefer a creamy recipe, add in a bit of heavy cream toward the end of cooking to blend with the pasta sauce,
Be sure to lay the chicken breast pieces in a single layer for even cooking and distribution of ingredients.
Nutrition
Calories:
231
kcal
Carbohydrates:
7
g
Protein:
37
g
Fat:
6
g
Saturated Fat:
1
g
Polyunsaturated Fat:
1
g
Monounsaturated Fat:
2
g
Trans Fat:
0.02
g
Cholesterol:
109
mg
Sodium:
507
mg
Potassium:
982
mg
Fiber:
2
g
Sugar:
3
g
Vitamin A:
1336
IU
Vitamin C:
51
mg
Calcium:
22
mg
Iron:
2
mg
Important nutritional disclaimer
Italian Chicken In The Slow Cooker FAQ's
Should you put raw chicken in a slow cooker? Yes, the slow cooker is designed to reach temperatures to thoroughly cook raw chicken. The cooking time in this recipe accounts for cooking time from thawed, raw chicken on either low for 6-8 hours or high for 3-4 hours.
How do you know when chicken is done in a slow cooker? You can test the chicken by either using an instant-read, digital thermometer to be sure the chicken has reached 165 ℉ or if the chicken easily separates when using two forks.
How do you keep chicken from drying out in the slow cooker? To prevent chicken from drying out in the slow cooker, be sure to keep the lid tightly sealed and resist opening throughout the cooking time. This ensures the moisture stays trapped in the slow cooker. Also, keep an eye on cook times at the end to ensure the chicken does not overcook which leads to drying.
How long does it take to cook raw chicken in the slow cooker? Chicken can generally be cooked in the slow cooker for about 3-4 hours on high or 6-8 hours on low. There are some variations in time depending on the initial temperature of the chicken (i.e. partially frozen or refrigerated), size of the chicken pieces, or the volume of other ingredients also in the slow cooker.