Ready to ditch the canned soup and make a simple, easy and delicious Slow Cooker Tater Tot Casserole from scratch? We make this at least once a month at my house!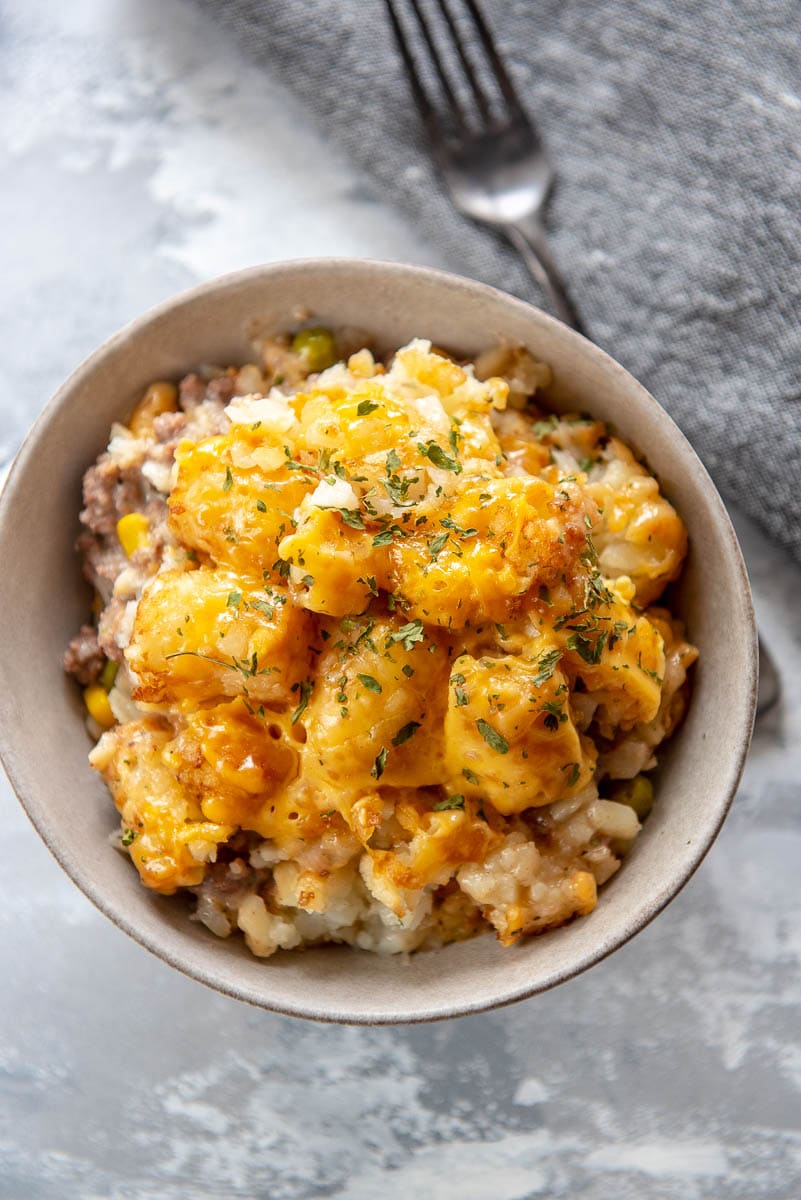 Tater tot casseroles are the perfect throw-together dinners for busy nights.
This Slow Cooker Tater Tot Casserole beats all others--hands down! It's healthier than most because it leaves out the processed soups (that contain ingredients you can't pronounce--yuck!) and adds lots of veggies to make it a complete meal.
Ditch the canned soup and make a simple from-scratch sauce. (Psst! It's simpler than you think!) Making a creamy sauce is so easy you will wonder why you haven't been doing it this way all along. By the time you find the can opener and remember how to use it you can have this sauce simmering away.
Who doesn't receive a meal sign-up request at least once a month? Newlyweds, new babies, loss of a love one, potlucks... I've even gotten requests to help feed teachers during those long school conference days. This casserole is a great option for making ahead and dropping off to feed friends, family, and those in need.
After you try this recipe, give my Slow Cooker Buffalo Chicken Tater Tot Casserole a taste! It's great for meal prep, too!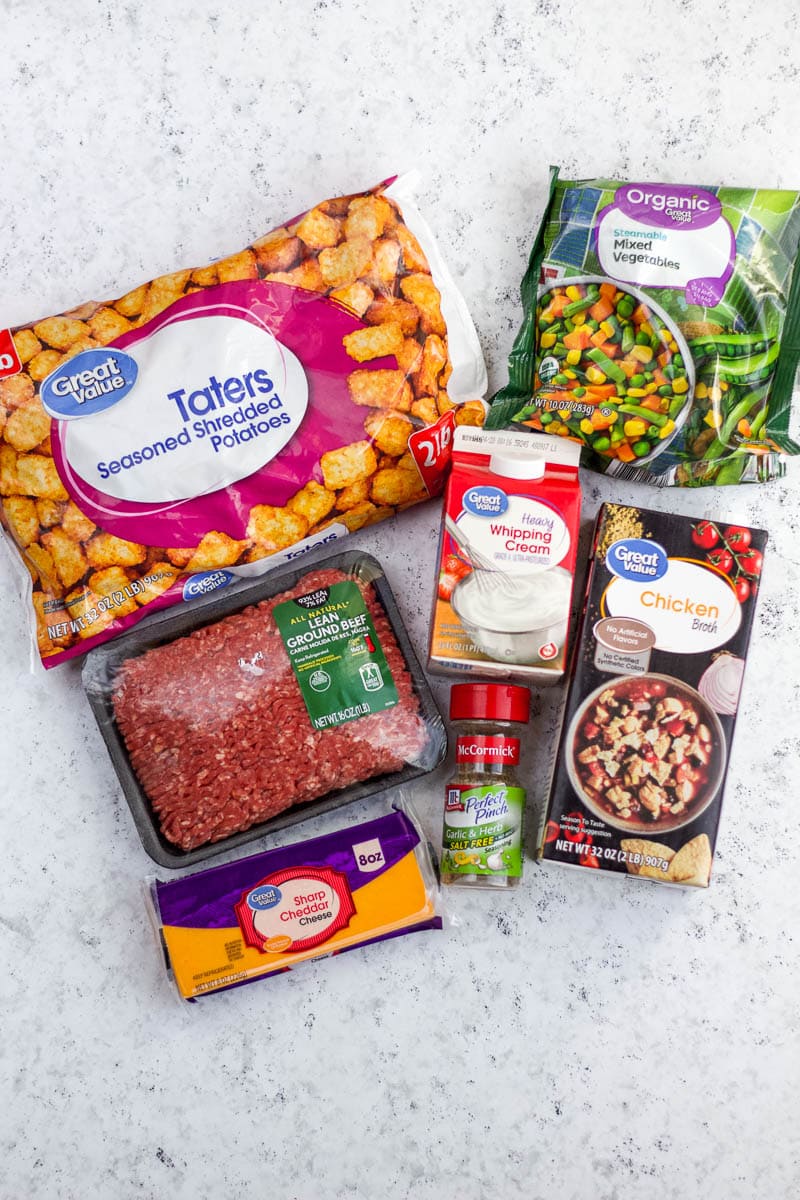 Ingredients You'll Need...
ground beef
flour
chicken broth
herb and garlic seasoning
salt
heavy cream
mixed veggies
tater tots
shredded cheese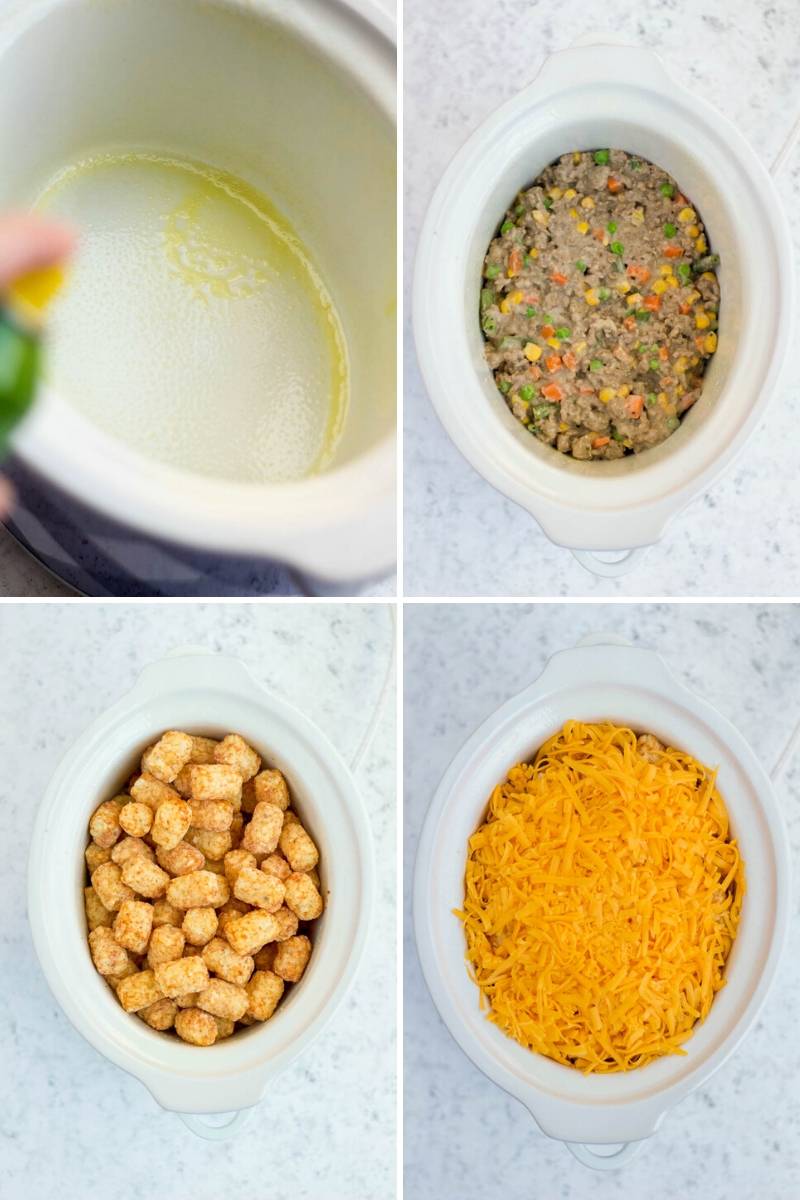 How To Make Slow Cooker Tater Tot Casserole:
In a large skillet brown ground beef over medium high heat until fully cooked and no pink remains and drain any fat

Add flour and stir to coat beef evenly
Slowly add broth while continuing to stir to ensure no lumps from the flour
Add seasonings, bring mixture up to slow boil, then reduce to simmer
Let simmer 5-7 minutes until broth thickens to coat the spoon
Stir in the cream and continue to simmer for another 3-5 minutes to let everything thicken to the consistency of cream soup
Add veggies and stir to combine evenly
Spray slow cooker with cooking spray
Add meat mixture
Top with tater tots and cheese
Cover and cook on high 3-4 hours or low 6-8 hours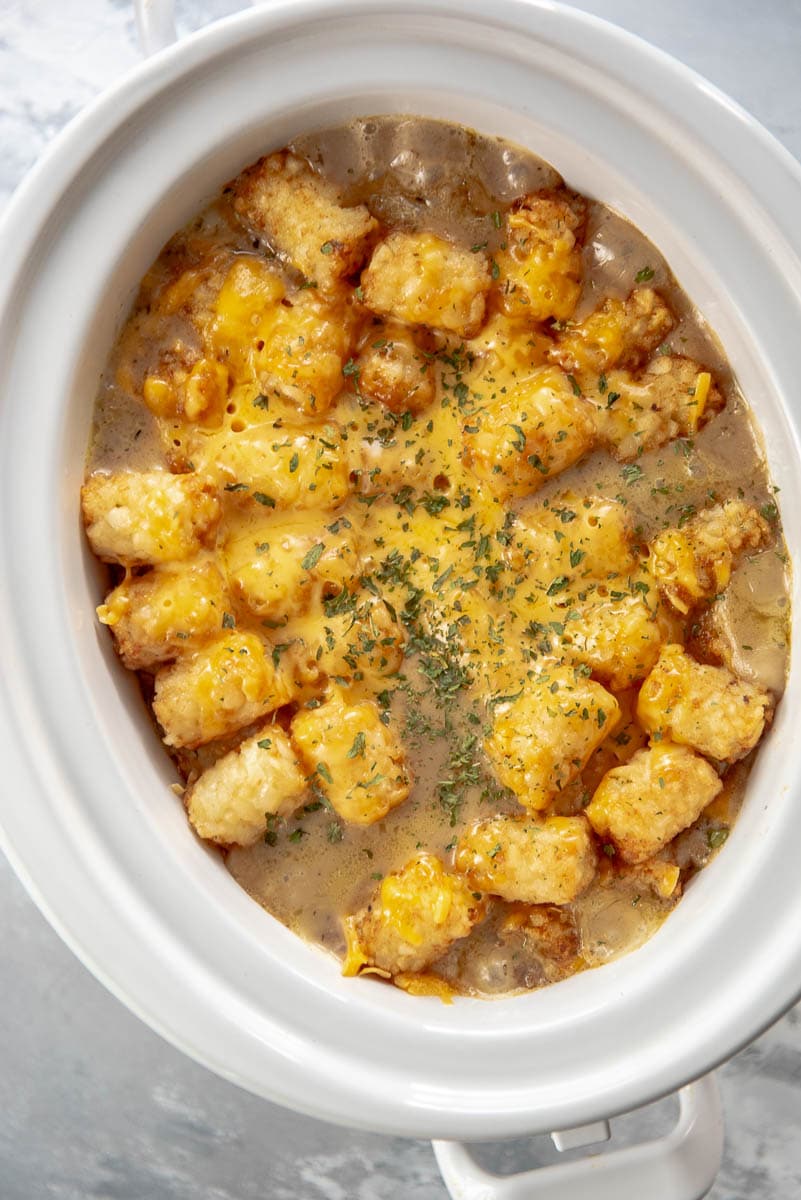 Pro Tips:
This turned out perfectly when I made it in my 5-qt oval slow cooker! You can use any slow cooker you have, provided it's at least 3 quarts. An oval sized slow cooker or a casserole slow cooker are best. I used my mini casserole slow cooker and it was perfect.
You may have to stack the tater tots depending on how much space you have. If you have a multi cooker you can make this all in one pot.
Any mixed veggies you like are a great addition and for the seasoning I prefer using frozen veggies for convenience but you could use some fresh veggies as well, as long as they don't have a lot of water content. Change up your mixed veggie combinations to add some variety.
Use any seasoning blend you like that goes will with beef and veggies.
**Tater tots will not be as crispy as if you had made them in the oven.**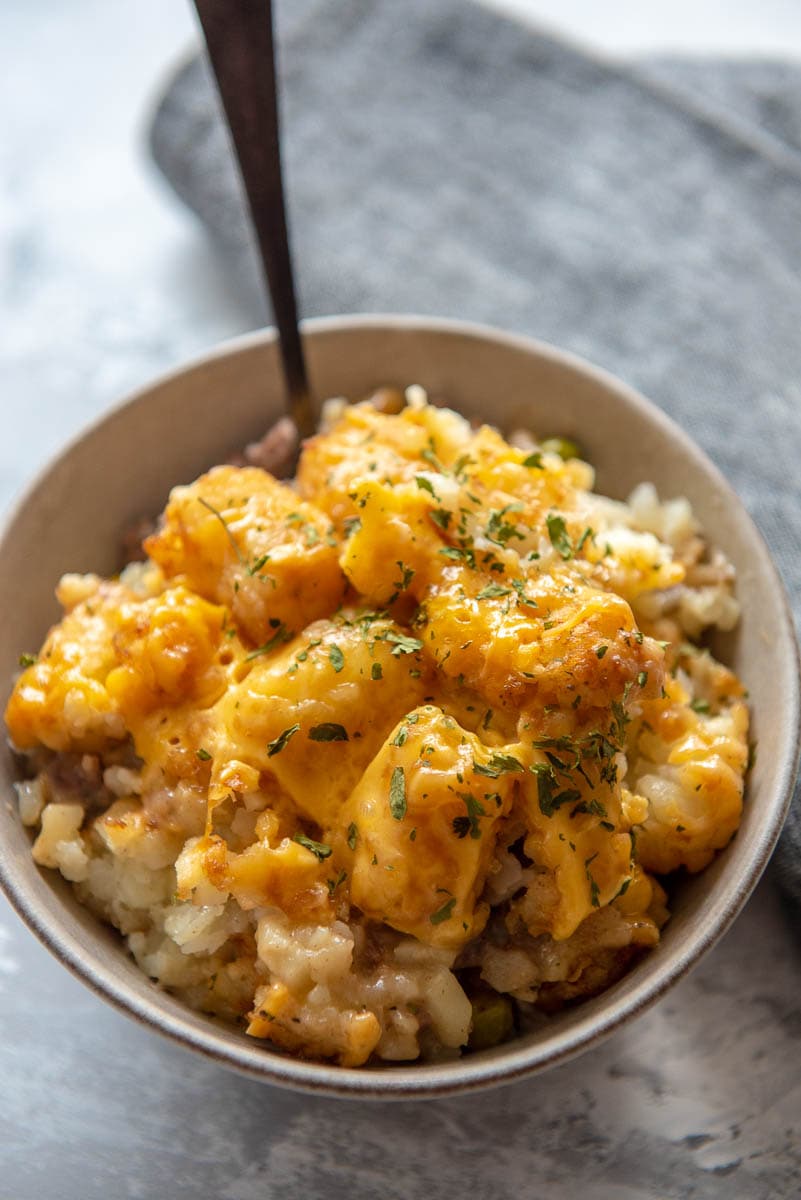 Freezer Meal
follow all recipe steps through #7
Let cool then place in zippered freezer bag
smooth to lay flat and place in freezer
can freeze up to 3 months
thaw before cooking and continue with step #8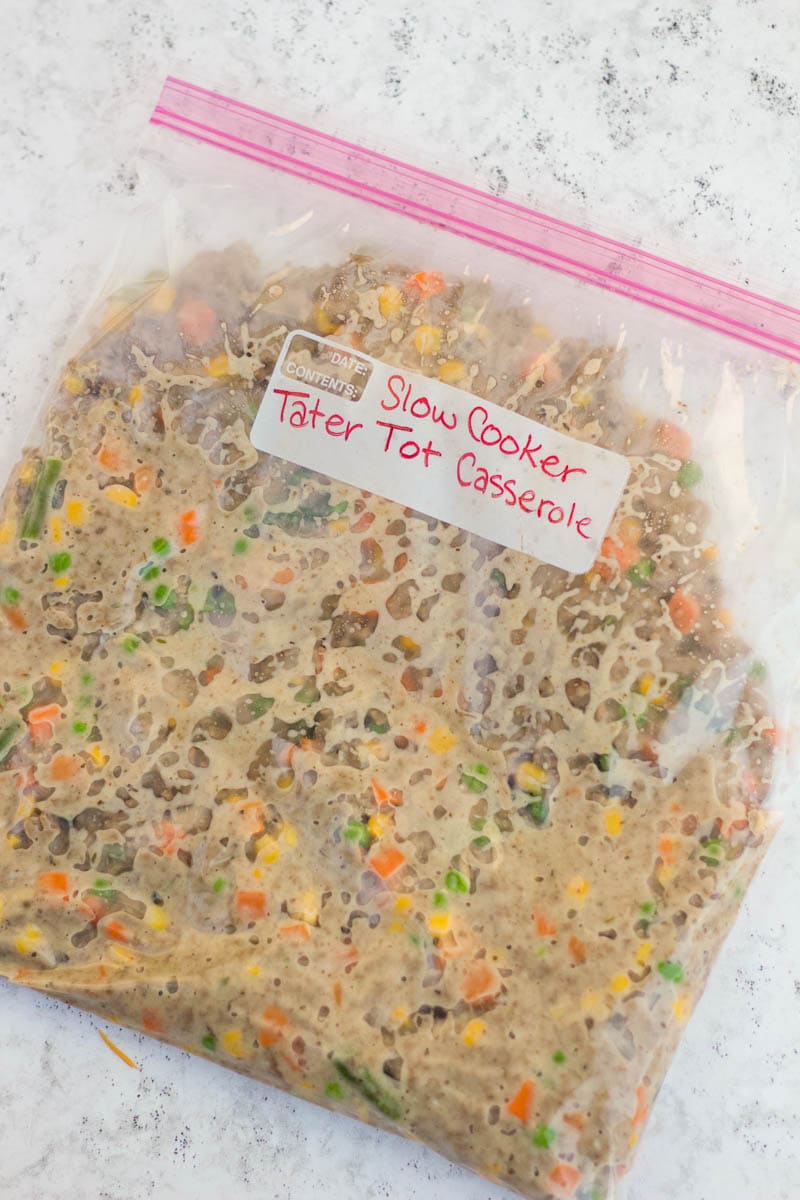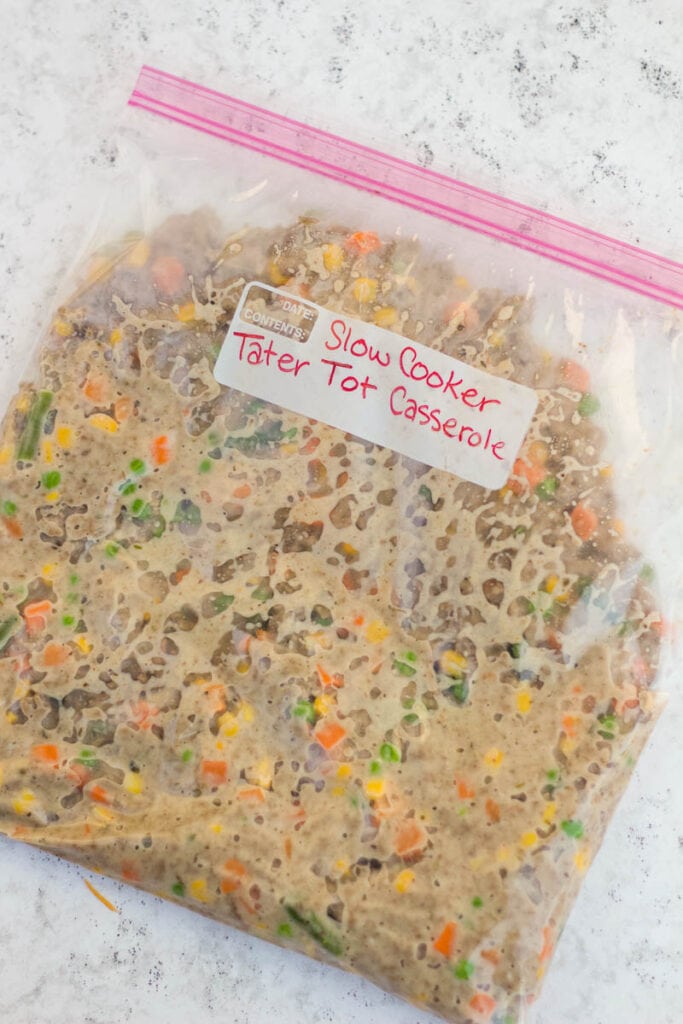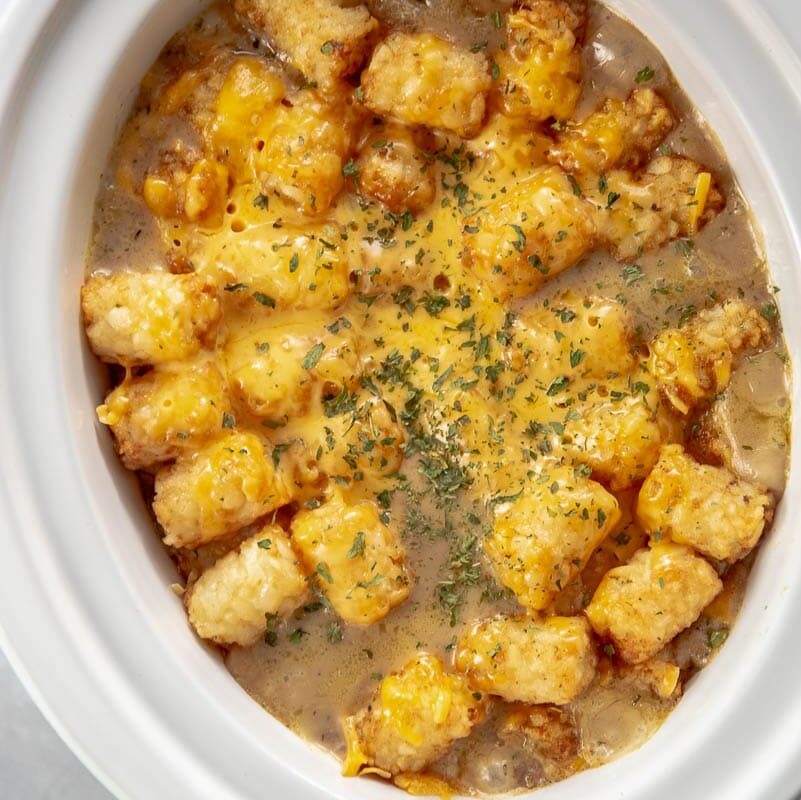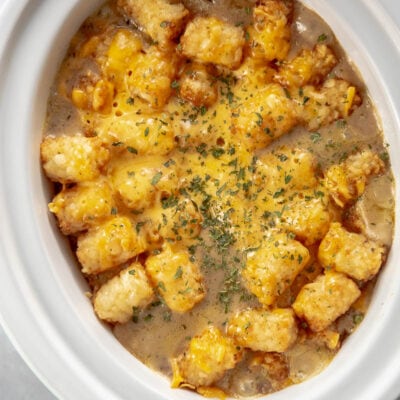 Slow Cooker Tater Tot Casserole
Ready to ditch the canned soup and make a simple, easy and delicious Slow Cooker Tater Tot Casserole from scratch? We make this at least once a month at my house!
Ingredients
1

pound

ground beef

¼

cup

flour

1 ½

cups

chicken broth

2

teaspoons

herb and garlic seasoning

or favorite seasoning blend

1

teaspoon

salt

¼

cup

heavy cream

2

cups

frozen mixed veggies

24

ounces

frozen tater tots

8

oz

shredded cheese
Instructions
In a large skillet brown ground beef over medium high heat until fully cooked and no pink remains and drain any fat

Add flour and stir to coat all beef evenly with flour

Slowly add broth while continuing to stir to ensure no lumps form from flour

Add seasonings and bring mixture up to a slow boil and then reduce to a simmer

Let simmer for about 5-7 minutes until broth thickens to coat the spoon

Stir in the cream and continue to simmer for another 3-5 minutes to let everything thicken to the texture of cream soup

Add veggies and stir to combine evenly

Spray slow cooker with nonstick spray

Top with tater tots and cheese

Cover and cook on high for 3-4 hours or low for 6-8
Notes
If using fresh veggies, be mindful of the water content
5 qt oval slow cooker works best
Nutrition
Calories:
414
kcal
Carbohydrates:
32
g
Protein:
22
g
Fat:
22
g
Saturated Fat:
9
g
Cholesterol:
69
mg
Sodium:
907
mg
Potassium:
584
mg
Fiber:
4
g
Vitamin A:
2630
IU
Vitamin C:
11.1
mg
Calcium:
199
mg
Iron:
3
mg
Important nutritional disclaimer