Whole Roast Chicken: Slow Cooked vs. Smoked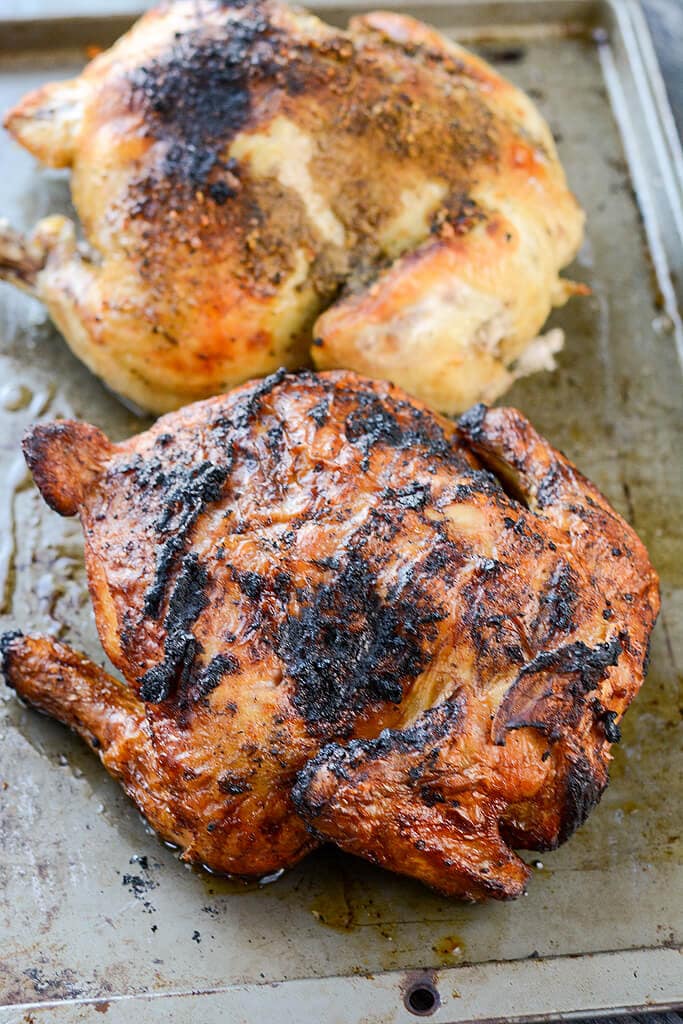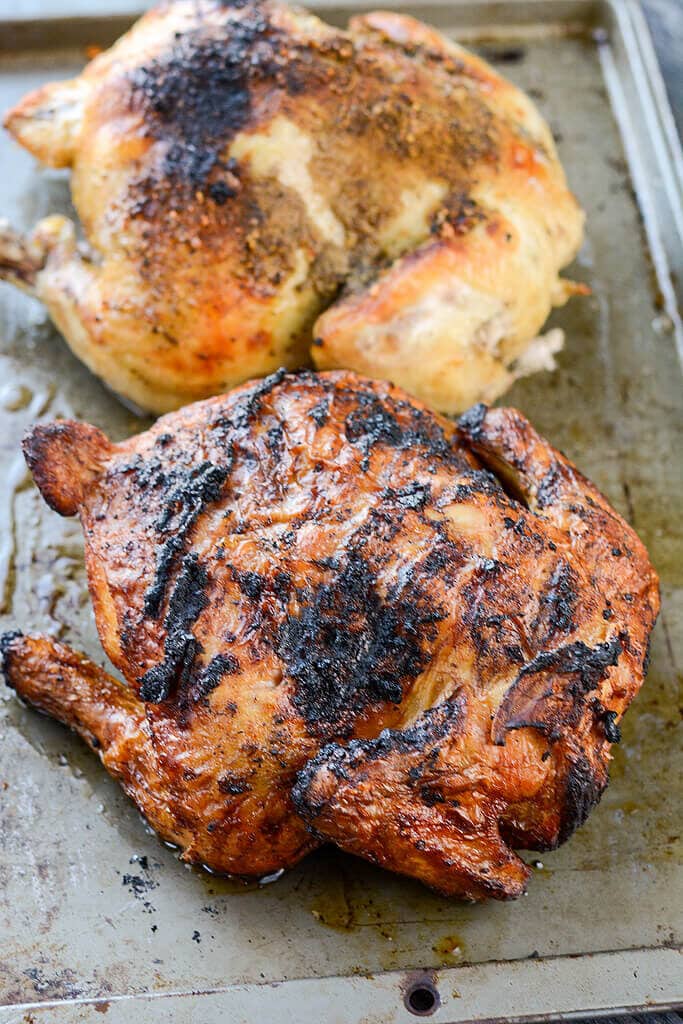 If you read my blog regularly, then you know that I use my slow cooker year round and actually probably even love it more during the summer since it keeps me from standing over a hot stove on a hot day. Not to mention how it frees up my afternoons to be able to take the kids swimming and not have to rush back to get dinner ready. That being said, it's not the only style of cooking I love and from time to time on a nice day I sure do love firing up the grill. This year I've been able to up my game even more as my mother-in-law lent us her smoker and I've been trying out tons of new recipes. Although I won't really be sharing many grilling recipe here (if you are interested in those, you can head to my other site, Garnished Plate!) I did want to share this comparison of cooking up a whole chicken on the smoker/grill vs. the slow cooker in case you've ever wondered what the difference might really be.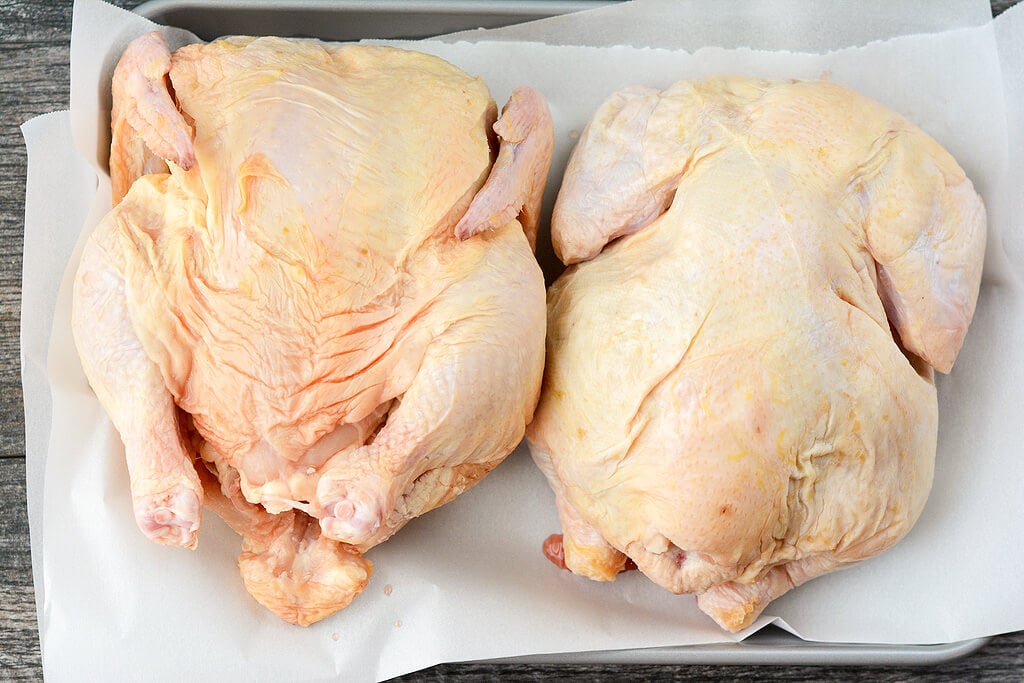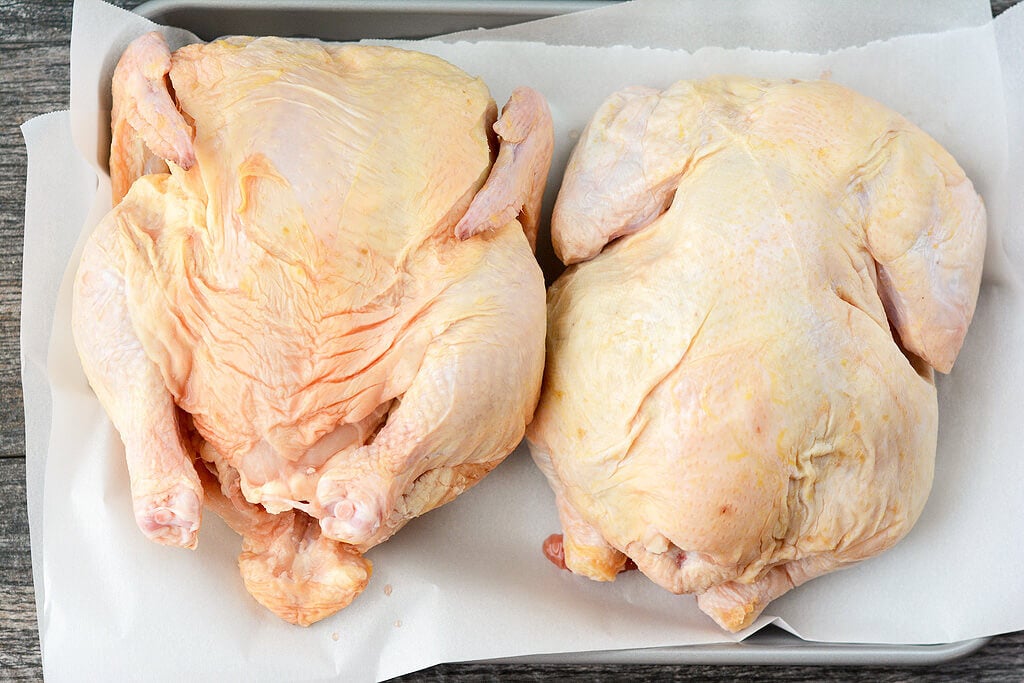 Stopping to grab a rotisserie chicken on the way home is something a lot of us love to do when running short on time. And for good reason! It's great as is with some tasty side dishes, it's great shredded up and used as sandwiches, and it's great to use it as the base of casseroles and other recipes. And the ones you can buy already cooked at the store are often delicious (although I've gotten a few dry ones too). But have you ever tried making your own? I love it because I can control the seasonings and what is going into it. Here you can see I started out with two same-sized chickens and decided to make them both on the same day to see if one cooking method would actually make better chicken.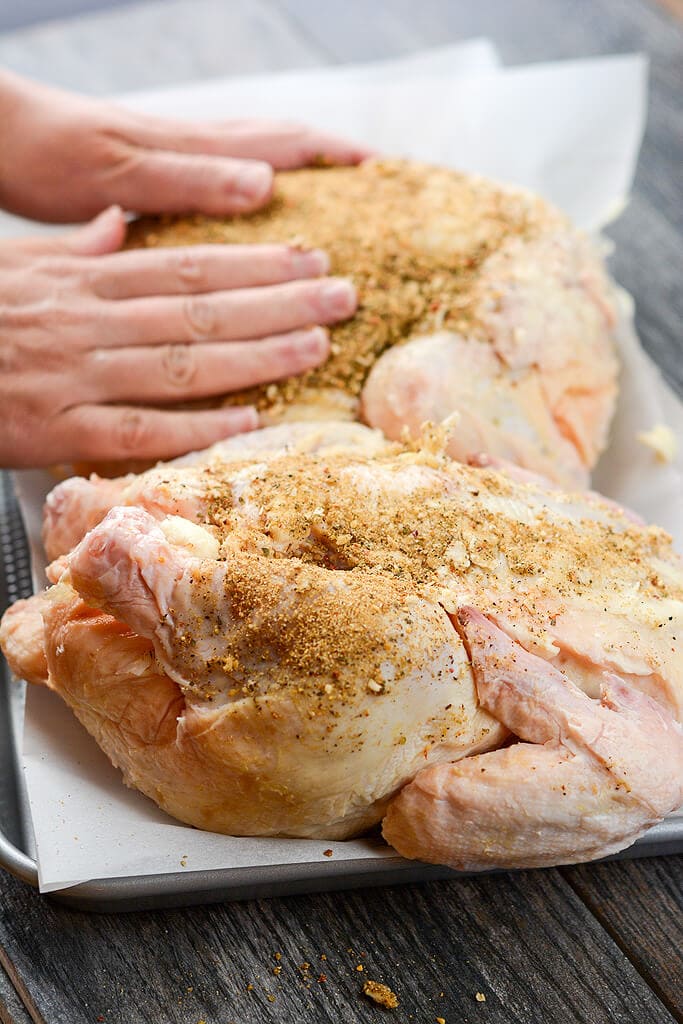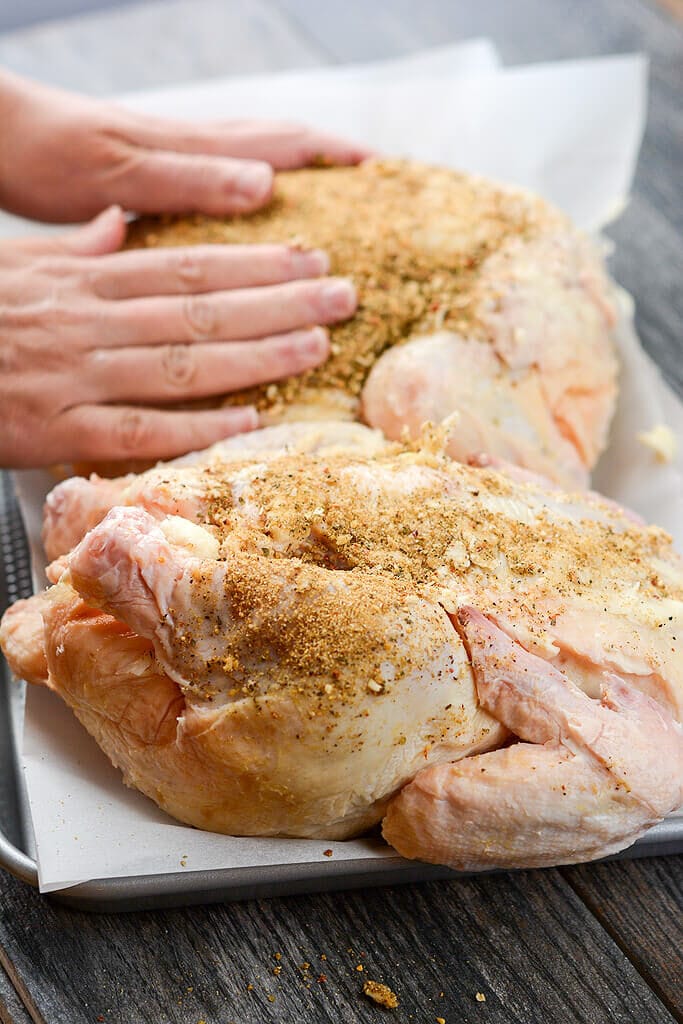 I kept the seasonings super simple. Just rubbed them down with a little olive oil and used some of my favorite Penzey's seasoning. You could also use Italian seasoning, Montreal Chicken Seasoning, or whatever your favorite is.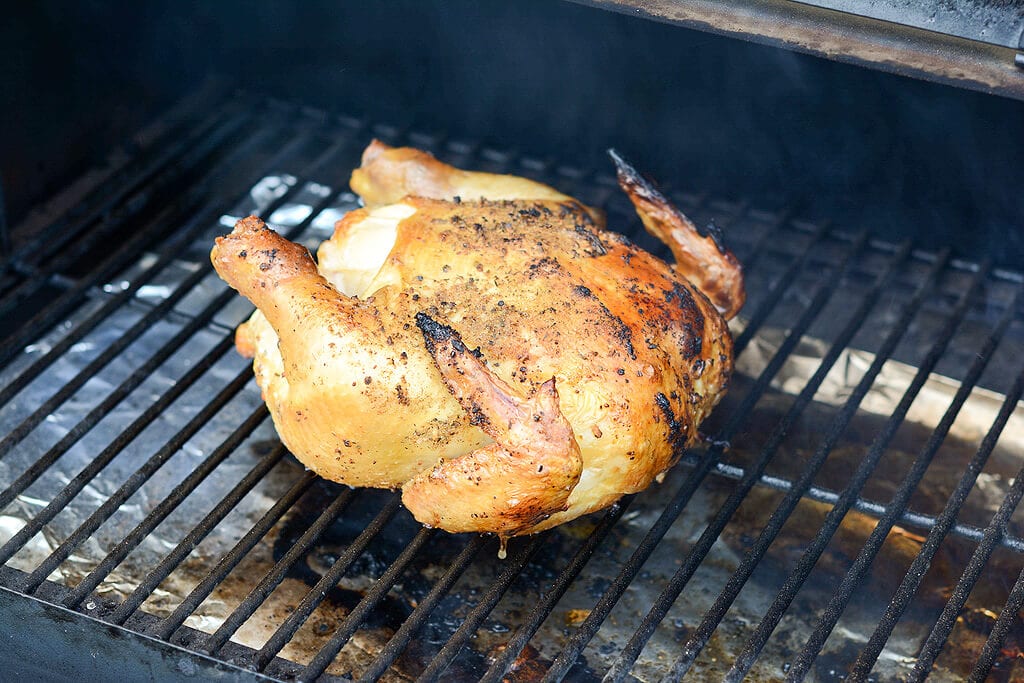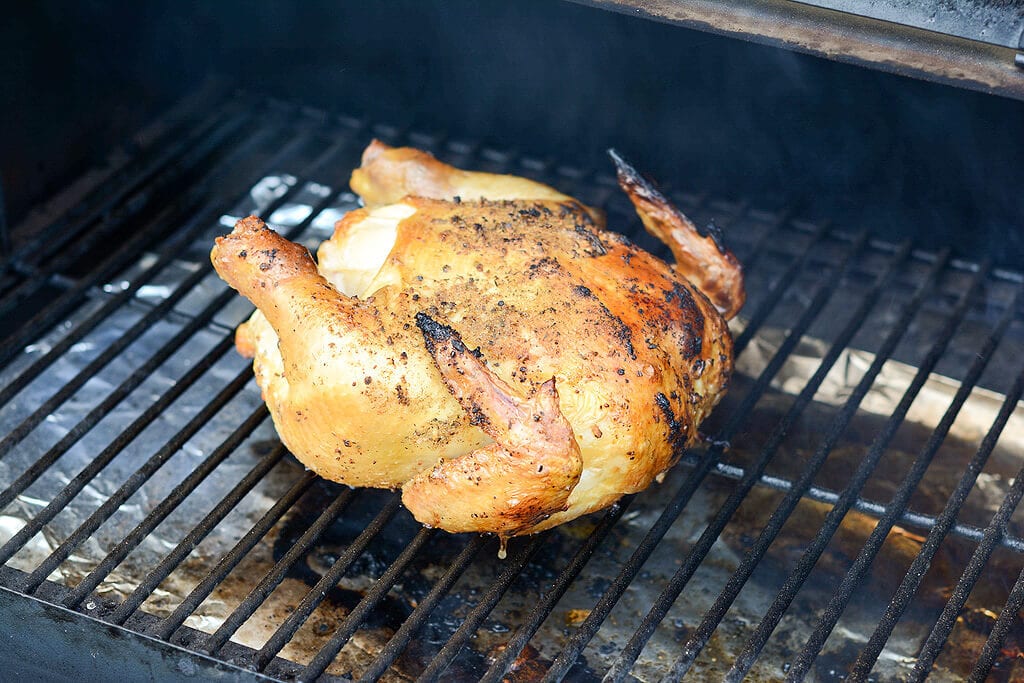 I plopped the first chicken into the slow cooker with a bit of liquid and set it on high for 4 hours. Then I waited until a little later in the day and fired up the grill/smoker for the other. The smoker I used is a small Traeger and I filled it up with some applewood flavored pellets. It takes around an hour at a temp of 400-450 degrees to get the whole chicken cooked, so I also used a remote thermometer to help me keep an eye on it and remain as hands off as possible.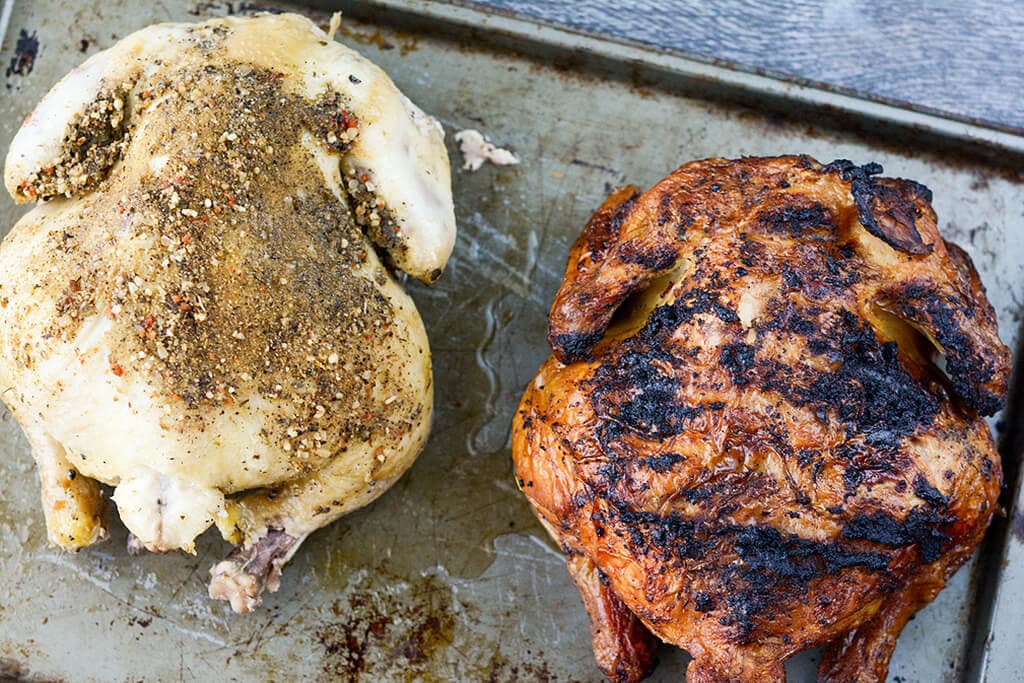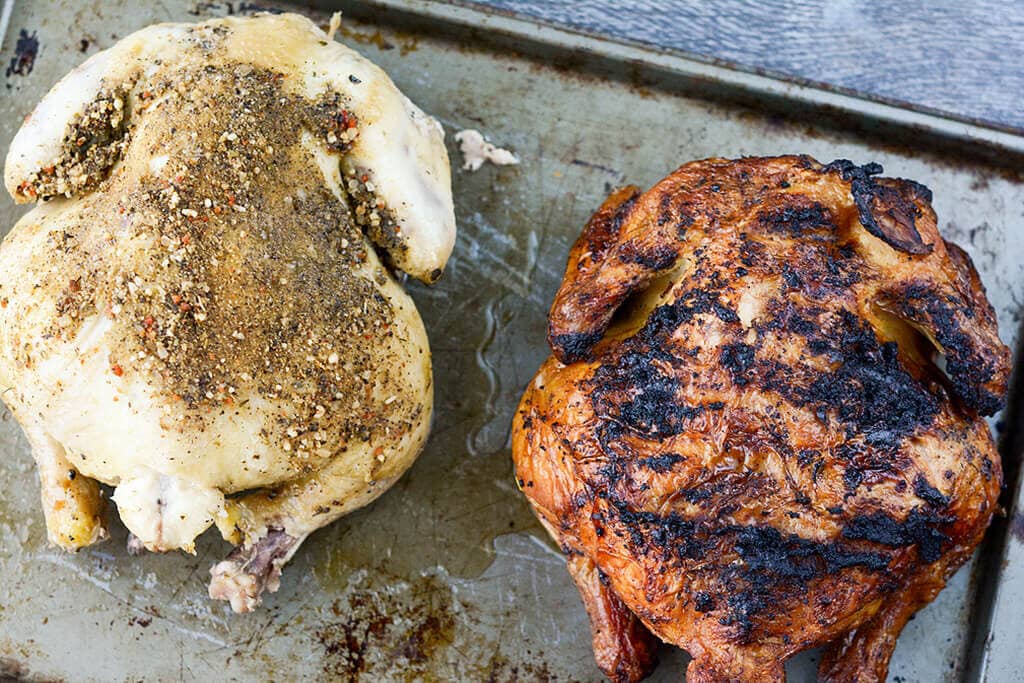 Here's the chickens right after they are both done (internal temp of 170 to be fully cooked). Obviously, the grilled chicken looks so much better.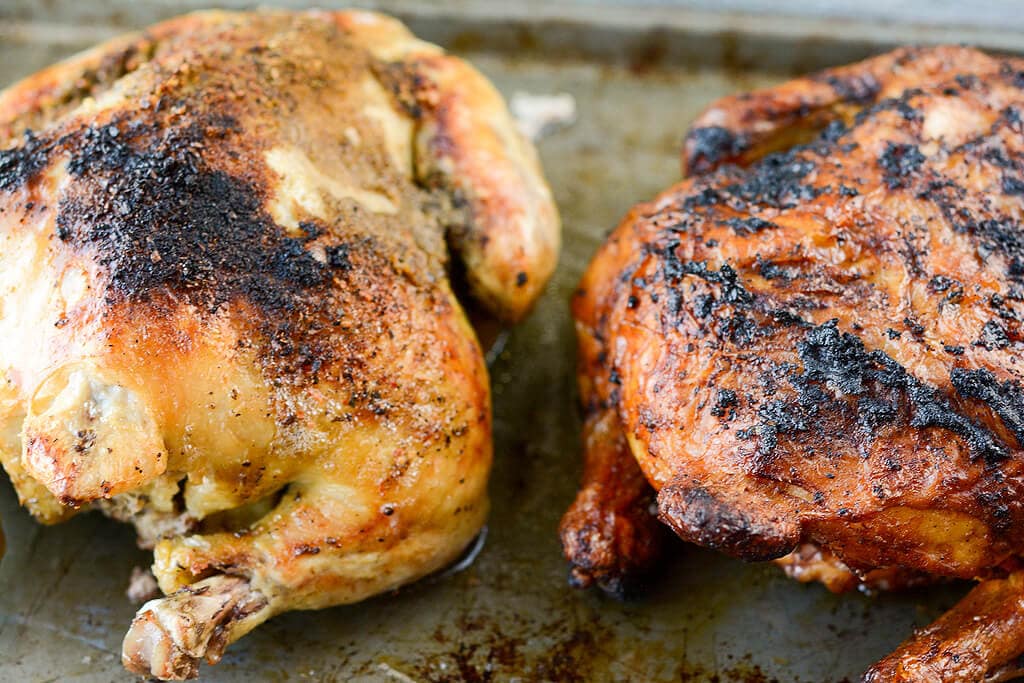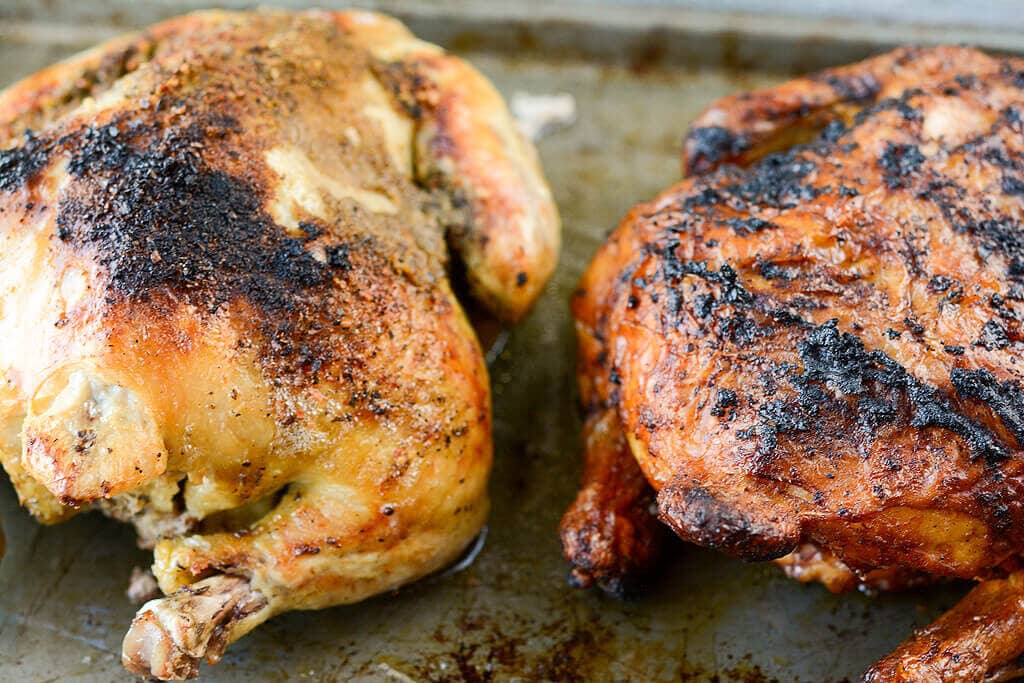 Just to see what difference it might make, I popped the slow cooked chicken under the broiler for a couple of minutes to brown up the skin. You could also have browned it in a skillet or multi-cooker before slow cooker like I do in this recipe. So who wins?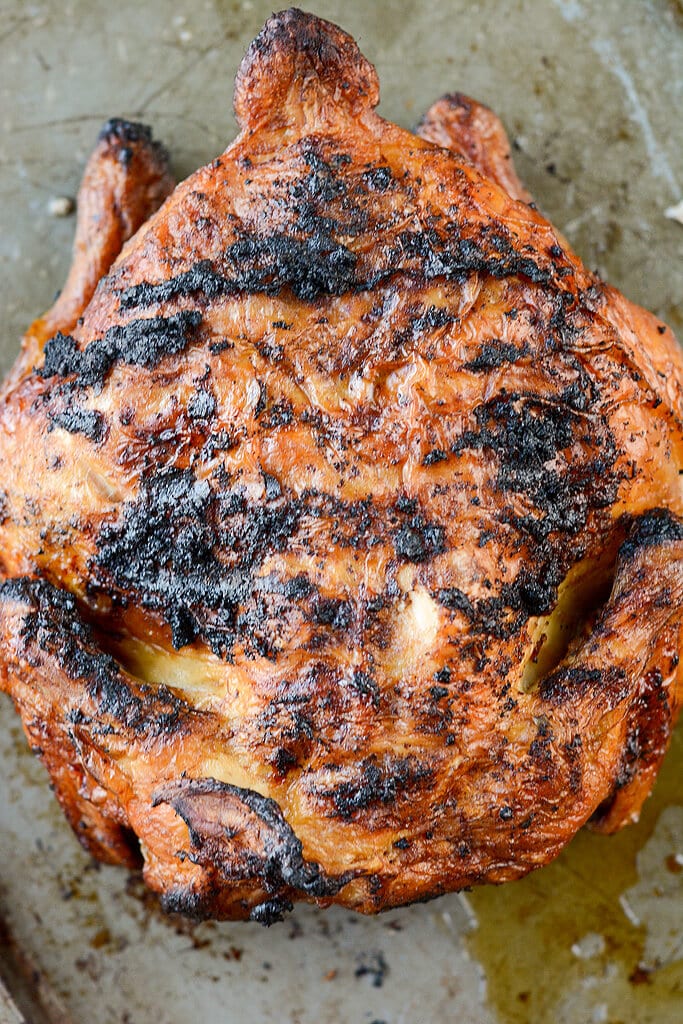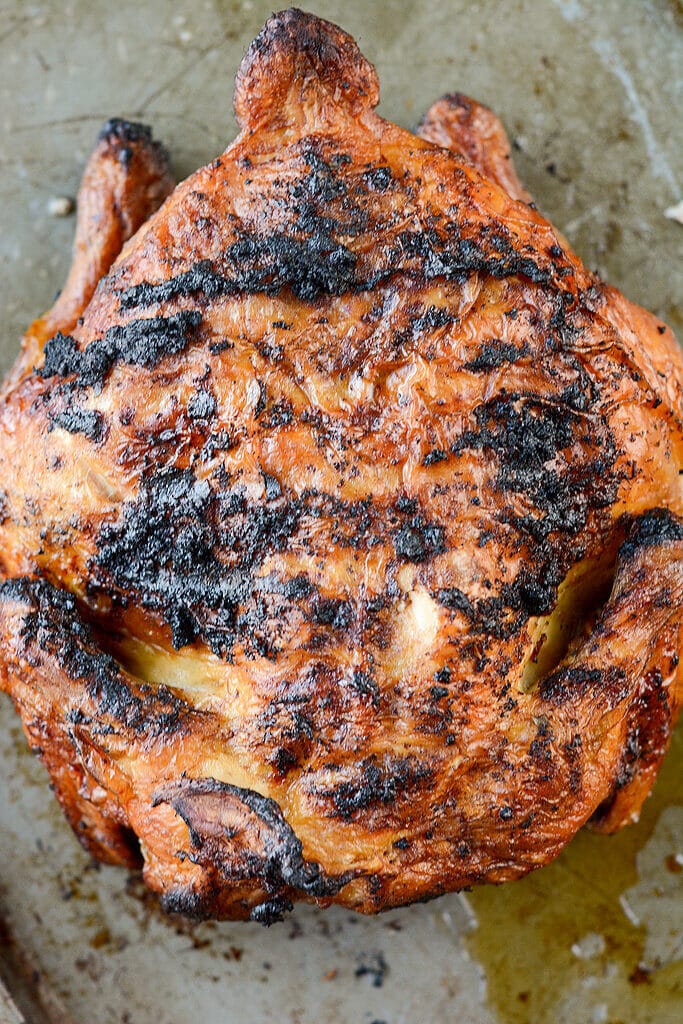 Well, this grilled guy wins for most photogenic. And the smokiness did add another level to the flavor. But then the slow cooker version won out for being most juicy. And staying the most juicy as leftovers. And it was by far the easiest as I could just throw it in the slow cooker and walk away and even leave my house vs. needing to keep an eye on the grill for over an hour. So all it all my answer is….. It depends! I'm so helpful right? At the end of the day, what are you using the chicken for and how much time do you have will help you answer the question for yourself. Both chickens were delicious and I used up every last bit of both of them for recipes during the week.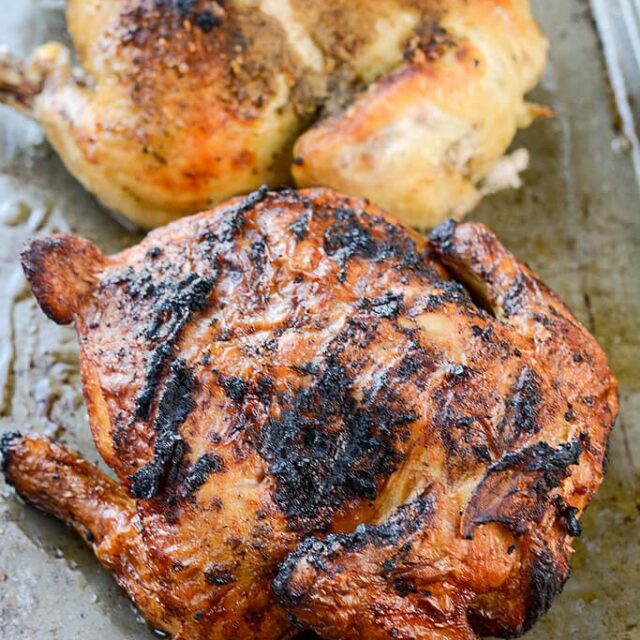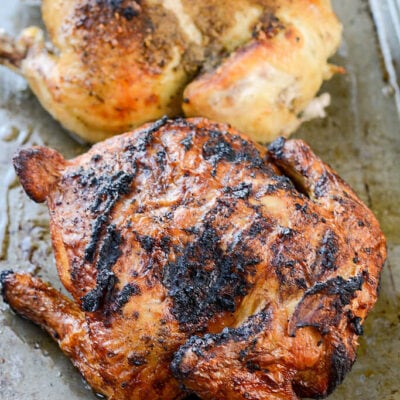 Smoking vs. Slow Cooking: Whole Chicken
Ingredients
This recipe is for one chicken - cooking method of your choice:
3-4

pound

whole chicken

2

tablespoons

olive oil

2-3

teaspoons

seasoning blend

I used Penzey's Mural of Flavor

1

cup

broth or water

if slow cooking
Instructions
Rub chicken with olive oil and sprinkle with seasoning
To slow cook:
Add seasoned chicken to slow cooker

Carefully pour liquid into bottom, careful not to wash of seasoning

Cover and cook on low for 8 hours or high for 4

If desired, place on broiler safe pan in oven for a few minutes to brown
To grill:
Preheat grill/smoker to about 450 degrees and add your favorite wood chips/pellets as appropriate for your grill

Place chicken on grill and maintain temperature at about 400-450 degrees

Cover and cook for about an hour until chicken is done (170 degrees)
Important nutritional disclaimer
I'd love to hear from you! Share your thoughts on the best way to make a whole roasted chicken!! Is it slow cooking, grilling or stopping at Costco?!
More slow cooked chicken recipes:
Slow Cooker Whole Roast Chicken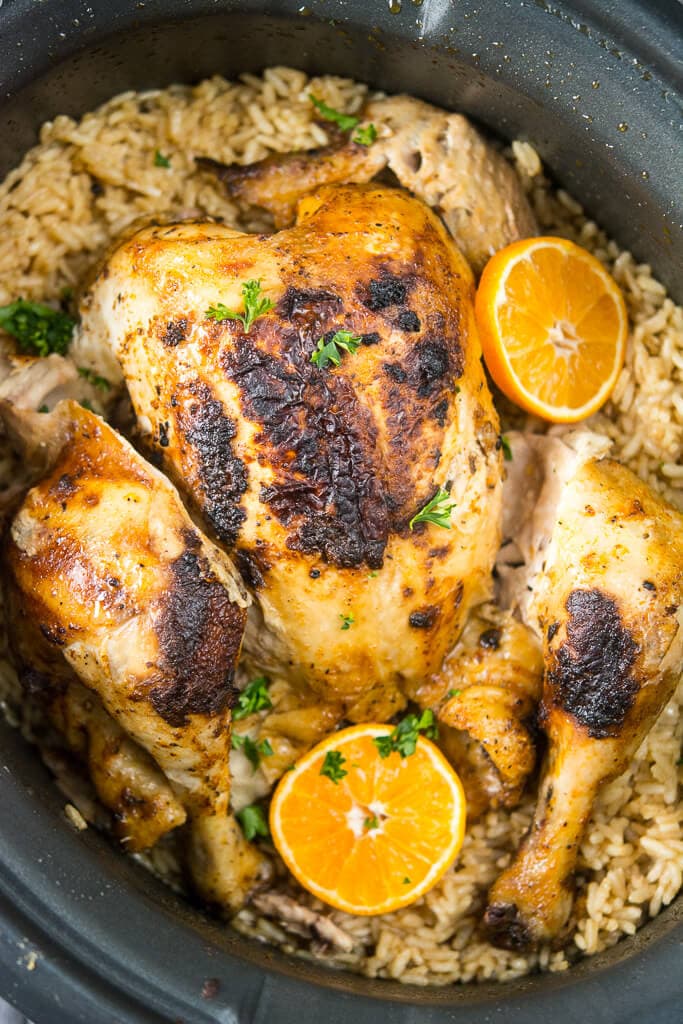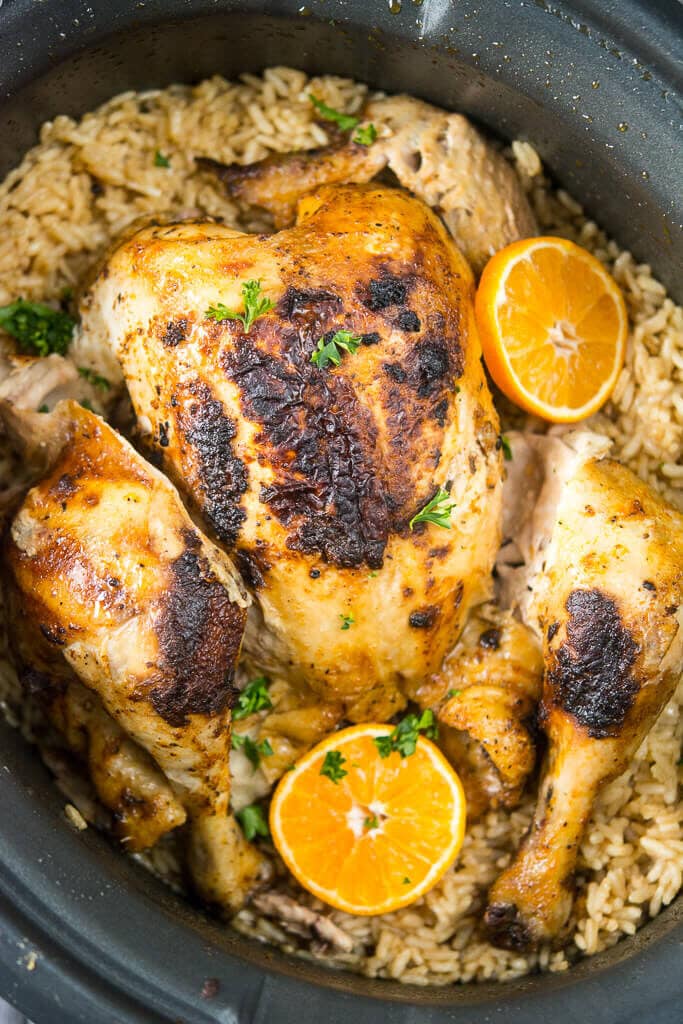 Slow Cooker Tequila Lime Chicken