Crockpot Skinny Mashed Potatoes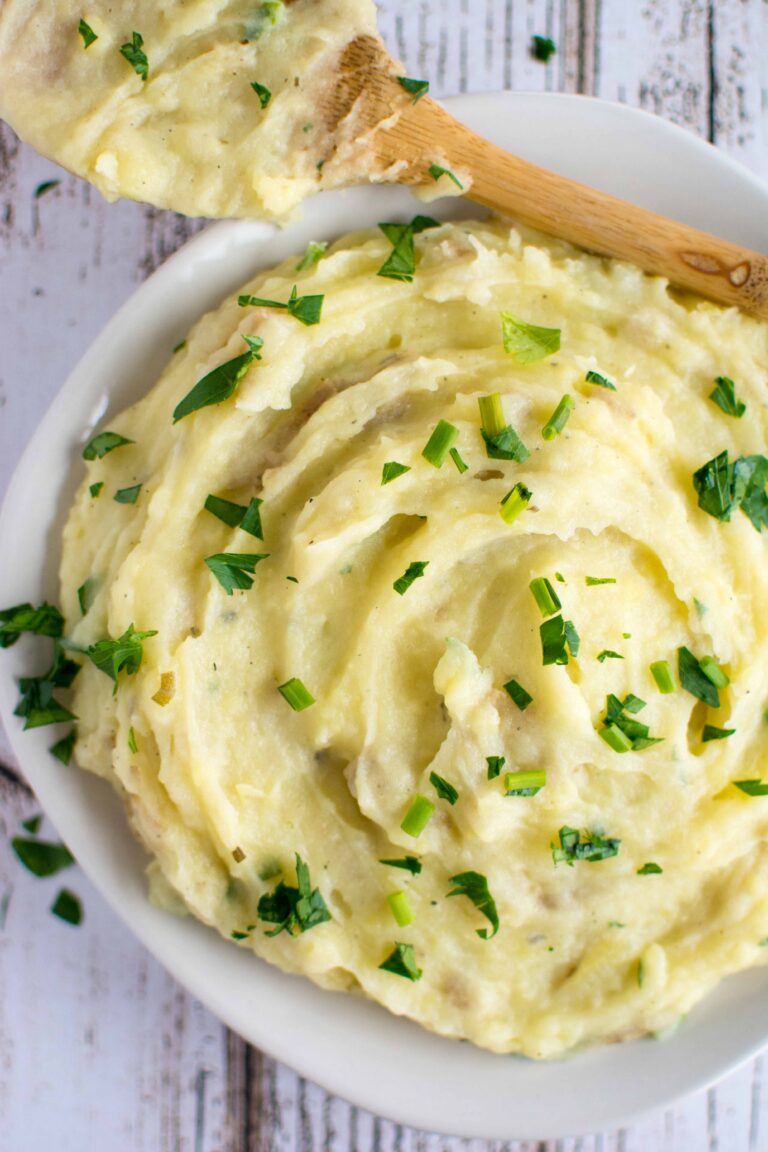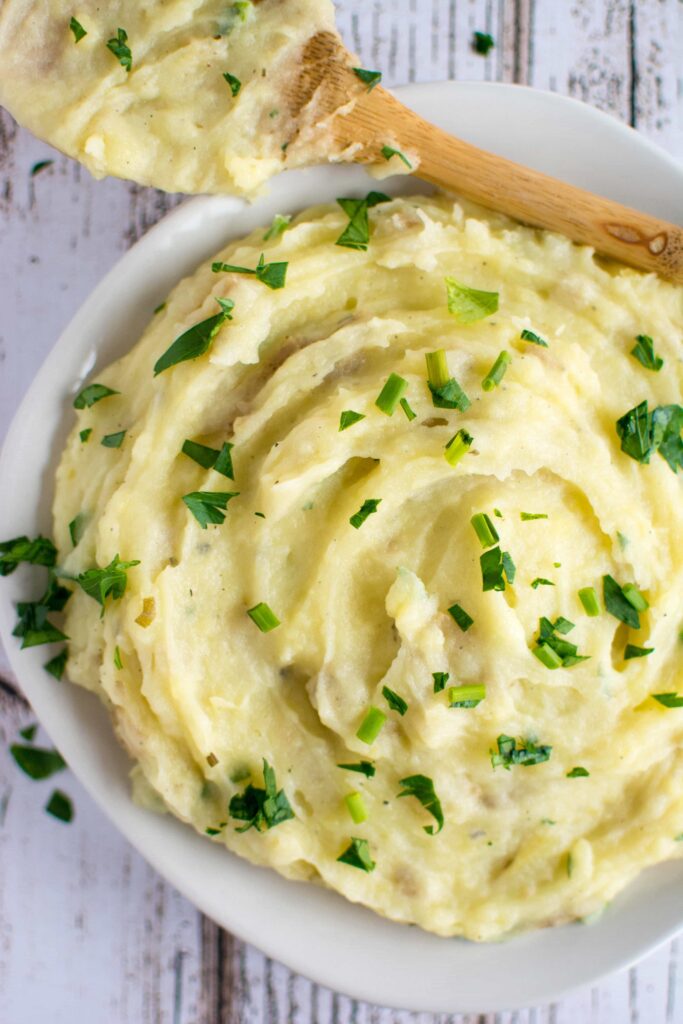 No really, it's me! I swear! The girl who usually posts recipes for mashed potatoes loaded up with cream and butter and, well, everything else loaded with cream and butter. And really for the most part I'm all about the idea of just eating the real thing and enjoying every bite and just moderating how much I eat of it (or at least trying). But I also got to thinking that it sure would be nice to have mashed potatoes on more than just a special occasion and when I do I don't really need any guilt to come along with them. So I challenged myself to come up with a recipe that even this mashed potato snob would love and I promise you that you will love these too!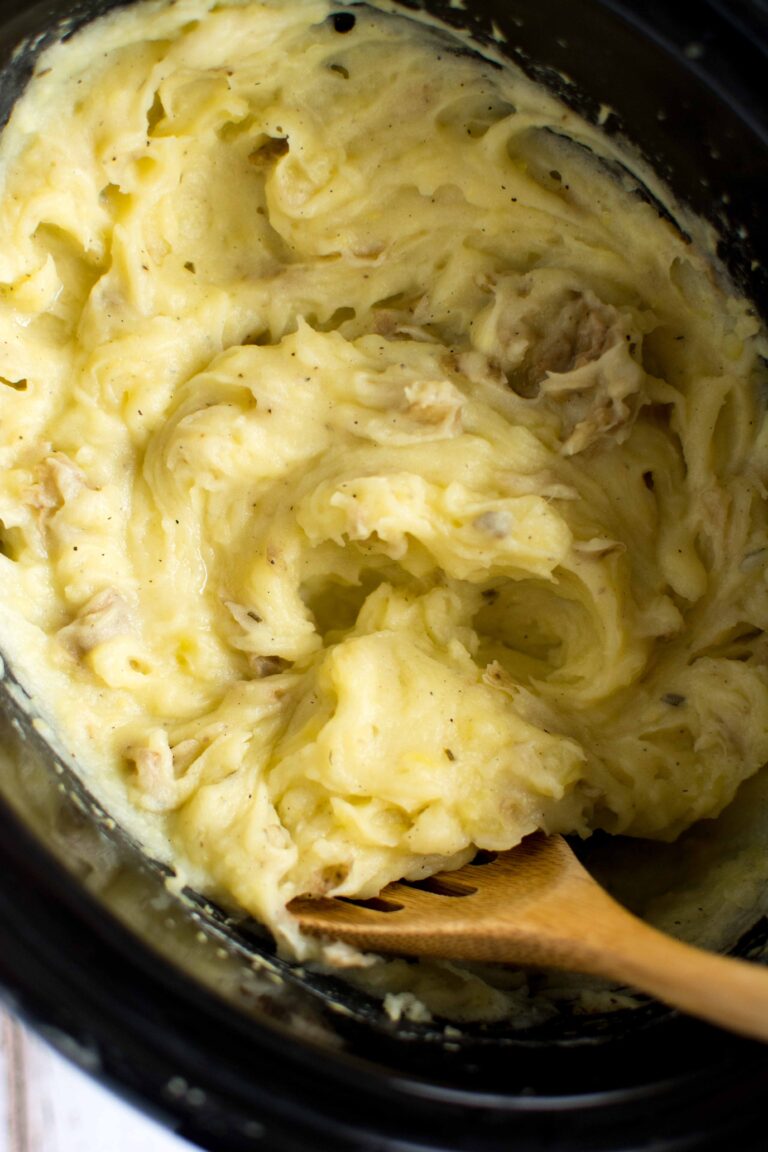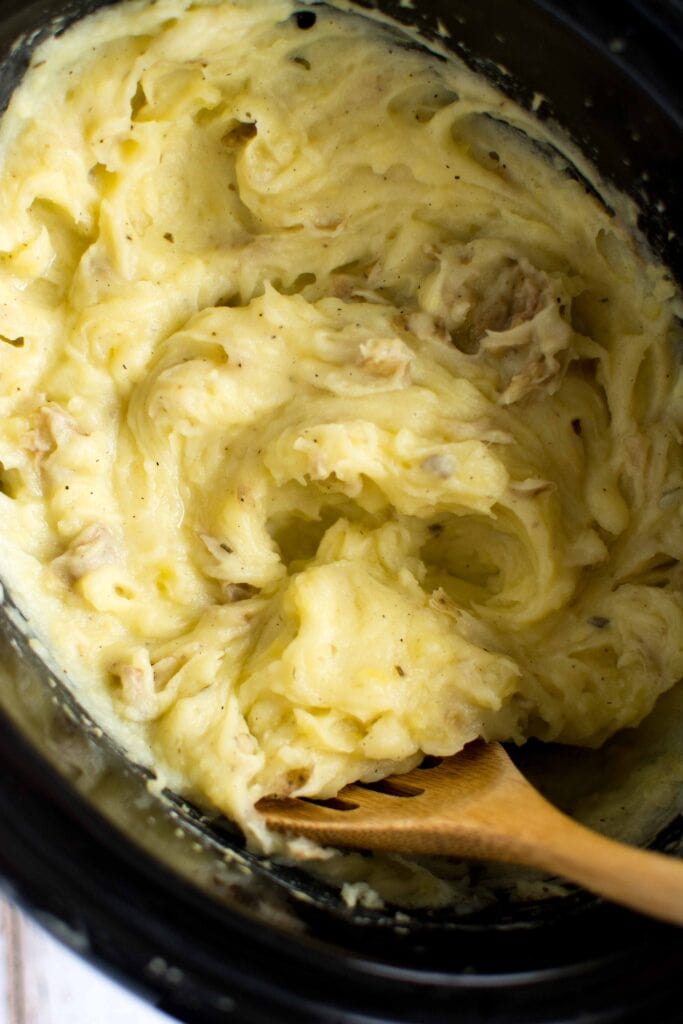 These come out to less than 150 calories per serving! You would never know if it I hadn't told you, I promise. These do not skimp on flavor AT ALL! They are light, fluffy, creamy and flavorful.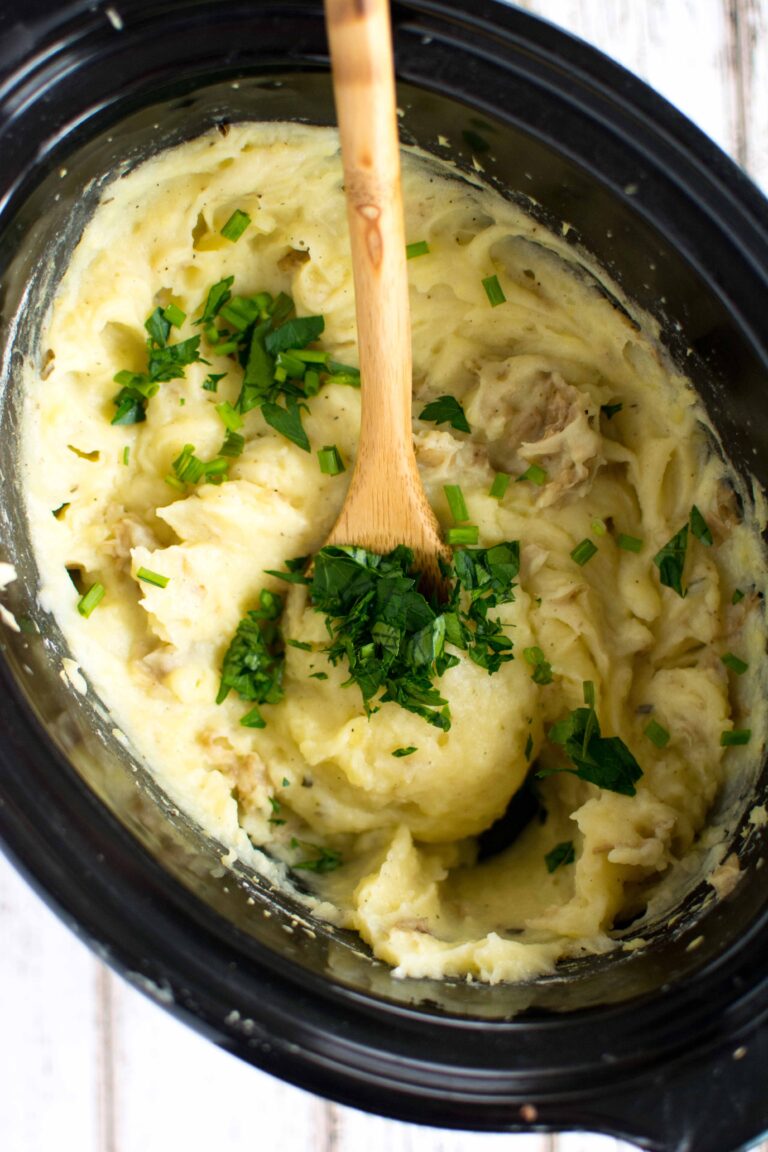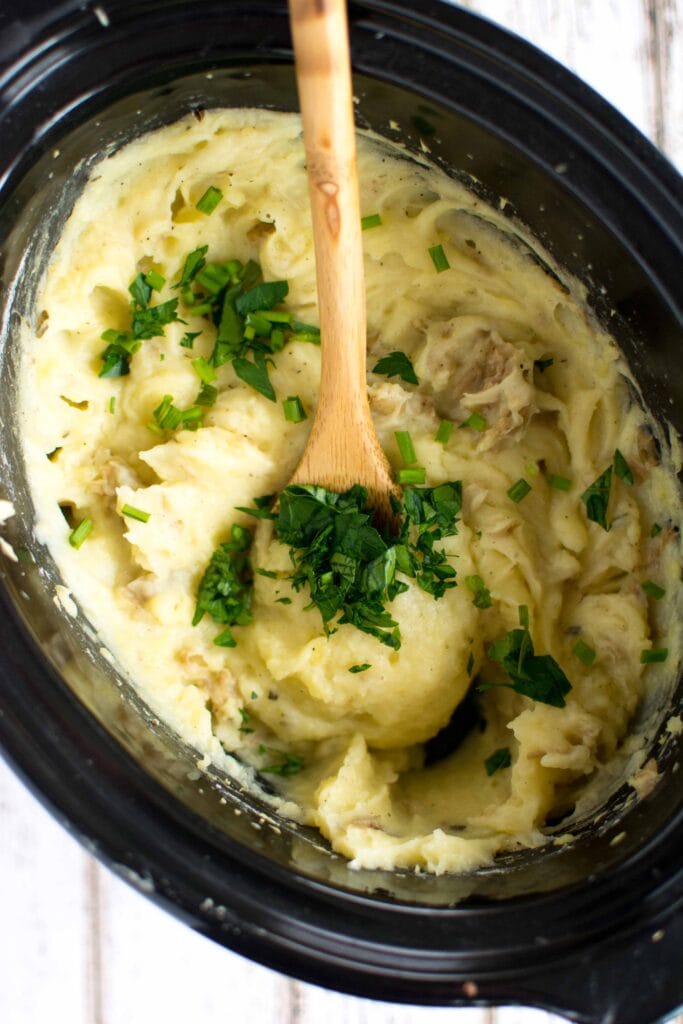 The ingredients? Besides the potatoes it's just some whipped cream cheese (chive flavor) and chicken broth. Salt and pepper them a bit and that. is. it. Simple. My new favorite way to cook.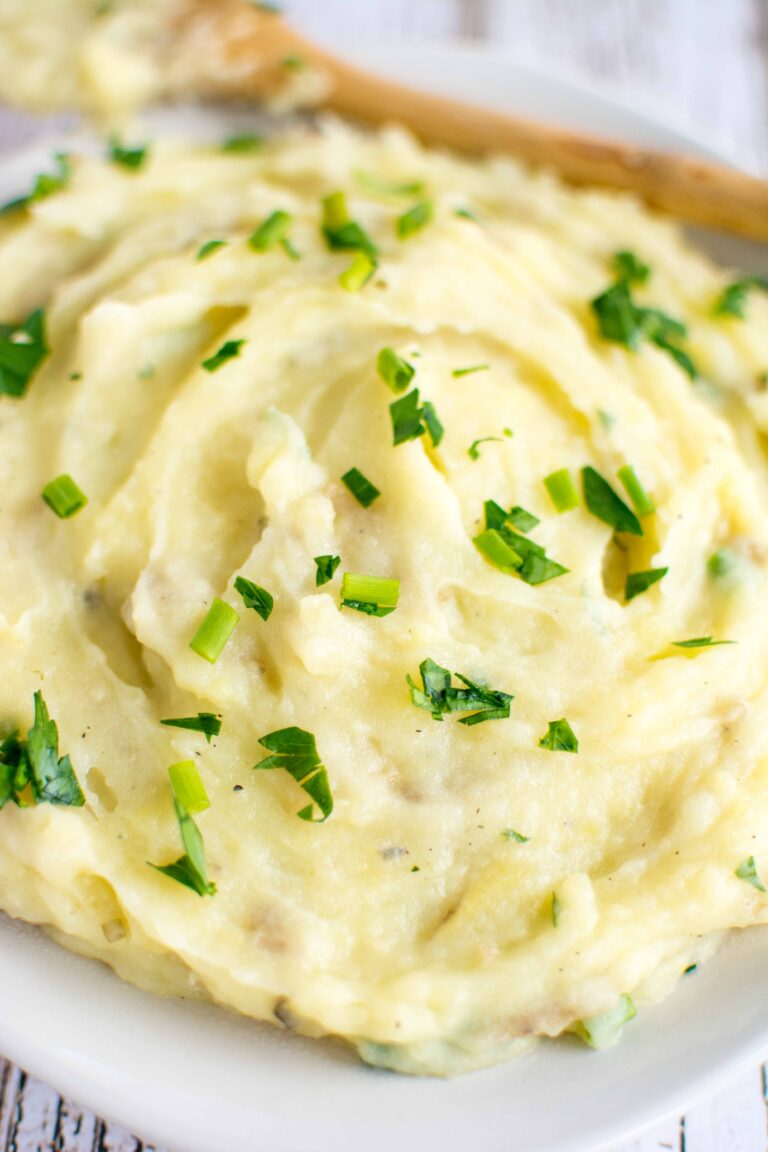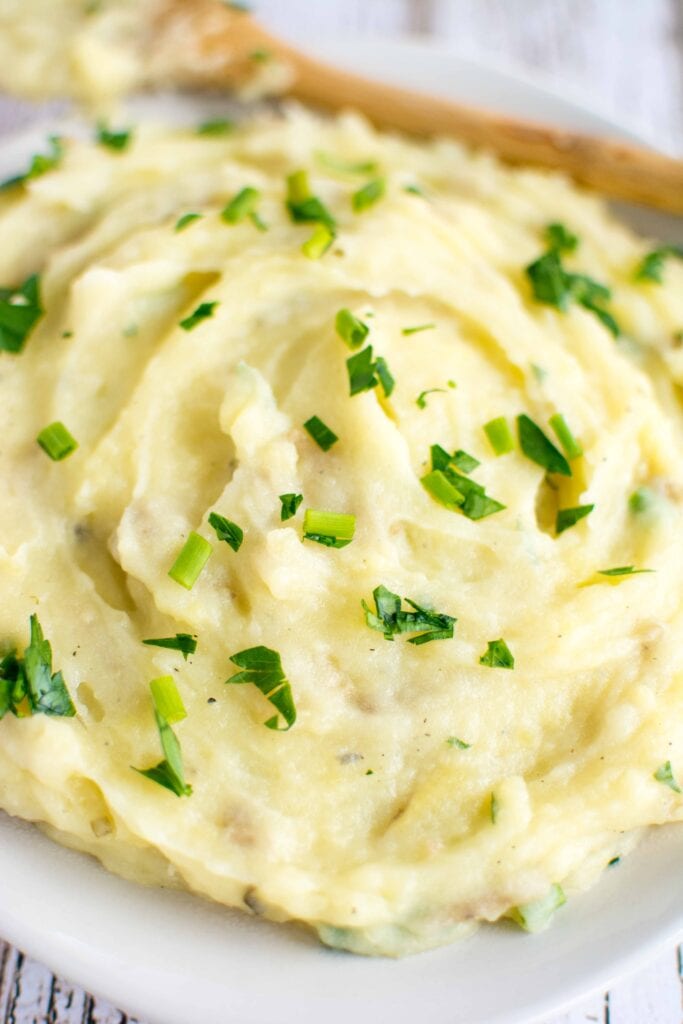 I often mash up my potatoes by hand with a masher but for these I chose to use my hand held mixer. It kept them light and airy and helped them to be smooth and creamy even without the addition of cream. Load them up with your favorite fresh chopped herbs and you will be thinking of reasons to make mashed potatoes with every meal!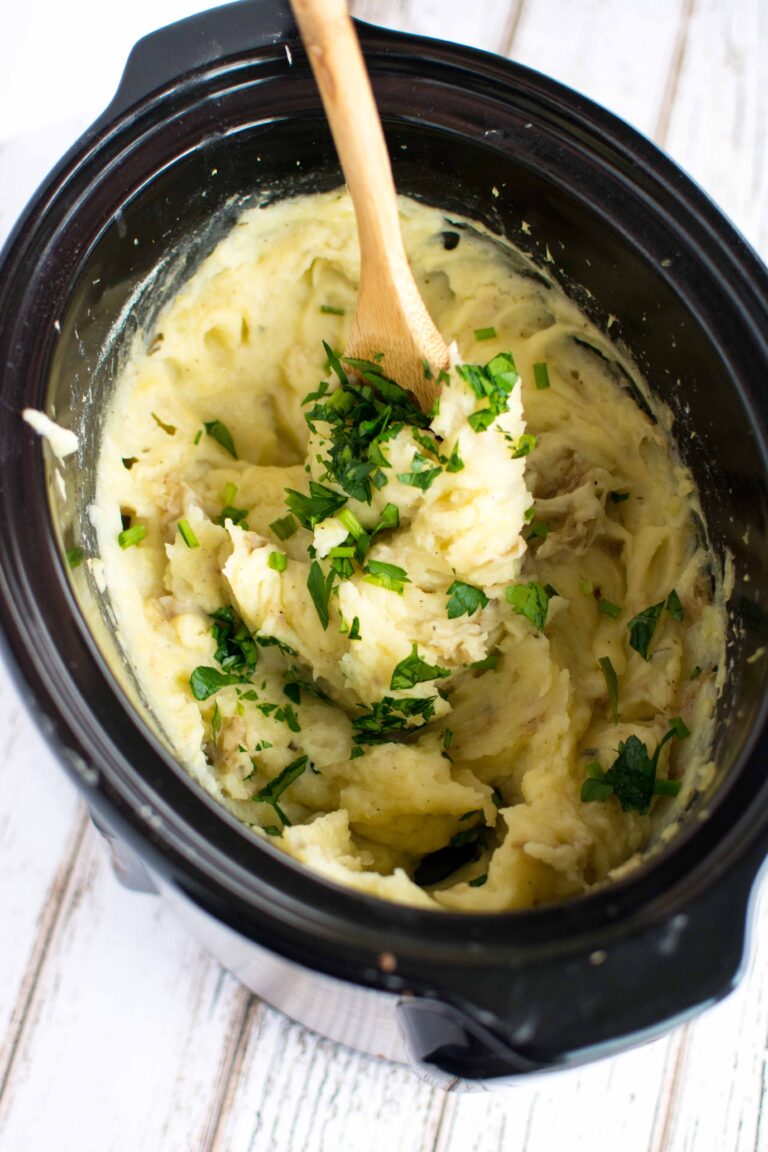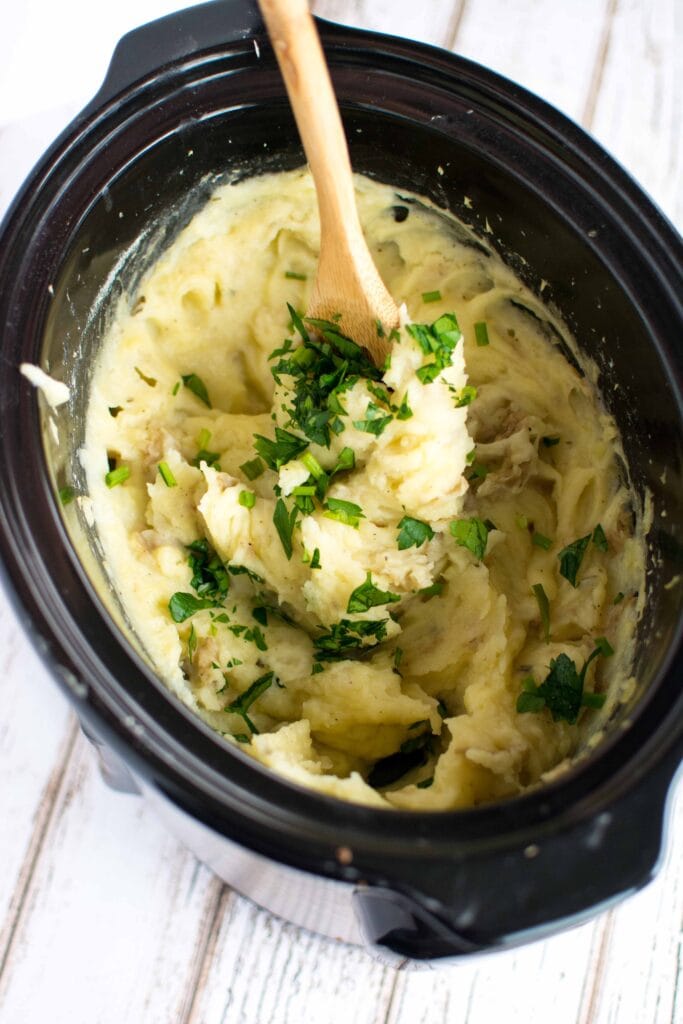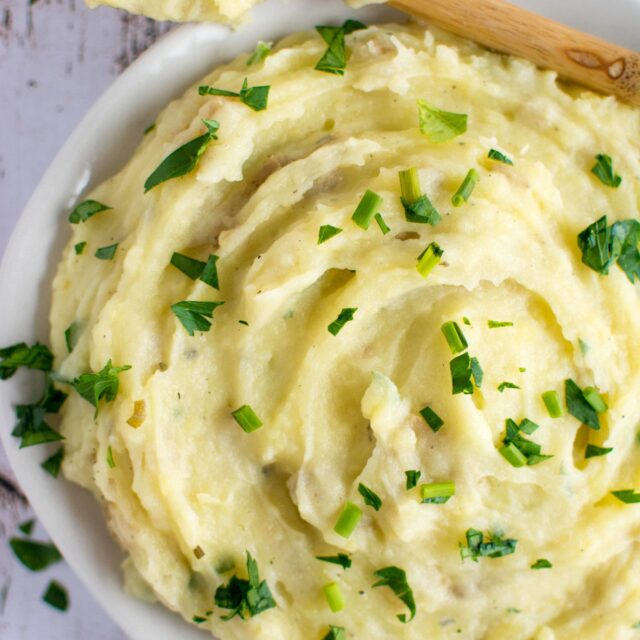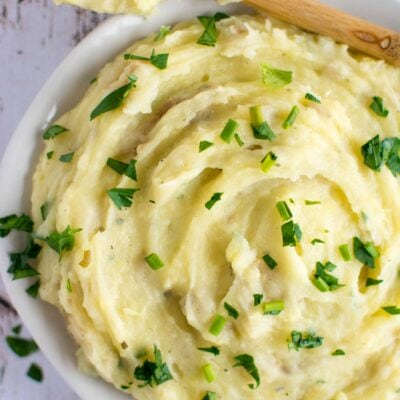 Slow Cooker Skinny Mashed Potatoes
Ingredients
2

pounds

Yukon gold potatoes

1/4

cup

chicken broth

1/4

cup

whipped cream cheese with chives

1/4

teaspoon

salt + more to taste

pepper to taste

Fresh herbs for garnish

(parsley, chives, thyme)
Instructions
Wash and cut potatoes into large chunks

Place in slow cooker and fill with water to cover

Cover and cook on high for 2-4 hours or low for 4-8 (depends on how large you cut potatoes, smaller will cook faster)

Carefully drain potatoes into a colander and return to crock

Add broth, whipped cream cheese, salt and pepper

Using handheld mixer mix on medium high speed until whipped to desired consistency

Adjust seasoning if desired, garnish with herbs and serve
Notes
I cooked these on high in my 3.5 quart slow cooker for 3 hours.
Nutrition
Serving:
3
g
Calories:
121
kcal
Carbohydrates:
19
g
Protein:
4
g
Fat:
3
g
Saturated Fat:
1
g
Cholesterol:
10
mg
Sodium:
145
mg
Potassium:
645
mg
Fiber:
3
g
Vitamin A:
125
IU
Vitamin C:
17.2
mg
Calcium:
55
mg
Iron:
4.9
mg
Important nutritional disclaimer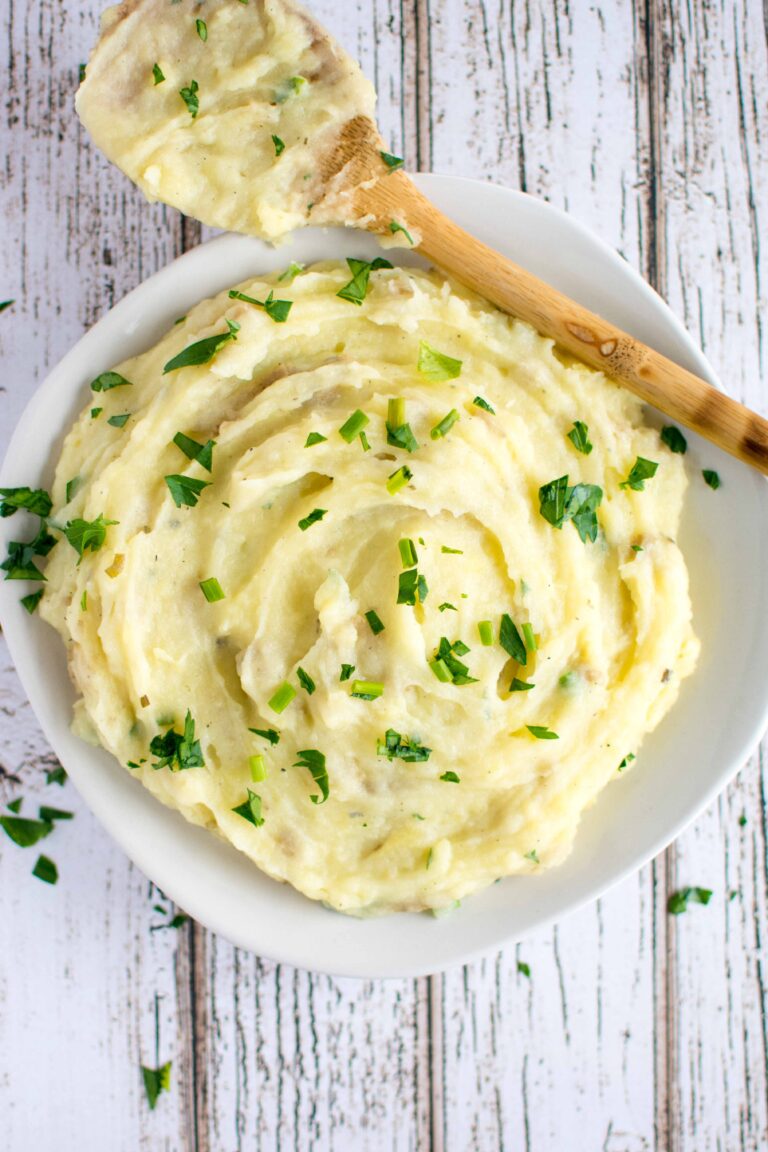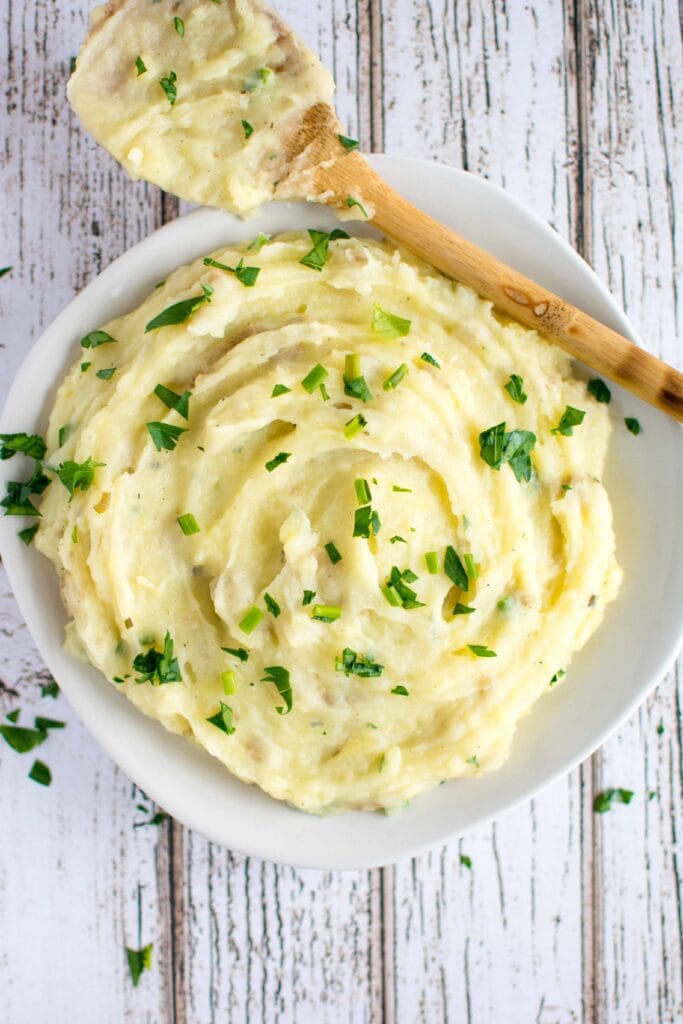 Slow Cooker Gourmet is a participant in the Amazon Services LLC Associates Program, an affiliate advertising program designed to provide a means for sites to earn advertising fees by advertising and linking to amazon.com. If you purchase a product through this link I will earn a small commission. As always, I only recommend products I use and love!
Hungry for more mashed potatoes?
Slow Cooker Creamy Garlic Mashed Potatoes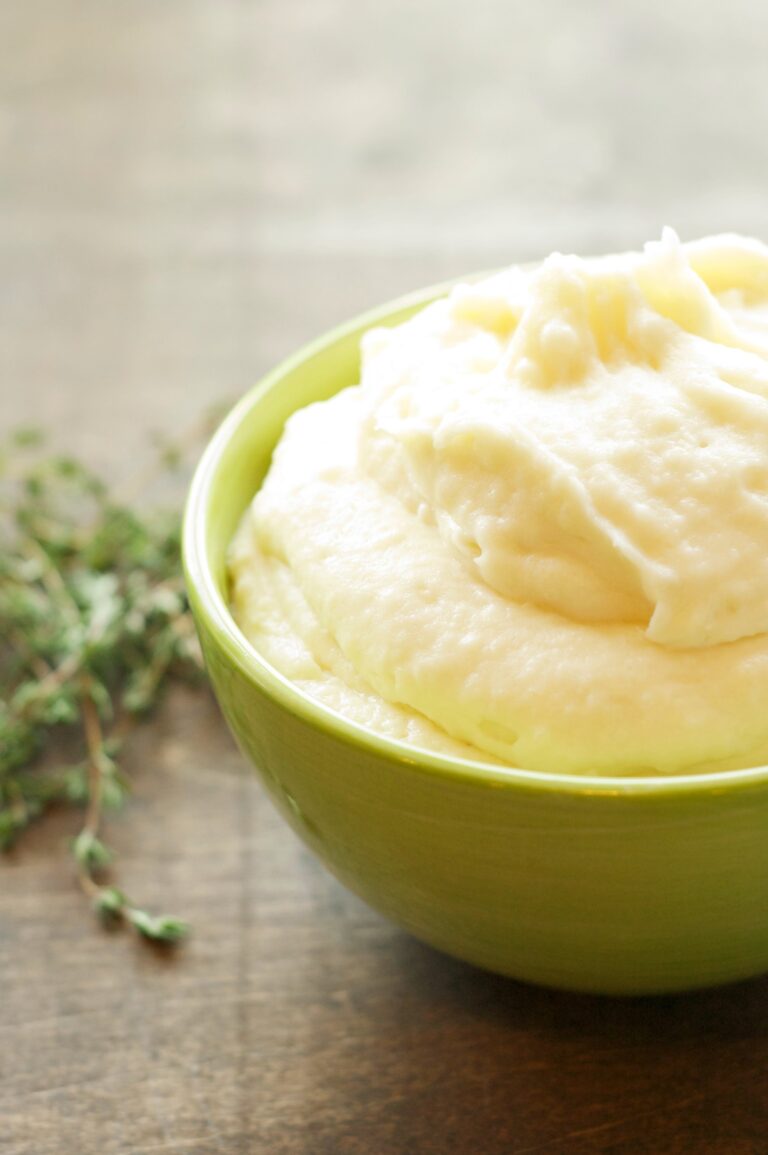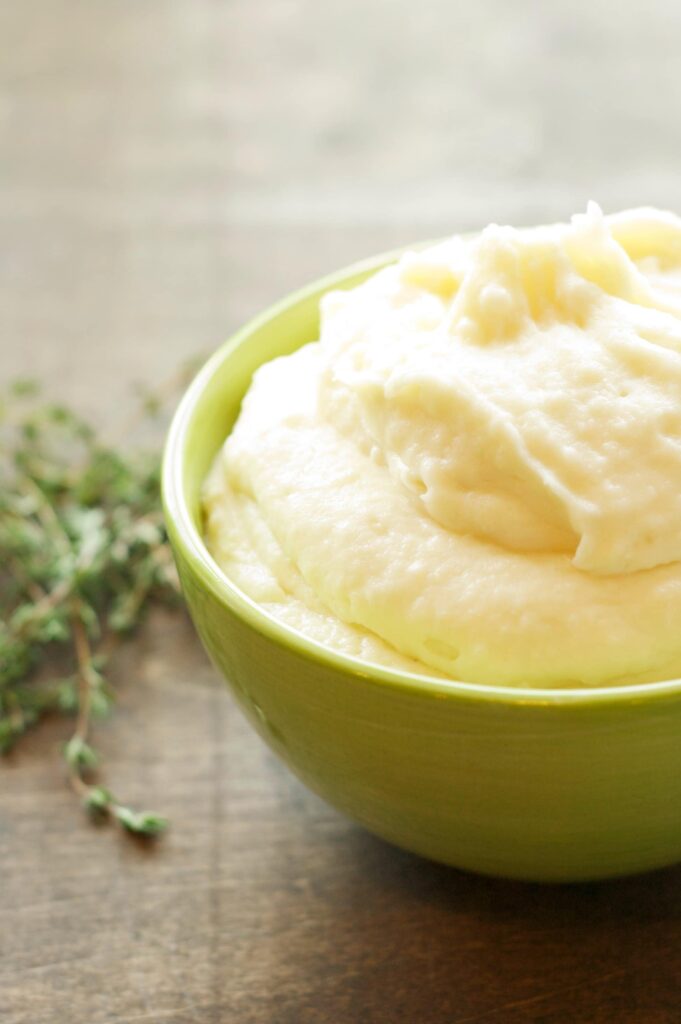 Or how about some baby potatoes instead?
Slow Cooker Herbed Baby Potatoes