Food Truck Friday: Enchilada Chili Cheese Street Fries
Slow Cooker Enchilada Chili Cheese Street Fries are a fun way to bring food truck style fair home! Makes great party food or a fun family dinner!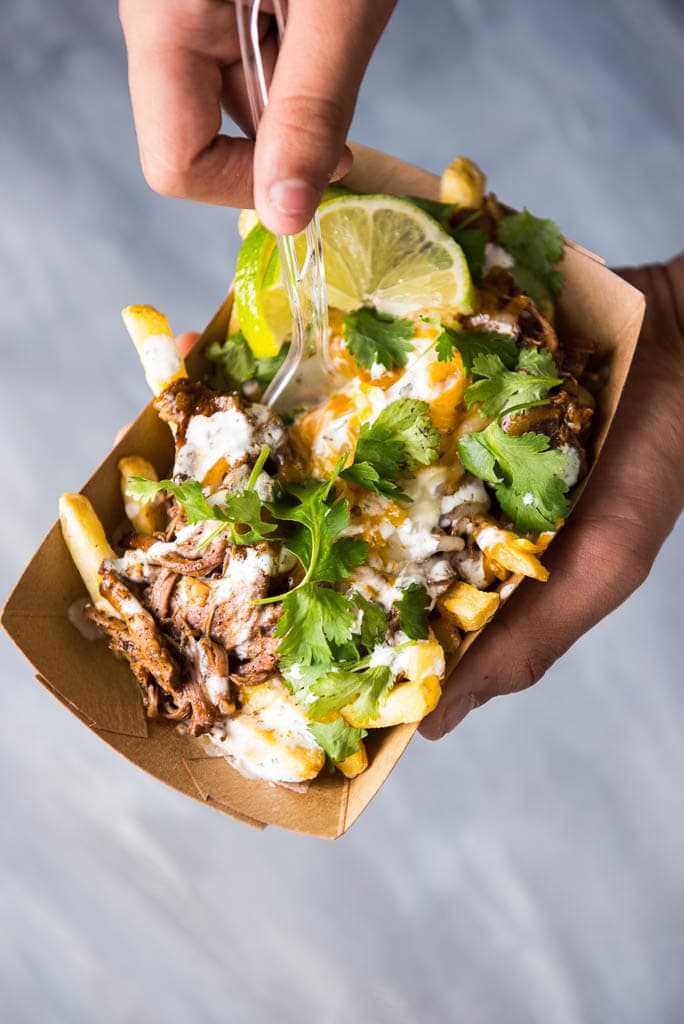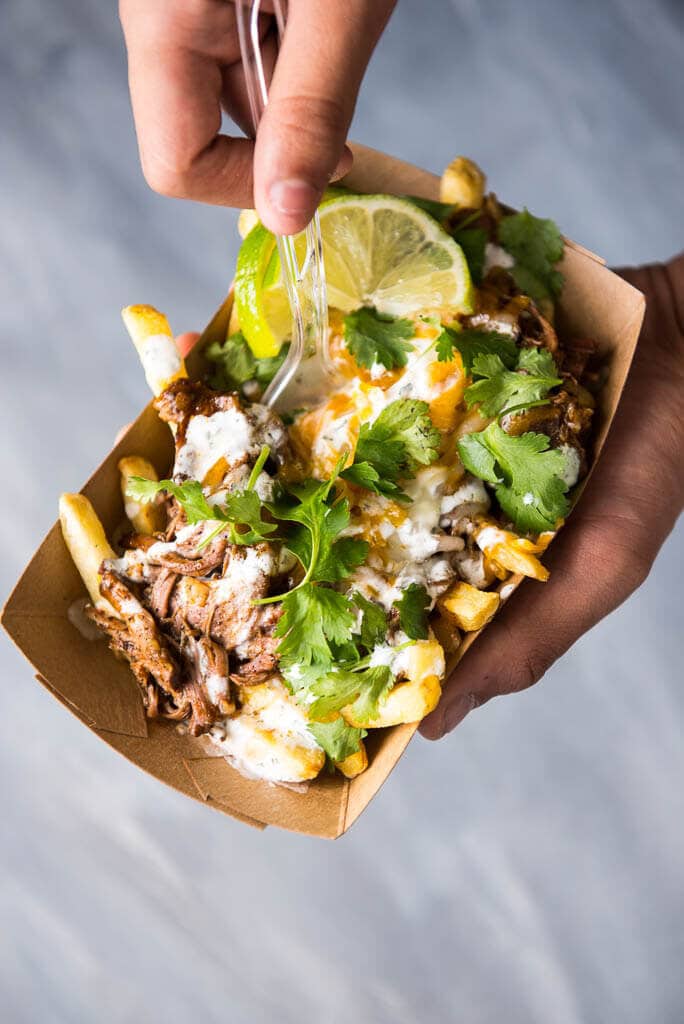 Typing on this screen cannot even begin to convey the excitement I have for the all new series that I'm sharing with you this summer and it starts today!!! Food Truck Fridays!! I have finally found a way to combine my love for all things slow cooking along with my obsession for food trucks to share with you recipes that I would make if my dream of owning my own food truck were a reality. Every Friday this summer I will share a new recipe with you that pushes the bounds of typical make at home fare and gives you exiting new eats to try with your family and friends even if you can't make it to a food truck festival. Is anyone else as pumped about this as I am?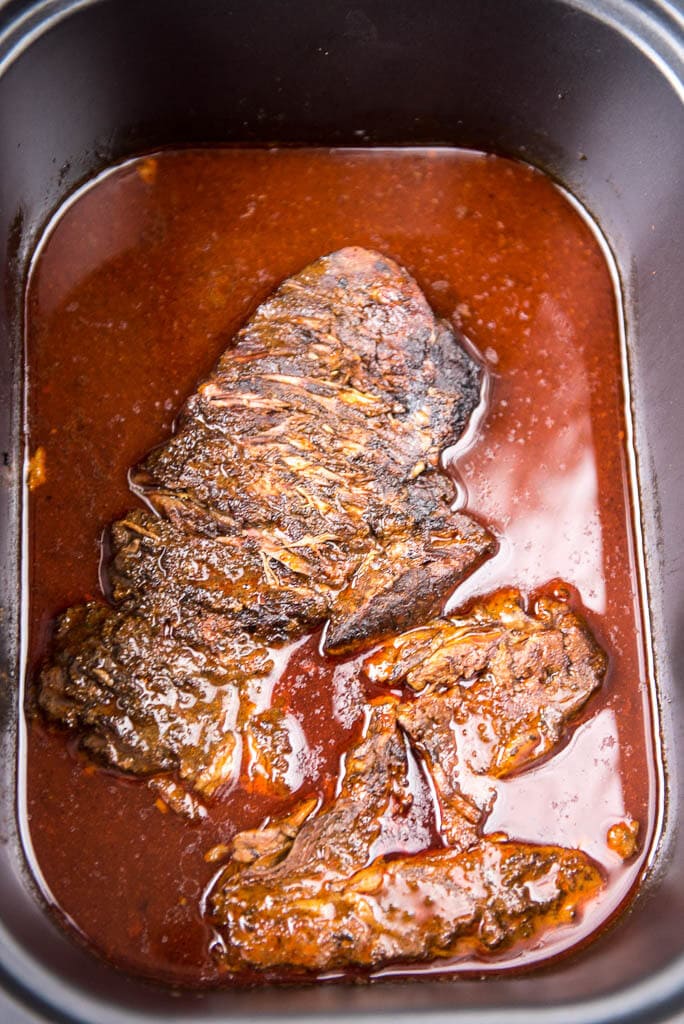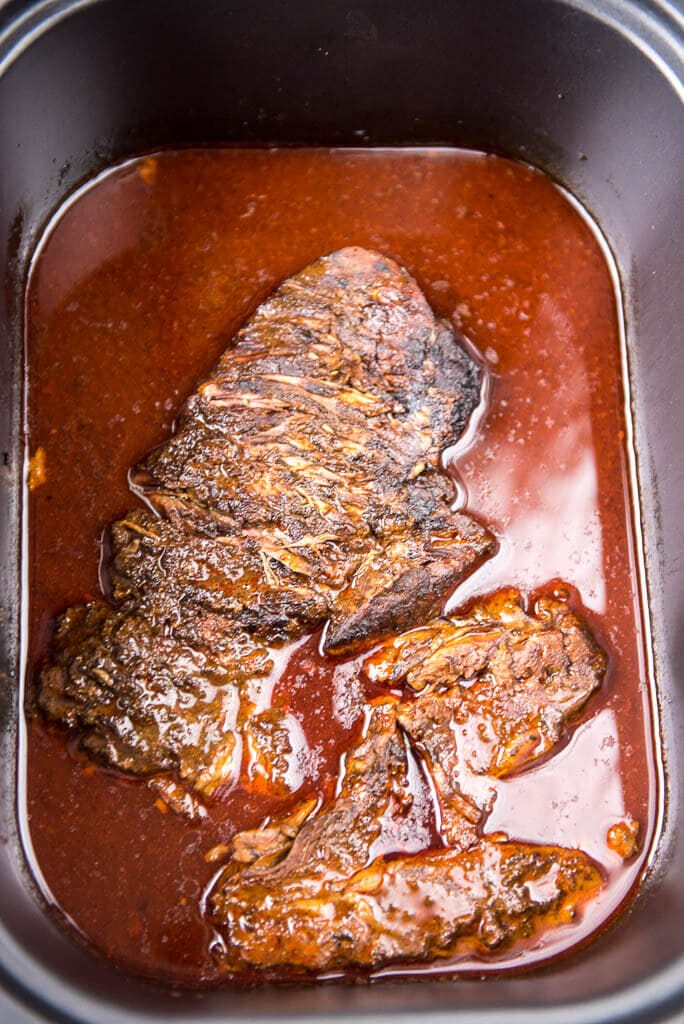 When Shawn and I first got married and lived in our little college apartment with our little apartment stove I used to make chili cheese fries all the time. I thought it was pretty much culinary genius. Waffle fries, a can of chili and top it all off with shredded cheese and sour cream. And hey, that still works. But if you want to take it up a notch and enjoy a dinner that will temp you to keep on eating until you are in a food coma (in good way!) then give these fries a try!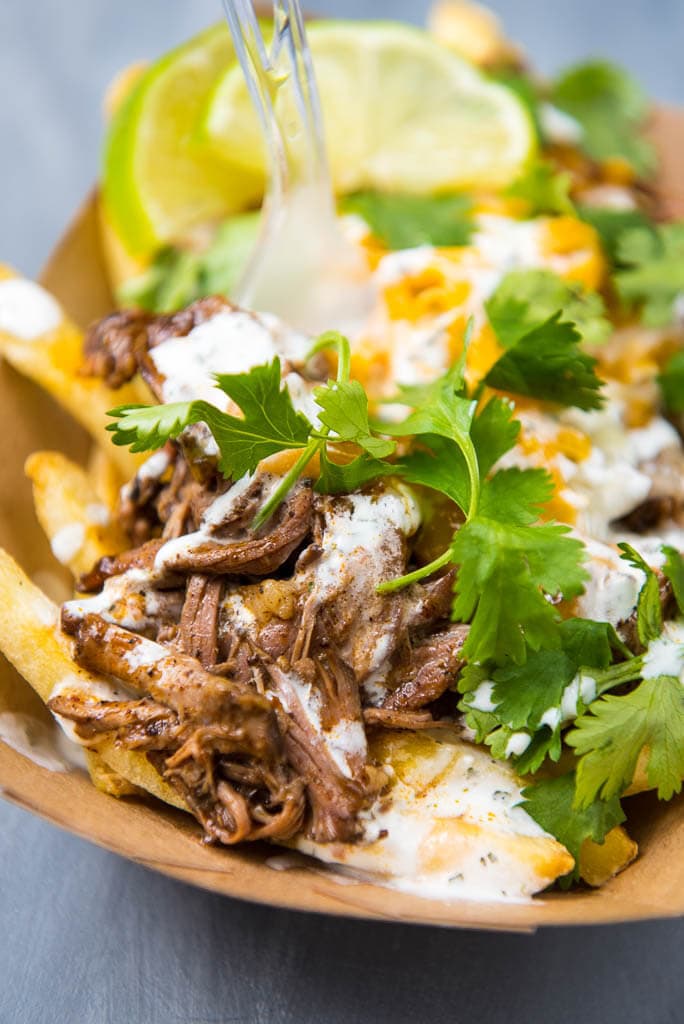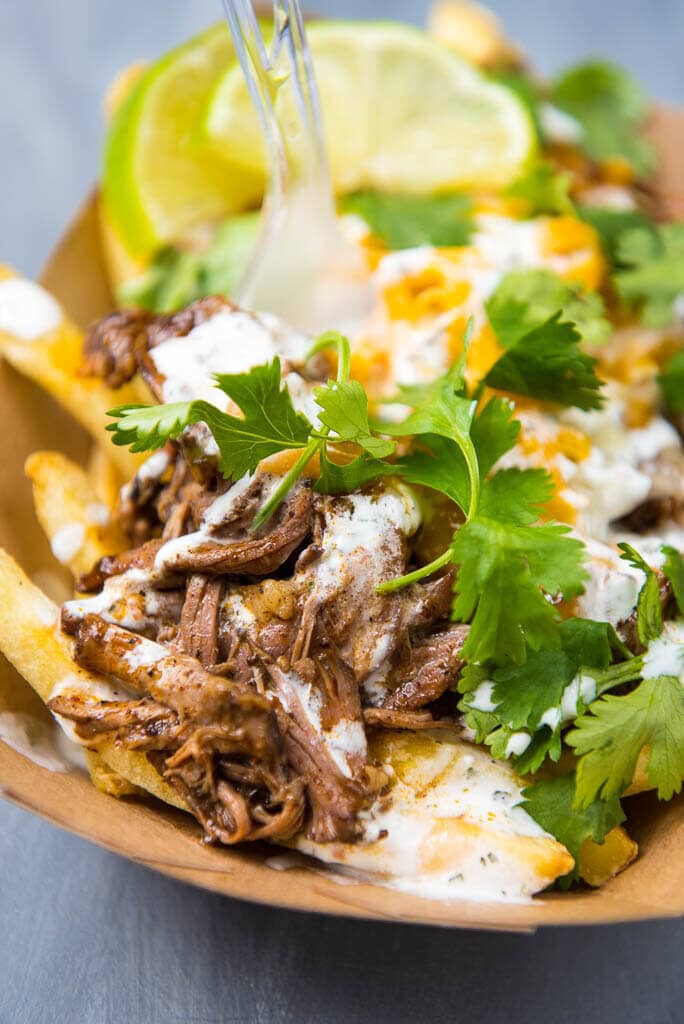 What are street fries exactly? Well, I think it's just the idea of pushing the boundaries of what you might eat atop a pile of French fries and have it taste amazing. And this is my version. Because I have an ridiculous obsession with the idea that I will one day own my own food truck. It's ridiculous because the truth is I have no desire to put in the kind of hours and work involved with running the said food truck. But that never stops me from dreaming up all the recipes and dishes I would serve.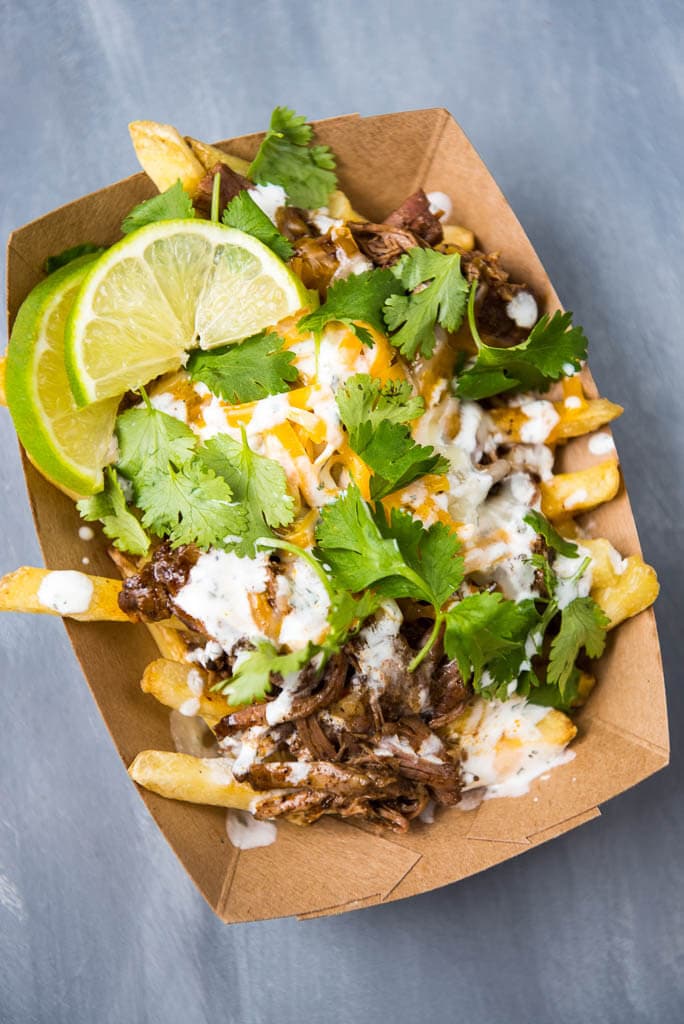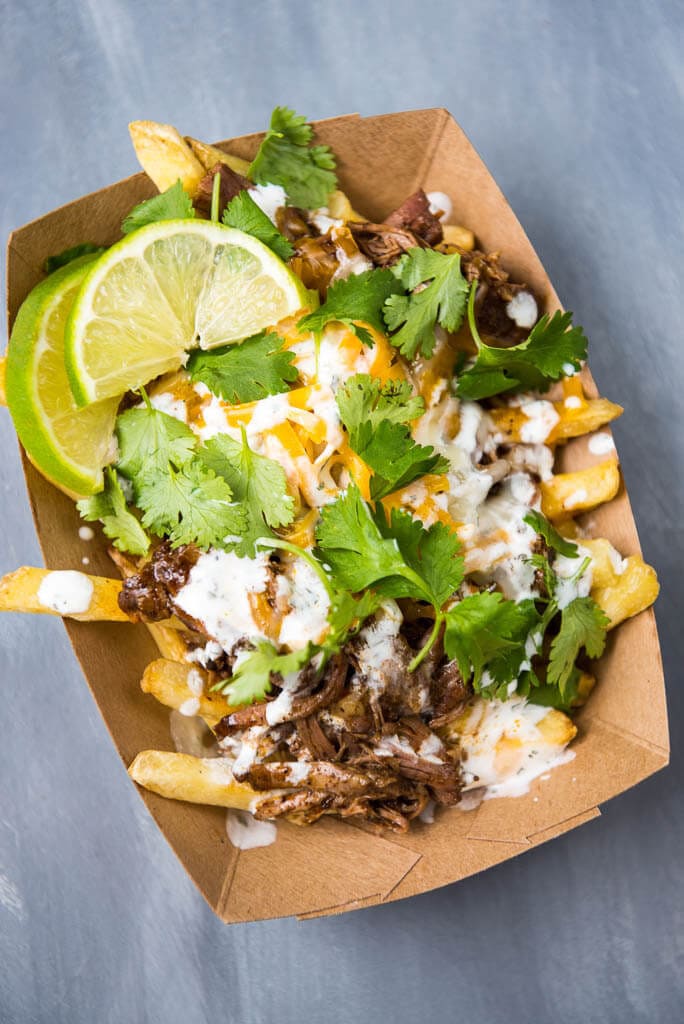 No doubt about it these would be at the top of my list! Would it be weird to serve these along with sushi….? See, my mind just keeps wandering around all the different possibilities. Don't worry, I have some much more reasonable ones coming your way in the weeks to come.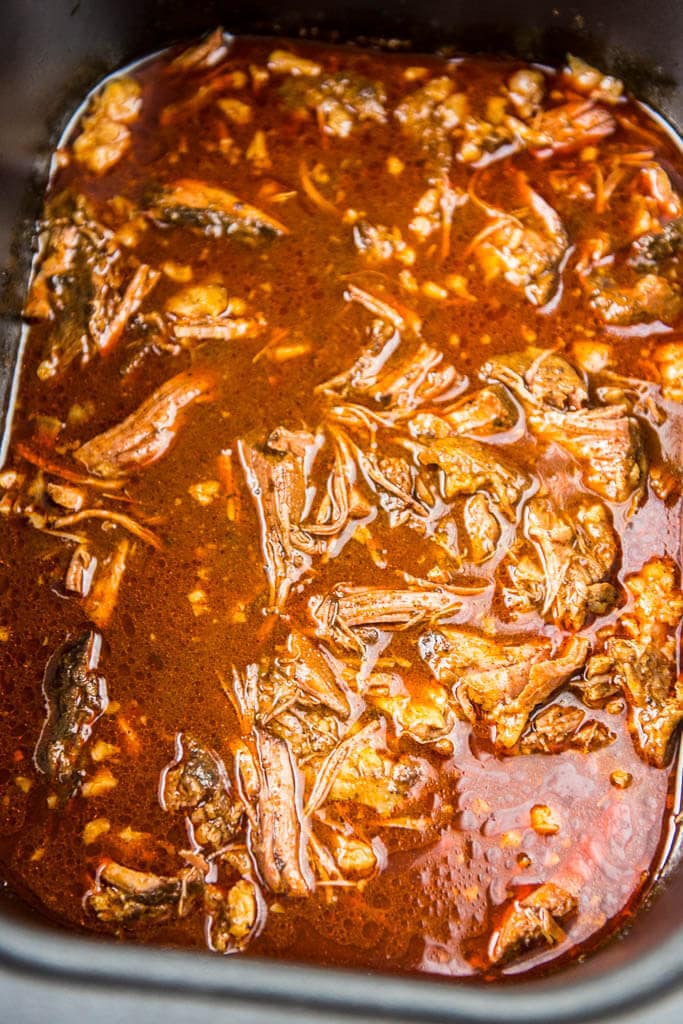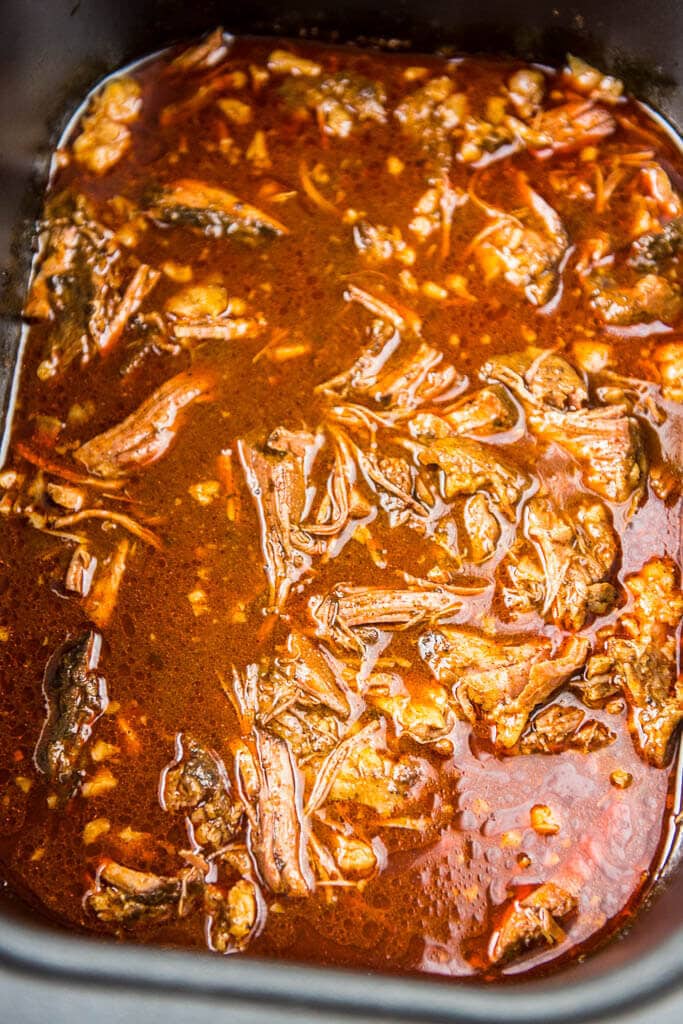 I'm picturing my food truck lined up with about 50 slow cookers. Now that would be pretty cool! Well, in the meantime I guess I will just keep dreaming up the recipes and sharing them here with you…. if you all don't mind!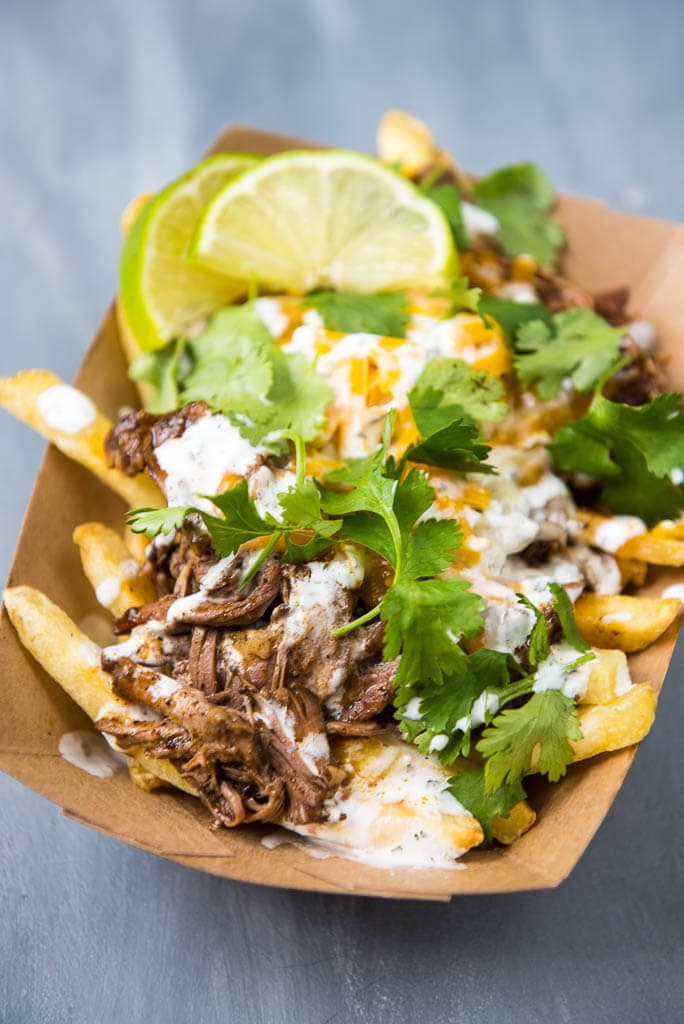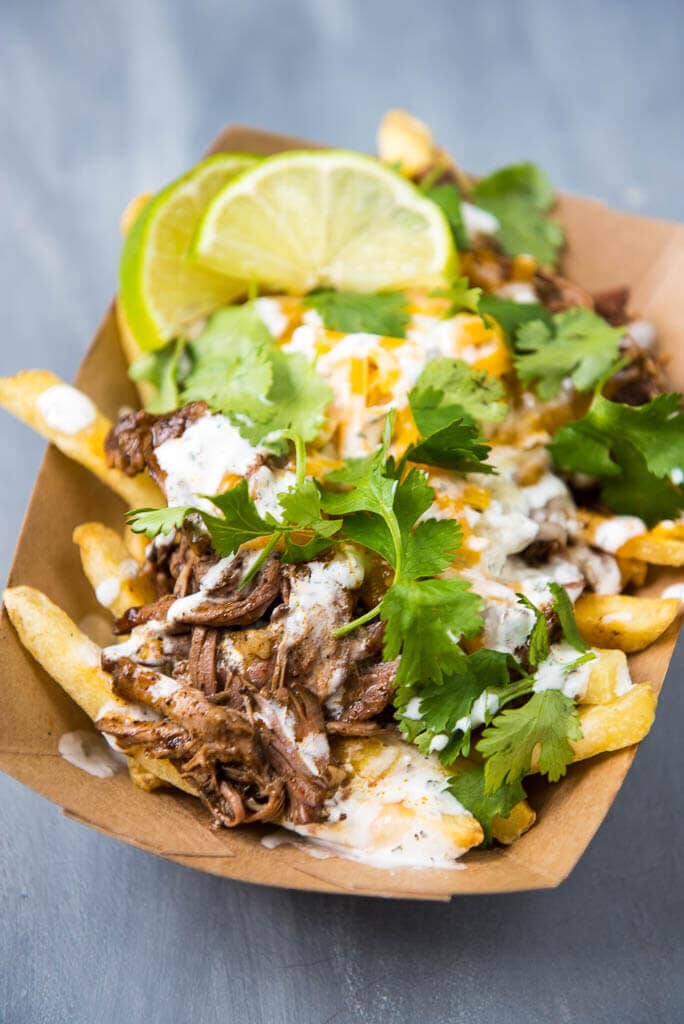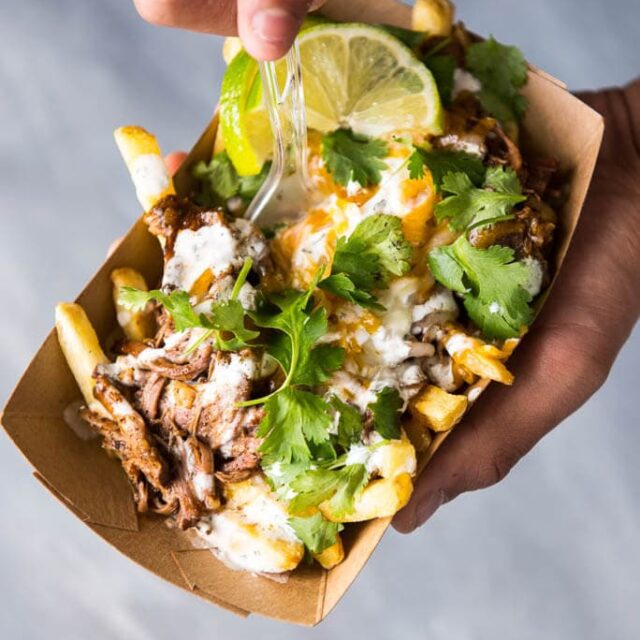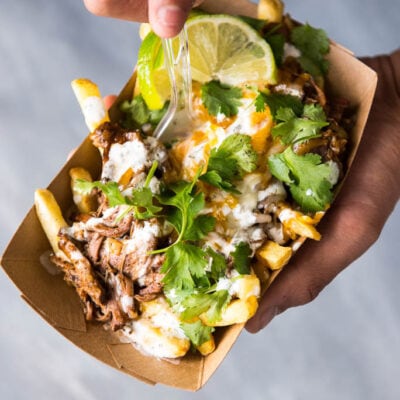 Slow Cooker Enchilada Chili Cheese Street Fries
Slow Cooker Enchilada Chili Cheese Street Fries are a fun way to bring food truck style fair home! Makes great party food or a fun family dinner!
Ingredients
For the Chili:
2 1/2

pound

chuck roast

2

tablespoons

chili powder

2

teaspoons

cumin

1

teaspoon

garlic powder

1

teaspoon

oregano

1

teaspoon

paprika

1

teaspoon

kosher salt

1/2

teaspoon

pepper

1/2

teaspoon

cayenne

1/4

cup

flour

2

cups

beef broth

1/4

cup

water
For the cilantro sour cream:
1/2

cup

sour cream

1

teaspoon

dried cilantro

1

teaspoon

lime juice
For the salsa ranch:
1/4

cup

ranch dressing

3

tablespoons

salsa
Also:
24

ounce

frozen potato fries (I love Trader Joe's fries!)

2

cups

shredded cheese

(I used AND recommend sharp cheddar and monterrey jack, freshly shredded)

Additional fresh or dried cilantro for garnish

optional
Instructions
Add chuck roast to slow cooker (Tip: for quicker cooking you could cut into smaller chunks)

Whisk together flour and water to make a paste, then slowly mix in a little of the beef broth (about 1/2 cup) until smooth

Slowly add remaining beef broth to slow cooker and stir if needed to ensure you don't get any lumps

Cover and cook on low for 8-10 hours

Shred beef with 2 forks

In two separate containers mix together the ingredients for the cilantro sour cream and for the salsa ranch. Cover and refrigerate until ready to serve.

At meal time prepare fries in oven according to package directions.

Place a serving of fries on each plate and top with a few ladles of chili

Add cheese and drizzle with sour cream and salsa ranch

Add a garnish of cilantro if desired
Notes
If your fries are plain add 1/8 teaspoon seasoned salt while cooking I used a 3.5 quart slow cooker
Nutrition
Calories:
655
kcal
Carbohydrates:
32
g
Protein:
37
g
Fat:
42
g
Saturated Fat:
17
g
Cholesterol:
129
mg
Sodium:
1391
mg
Potassium:
990
mg
Fiber:
5
g
Sugar:
1
g
Vitamin A:
1100
IU
Vitamin C:
6
mg
Calcium:
212
mg
Iron:
5.4
mg
Important nutritional disclaimer
Other things I might serve on my food truck?
How about these Caribbean Jerk Pulled Pork Sandwiches? Make them in the slow cooker or the pressure cooker!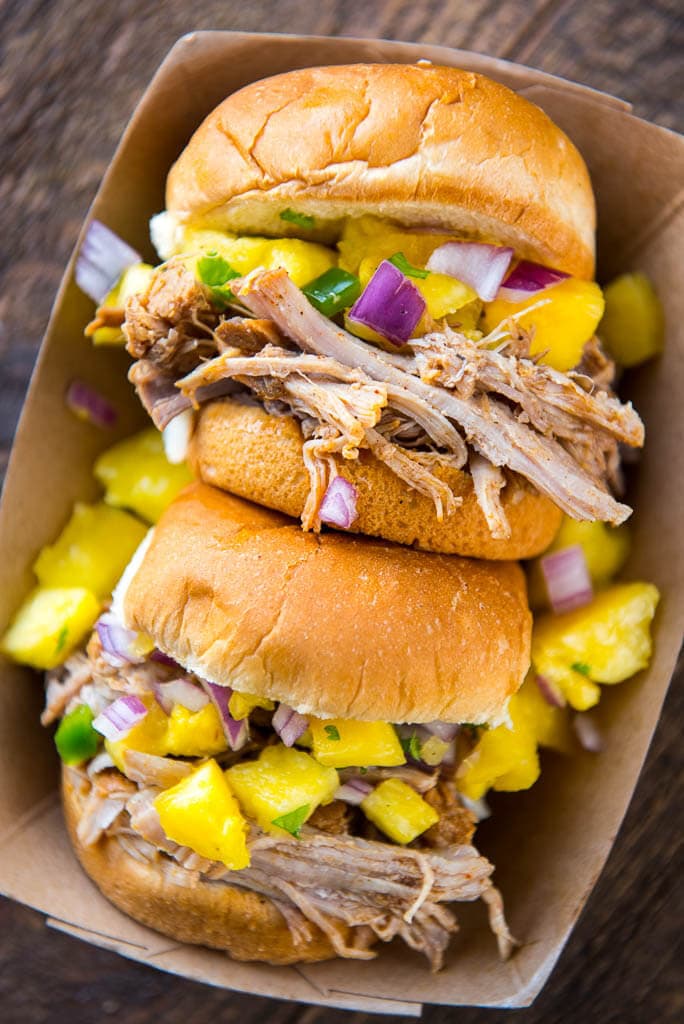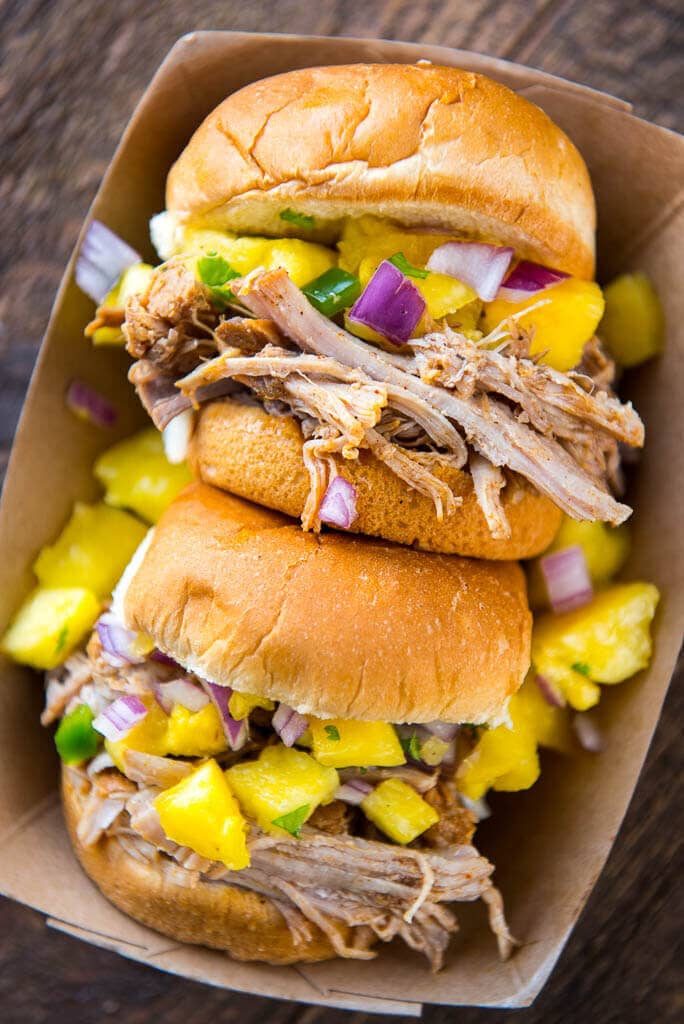 Or make it simple with these Verde Chicken Tacos!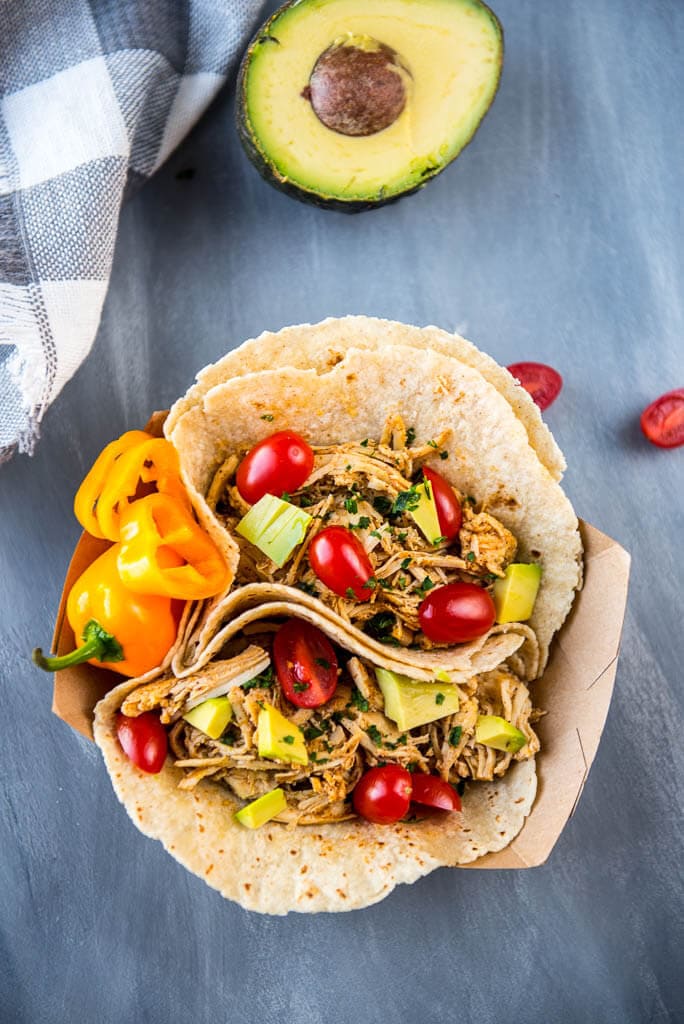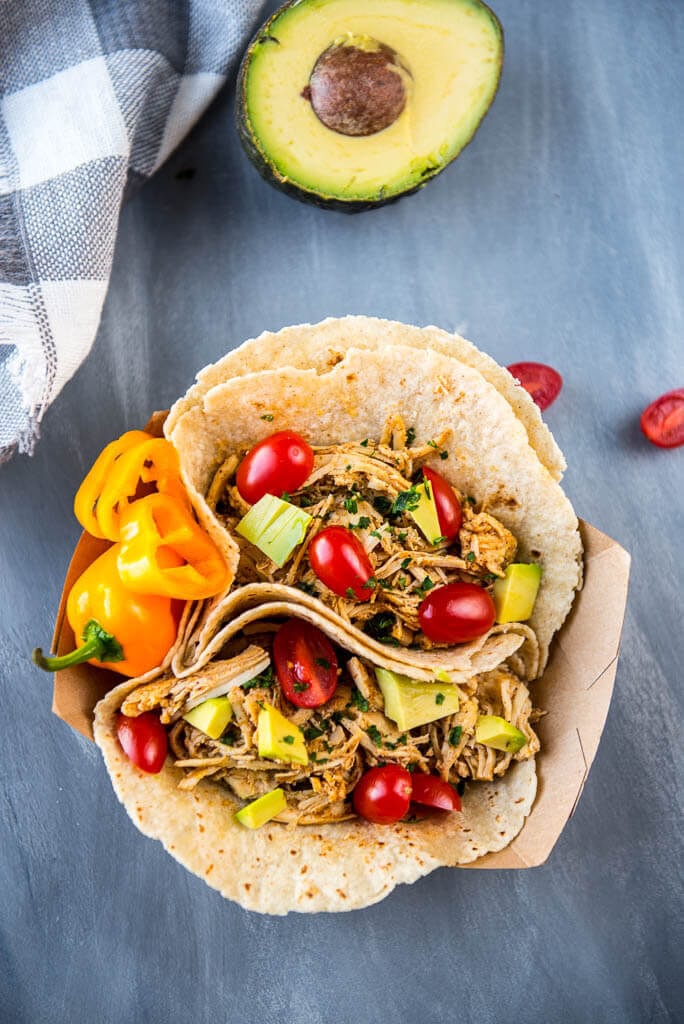 This recipe was originally post to my blog on June 20, 2014 and has been updated to include fresh photos and a slightly updated recipe that yields even better results. Plus, it was the prefect recipe to start out my Food Truck Friday series!