Slow Cooker Artichoke and Bacon Dip
You can never have too many dip recipes and I can certainly guarantee that one with bacon will never be turned down. Slow Cooker Artichoke and Bacon dip is a winner.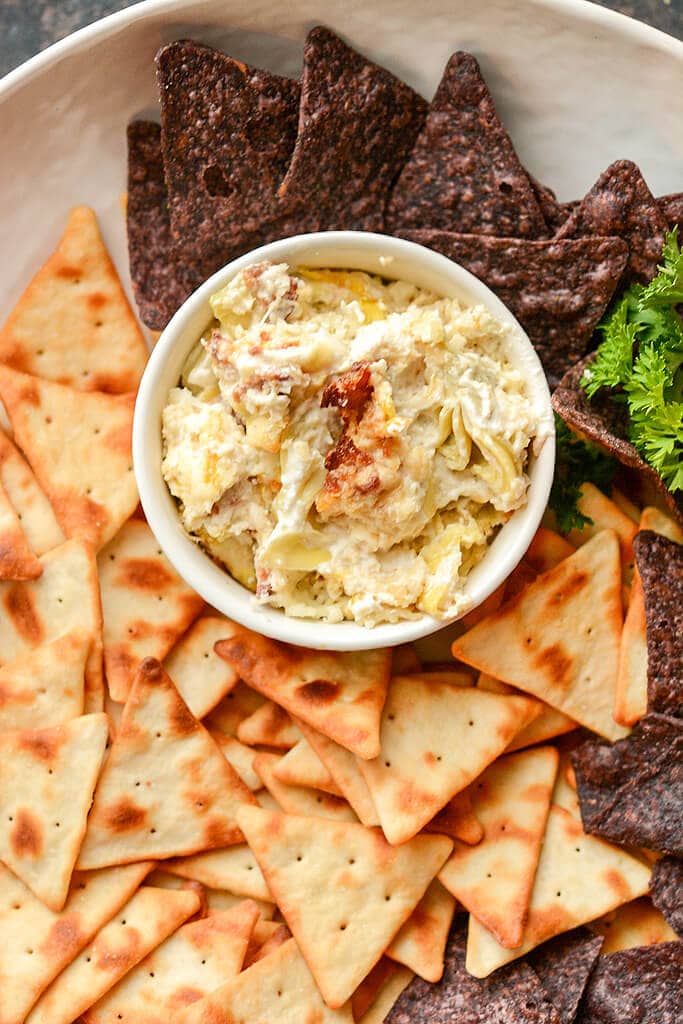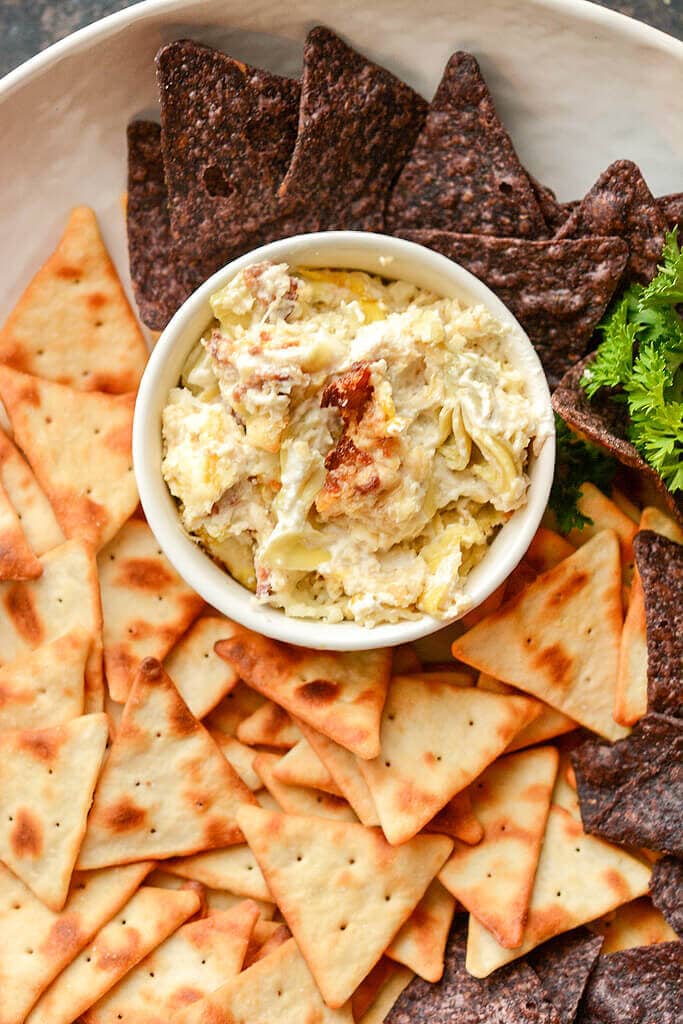 Somehow, even though appetizers are one of my favorite things to eat, I've neglected to post many new appetizer recipes here on the blog lately. Maybe it's because I tend to resort to making the same ones time and time again, but I finally decided it was time to get out of my comfort zone (or rut may be more like it) and start working on some new ones. In my opinion, there's no better time than now because with fall approaching, the opportunities to eat and share appetizers become that much more plentiful. From football watching to holiday parties there's a whole range of reasons to add some new appetizers to your list. Starting with a simple artichoke dip that's filled with bacon and cheese? Well, that's just smart!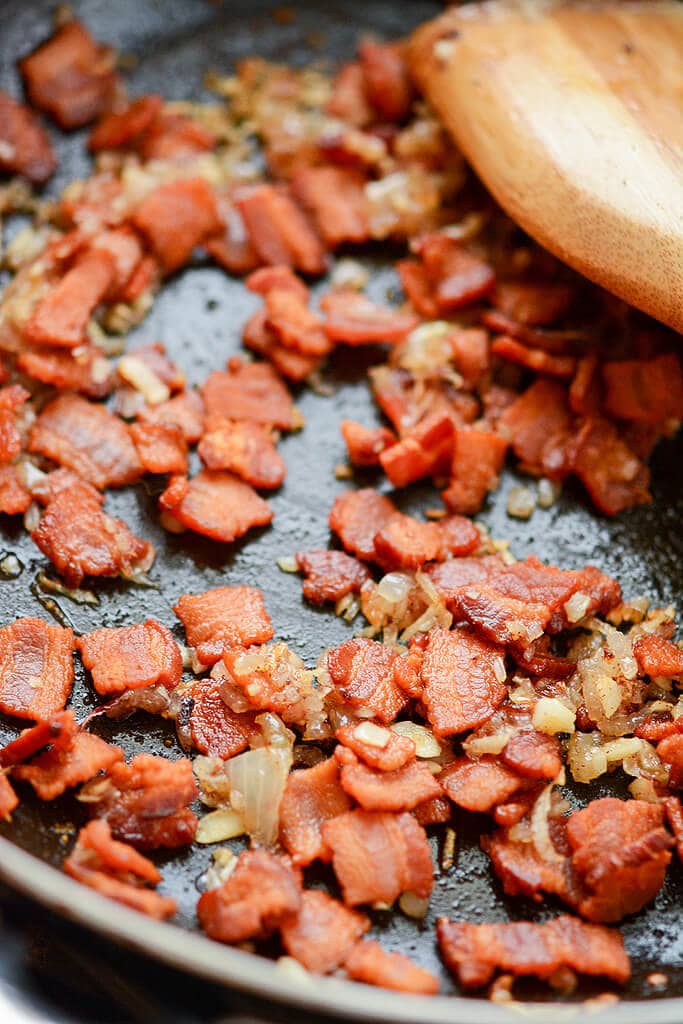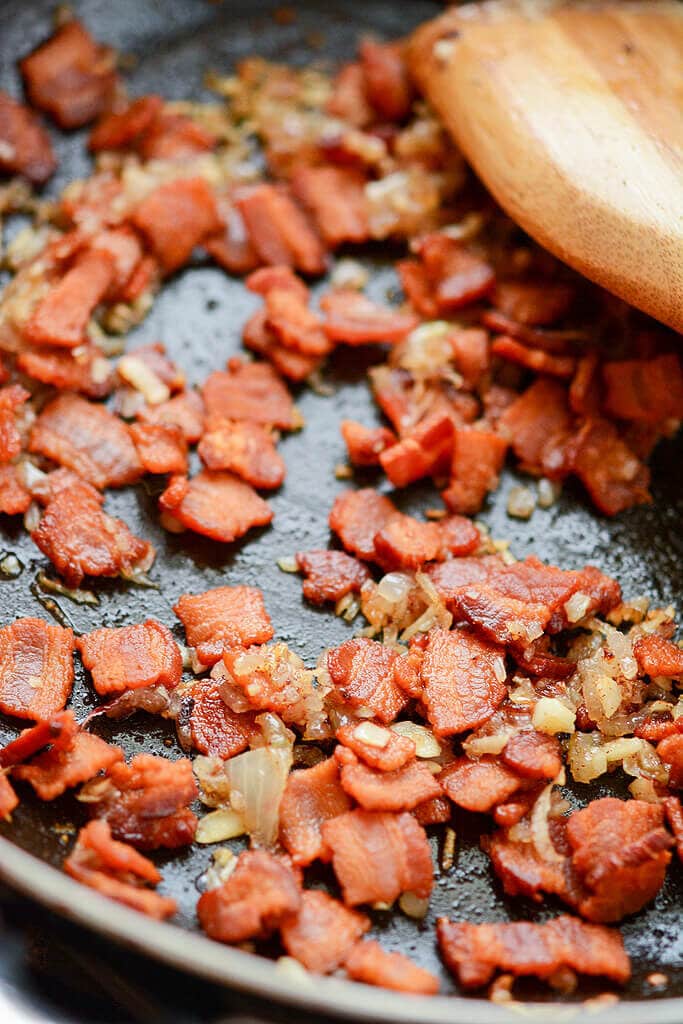 Hopefully when I mentioned bacon above, it caught your attention! Any dip that has bacon in it must be amazing, right? This one is certainly quite tasty. Just the right amount of cut up bacon that we crisp up in the skillet with shallots and garlic to make every bite of dip tasty and perfect.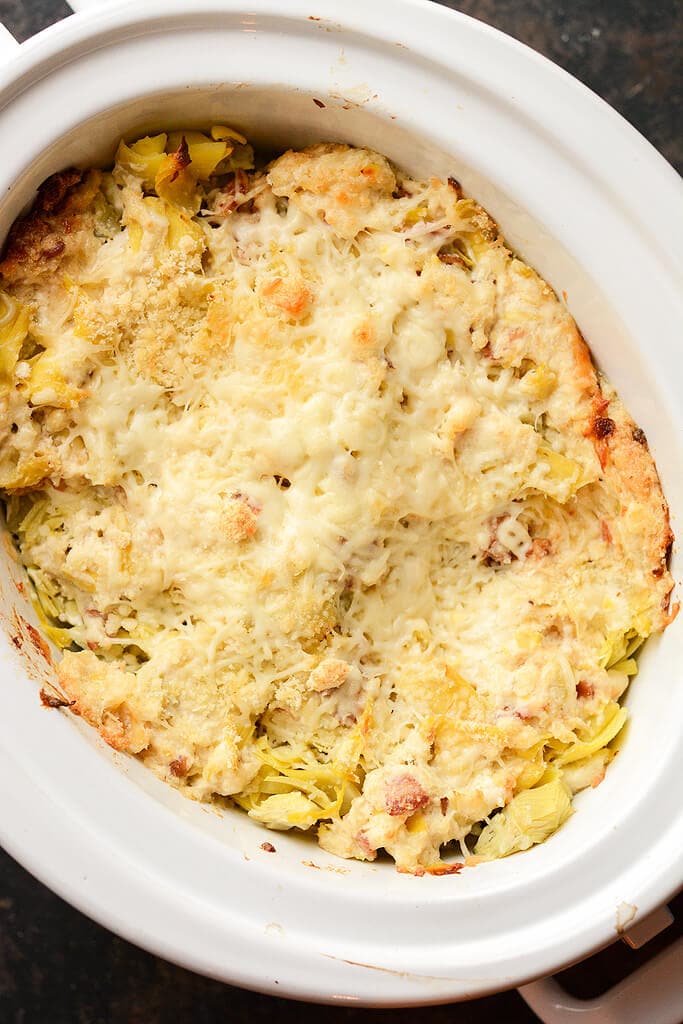 I've used canned artichoke hearts to keep it simple because there are probably not many of us who will likely steam and peel fresh artichokes, or at least not enough of them to make this recipe. A mix of cheeses, sour cream and mayo make this dip rich and creamy. Let it slow cook to melty goodness and then, if desired, you can pop it in the oven for a few minutes to get a golden crust of cheese over the top (yum!). But only do this if you use an oven safe slow cooker dish or you transfer it to an oven safe dish. (I used my mini casserole slow cooker).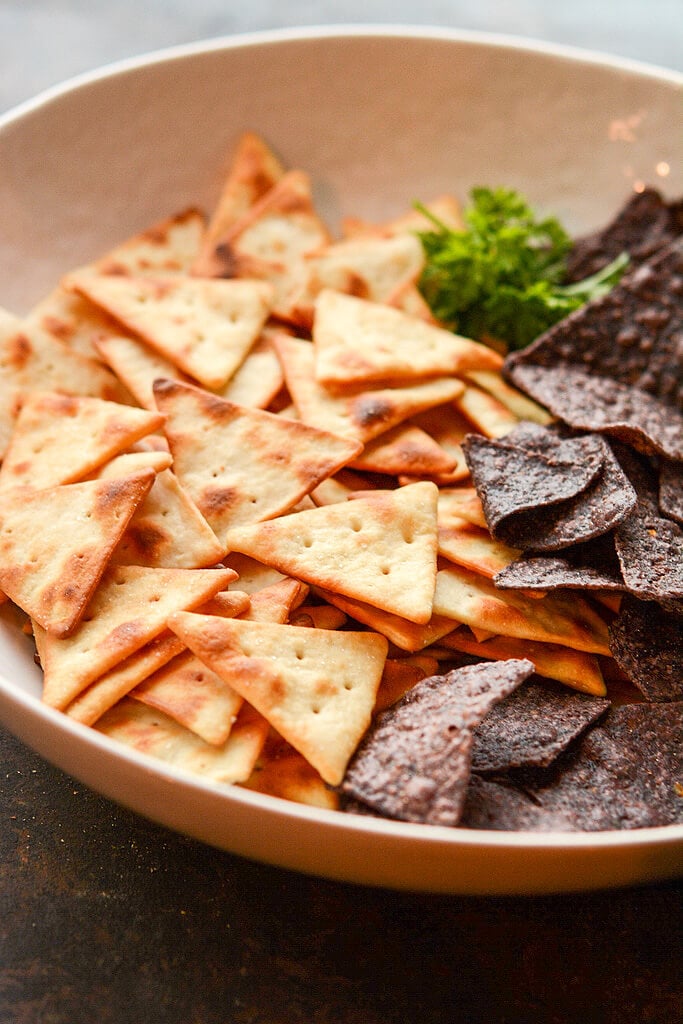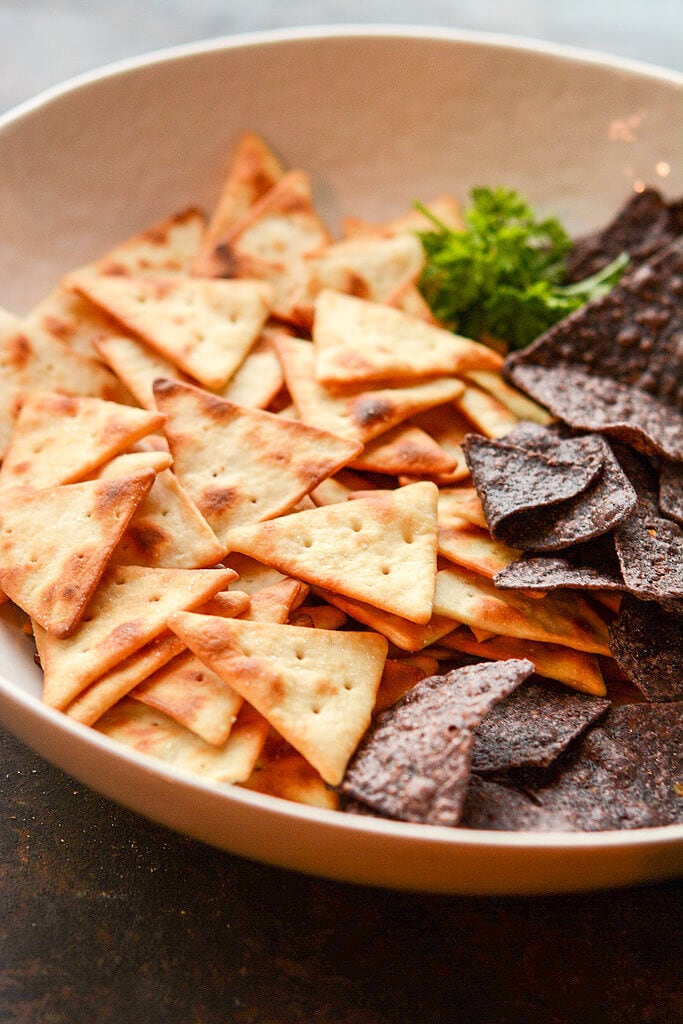 The perfect pairing for scooping this hearty dip is a thick pita style cracker or some tortilla chips (I went with blue corn for a pop of color).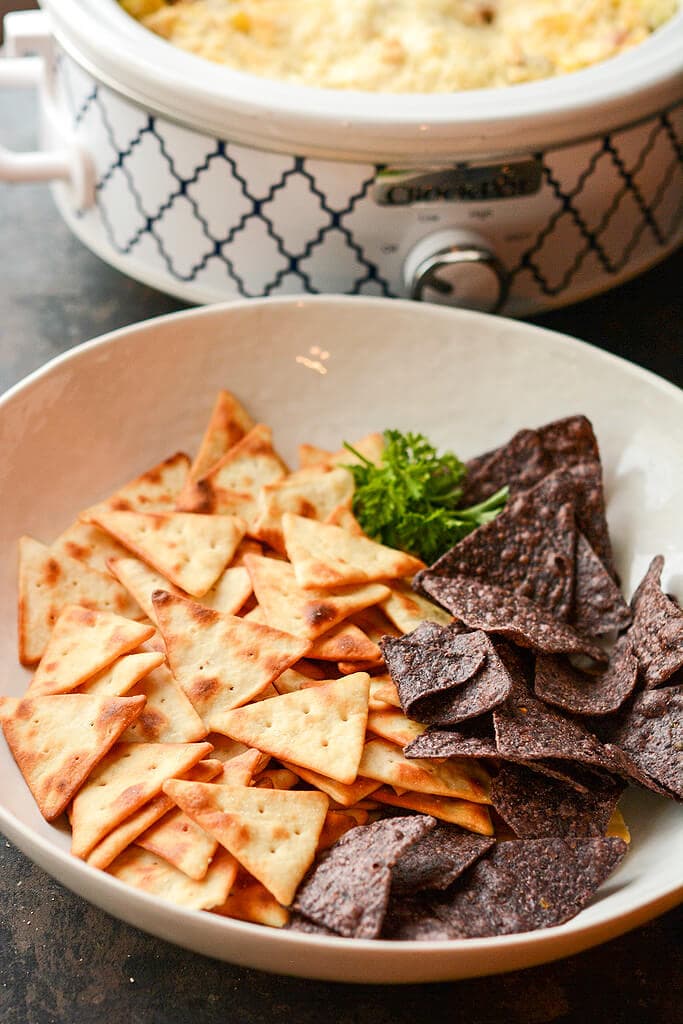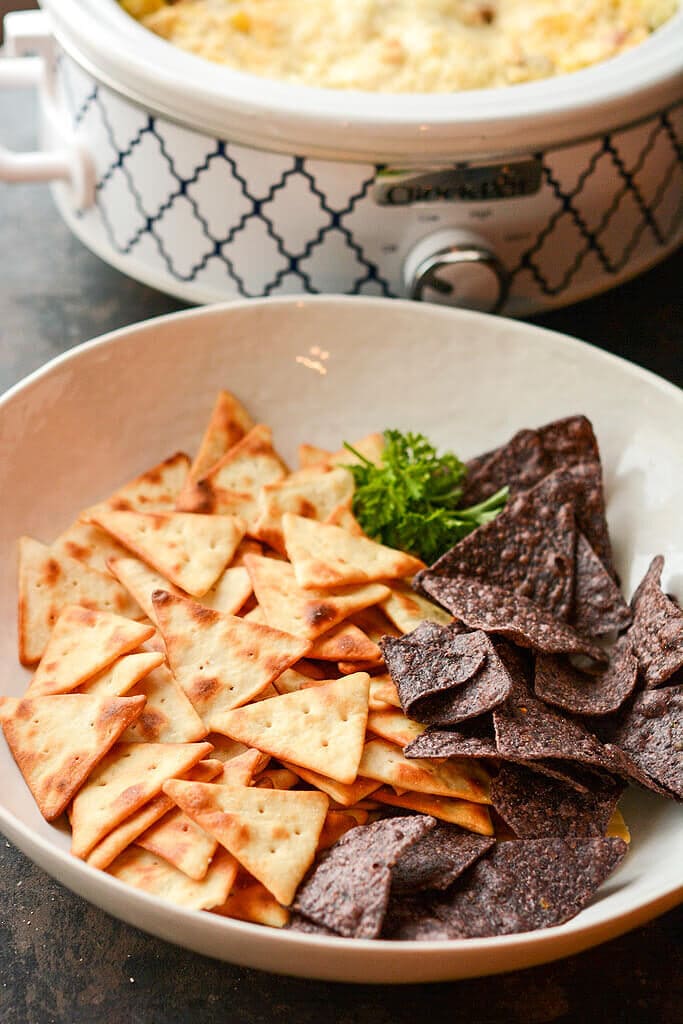 I'm so glad to have another recipe to add to my usual round-up since we tend to do a lot of entertaining with appetizers this time of year. I know this one will make multiple appearances. However, I promise to do a better job at creating even more new recipes so that everyone can find something they love!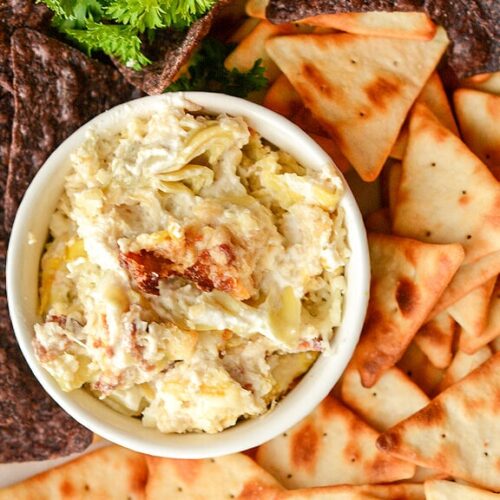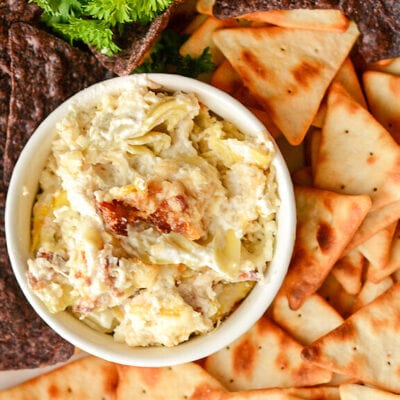 Slow Cooker Artichoke and Bacon Dip
You can never have too many dip recipes and I can certainly guarantee that one with bacon will never be turned down. Slow Cooker Artichoke and Bacon dip is a winner.
Ingredients
6

slices

thick cut bacon

(chopped)

1/4

cup

finely diced shallots

2

cloves

finely diced garlic

14

oz

quartered artichoke hearts

(1 can, drained and chopped)

12

oz

whipped cream cheese

1/2

cup

sour cream

1/2

cup

mayo

2

cups

shredded monterrey jack cheese

1/2

cup

shredded asiago cheese + 1/4 cup for topping/browning

(optional)
Instructions
Add chopped bacon to skillet preheated to a medium high heat

Let cook for about 5-6 minutes, stirring occasionally

Add diced shallot and garlic and continue to cook until bacon and shallots are crispy, about 4-5 more minutes

Transfer to slow cooker and stir in remaining ingredients, reserving 1/4 cup of asiago cheese for topping later (if desired)

Cover and cook on high for about 1 1/2 - 2 hours or low for 3-4 hours or until heated through and bubbly

Top with remaining cheese and place in 425 degree oven for 5-7 minutes until slightly crispy on top (using oven safe dish)

Return to slow cooker to keep warm and serve with pita or chips
Nutrition
Calories:
453
kcal
Carbohydrates:
4
g
Protein:
12
g
Fat:
42
g
Saturated Fat:
17
g
Cholesterol:
85
mg
Sodium:
684
mg
Potassium:
128
mg
Sugar:
2
g
Vitamin A:
1155
IU
Vitamin C:
8.7
mg
Calcium:
284
mg
Iron:
0.8
mg
Important nutritional disclaimer
Slow cooker used for this recipe: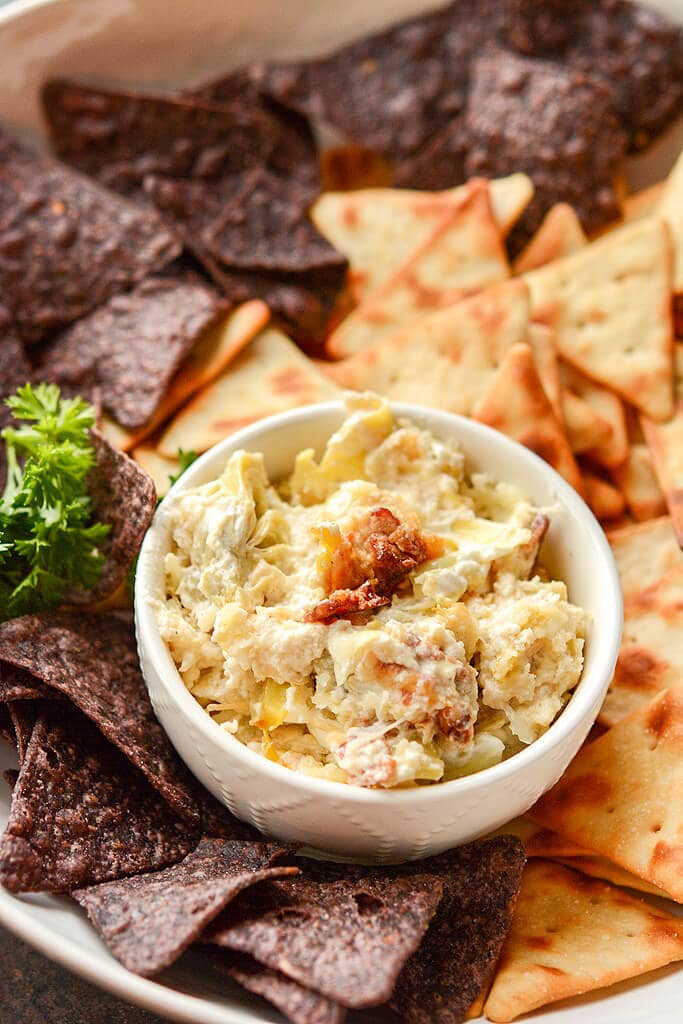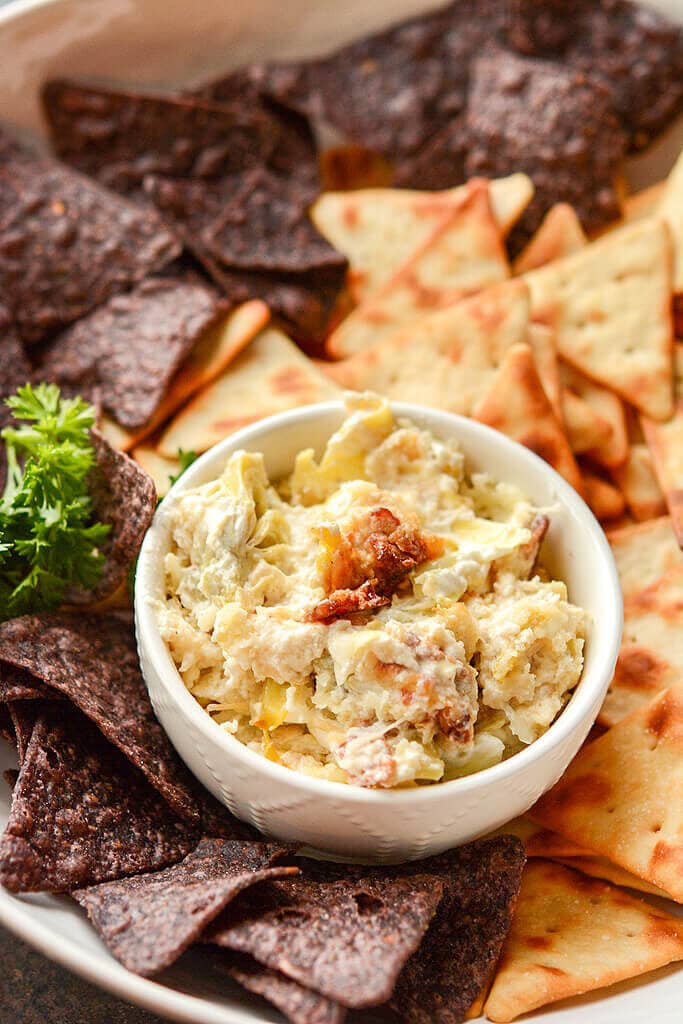 More delicious appetizer recipes:
Slow Cooker Sweet Corn and Jalapeño Dip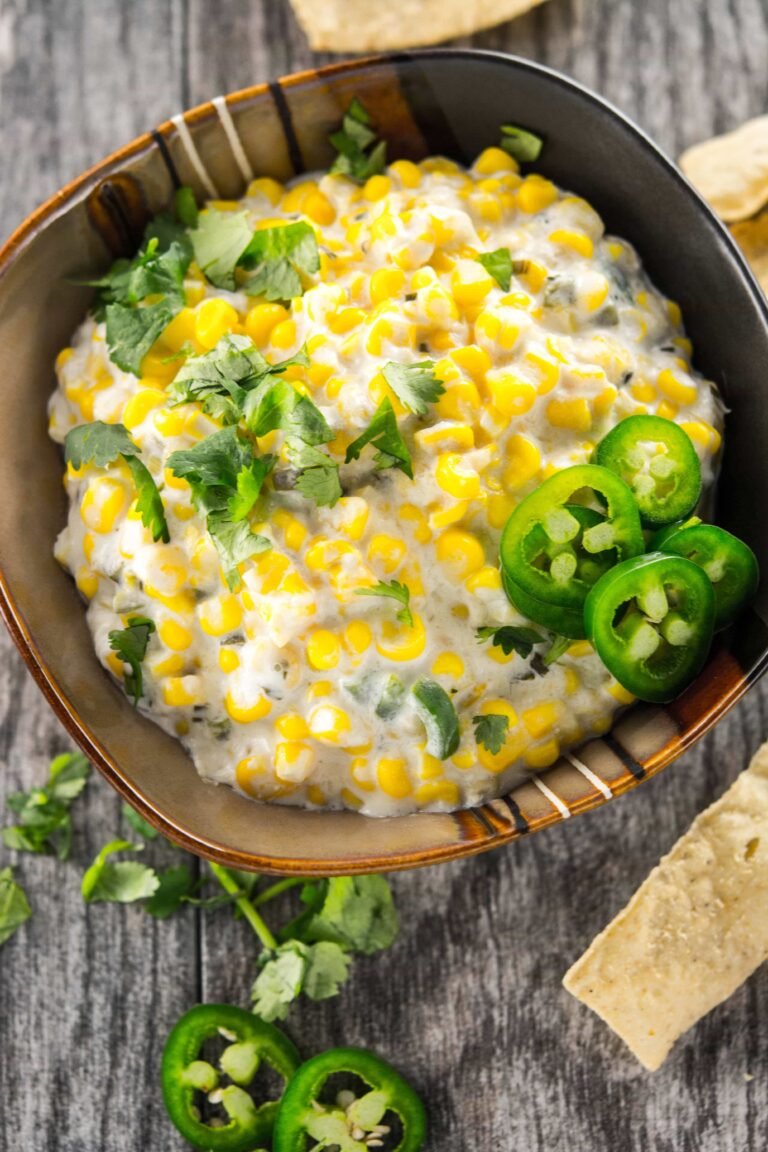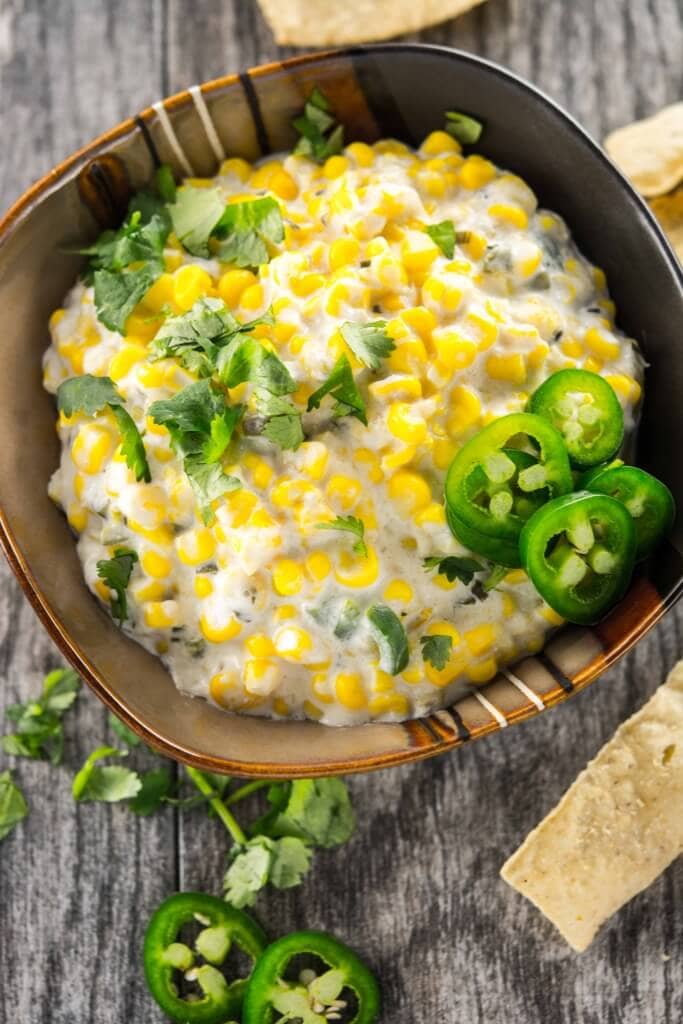 No party is complete without meatballs! Slow Cooker Honey BBQ Meatballs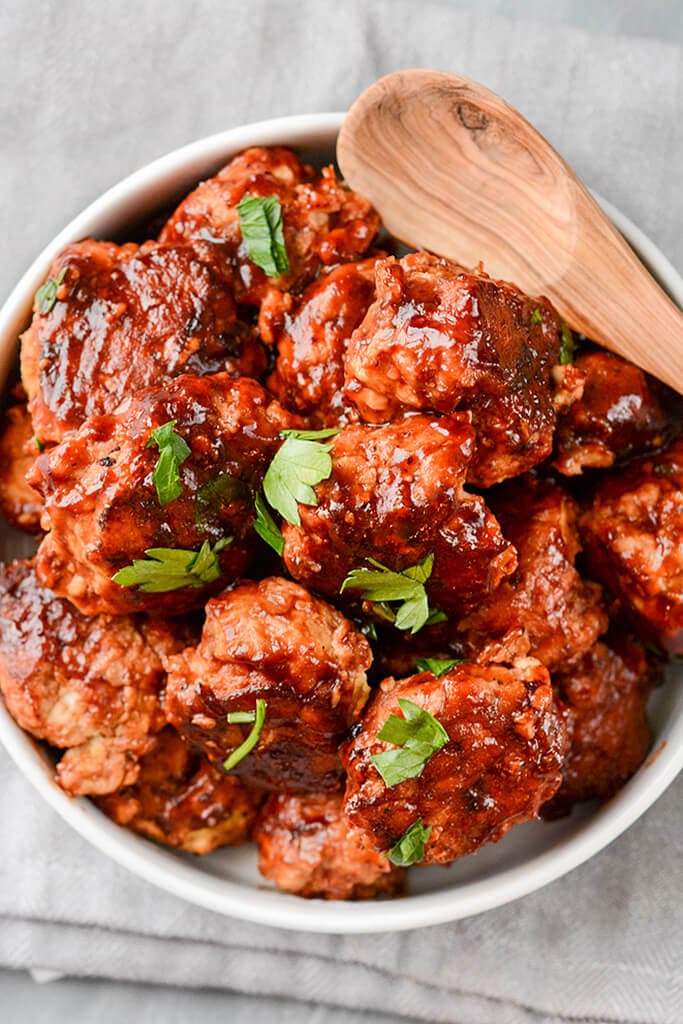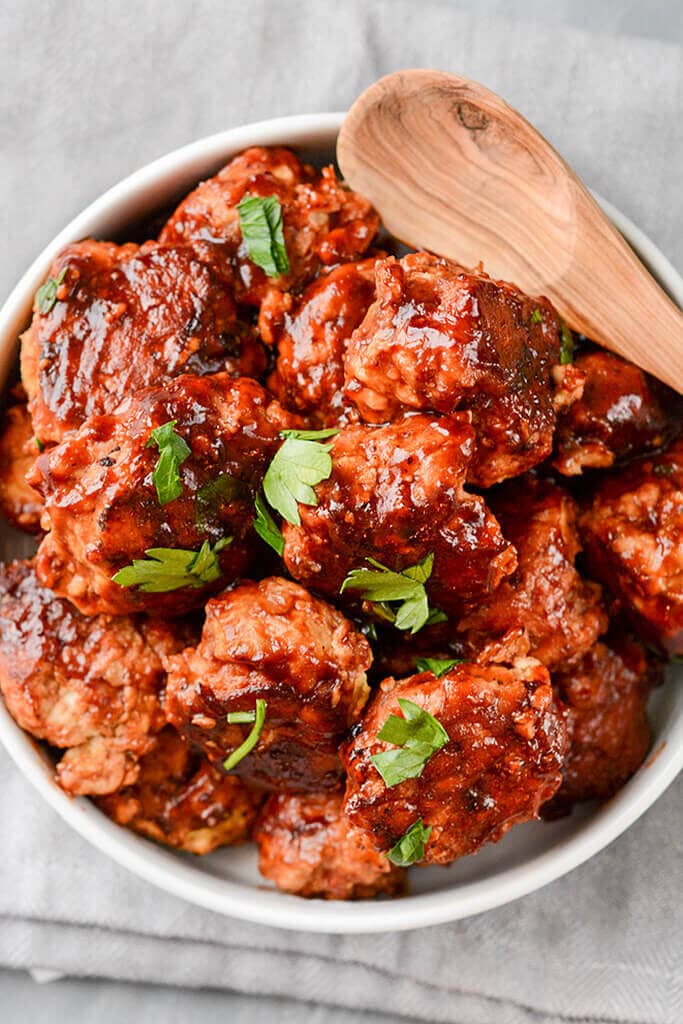 Slow Cooker Gourmet is a participant in the Amazon Services LLC Associates Program, an affiliate advertising program designed to provide a means for sites to earn advertising fees by advertising and linking to amazon.com. If you purchase a product through this link I will earn a small commission. As always, I only recommend products I use and love!