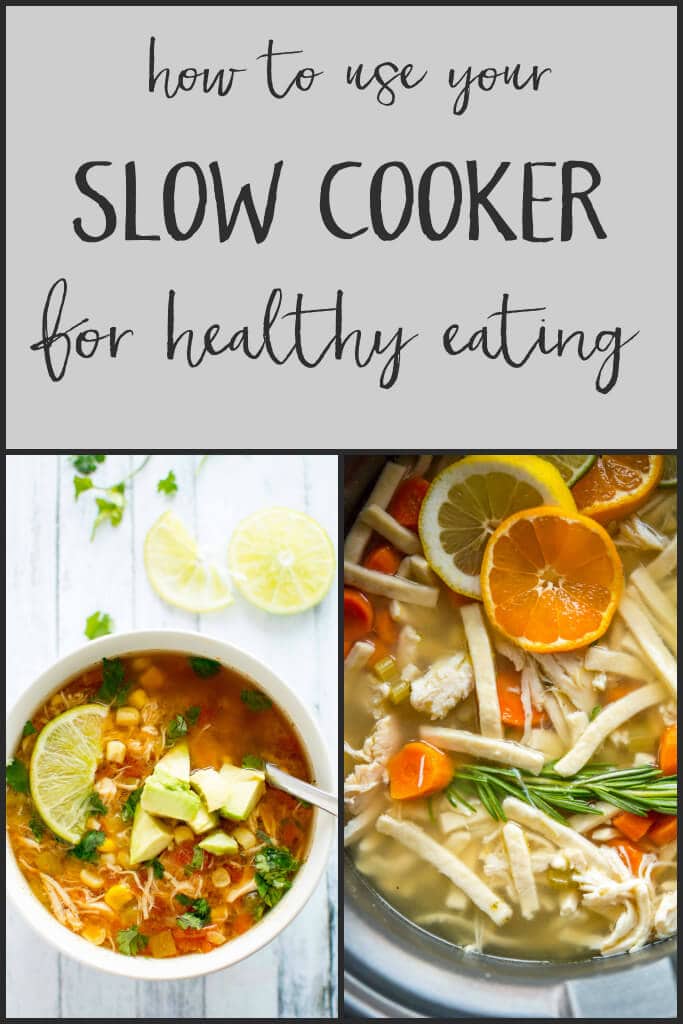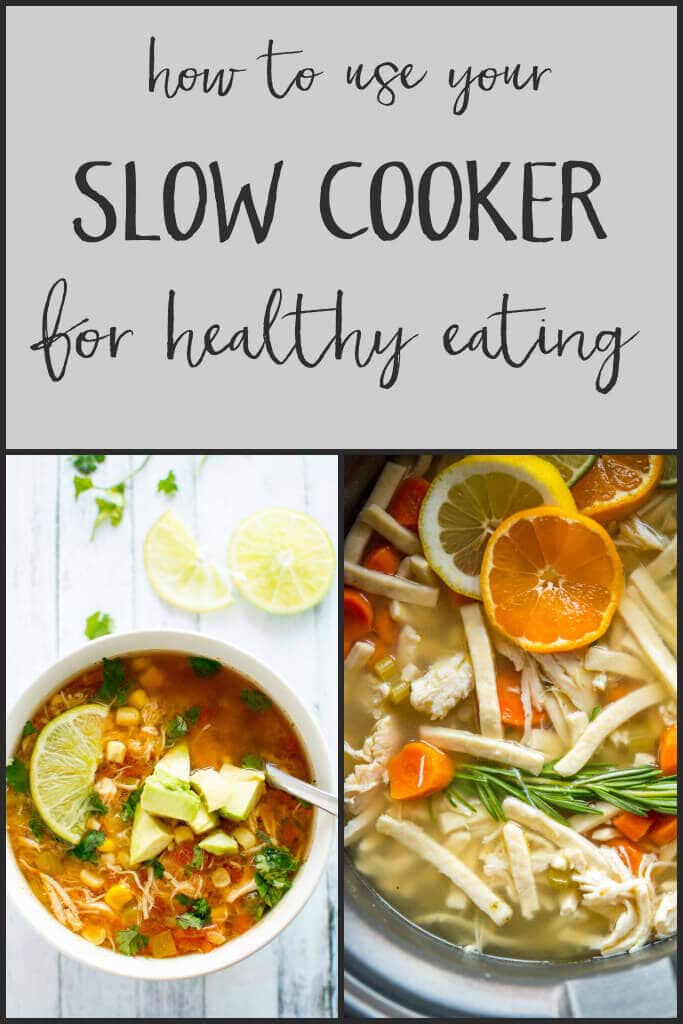 My philosophy when it comes to feeding my family leans towards creating wholesome, balanced, and nutritious meals that are simple to prepare. But another requirement I have just for myself is that they can't be boring. Nothing makes me happier than to put dinner on the table and have everyone excited to dig in and try the food. Sometimes this may mean making a pasta meal that is rich and indulgent. And sometimes that means making a chicken dinner that is fresh and flavorful and goes to prove that healthy can and does taste delicious. To me it's a philosophy of everything in moderation and creating a balance that works for all of us. Food should be something to be enjoyed among family and friends. Something that brings about conversation and joy. Preparing it should never be too much of a chore and for me personally it should never be something that causes worry over every extra calorie or gram of fat. I believe in using the most wholesome ingredients I can and minimizing the use of processed ingredients whenever possible and focusing my energy on my best creative use of these simple ingredients. To me, this is what "healthy eating" is all about.
But today I'd like to get a little more specific about how using your slow cooker can help you eat healthy, both in the traditional sense and in the holistic sense. By no means do these tips make up a specific diet plan or promise to help you lose 10 pounds in 5 weeks but what they do is help you create a balanced, sustainable approach to cooking for your family and show you that healthy, nutritionally balance meals can be amazing and delicious, even when you use your slow cooker to make them!
1. Slow cookers help you get a meal on the table by making the bulk of the work occur ahead of time. Let's face it, at the end of the day we get tired. Even when we've had the best of intentions sometimes a curve ball thrown at us during the day can completely knock us off track and we end up stopping for fast food or ordering a pizza instead. It happens to the best of us!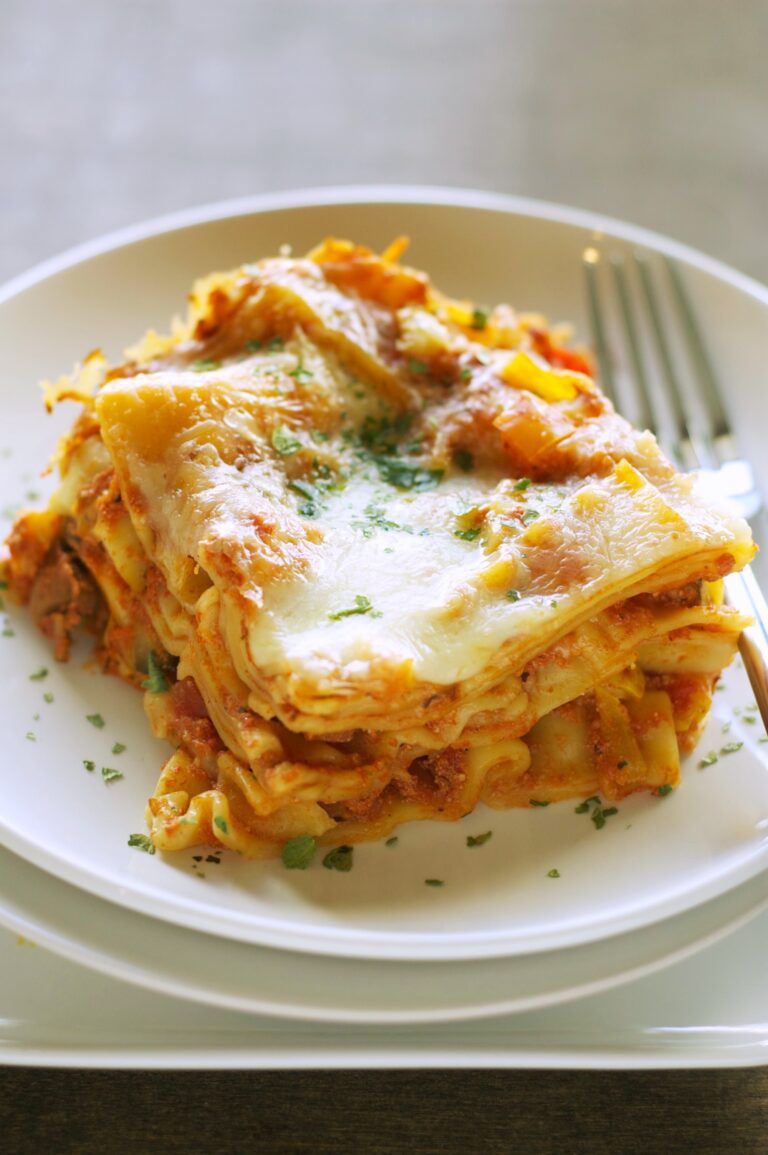 Make up a couple of these freezer friendly Veggie Lasagna's on weekend sometime and then even on your busiest day you will have a meal full of veggies to feed your family. Most picky kiddos don't even realize this is chock full of veggies and will gobble it down! And best of all? Freezing veggies is a great way to seal in their flavor and nutritional content
2. You typically don't need to add extra fats when cooking meals in a slow cooker that you would have to add when making via another method.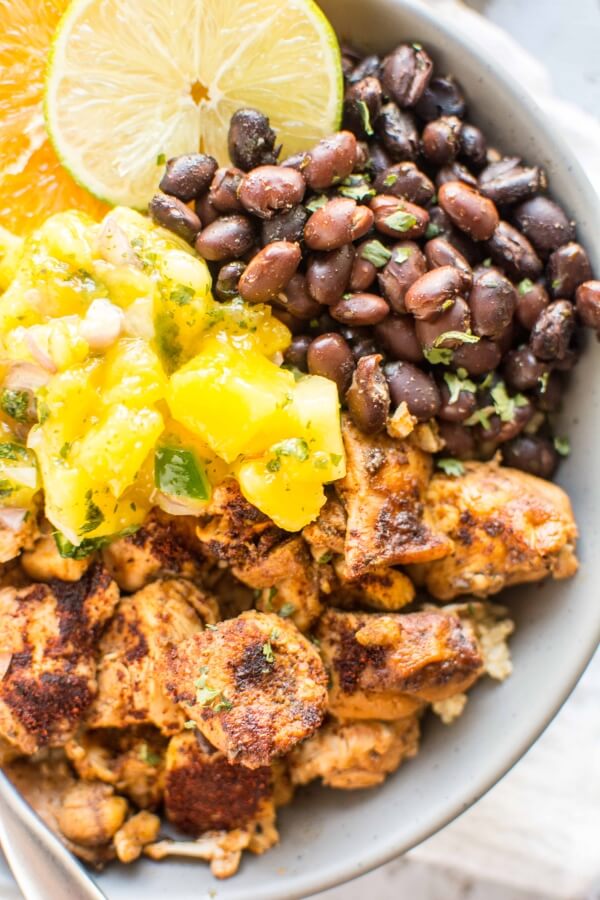 When you cook chicken in the oven or on the stove (or even on the grill) we often have to add quite a bit of oil to either brown it up or keep it from drying out. Either that or we face a super boring chicken breast that nobody really wants to eat. Instead, put the ingredients for these Cuban Chicken Bowls in your slow cooker and have a flavor and protein packed meal without added oils. The addition of quinoa and black beans means this meal packs a protein punch!
3. Let's face it, you can't deep fry anything in a slow cooker! Kid's love their chicken tenders? You can make amazing chicken tenders by using your slow cooker and there is not one bit of breading or hot oil involved!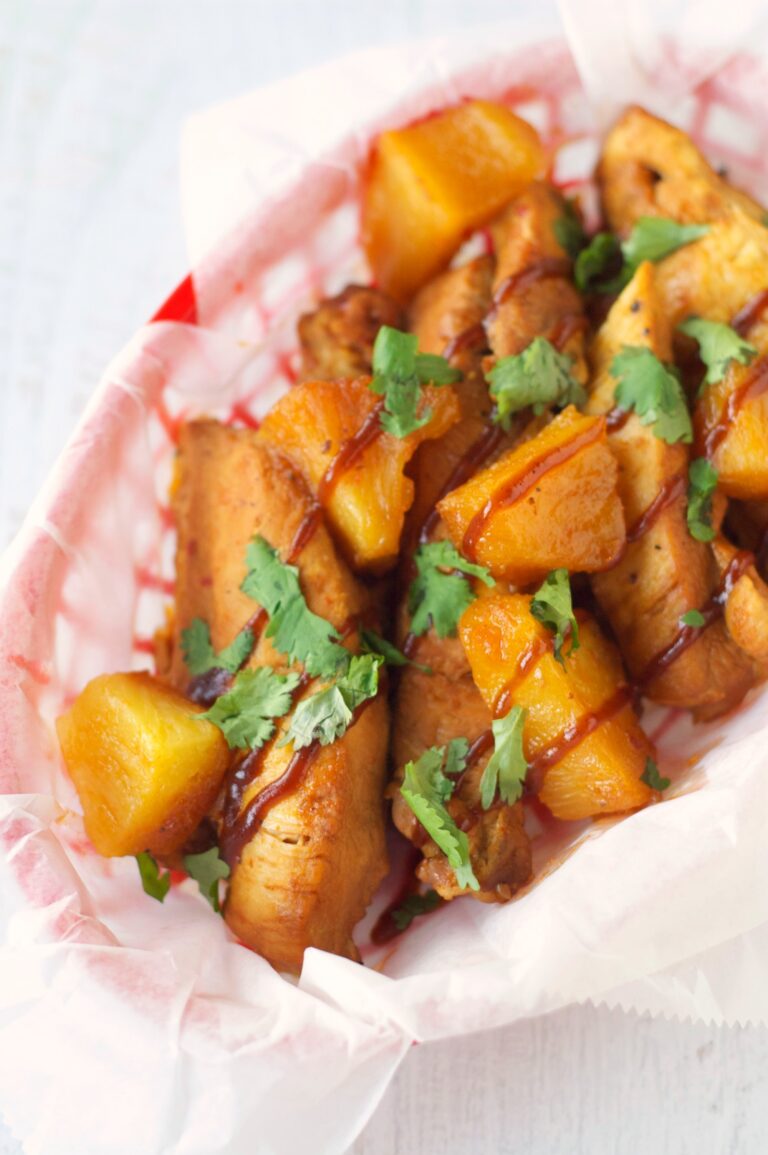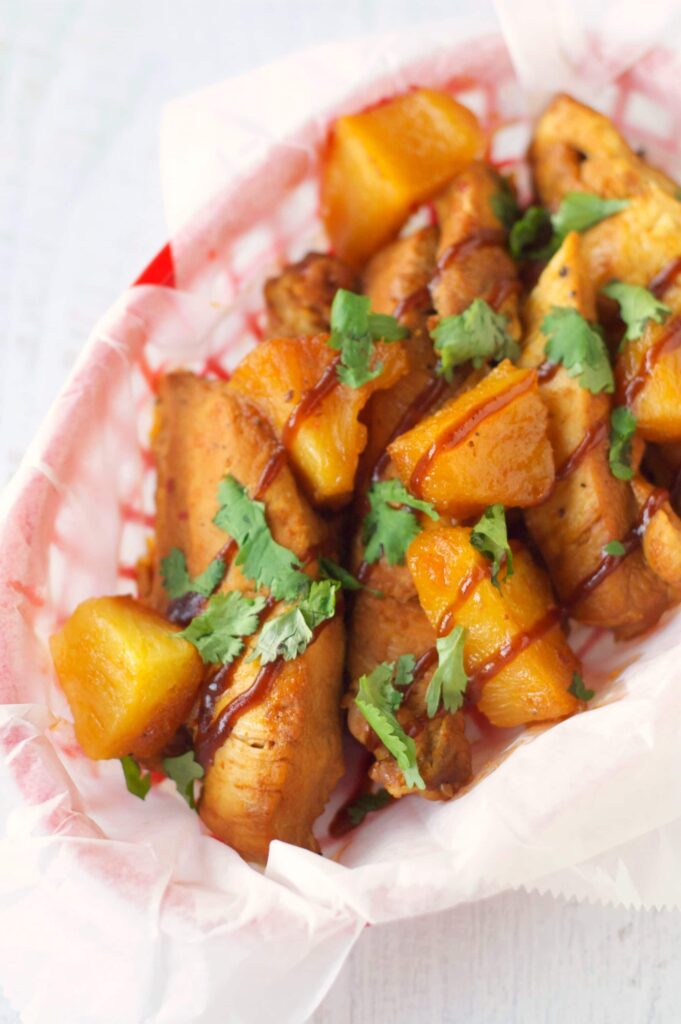 Try these Pineapple BBQ chicken tenders! They are super flavorful, require little work and you can feel much better about serving these to your family with a simple side of veggies (maybe these easy green beans?) than you would about zipping through a drive thru!
4. Are you someone who just really doesn't enjoy cooking? That's okay! It doesn't have to become a dreaded chore. There are so many meals that are super easy to prepare using the slow cooker. I don't mind using canned tomatoes, beans and broth to help me create meals. Obviously using the fresh ingredients would be preferable to many but when you have to make a choice between using some "processed" ingredients or not making a homemade meal at all, I'd say this is a great place to compromise.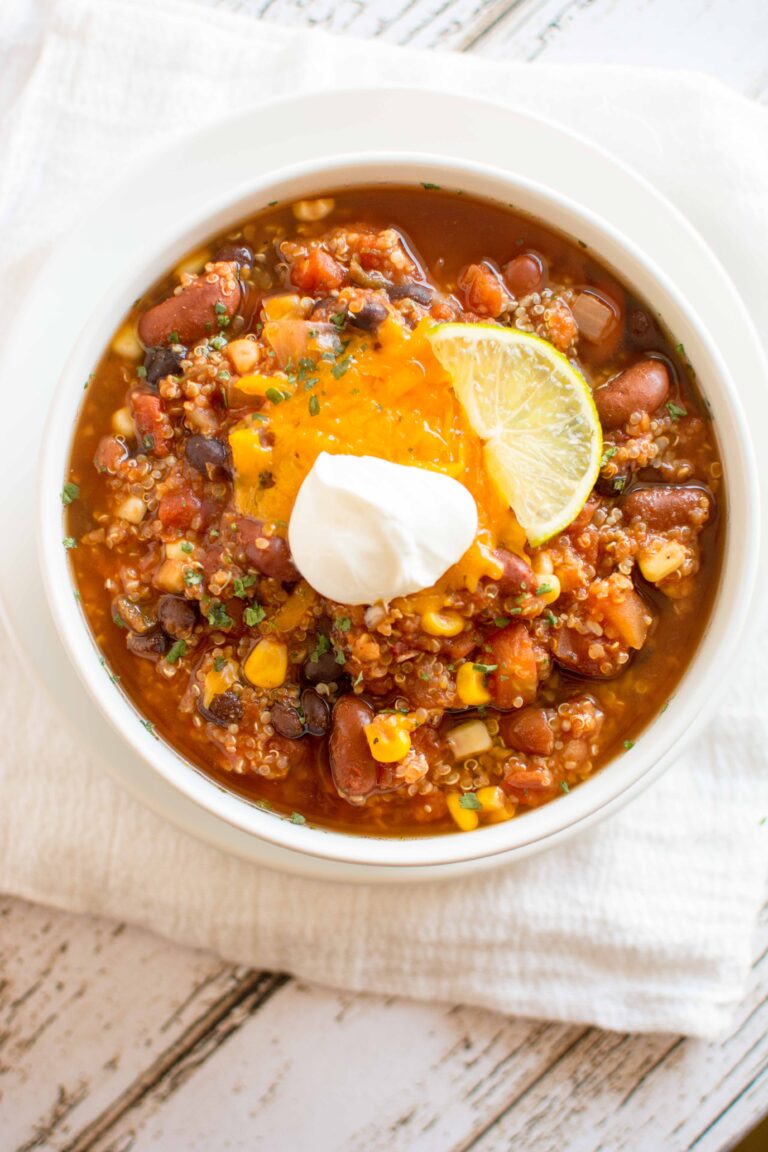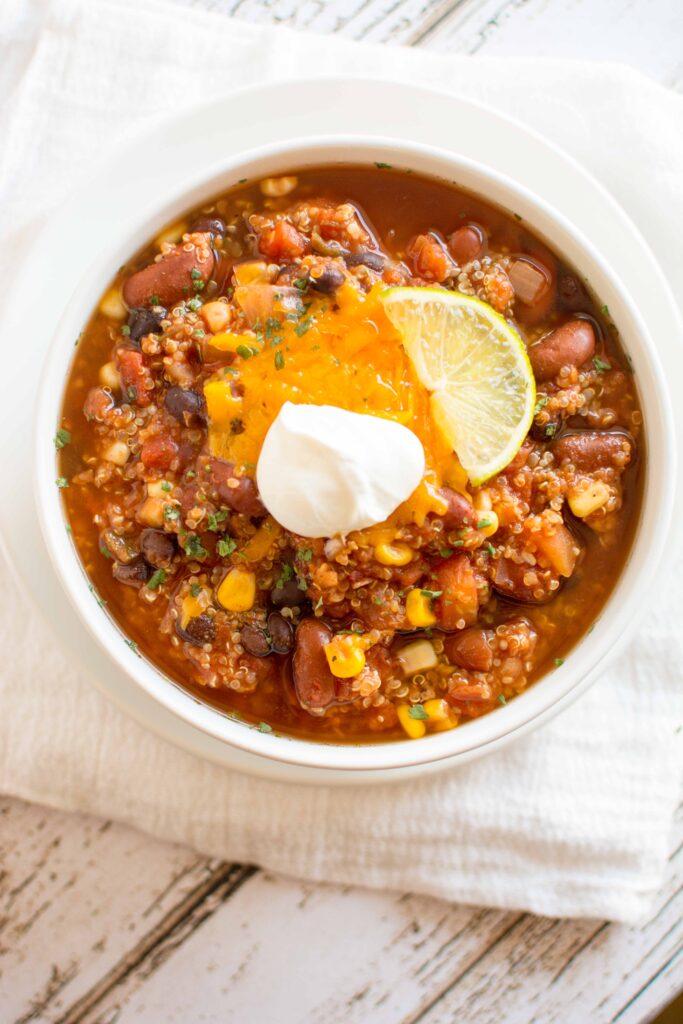 This Quinoa Chili is one of my favorite recipes and is so simple to make. Utizilizing canned beans and tomatoes, adding quinoa and a simple make-ahead homemade seasoning blend will make such quick work of adding this meal to your slow cooker in the morning you won't consider it much of a chore at all. Especially considering the result of ending up with a delicious and super filling meal when you walk back in the door at the end of the day!
5. You can use lean cuts of meat in your slow cooker that would otherwise not be very tender or appetizing. It's your choice to brown the meat before adding to the slow cooker and I've done meals both ways. I think they can they can turn out equally delicious and if skipping the browning helps you get the meal in the slow cooker vs. putting it off that day, then I say go for it. It's better to make that small sacrifice rather than to end up eating out or having cereal for dinner, right?!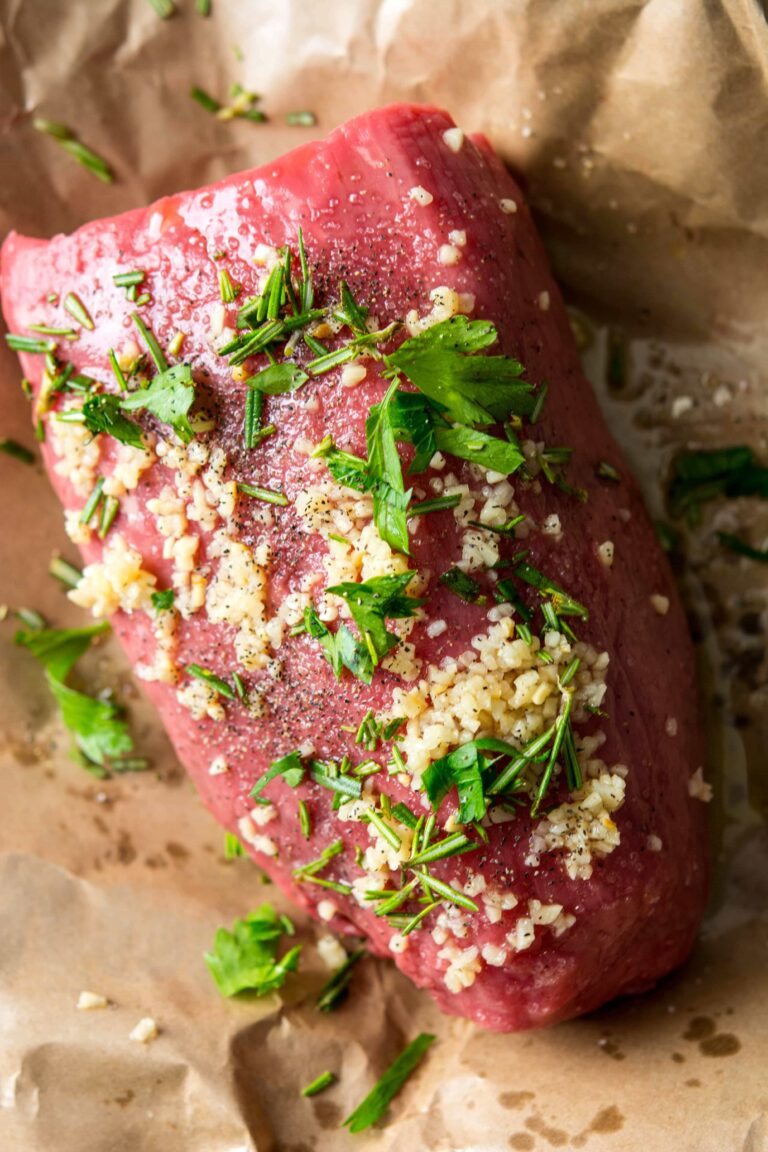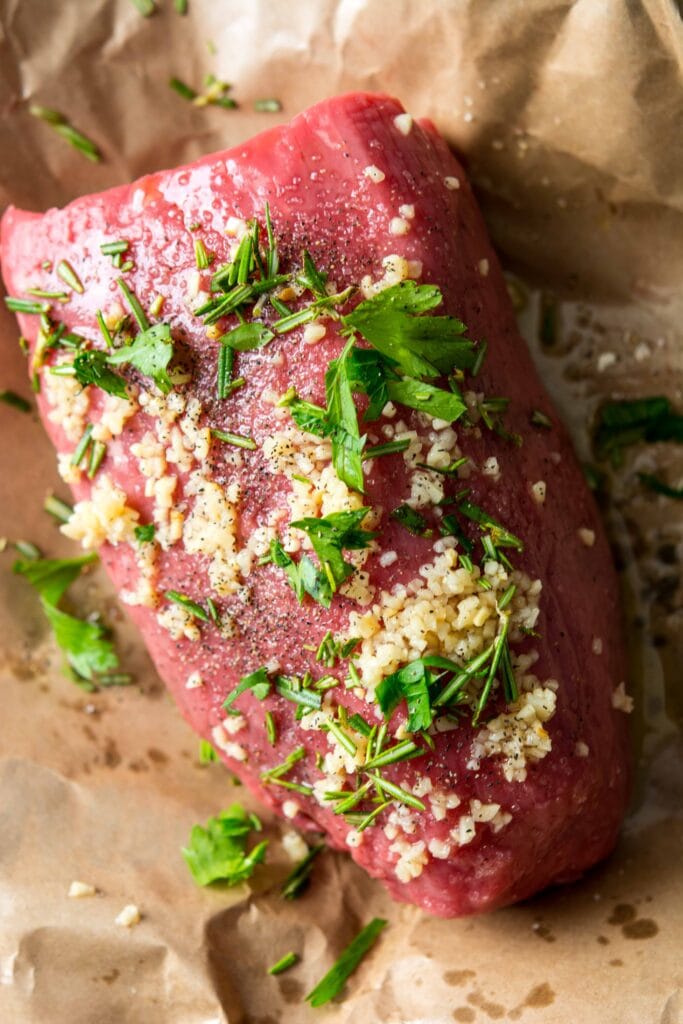 Use a lean cut of meat like an eye of round roast and cook it on low all day to make a meal like this Rosemary Garlic Crusted Roast Beef. My family loves this meal and you can serve it often without getting bored by serving it with different sides each time. Beef goes well with so many different veggies, the meal combos are almost limitless.
6. Finally let's talk about how you can up the veggie content of meals by adding your favorites to a soup, stew or chili. The veggies cook in the broth and since the slow cooker keeps all steam in (vs. cooking on the stove perhaps) then hopefully that helps maintain more of those vitamins we all want. You can be sneaky and puree veggies into your soups to help get veggies into your picky kids (adding sweet potatoes or butternut squash into a tomato based broth or stew is so easy) or just add your favorite veggies to customize your soup or stew!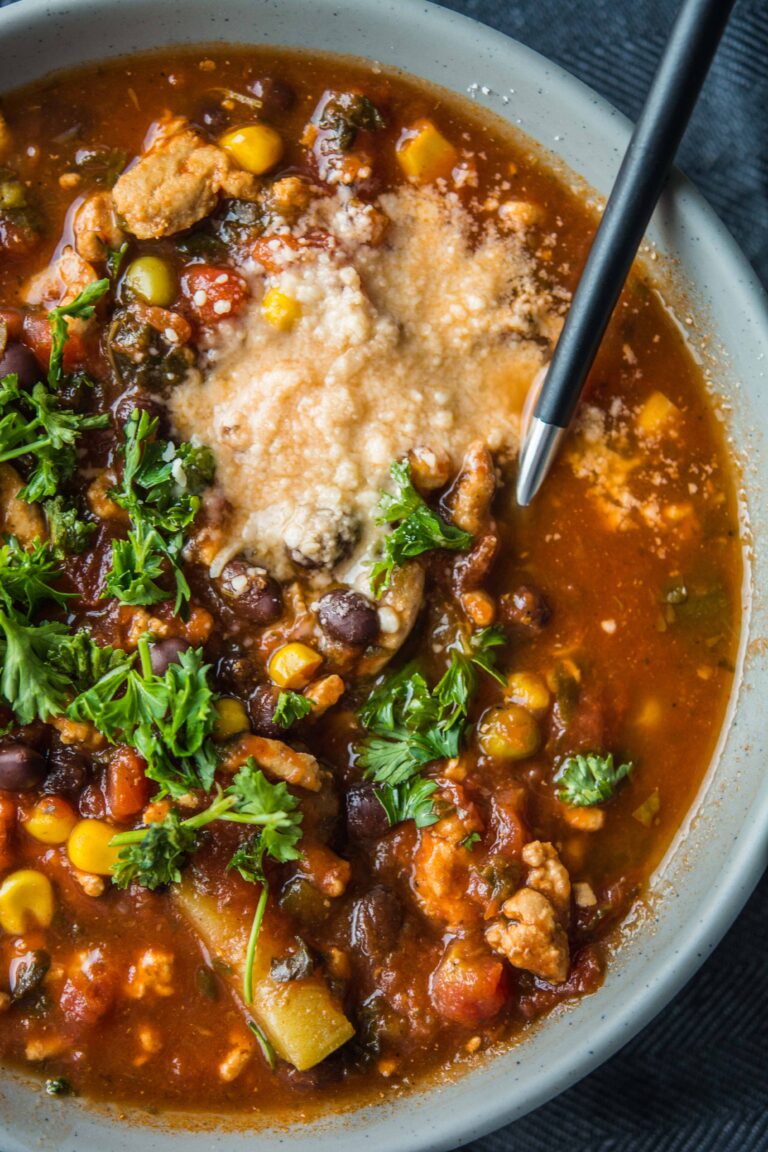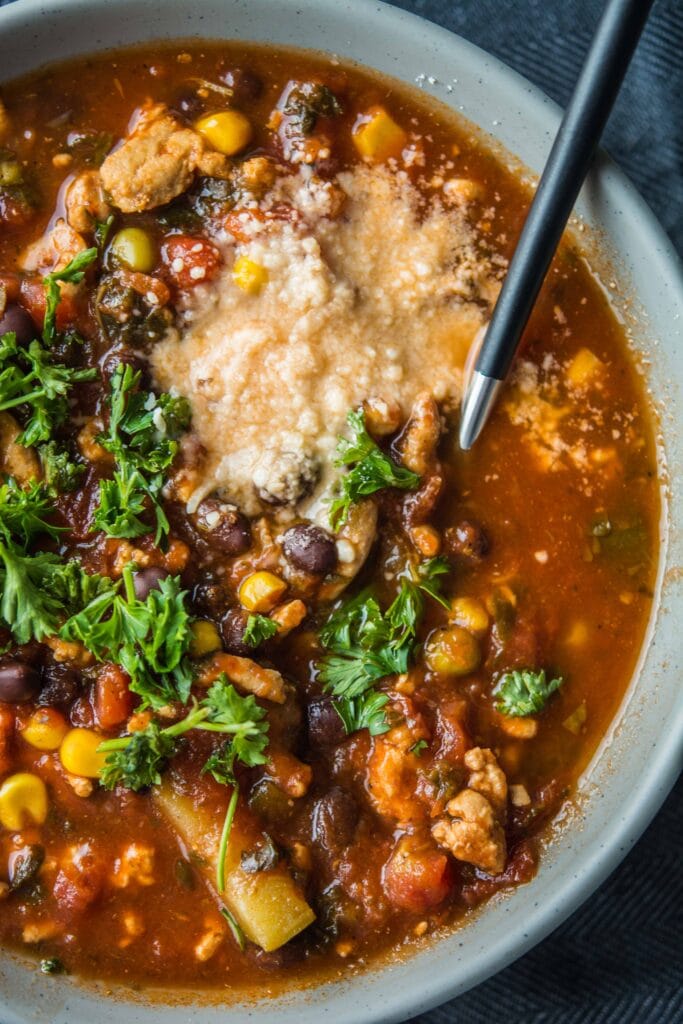 I love this Turkey and Vegetable Soup as a way to incorporate my favorite veggies into my meals. You can add as many as you like and mix it up every time so you never get bored. This soup is also great for leftovers and makes a wonderful filling hot lunch. Heat it up in the microwave or even one of these cute little food warmers
.
So what do you think? Will any of these tips have you cooking healthier meals for you family without going to much extra trouble? Let me know what your biggest challenge is to getting meals on the table and let me see if I can help you solve it!!
Slow Cooker Gourmet is a participant in the Amazon Services LLC Associates Program, an affiliate advertising program designed to provide a means for sites to earn advertising fees by advertising and linking to amazon.com. If you purchase a product through this link I will earn a small commission. As always, I only recommend products I use and love!