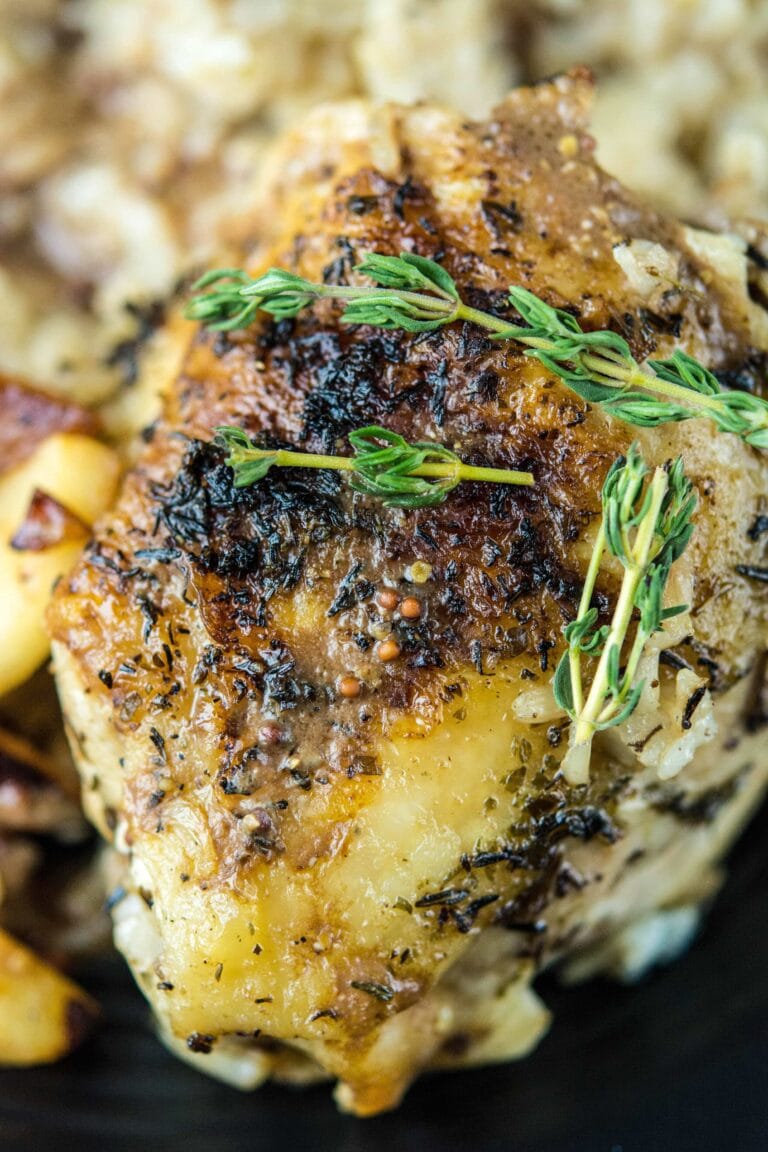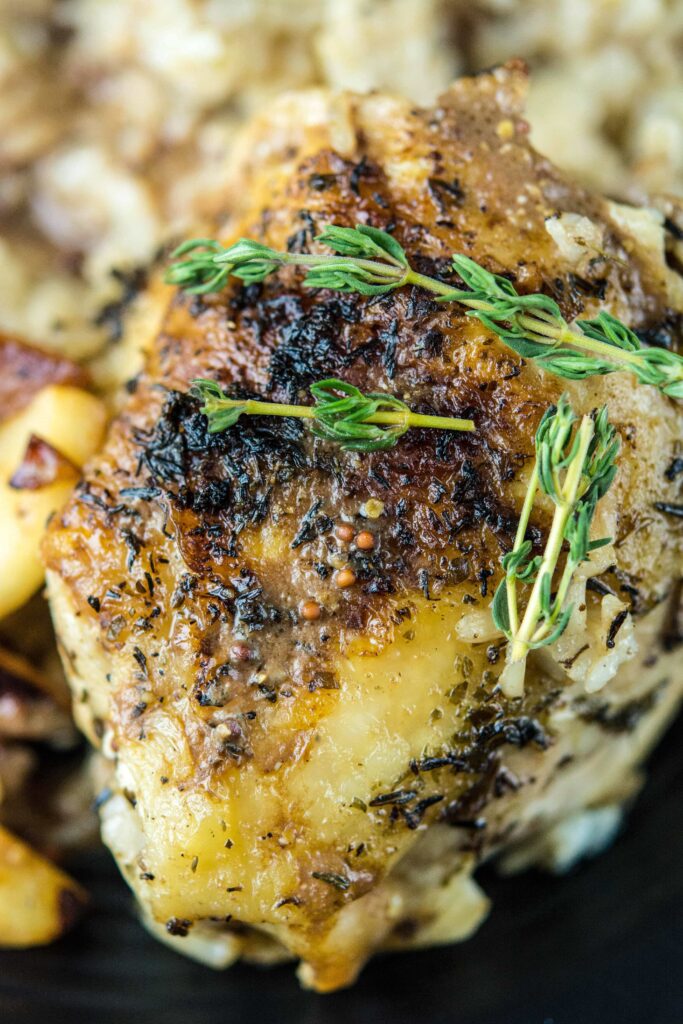 People (including me!) throw out the words "tastes like fall" a lot to describe recipes this time of year. But what does that mean? I guess it can mean something different to each person but I tend to think of foods that are found seasonally this time of year. Apples, pumpkins, pumpkin spice lattes, pumpkin beer...... wait what was I saying? Sorry! Got distracted there for a minute ;). What I really wanted to say is that THIS CHICKEN is one of those recipes that "tastes like fall" and should be made and enjoyed throughout this season!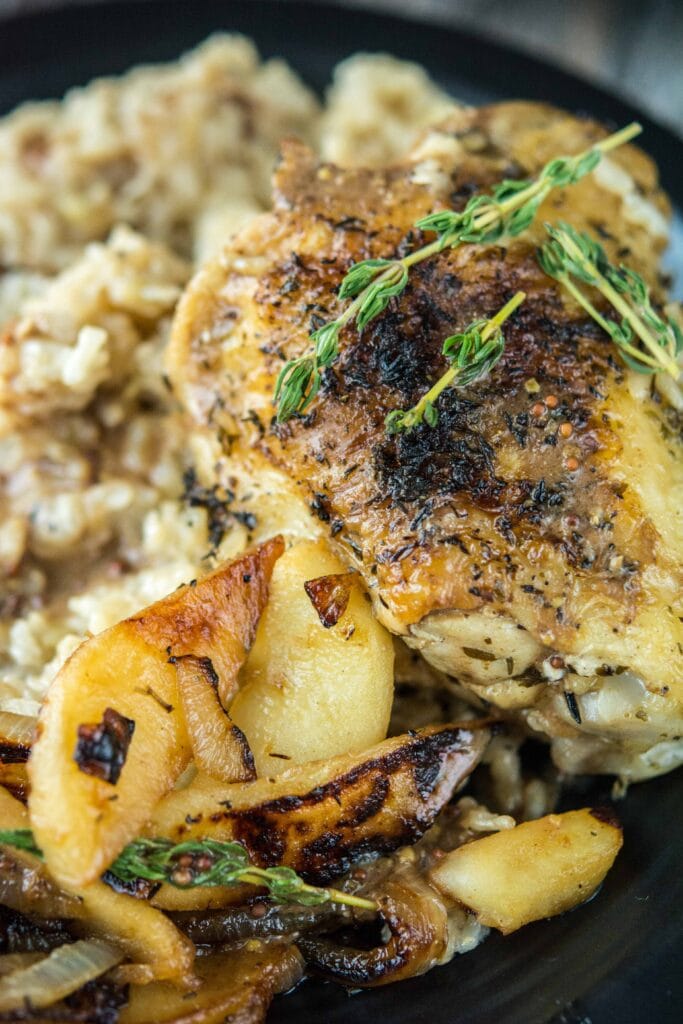 Maybe it's the caramelized apples and onions or maybe it's the fact it's cooked up with a big pot of delicious rice making it like the ultimate comfort food, but this dinner just makes me want to put on my coziest sweat pants and curl up with a bowl of this food in front of the fireplace!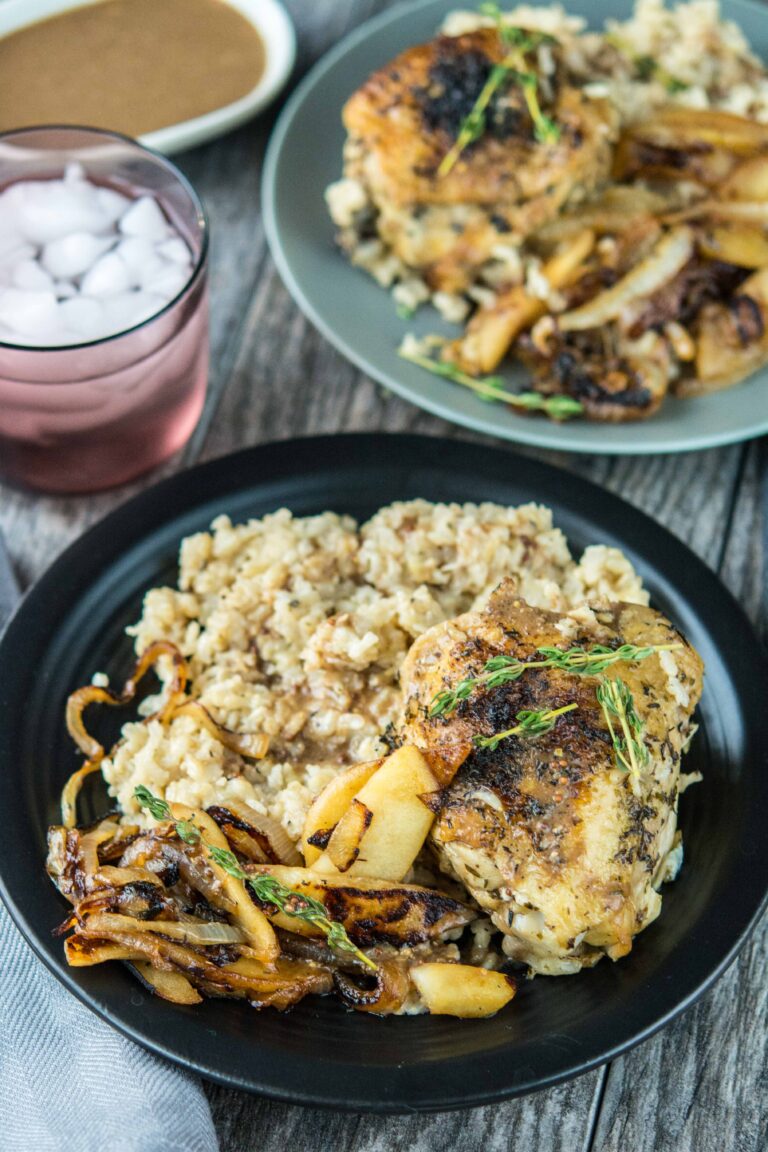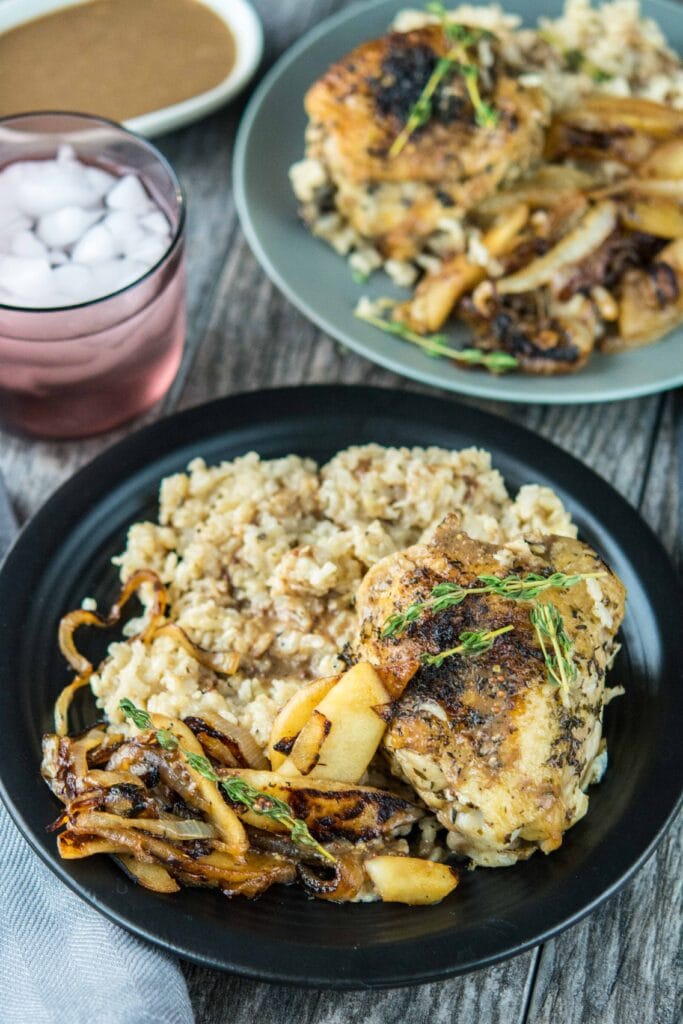 And I do know how much you guys love complete meals made in the slow cooker! The rice cooks right along with the chicken leaving you only to caramelize the apples and onions for a couple of minutes on the stove. Whisk up a little creamy balsamic drizzle to top off the ultimate autumn meal.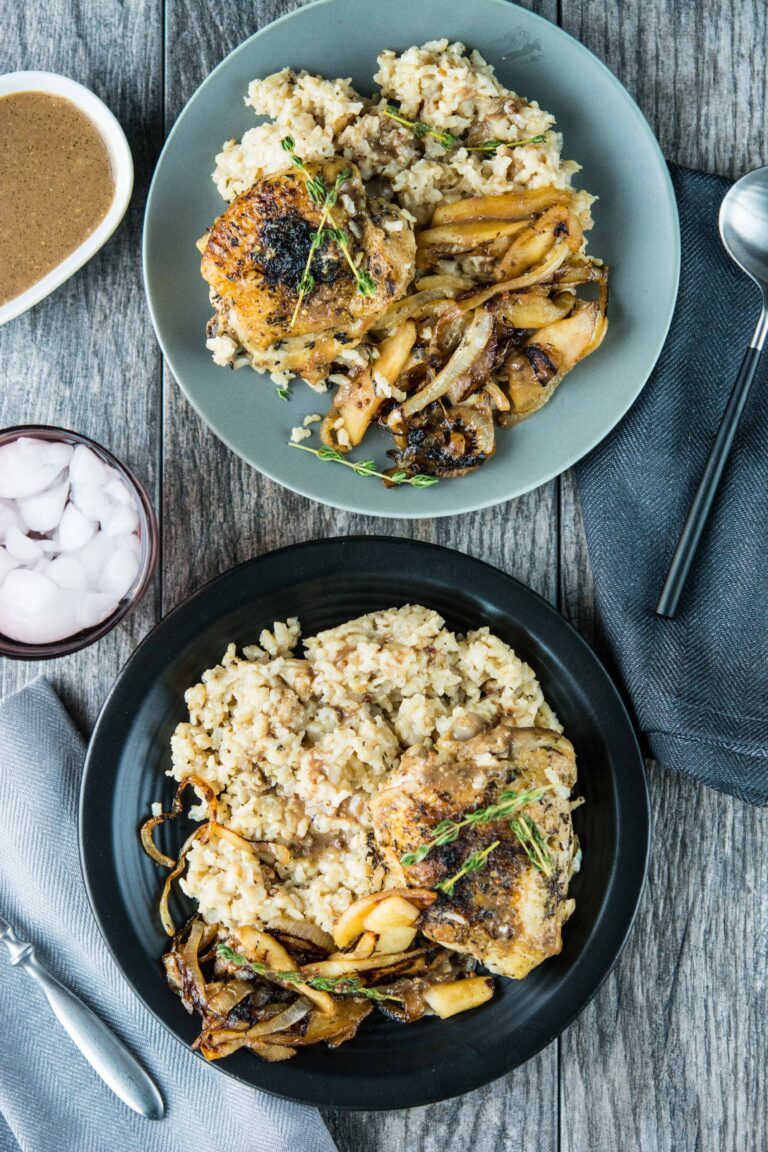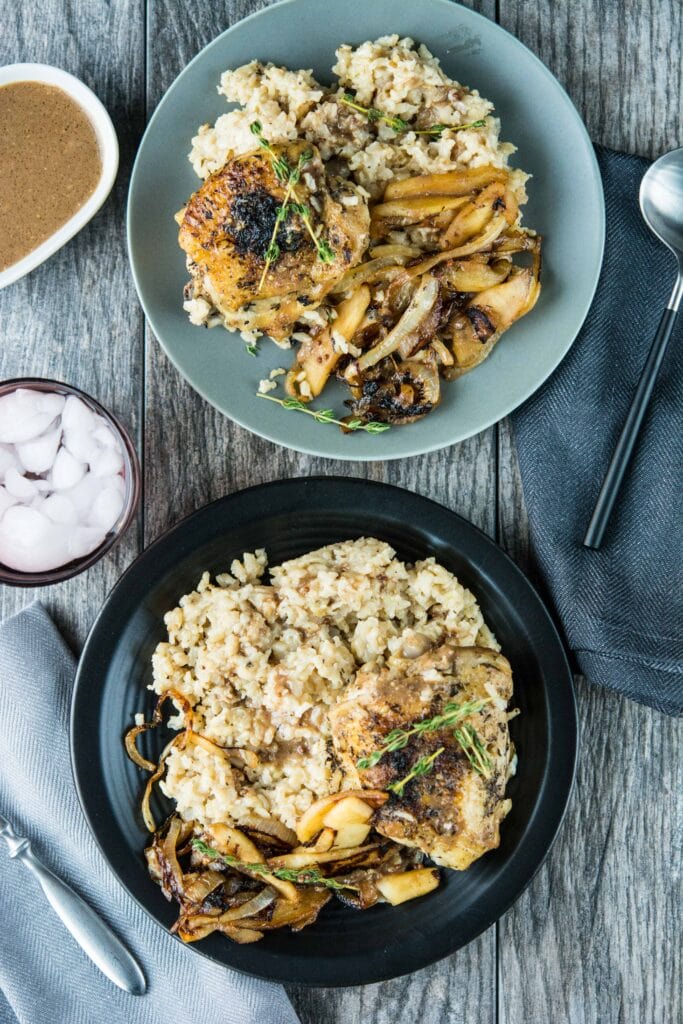 How did I get my chicken so brown and crispy? Yes, I did brown it up first before slow cooking it. Can you skip this step? I really don't recommend it in the recipe. We are using bone-in skin-on chicken thighs and that skin really need to be crispy. Why slow cook it at all then? Because you only have to brown it for a couple minutes, and slow cooking it keeps it so juicy and delicious! Hate dirtying up an extra pan? You can make it all in one of these multi-cookers
which is what I do! I love it!! Makes easy work of the perfect fall meal!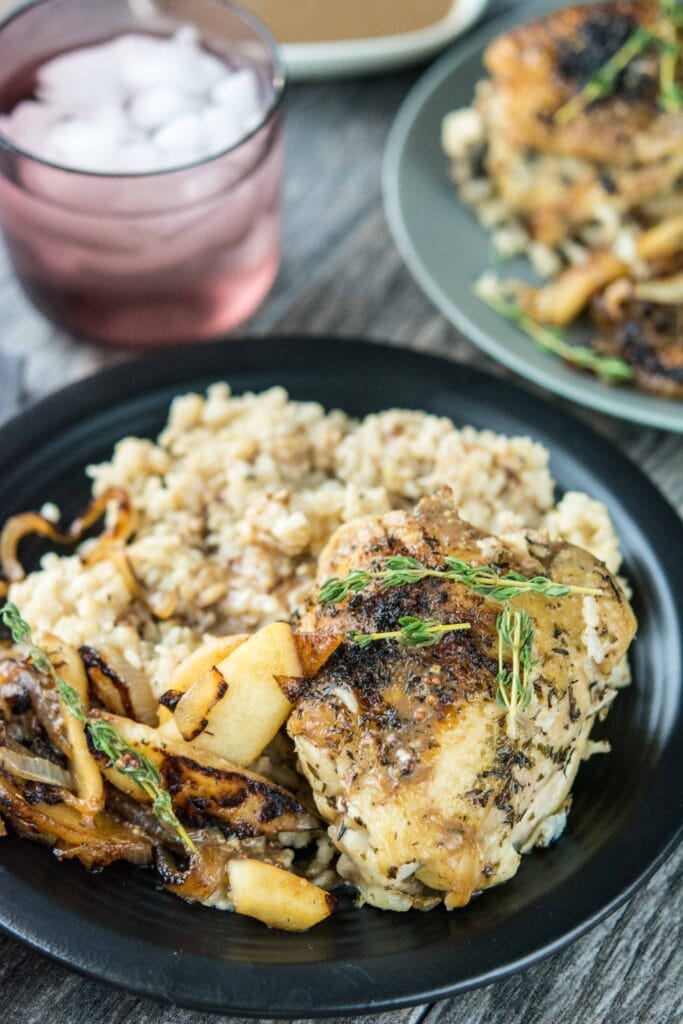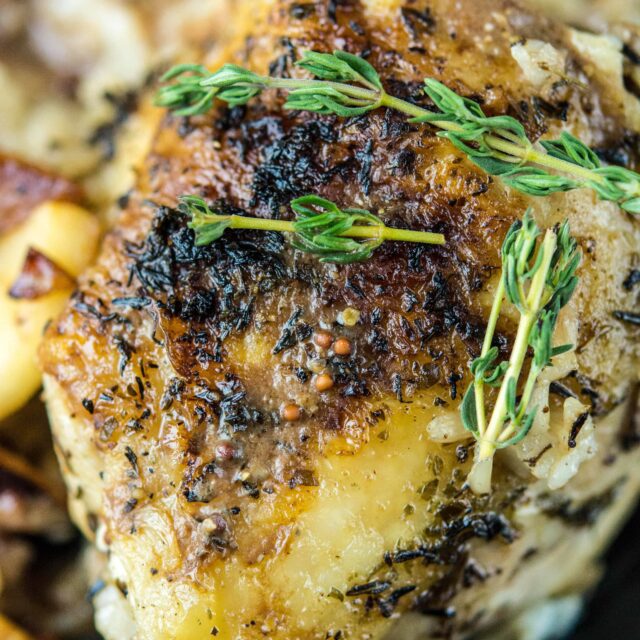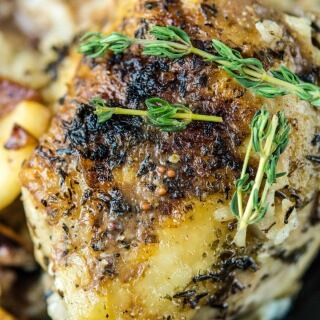 Slow Cooker Chicken with Caramelized Apples and Onions
Ingredients
2

tablespoons

butter

1

tablespoon

olive oil

4

bone-in skin-on chicken thighs

1

teaspoon

thyme

1

teaspoon

seasoning blend

(I used McCormick's Blue Moon White Ale Seasoning)

1

teaspoon

dried parsley

salt and pepper

2

cups

brown texmati rice

4

cups

chicken broth

(I was low on broth and actually used 1 cup broth + 3 cups water)

2

cloves

garlic

minced

½

teaspoon

thyme
For caramelized apples and onions:
2

tablespoons

butter

1

tablespoon

olive oil

1

large sweet onion

sliced

1

granny smith apple

peeled and sliced

1

gala apple

peeled and sliced
Instructions
Heat butter and olive oil in skillet over medium to high heat (or in multi cooker)

Sprinkle chicken (skin side) with thyme, seasoning blend, parsley and a little salt and pepper

Place chicken skin side down in skillet and let brown in pan without moving for 5-6 minutes or until lightly browned

Remove from pan and add rice, garlic and thyme to remaining oil/butter

Let brown while stirring for 2-3 minutes

Transfer rice to slow cooker and stir in broth

Add chicken on top and cover and cook on low for 5-7 hours or high for 2.5 - 3.5 hours

When fully cooked stir rice well and if not fully cooked you can add an additional ½ cup water and continue to cook on high for an additional 15-30 minutes
For caramelized apples and onions:
Heat butter and olive oil in skillet over medium high heat

Add onion and let cook for 6-8 minutes, stir occasionally

Add apples and continue to cook for another 6-8 minutes or until onions and apples are browned and tender

Serve with chicken and rice
Notes
This is delicious drizzled with a little creamy balsamic like Simply Dressing by Marzetti or whip up your own using your favorite recipe. I like a little balsamic with a touch of olive oil, mustard and greek yogurt.
Nutrition
Calories:
940
kcal
Carbohydrates:
95
g
Protein:
36
g
Fat:
46
g
Saturated Fat:
15
g
Cholesterol:
171
mg
Sodium:
294
mg
Potassium:
965
mg
Fiber:
6
g
Sugar:
13
g
Vitamin A:
555
IU
Vitamin C:
9.8
mg
Calcium:
97
mg
Iron:
4
mg
Important nutritional disclaimer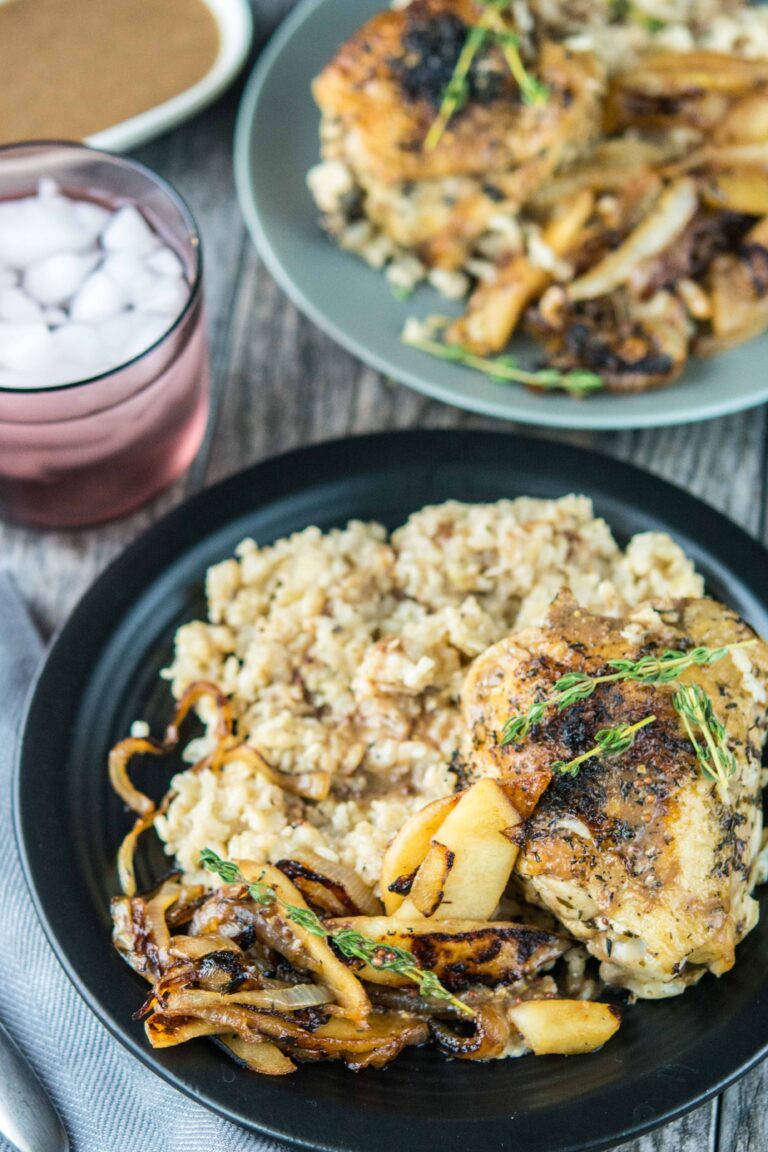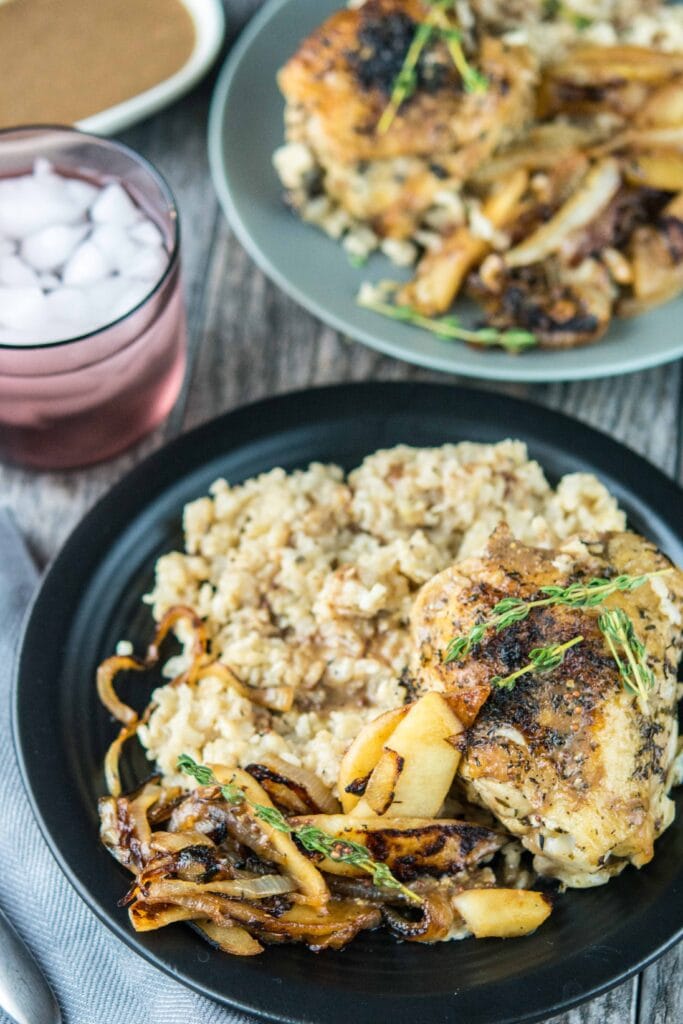 Slow Cooker Gourmet is a participant in the Amazon Services LLC Associates Program, an affiliate advertising program designed to provide a means for sites to earn advertising fees by advertising and linking to amazon.com. If you purchase a product through this link I will earn a small commission. As always, I only recommend products I use and love!
Tools used in making this recipe:
Craving more fall recipes:
Slow Cooker Pumpkin Cinnamon Rolls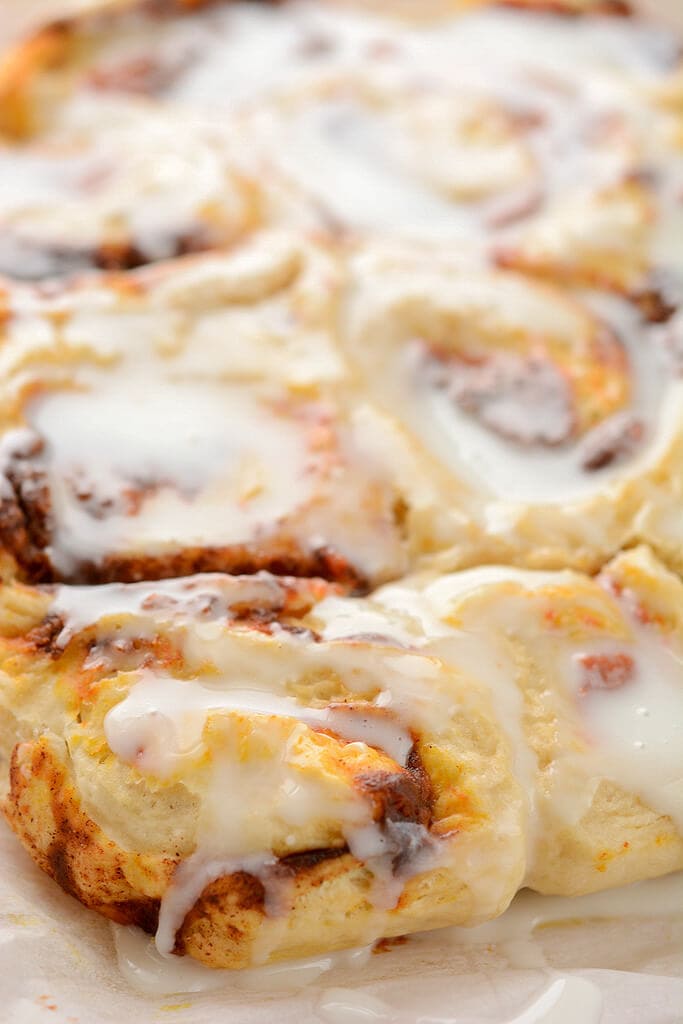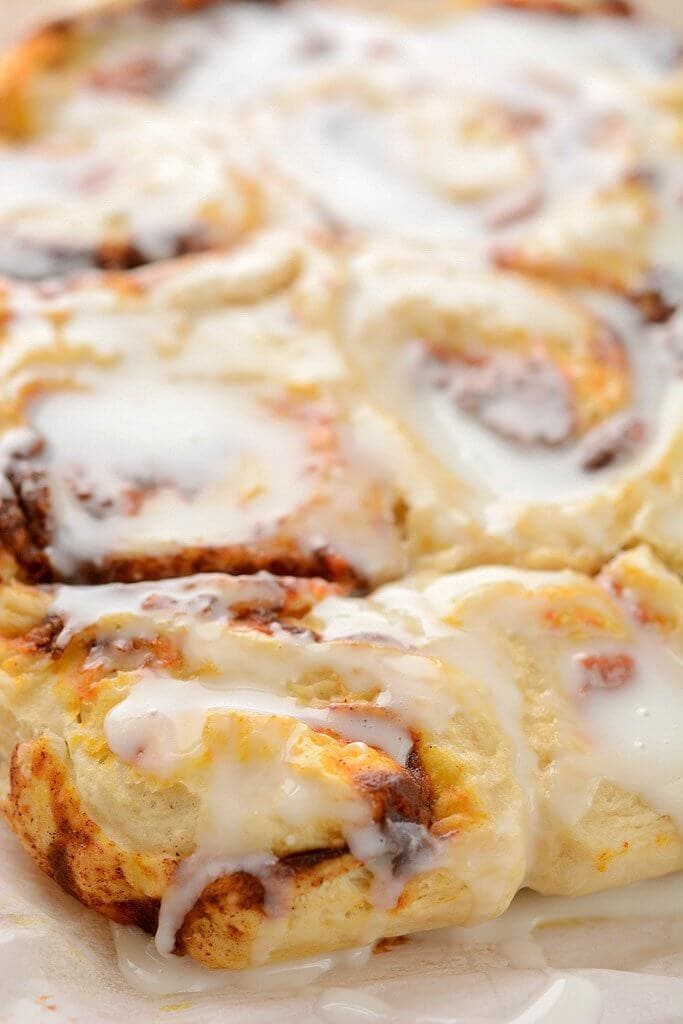 Slow Cooker Butternut Squash Gnocchi Bake