BBQ Pulled Pork Enchiladas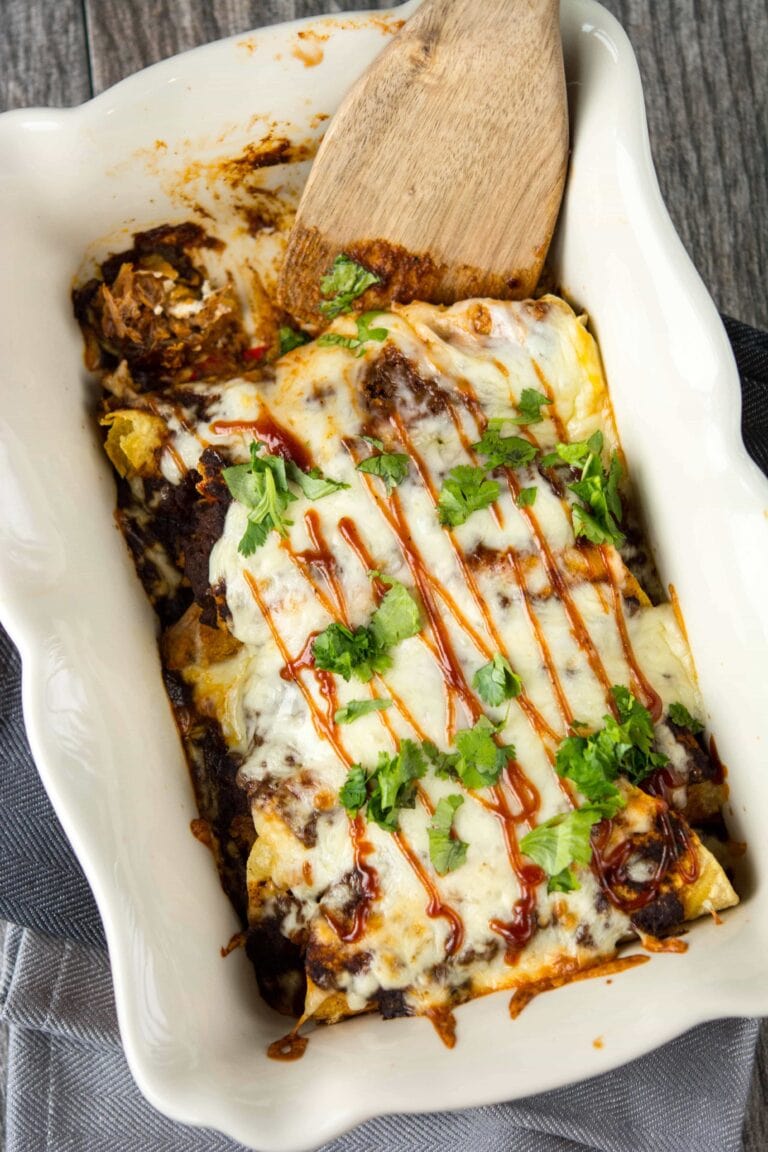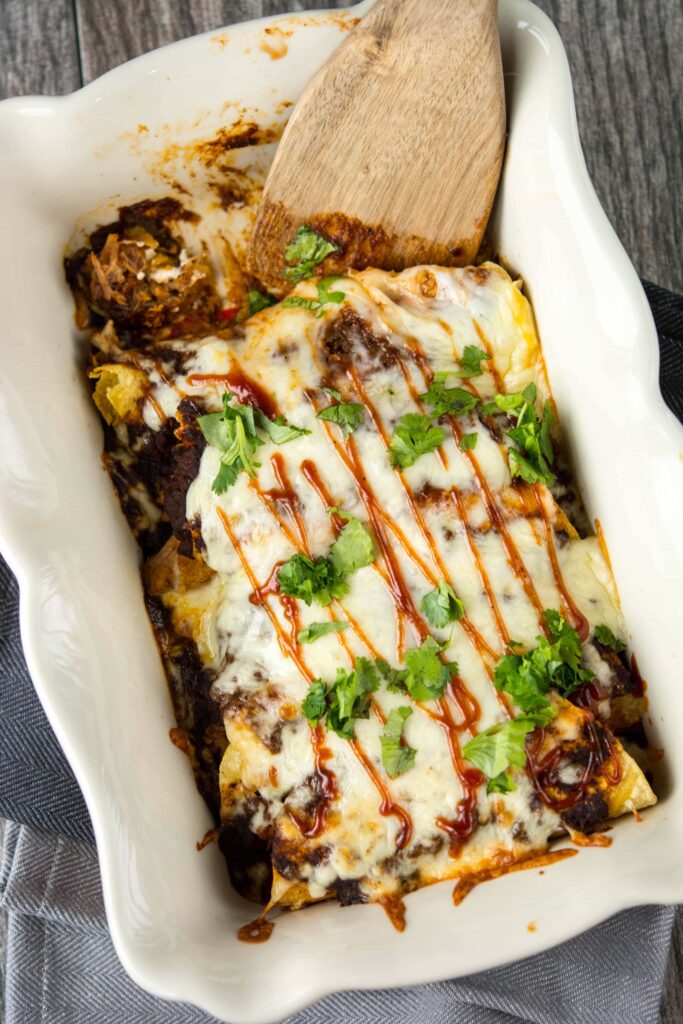 Let's chat today about making the best use of our time. Don't we all love doing just that when we can? You know how it feels when put in a little effort and the reward you get back is like several times in return. I know I especially like it when I can do a little prep work and end up with the makings for 2 or 3 delicious dinners! Getting back to one of the very basic purposes of a slow cooker, cooking a big piece of delicious meat until it's nice and tender, will leave you with enough juicy pulled pork to make several meals that are all different so that you (or your family) will never get bored, but also easy enough that you won't mind finishing up dinner, even after a long day at work.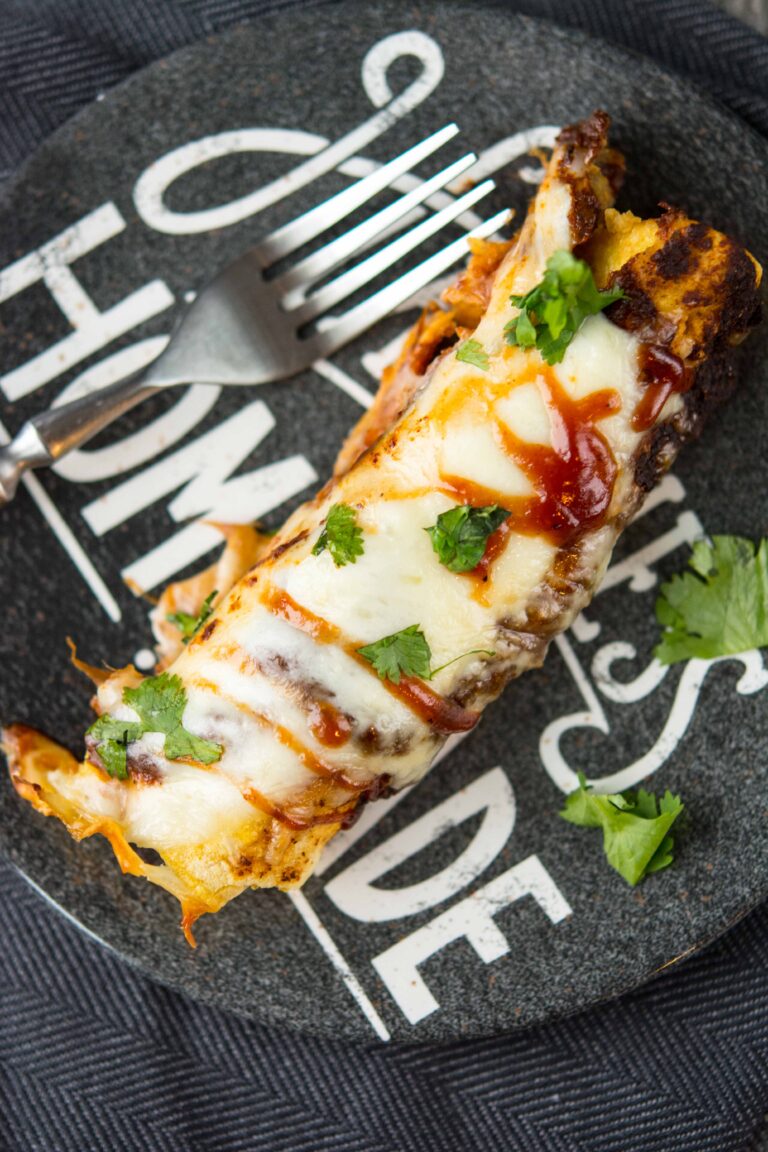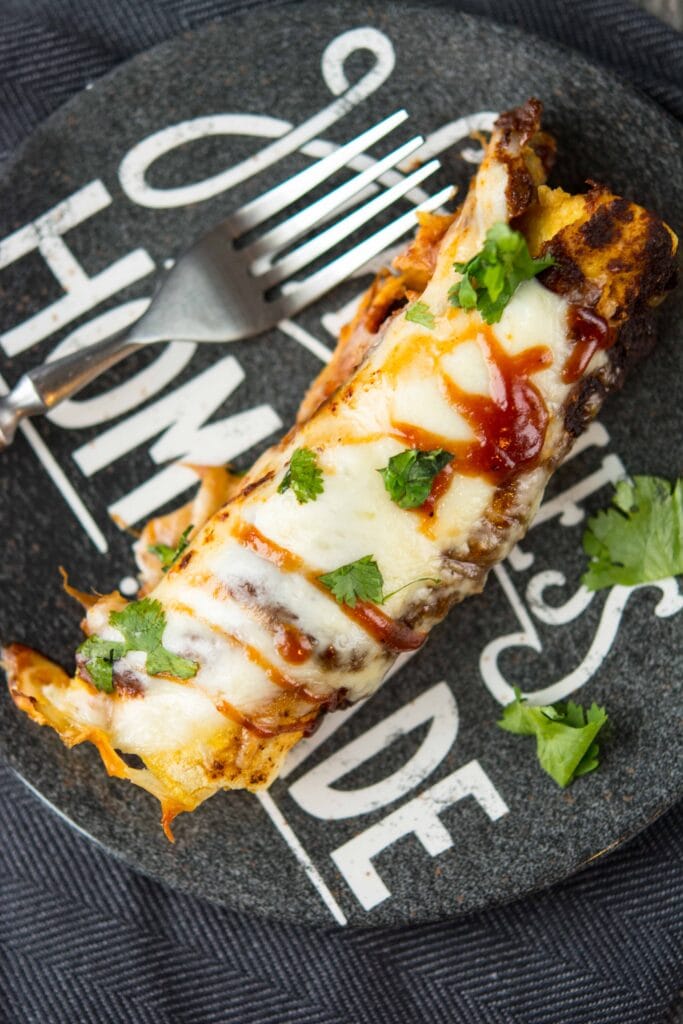 The first meal I'm going to share with you is this delicious casserole dish full of pulled pork enchiladas. Of course we all have our favorite chicken and beef enchiladas (or even vegetarian, perhaps!), but sometimes it's good to have a little something different and maybe even a tad unusual. Makes life a little more exciting right? Or at least dinner is a little more exciting 🙂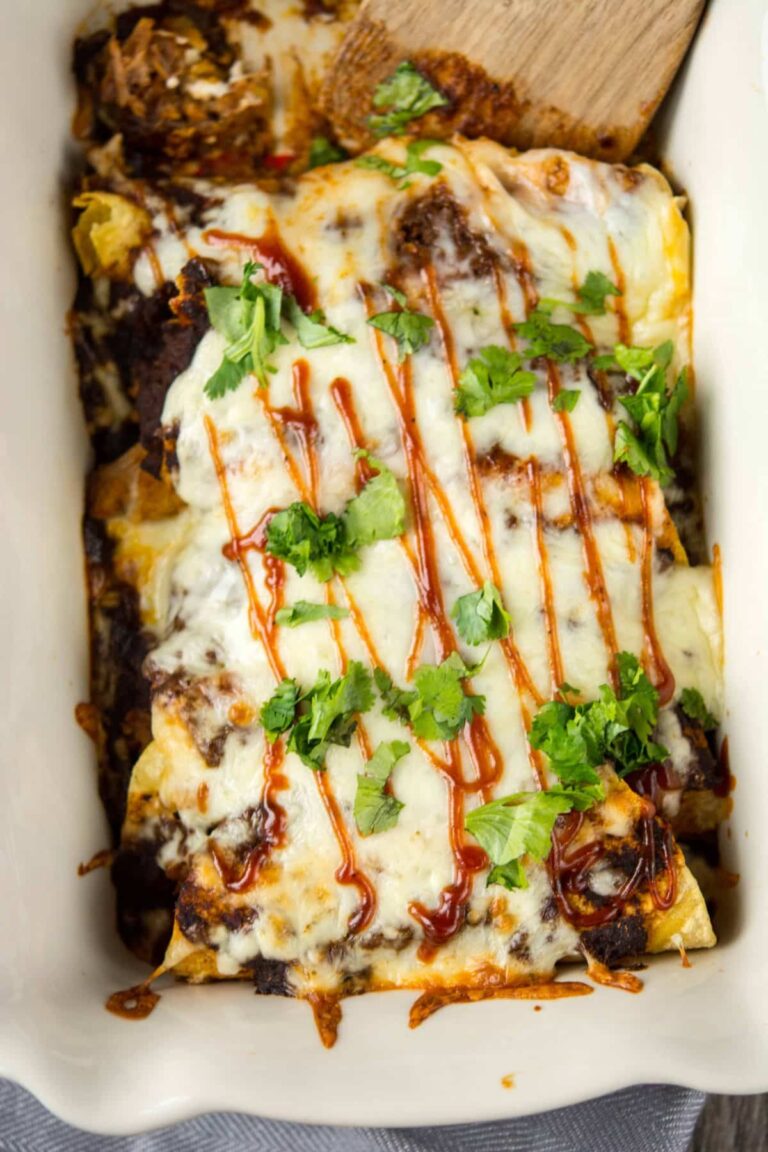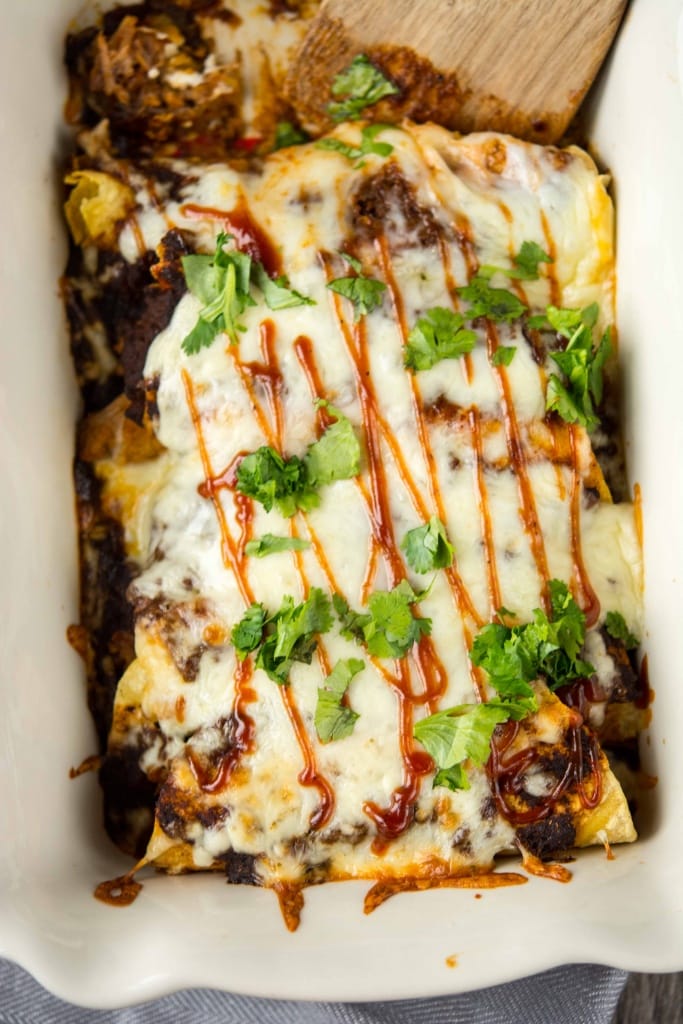 Okay, so I know some of my flavor combos can sound a little, say…, unusual (okay, weird!) sometimes. But stay with me here. You trust me by now, right? 🙂 The pork cooks up with a little spicy, a little smokey and a little sweet. And I promise even though it sounds complex and tastes like a lot of work, it's just four simple items right into the slow cooker.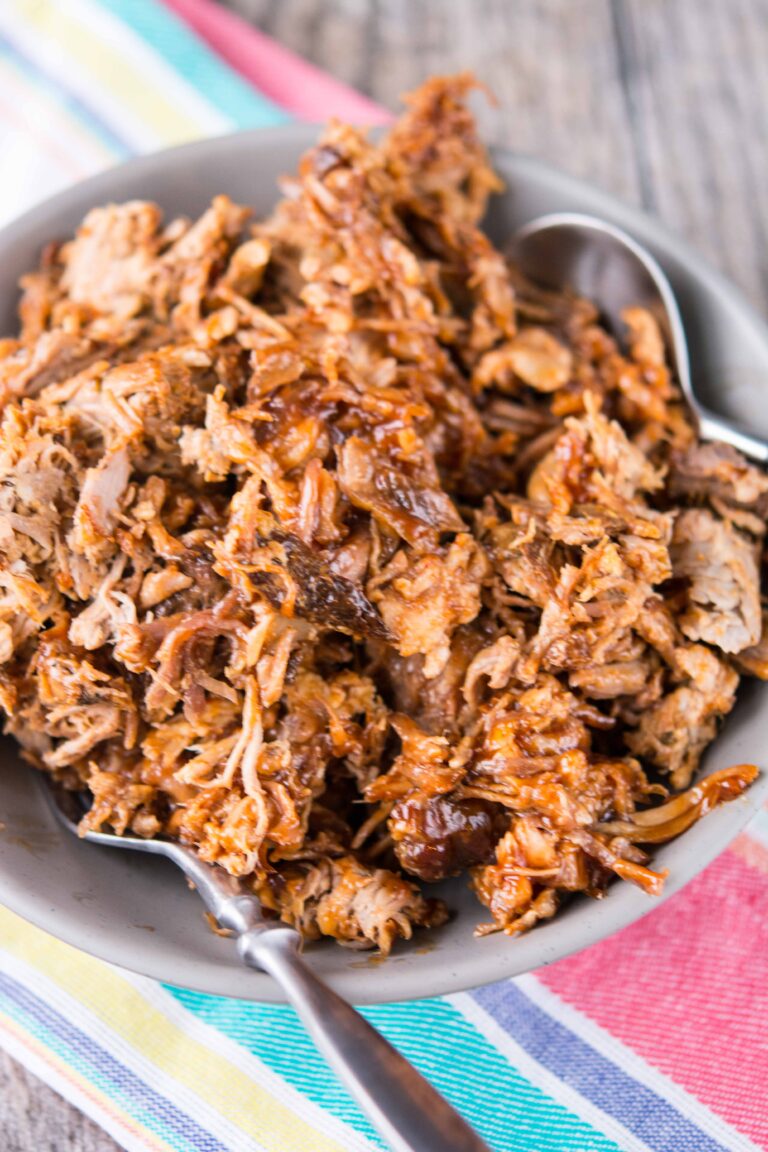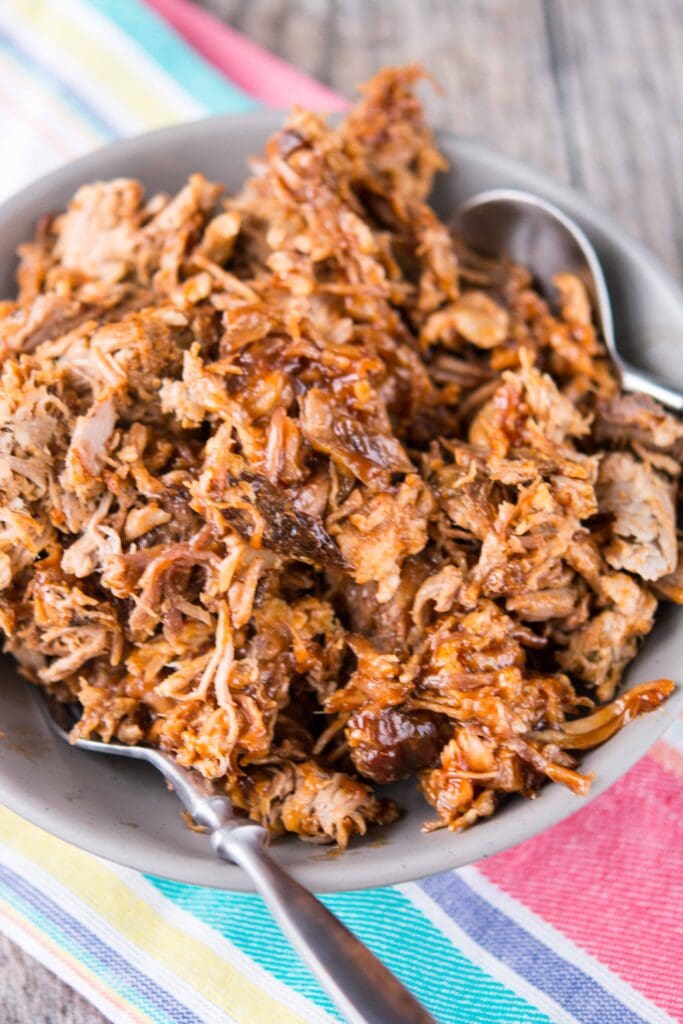 Once the pork is done and shredded you can use it right away or save it for later. Stick it in the fridge for a couple of days, otherwise seal it up good and put it in the freezer. I made mine a couple of days ahead of time and just used it cold to stuff my enchiladas. Speaking of which, use up the leftovers of this homemade enchilada sauce you had in the freezer from before (or any sauce you like will be fine!), a couple of cheeses (goat cheese, yes!!), some dried cilantro and your favorite tortillas and you're done! Told you it was easy! And our enchiladas, well, they are gone so I guess that tells you, we loved them! The rest of that pork is in my freezer and I will be making a new recipe to share with you guys in the next couple of weeks!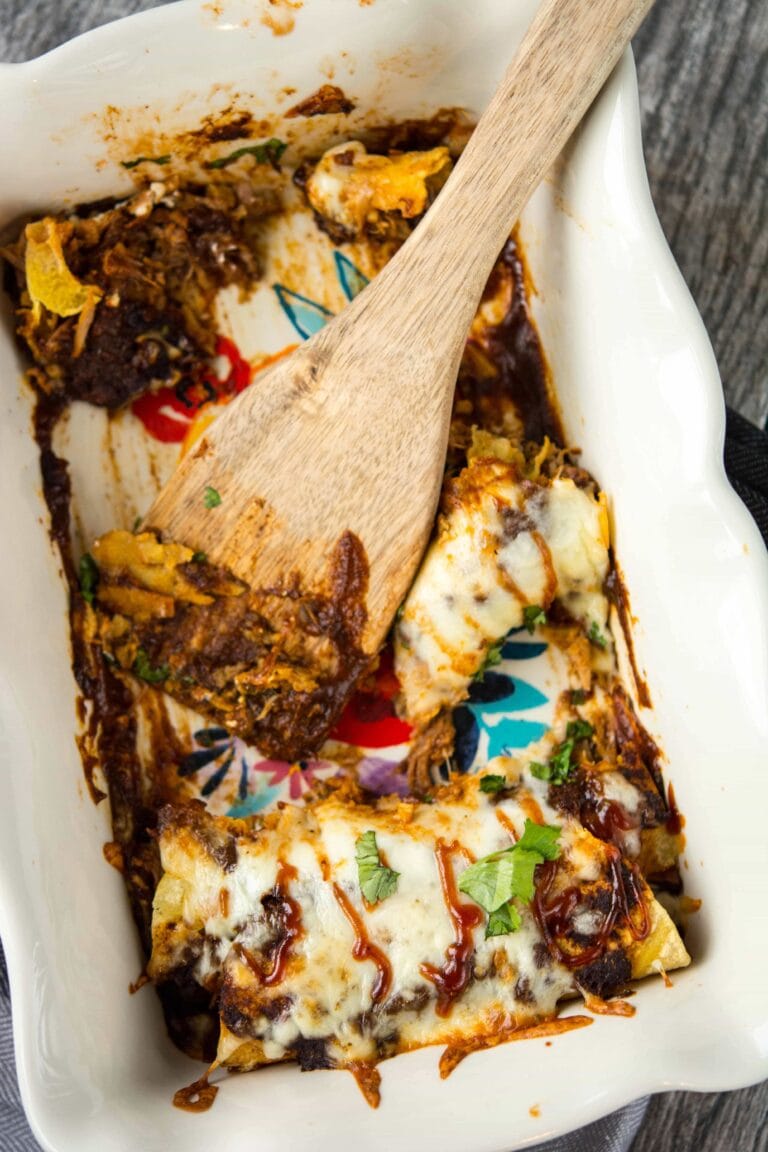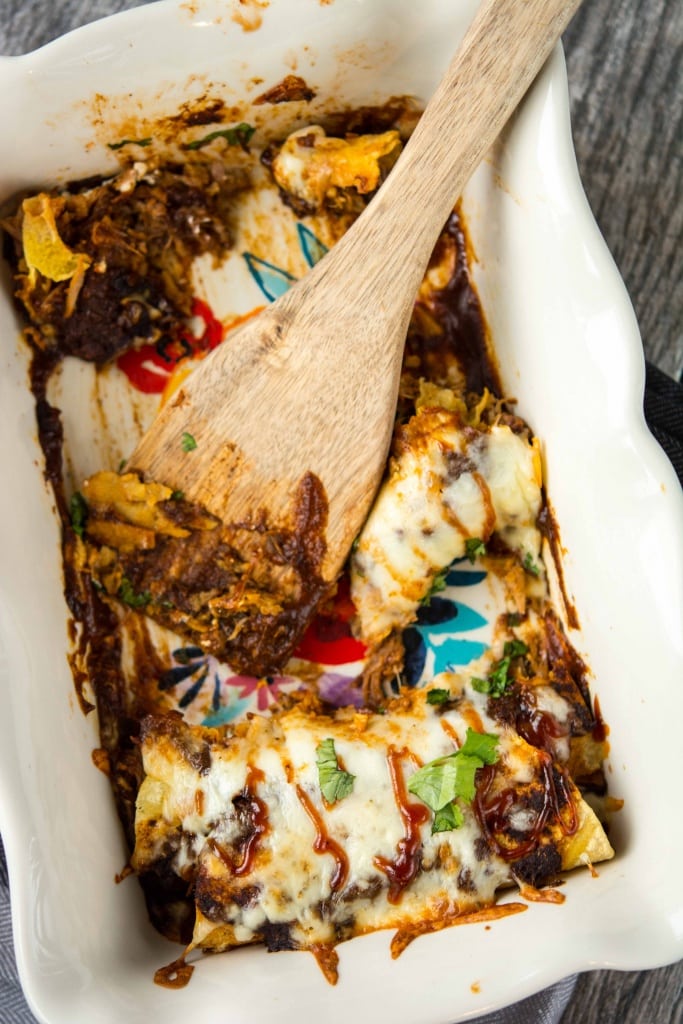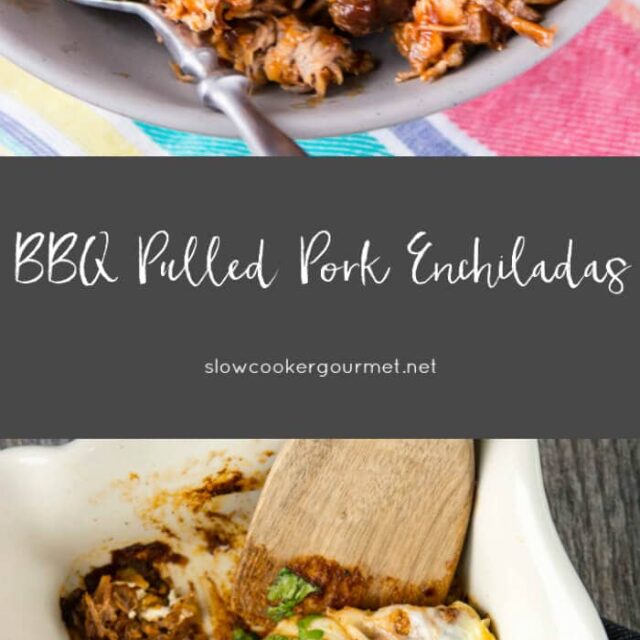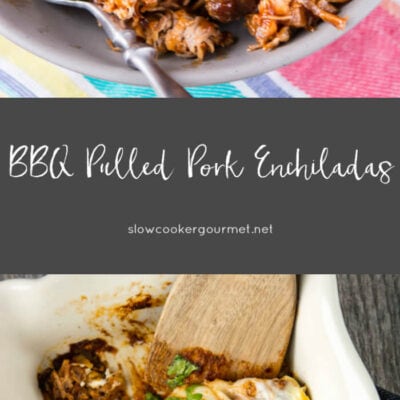 BBQ Pulled Pork Enchiladas
Ingredients
BBQ Pulled Pork:
3

pounds

bone-in pork shoulder

1

cup

BBQ sauce

(homemade or your favorite bottled)

1/2

cup

peach preserves

1

tablespoon

chipotle and roasted garlic seasoning blend
BBQ Pulled Pork Enchiladas:
1 1/2

cups

leftover pulled pork

1/4

cup

goat cheese crumbles

1

teaspoon

dried cilantro

6

corn tortillas

1

cup

leftover enchilada sauce

4

oz

shredded monterrey jack cheese
Instructions
BBQ Pulled Pork:
Place pork in slow cooker

Whisk together remaining ingredients to make a sauce

Pour 1/2 of the sauce over the meat, reserve the rest in the fridge for later

Cover pork and cook on low for 8-10 hours

Remove from slow cooker and shred

Toss with remaining sauce

Use/serve immediately or cool and place in storage bag in fridge for up to 2 days or freezer for up to 6 months
BBQ Pulled Pork Enchiladas:
Preheat oven to 350 degrees

Spread about 1/4 cup enchilada sauce in bottom of small casserole dish

Add about 1/4 cup pork to each tortilla

Top with a little of the goat cheese and cilantro

Roll and place seam side down in baking dish

Top with remaining sauce and monterrey jack cheese

Bake at 350 for 15-20 minutes until cheese is melted and pork is heated through
Nutrition
Calories:
734
kcal
Carbohydrates:
111
g
Protein:
27
g
Fat:
21
g
Saturated Fat:
11
g
Polyunsaturated Fat:
2
g
Monounsaturated Fat:
6
g
Cholesterol:
71
mg
Sodium:
2047
mg
Potassium:
606
mg
Fiber:
8
g
Sugar:
65
g
Vitamin A:
1323
IU
Vitamin C:
8
mg
Calcium:
478
mg
Iron:
5
mg
Important nutritional disclaimer