Black Bean and Shrimp Tostadas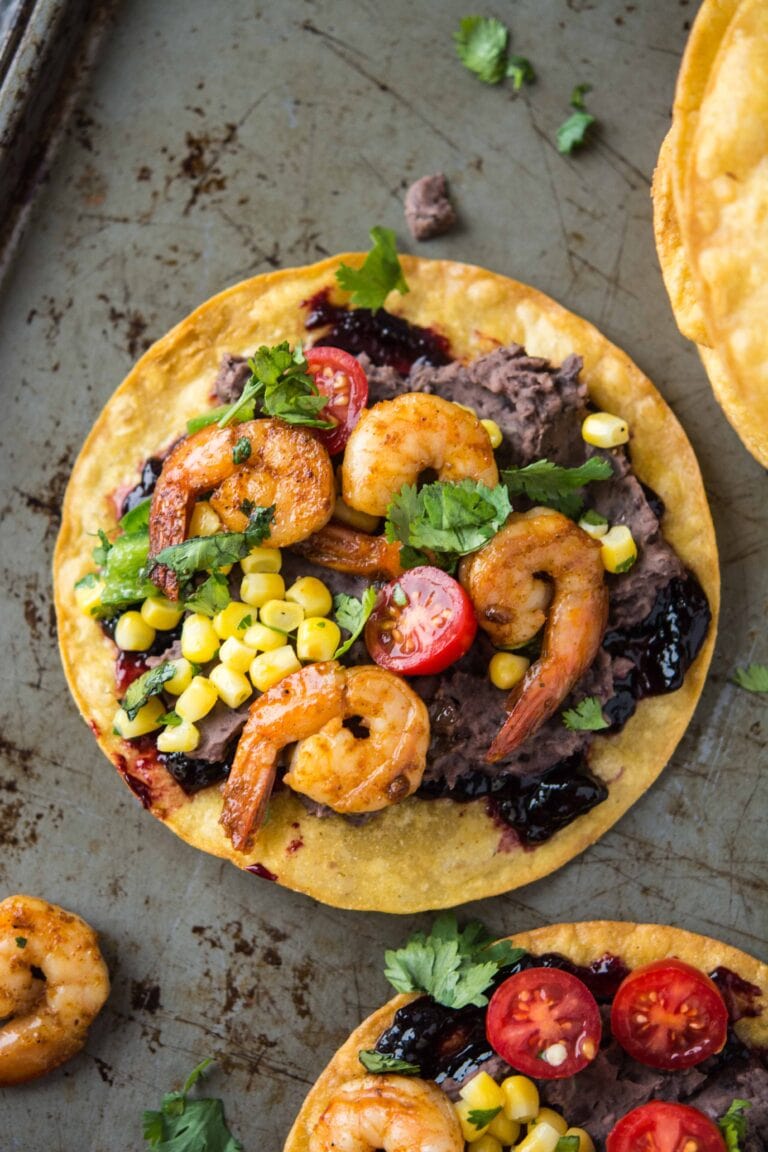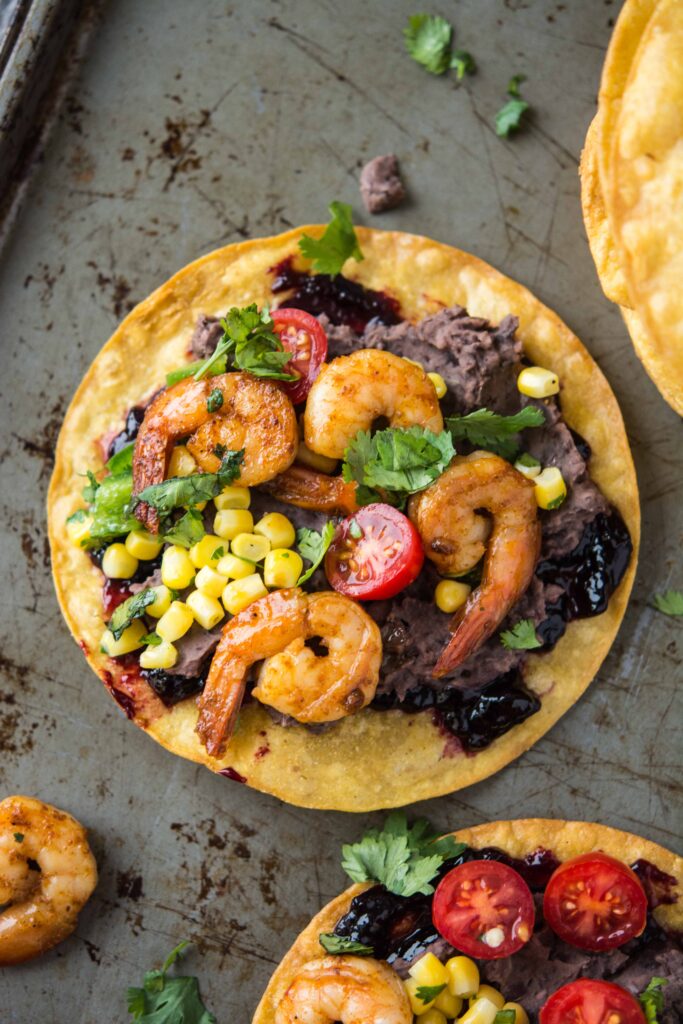 Don't you just love it when you are the super smartest person who planned ahead and made homemade dinner so easy?! Remember? You made up a super big batch of the best Slow Cooker Refried Black Beans ever and now you can throw together a seemingly endless number of delicious dinners with barely any fuss! Ummm, like these shrimp tostadas? They look so great, right? And? SO. EASY. You are so welcome. Oh wait, and I guess you would want to know that these were indeed approved my official team of taste testers. Otherwise known as my husband and kids. That totally counts.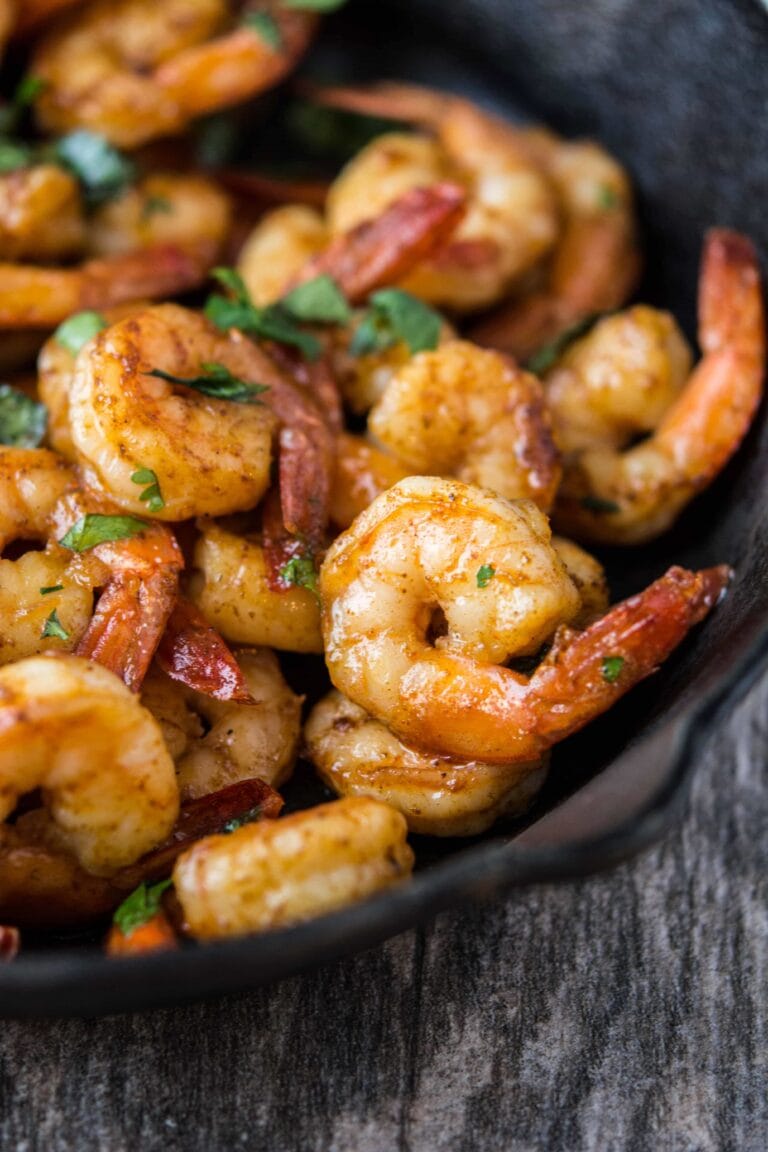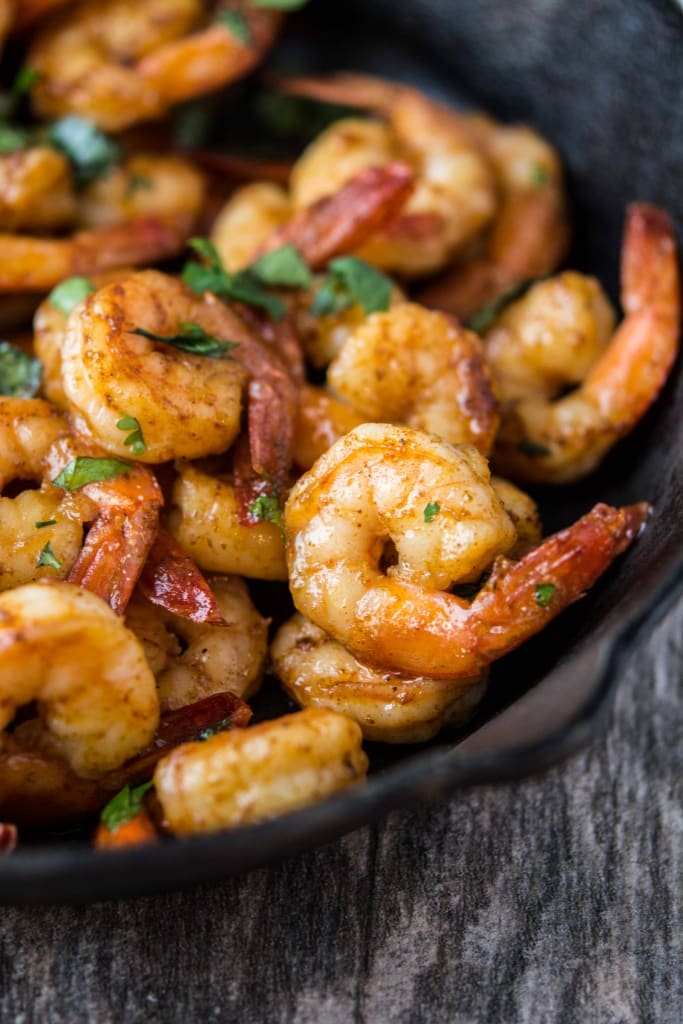 I like to make shrimp for a couple reasons. I mean, we all know it's quick and easy. But the other thing? My kids go nuts over it. They act like I've done something so amazingly awesome for them whenever I make it and there is a small chance I milk that just a bit. Someday that will catch up to me when they figure out that it's really not hard, but for now? I'll just play the part of the awesome mom, thank you very much.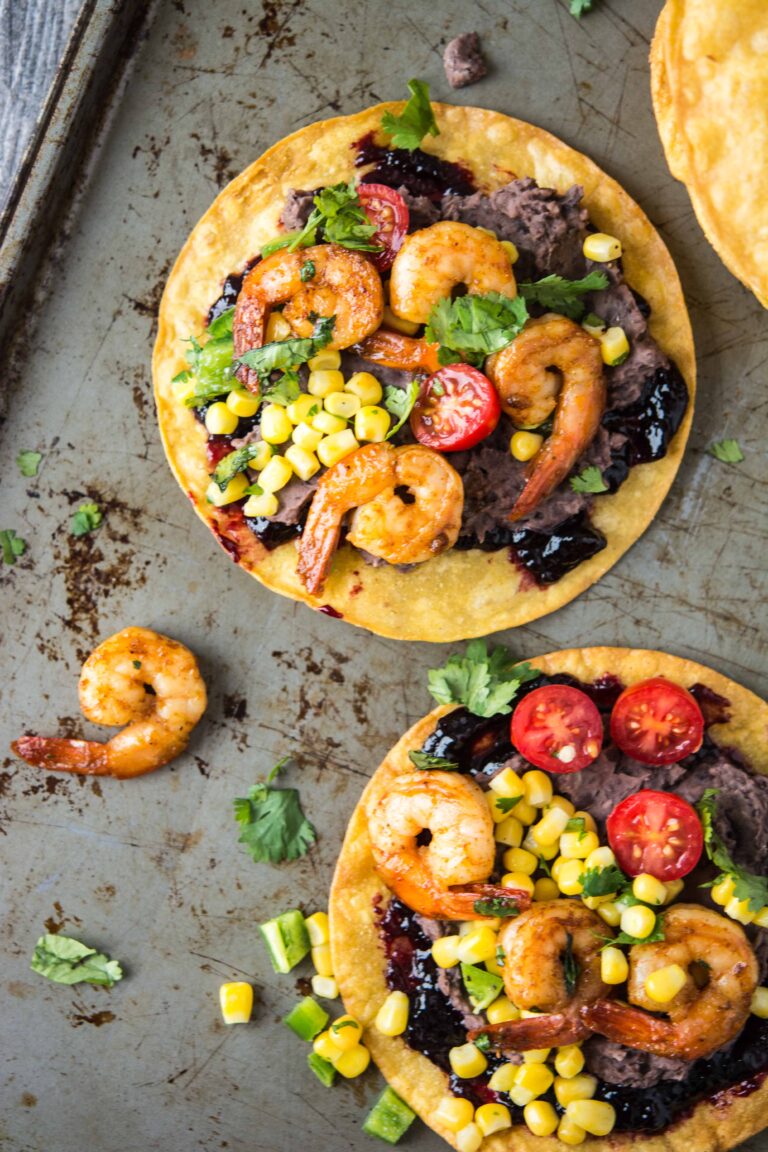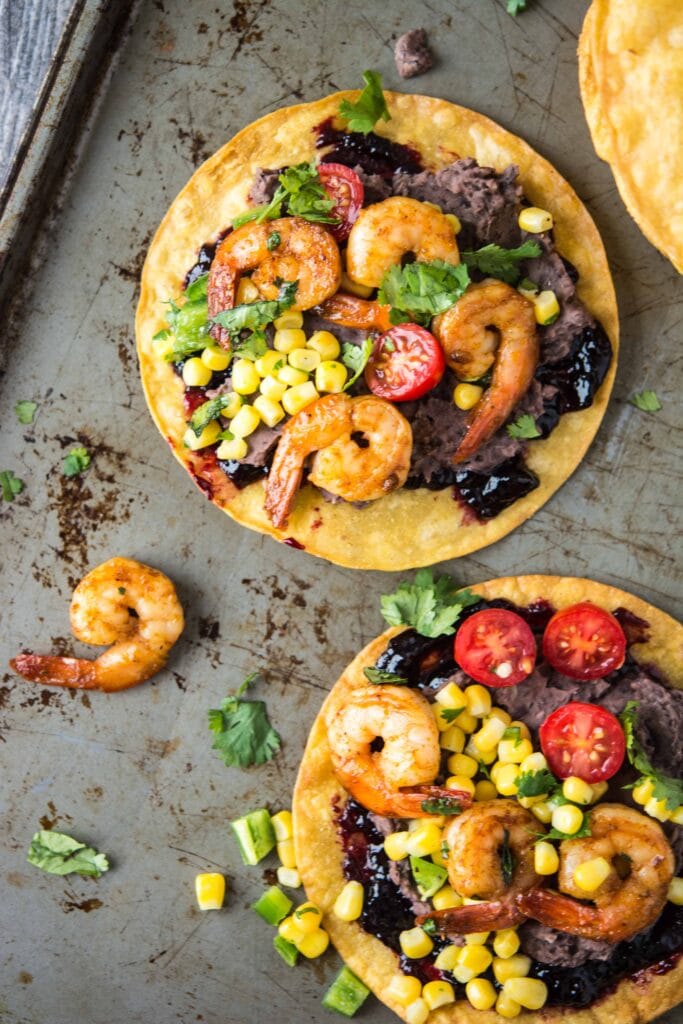 Maybe now I should mention how this is another of my crazy flavor combo recipes? I can't get over the sweet, salty and spicy combos and it comes together perfectly and easily for this dinner! Sweet raspberry jam, spicy shrimp and garlicky black beans do the trick!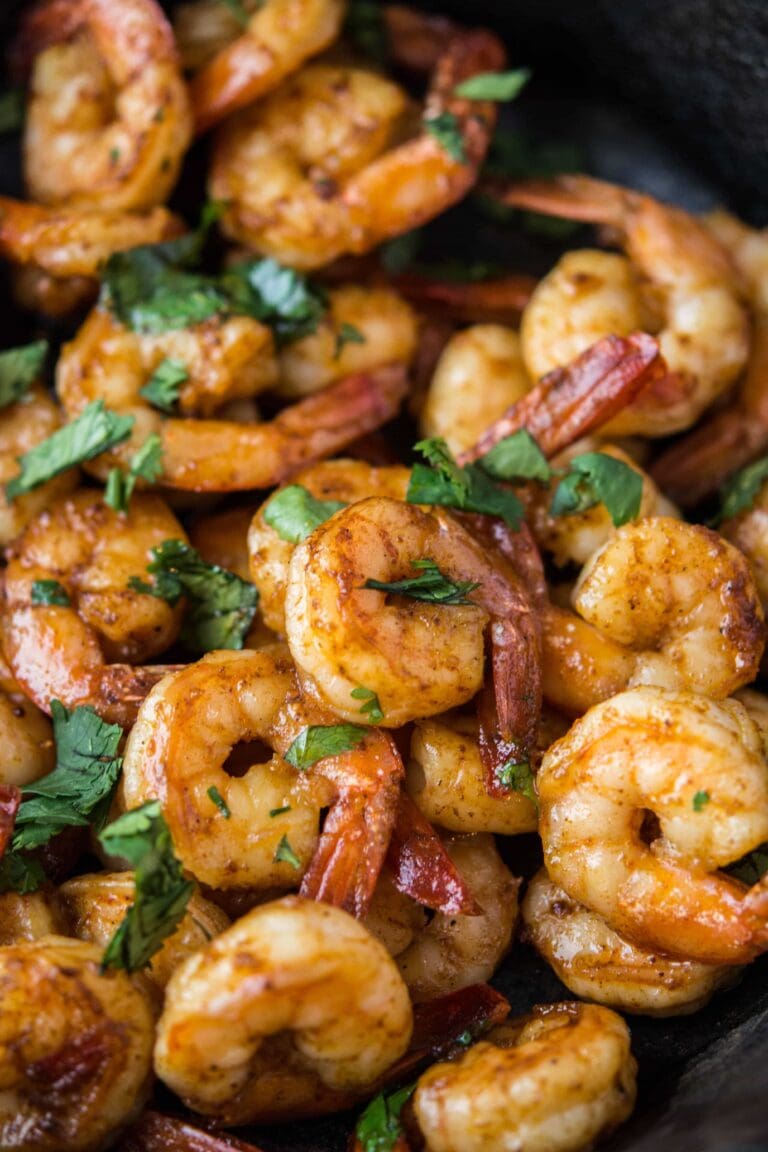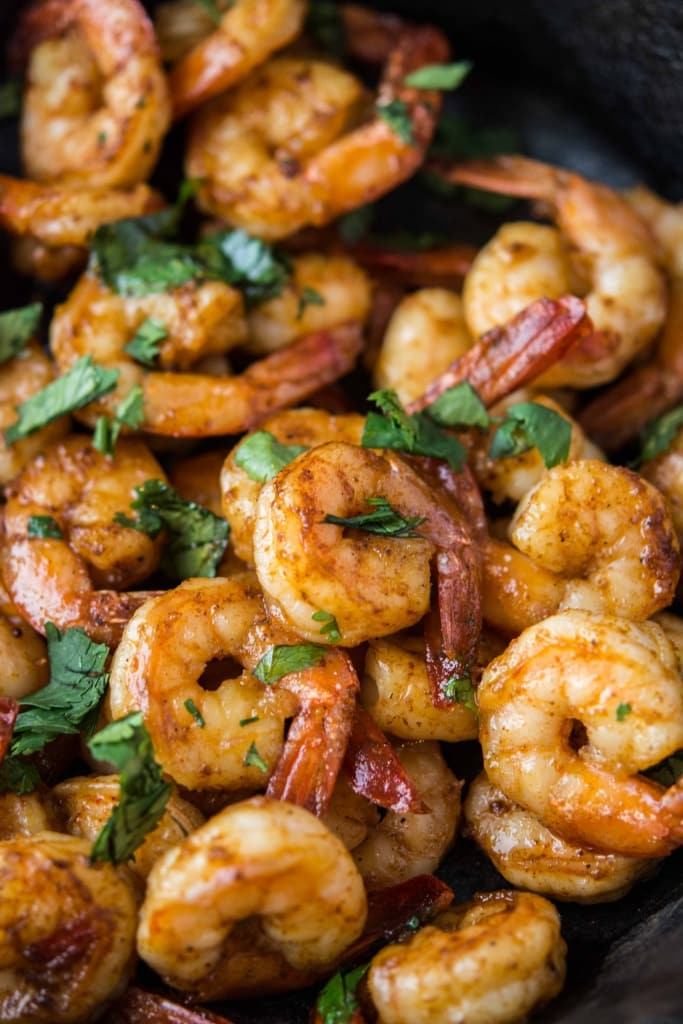 Get out there and impress! I won't tell anyone how easy this is!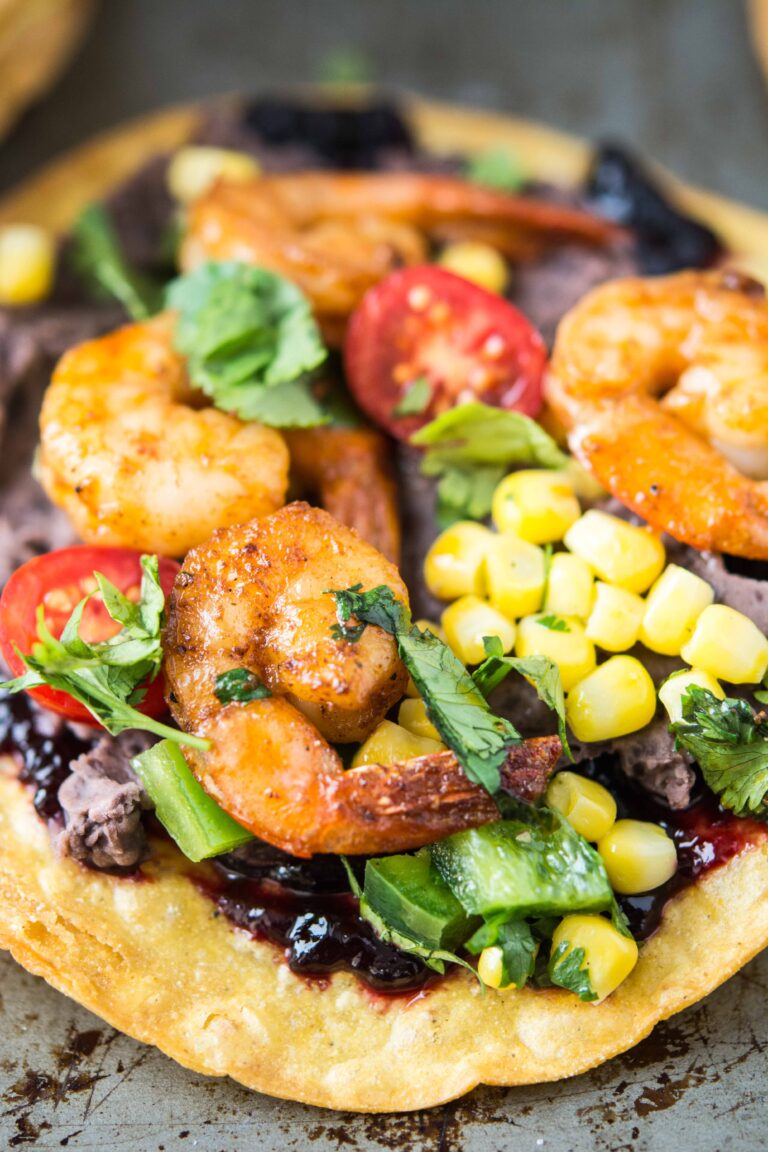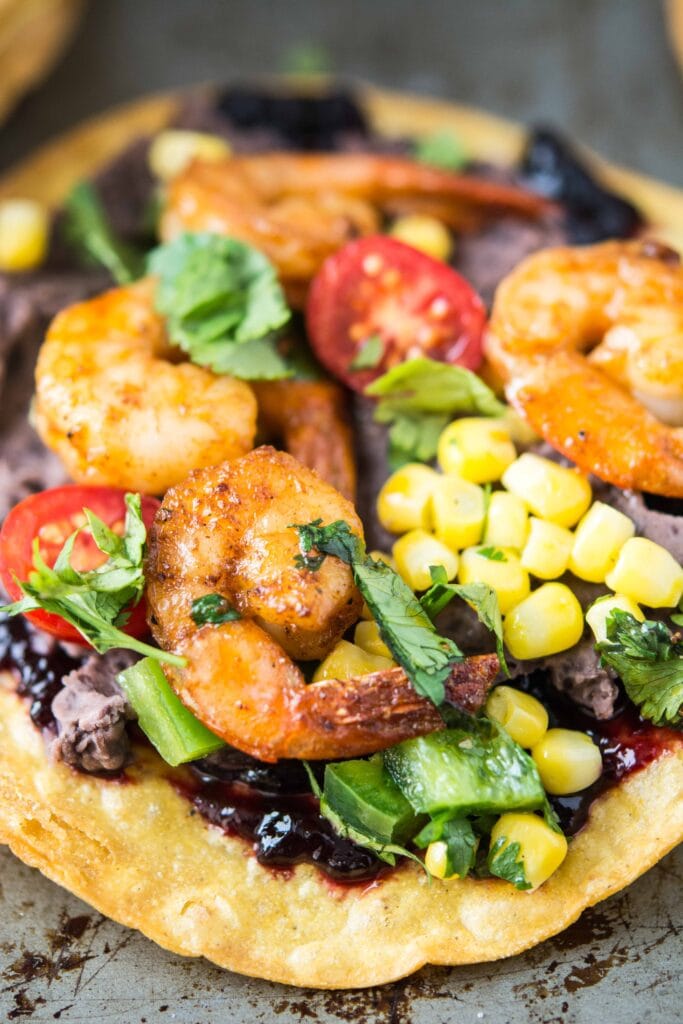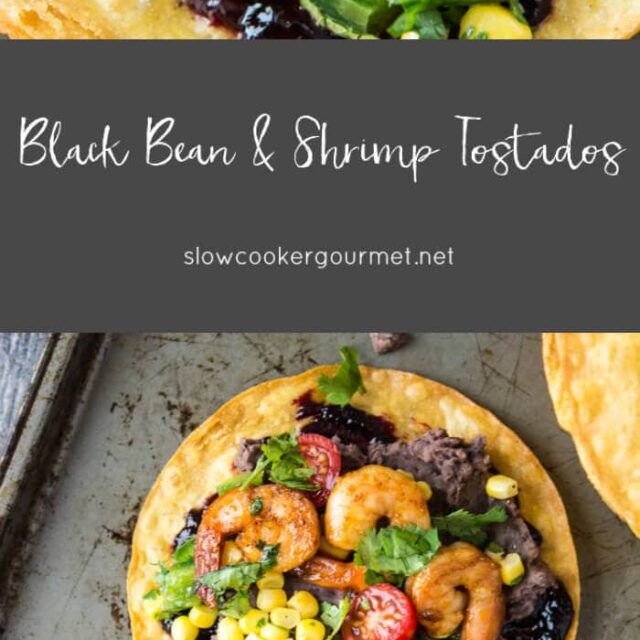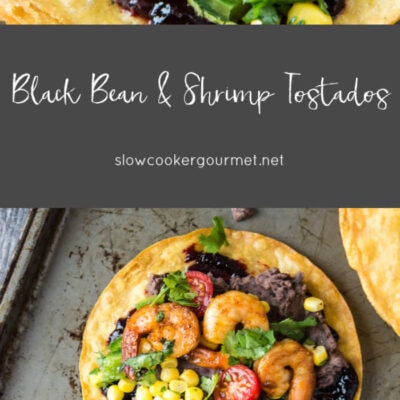 Black Bean and Shrimp Tostadas
Ingredients
For Shrimp:
12

oz

large peeled and deveined shrimp

(tail-off will make it easier too)

3

tablespoons

butter

1/2

teaspoon

ancho chili powder

1/2

teaspoon

dried cilantro
For Tostada Shells:
8

corn tortillas

1/2

cup

canola oil

salt
For Salsa:
1

cup

frozen corn kernels

thawed

1/2

cup

grape tomatoes

halved

2

tablespoons

fresh chopped cilantro

1

tablespoon

lime juice

1/2

tablespoon

olive oil

1/2

jalapeño pepper

seeded and diced (or more if you like spicier)

salt and pepper to taste
For Assembly:
1

cup

seedless no sugar added Black Raspberry Preserves

2

cups

refried black beans
Instructions
For shrimp:
Melt butter in skillet over medium high heat

Add shrimp and sprinkle with chili powder and cilantro

Saute for 2-4 minutes on each side until cooked through
For tortillas:
Heat about 1/4 to 1/2 inch of canola oil in skillet (should be hot enough to bubble and sizzle when tortillas are added)

Add tortillas one at a time and let cook for about 1-2 minutes on each side until lightly browned

Remove to paper towel to drain and sprinkle with a pinch of salt
For salsa:
Toss all ingredients in bowl

Cover and refrigerate until ready to serve
To assemble:
Spread 1 - 2 tablespoons black raspberry preserves on tostada shell

Add 2-4 tablespoons of refried beans

Top with 2-3 pieces of shrimp and a few spoonfuls of salsa
Nutrition
Calories:
899
kcal
Carbohydrates:
105
g
Protein:
27
g
Fat:
41
g
Saturated Fat:
8
g
Cholesterol:
236
mg
Sodium:
1483
mg
Potassium:
395
mg
Fiber:
10
g
Sugar:
45
g
Vitamin A:
625
IU
Vitamin C:
19.7
mg
Calcium:
225
mg
Iron:
4.3
mg
Important nutritional disclaimer