Slow Cooker Carne Asada is a simple way to make delicious tacos any night of the week! This tender delicious beef has just the right seasonings!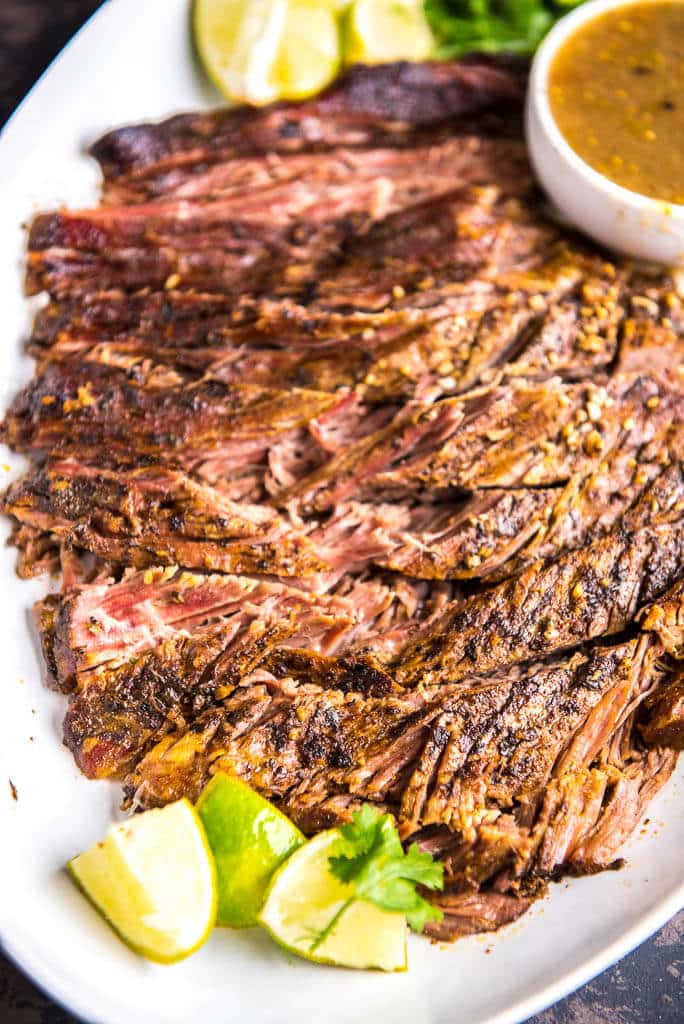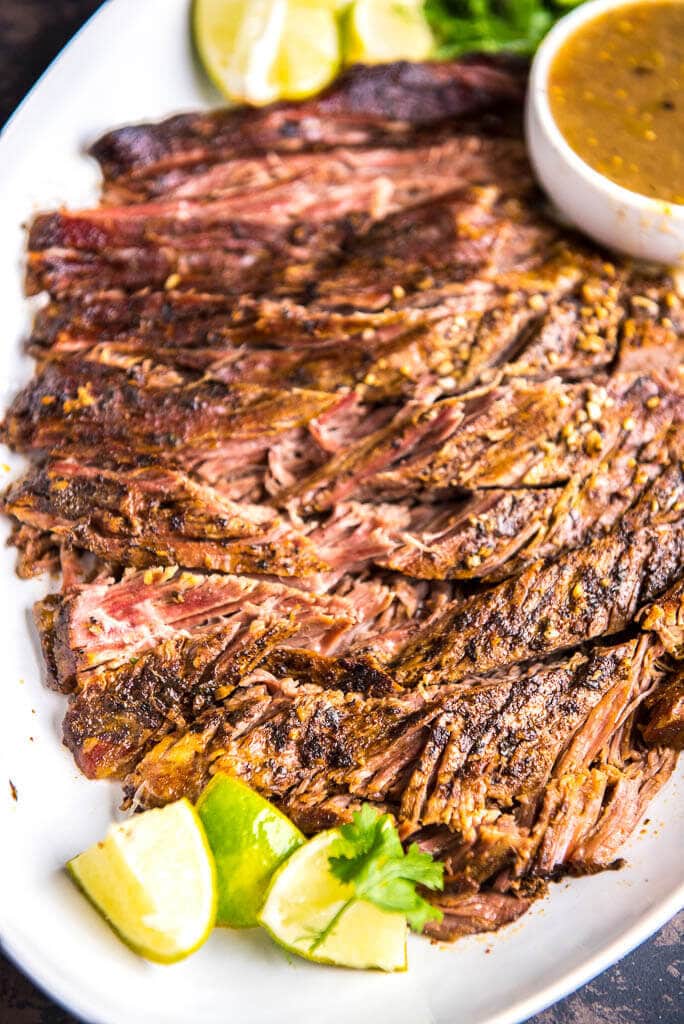 If you read this blog on any semi-regular basis, you've probably already guessed I have sort of what you might call a taco obsession. And if you're one of the people who eats in my house on a regular basis, then you know it for sure. (Wait…. is anyone in my family actually reading this?). For one thing, tacos can be super easy and quick. When in a pinch, I can brown up some ground beef (or pull some already cooked ground beef out of the freezer if I've been good at planning) and add some of my favorite homemade taco seasoning. When I have a little more time, well, I still want something easy, but I do like to get just a little fancy as well. This Slow Cooker Carne Asada is the perfect solution and no need to worry about grilling!
Watch video: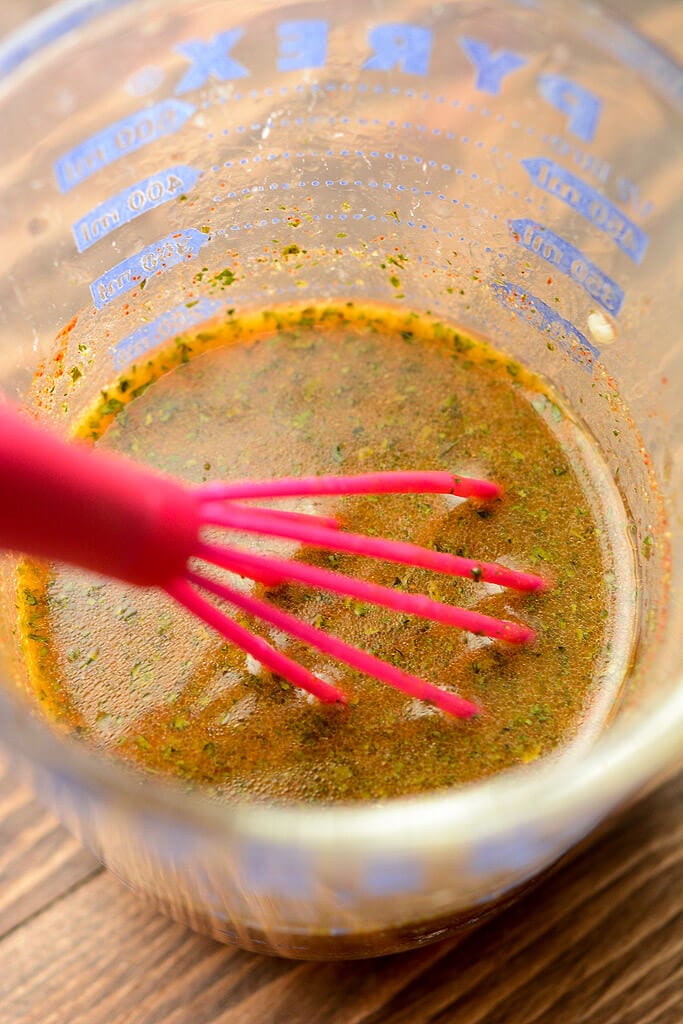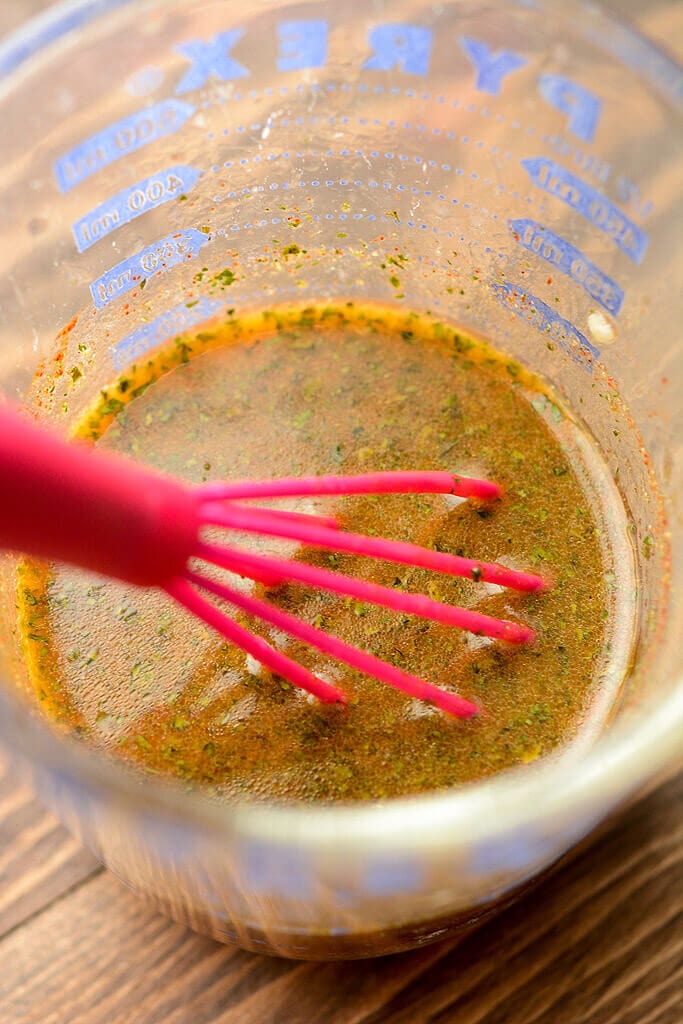 In all honesty, this slow cooker carne asada for tacos is almost easier than the less exciting ground beef version. Just toss a simple flank steak and my homemade steak marinade in the slow cooker all day and it's so tender when you get home that it practically shreds itself. Add to some tortillas with your favorite toppings and you can have a great Taco Tuesday without all the fuss! I like this method so much better than making my carne asada grilled because it allows you to make it even when you are busy. That makes it great for parties or entertaining because you can easily add it to the slow cooker even if you won't be home all day and have a delicious dinner to serve to your guest without stress or time worries!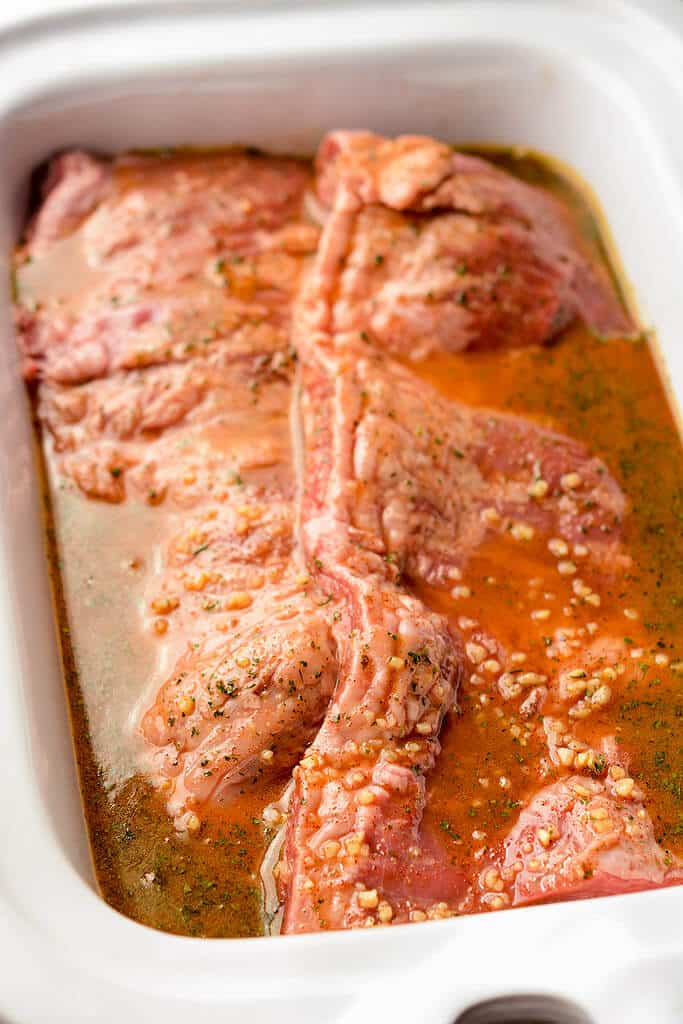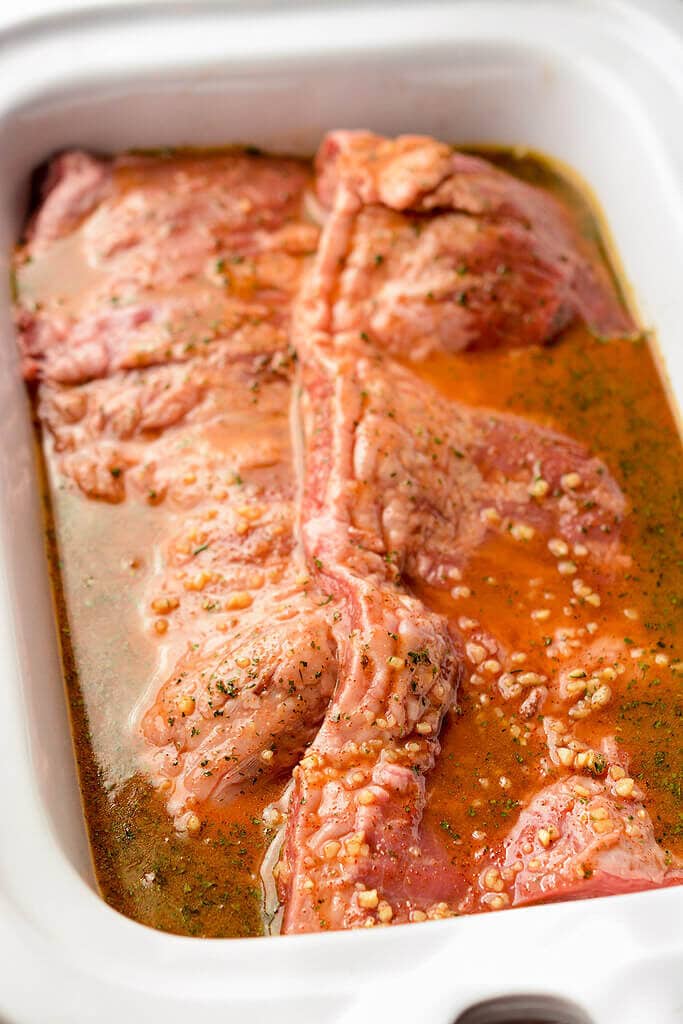 Of course, you can do grilled steak but I made this in my casserole slow cooker because it made it even easier! The beef fits perfectly and will be easily covered with the juice. Not to worry if you don't have one though, just cut the beef to fit a regular slow cooker so that it is all covered with the sauce and will cook up tender. This helps it to stay so much more juicy and tender than when you make it on the grill. The marinade here is simple, but just right for this cut of meat. The acid in the juices helps to tenderize as it cooks and the spices give it just the right amount of flavor.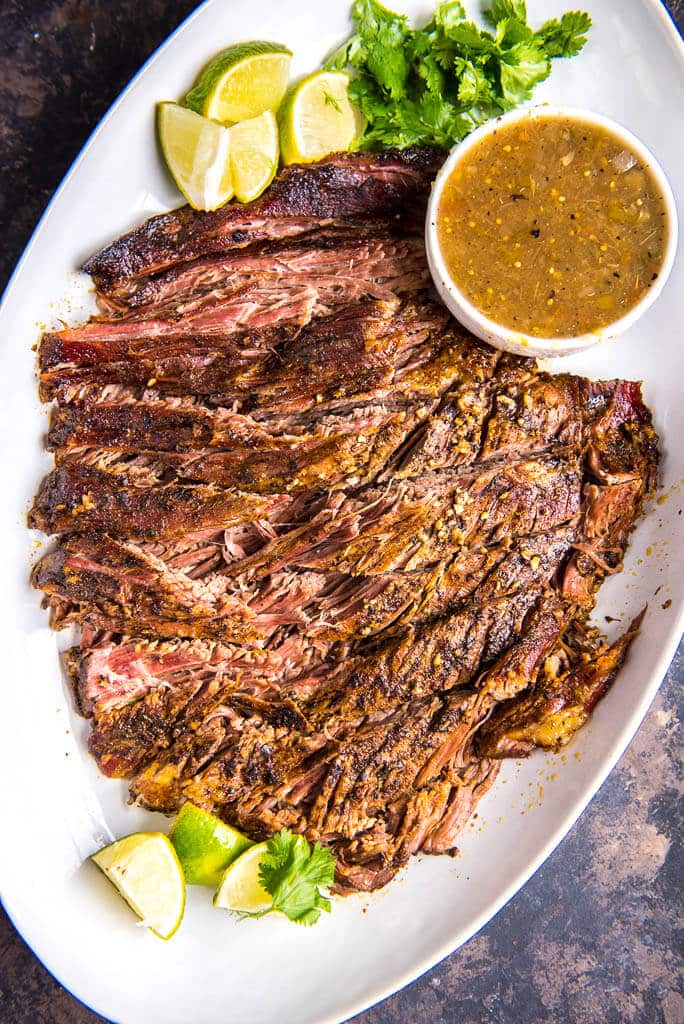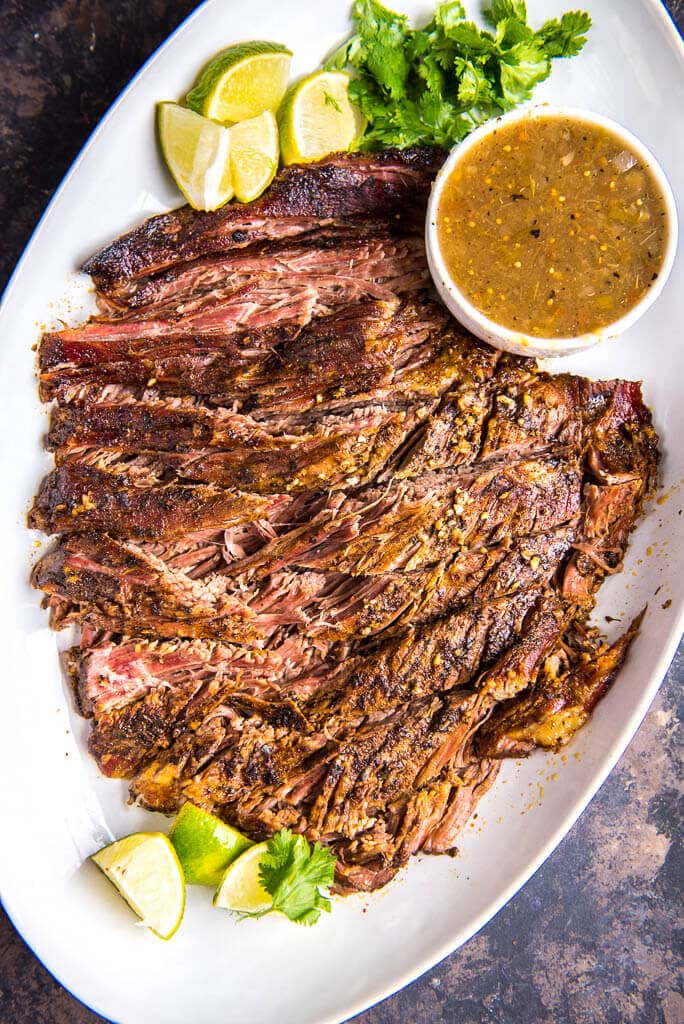 Offer up a few simple topping like some corn salsa or some guacamole and let everyone dish up their own favorites. Simple is best and a nice mild cheese goes well with this although I must say they don't even really need the extra flavor! Even just some simple sliced avocado and a grilled tortilla will make an amazing meal. If serving to a crowd add a slow cooker of chicken tacos and let everyone dish up their own plates buffet style.
And the options for serving are practically endless:
on fries – probably my favorite option!
by itself as grilled sliced steak
shredded or sliced in tacos
on top of rice for a bowl
in a burrito
pretty much anything else you could imagine!
For a fun and creative meal or the perfect appetizer to serve at your next gathering check out my carne asada fries recipe!! Crispy fries topped with homemade queso blanco and easy guacamole = heaven!!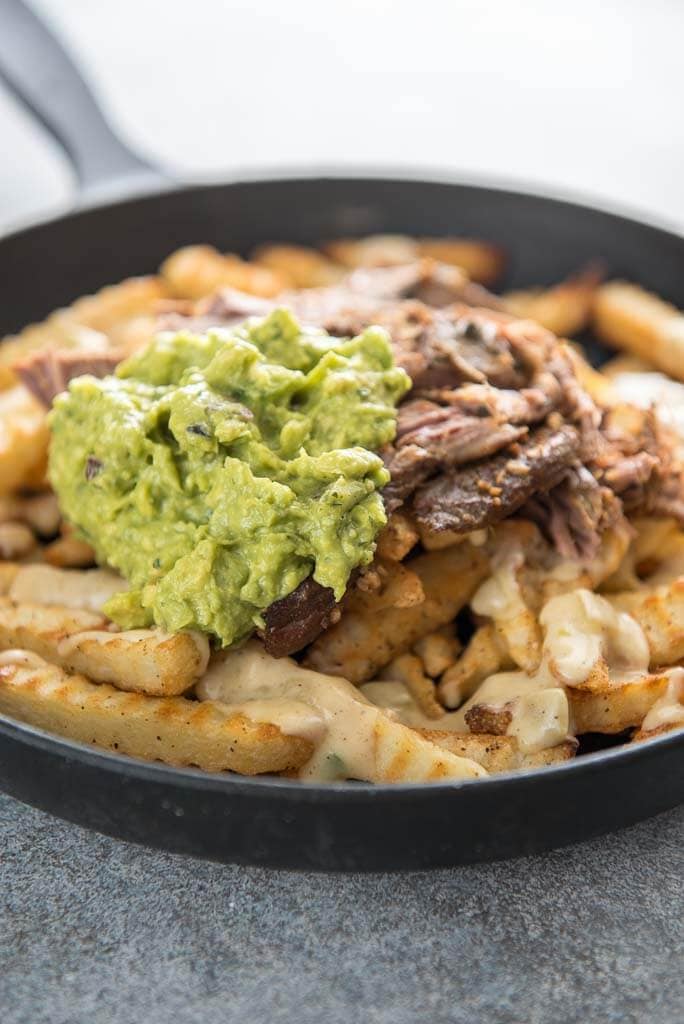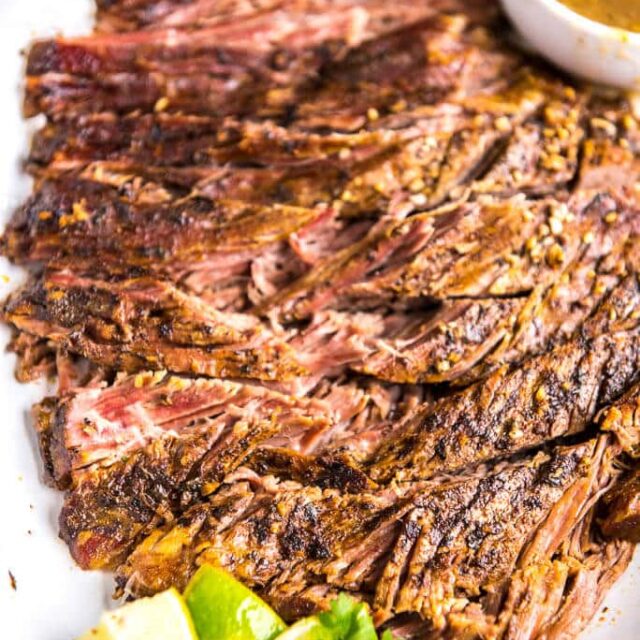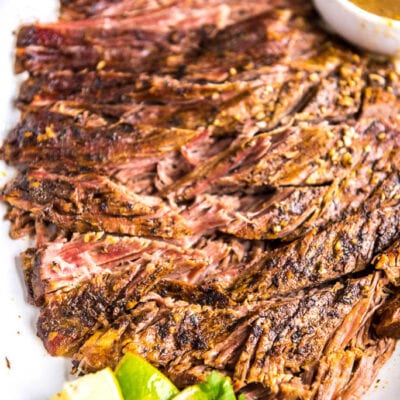 Slow Cooker Carne Asada
Slow Cooker Carne Asada is a simple way to make delicious tacos any night of the week! This tender delicious beef has just the right seasonings!
Ingredients
3

pound

flank steak

1/4

cup

olive oil

1/4

cup

orange juice

Juice of one lime

about 2 tablespoons

2

teaspoons

minced garlic

1

teaspoons

chopped cilantro

1

teaspoon

chili powder

1

teaspoon

cumin

1

tablespoon

honey
Instructions
Add flank steak to bottom of slow cooker

Whisk together remaining ingredients

Pour over steak in slow cooker making sure all meat is covered with juice

Cover and cook on low for 7-9 hours or until tender

Remove from slow cooker and slice

Serve immediately or return to slow cooker on keep warm and let soak in juices
Notes
If you like pepper you can add a little to the marinade as well, either some ground bell pepper or black pepper seasoning.
Nutrition
Calories:
163
kcal
Carbohydrates:
1
g
Protein:
19
g
Fat:
8
g
Saturated Fat:
2
g
Cholesterol:
54
mg
Sodium:
50
mg
Potassium:
322
mg
Sugar:
1
g
Vitamin A:
50
IU
Vitamin C:
2.2
mg
Calcium:
21
mg
Iron:
1.5
mg
Important nutritional disclaimer