The Best Slow Cooker Pulled Pork
How to make The Best Slow Cooker Pulled Pork! Everyone is sure to love this amazing slow cooker pulled pork. The perfect blend of spices make it tender and so flavorful.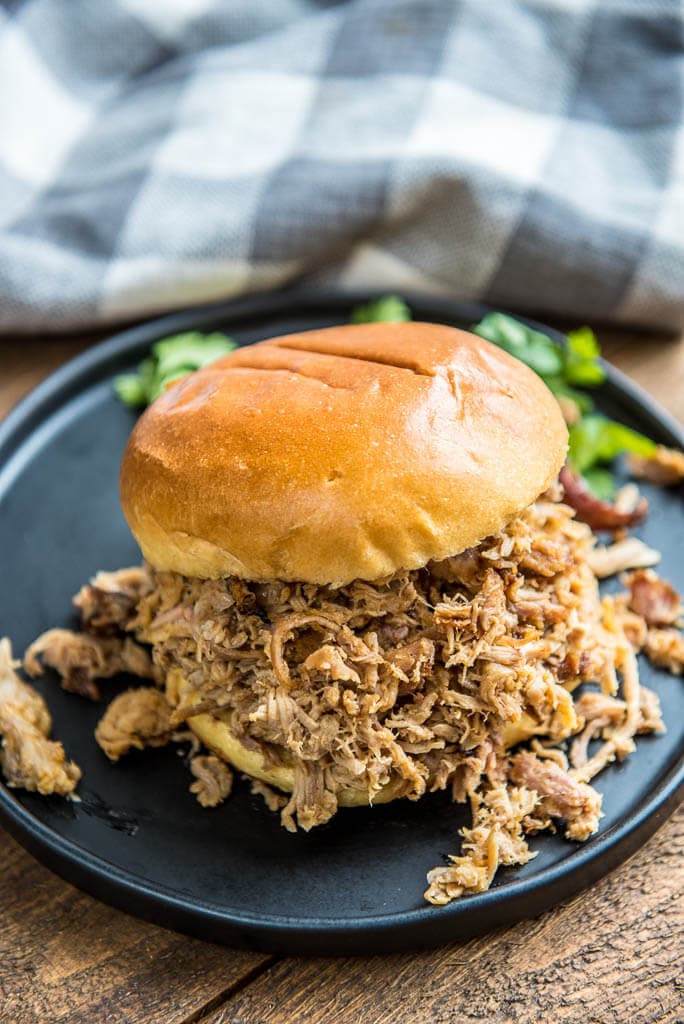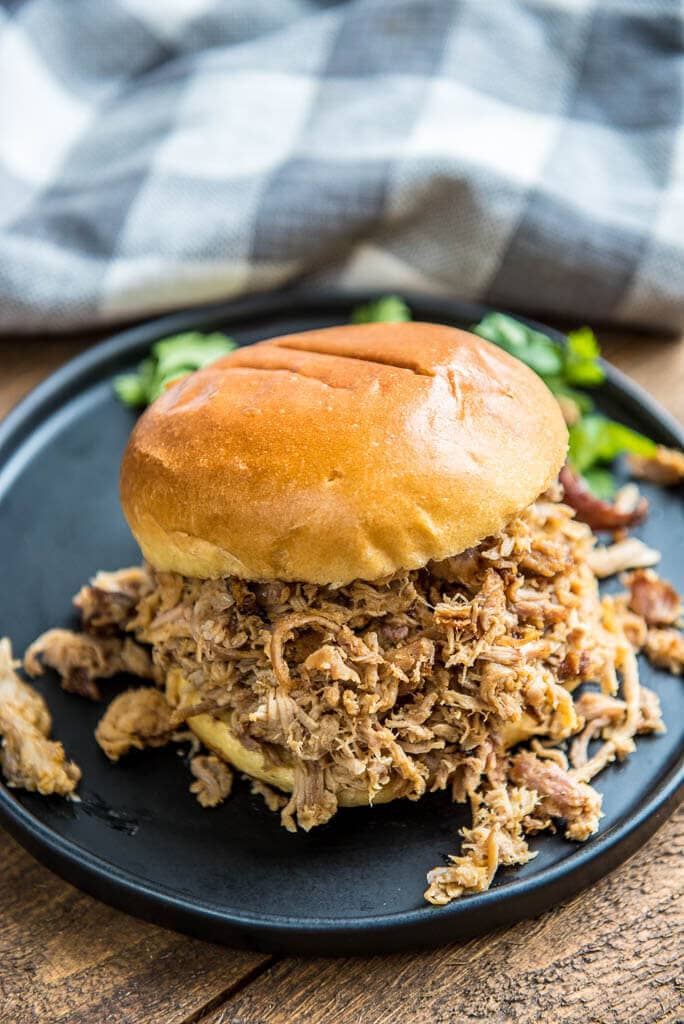 How to make The Best Slow Cooker Pulled Pork is a big claim but I can tell you I've tried a lot of pulled pork recipes and this one is at the top of my list! So simple yet plenty of flavor! This has been enjoyed as sandwiches, as tacos, as nachos and even just on it's own. Short of going through a major process of slow smoking the meat, this slow cooker version will be your new favorite and the best go-to option for slow cooker pulled pork without all the work! And it's perfect for busy days when you need to have a meal for entertaining. I've made this many times for many crowds, and it's always gone by the end of the night.
This recipe has also been converted for those of you that love pressure cookers and it's pretty amazing if I do say so myself!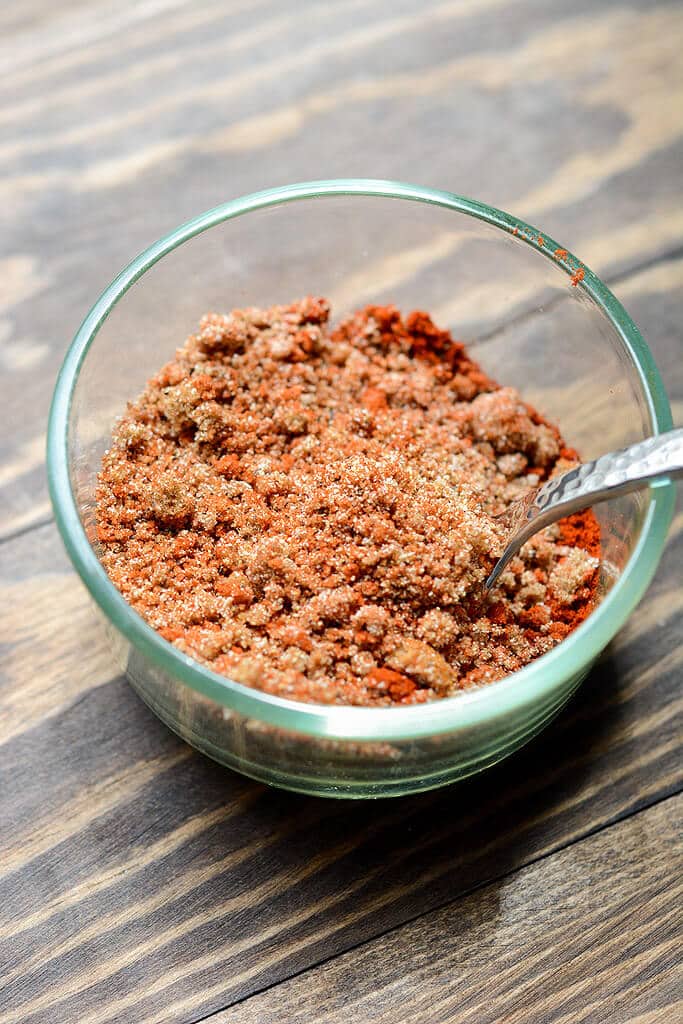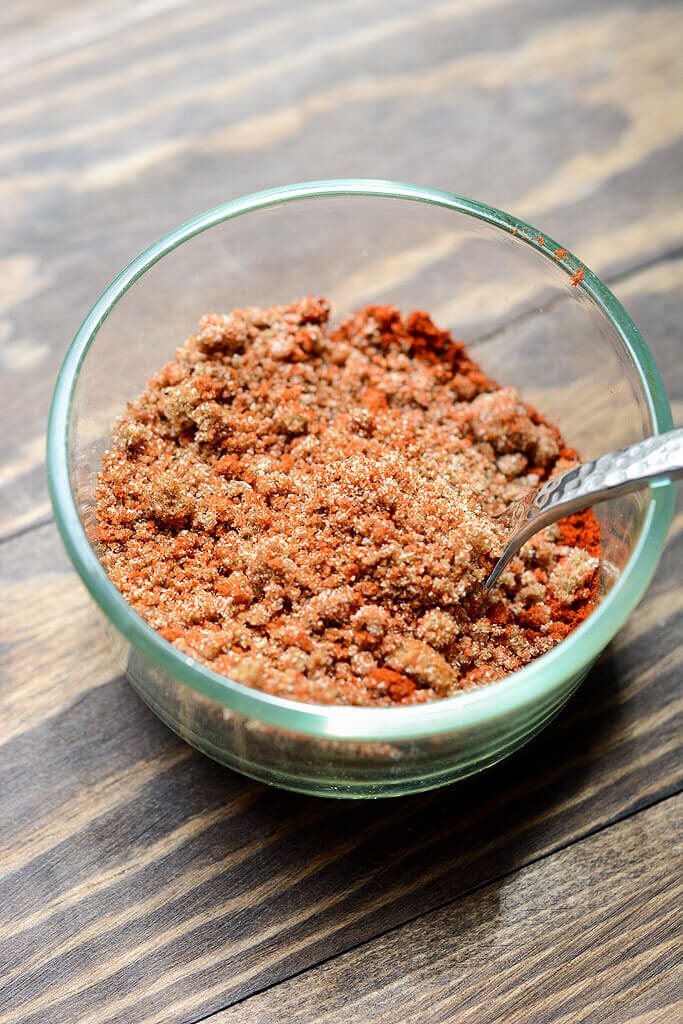 What makes this the best slow cooker pulled pork?
Just the right blend of spices (most you should have on hand) rubbed into a pork shoulder roast make for a flavorful meat that has a tiny bit of kick but is generally mild enough for even picky eaters. Want some bold flavor? Up the spices to your liking… if you like spicy you can up the cayenne!! And I love setting out several different types of BBQ sauce so that everyone can make their own flavor combos.
Check out my video showing you just how easy it is to make this slow cooker pulled pork recipe: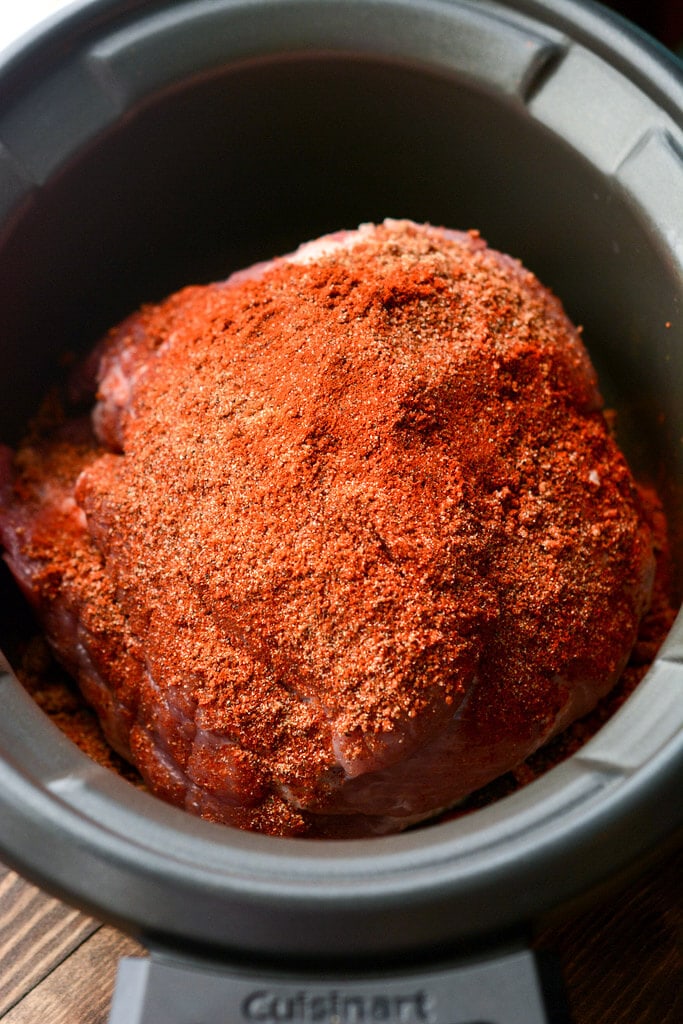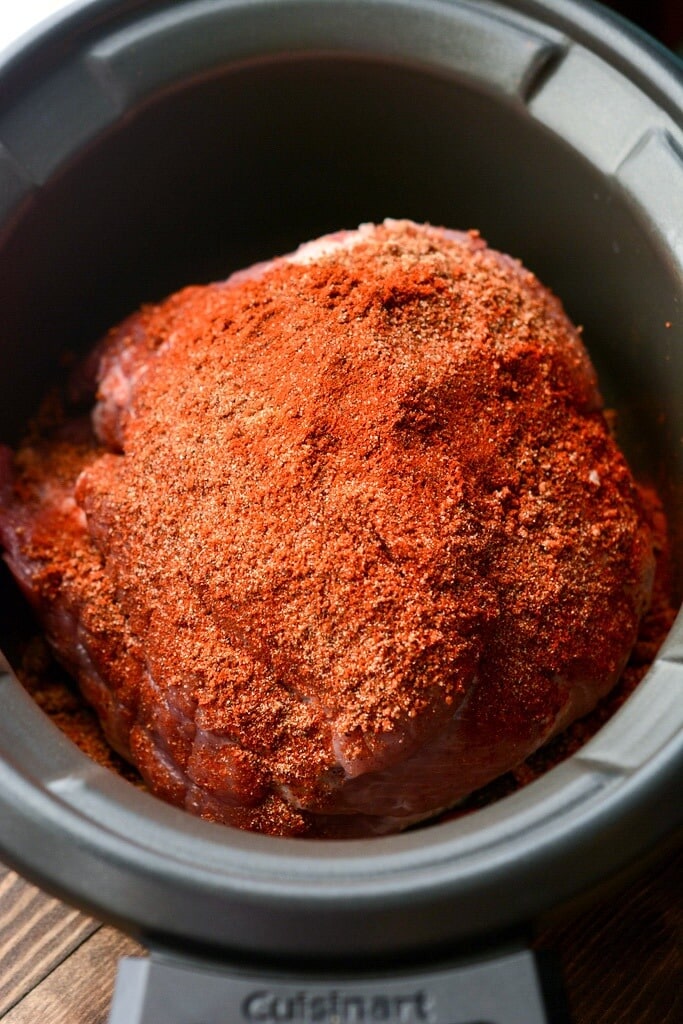 What is the best cut of meat for pulled pork?
pulled pork is generally made using pork shoulder
there are two pieces to the shoulder usually available at the store – the butt and the picnic shoulder
the first generally works the best, but I've had great results with the picnic shoulder too
What is also love is that…..
There is no need to brown anything up ahead of time which makes this a quick start meal.
How long do you cook pulled pork in a slow cooker?
Throw it in early in the day and let it slow cook for at least 8 hours (or even longer) for best results.
For meat like this to properly shred, it needs to reach an internal temperature of 205 degrees F. It will seriously fall apart. If your meat is hard to shred, it's not done yet.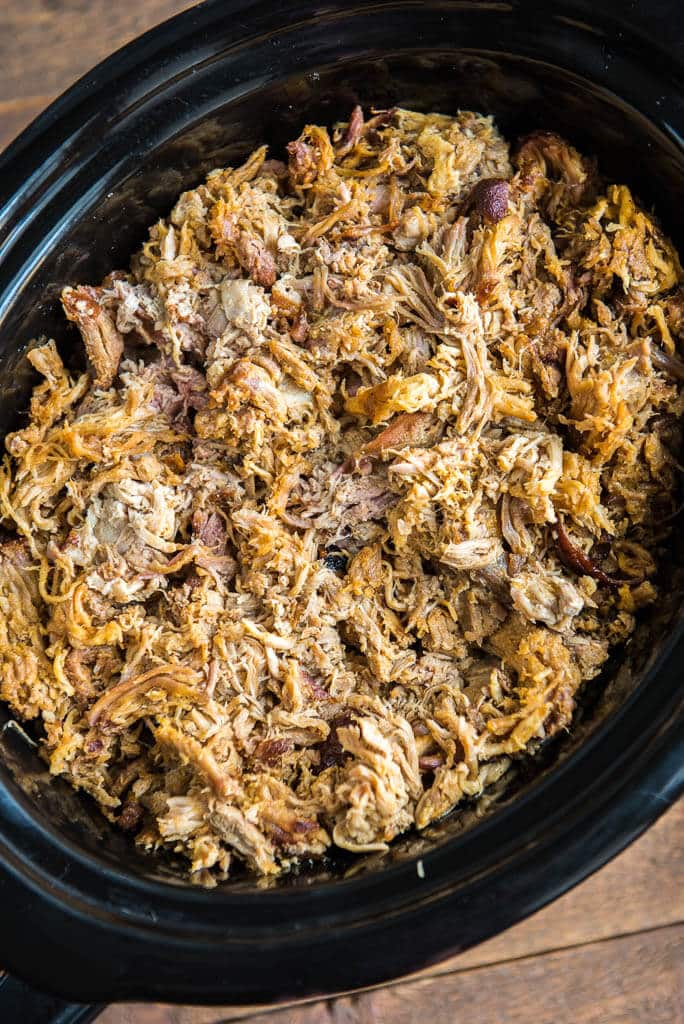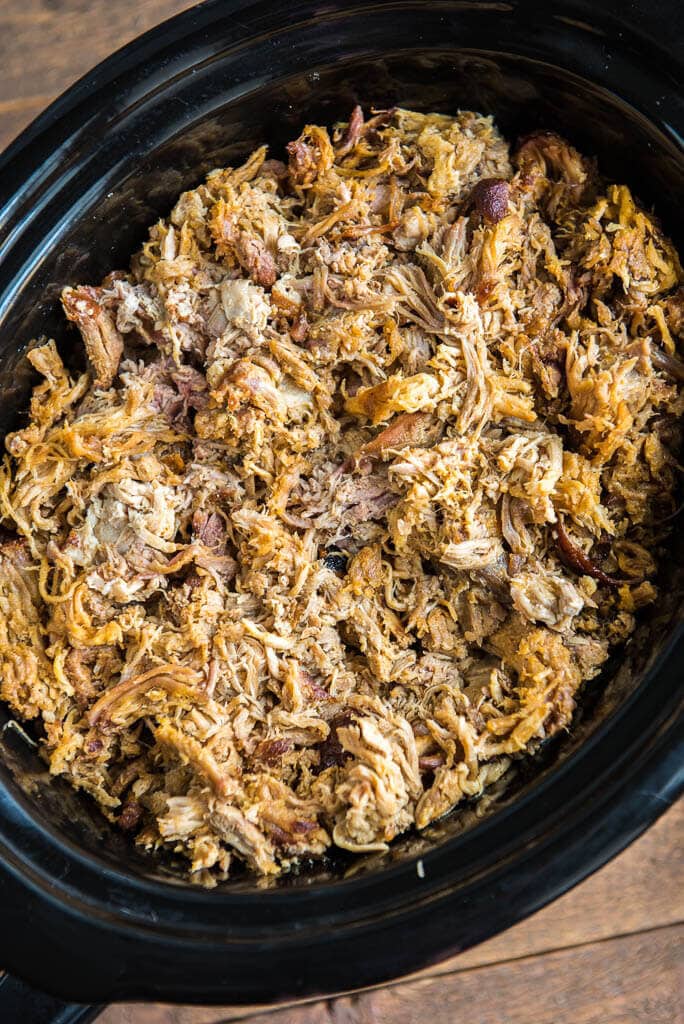 A little bit of apple cider vinegar goes in here too and it really does the trick to break down the meat to make it more tender plus gives it just the right zip of extra flavor. I haven't tested it another way, but I'm guessing apple juice would work well also.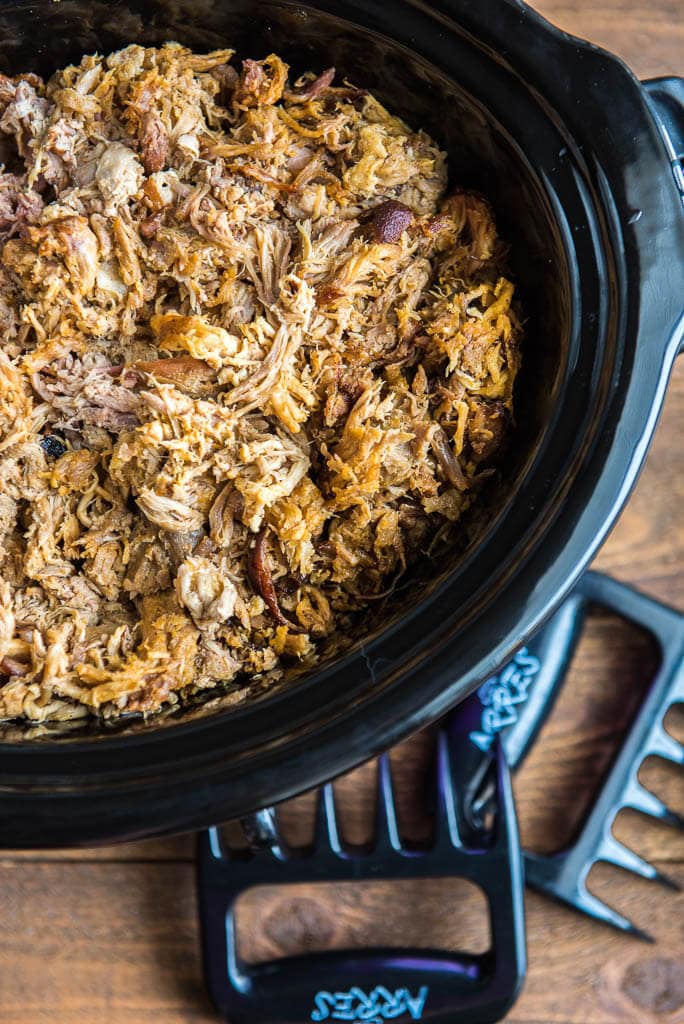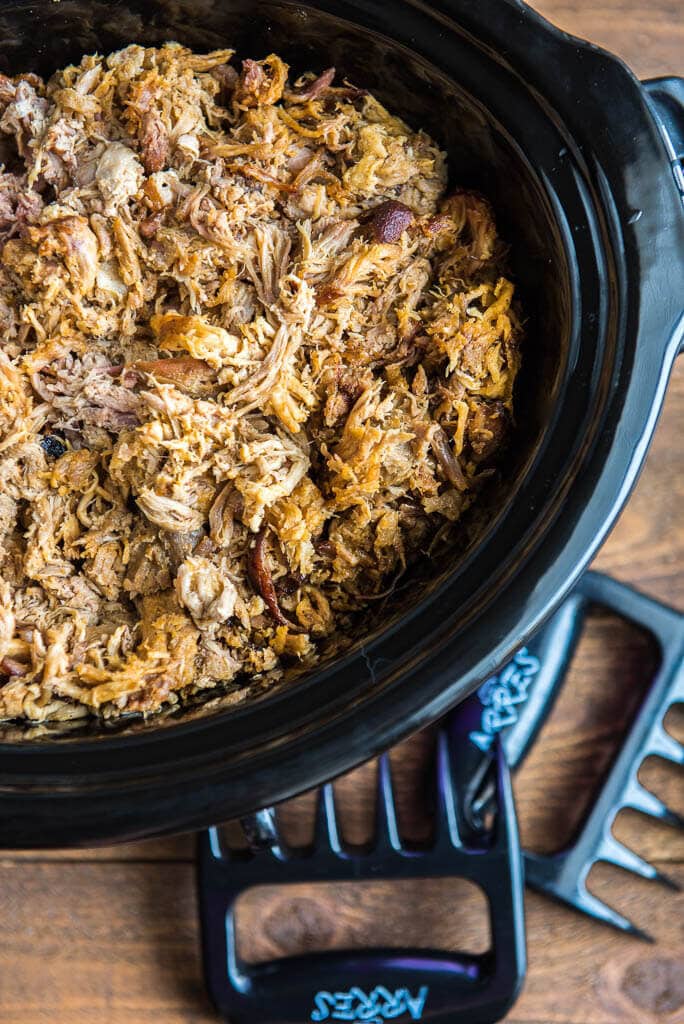 A few of my favorite sides to serve up alongside this pulled pork are: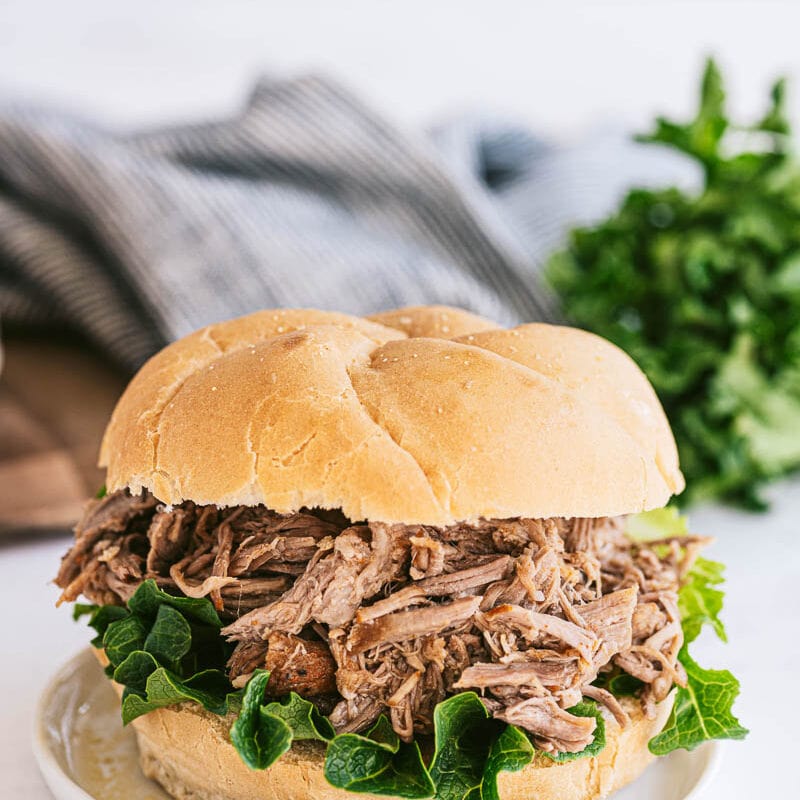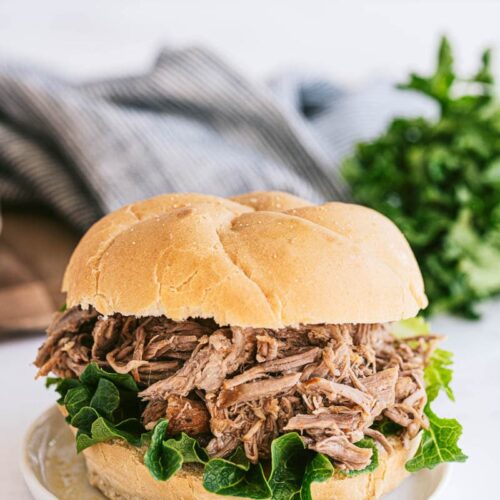 The Best Slow Cooker Pulled Pork
How to make the best slow cooker pulled pork! The perfect homemade spice blend makes it great for sandwiches, tacos and more!!
Ingredients
4

pound

pork shoulder

2

tablespoons

paprika

(try smoked paprika for more of that smoked flavor)

2

tablespoons

brown sugar

1

teaspoon

pepper

1

teaspoon

cayenne pepper

1

teaspoon

garlic powder

1

teaspoon

onion powder

1

teaspoon

kosher salt

1/4

cup

apple cider vinegar

3/4

cup

water
Instructions
Mix together all of the dried spices and rub into all sides of the pork

Place vinegar and water in bottom of slow cooker

Carefully add pork (so you don't wash off spices)

Cover and cook on low for about 8 hours

Remove pork and shred (remove any large fatty pieces and discard)

Add juices from slow cooker as desired
Notes
Add extra kick: save a bit (don't overdo it) of seasoning and toss it with cooked pulled pork.
For brown, crispy ends, put shredded meat on foil lined baking sheet and broil for a couple of minutes in the oven (watch carefully!)
Shred meat with 2 forks, potato masher, shredder claws, or electric mixer.
If meat is difficult to shred, it's not done yet. Put it back in the slow cooker for a bit longer.
Nutrition
Calories:
150
kcal
Carbohydrates:
3
g
Protein:
18
g
Fat:
6
g
Saturated Fat:
2
g
Cholesterol:
61
mg
Sodium:
266
mg
Potassium:
351
mg
Sugar:
2
g
Vitamin A:
650
IU
Vitamin C:
0.8
mg
Calcium:
17
mg
Iron:
1.4
mg
Important nutritional disclaimer
Click here to convert to Instant Pot. Amazing Instant Pot Pulled Pork is everything it claims to be! Amazing!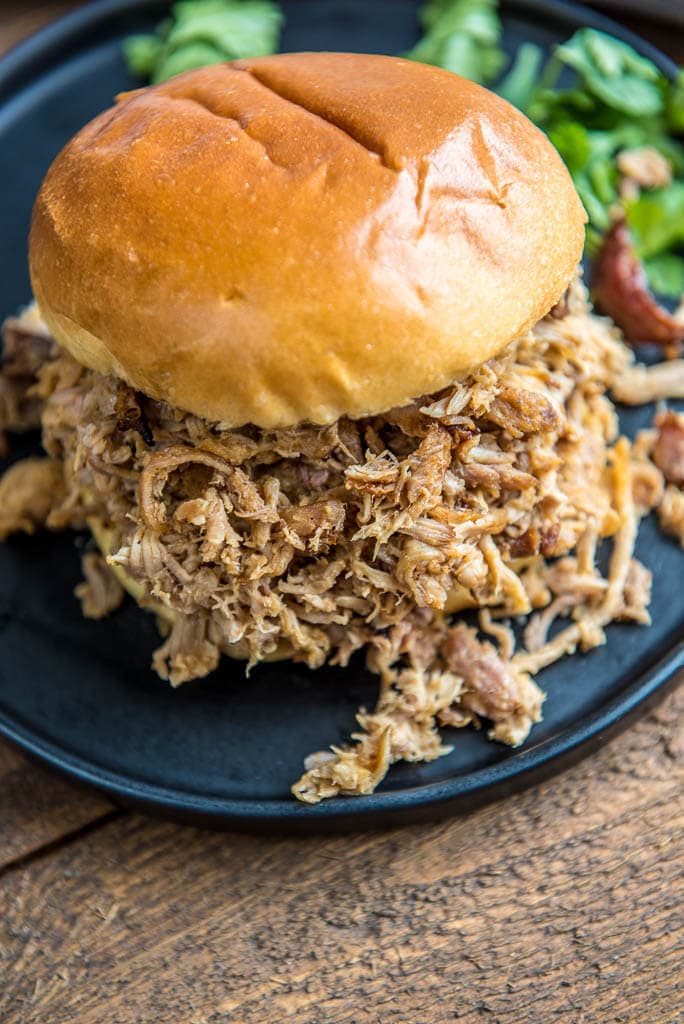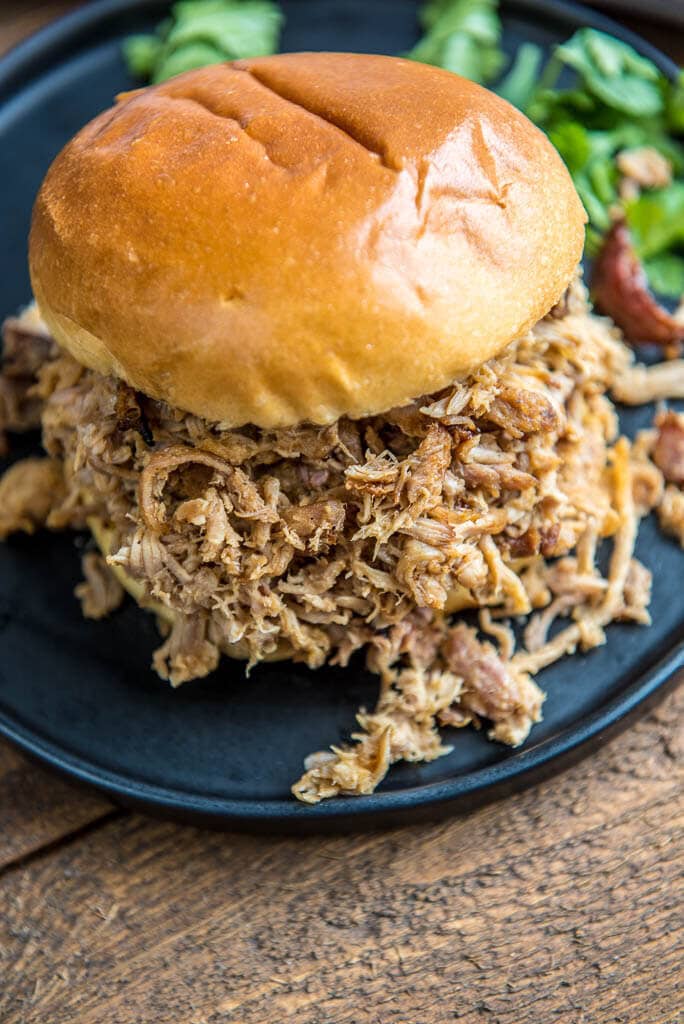 Useful tools for making this pulled pork include:
meat thermometer (a great investment if you cook any types of meat, I use mine almost every day)