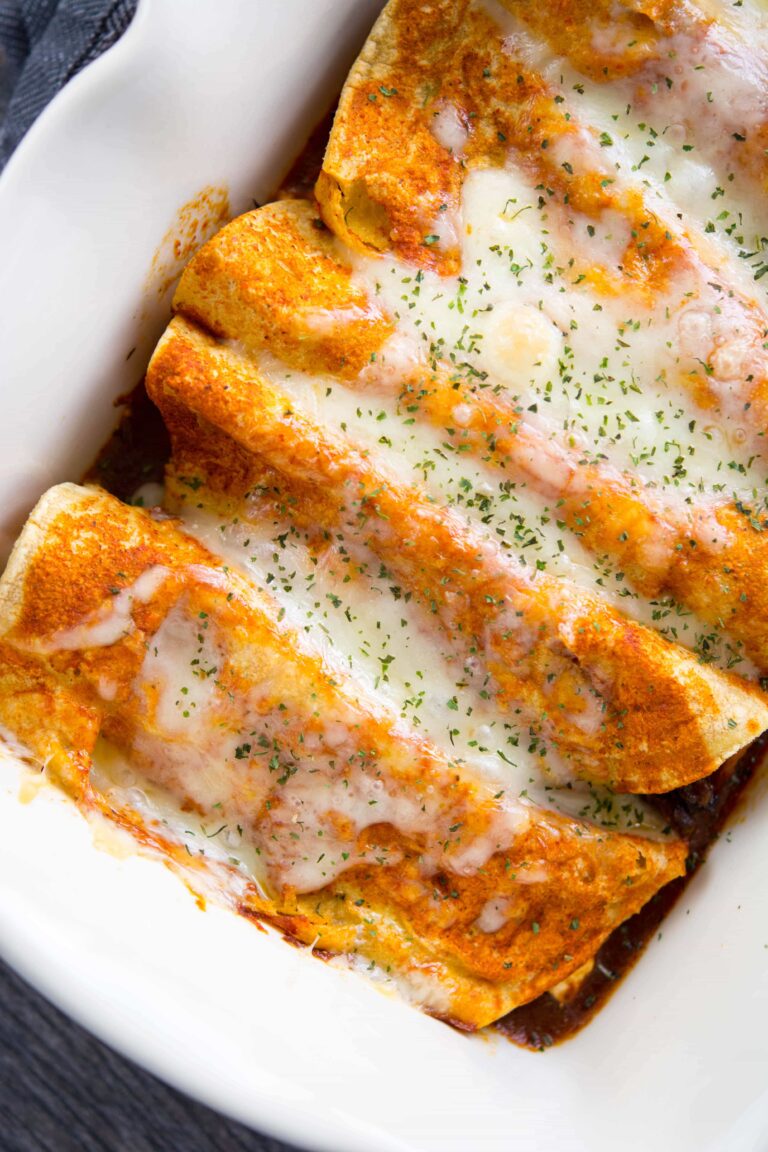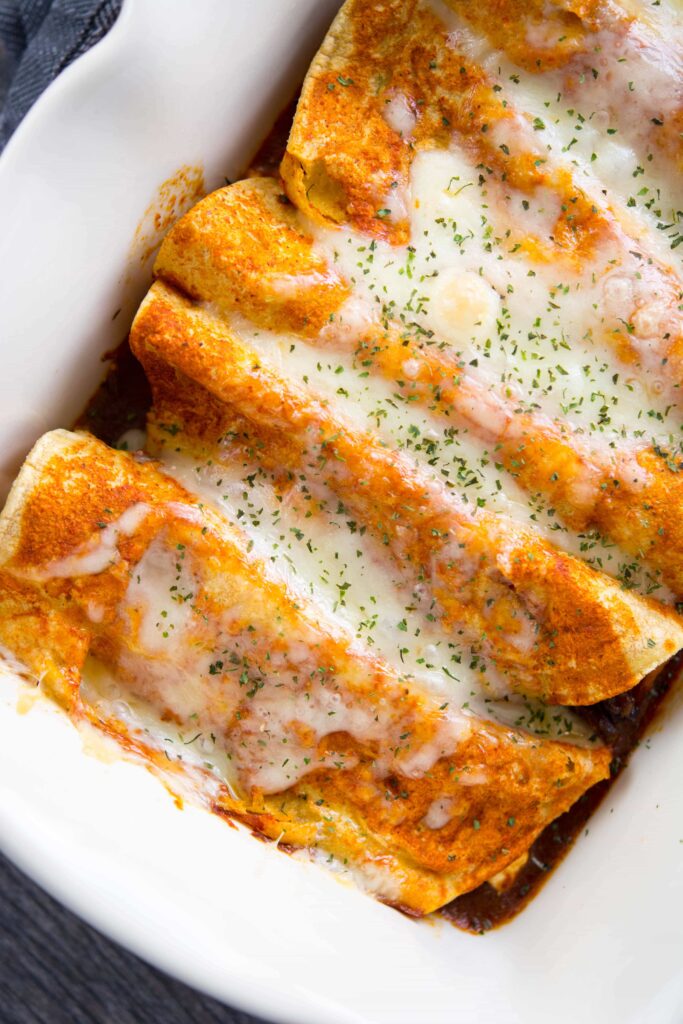 Since we've done this for a couple of years in a row now, I think it's safe to call enchiladas for Christmas Eve dinner our new family tradition. I mean really, if you think about it, when you are trying to feed a crowd these are perfect. You can make ahead the beef (it even freezes well) and then either cook these in the oven or in a casserole slow cooker for dinner. We also make up a pan of these corn and black bean enchiladas and my mom's chicken enchiladas. Plus, you know, we also have to have chips and guac, salsa, rice, etc. It works out well because everyone can find something they like and it's not a crazy amount of work for me and my mom!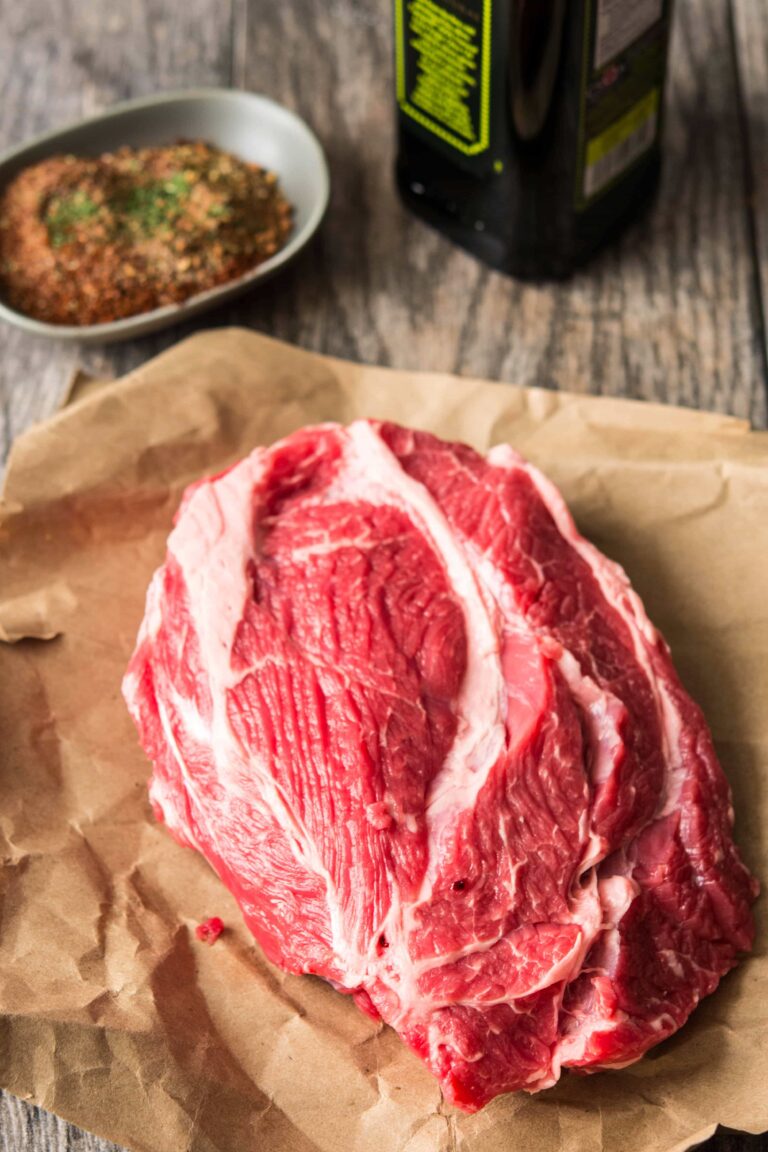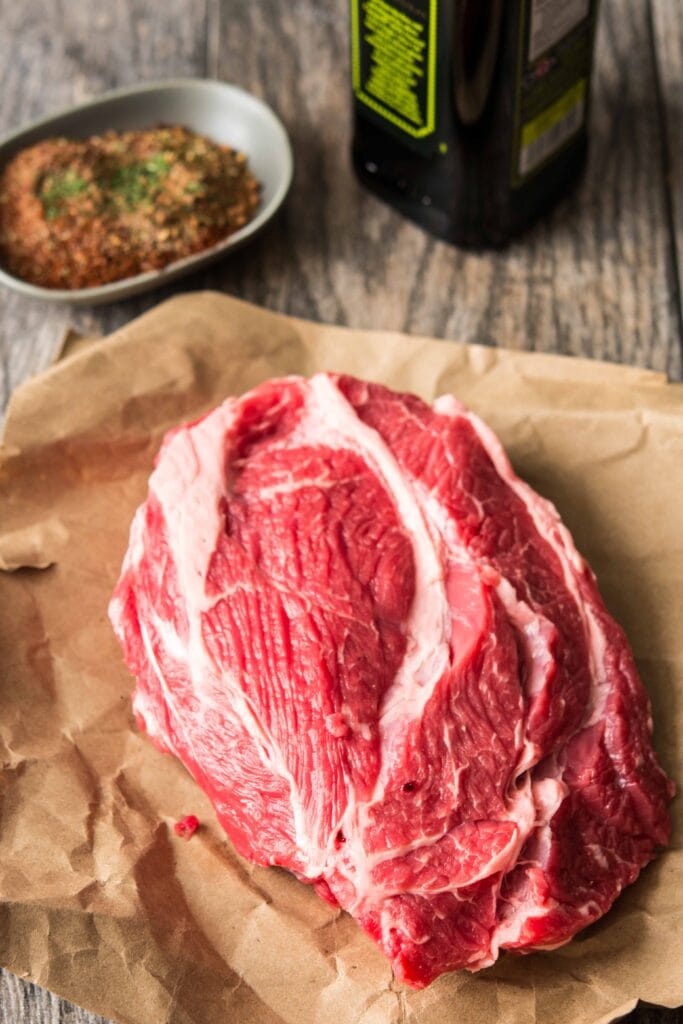 A two pound chuck roast is the perfect amount to make a big pan of enchiladas. There not much to do here except load it up with my special seasoning blend. Then let it cook on low all day and shred. You could do this the day of as well but I prefer to have it done in advance.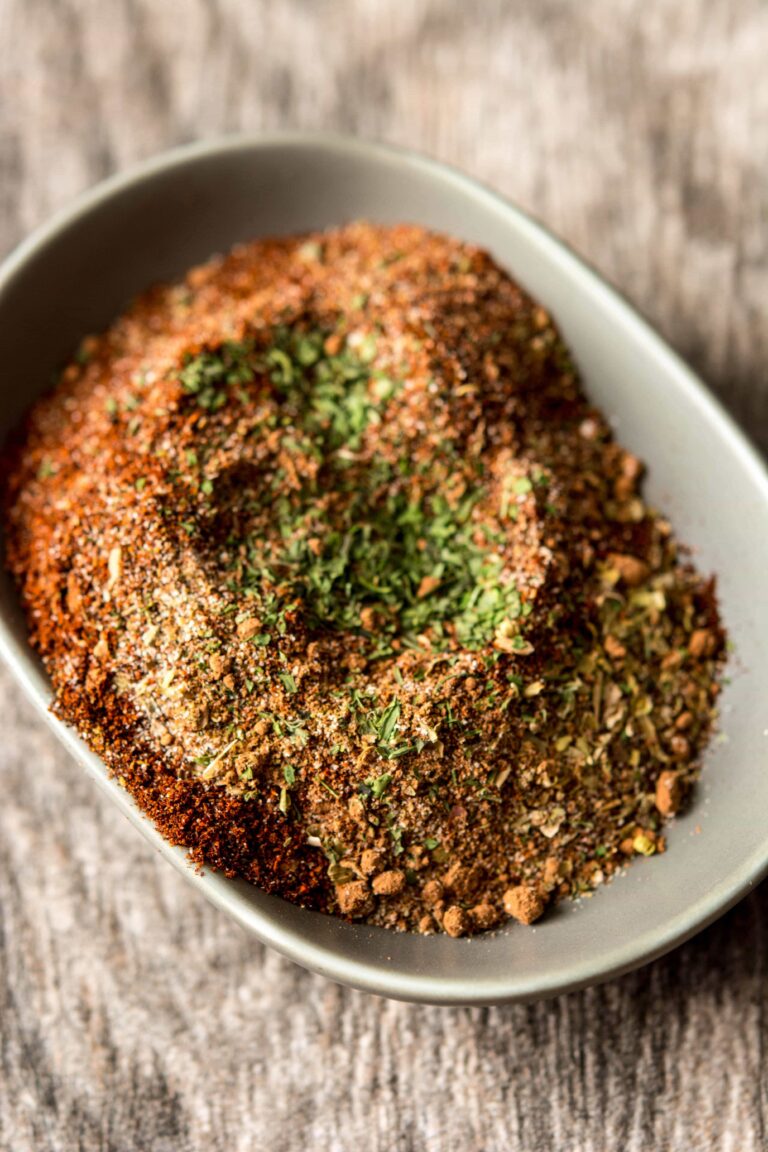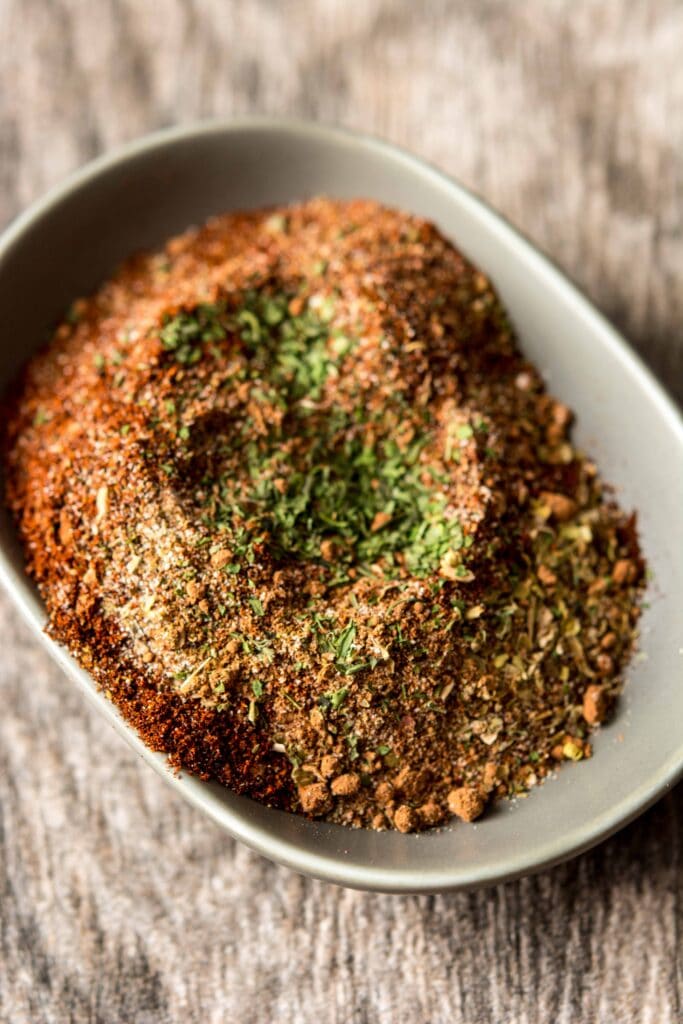 How hard is it to make the seasoning blend? So easy! You probably have most of these dried spices in your cabinet. The secret (weird?) ingredient? Chocolate powder! That and a combo of ancho and regular chili powders gives this just the right amount of spice and a whole lot of deep and rich flavor.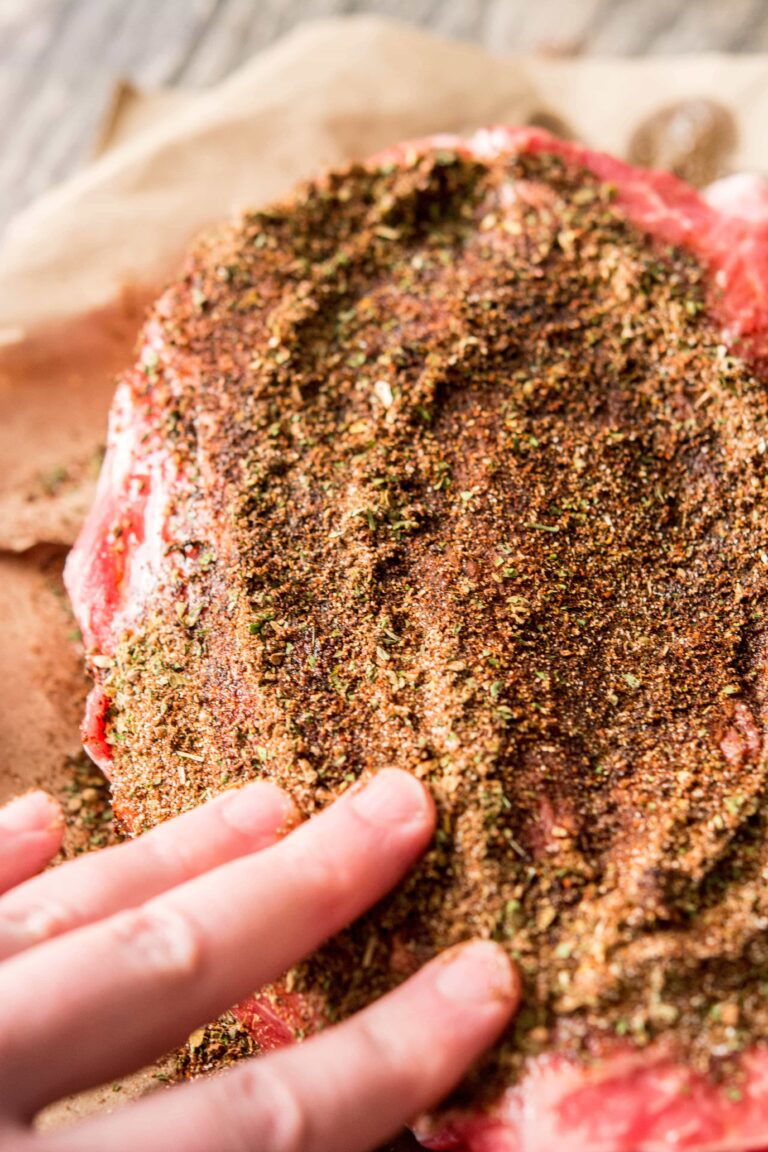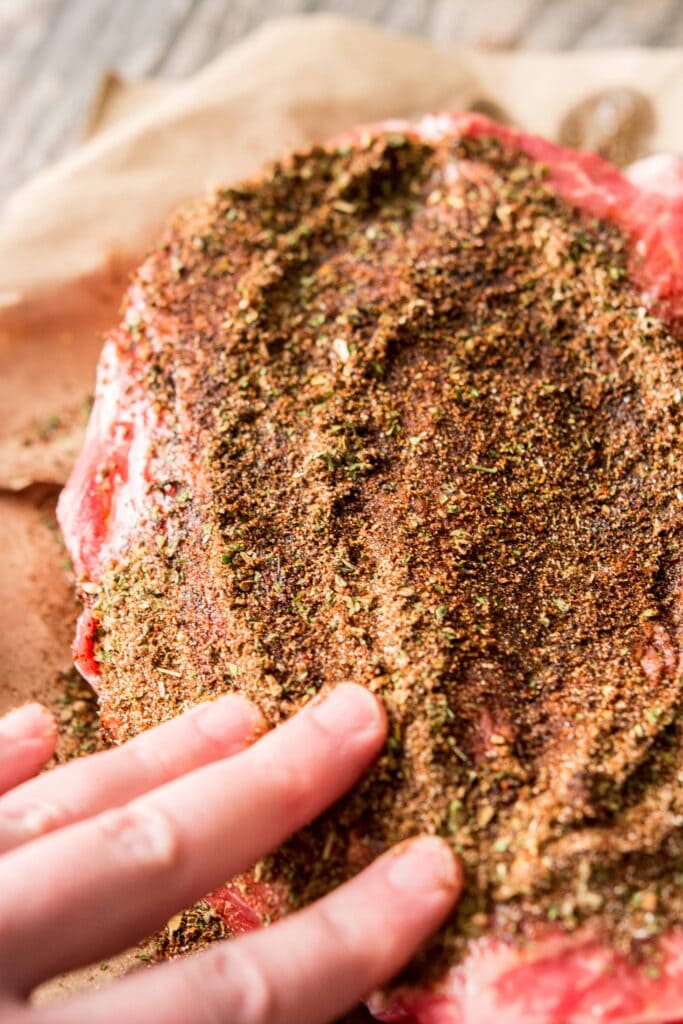 And that's about all there is too it. Just load up this beef roast with the seasoning and let it cook away. No need to add any juice or water to the slow cooker as this meat will put off it's own as it cooks and doesn't dry out at all.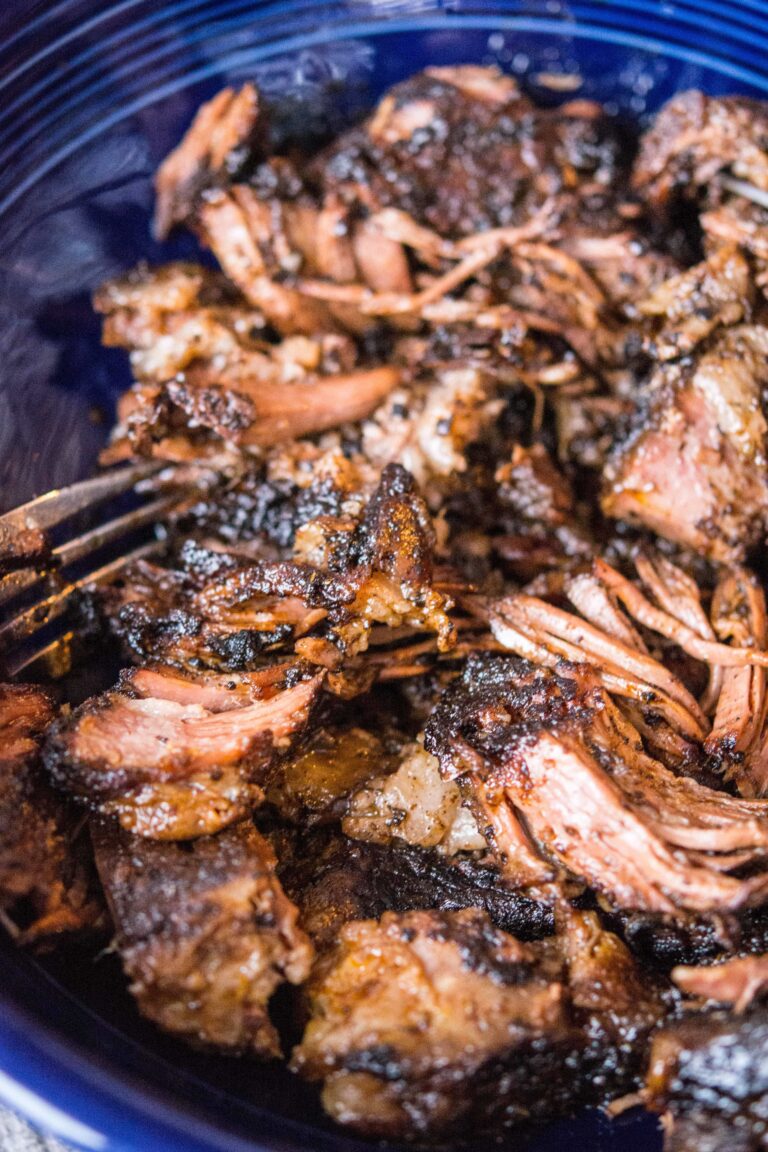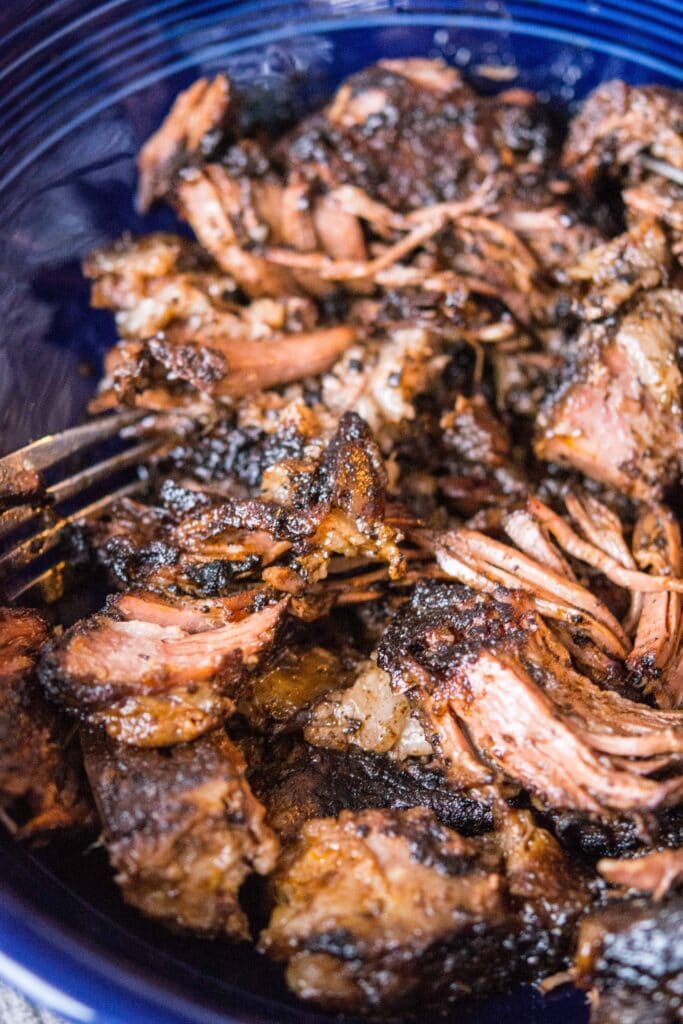 Once you've got your juicy shredded beef (discard any remaining liquid) then you are ready to assemble. These couldn't be simpler. Just a little of the beef and a little goat cheese inside some corn tortillas and topped off with sauce and cheese. I've got the perfect homemade sauce that you can also make ahead and freeze or you can use your favorite store bought brand!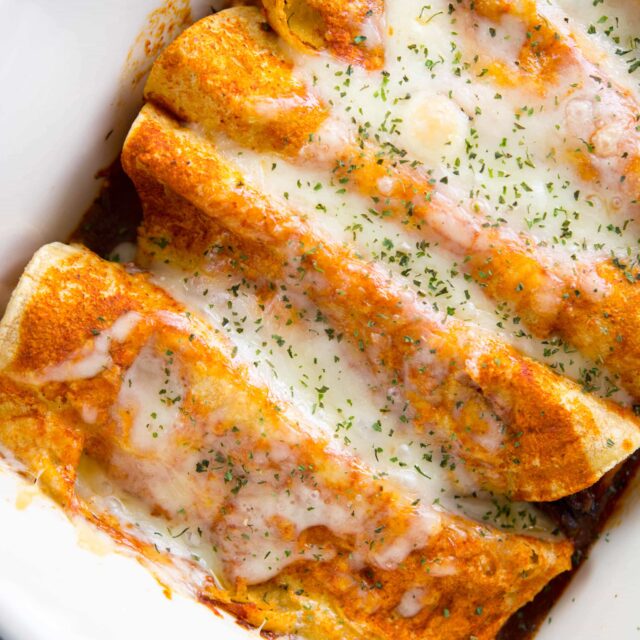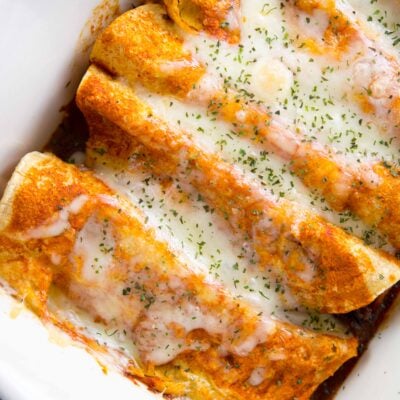 Ancho Beef Enchiladas
Ingredients
2

pounds

beef chuck roast

2

tablespoons

olive oil

1

tablespoon

ancho chili powder

1

tablespoon

chili powder

1

teaspoon

garlic powder

1

teaspoon

oregano

1

teaspoon

cumin

1

teaspoon

unsweetened chocolate powder

1

teaspoon

dried cilantro

10

corn tortillas

3/4

cup

crumbled goat cheese

(1 tablespoon per enchilada)

1 1/2

cups

red enchilada sauce

(1/2 cup bottom, 1 cup top)

2

cups

shredded monterey jack cheese
Instructions
Rub 2 pounds beef chuck roast with olive oil on both sides

In small bowl stir together all seasonings

Rub the seasoning evenly all over roast and place in slow cooker

Cover and cook on low for 8 hours

Remove cooked roast from slow cooker and shred using forks

Discard any remaining liquid

Place about 1/2 cup of enchilada sauce on the bottom of a 9x13 or equivalent casserole dish

Add 1/4 to 1/2 cup shredded beef and 1 tablespoon crumbled coat cheese to each corn tortilla and roll up

Place seam side down in casserole dish

Top enchiladas with the remaining 1 cup of enchilada sauce and 2 cups of shredded cheese

Bake at 350 degrees for 15-20 minutes or until heated through and cheese is bubbly and melted
Notes
You will probably end up with more beef than you will need for 10 enchiladas. You can freeze it for another dish later or make even more enchiladas!
Nutrition
Calories:
404
kcal
Carbohydrates:
18
g
Protein:
28
g
Fat:
24
g
Saturated Fat:
11
g
Cholesterol:
90
mg
Sodium:
612
mg
Potassium:
423
mg
Fiber:
3
g
Sugar:
4
g
Vitamin A:
1075
IU
Vitamin C:
0.7
mg
Calcium:
239
mg
Iron:
3.5
mg
Important nutritional disclaimer