Mexican Lasagna combines two of your favorite food groups into one satisfying and easy meal! The flavor combos are amazing and using your slow cooker is a genius way to make this updated comfort food a new family favorite!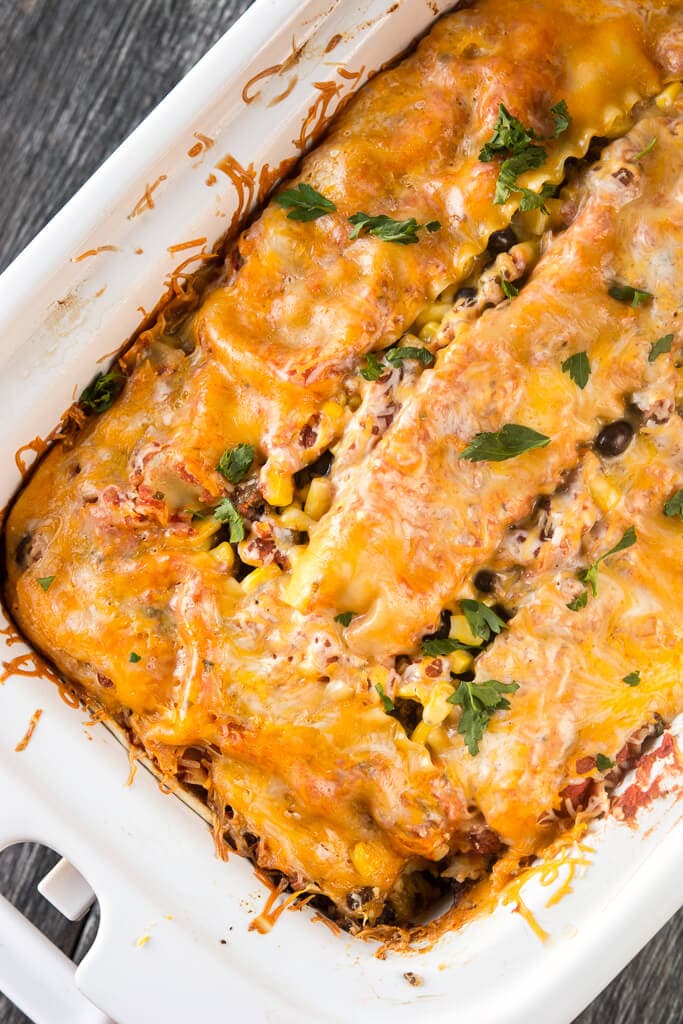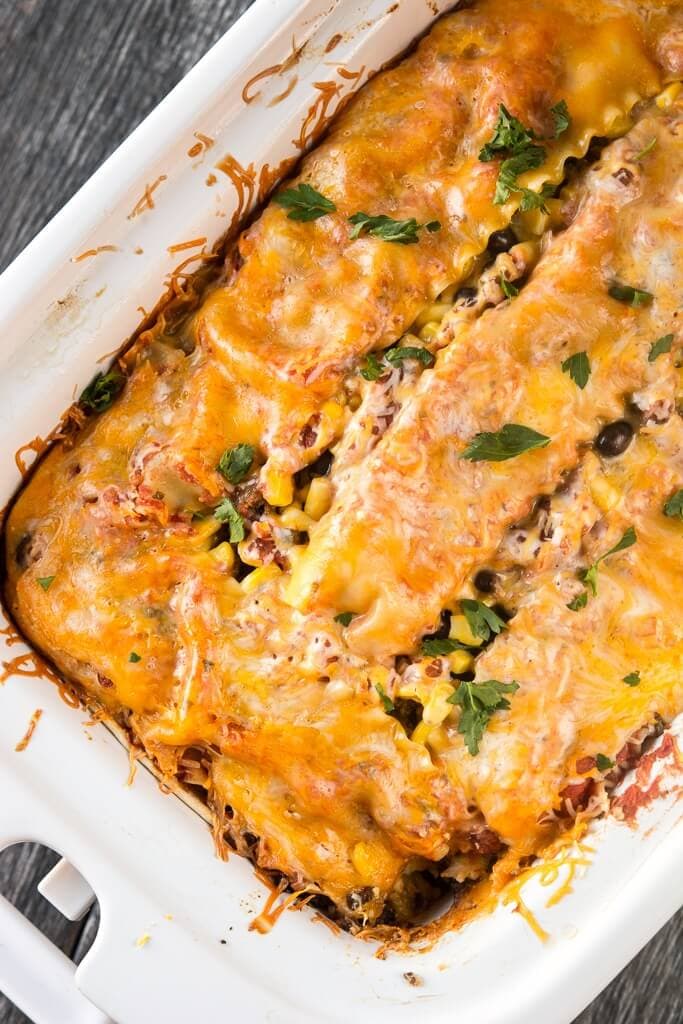 Does your family argue over what to eat for dinner? Want a meal the whole family will be on board with?
How about one that combines two favorites into one meal?! Take lasagna and tacos and mix 'em up and make a Taco/Mexican Lasagna! Using the traditional ingredients of lasagna noodles, hamburger and ricotta cheese and combining them with black beans, tortillas, and taco seasoning turns this meal into a great flavor combination! It comes together easy and cooks perfectly in my casserole slow cooker!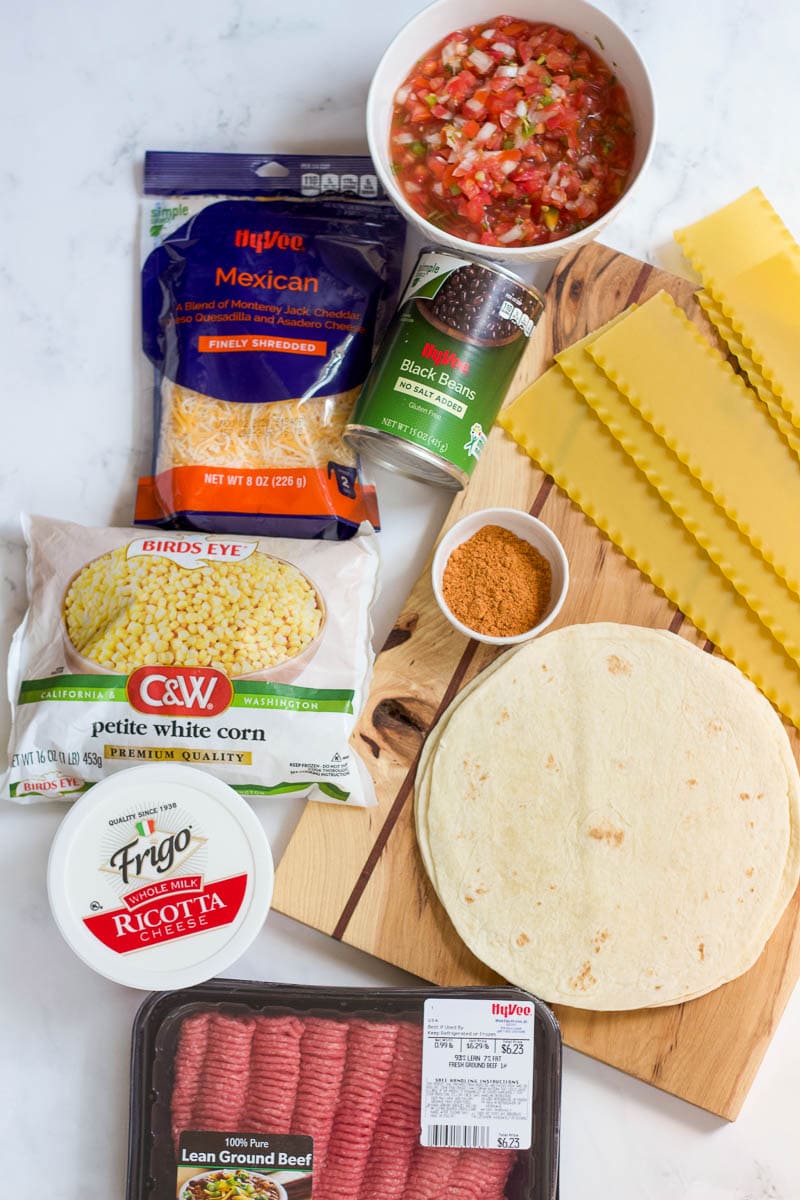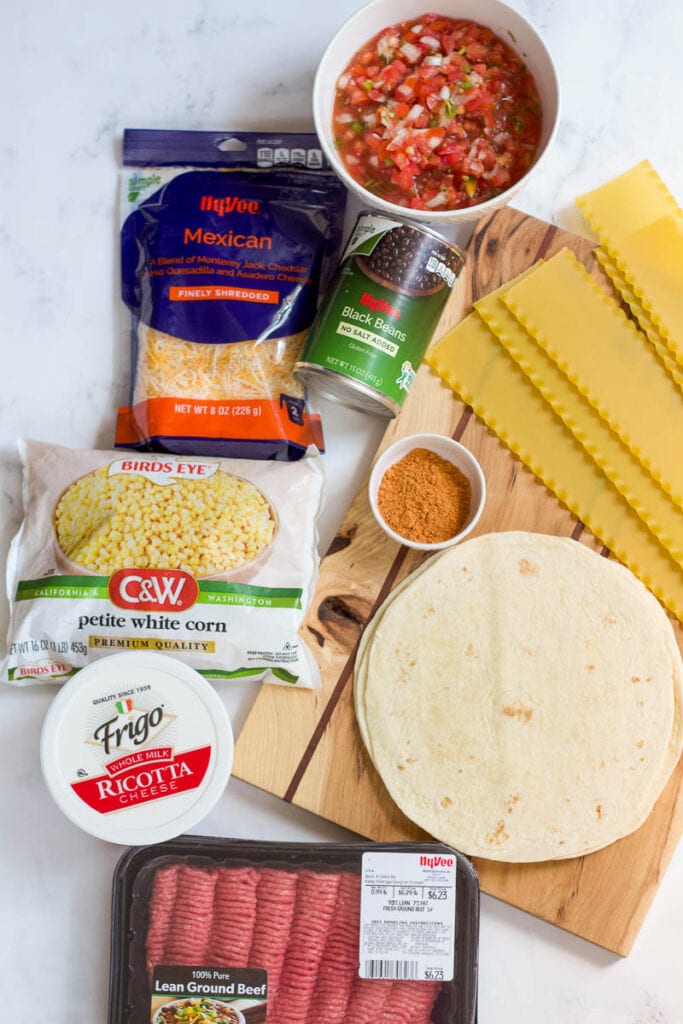 What you'll need for this recipe:
I used my homemade taco seasoning in this recipe and if you haven't tried it yet I strongly encourage you to mix up a batch! I love it because it uses the spices I pretty much always keep on hand so if I don't have any seasoning packets in the pantry I can always make it. Plus, the flavor is great AND you can even customize it!
You'll need both lasagna noodles and tortillas to make the layers. Sounds like a lot, but trust me you'll want both!
You'll also make up a ground beef mixture with the taco seasoning and then layer it with salsa, corn, beans and ricotta.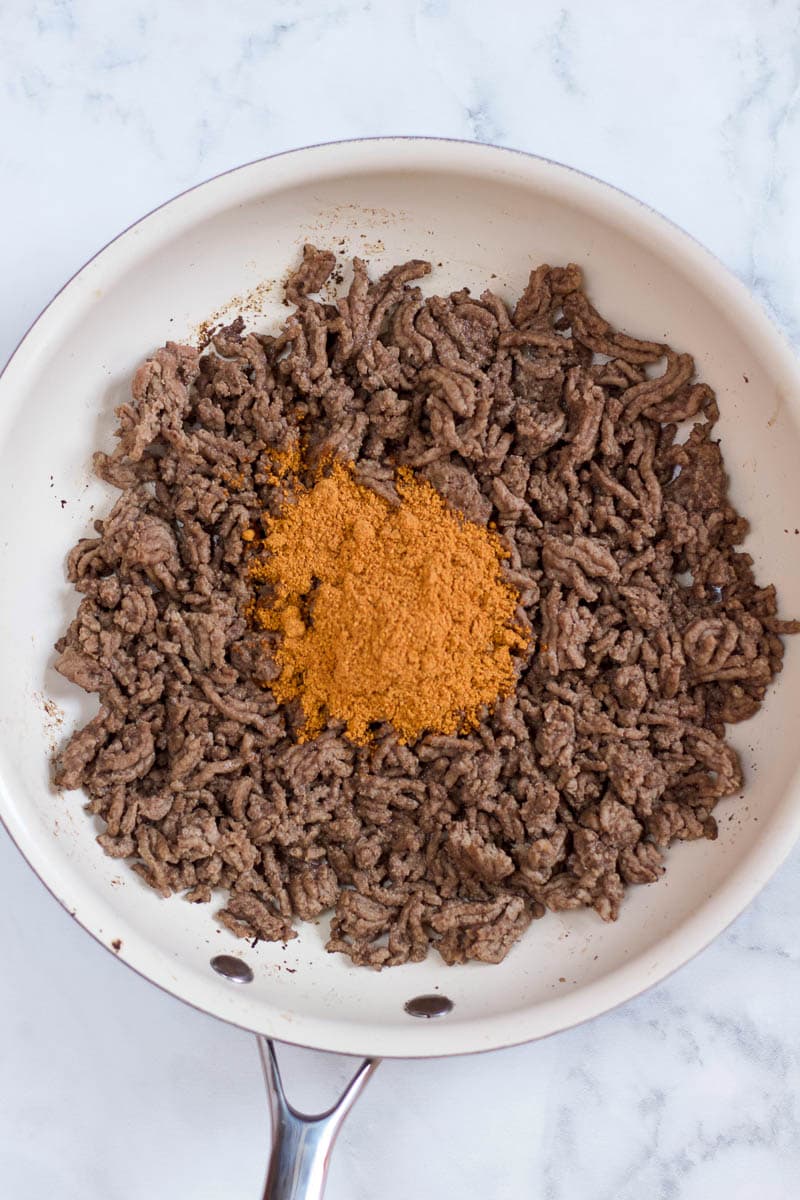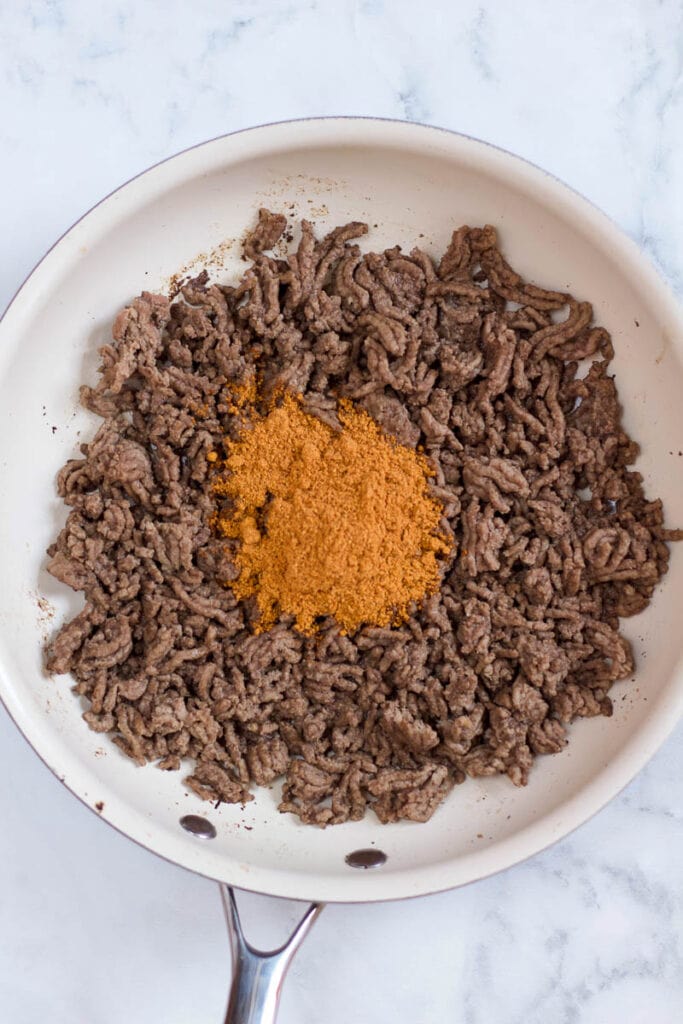 If desired, you can make up the ground beef ahead of time (even several batches) and keep in the fridge (up to 3 days) or freezer until ready to assemble this meal. That would save you some time in the morning assembling this meal.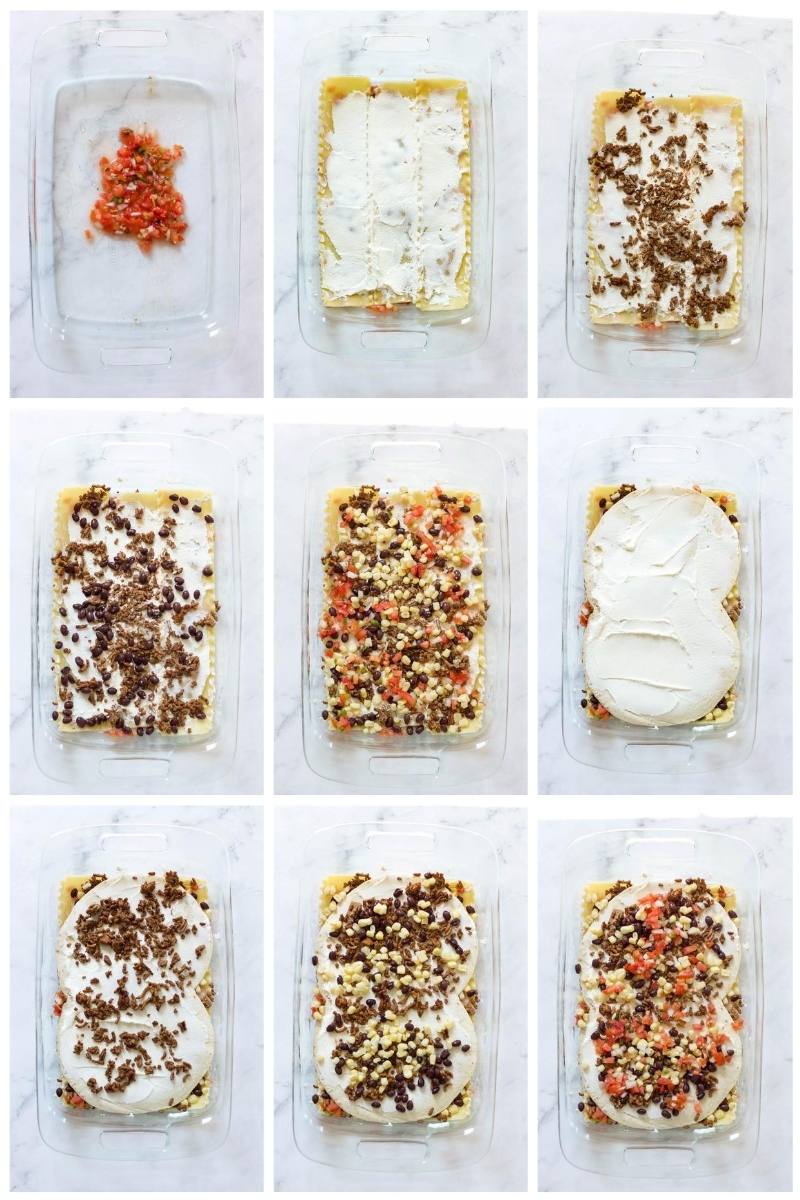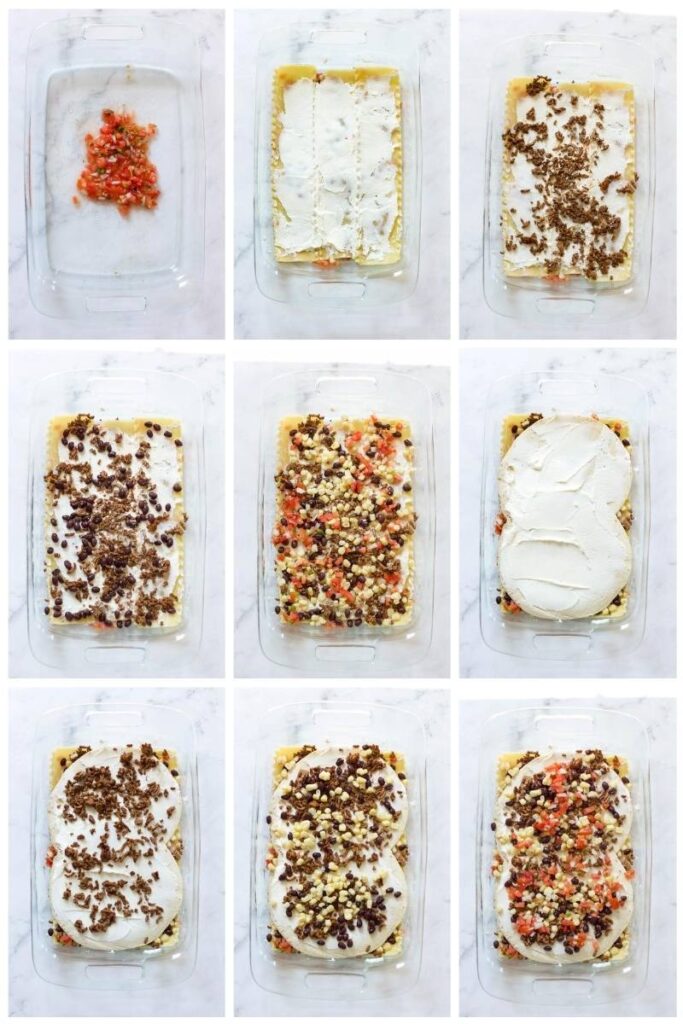 How to assemble the lasagna:
This can be done in the oven or in a casserole slow cooker.
spread a little salsa on the bottom of the dish
layer with noodles followed by ricotta, meat, beans, corn and more salsa
repeat but switch out the noodles for the tortillas
repeat both of the layers again and then top it all off with salsa and shredded cheese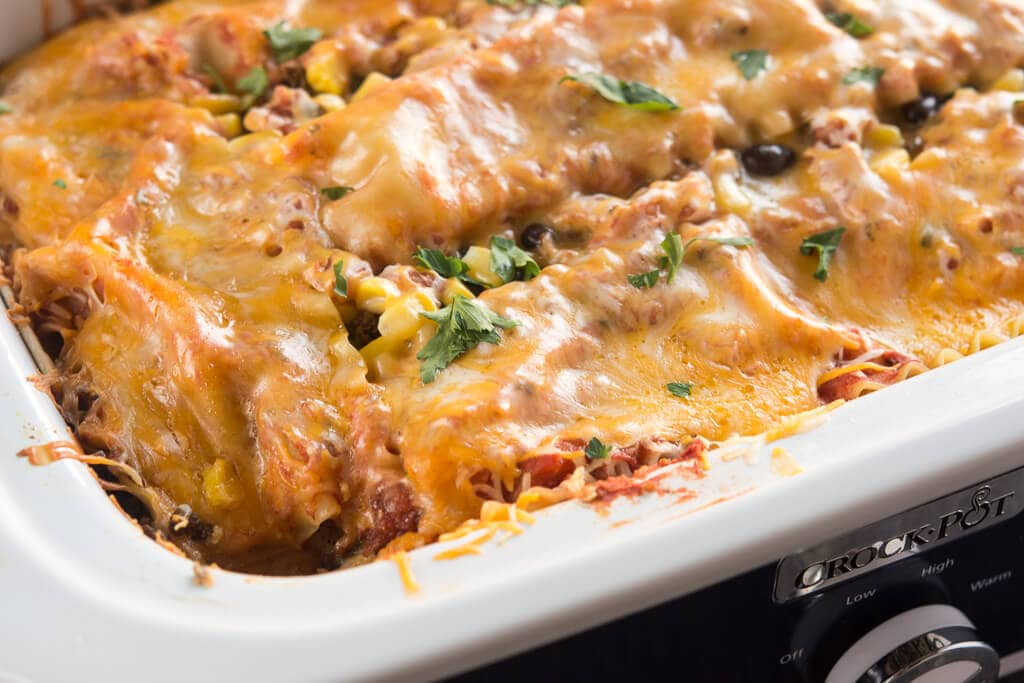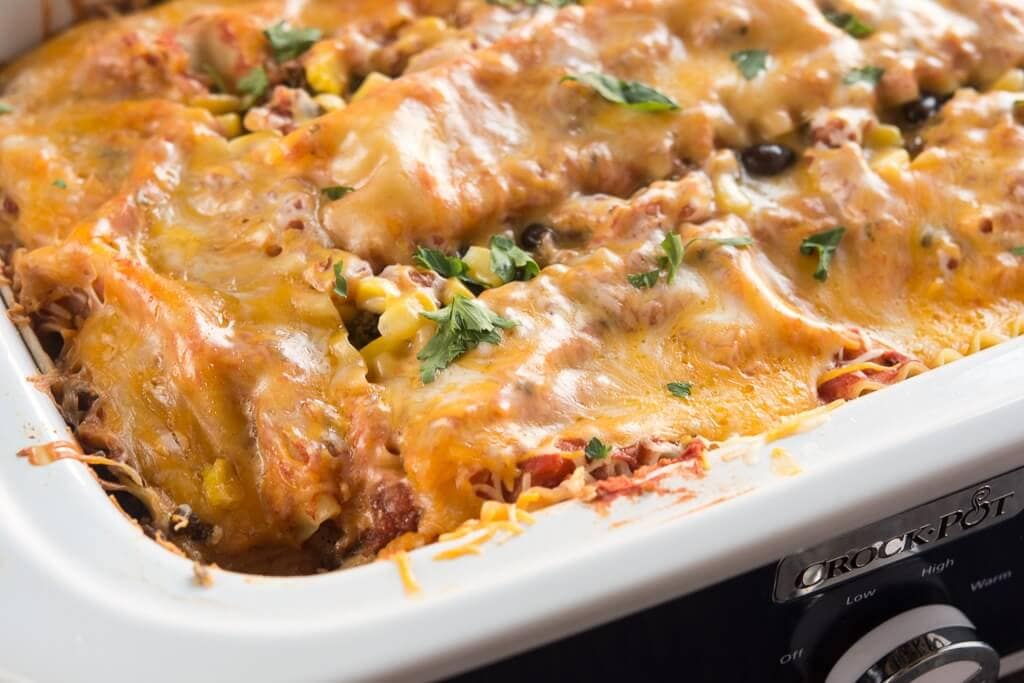 Cooking tips:
'Fresh Style' salsa you can pick up from the deli at the grocery store is encouraged for this Mexican lasagna. For recipes like this or even in soups, using fresh salsa makes such a big difference in flavor.
Another way to keep this slow cooker meal tasting 'fresh' is to grate the cheese you use off the block instead of pre-shredded cheese.
Pre-shredded cheese is super convenient and I use it frequently, however to shred it yourself for this recipe only takes a couple of extra minutes and I think you will really notice the difference!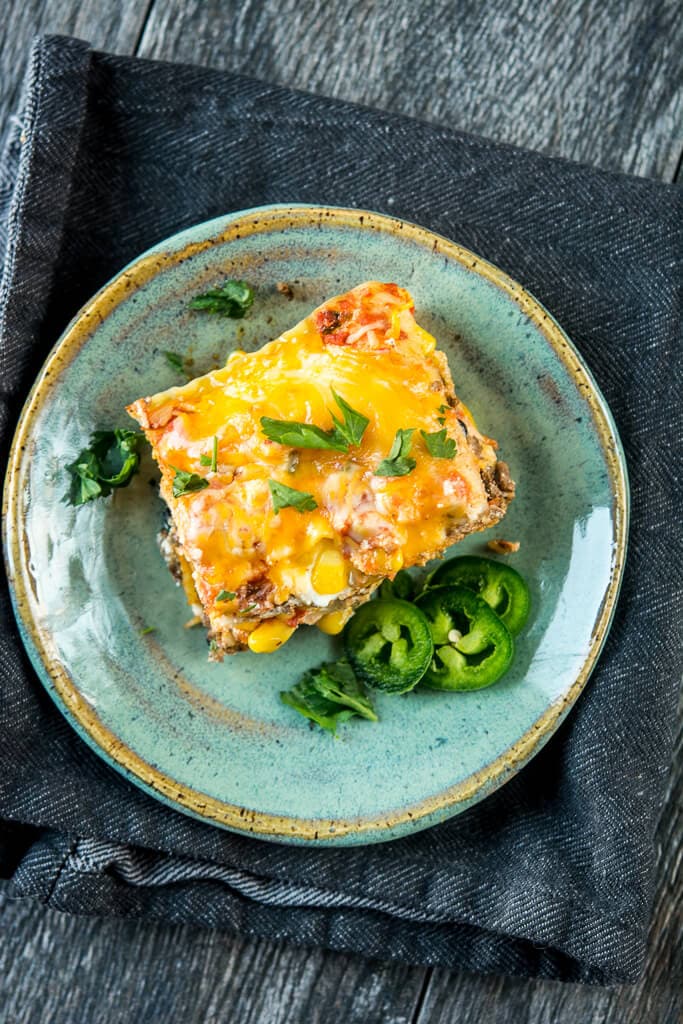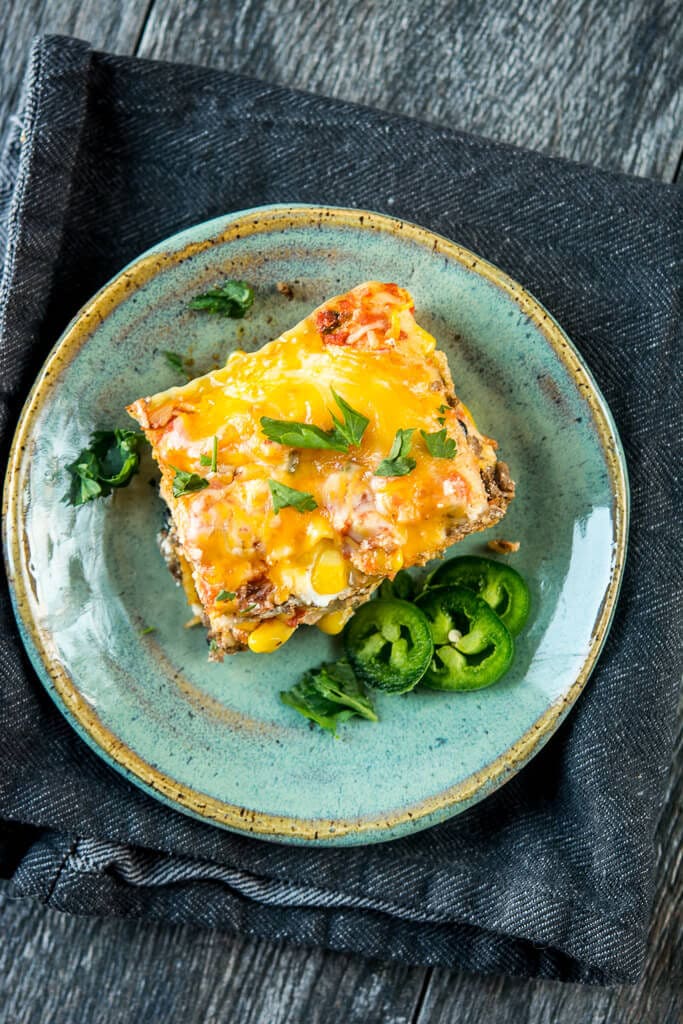 Something I'd sure like to try someday is making homemade pasta noodles. I need to investigate what tools are required because I'm guessing I don't have them. So, for now I continue to use store bought noodles and they work just fine! Use the easy oven ready lasagna noodles for this recipe and the only pan you'll have to dirty is one to brown up the hamburger.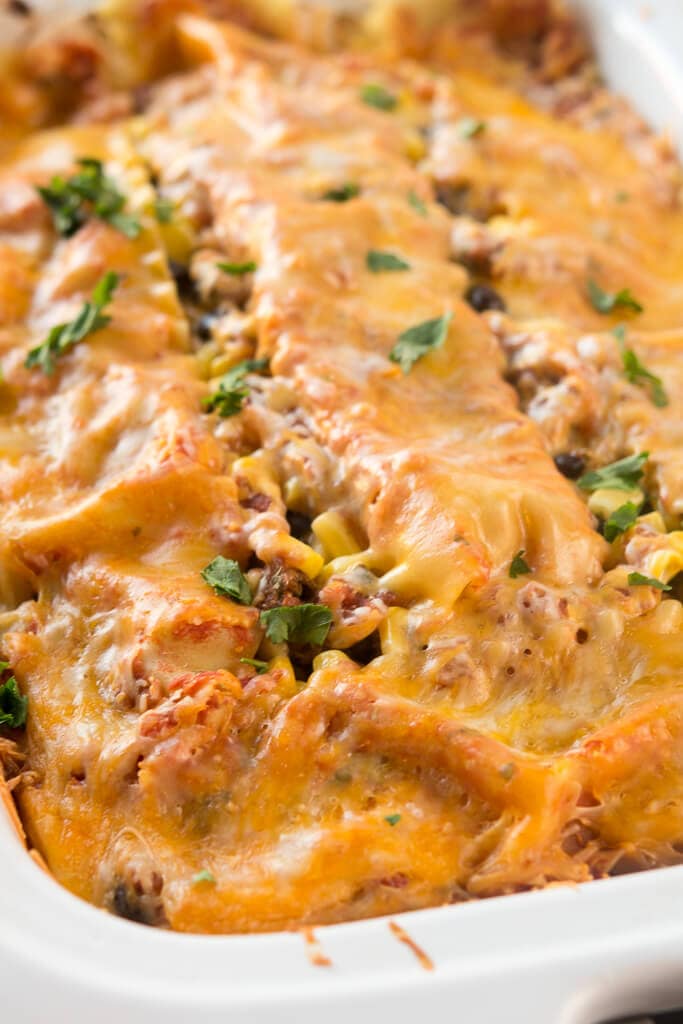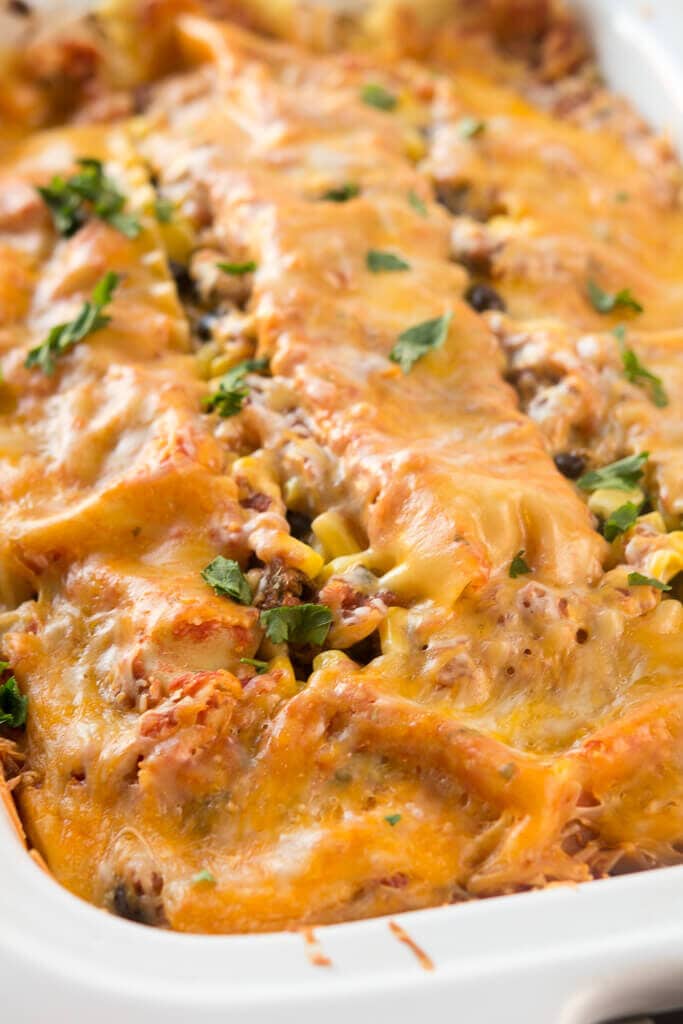 Mix it up by added or subbing:
zucchini or squash
eggplant
spinach
chopped sweet potatoes
Just be careful with anything that has a high water content like zucchini. Salt and drain some water before using it, otherwise your lasagna may end up soupy. Nobody wants a soupy lasagna!
Leftovers can be stored in fridge up to 3 days or cut into individual portions, wrap and freeze for up to 3 months.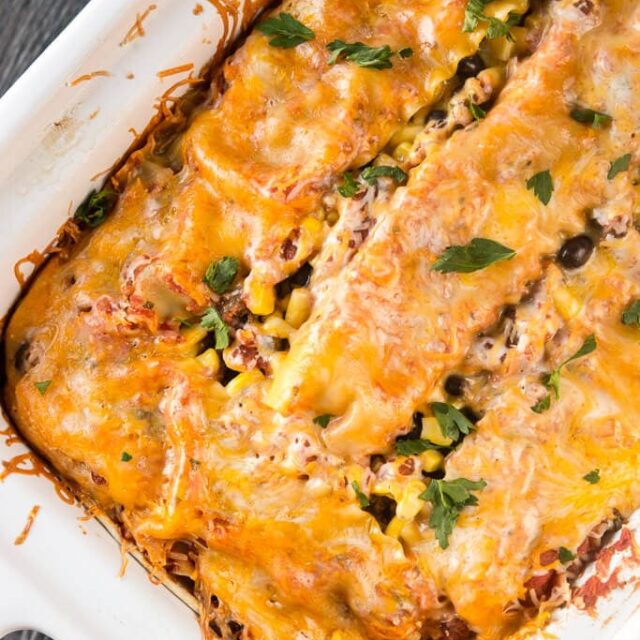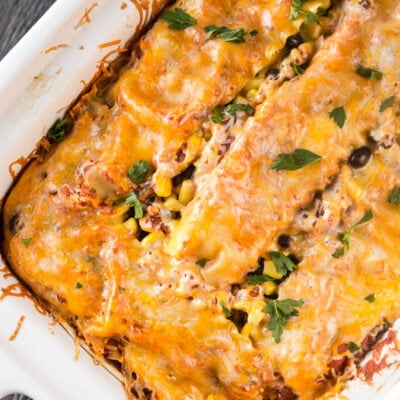 Slow Cooker Mexican Lasagna
Mexican Lasagna combines two of your favorite food groups into one satisfying and easy meal! The flavor combos are unreal and using your slow cooker is a genius way to make this updated comfort food a new family favorite!
Ingredients
1

pound

hamburger

2

tablespoons

homemade taco seasoning

or you can use 1 package taco seasoning

¼

cup

water

8

oz

oven ready lasagna noodles

4

soft taco flour tortillas

16

oz

fresh salsa

15.5

oz

can black beans

drained and rinsed

2

cups

frozen corn

15

oz

ricotta cheese

2

cups

shredded cheese blend
Instructions
Brown ground beef in skillet over medium high heat and drain off excess grease

Stir in taco seasoning and water and let simmer for 3-4 minutes, remove from heat and set aside

In a 9x13 casserole dish start by spreading ¼ cup salsa on bottom

Top with 3 ½ lasagna noodles, ½ cup ricotta cheese, ¼ of the taco meat, ¼ cup beans, ½ cup corn, and ¼ cup salsa

Repeat a second layer using 2 tortillas instead of lasagna noodles

Repeat each of these layers again then finish off with lasagna noodles

Top it all off with remaining ½ cup salsa and 2 cups shredded cheese

Cover and cook on low for 5-6 hours or high for 2 ½ to 3 hours or until heated through and cheese is melted
Notes
I made this in my 4 quart casserole slow cooker.
You may need to adjust your layers accordingly if you use a different size/shape slow cooker. Adjust cooking time slightly if you add additional layers. I suggest at least a 4-5 quart slow cooker for this recipe.
You can cook in the oven instead if desired. Either cook the lasagna noodles in advance or use oven ready. Follow recommended cooking times on noodle package.
Nutrition
Calories:
595
kcal
Carbohydrates:
54
g
Protein:
33
g
Fat:
28
g
Saturated Fat:
14
g
Cholesterol:
94
mg
Sodium:
1046
mg
Potassium:
771
mg
Fiber:
7
g
Sugar:
4
g
Vitamin A:
752
IU
Vitamin C:
6
mg
Calcium:
364
mg
Iron:
4
mg
Important nutritional disclaimer