Slow Cooker Chicken Poutine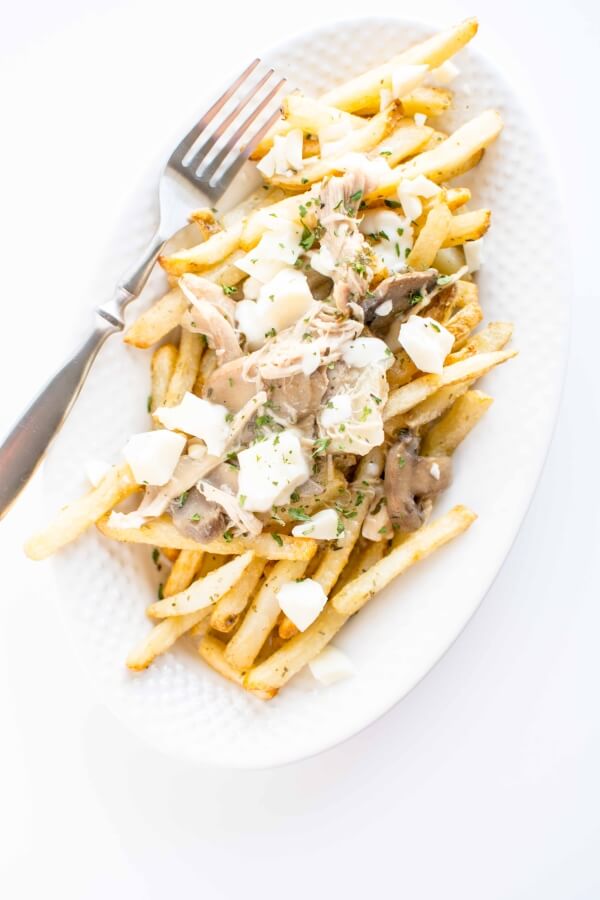 If you're from Canada please feel free to jump in right here and tell me how I've totally taken out of context a favorite dish and turned it into something completely different while still calling it poutine. I won't be offended. I've never had the real thing but I just keep seeing it all over the Food Network and can't stop wanting to jump on a plane to somewhere that makes it so I can have some! But since that's probably not super practical then I've settled for doing my best and making my own version at home.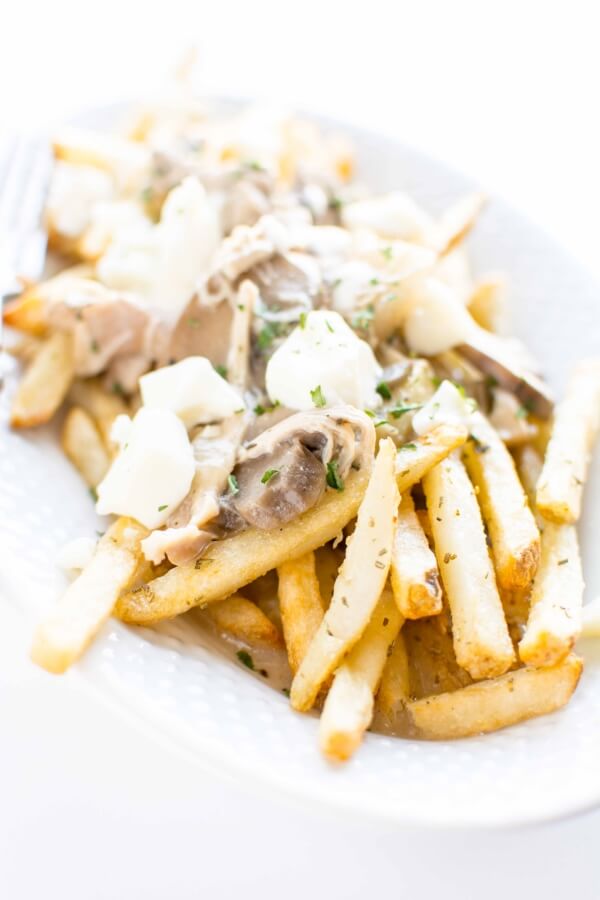 One thing I did find in my research (yes, I actually spend time on the internet just reading about food, lots of time – maybe I need an intervention), anyway what I found the biggest suggestion to be was to be sure and use cheese curds if at all possible. And guess what? I looked it up, found a local company that makes them and sells them through a supermarket chain that happens to have a location by my house. So? I excitedly went and bought way to many cheese curds for my dish! (What else can I use them in? It's possible I went overboard.)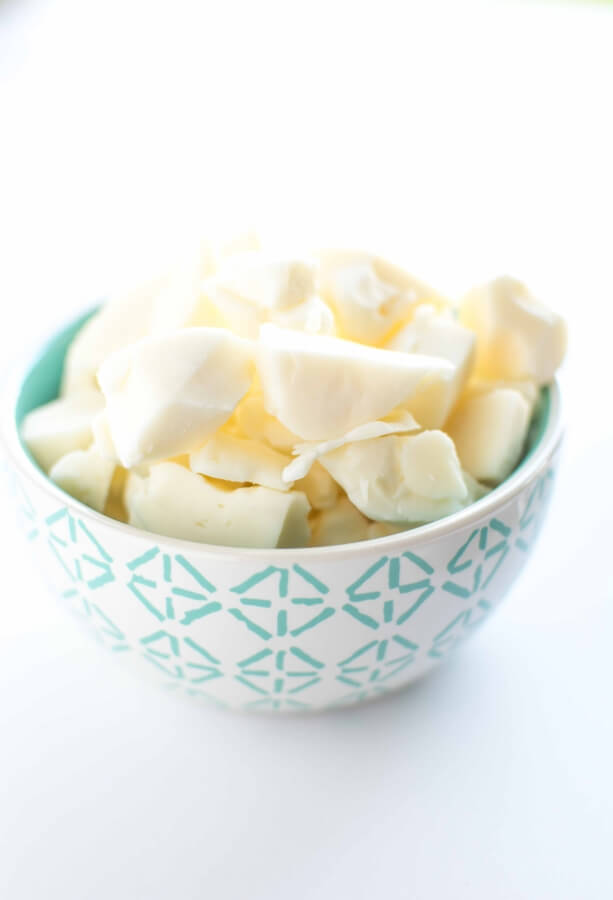 I didn't know what to expect from these little things they call squeaky cheese curds but I ripped open the package (after I paid for them) to give them a try. Yum! Like just a little milder and a lighter and cleaner texture compared to "regular" cheese. What do you think? How do you describe them?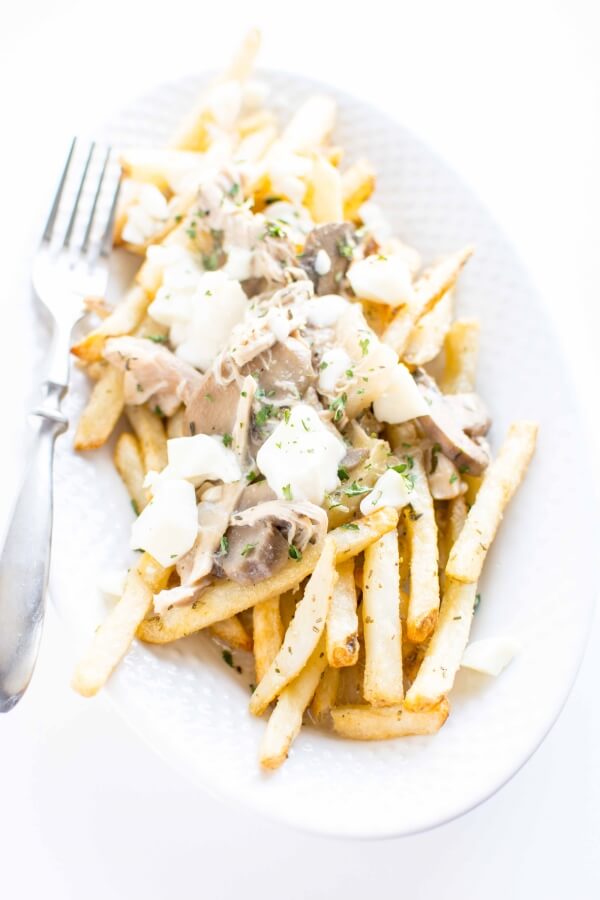 Okay I know, enough about the cheese already. The recipe is pretty simple, just some flavorful chicken thighs in a simple homemade gravy that cooks all day in the slow cooker. Everything goes atop your favorite crispy cooked oven fries. I used Alexa Rosemary Fries and loved the extra flavor.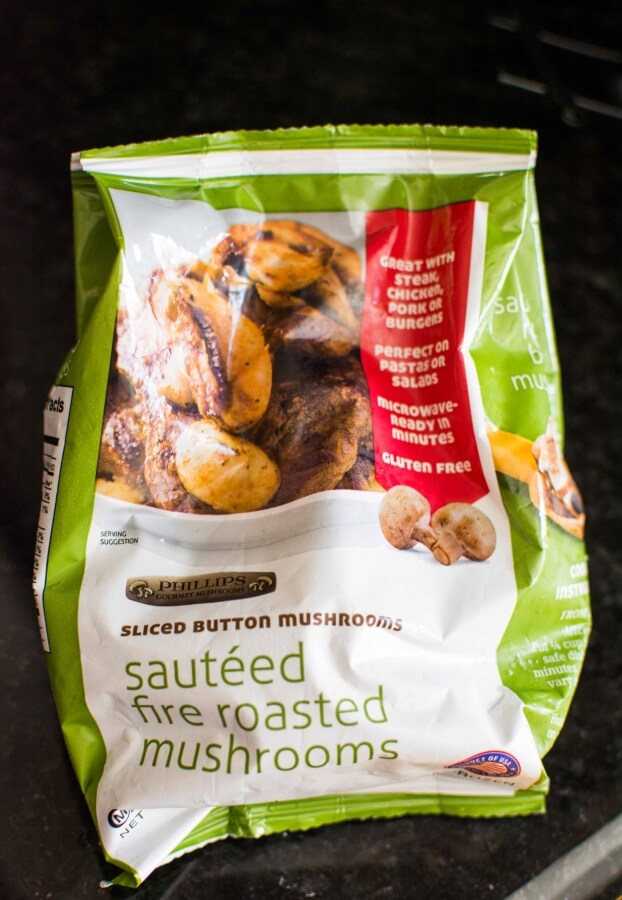 I also utilized a bag of my favorite mushrooms. Easy, already cleaned and sliced and ready to go. They hold up in the slow cooker well and I don't have to worry about them going bad before I use them like with fresh mushrooms.
Let me know what you think? Are you on the poutine band wagon?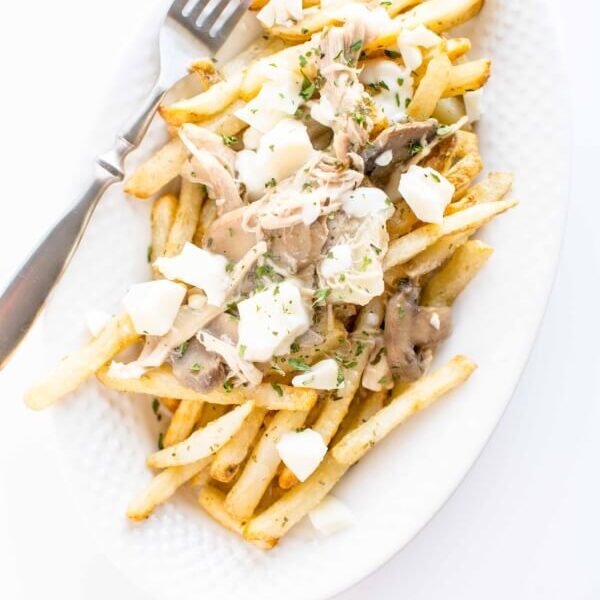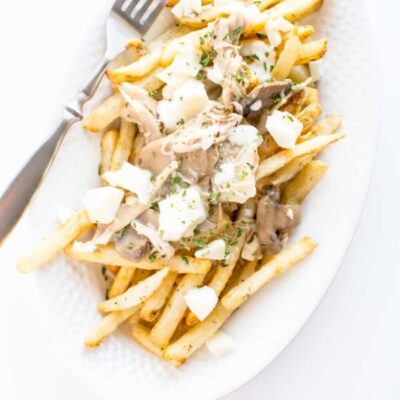 Slow Cooker Chicken Poutine
Ingredients
1 1/2

pounds

boneless skinless chicken thighs

8

oz

frozen fire roasted button mushrooms

or regular mushrooms

1/2

cup

flour

2

teaspoons

dried thyme

2

teaspoons

dried parsley

1 1/2

teaspoons

garlic powder

1

teaspoon

salt

1/2

teaspoon

pepper

4

cups

chicken broth

1/4

cup

heavy cream

for later

6

oz

cheese curds

(or mozzarella cheese if you can't find them)

1

package

your favorite frozen fries
Instructions
Place chicken and mushrooms in slow cooker

Sprinkle with flour and seasonings and toss to coat chicken and mushrooms well (this will help keep the lumps out when adding broth)

Slowly pour broth over chicken and mushrooms and gently stir to remove any lumps

Cover and cook on high for 3-4 hours or low for 6-8

Shred chicken and add cream, stir to mix well and let heat through another 15-30 minutes

Cook fries according to package directions until nice and crispy

Top fries with gravy and cheese curds and serve
Notes
You can thicken the sauce even more by adding a slurry of 2 tablespoons of cornstarch whisked with 2 tablespoons water into gravy when you mix in heavy cream
Nutrition
Calories:
466
kcal
Carbohydrates:
25
g
Protein:
35
g
Fat:
24
g
Saturated Fat:
10
g
Cholesterol:
151
mg
Sodium:
932
mg
Potassium:
743
mg
Fiber:
2
g
Sugar:
1
g
Vitamin A:
185
IU
Vitamin C:
3.6
mg
Calcium:
236
mg
Iron:
2.9
mg
Important nutritional disclaimer