Saltine Cracker Salad + Dauphin Island
Saltine Cracker Salad may sound unusual but is so easy and delicious! Hard boiled eggs, saltine crackers, tomatoes and mayo form the base of your new favorite side dish! Plus, get the scoop on my favorite vacation spot, Dauphin Island, Alabama and how we plan meals on family trips!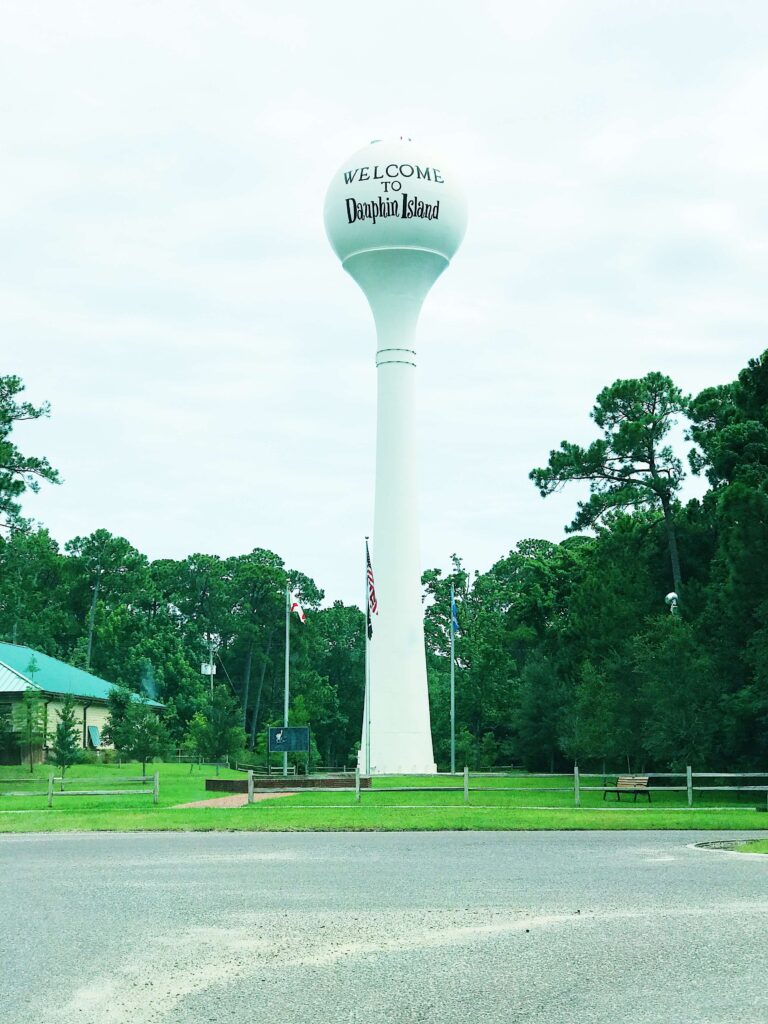 If there's one thing I love more than food, it's family vacations planned around food! I'm such a believer in food bringing people together, that we when head out for a trip I love to pick out new local places for us to try along the way. Now, if you've been reading my blog long, you'll know that heading out to Dauphin Island, Alabama has become a yearly tradition, but that doesn't mean that the food has to get boring. While we do head back to a couple favorite spots, we also try to find new places along they way! And, since we are there for a whole week and stay in a condo, we also love to do plenty of our own cooking too! This time, I was sure to ask our condo owner for suggestions for some of their favorite family recipes to make when they spend time at the condo and she sent me several amazing options! We tried them all, and today not only do I want to share all about our trip, I also want to share the surprise favorite of the recipes we made while there, Saltine Cracker Salad.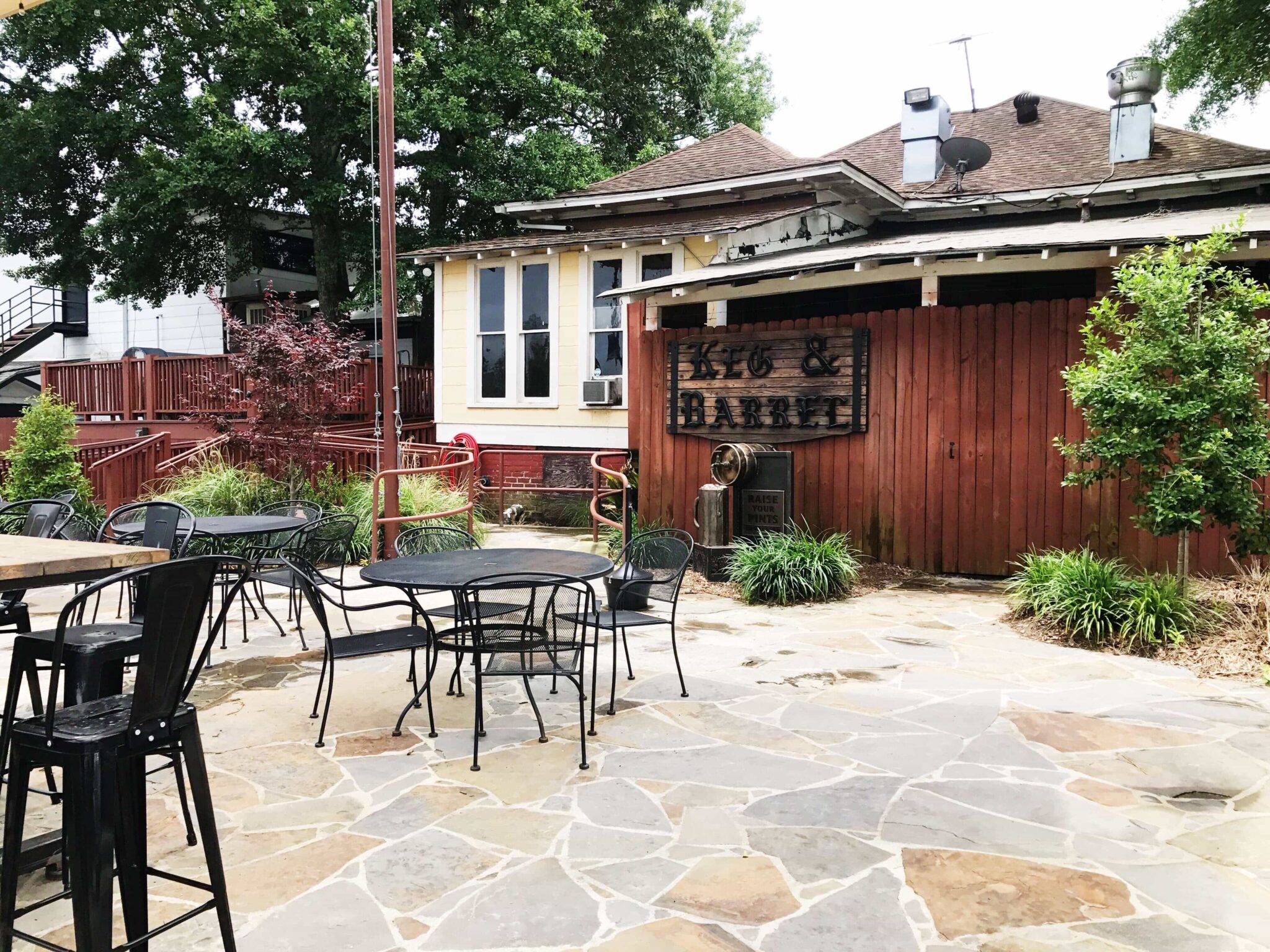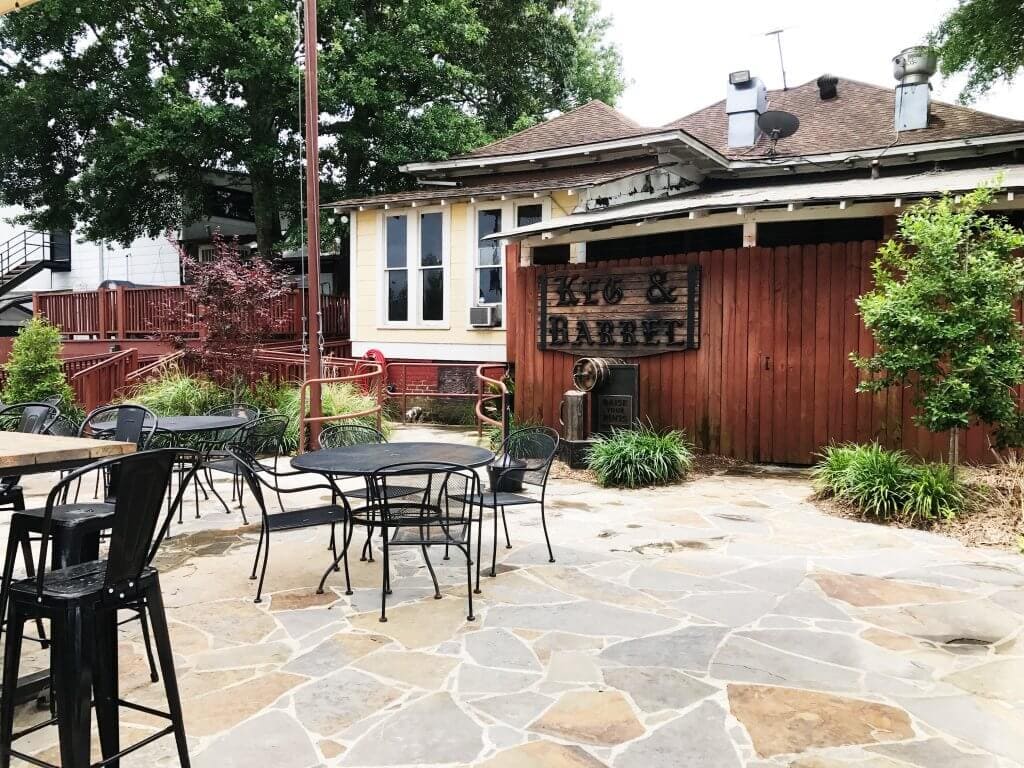 Now, before we get to the recipe, I want to say that all long road trips deserve a great stopping point for lunch. On our second day of driving and still a few hours away from the island, we stopped in Hattiesburg, MS and found a great local restaurant in an old 1905 home! Not only did Keg & Barrel have an awesome beer selection, they had some really amazing food. I had the shrimp and grits and they did not disappoint! Plus, we had some tasty greek dip for an appetizer!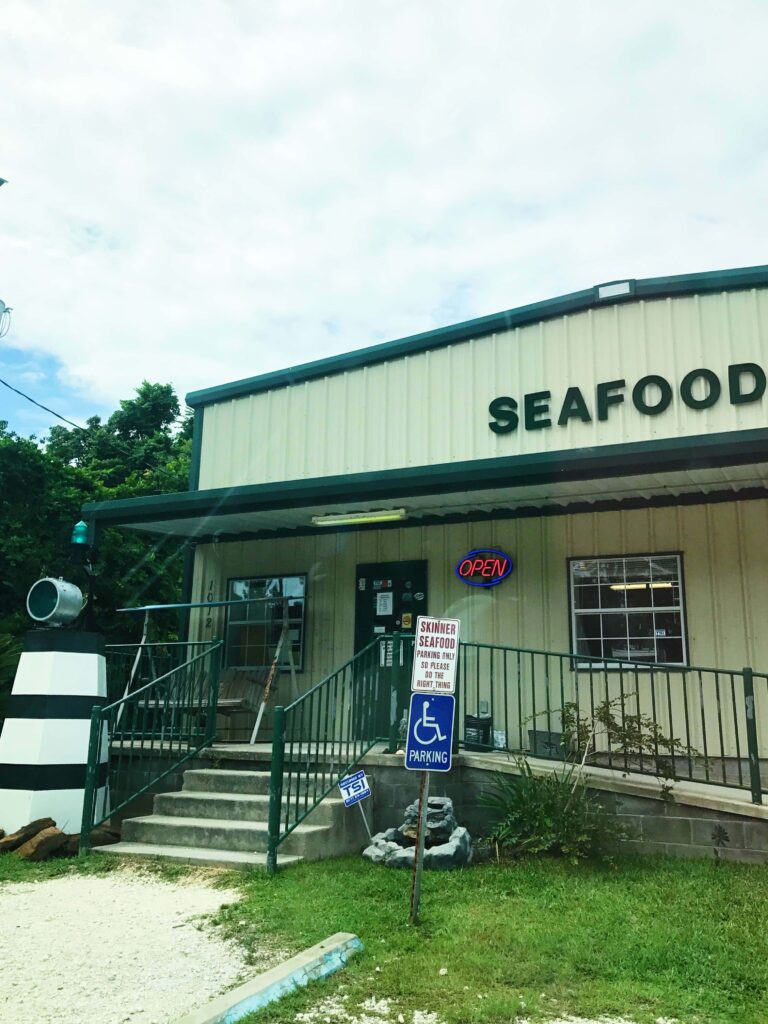 This year, I totally changed the way I planned for our trip. The first year, we bought all groceries once we got there. The second year, we bought the cold stuff when we got there and took the dry goods, this year I took it all and we didn't stop at a grocery store at all! This would all be a matter of personal preference, but I found this worked the best for us! I could get our meals planned out before we left and make sure I had everything we needed and it allowed our vacation to be so much more stress free! I bought a couple of these baskets to pack our dry food in along with our cooler of veggies and milk and we were all set! Basically, I try to have all the staples, and we can use those to pair with the fresh local stuff. The only thing we needed was fresh seafood, which we stopped for as soon as we made it to Dauphin Island! I mean, when you can the fresh catch of the day, why wouldn't you?!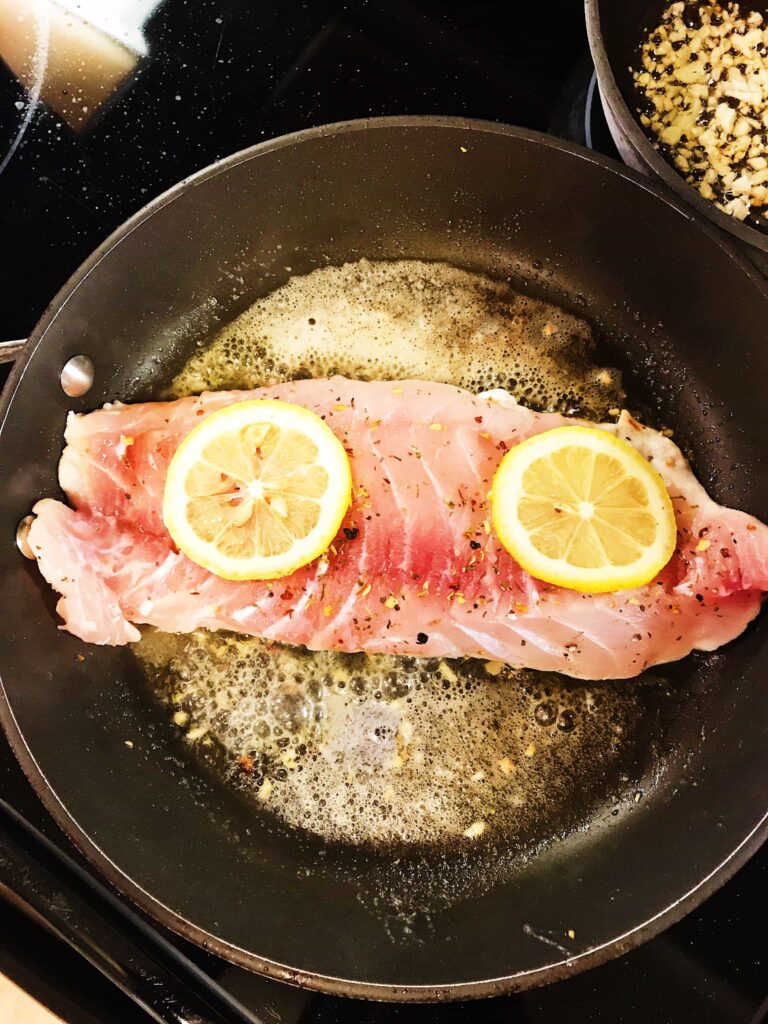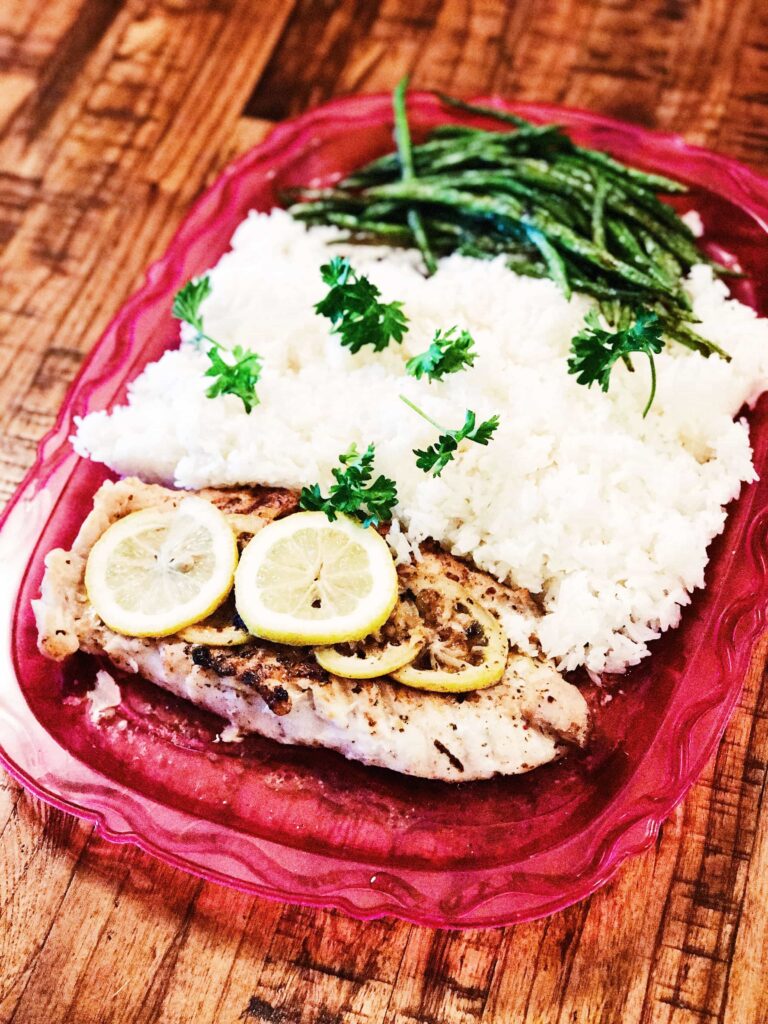 We love cooking, even on vacation, and when you can have a delicious meal like this while listening to the waves crash on the beach outside your condo, I mean, life just doesn't get much better than that.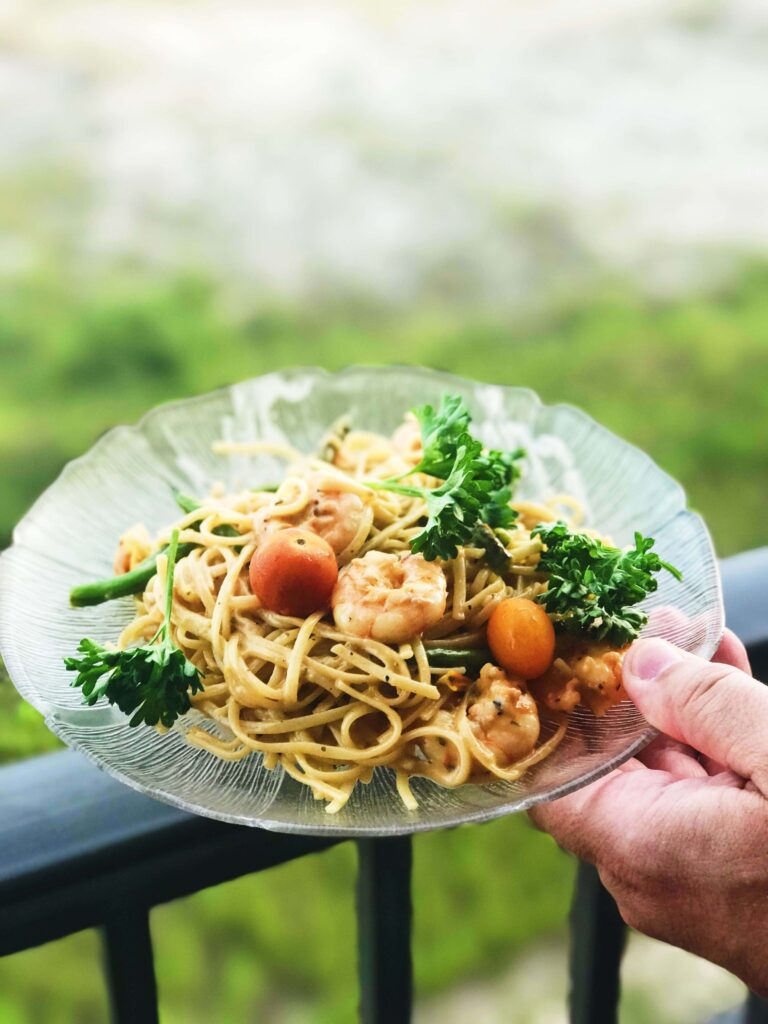 One of the other recipes given to us was for a one-pot shrimp pasta, and since we love shrimp and could get it fresh, we totally had to try this meal too! We modified a bit for what we had on hand, and it was delicious!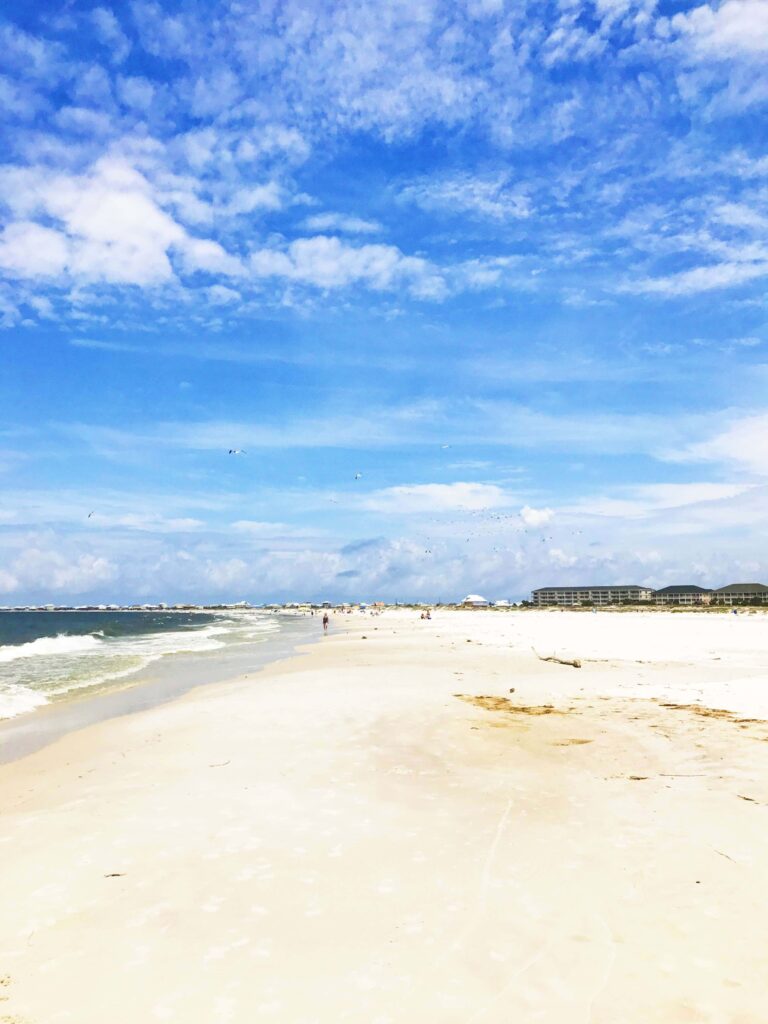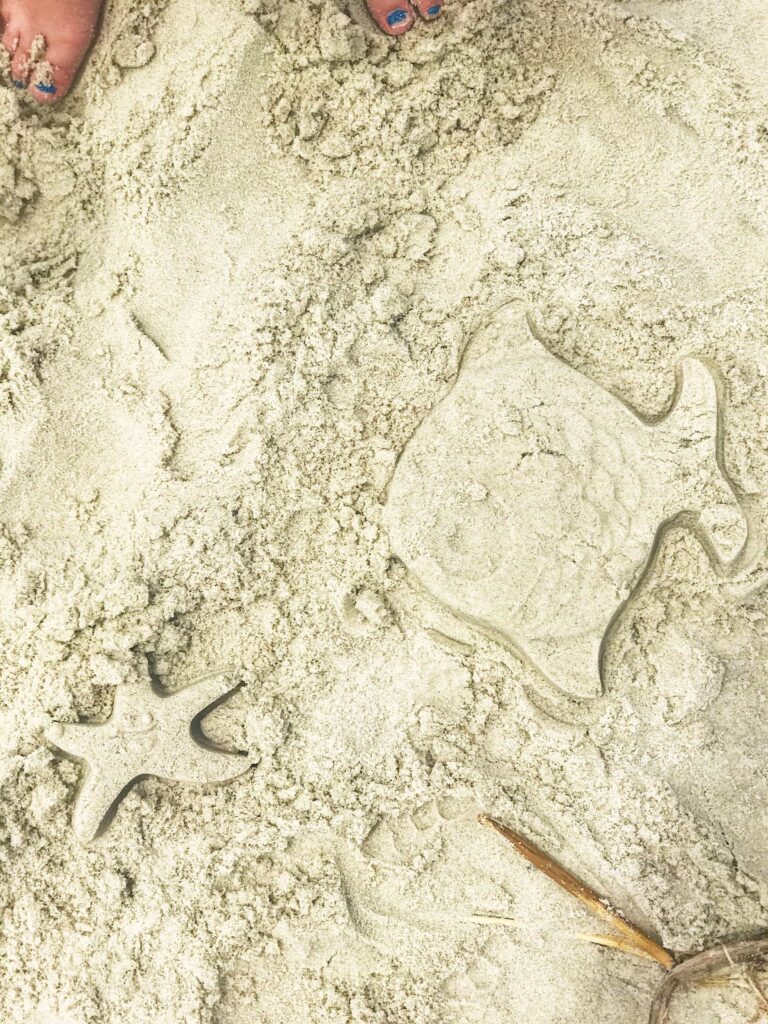 Of course, sometimes after a day at the beach, you'd just like to have someone else do the cooking. Dority's was a new restaurant on the island this year, and we loved it so much we are sure hoping they will be there next year when we go back! Amazing pizza, local entertainment and a relaxing atmosphere, what more could you want? We loved hanging out in the back and listening to the live music while sipping some cold local beer and eating some of the best pizza we've ever had.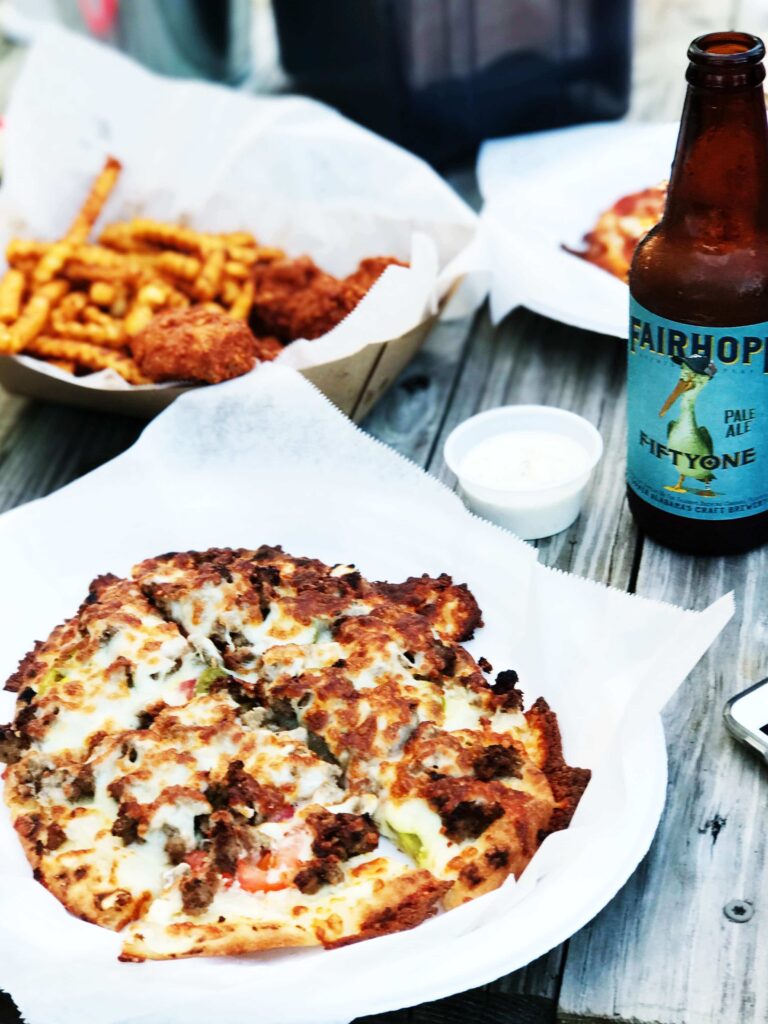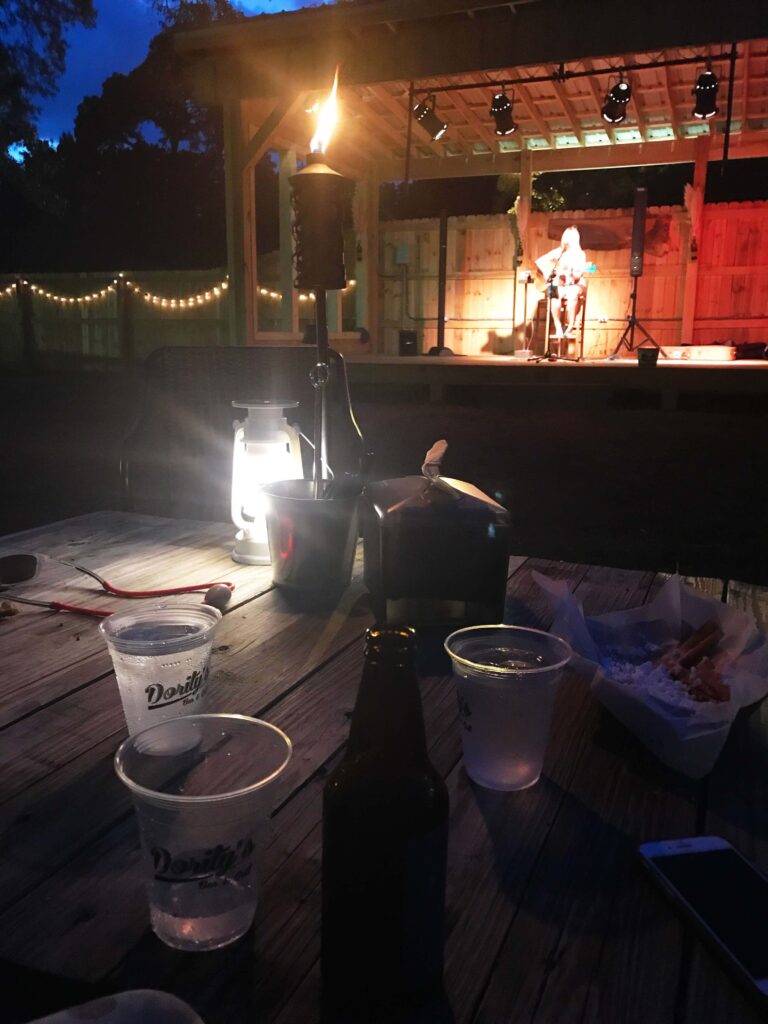 Not to mention, the beignet fries! If you haven't tried them, it's truly a bucket list item!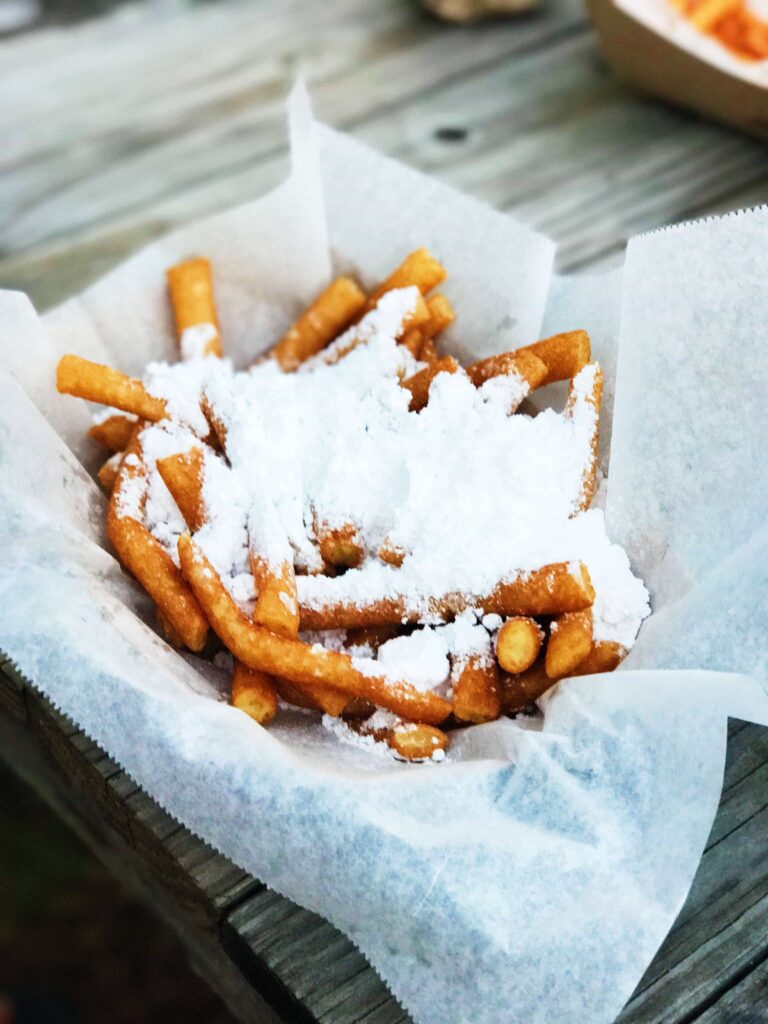 Of course, there are also those days where you head out for sightseeing all day, and obviously need to eat out for lunch and dinner! We spent one day driving up through Mobile and then back down the other side of the bay through Fairhope (such fun shopping and ice cream!) and down to Gulf Shores.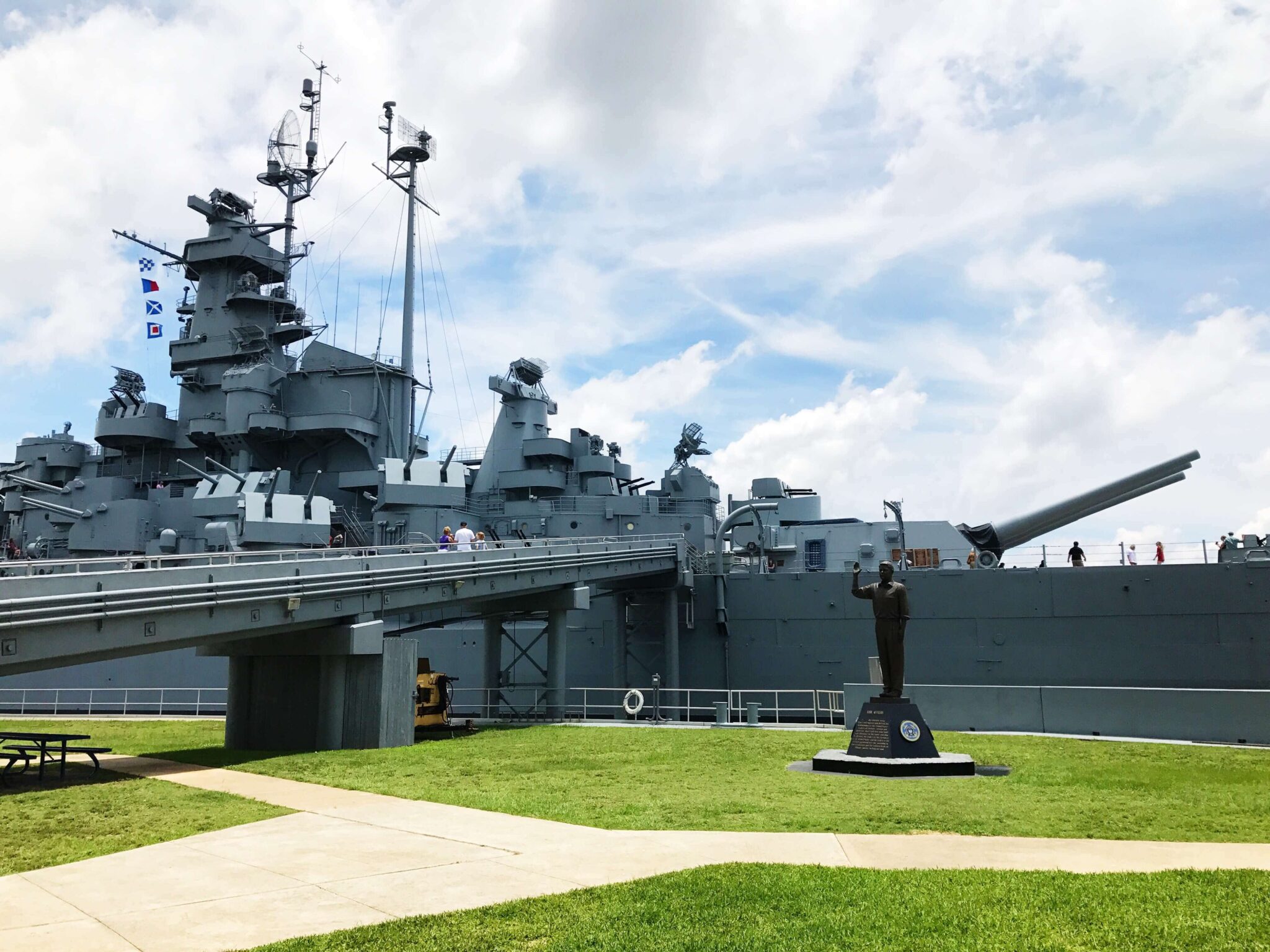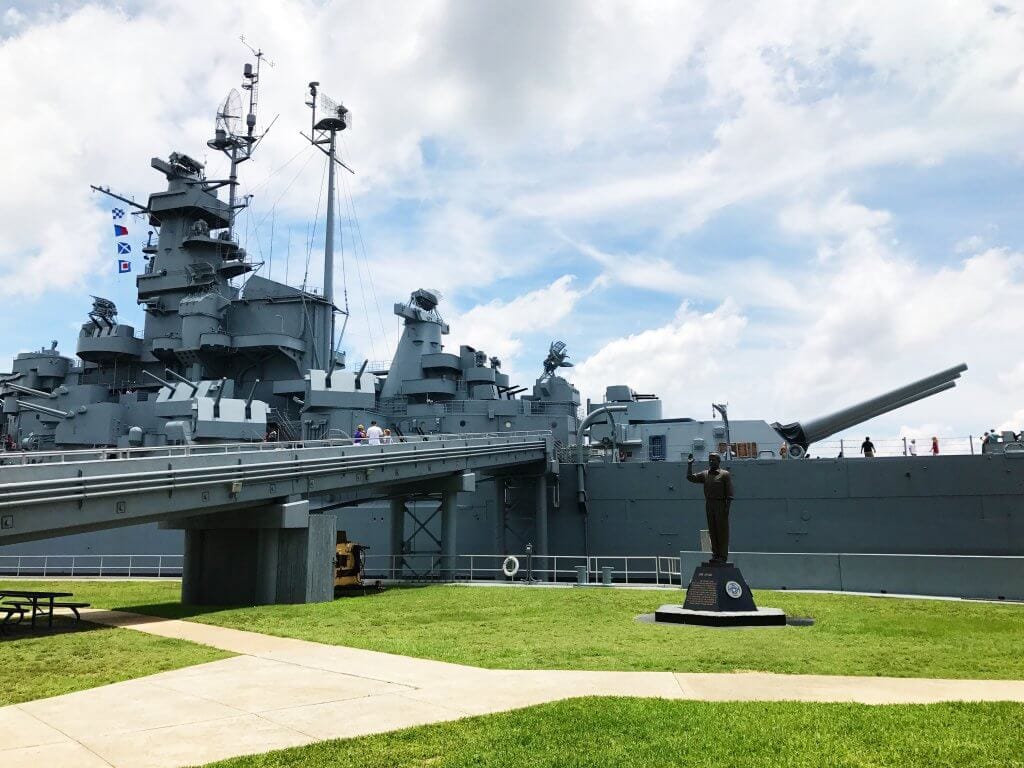 After a morning of climbing all through the USS Alabama, we were starving and headed to Felix's Fish Camp for some great local seafood. Obviously, I had to try the crab cakes with fried tomatoes and topped with soft shell crabs, and can I just say I think I'm still full from this delicious meal!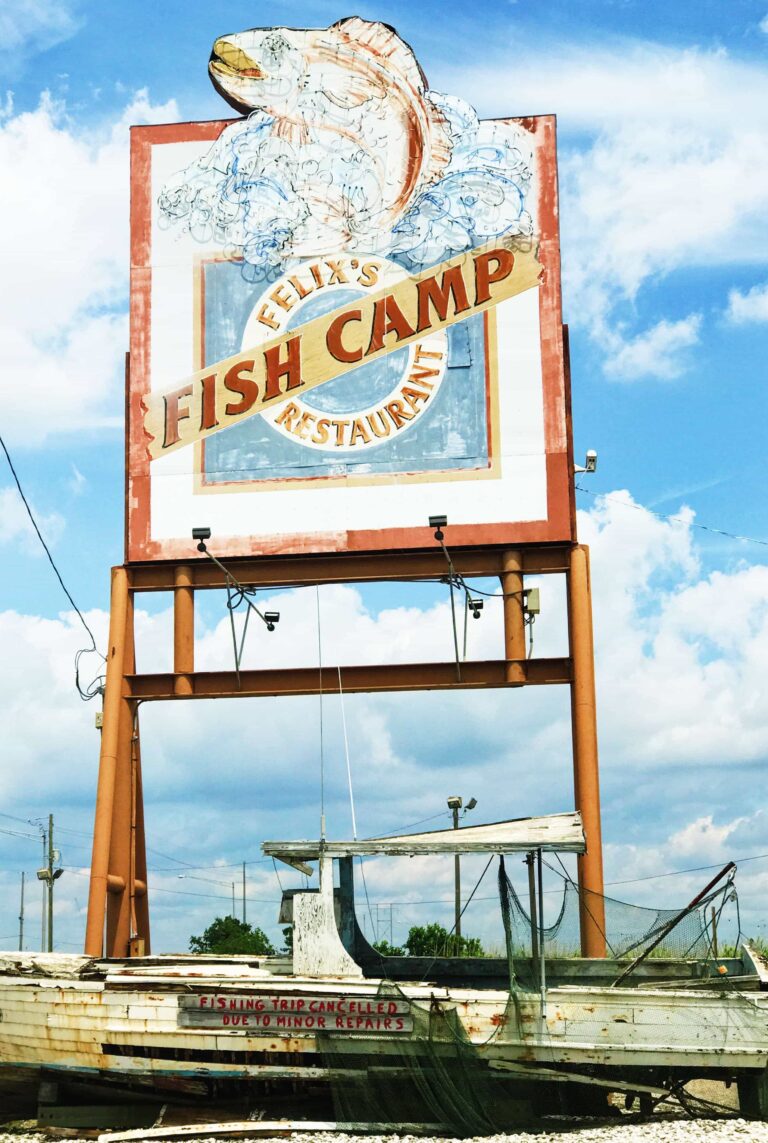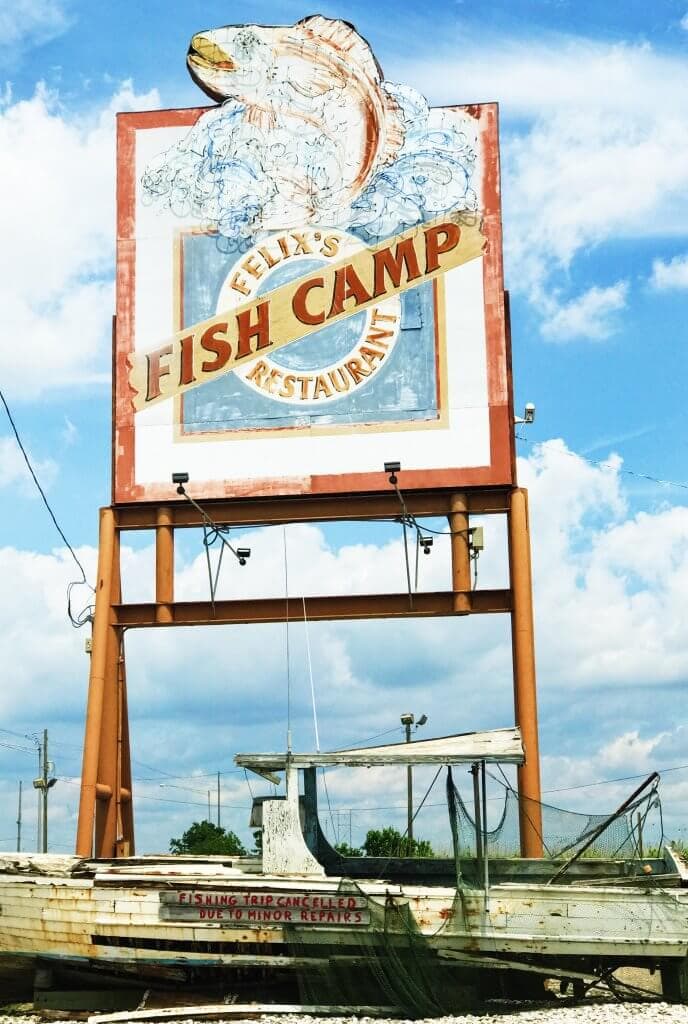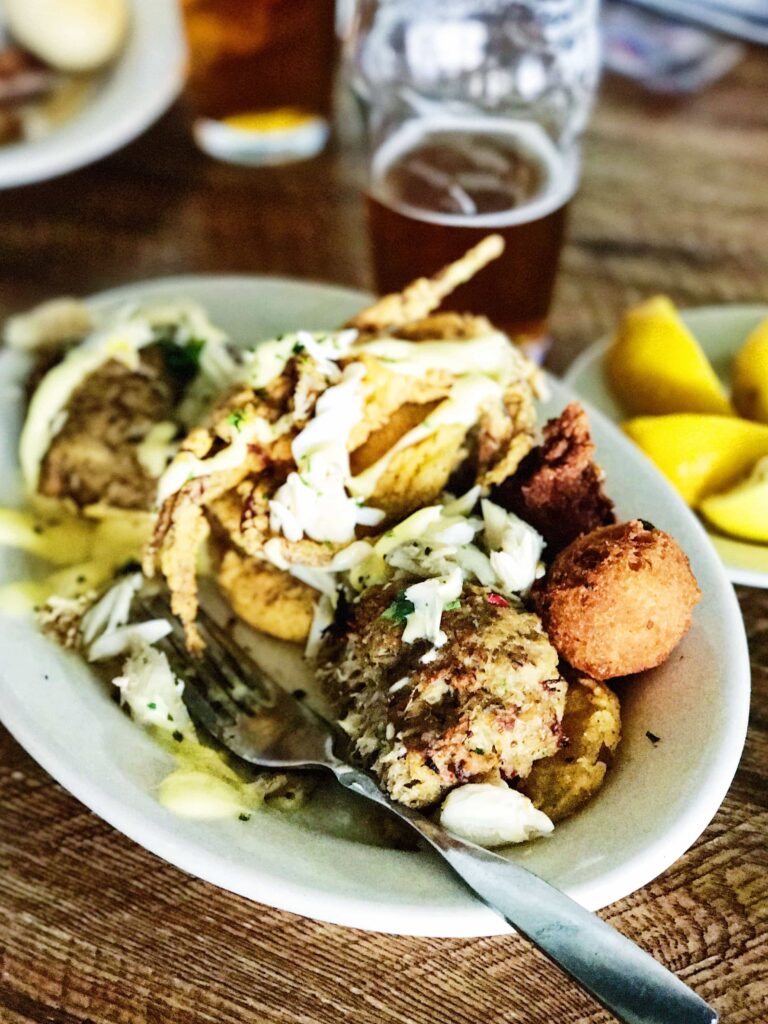 After an afternoon of shopping in Fairhope and burning off some energy at the go-cart track in Gulf Shores, we had some dinner at Lulu's and headed back to the condo. We missed the last fairy boat and to drive back, so the next day we decided to hang out at the pool to relax and make up for the late night.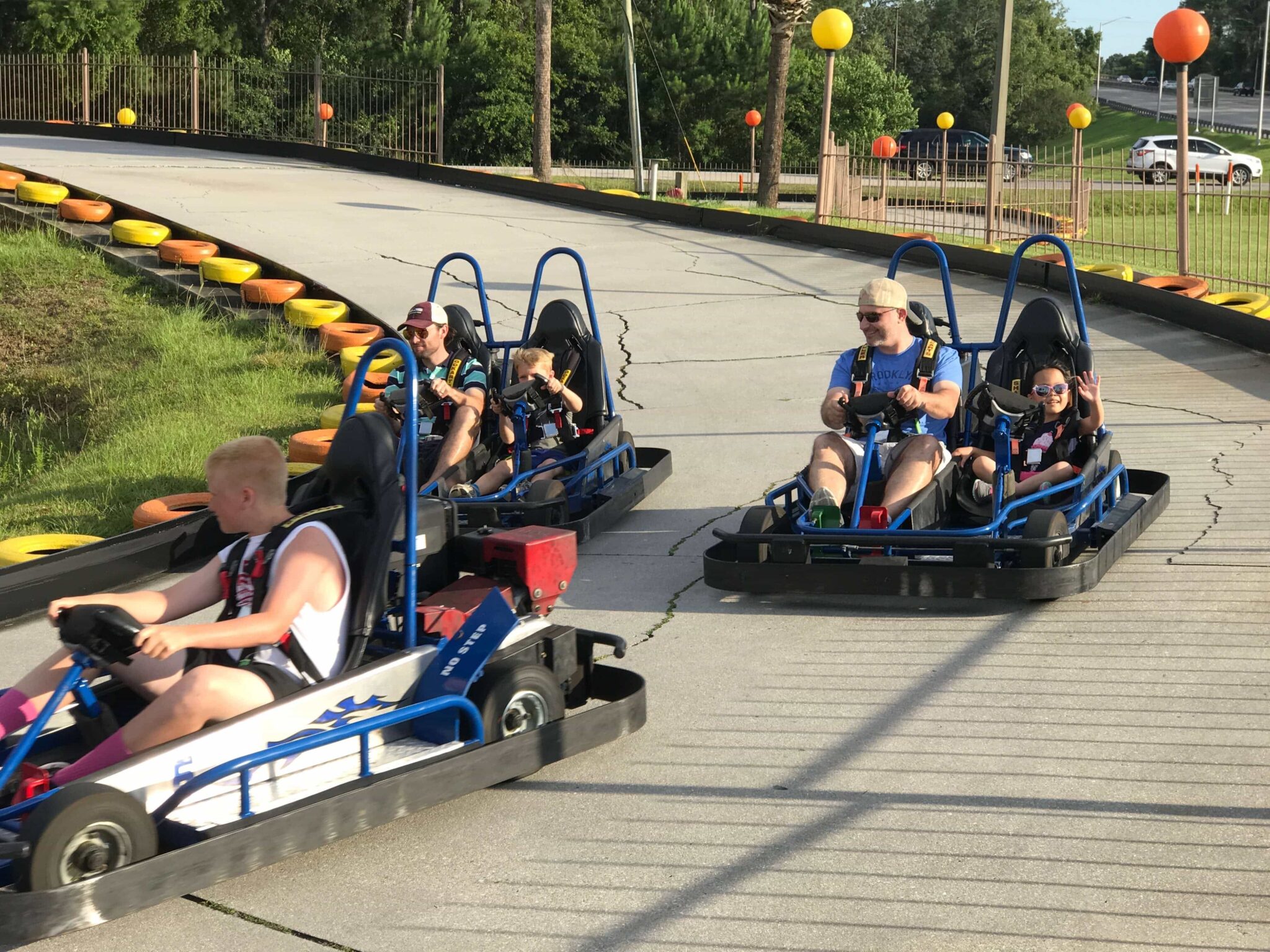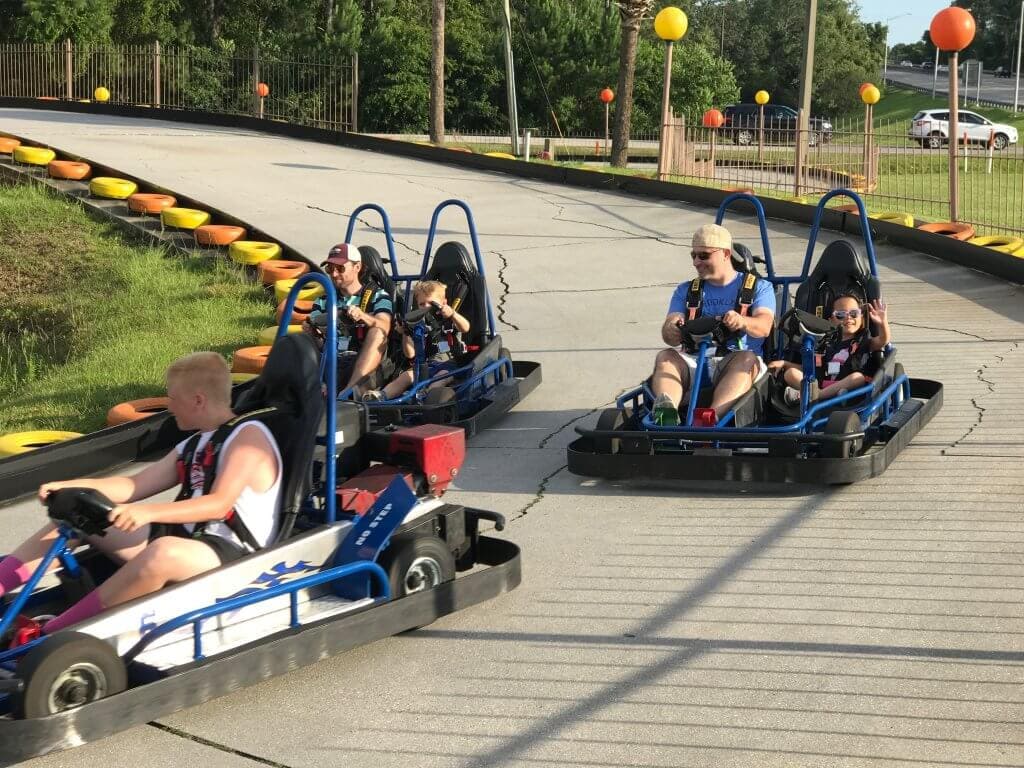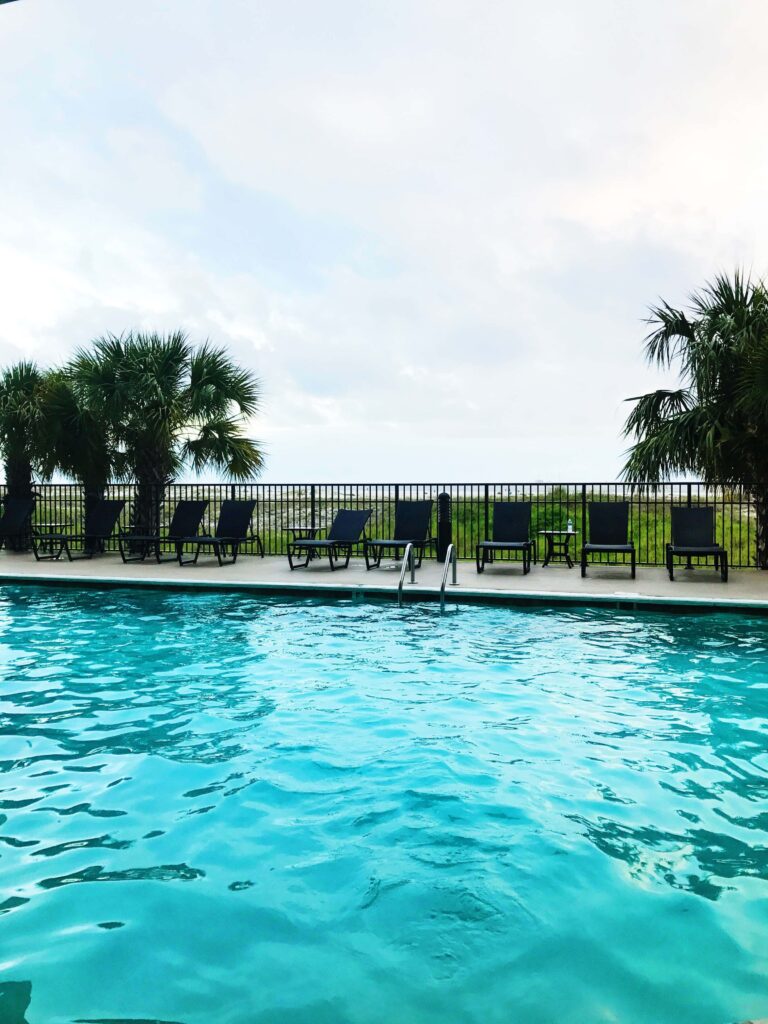 Now, let's have a short and sweet chat about this Saltine Cracker Salad! Easy, perfect to make in the morning and eat when you come in for lunch and so delicious, even if it isn't the prettiest dish. Next time you go somewhere, or spend time with friends or family from out of town, make sure to ask about their own favorite local recipes! You never know when you'll try something that will become a favorite with your family too!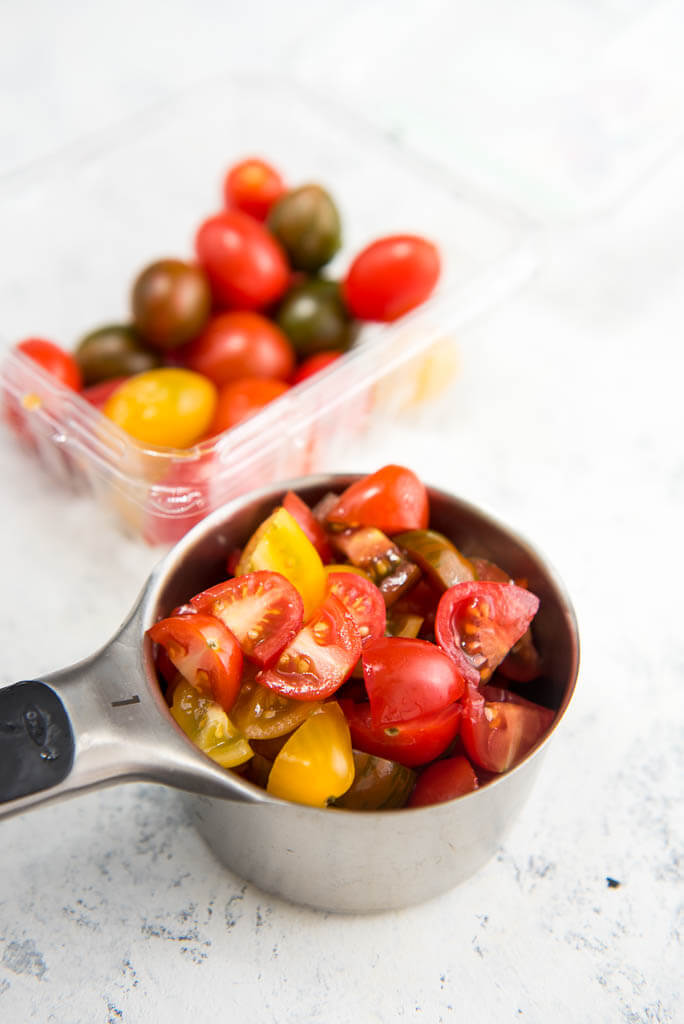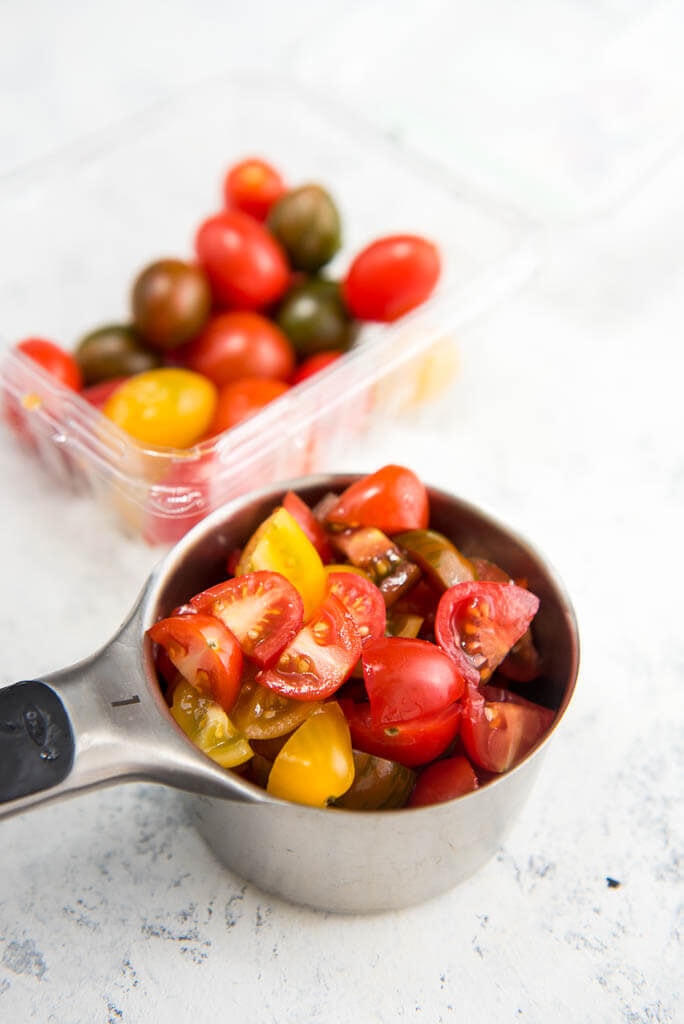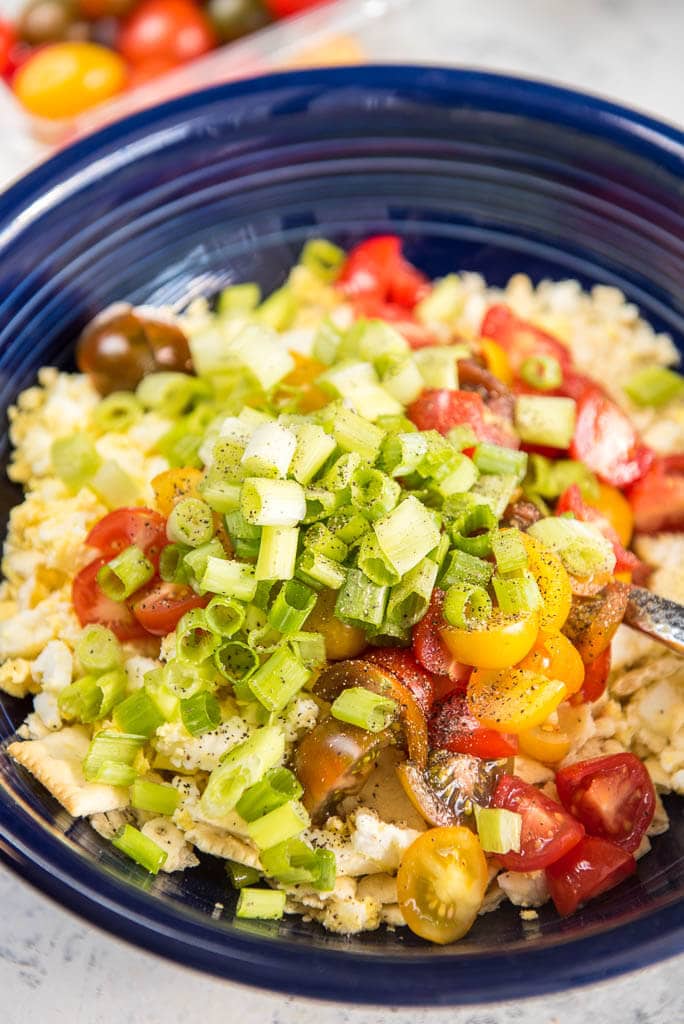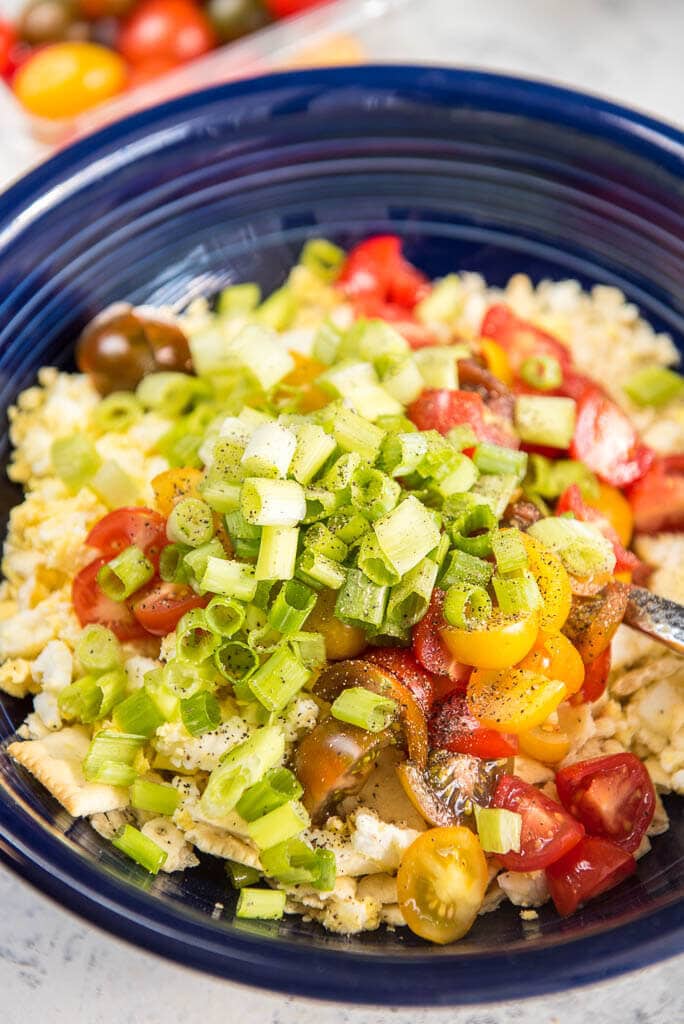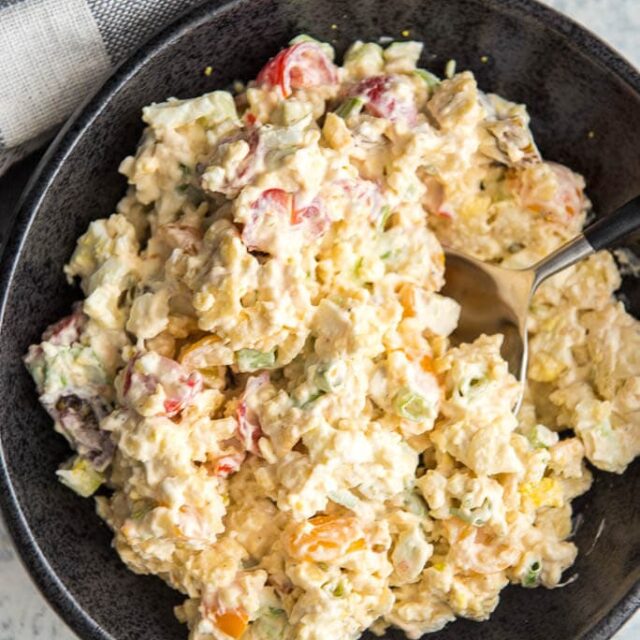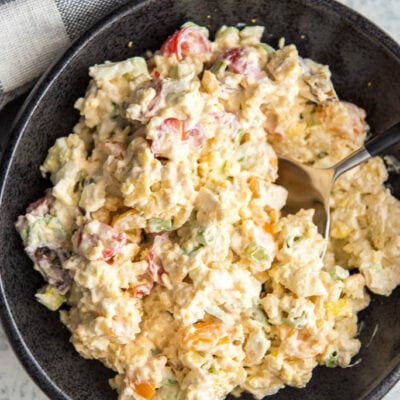 Saltine Cracker Salad
Saltine Cracker Salad may sound unusual but is so easy and delicious! Hard boiled eggs, saltine crackers, tomatoes and mayo form the base of your new favorite side dish!
Ingredients
4

oz

saltine crackers

I used mini

1

cup

chopped tomatoes

3

green onions — chopped

including most of the green tops for color

2

large eggs

hard-boiled and finely chopped

1

cup

mayonnaise — add more if needed

up to 1 1/2 cups (use Hellman's for best results)

Pepper to taste
Instructions
Crush saline crackers into a course crumble (bite sized but not into a powder) and add to bowl

Add chopped tomatoes, green onion and diced eggs

Mix in one cup of mayo and some pepper to taste

If needed, you can add up to 1/2 cup more of mayo to achieve desired consistency

Chill for 1-2 hours before serving
Notes
Delicious served alongside leftover steamed shrimp!
Nutrition
Calories:
363
kcal
Carbohydrates:
16
g
Protein:
4
g
Fat:
31
g
Saturated Fat:
5
g
Cholesterol:
70
mg
Sodium:
509
mg
Potassium:
149
mg
Fiber:
1
g
Sugar:
2
g
Vitamin A:
210
IU
Vitamin C:
4.9
mg
Calcium:
32
mg
Iron:
1.8
mg
Important nutritional disclaimer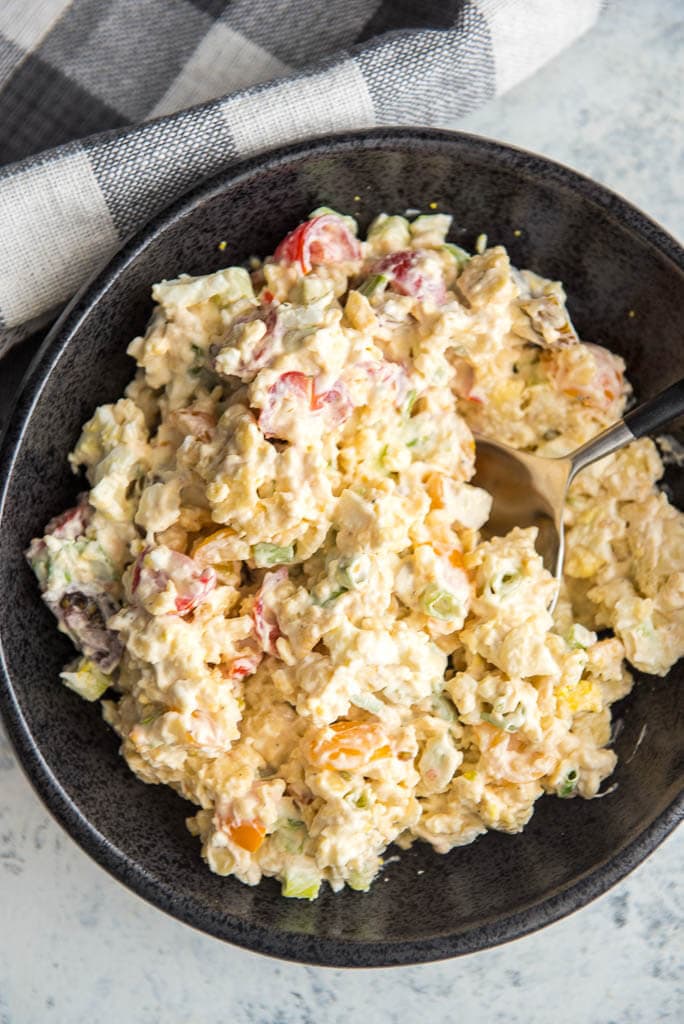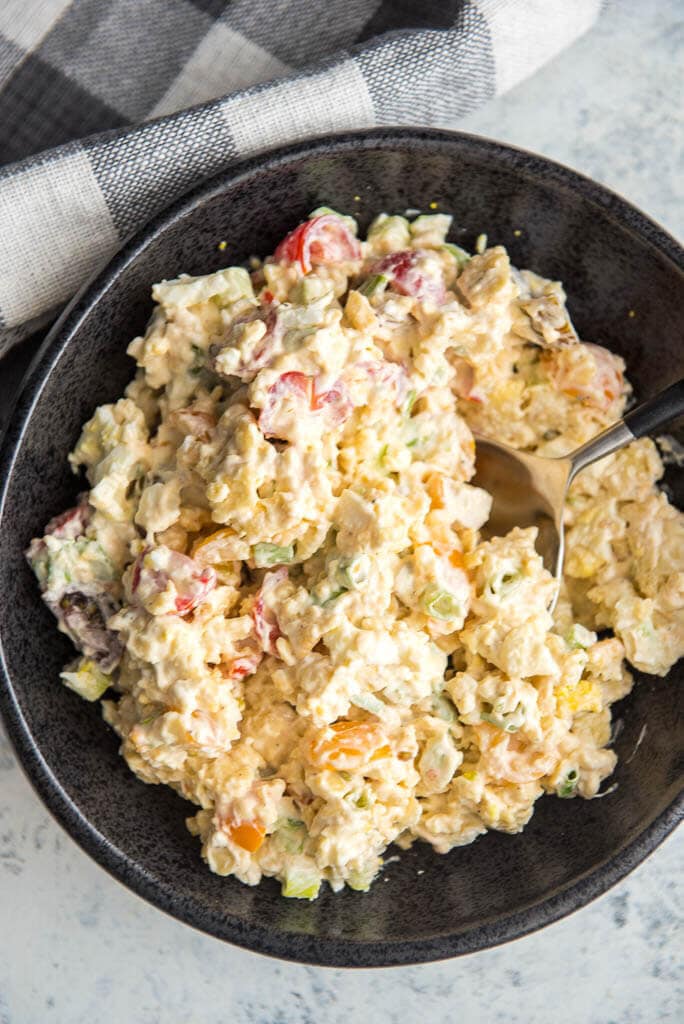 I hope you've enjoyed this recap of my families vacation and that maybe it inspires you to plan a trip to share good food and good fun with your family and friends!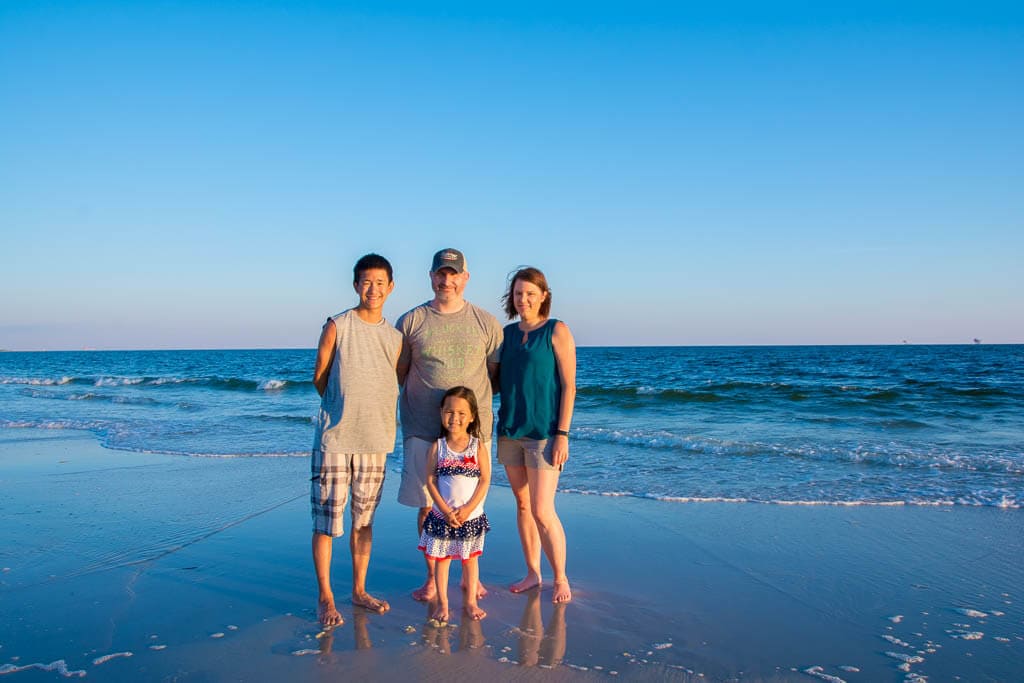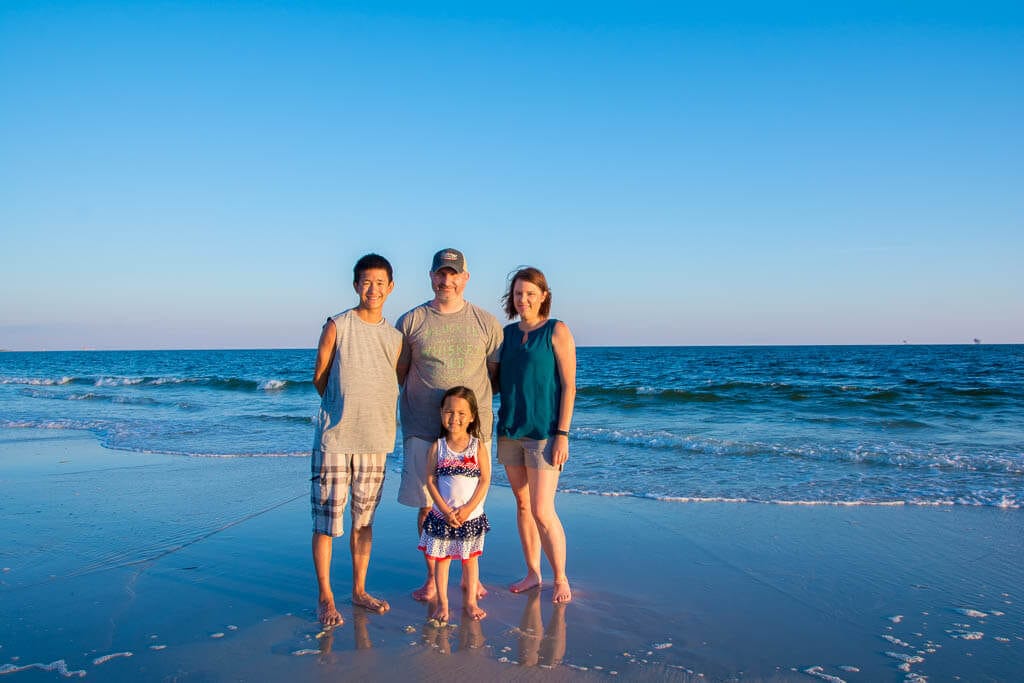 Enjoy these travels & eats posts? Read about: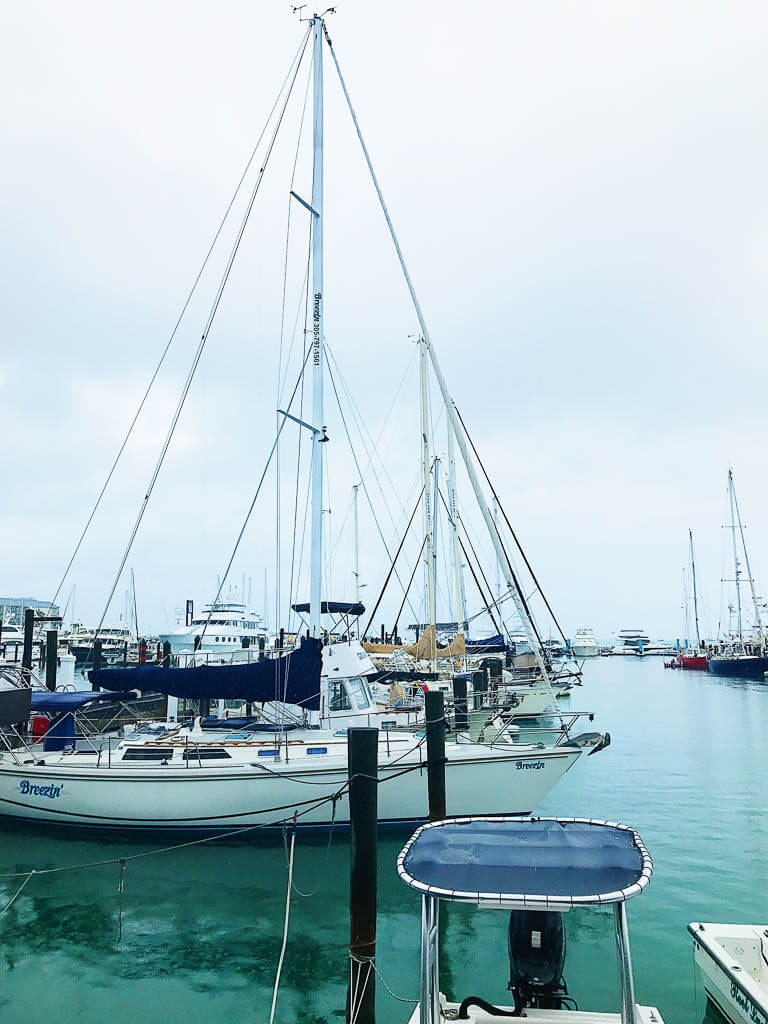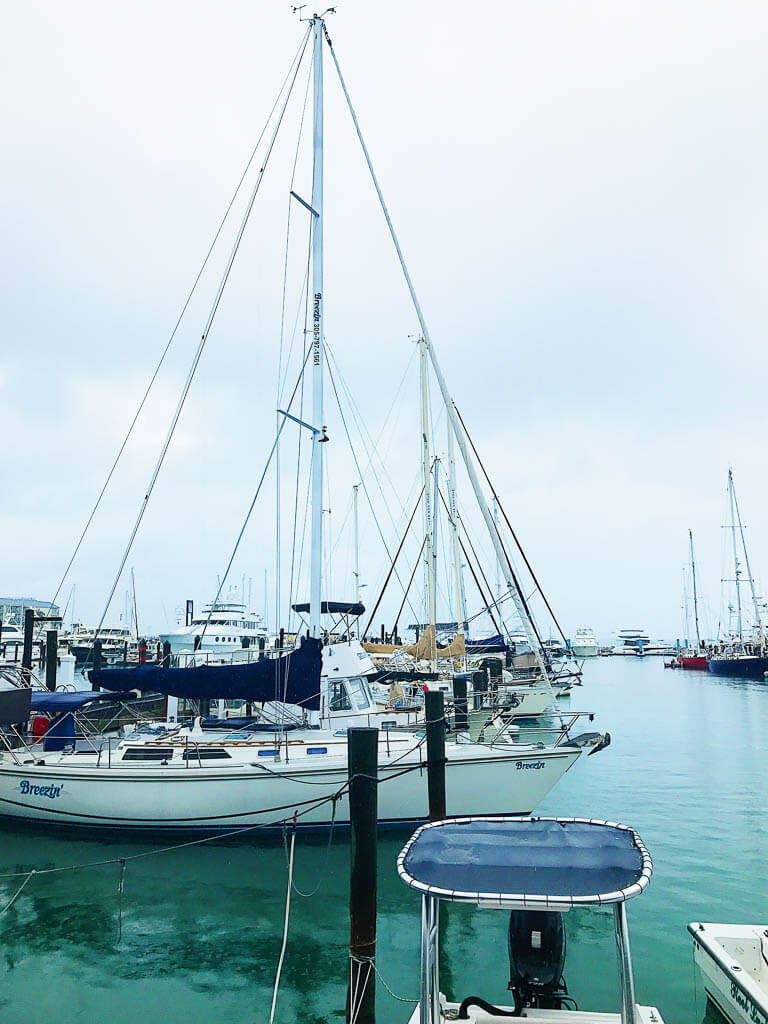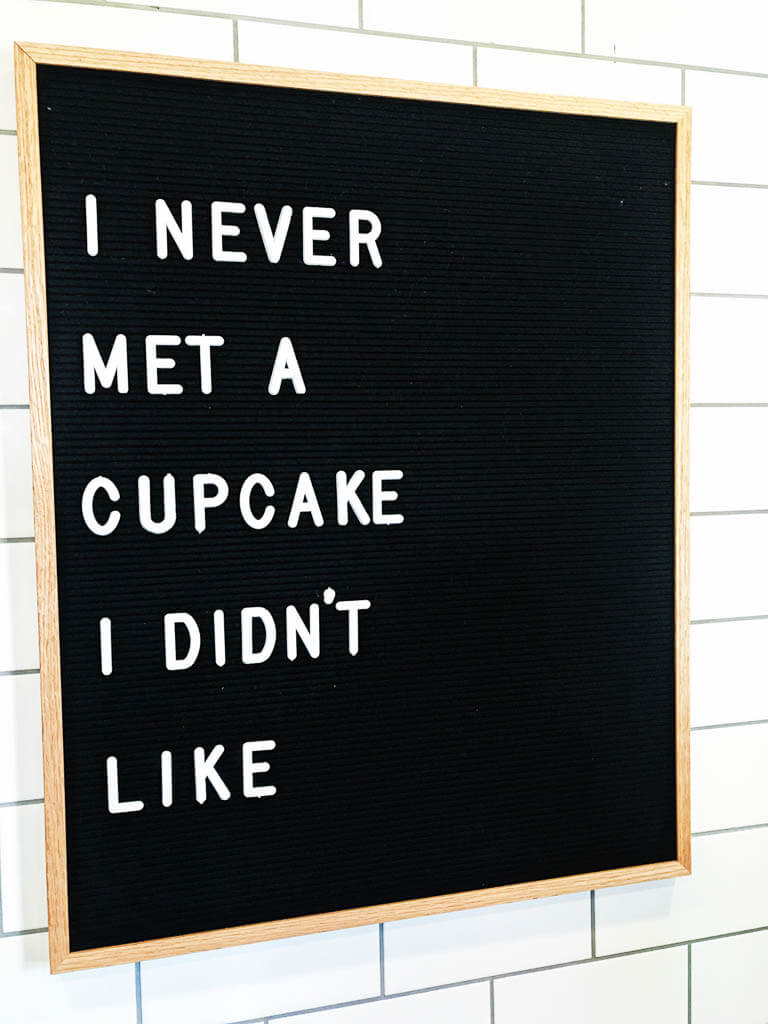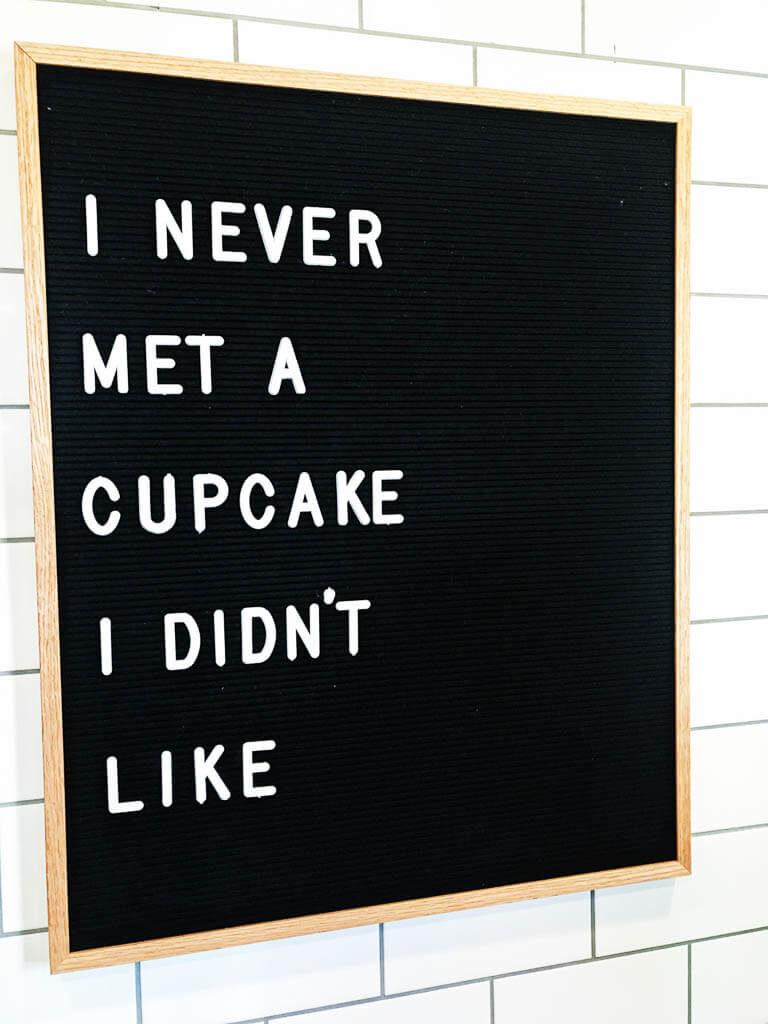 Next up? Washington, DC!!! If you love travel and documentary of the eats along the way then make sure you come follow me on Instagram for my behind the scenes stories!