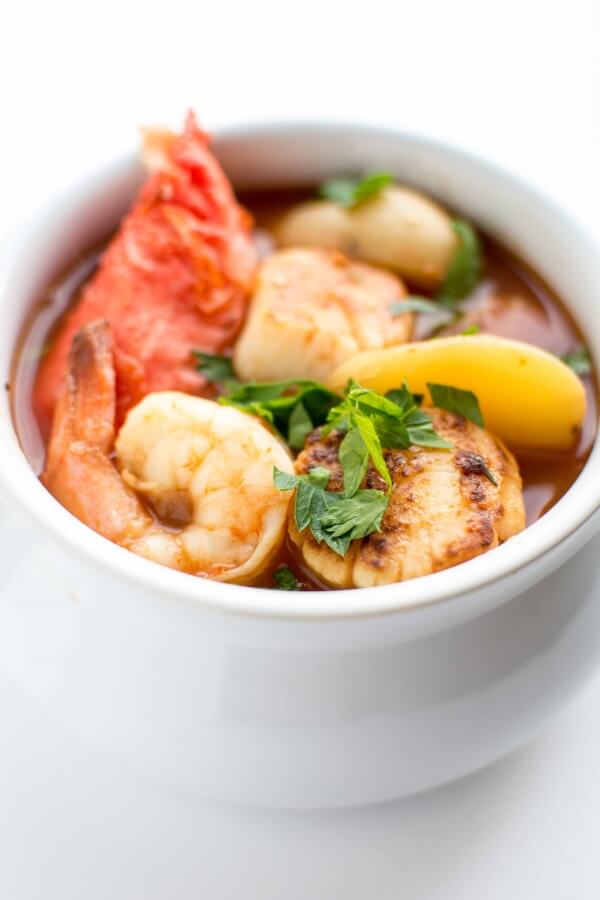 I've always loved seafood, but ever since coming home from our gulf coast beach vacation I can't stop wishing we could just stop by the market and pick up the fresh catches of the day. But, since we are in Kansas and the ocean is nowhere in sight, I finally settled for the frozen seafood at the grocery store and managed to create a stew that's totally summer worthy! It may not transport me back to the beach but at least it's a healthy and delicious way to end a busy summer day at home!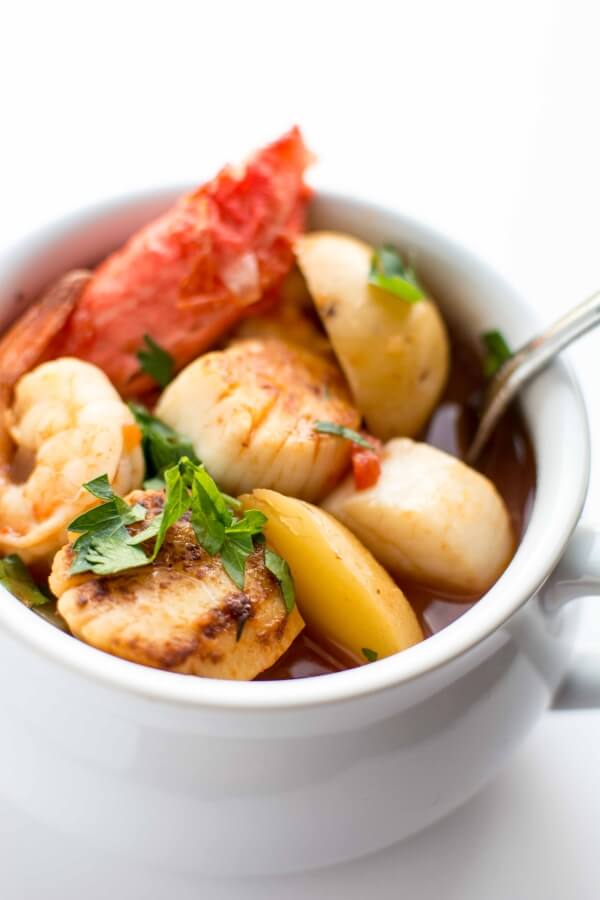 The guys actually surprised me with this one. I was a little nervous that although they usually are great sports and eat everything I make that they would not be super excited about this one. But… they both refilled their bowls!! And my girl who won't touch any foods that are red? Well, I just scooped out seafood and potatoes and didn't give her any broth and she literally gobbled it down.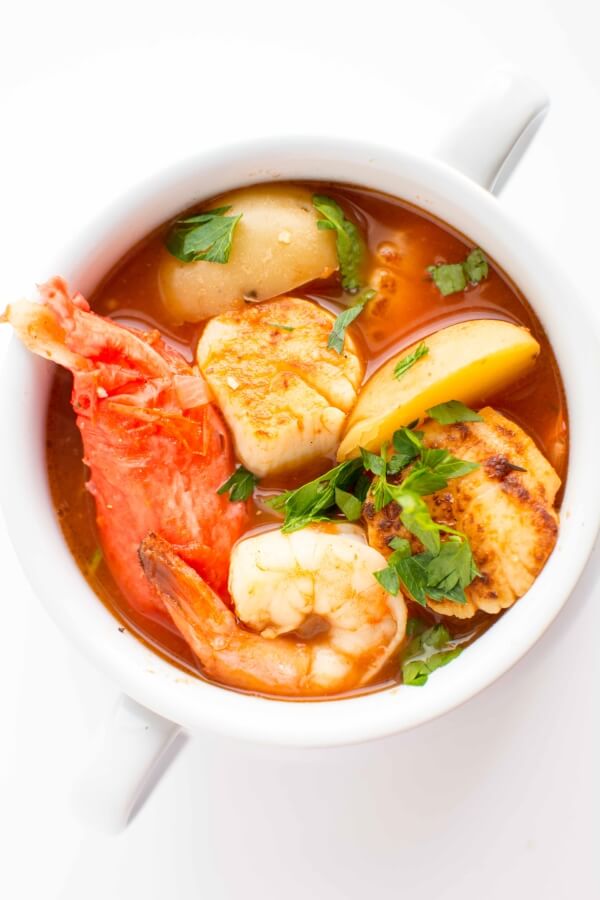 You could use a lot of different seafood options here but I went with extra large shrimp, scallops and some crab legs. You will want around 2 pounds or so total. I was hoping for some Mahi Mahi but couldn't find any the day I was at the store. Any hearty white fish would work well. It's just such an easy and flexible meal I think we may just be having this favorite often this summer!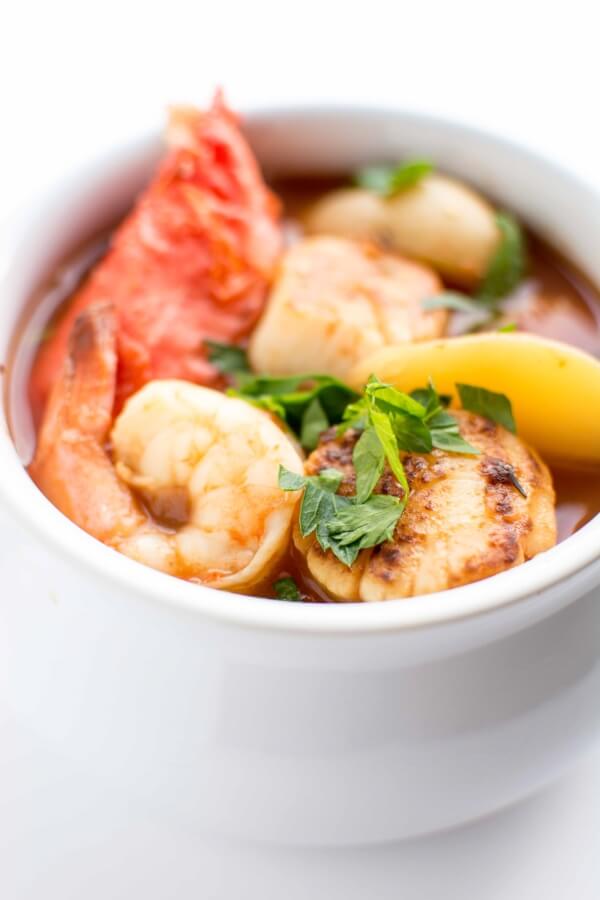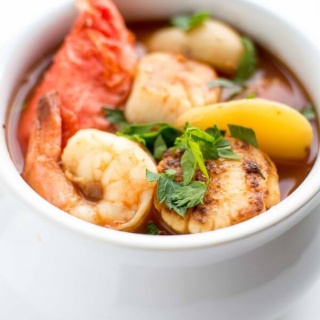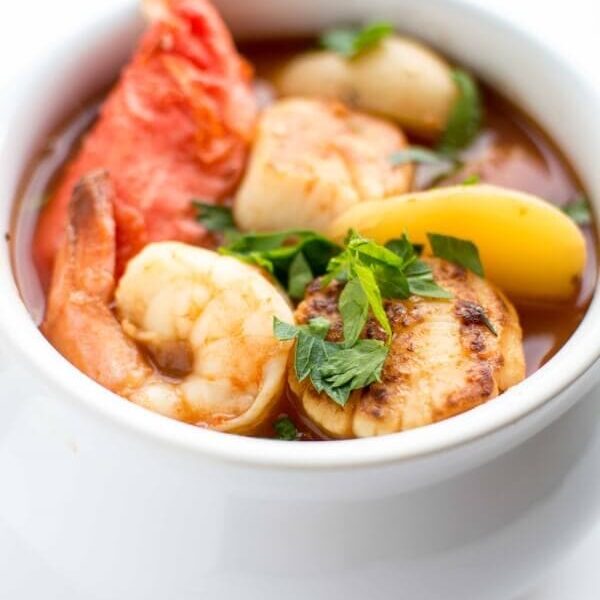 Slow Cooker Seafood Stew
Ingredients
28

ounces

crushed tomatoes

4

cups

vegetable broth

1/2

cup

white wine

3

cloves

minced garlic

1

pound

dutch baby potatoes or other white/yellow baby potatoes

(cut into bite sized pieces)

1/2

medium

onion

diced (about 1/2 cup)

1

teaspoon

dried thyme

1

teaspoon

dried basil

1

teaspoon

dried cilantro

1/2

teaspoon

celery salt

1/2

teaspoon

salt

1/2

teaspoon

pepper

1/4

teaspoon

red pepper flakes

pinch

cayenne pepper

2

pounds

seafood

(I used scallops, extra large shrimp and crab legs)
Instructions
Add all ingredients except seafood to slow cooker

Cover and cook on high for 2-3 hours or low for 4-6 until potatoes cooked through

Add thawed seafood to slow cooker and return to high heat

Cook for 30-60 minutes until seafood is fully cooked through

Serve with warm crusty bread or as desired
Notes
Optional step: Before adding seafood, heat skillet over medium high heat and melt 2-3 tablespoons butter. Add scallops and shrimp and cook for 2-3 minutes on each side to brown. Add to slow cooker with crab and cook as directed. Or, you can do this all in your multi-cooker and not dirty up any extra pans.
Important note! You will need at least a 5 quart slow cooker for this recipe so that there will be enough room to add the seafood.
Nutrition
Calories:
236
kcal
Carbohydrates:
31
g
Protein:
22
g
Fat:
1
g
Cholesterol:
36
mg
Sodium:
1789
mg
Potassium:
1049
mg
Fiber:
4
g
Sugar:
8
g
Vitamin A:
645
IU
Vitamin C:
28.2
mg
Calcium:
77
mg
Iron:
3.3
mg
Important nutritional disclaimer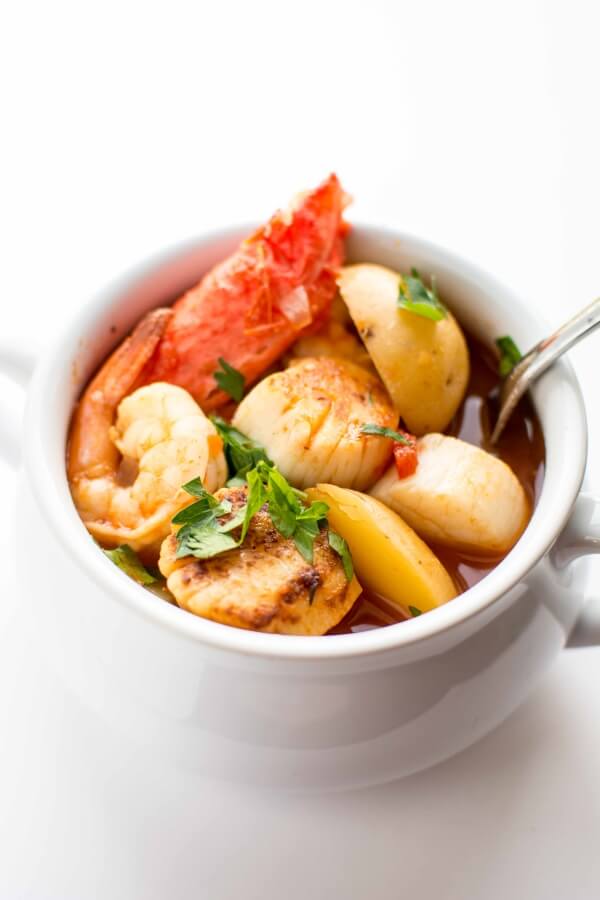 Slow Cooker Gourmet is a participant in the Amazon Services LLC Associates Program, an affiliate advertising program designed to provide a means for sites to earn advertising fees by advertising and linking to amazon.com. If you purchase a product through this link I will earn a small commission. As always, I only recommend products I use and love!